Cenote Dos Ojos is one of the best Cenotes in Tulum and within the areas around it.
Once you swim into its shimmering blue waters, you couldn't help doubting whether you are still in the real world – or have you just entered a fairytale book?
A day trip to Tulum & Cenote Dos Ojos is a popular activity to do not only by travelers wanting to see the sinkholes for themselves but also by locals looking at enjoying the magical surroundings bestowed upon them.
Dos Ojos cenote diving ranks highly in the top things to do in Cenote Dos Ojos.
Diving schools in Mexico will surely talk you into heading to this sweet spot and diving into its clear blue waters.
It's as if Mother Nature and the earth's geology connived to make an underwater playground that is easy to enjoy and comfortable to explore.
The caves and tunnels add visual stimulation to the already-stunning waters, with bats freely wandering around and aiding in the natural upkeep of the cenote.
When in Tulum or Playa del Carmen, be sure to partake in a Dos Ojos cenote tour.
It's an experience that you will surely never forget.
Read also: BEST THINGS TO DO IN TULUM MEXICO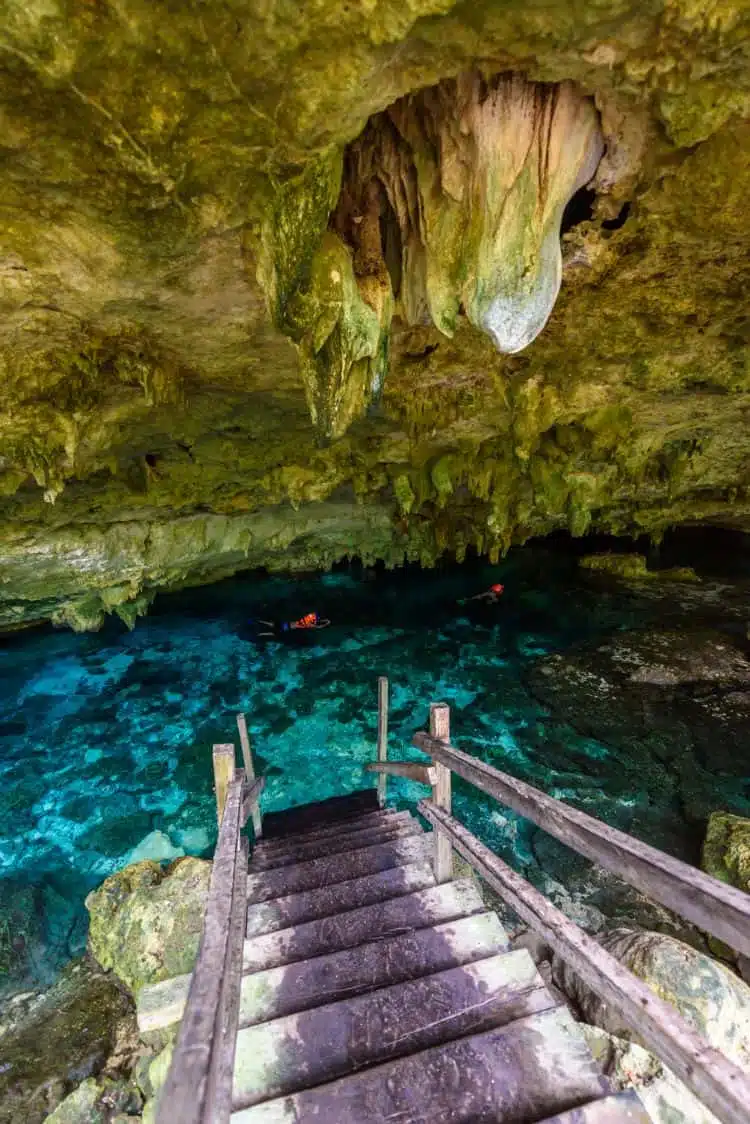 Cenote Dos Ojos Information
Address: Cenote Jaguar Rd, Quintana Roo, Mexico
Distance from Tulum: 22km
Dos Ojos cenote entrance fee: 200 Pesos (Around USD 14). Snorkeling equipment can be rented for an additional 100 Pesos (around 3.90 USD).
You can also BUY YOUR TICKET ONLINE IN ADVANCE.
Cenote Dos Ojos Opening Times: Every day from 8 AM to 5 PM
Cenote Dos Ojos Parking: There is a big and free parking area close to the entrance of Dos Ojos Cenote
Dos Ojos Cenote Fun Facts
The name "Dos Ojos" is Spanish and means translated "Two Eyes"
The Dos Ojos underwater cave system has a length of at least 38 miles (61 kilometers)
It is in the Top 10 of the longest underwater cave systems worldwide
The deepest known point of the Dos Ojos cave system has a depth of 396 feet (118 meters)
The water has a temperature of 77 Fahrenheit (around 24°C)
Dos Ojos Cenote is only 0,9 miles ( around 1,4 kilometers) away from Cenote Nicte-Ha. So it's easy to visit both cenotes in one day!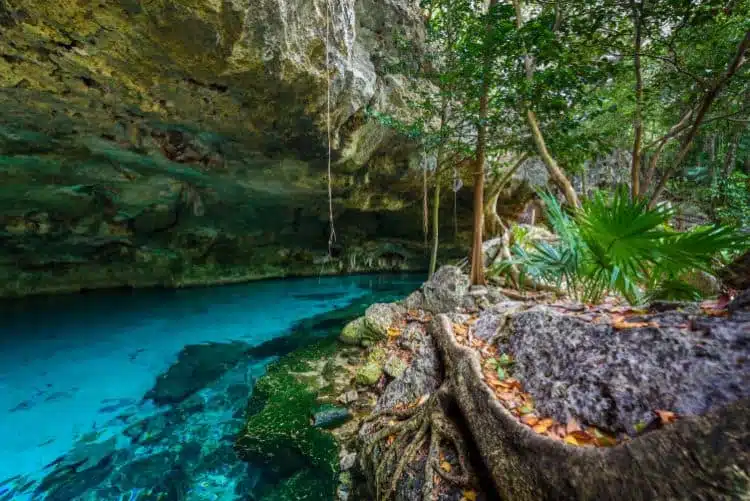 How to get to Cenote Dos Ojos Tulum
1. Ride a Colectivo to Cenote Dos Ojos
Colectivos are basically shared transfers.
These local minivans service specific routes, allowing you to wait by the road and hail one that goes to your preferred destination.
Ask the driver if it will pass through the entrance going to Cenote Dos Ojos.
From Tulum: Get to Cenote Dos Ojos from Tulum in a matter of 30 minutes by hailing a colectivo that runs through Chetumal-Cancun / Mexico 307.
The cost for a one-way ride is around 30 to 40 pesos.
From Playa del Carmen: Get to Cenote Dos Ojos from Tulum in a matter of 46 minutes by hailing a colectivo that runs through Cancun-Chetumal / Mexico 307.
The cost for a one-way ride is around 30 to 40 pesos.
Important note: The ticket booth to Cenote Dos Ojos is still a 30-minute walk away from the entrance. Make sure to consider this.
From there, no public transportation is available. You definitely would not want to walk under the scorching Mexican heat for half an hour.
2. Take a Taxi to Cenote Dos Ojos
Another way how to get to Cenote Dos Ojos is by taking a local taxi.
Use the meter for a just rate, and should they push for more payment, make sure to settle for a justifiable price.
Taxis will usually drop you off at the entrance. Save yourself from walking for half an hour and add a bit extra for the car to take you directly to the ticket booth.
From Tulum: A one-way taxi ride can cost up to 200 pesos.
From Playa del Carmen: A one-way taxi ride can cost up to 600 pesos.
3. Hire a Private Driver to Cenote Dos Ojos
Hiring a driver is the best way to visit Cenote Dos Ojos and other nearby cenotes.
You get to plan a full itinerary with your local driver and be able to go from one cenote to another with ease.
Many taxis will agree to be your private driver for a day. You must haggle with the price and agree on a rate that is just right.
If you are not fluent or knowledgeable in Spanish and have found a taxi driver that speaks conversational English, grab the chance to book him for a day.
Alternatively, you can ask your hotel receptionist for recommendations on who to hire.
They will have readily available people to take you to a Cenotes Dos Ojos excursion.
4. Rent a Car to Cenote Dos Ojos
One of the Dos Ojos cenote tips I can give you is renting a car and driving on your own. This is especially useful if you are traveling in a group.
Renting a car from Tulum or Playa Del Carmen will cost you about 600 pesos a day.
Having a rental car will enable you to go to different cenotes in one day at your own pace without thinking about rates getting higher by the hour.
Best time to visit Cenote Dos Ojos
The best time of the year to visit Cenote Dos Ojos is anywhere between late November until the end of February.
This is the dry season in Riviera Maya, and we will make a good visit to the different cenotes in the area.
The best time of the day to visit Cenote Dos Ojos is early in the morning.
At around its opening time of 8 to 8:30 in the morning, you get to enjoy the site minus the group of visitors that will only be arriving by nine onwards.
Join a Tour to Cenote Dos Ojos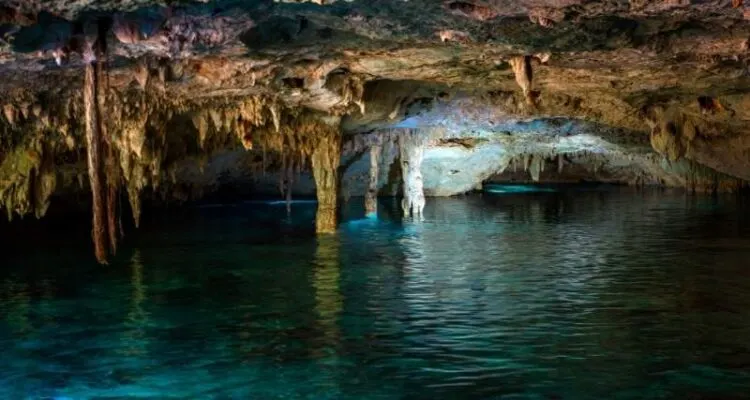 1. Three Cenote Dives – Casa & Dos Ojos from Tulum
Why settle for one when you can get three cenote dives in one go?
Get to enjoy Casa Cenote and the two eyes that make up Dos Ojos in this fun-packed activity hosted by a prestigious dive company.
This tour will take you diving into magnificent blue waters and exploring one cave after another.
Before booking, make sure that you meet the following qualifications:
Have an open water certification (or higher)
Have a recent diving record
Have not flown in an aircraft for the past 18 hours
Have no pre-existing medical condition which may get triggered by the activity
Rest in the assurance that you are in safe hands as you dive. A certified instructor will be your guide in exploring Casa Cenote and Cenote Dos Ojos.
Included:
Rental Equipment
Lunch
Snacks
Water
Towels
PADI Instructor
Bottled water
Coffee and/or Tea
2. Tulum and Dos Ojos Cenotes: 5-Hour Guided Tour from Tulum
Explore the archaeological sites of Tulum and then refresh at Cenote Dos Ojos.
This five-hour activity will teach you about the ancient Mayan civilization in the most fun way possible.
Your tour starts with a 60-minute archaeological site visit in Tulum.
Get to know the stories behind the old buildings and important monuments that speak about the last cities created by the Mayans.
Afterward, it is time to head to the beach and get a dose of sunlight by lounging along the Caribbean seashore.
Save some swimming energy because you will definitely want to paddle through the clear blue waters of Cenote Dos Ojos.
Never miss any important information about tourist spots with the help of your experienced local guide.
Enjoy the comfort of being picked up and dropped off by your travel operator.
Included:
Round-trip transportation
Multilingual guide
Guided tour of Tulum
Visit to Cenote "Dos Ojos"
3. Dos Ojos Cenote Diving and The Bat Cave from Playa del Carmen
Dive into the deep and clear waters of the two eyes that make up Cenote Dos Ojos.
This activity is not only for the experienced diver but also for the casual snorkelers.
Diving in Dos Ojos and The Bat Cenotes from Playa del Carmen will make you appreciate the wonders of nature.
Take your time at the "Barbie Line," which features a well-lit sinkhole pool with cave walls adorned with massive stalactites and stalagmites.
Next, explore the "Bat Cave Line" and get up close with the bats that are important in maintaining the low population of insects within the surroundings.
Safety and security are assured by the experienced and certified local guides who will be with you throughout the tour.
A private instructor will be provided for those traveling in a group or as a family.
Included:
Bottled water
Snacks
All Fees and Taxes
Two tanks, weights, and belt
Hotel pickup and drop-off
Professional multilingual guide
Two dives in 2 different cenotes
4. Mini Cenotes 2-Day Scuba Diving Package in the Riviera Maya from Playa del Carmen
Do you have enough time on your hands during your visit to the Riviera Maya?
Why not avail of this 2-Day Scuba Diving Package, which takes you through four dive sites in Cenote Dos Ojos and beyond?
Experienced and certified diving guides will be with you throughout this experience.
This unique tour will have you enjoying both the ocean and the cenote for which the district is well-celebrated.
During day one, go in-depth with the two reefs that make up Cancun's coast.
On day two, go on a Dos Ojos Cenote trip, witnessing for yourself just why this nature-made destination is known worldwide.
This package is truly for any adventurous traveler wanting to experience a true taste of what Riviera Maya has to offer.
Included:
Total of 4 tanks
Two local reef dives on day 1 (from the dive center closest to your accommodation)
Cenote excursion with two tanks on day 2
Snacks and drinks on day 2
Cavern guide on day 2
Lamp on day 2
Hotel pickup and drop-off along the Riviera Maya (excluding Playa Mujeres and Tulum)
5. Dos Ojos Cenote Private Snorkeling Tour from Cancun
Are you staying in Cancun and looking for a great way to spend the day?
You can take a Private Tour to Dos Ojos Cenote and get to experience the beauty of paddling through clear blue waters and marvel at exquisite cave formations.
Your experienced and certified private guide will have you swimming in Cenote Dos Ojos.
The two eyes of these frequented dive spots are famous for their crystal clear pool, bat-populated cave, and beautifully created cave walls.
No trip to the Riviera Maya is complete without spending some time in Cenote Dos Ojos.
While this site is more popular with divers than snorkelers, both are sure to have an excellent time here.
Included:
Hotel pickup and drop-off from Cancun hotels
Private Transport by air-conditioned minivan
Private tour
Professional guide
Lunch (one meal a la carte)
Beverages water, soda, and beer included
Use of snorkel equipment, including lights, life jackets, and wetsuits
6. Tulum and Cenote Dos Ojos Tour from Cancun
If you are already considering booking a Dos Ojos cenote snorkeling tour, take it up a notch and partner it with a Tulum archeological site and Dos Ojos Cenote package tour.
Let your private guide take care of the storytelling; see the different temples that speak of the old Mayan way of life.
Afterward, head over to one of the world's most massive underwater cave systems.
Swim and snorkel around Cenote Dos Ojos and enjoy its crystal clear and comfortably cool waters.
For a full seven hours, not only will your mind be filled with historical information about the Mayans but also with overwhelming awe of Cenote Dos Ojos.
Included:
Hotel pickup and drop-off
Professional guide
Guided tour and free time in Tulum
Bottle of water
Dos Ojos cenote (50 minutes in the water; lifejacket included)
More Cenotes Articles
Is swimming in a breathtaking Cenote on your bucket list? Then check out our ULTIMATE LIST OF BEST CENOTES TULUM AND PLAYA DEL CARMEN.
Three of the most beautiful cenotes in Tulum are CENOTE DOS OJOS TULUM, GRAN CENOTE TULUM, and CENOTE AZUL TULUM.
Are you starting your trip to Cancun? Then read here HOW TO GET FROM CANCUN TO TULUM.
Best VPN for Travel: ExpressVPN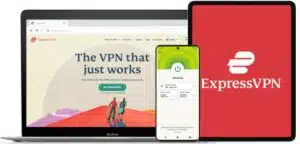 Heading abroad? Use ExpressVPN to access your social media accounts, unblock your favorite entertainment sites, and stay connected with friends and family. And get cheaper flights, of course.
Pros
✅ Next-gen, high-speed servers in 94 countries
✅ Works on iOS, Android, Windows, Mac, Linux, browsers, and more
✅ 256-bit AES encryption protects your data, even on hotel Wi-Fi
✅ Unblocks Netflix and other streaming sites
Cons
❎ No dedicated IPs
Get 3 extra months free of ExpressVPN when signing up for a 1-year plan. That's a 49% saving and a monthly cost of just $6.67! You also get a 30-day money-back guarantee.