Wondering which Tulum restaurants you should try during your trip there? Here are all the best restaurants in Tulum that you definitely should not miss!
Trying out local Tulum restaurants is one of the many best things to do in Tulum, Mexico. The place is filled with well-known establishments as well as hidden spots that are truly worth visiting.
Tulum Mexico is popular for having great food set in aesthetically pleasing environments! We have compiled all the best restaurants in Tulum that you need to try, so all you have to do is sit down and order to your heart's content!
Best VPN for Travel: ExpressVPN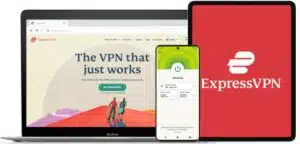 Heading abroad? Use ExpressVPN to access your social media accounts, unblock your favorite entertainment sites, and stay connected with friends and family. And get cheaper flights, of course.
Pros
✅ Next-gen, high-speed servers in 94 countries
✅ Works on iOS, Android, Windows, Mac, Linux, browsers, and more
✅ 256-bit AES encryption protects your data, even on hotel Wi-Fi
✅ Unblocks Netflix and other streaming sites
Cons
❎ No dedicated IPs
Get 3 extra months free of ExpressVPN when signing up for a 1-year plan. That's a 49% saving and a monthly cost of just $6.67! You also get a 30-day money-back guarantee.
Are you planning on doing a big Tulum Mexico vacation? We have everything you need to know to come up with the perfect itinerary – from the Tulum location, the best cenotes in Tulum to discover, the best Tulum hotels to check out, and even the most awesome day trips from Tulum to consider!
1. Raw Love Café
Recommended by Andrea from BeaUTAHful World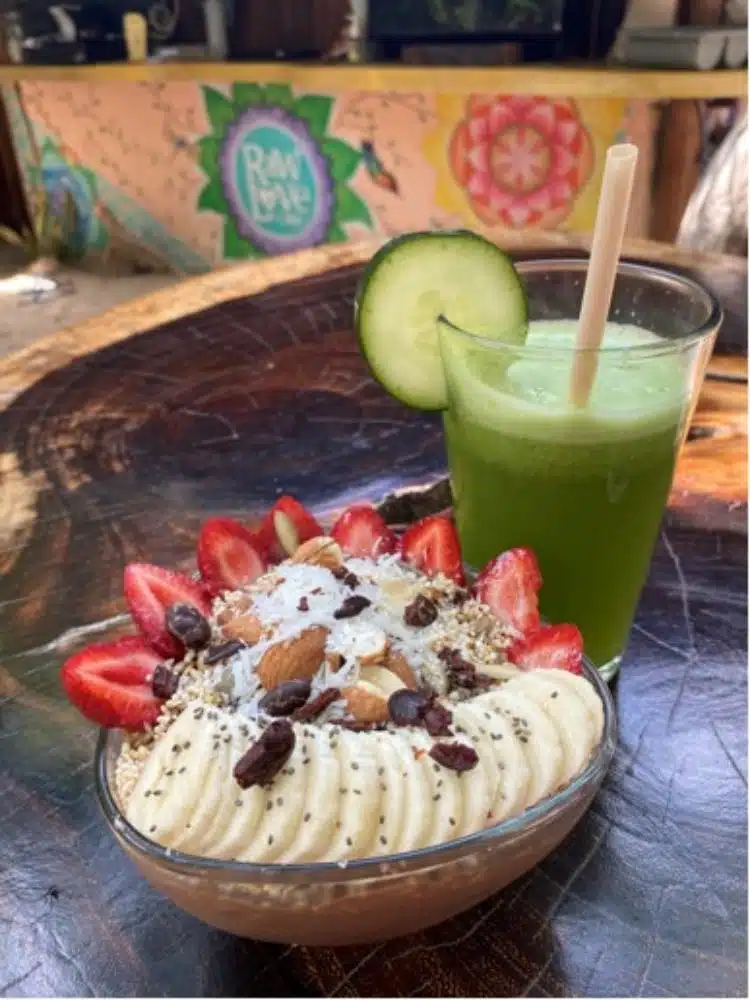 If you're anything like me, you might have had a few extra cocktails and calories while on your trip to Tulum. So if you want to focus on eating healthy while traveling, consider checking out Raw Love.
Raw Love is an adorable outdoor garden space located on the grounds of hotel Ahau Tulum. The café location may make it difficult to spot from the main road, but they have a very recognizable (and Instagrammable) sculpture at their entryway.
Once you make it to the café itself, the relaxing vibe is incredibly inviting, sporting hippy-chic décor with benches and hammock seats which feel less like a restaurant and more like a hang-out spot.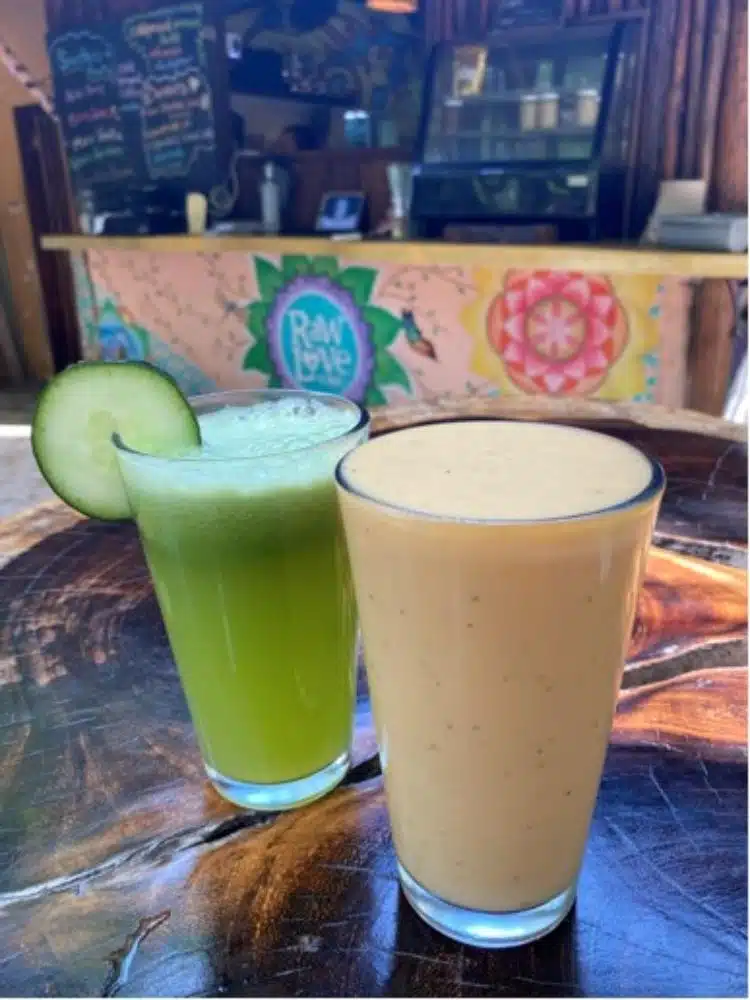 As you can likely guess by the name, the food served at Raw Love is plant-based and mostly vegan with no dairy, sugar, or gluten. While the food is slightly more expensive than the rest of Mexico, it is worth it for the quality that you will find at Raw Love.
Menu favorites are bowls, smoothies, coconut milk lattes, and refreshing juices. Because the menu items tend to be more breakfast, brunch, and lunch focused, Raw Love actually closes each day at 5 pm, so this is not a spot you could visit for dinner.
2. Matcha Mama
Recommended by Allison from Viva La Travelista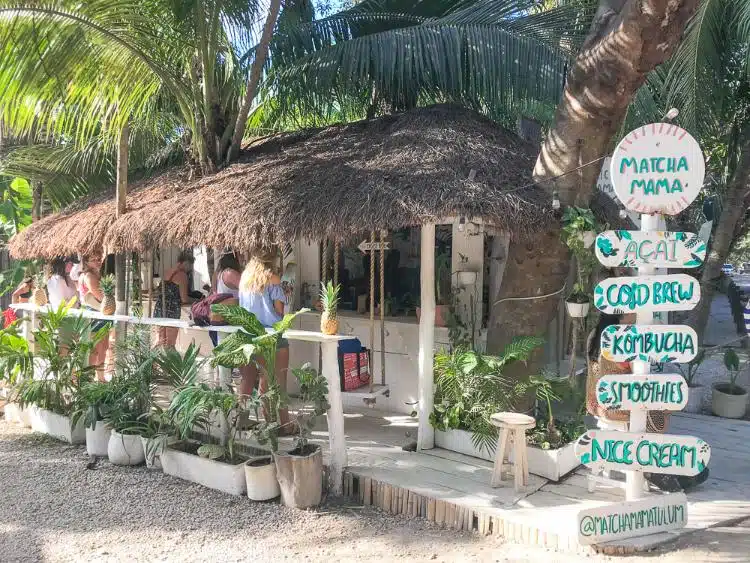 Located in the middle of Tulum's trendy Hotel Zone, Matcha Mama is an outdoor smoothie and juice bar serving tropical smoothies, acai bowls, and kombucha.
All menu items are freshly prepared, plant-based, and gluten-free and offer unique ingredients like bee pollen, amaranth, and maca. The colorful presentation of the smoothie and acai bowls is almost too pretty to eat!
My favorite menu item is the "Mango Tango," which can be made into a sippable smoothie or a bowl. Other menu offerings include fresh matcha drinks, cold brews, "nice" cream, and power balls.
Matcha Mama is the perfect place for a refreshing treat after a day at a beach club or exploring the Tulum Ruins within walking distance of the beach.
The restaurant offers little seating, but its wooden swings and picture-worthy signage make it one of the most instagrammable places in Tulum. I would recommend getting there early or avoiding mealtimes to beat the crowds and get your turn taking pictures on the swings.
Prices are a little higher, but with the stunning food presentation, you're paying for a unique indulgence in a fun atmosphere. Whether you're looking for a light treat or a healthy meal, Matcha Mama is a trendy hotspot not to be missed in Tulum.
3. Burrito Amor
Recommended by Kay from The Awkward Traveller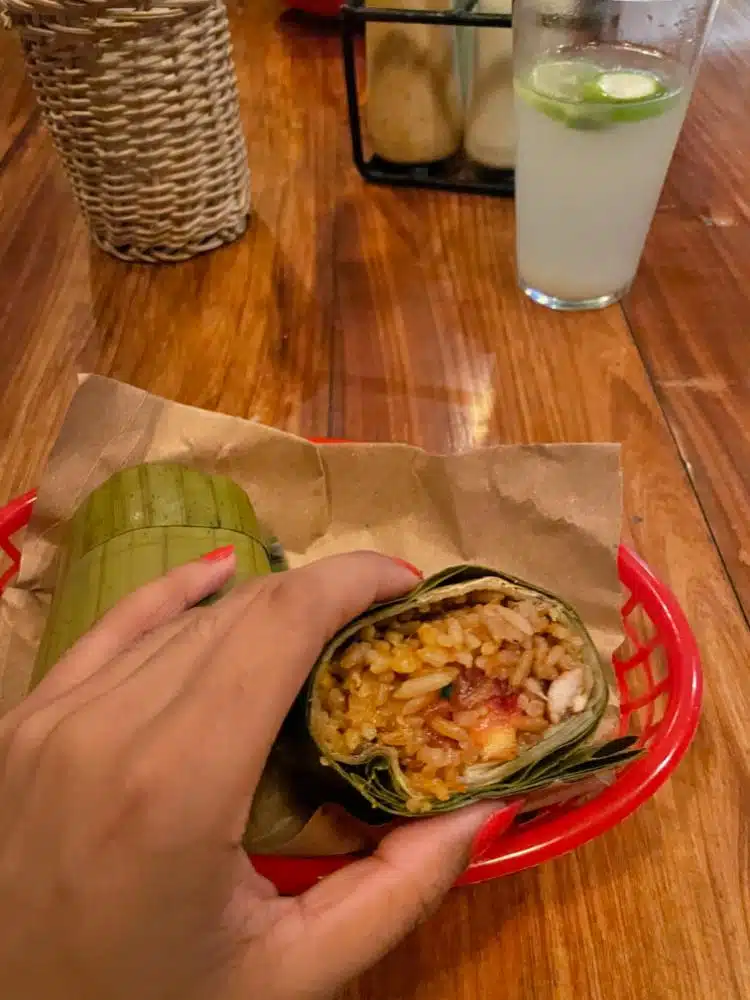 Burrito Amor is an unassuming restaurant sitting right off of the main highway that cuts through Tulum Centro.
At first approach, you may think Burrito Amor is just a tourist spot, with how busy the tables might look, but the restaurant thankfully lives up to its popularity.
There are menus in both Spanish and English, as well as indoor and outdoor seating options. In general, restaurants in town are more affordable than on the beachfront. Still, Burrito Amor goes a step above by having larger than average portion sizes and a delicious range of homemade salsas.
The go-to order would, of course, be any of their unique gourmet burritos, though if you need something refreshing, they also have a great cold bar with juice custards, smoothie bowls, and yogurts.
Burrito Amor is also an excellent food option for vegans and vegetarians, with almost half of their menu consisting of vegan and vegetarian options or alternatives.
Their plates rival even some of the best tacos in Puerto Vallarta – and those are some excellent tacos. A meal for two at Burrito Amor will run about 200 pesos for food, and drinks range from 30-60 pesos for juices and about 80 pesos for wine and mezcal options.
And, because of its great location, you can easily hop to one of the many dessert spots or bars along the street after dinner.
4. The Real Coconut
Recommended by Kay from The Awkward Traveller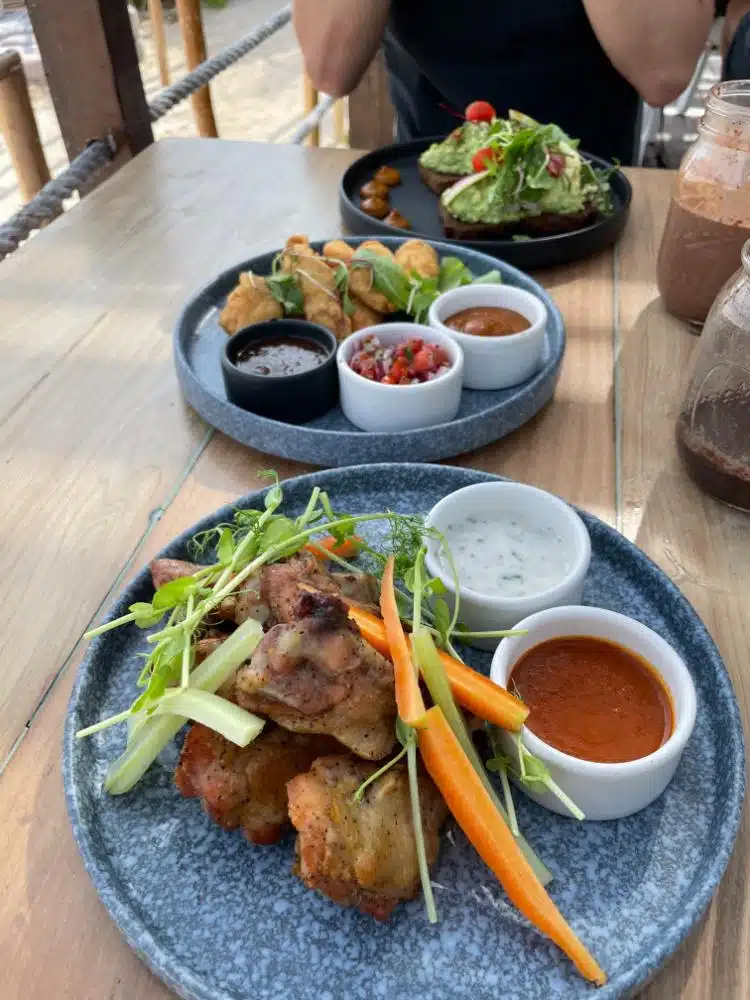 To address the elephant in the room first – The Real Coconut is an expensive restaurant. Poised on one of the most picturesque decks on the beachfront, The Real Coconut offers plush seating both indoor and outdoor, with a stunning view just a short walk from the water.
It is located at the Sanara Tulum luxury hotel, with perfectly landscaped palm trees and swings along the sandy walkways. The Real Coconut has a lot of plant-based vegan and vegetarian menu options and alternatives to fit any dietary concern.
For something light and refreshing as you rest from the sun, grab one of their signature smoothies, juices, or wellness shots and elixirs. The Real Coconut is open for breakfast, lunch, dinner, and weekend brunch for something heartier.
Mix and match their delicious tapas like barbeque chicken skewers, ceviche, or avocado fries. Or opt for a full meal like their customizable nacho bowl, exciting tacos, or their fresh catch-of-the-day plate.
But again, this restaurant is on the more expensive side, with most items starting at 350+ pesos and juices and smoothies around 240 pesos. So if you get drinks and a few tapas, it can really add up. But the view is amazing, and the staff is very friendly and inviting.
Plus, you can hit the beach straight after or check out some boutique shopping at the hotel – including products from the restaurant! If you don't have space on your carry-on, no worries, they have one of the best website interfaces of all Mexican online stores in Tulum!
5. Pamparius
Recommended by Kanupriyaa from My Lost Camel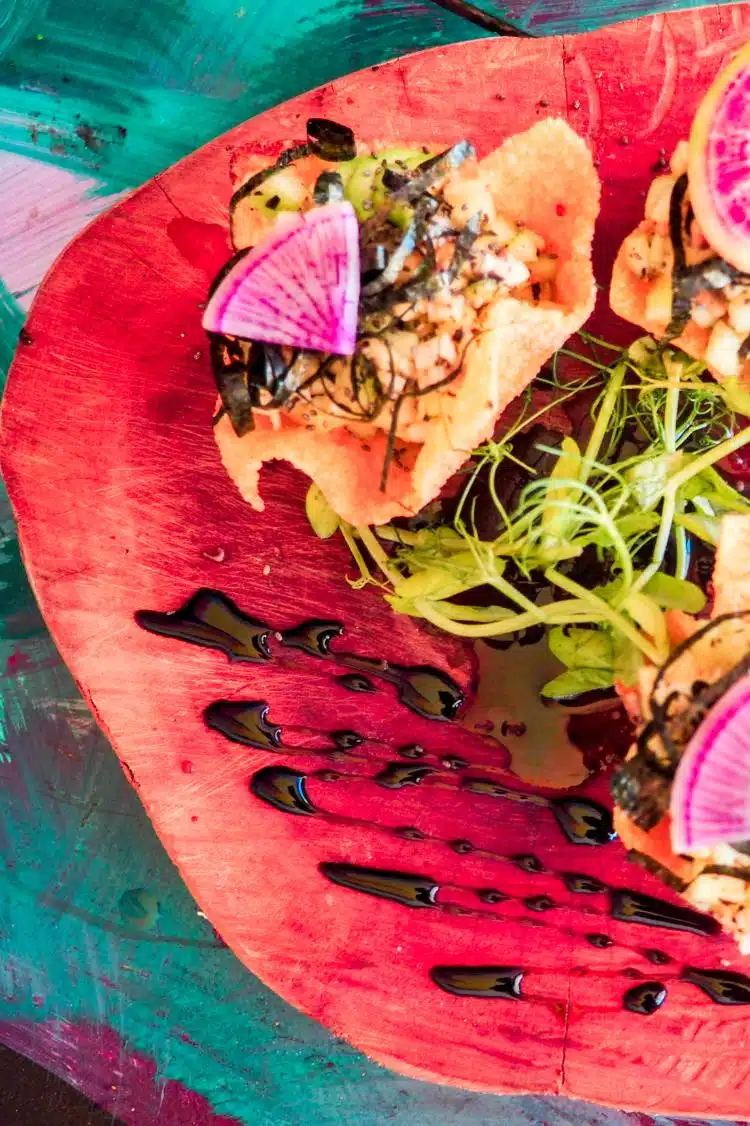 Tulum is a delight for vegans and vegetarians in a surprising twist of culture in a country that loves meaty tacos.
Pamparius, a vegan restaurant on Tulum's main road, is one of the leading restaurants with a healthy vegan menu to satisfy you in the Mexican dry heat.
Walking inside, you will wonder if you accidentally stepped into a Tokyo cartoon cafe by mistake.
The brightly colored chairs, the mural of the eagle bursting forth on the ceiling, and the gorgeous food setting will instantly validate your millennial heart that seeks Instagram spots with a fiery passion.
Fighting against the notion that vegan food is tasteless, the food at Pamparius bubbles with flavors inspired from all over the country. The cold apple quiche is one of the best dishes that you will find in the entire region.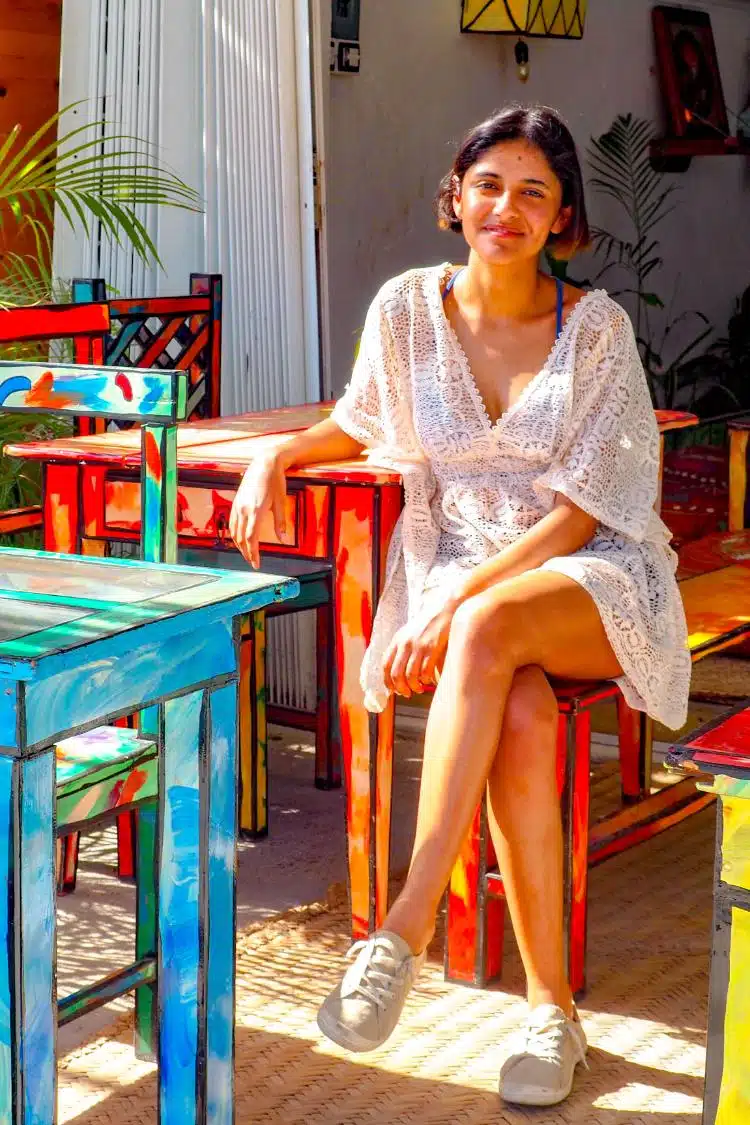 The apple is seasoned with tangy dressing set on crunchy puff pastry baked to perfection. If you are looking for a place to take off your shoes and chill for the afternoon, then Pamparius is the best place to be.
During the afternoon, the place is almost empty, and it's the perfect time to really enjoy the place. The owner, @samruig, is an inspiring female entrepreneur who is usually around and sits with the patrons, making for a great company for all the solo travelers!
6. Piedra Escondida
Recommended by Kanupriyaa from My Lost Camel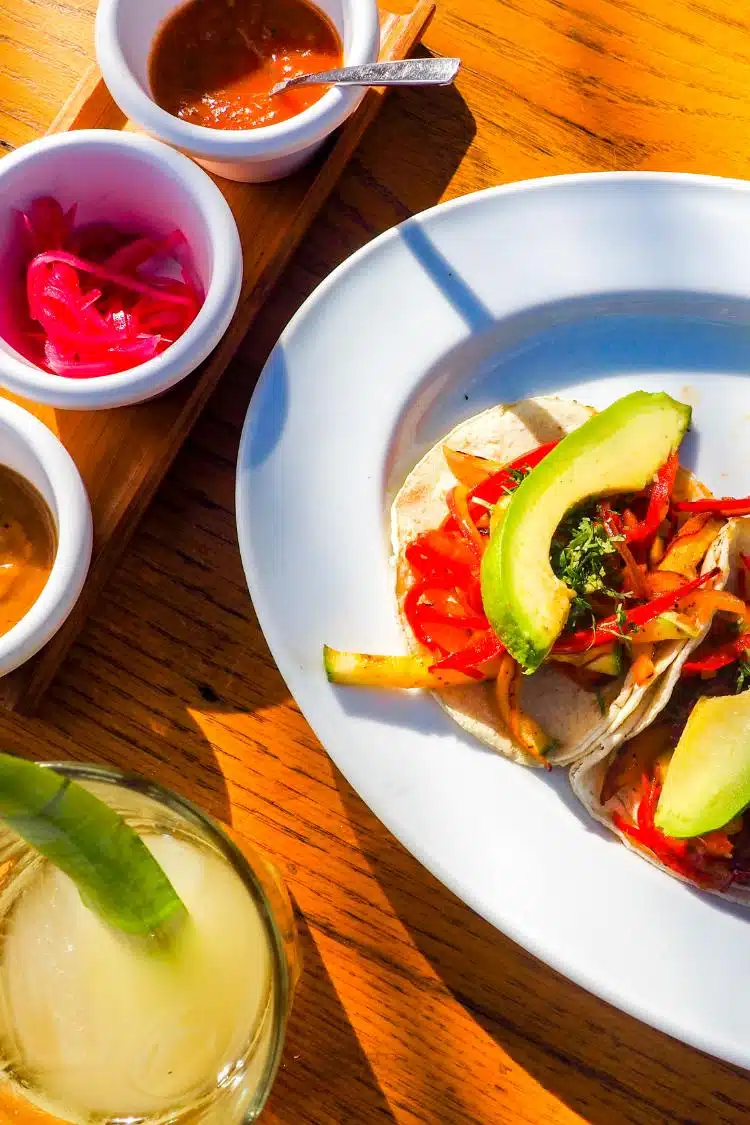 Come lunchtime on the hustling, bustling, and extremely chill main street of Tulum, you begin to wonder where the best tacos are. Piedra Escondida is your answer.
The tacos on the menu will immediately catch your eye – they are spicy, come in a variety of combos, and are stuffed with avocados. The tables are located right on the hotel's private beach, and the magnificent ocean stretches out until the horizon.
You will instantly forget the gorgeous view as you take a bite of your first taco, though. The tacos are the best on this coast. They are perfectly seasoned, and the local veggies are lighted sauteed to bring out the flavors.
The best thing about the dish is the different sauces and pickles that accompany the dish. Each bite with a different sauce is a dish on its own.
Piedra Escondida has an amazingly diverse menu of drinks and Mexican specialty dishes that the entire family can pick something they love.
The hotel staff is extremely courteous, and the service is great. If you want a place to relax for lunch without being surrounded by the crowds in Tulum, then head to Piedra Escondida.
It's a little-known secret, but they really are the best tacos in town.