Discover fun facts about Cenote Azul Tulum, including how to go to Cenote Azul, the best time to visit Cenote Azul Tulum, and Cenote Azul tours to join in.
Cenote Azul Tulum is highly regarded as one of the best cenotes near Tulum.
Its cool turquoise waters and family-friendly structure makes for a stunning group vacation.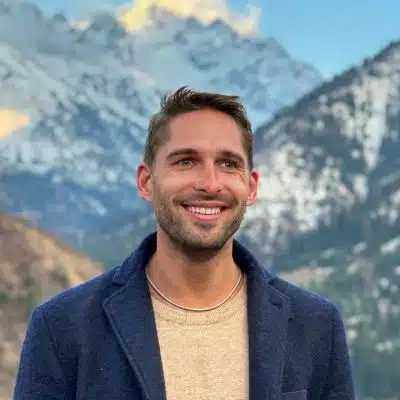 Cenote Azul Tulum Information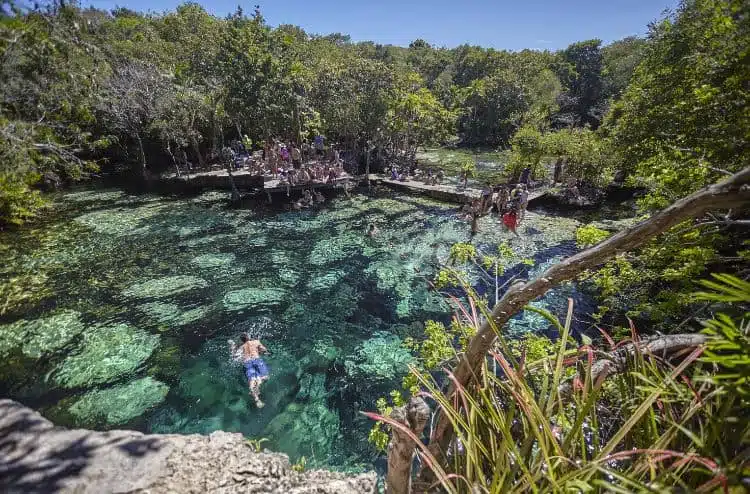 Address: Quinta Avenida sur. Mercado Xaman-Ha Loc 15., Aviación, 77710 Playa del Carmen, Q.R., Mexico.
Distance from Tulum: 25 miles (40 kilometers)
Admission fee: 70 Pesos (Around 3.60 USD)
Cenote Azul Tulum Opening Times: From 9 AM to 5 PM
Cenote Azul Tulum Parking: There is a parking area close to the entrance
Read also: BEST THINGS TO DO IN TULUM MEXICO
Cenote Azul Tulum Fun Facts
Cenote Azul is an open cenote. Unlike many popular cenotes in the Yucatan Peninsula, it is not enclosed in caves. Their caves collapsed a long time ago, exposing it to the skies above and making it extremely accessible.
The Cenote is particularly popular with families. Its pools are conducive to safe swimming and casual platform jumping.
Cenote Azul Tulum is near two more cenotes namely Cenote El Jardin Del Eden and Cenote Cristalino, so a day trip to see all of these cenotes is possible.
You will feel as if you are having a foot spa as the small fishes in the water suck on your feet!
How to get to Cenote Azul Tulum
1. Take a Colectivo
Colectivos are popular public transport means in and around Tulum.
These are shared minivans that travel from one point to another, stopping for people hailing from the side of the road if there are empty seats available.
This is exactly what you have to do if you want to hop on a colectivo to Cenote Azul.
Inform the driver where you are heading to and pay the fixed amount before you go down. Barcelo is an alternative landmark for Cenote Azul.
From Tulum: Wait for a colectivo heading north towards Tulum-Cancun Road / Mexico 307.
From Playa del Carmen: Go to Calle 2 located between Ave 5 and 10, or hail a colectivo that goes south towards Cancun-Tulum Road / Mexico 307. The one-way fare from Playa del Carmen to Cenote Azul is 35 pesos.
2. Grab a Taxi
Most taxi drivers only speak English. Make sure to write down your destination on a piece of paper to avoid miscommunication.
From Tulum: Taking a taxi from Tulum to Cenote Azul will be quite expensive, given that the two destinations are 36 miles or 59 kilometers away from each other.
A taxi ride to Cenote Azul from Tulum takes about 40 minutes. The cost for this trip can go up to 300 pesos.
From Playa del Carmen: If you are coming from Playa del Carmen, I suggest taking a separate transport to Tulum (like an ADO bus or a Colectivo) and then continuing from Tulum to Cenote Azul – by taxi if you wish.
3. Hire a Private Driver
Whichever area you are coming from – Tulum or Playa del Carmen – you can choose to book a private driver for your trip to Cenote Azul.
This option is great, especially for those traveling in a group.
This will save you time from transferring from one vehicle to another or waiting for public transport to arrive.
This can also potentially help you to save money, but it all depends on your haggling skills.
Where do you search for private drivers in Tulum or Playa del Carmen?
You can book a taxi driver privately, or you can also ask your hotel reception for recommendations.
4. Book a rental car
Renting a car in Mexico is cheap. Make use of this advantage and book a rental car to go to Cenote Azul.
Take your rental car to Cenote Azul and beyond! Drive yourself and your traveling buddy to Tulum and end up saving both time and money.
This option also gives you the liberty to go and leave as you please, with no worries about bus or colectivo schedules.
From Tulum: Drive through Mexico 307 for about 40 minutes.
From Playa del Carmen: Grab the opportunity to make a day trip out of your Tulum route!
Take the Cancun – Chetumal/Carr. Tulum – Cancun Road / Mexico 307. If heading directly to Cenote Azul, your trip will take about one hour and 30 minutes.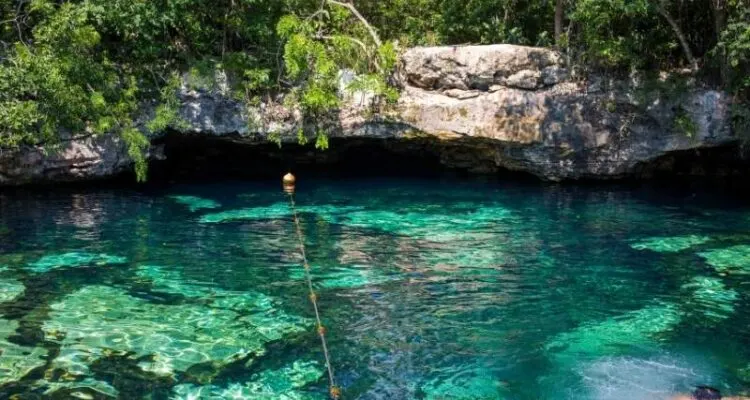 Best time to visit Cenote Azul Tulum
The best time of the year to visit Cenote Azul is anytime from December to February.
These are when the weather in the area is superb.
While March and April still have good weather coming in, you will have a lot of competition for Cenote Azul's beauty.
The best time of the week to visit Cenote Azul is on a weekday. This saves you from the crowd that usually comes to relax on weekends.
The best time of the day to visit Cenote Azul is early in the morning when the entrance has just opened.
This will allow you to have the cenote all to yourself or at least with less crowd.
Alternatively, you can wait until it is almost closing time – another less popular time frame.
Join a Tour to Cenote Azul Tulum
1. Snorkeling with Sea Turtles and Visit of Cenote Azul from Cancun
Go on an El Cenote Azul trip combined with a snorkeling tour which will enable you to see one of the most charming marine species on earth.
Snorkeling with Sea Turtles and a Visit to Cenote Azul from Cancun is a good idea if you would like to maximize your itinerary for the day.
Explore Akumal (which translates to "place of the turtles") and get up close with these animals that frolic on the beach.
Afterward, head over to the famous Cenote Azul and spend a relaxing day swimming through its clear turquoise waters.
Included:
Guide (biologist or naturalist)
Snorkel equipment
Transportation
Entrance fees
Snacks (fruit and peanuts)
Soft drinks and purified water
2. Visit four incredible Cenotes from Tulum
Daydreaming of a cenote-filled itinerary ever since you arrived in the Yucatan Peninsula?
Visit four incredible Cenotes from Tulum and get to experience why people are so fascinated with these mystical sinkholes.
The four cenotes included in this 5-hour guided trip are the Naval Cenote, Pirañas Cenote, the Large Cenote Naval, and of course, Cenote Azul.
Swim, snorkel, jump from platforms, and have the absolute best moments of your vacation time!
Before calling it a day, it's time to head to a Mayan village.
Here, you will be served an authentic Mayan lunch complete with flavored natural water and fruits in season.
Included:
Transportation
Guide
Park entrance fees
Snacks
Snorkel equipment rental
Lunch
Refreshments
Frequently Asked Questions about Cenote Azul
Best VPN for Travel: ExpressVPN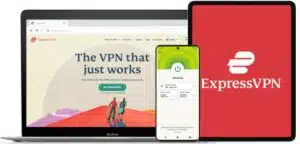 Heading abroad? Use ExpressVPN to access your social media accounts, unblock your favorite entertainment sites, and stay connected with friends and family. And get cheaper flights, of course.
Pros
✅ Next-gen, high-speed servers in 94 countries
✅ Works on iOS, Android, Windows, Mac, Linux, browsers, and more
✅ 256-bit AES encryption protects your data, even on hotel Wi-Fi
✅ Unblocks Netflix and other streaming sites
Cons
❎ No dedicated IPs
Get 3 extra months free of ExpressVPN when signing up for a 1-year plan. That's a 49% saving and a monthly cost of just $6.67! You also get a 30-day money-back guarantee.
How far is it from the Cenote Azul to Tulum?
The distance between Cenote Azul and Tulum is around 58 kilometers or 36 miles. By car, it takes about 37 minutes to get to the center of Tulum.
Is the Cenote Azul closer to Tulum or to Playa del Carmen?
The Cenote Azul is closer to Playa del Carmen than to Tulum. The distance to Tulum is 152 kilometers or 94 miles, whereas Playa del Carmen is located 118 kilometers or 73 miles away from Cenote Azul.
More Cenotes Articles
Is swimming in a breathtaking Cenote on your bucket list? Then check out our ULTIMATE LIST OF BEST CENOTES TULUM AND PLAYA DEL CARMEN.
Three of the most beautiful cenotes in Tulum are CENOTE DOS OJOS TULUM, GRAN CENOTE TULUM and CENOTE AZUL TULUM.
Are you starting your trip in Cancun? Then read here HOW TO GET FROM CANCUN TO TULUM.