The Rio Celeste Waterfall is among the most breathtaking sights in all of Costa Rica! Discover some of the most amazing natural sights in the Tenorio Volcano National Park with this complete Rio Celeste, Costa Rica guide!
The country of Costa Rica is filled with natural wonders, but somewhere between Arenal and Montezuma, you'll find Rio Celeste- a place like no other!
The Rio Celeste Waterfalls are among the most breathtaking sites in all of Costa Rica and serve as the backdrop for many memorable moments.
Its strikingly blue waters, which are situated in the enchanted regions of the Tenorio Volcano National Park, are a sight of sheer beauty and one of the main draws for tourists seeking a unique natural wonder!
Discover the beautiful rainforest trails, lagoons, geothermal pools, and the breathtaking sky-blue waters of Rio Celeste.
Here's everything you need to know about this magical place- find out how to visit this stunning natural paradise with our detailed Rio Celeste guide!
Where is Rio Celeste in Costa Rica?
Rio Celeste Waterfall is situated in Tenorio Volcano National Park in the northern lowlands of Costa Rica's Guanacaste province.
Visiting Rio Celeste is also one of the best things to do when staying in La Fortuna since it is only a 1.5-hour drive away!
About Rio Celeste Costa Rica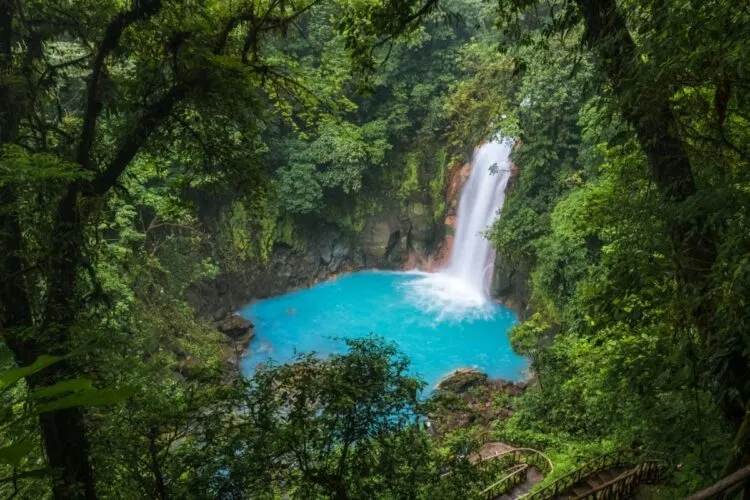 A spectacular waterfall, hiking paths, and geothermal springs are among the attractions of the Celeste river in Tenorio Volcano National Park of Costa Rica!
The Spanish name Rio Celeste, which translates to "bright blue river," is quite a fitting one- and soon you'll understand why!
The river's and waterfall's stunning color is really breathtaking. The moment you catch sight of the turquoise waters, you'll feel like you've stepped into an oasis.
It's a photographer's haven and the stuff of dreams for those who adore the outdoors.
The Rio Celeste Waterfall, which cascades 98 feet into the stream below, is surrounded by rich and dense vegetation. It's the kind of setting that gives you the impression that you've walked right into a tropical paradise!
Rio Celeste's gorgeous blue color is probably what draws so many visitors to the magnificent natural wonder!
But from where does that hue come?
A wonderful tale from local lore explains how the river came to have such a magnificent color.
According to the legend, the gods cleaned their paintbrushes in the river after painting the heavens blue.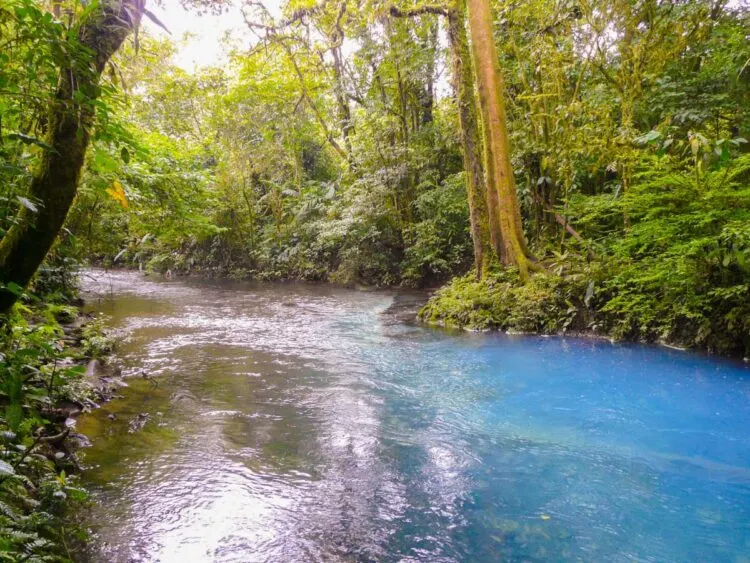 As a result, the sky's color bled into the water permanently, giving the river and cascade their distinctive turquoise hue!
But although it has been a subject of debate for many years, experts have just lately reached a new conclusion on the valid reason.
From a more scientific standpoint, it was long believed that a chemical reaction was what gave the color blue. The reaction between the components copper, calcium carbonate, and sulfur gave the water its blue hue.
It was eventually discovered, however, that the river does not contain any copper to give it its blue color. So ultimately, it is an optical illusion rather than a chemical process!
Rio Celeste Hiking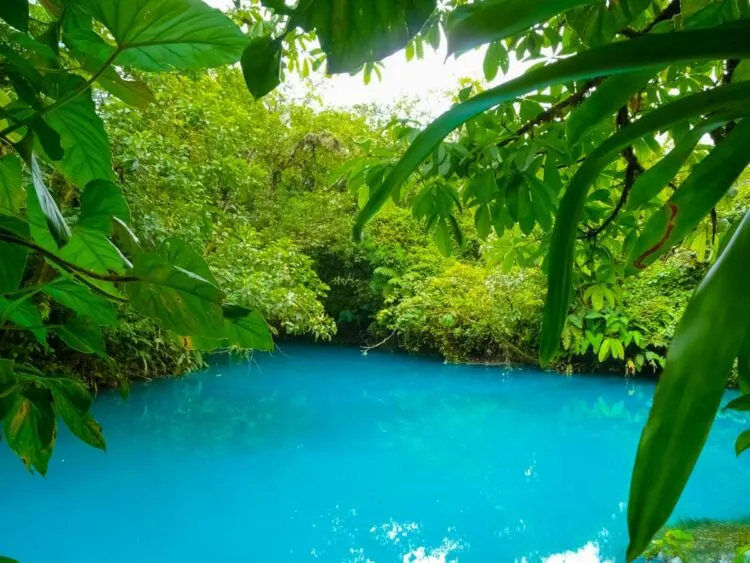 Now that you know more about what makes the water at Rio Celeste so incredibly blue let's move on to the experience and learn more about the hike!
Remember that there is more to Rio Celeste than just the waterfall. You can participate in a longer hiking track with more stunning locations along the way!
This hiking path leads to the waterfall first before continuing along the river's side past geothermal pools, bridges, and other panoramic viewpoints. At the point where the river turns blue, where it combines with another river, is when the route comes to an end.
The trail's opening highlight is the waterfall, also known as Catarata. However, some additional must-see features along the road include the Mirador, Laguna Azul, Borbollones, and Tenideros!
You can visit the waterfall alone and hike only the first part of the trail. Or you can choose to hike the entire path, which is 3.7 miles round trip and takes about 3 hours to accomplish.
If you have the strength, we recommend hiking the entire trail while you are there because it is definitely worth it!
The difficulty of the Rio Celeste trail trek is moderate. However, with plenty of signs, the trail is quite simple to follow, and you'll start the trail as soon as you enter the national park!
Tip: Want to discover some other exciting Costa Rican hiking destinations? Check out our ultimate List of the Best Arenal Volcano Hikes!
Catarata-Rio Celeste Waterfall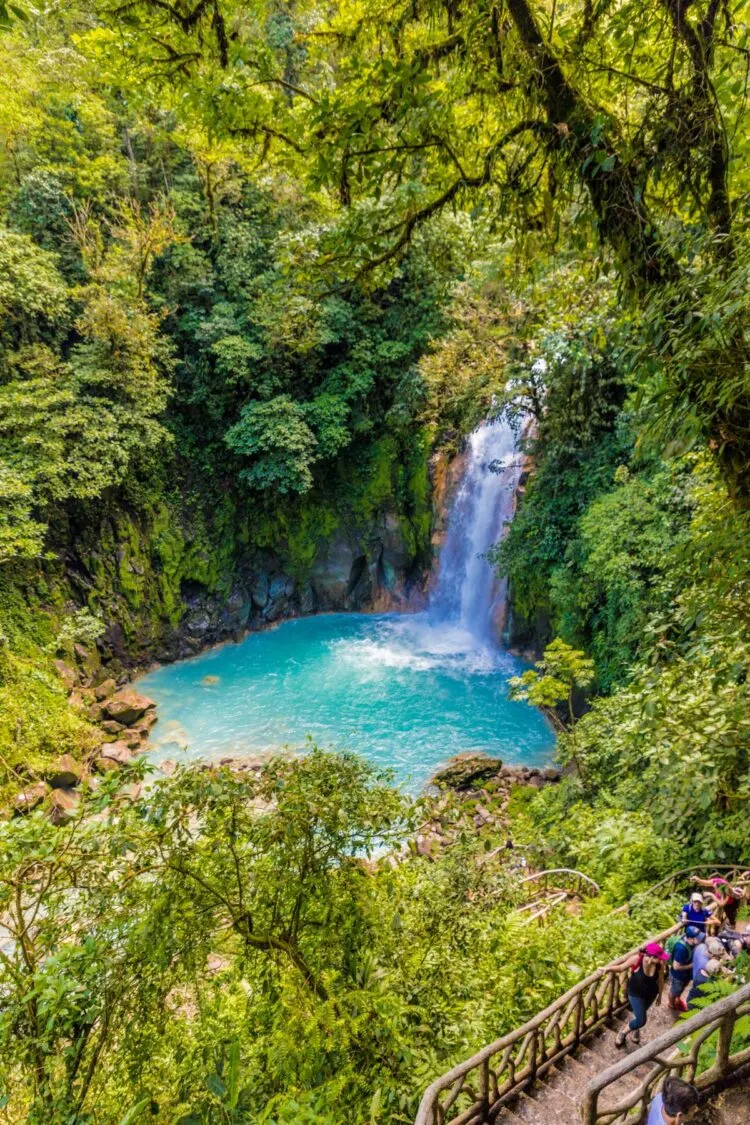 The trail's first segment is the longest and most maintained. The trail is 1,500 meters or about a mile long before you get to the waterfall staircase.
The walk begins on a concrete path you may follow without difficulty as it leads deeper into the woods. The path is sometimes more of a dirt path and is not always paved, but it's nothing too extreme.
You will arrive at the stairs leading to the Rio Celeste waterfall after about 30 minutes of hiking through Tenorio Volcano National Park. You must descend about 200 stairs before reaching a platform with a view of the waterfall!
This stretch is one of our favorites because as you descend the stairs, you can enjoy breathtaking views and take fantastic photos! You'll then proceed down the staircase until you reach the final platform.
Tip: Costa Rica is full of magnificent waterfalls! Want to explore some more? Continue your next adventure to Arenal Volcano National Park and La Fortuna Waterfall!
Mirador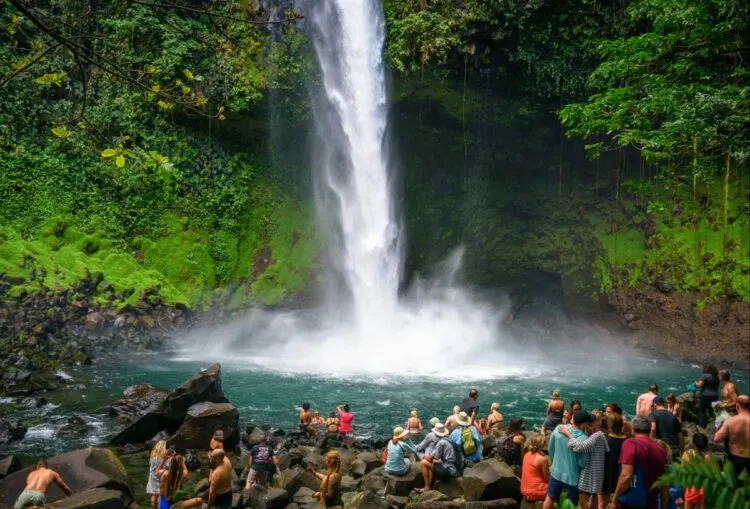 Once you've reached the first point and witnessed the beauty of Río Celeste, you have two choices: Do you want to enter the rainforest further to see the other four locations, or do you only want to see the waterfall and return to the entrance?
The trail becomes less well-maintained and more difficult and muddy from this point on. But, once again, if you have it in you, we urge you to keep going!
Simply follow the signs directing you to the mirador and other attractions after leaving the waterfall. You'll undoubtedly encounter slippery walkways and rocky climbs on the way there.
The distance between the waterfall and the mirador is 500 meters or 0.3 miles. And if you want to experience some spectacular views from the lookout point, make sure to go on a clear and sunny day!
Laguna Azul
The remaining 150 meters of the trail are rather short, and you will soon arrive at Laguna Azul or Blue Lagoon!
You'll learn why it's called Laguna Azul after you are there. The river is completely still and steady here, and you can see the blue river with the surrounding forested vegetation.
The contrast between the water and the woods is a stunning sight to behold!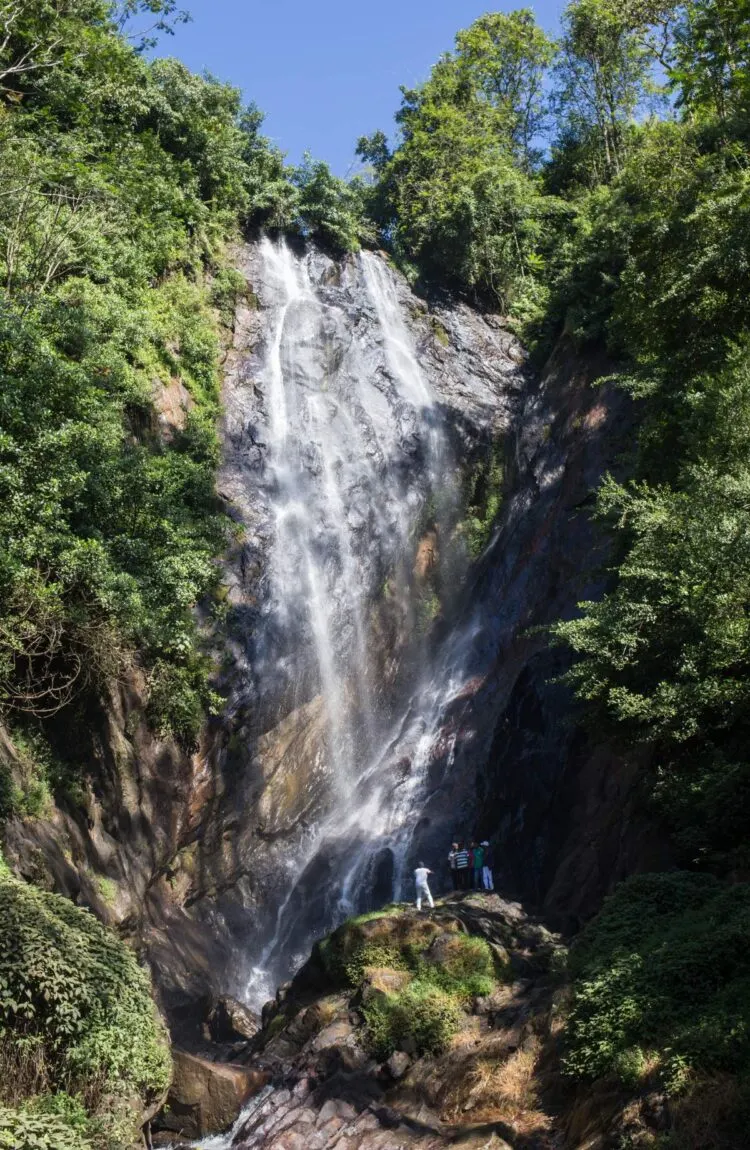 Borbollones
The Borbollones are the next stop, a one-minute hike from Laguna Azul. The river bubbling below makes this one of the most fascinating stops along the route.
The Spanish word for bubbles, borbollones, is where you can definitely smell the sulfur coming from underground!
Tip: These thermal waters aren't the only ones you'll find in the area- Visit the Tabacon Hot Springs by joining this Arenal Volcano and Tabacon Hot Springs Costa Rica Tour!
Tenideros
After visiting the Borbollones, continue on the last 300 meters or 0.2 miles of your hike to reach the Tenideros!
There are several bigger rocks throughout this last stretch of the trail, and a few suspension bridges cross the actual river.
Up until the end, you'll get some fantastic views of this picture-perfect blue river along the way. You can witness the birth of the natural phenomenon at the Tenideros, where two rivers meet!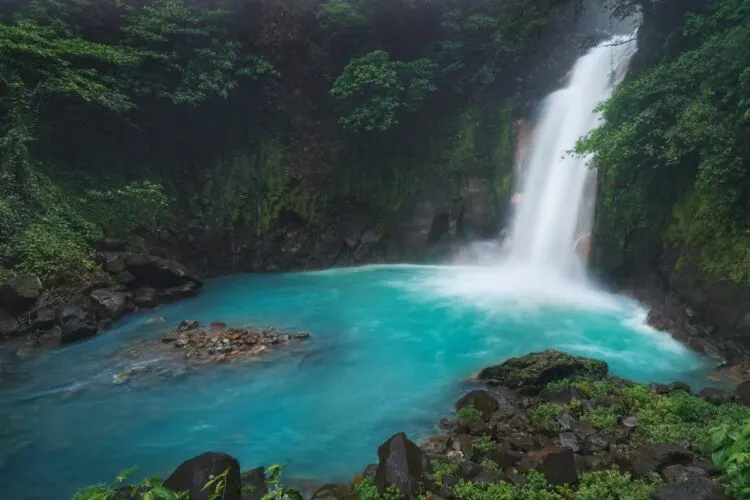 Here, you can plainly see the color change unfolding as these two streams merge. It's a genuinely mind-blowing landscape that is hard to grasp.
If you want to learn more, there are various signs that explain the river's history and this optical illusion. Or, you can join a guided Rio Celeste tour and learn about this magical place!
Once this is finished, you must return all the way to the park's entrance. You are welcome to retrace your steps and stop along the way!
Tip: Want to explore the area? Explore some more amazing Rio Celeste and Tenorio Volcano National Park Tours, or book one of the La Fortuna day trips and tours!
Planning a trip to Costa Rica?
Sometimes, it's easy to be overwhelmed by all the options. That's why booking a customized vacation using a local partner makes it so much easier!
Let us arrange everything for you when you plan your trip to Costa Rica. All we want to do is make sure you enjoy your holiday even more!
Just share your travel dates, places of interest, and other details that would make your trip to Costa Rica simply unforgettable in the form below, and we'll get right on it!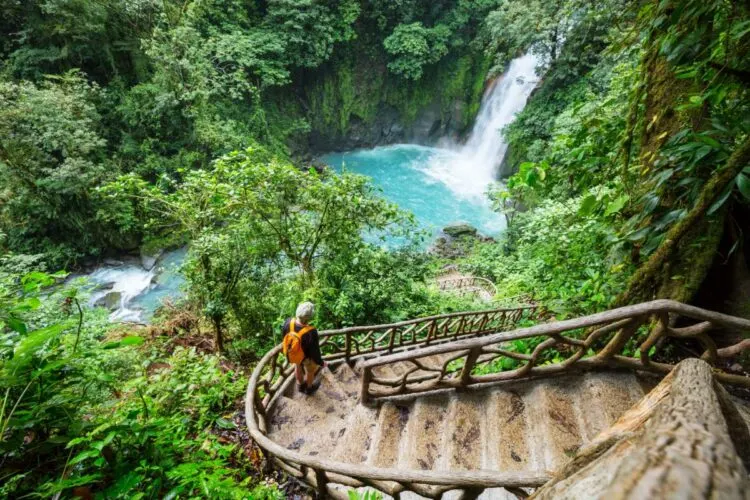 Know Before You Go: Rio Celeste Costa Rica
Entrance Fee
Adults: USD 12
Children: USD 5
Parking Fee: USD 2
Remember, you can only pay with a credit card!
Working Hours
Every Day: 07:00 AM – 02:00 PM
Weather
Rio Celeste's tropical rainforest contributes to its often hot and humid climate. Daytime highs typically range from the low to mid-80s F or 28 C.
Remember that this region's dry-rainy tropical seasons are not rigorously observed, and it may rain during the dry season (December – April).
Best Time To Visit
The dry season is the best time to see Rio Celeste Waterfalls, from December to April. Due to the frequent rains and mud, the water may not be as blue during the wet season.
When planning your vacation, remember that the dry-season months are also the busiest, and because of this, they only allow a certain number of guests each day.
Rio Celeste visitors are advised to go there early in the morning, before 9 AM, if they travel between December and April or July.
The park's admission policy is first come, first served because you cannot buy tickets in advance, so make sure to arrive early!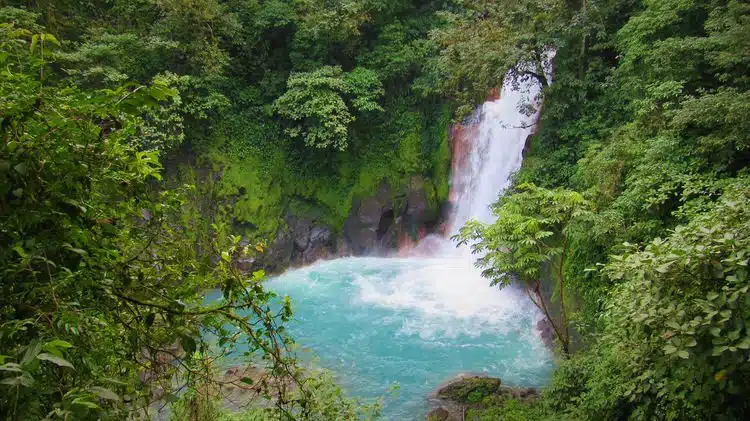 What To Wear
Shoes: No open-toed sandals, high heels, or flip-flops are permitted. You need to have decent waterproof hiking shoes because trails are usually muddy with tree roots and pebbles.
Clothing: Shorts will perform fine; long hiking pants are unnecessary. Just remember to use insect repellent!
Gear: Bring waterproof rain clothing and gear, especially if you're bringing cameras! And, if you're older or have knee/ankle issues, using hiking poles is advised for descending stairs and rough paths.
Can You Swim in Rio Celeste?
Swimming in Rio Celeste or Tenorio Volcano National Park is strictly prohibited!
Tip: Want to stay in the area overnight? Continue to La Fortuna and stay at one of the best La Fortuna hotels!
Frequently Asked Questions
Best VPN for Travel: ExpressVPN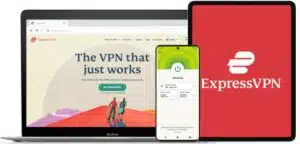 Heading abroad? Use ExpressVPN to access your social media accounts, unblock your favorite entertainment sites, and stay connected with friends and family. And get cheaper flights, of course.
Pros
✅ Next-gen, high-speed servers in 94 countries
✅ Works on iOS, Android, Windows, Mac, Linux, browsers, and more
✅ 256-bit AES encryption protects your data, even on hotel Wi-Fi
✅ Unblocks Netflix and other streaming sites
Cons
❎ No dedicated IPs
Get 3 extra months free of ExpressVPN when signing up for a 1-year plan. That's a 49% saving and a monthly cost of just $6.67! You also get a 30-day money-back guarantee.
Where is the Rio Celeste Waterfall?
Rio Celeste Waterfall is situated in Tenorio Volcano National Park in the northern lowlands of Costa Rica's Guanacaste province, midway between La Fortuna and Liberia.
What is the Rio Celeste Known For?
If you haven't guessed by now, Rio Celeste is best known for its rare sky-blue color, which is difficult to find in other regions of Costa Rica and the world.
Along with the opportunity to take in this waterfall, the region also allows visitors to explore several riverside locations, including spots where the river's color truly changes to this stunning blue.
Overall, it is such a distinctive experience, and we highly recommend including it in your trip to Costa Rica.
Can you swim in Rio Celeste?
No, swimming in Rio Celeste or within Tenorio Volcano National Park is strictly prohibited.
What are the Tenorio Volcano National Park working hours?
Daily hours of operation for Tenorio Volcano National Park are 07:00 AM to 02:00 PM.
What is the entrance fee for Tenorio Volcano National Park?
The entrance ticket costs USD 12 for adults and USD 5 for kids aged 2 to 12. Remember, only credit/debit cards are accepted. Outside the park's entrance is where you'll find the ticket booth.
Is Rio Celeste worth a day trip?
It takes about a day to complete and is a little out of the way for tourists visiting the Arenal Volcano, Monteverde, or Guanacaste, but it is a genuinely unique experience and worth a day trip, especially if you're staying in La Fortuna!
Is the Tenorio Volcano active?
Despite being a dormant volcano, Tenorio is still surrounded by geothermal activity.
How long is the hike to Rio Celeste Waterfall?
Only one trail, measuring about 3.5 miles or 5.6 kilometers each way, leads to the Rio Celeste Waterfalls. Hiking here takes around an hour each way.
How Tall is Rio Celeste Waterfall?
Rio Celeste waterfall drops for only 98 feet or 30 meters. It isn't the tallest, but it might be the most beautiful!
Is Rio Celeste Hiking Possible Without a Guide?
Rio Celeste can be hiked without a guide, no doubt. Since everything is clearly marked along the walkways, getting lost is impossible.
Even while traveling at your own pace is enjoyable, having a guide to Rio Celeste may be quite beneficial for learning more about the falls and the park as a whole.