Thinking of things to see in Chicago and what to do in Chicago? We have gathered all the best things to do in Chicago so you can have a fun-filled trip to the Windy City.
There is no spot for a dull moment in your travel itinerary in a place as diverse as Chicago, Illinois.
If you are fond of vast skyscrapers and other fascinating views that make up city life, you are in for a treat.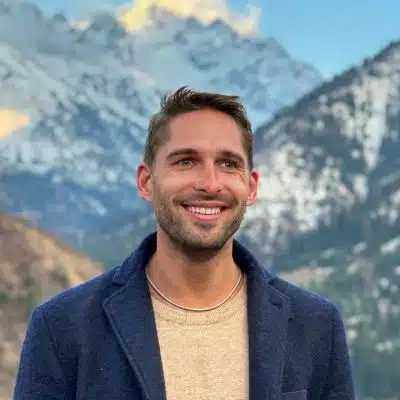 If food is what makes you motivated to travel, a lot of fun things to do in Chicago require you to serve some of the best dishes that the city offers.
Time your visit when the Taste of Chicago Festival is ongoing and participate in the world's largest food festival.
Several Chicago attractions are even free to visit; some are conceptualized to be so, while others are born out of the immense generosity of philanthropists.
These free places in Chicago include Millennium Park, the Chicago Cultural Center, and the Chicago Jazz Festival.
Read more to learn about all the best things to do in Chicago and why Chicago is one of the best places to visit in the US.
1. Millennium Park
Recommended by Stephanie from Explore More Clean Less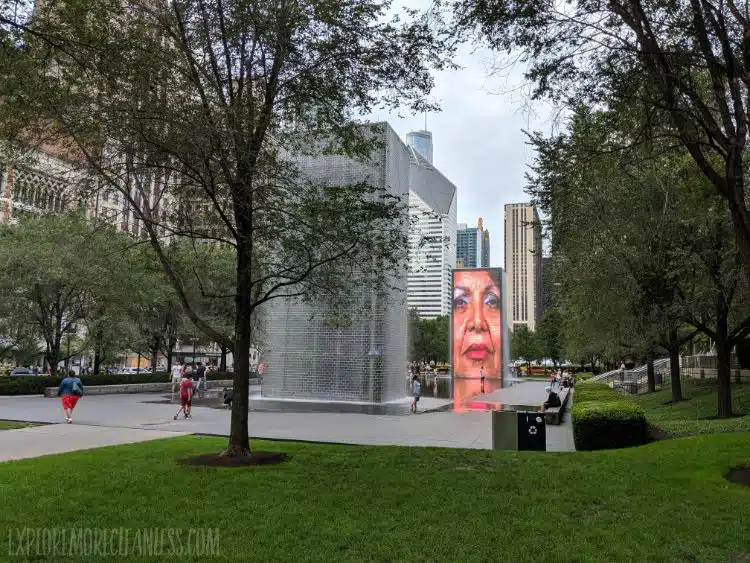 Millennium Park is a fantastic, huge outdoor space that everyone visiting Chicago should experience!
Accessible by train, car, bike, bus, and subway, Millennium Park sits right next to the Chicago Art Institute, Field Museum, Chicago Cultural Center, and up against the lakeshore.
It is within walking distance of both downtown restaurants and Navy Pier, making it easy for a full day of exploration in the area, and best of all, most of the park is completely free to the public.
Modern art lovers will need to stop and take a selfie in front of Cloud Gate, designed by Sir Anish Kapoor (better known as "the bean"), before strolling through the 3.5 acres of Lurie Garden filled with lush flowers and lots of bird watching opportunities.
Young kids will delight in the Maggie Daley Park section, where there are oversized, imaginative playground areas with things to push, climb, and swing on.
Older kids and the young at heart will appreciate the nearby rock climbing wall and putt-putt course (there is a charge for these activities).
On hot days, you can splash in the famous Crown Fountain designed by Jaume Plensa with digital faces peering down at you.
There are frequent outdoor performances at the Jay Pritzker Pavilion and lots of food cart options with AMERICAN FOOD as you stroll, making Millennium Park one of the best things to do in Chicago when downtown or nearby exploring Chicago museums.
2. Art Institute of Chicago
Recommended by Jenifer from The Evolista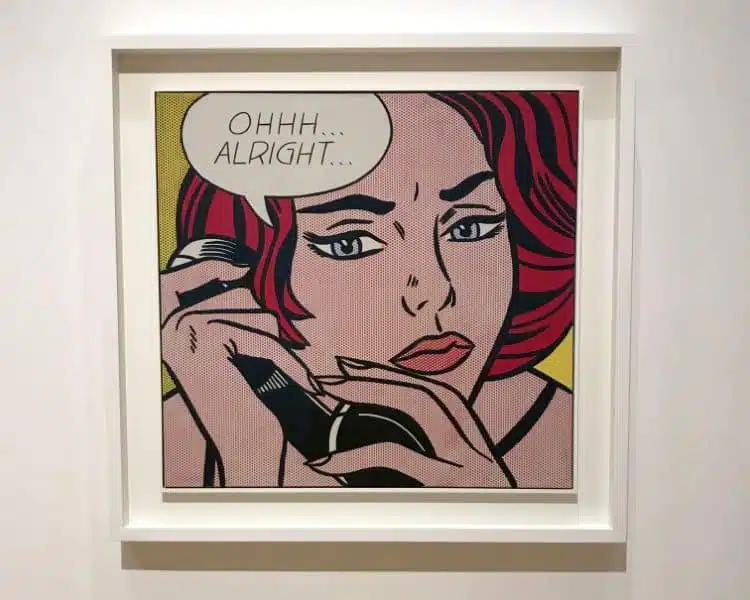 Located in Grant Park at the end of Michigan Avenue, the Art Institute of Chicago is the 2nd largest art museum in the United States with 300,000+ works in its collection and one of Chicago's best things to do.
The Beaux-Arts building, built in 1893, houses art spanning many different time periods and art styles. The result is a museum that appeals to everyone, regardless of preference or art experience.
One area of the museum that is extremely popular is the Thorne Miniature Rooms in the basement.
There are 68 dollhouse-type dioramas, conceived by Narcissa Thorne, which depict mostly European and American interiors from the late 16th century to the early 20th century.
The level of detail and accuracy is impressive.
The museum has a world-renowned collection of Impressionist art from Monet, Renoir, Degas, and more.
The notable Post-Impressionist artists include Georgia O'Keefe, Picasso, and Cezanne.
If you are short on time, don't miss these "must-see" paintings – Edward Hopper Nighthawks, Georges Seurat A Sunday Afternoon on the Island of La Grande Jatte, Vincent Van Gogh The Bedroom, Grant Wood American Gothic, and Pablo Picasso Mother and Child.
As you can imagine, this museum gets extremely crowded, especially on summer weekends.
It's recommended to visit on a weekday morning or Thursday evening to take advantage of the extended hours.
Price is $25 for adults, $19 for Students/Seniors, and children under 14 are free. Allow at least 3 hours for your visit.
3. Go to a Chicago Cubs Game
Recommended by Jordan from The Solo Life.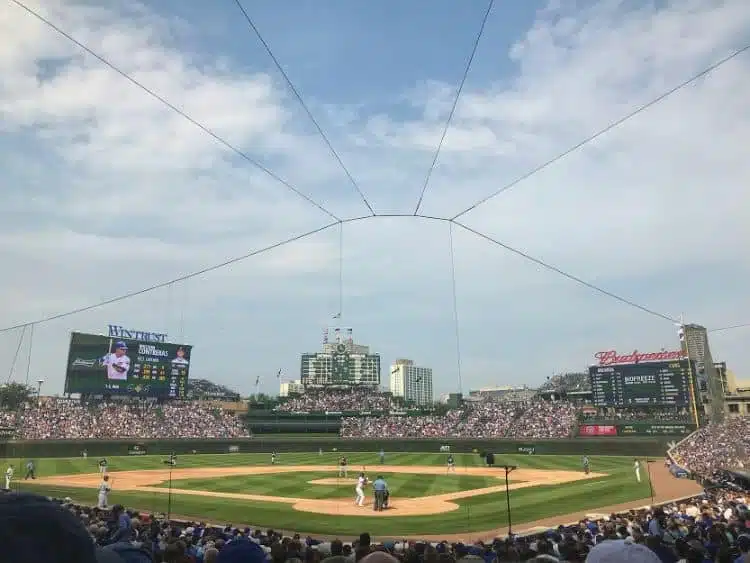 When visiting Chicago, one of the best things to do in Chicago for sports fans is to attend a Chicago Cubs game at historic Wrigley Field.
The second oldest Major League Baseball stadium in the U.S., with 80-year-old ivy and an old-school manually operated scoreboard, Wrigley Field has tons of history to go along with its baseball.
If you are not a baseball fan, going to a Chicago Cubs game is still an event not to be missed. The appeal of a game at Wrigley Field is as much about the atmosphere as the game itself.
Even during weekday games, the stadium is jam-packed with fervent fans rooting for their team.
Whether you're visiting Chicago, San Francisco, or Washington, D.C., a great baseball experience usually involves great fans.
This mood and the fact that the Cubs are actually good again make this a perfect afternoon or evening activity while visiting Chicago.
The nearby neighborhood, called Wrigleyville, is also a fun aspect of going to a Cubs game.
Explore the area either before or after the game for souvenirs, food, or just Chicago city life.
If you are visiting Chicago and looking for an activity to satisfy a sports fan or history buff, attending a Chicago Cubs game at Wrigley Field or a Chicago Cubs spring training is a must-do.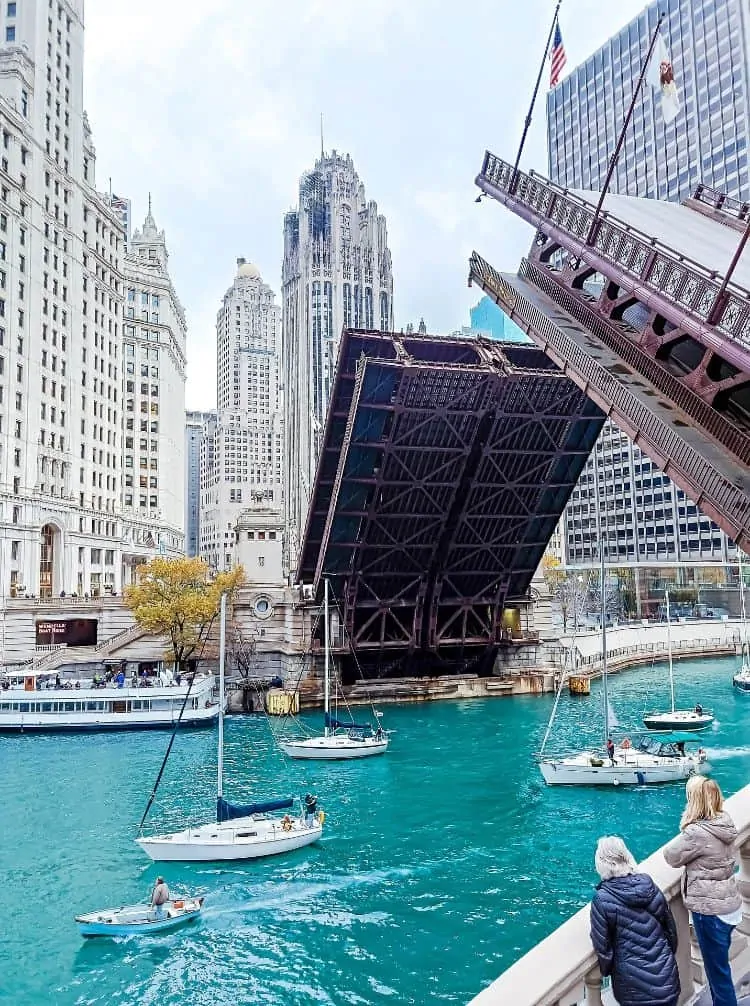 4. Attend Gay Pride Fest Chicago
Recommended by Sion and Ben from The Globetrotter Guys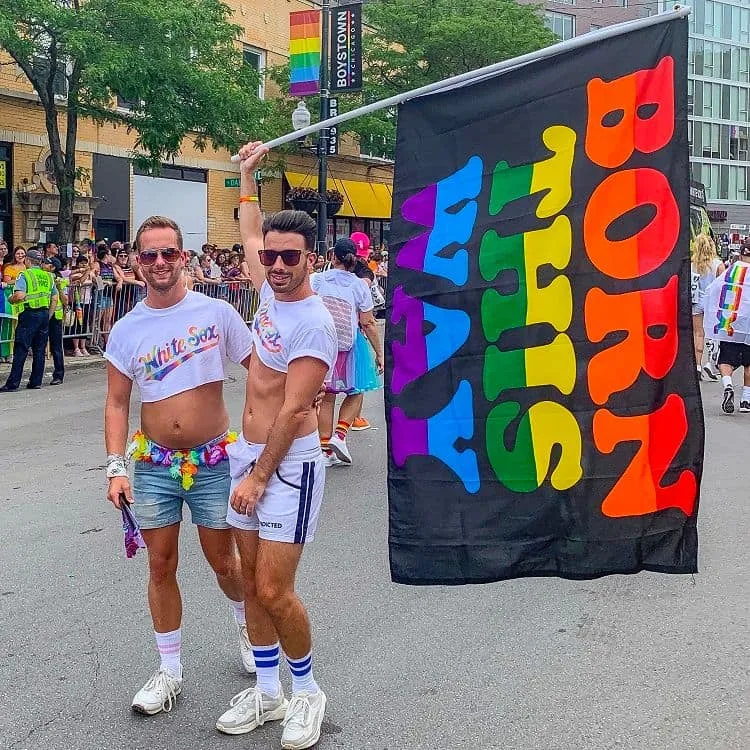 Gay Pride Fest in Chicago is held for a week in June (Pride month) every year and attracts over a million people!
Events are running throughout the entire week, and it is clear that the whole city gets involved and shows its support for the event. We found that Chicago as a whole was very welcoming for LGBTQ+ travelers.
The week's main event is the main Pride Parade, which has over 200 floats with eye-catching costumes, bright colors, and music!
The parade lasts for about 3-4 hours and normally runs south on Broadway to Halsted, continues south on Halsted to Belmont, then east on Belmont to Broadway, and finally south again on Broadway to Cannon Drive and Lincoln Park.
The streets along the parade route get packed with spectators; we highly recommend getting a good spot early.
In the run-up to the Pride Parade, there are many other fun events to get involved in.
If you enjoy comedy, make sure you check out Second City's Salute to Pride. This is exclusive during Pride and is a new, all queer variety show full of drag, comedy, and an LGBTQ+ cast.
If an outdoor festival is more your scene, make sure you get tickets in advance for Pride in the Park.
This is the day before the parade and was announced for the first time in 2019 and provides a full day of drag acts, stalls for drinks, food, shopping, and of course, the main stage where they had international performers, including Iggy Azalea (2019).
If you find yourself in Chicago during June, make sure to check what is on and get involved!
5. Beginning of Route 66 Sign
Recommended by Stephanie from Oklahoma Wonders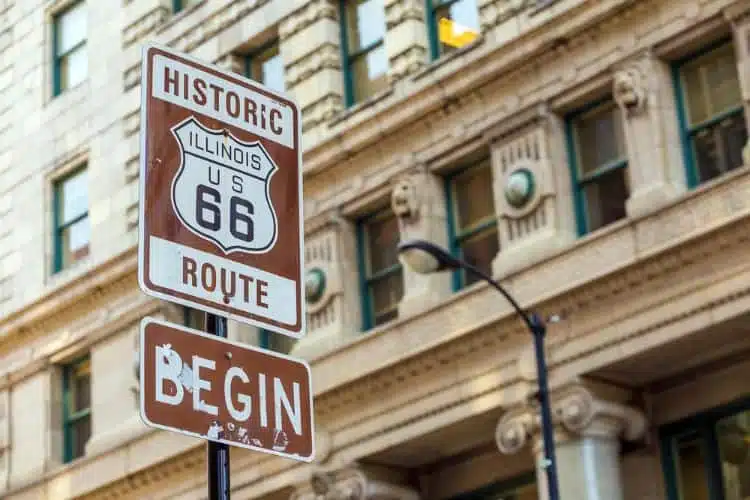 If you're visiting Chicago as part of a big Route 66 road trip (and even if you're not), set aside time to visit the Route 66 "Begin" site.
Chicago is the first of the major cities on Route 66 and is where the Mother Road starts before traversing eight states and almost twenty-five hundred miles to end all the way at the Santa Monica Pier.
Of course, if you're heading out on Route 66, you'll obviously want to start your trip here! I would spend two or three days exploring the city before you leave on your trip (if you have the time).
But if you're not traveling Route 66, you should still come by and take a pic with the iconic sign and think about how many important travels have started right in that spot!
It's especially easy since it's right across the street from the Art Institue of Chicago.
The sign is located at 78-98 E Adams St., the northwestern corner of Adams St and Michigan Ave.
There's another sign a block away, but this is a replica and not the original historic spot. It's still a fun place to visit if you want to see both!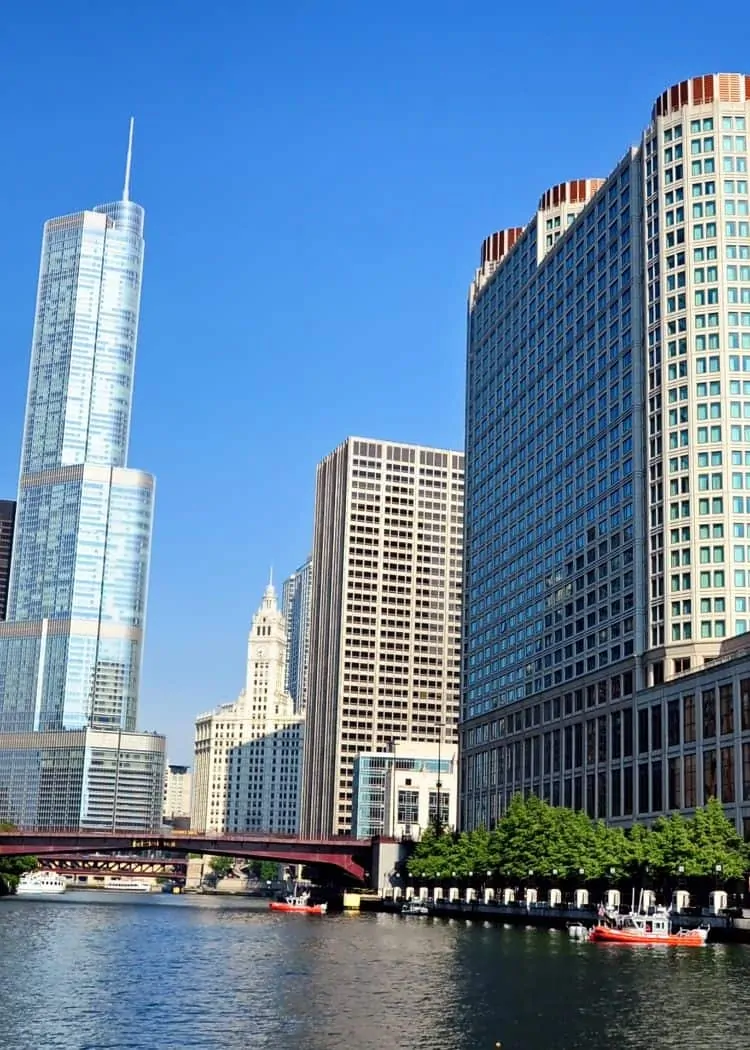 6. Best things to do in Chicago – North Avenue Beach
Recommended by Jessica from Uprooted Traveler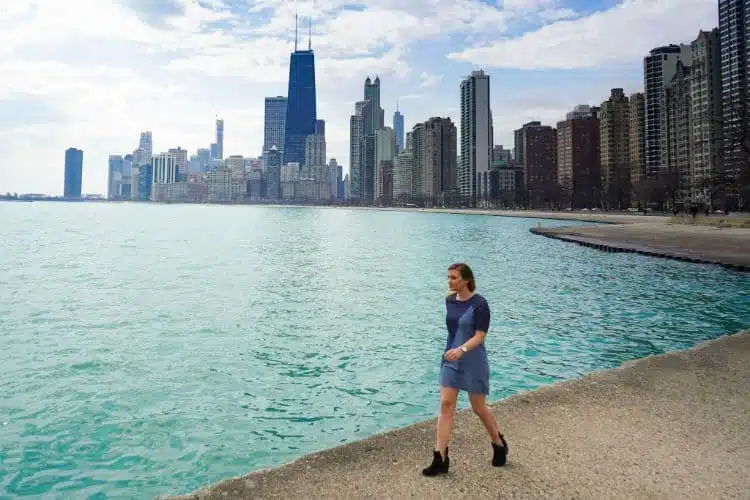 When you think about Chicago, you may not think of beaches, but surprisingly, it's full of them (26 in all!), thanks to its location along the shores of Lake Michigan.
North Avenue Beach, though, is a favorite of locals and tourists alike. Located in the Lincoln Park neighborhood, it is about a mile north of the famous John Hancock Center and has stunning views of the city's skyline to prove it.
The beach is open every day from the end of May through Labor Day, from 6 am to 11 pm, with swimming permitted when lifeguards are on duty from 11 am to 7 pm.
Besides just beach lounging and swimming, there are special areas to grill and a path to run, rollerblade, or bike.
Even if the beach is closed or when the city's infamous weather isn't cooperating to allow for a beach day, the bike path along the lakeshore is wonderful. It allows you to soak up the expansive lake and city views, regardless of what the thermometer might read!
If, on the other hand, the weather cooperates and you're feeling more active, you can check out sunrise and sunset beach yoga with Sun and Moon Beach Yoga or for a chance to truly get up close and personal with the sparkling blue water, rent wakeboards or paddleboards from Great Lakes Board Company.
Once you've had your fill of beach activities, you can meander on over to Castaways Bar and Grill to get a scoop of ice cream (make sure you don't miss their rooftop patio!) or if you're looking for a slightly more upscale experience.
The Shore Club Chicago is just the place for you.
Inarguably, though, the best activity is soaking in the sights of the Windy City- Chicagoans and tourists alike enjoying a day at the beach, set against that iconic skyline.
7. Chicago Marathon
Recommended by Halef from The Round The World Guys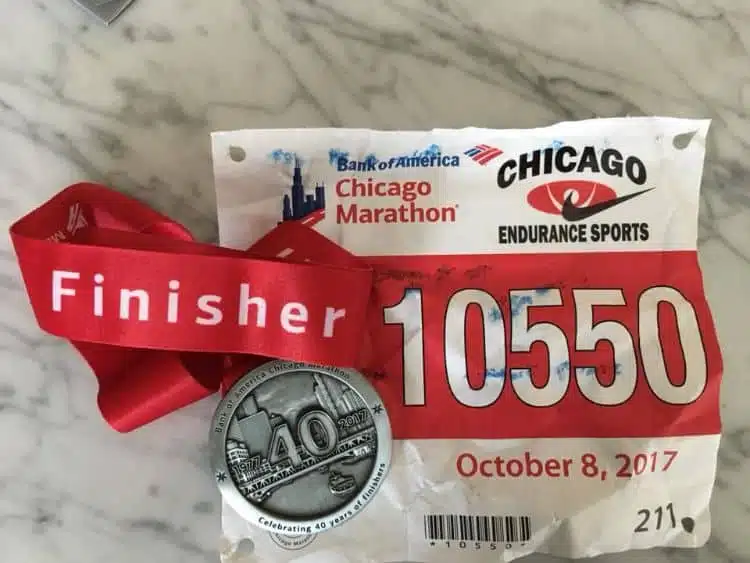 If you are an avid runner, especially in long-distance races, then no doubt you've heard of the Chicago Marathon, one of the most celebrated running races on Earth.
In fact, the Bank of America Chicago Marathon holds one of the world's most prestigious marathons – comparable with the New York Marathon, Boston Marathon, and Berlin Marathon.
Entry to the Chicago Marathon has been so competitive that potential runners need to apply via a lottery system in the past decade.
Otherwise, they have to pledge to raise money for charity to participate in the race.
Thanks to the city's flat landscape, the Chicago Marathon is quite a fast marathon.
Many world records have been broken here. But even those who aren't in contention for a record will finish the Chicago Marathon with their personal best time.
I really enjoyed my experience running the 40th Chicago Marathon in 2017. It was part of my quest to run a marathon on all seven continents.
During the race, you'll meet runners from all over the world. Chicago is truly a world-class city.
Thousands of locals, along with family and friends of runners, lined the streets of Chicago to support us on the crisp autumn morning.
It was an experience that any avid distance runner will remember and enjoy!
8. Visit Frank Lloyd Wright's Houses
Recommended by Constance from The Adventures of Panda Bear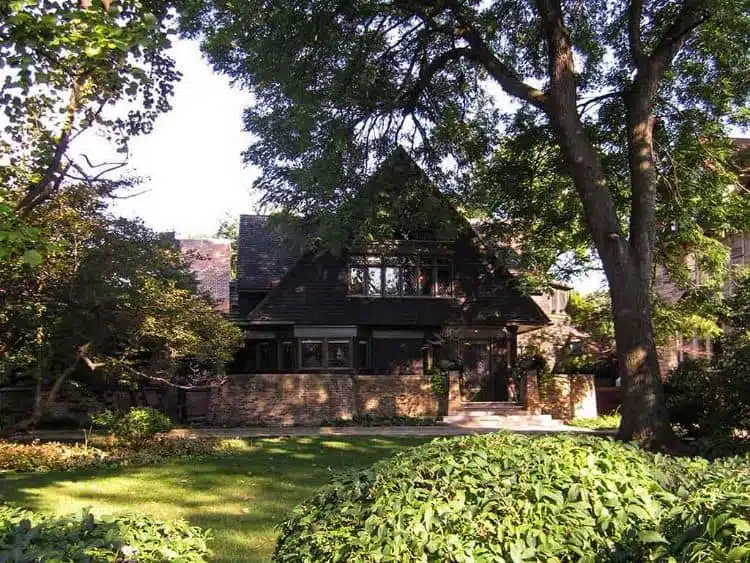 If you're a fan of architecture, you'll know that the best of Frank Lloyd Wright's architecture is in Chicago, Illinois.
In Chicago and its suburb of Oak Park, you'll get a chance to see many of Frank Lloyd Wright's buildings and see his style evolve from that as an apprentice working under Louis Sullivan, to becoming inspired by the Arts and Crafts Movement, to creating the Prairie School style and designing the textile concrete block system.
Some of Wright's most famous buildings in the Chicago area include the Frederick C. Robie House, the Frank Lloyd Wright Home, Studio, and Unity Temple, the latter two of which are located in Oak Park.
The Frederick C. Robie House was designed in 1908 and was designed in Frank Lloyd Wright's Oak Park studio.
The house is located on the University of Chicago's property and is renowned as one of the best examples of Wright's Prairie School style.
It featured cantilever roofs, bands of art glass windows, and lots of Roman brick, emphasizing the building's horizontal lines.
Frank Lloyd Wright's Home and Studio is an amazing building to see in real life.
Here, you'll get the opportunity to see where and how Wright applied a lot of his learnings and experimentations in developing his unique style.
As always, he centered his own home around the hearth, which was characteristic of the houses designed by him.
When you visit his studio, you'll get to see where all of his design happened and where he and his apprentices worked. It's a truly inspiring place!
Like Wright's Home and Studio, Unity Temple is also located in Oak Park and is considered one of the first modern buildings in the world.
The entire building was built with reinforced concrete, combining the practicality of the material for structural use as well as aesthetical beauty.
Frank Lloyd Wright's buildings are amazing to see, be sure to visit them on your next trip to Chicago!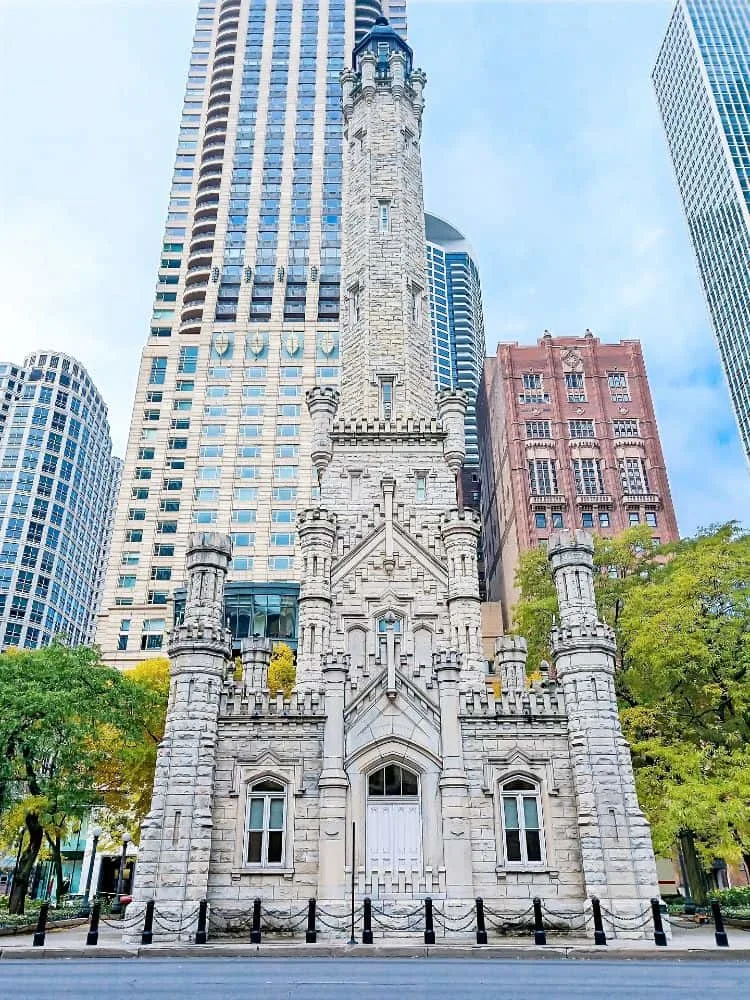 Best Places to visit in the USA
About the Author
More info
Best VPN for Travel: ExpressVPN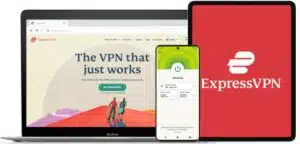 Heading abroad? Use ExpressVPN to access your social media accounts, unblock your favorite entertainment sites, and stay connected with friends and family. And get cheaper flights, of course.
Pros
✅ Next-gen, high-speed servers in 94 countries
✅ Works on iOS, Android, Windows, Mac, Linux, browsers, and more
✅ 256-bit AES encryption protects your data, even on hotel Wi-Fi
✅ Unblocks Netflix and other streaming sites
Cons
❎ No dedicated IPs
Get 3 extra months free of ExpressVPN when signing up for a 1-year plan. That's a 49% saving and a monthly cost of just $6.67! You also get a 30-day money-back guarantee.