Wondering what to do in Washington, DC? There are plenty of things to look forward to on your visit to the beloved US capital. Here are the best things to do in Washington, DC.
Your trip to the US capital doesn't need to be all serious. Sure – it is filled with government-related sights that are truly worth visiting, but there are actually quite a lot of fun things to do in Washington, DC. In fact, it is one of the best places to visit in the USA.
While nothing is wrong with choosing to go the classic way by visiting historical museums and the iconic White House, make sure to go beyond what books say about DC.
Best VPN for Travel: ExpressVPN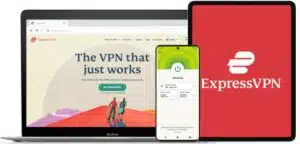 Heading abroad? Use ExpressVPN to access your social media accounts, unblock your favorite entertainment sites, and stay connected with friends and family. And get cheaper flights, of course.
Pros
✅ Next-gen, high-speed servers in 94 countries
✅ Works on iOS, Android, Windows, Mac, Linux, browsers, and more
✅ 256-bit AES encryption protects your data, even on hotel Wi-Fi
✅ Unblocks Netflix and other streaming sites
Cons
❎ No dedicated IPs
Get 3 extra months free of ExpressVPN when signing up for a 1-year plan. That's a 49% saving and a monthly cost of just $6.67! You also get a 30-day money-back guarantee.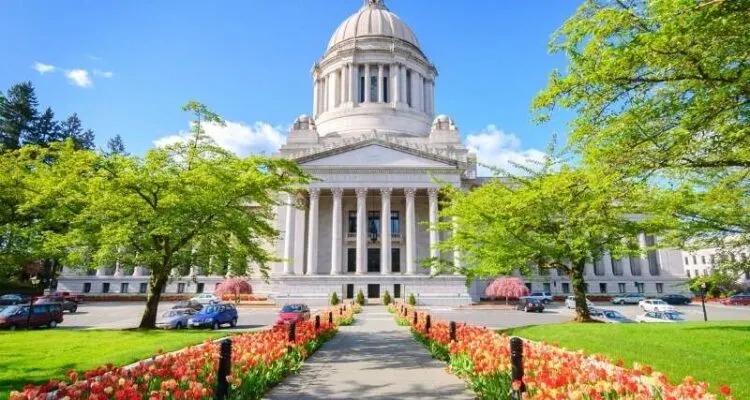 Many of the best things to do in Washington, DC, are reserved for the curious bunch. Explore interesting neighborhoods, visit nature-rich gardens and experience great dining.
Come nighttime, get ready to see Washington DC like never before.
Scout the neighborhoods for the best live music and entertainment for which the city is starting to get known.
Best Things to do in Washington DC
1. World War II sites in Washington D.C.
Recommended by Ashley from Destination: WWII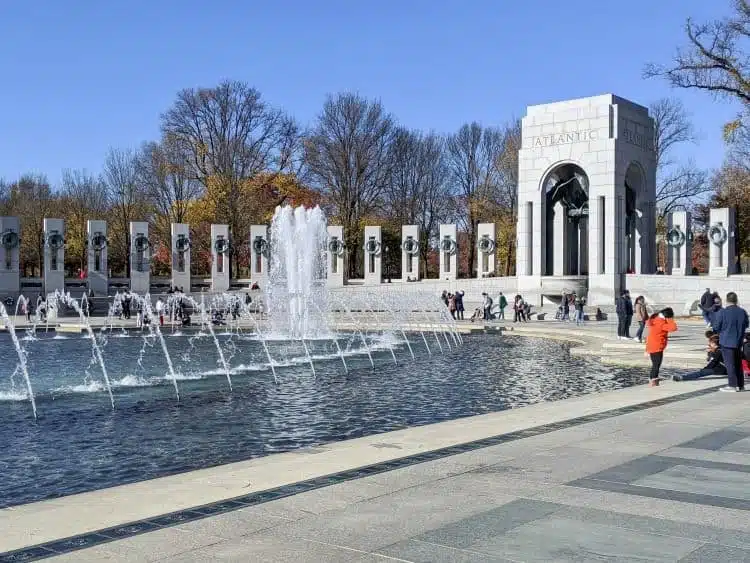 One of the best things to do in Washington DC is to visit the many World War II monuments, memorials, and museums around the city.
Being the center of all things American and all things military, Washington D.C. has some of the best tributes to World War II in the country.
Most visitors may know of the most popular World War II memorial, the larger-than-life tribute on the National Mall between the Washington Monument and the Lincoln Memorial.
However, there are many more World War II sites in Washington D.C. worth a visit.
Some great places to start would be:
the United States Holocaust Memorial Museum, the world's leading authority on all things Holocaust-related
Arlington National Cemetery where many of the USA's military heroes are buried as well as the site of many WWII memorials
the Smithsonian Udvar-Hazy Center where you can view the Enola Gay, the plane that dropped the atomic bomb on Hiroshima
and even a chestnut tree grown from a sapling taken from the one in the backyard of Anne Frank's secret annex in Amsterdam
Like Washington D.C., you can find many WWII sites over the river technically in Arlington, Virginia, such as the Marine Corps War Memorial featuring a bronze tribute to raising the flag on Iwo Jima.
And if you can get into the Pentagon for a tour, there are even World War II artifacts and memorials to see in there.
2. Washington Monuments by Moonlight Tour
Recommended by Karen from Family Travels on a Budget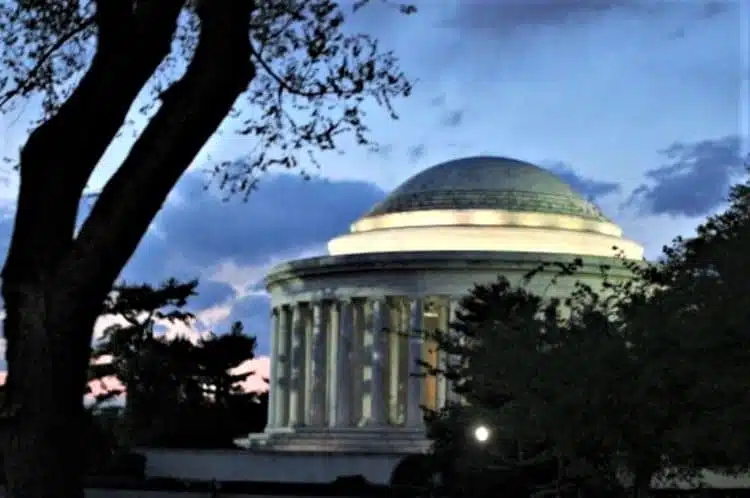 Day tours to the monuments in Washington, DC, are popular, but they do not compare to seeing the monuments after dark.
The Monuments by Moonlight tour presents the city in a whole different way. White marble monuments seem to glow in the spotlight. Other monuments, made of brass and copper, reflect light and shadow to bring a different perspective not seen in the daytime.
The Monuments by Moonlight tour begins at Union Station. It's best to preorder tickets as this popular tour tends to sell out during peak travel season.
Tour buses and trolleys with large windows offer great views of the city throughout the tour. Informative guides share historical tidbits and interesting stories during the drive between monuments.
Typical stops on this tour include the Iwo Jima Memorial, FDR Memorial, Lincoln Memorial, the Korean War Memorial, the Vietnam Veterans' Memorial, and the Martin Luther King, Jr. National Memorial.
Other highlights along the way include the US Capitol Building, the White House, the Washington Monument, and the Jefferson Memorial.
The tour guide provides helpful information at each stop along the way, including the best vantage point for photos, how long the stop is, and where to meet the trolley to continue the tour.
From start to finish, the Monuments by Moonlight tour lasts about two hours. There are no bathroom breaks, though open restrooms are available at some stops, and there are no snacks served on this tour.
3. Smithsonian Air & Space Museum
Recommended by Neha from Travelmelodies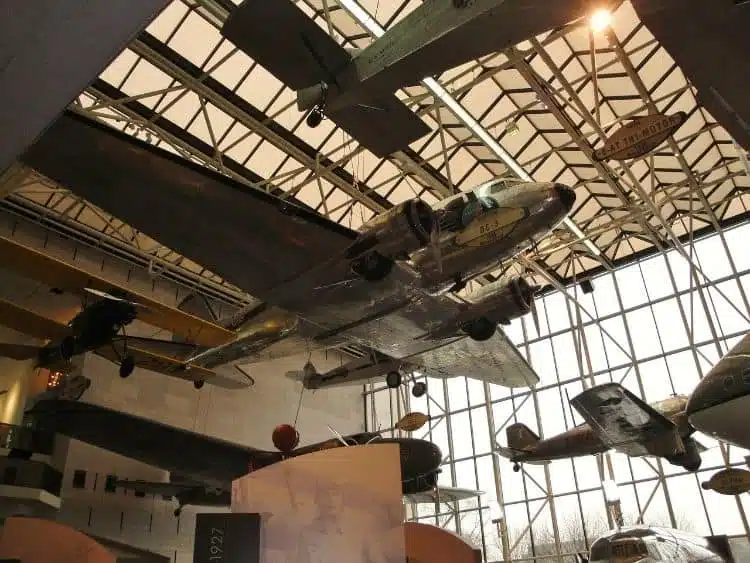 One of the interesting places to visit in D.C. is the Smithsonian Air and Space Museum.
This is a delight for space enthusiasts who love reading and knowing about the moon, Mars, astronauts, and everything about space.
The museum is located on Independence Ave SW, between the 4th and 7th streets. Entry to the museum is free. The museum's regular hours are 10 a.m. – 5:30 p.m. with extended hours during summer till 7:30 p.m.
As you enter the museum, you are welcomed by a huge aircraft hanging from the ceiling. The hall has a display of spaceships, jet aircraft that are significant in history.
There are many galleries in the museum with exhibits showing everything from the history of American Air transportation, the expedition to the moon, history created by the Wright Brothers by creating and flying the first aircraft, and many more.
Check out the spacesuit and other instruments of the astronauts, the rover that stepped on the moon, or learn about the Apollo missions; there is no dearth of information and activities.
There is the glider and flyer on display in the Wright Brothers Gallery that they created and flew.
Some simulators can transport you to space for an adventurous experience. IMAX theaters watch 3D films on space and aviation history, making it a great experience. There is a ticket to watch a show at the IMAX theater, though.
We visited D.C on a weekend trip from Philadelphia, PA, and kept dreaming about the Outer Space and the many mysteries associated with it for many days to come.
4. Drag Brunch At Nellies Sports Bar
Recommended by Jack from Queer In The World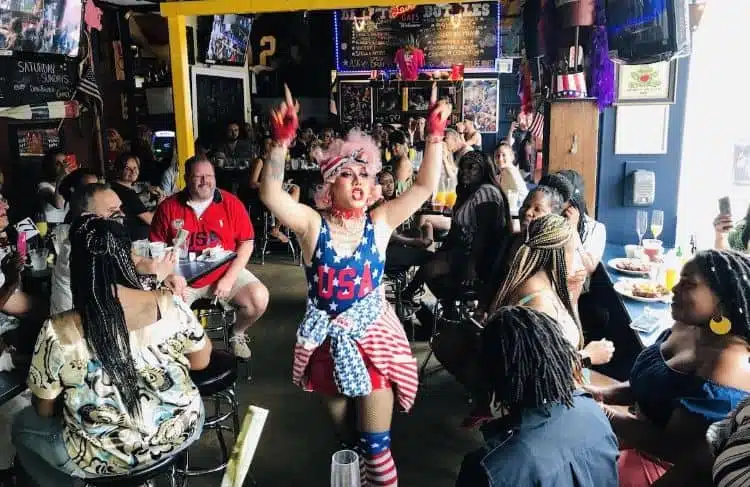 One of Washington DC's best things to do undoubtedly has to be attending a magnificent drag show at an unassuming sports bar. Yup that is correct. A drag show!
Gender-bending fabulousness – complete with a side of eggs and bacon along with plenty of mimosas. While it certainly was not the first thing I had in mind when visiting the US's capital, it turns out these drag brunches are a bit of a local institution.
And when you think about how liberal and gay-friendly Washington DC is, it actually makes a lot of sense. Held every Saturday and Sunday at Nellies Sports Bar on the celebrated U Street Corridor, you'll need to book in advance to avoid missing out.
As soon as you arrive, a Bloody Mary or Mimosa will be put in your hand, and you will be ushered to your booth then before you know if you'll be chowing down on grits and biscuits as the show begins.
You'll see this performance is anything but a drag when it all starts with a drag queen cheerleader cart-wheeling in and lipsyncing Brittany Spears Toxic. These queens know how to work for their money.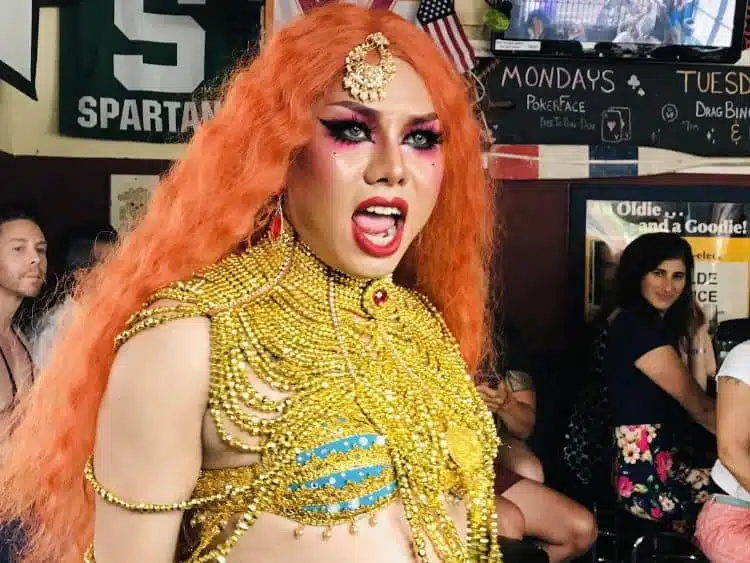 They dance between and on tables, death drop all over the floor, and somehow avoid getting tangled up in acrobatic displays while suspended from ceiling beams.
And it is all very interactive, with audience participation galore. The girls here have a talent for sniffing out the shy and unexpecting, but this is part of the appeal – and what makes the Nellies Drag Show one of the best things to do in Washington DC.
Sure, you can spend the day examining monuments and historical sites, but here – you get to hang out with locals, sign along to Cher and Gaga, and day drink!
Brunch has never been so inclusive and fabulous – and this is a side of Washington DC I think more people should see.
5. Visit the Tidal Basin during Cherry Blossom Season
Recommended by Jordan from The Solo Life blog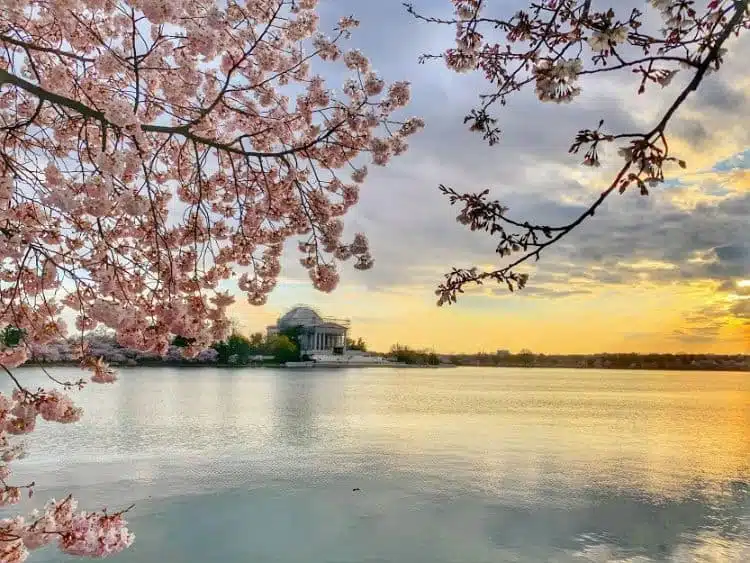 Washington, D.C. has such a wide variety of activities and attractions, from popular museums and monuments to outdoor recreation for nature enthusiasts, that it may be hard to choose sometimes.
But if you find yourself in D.C. during springtime, one can't-miss activity is to see the famous Cherry Blossoms along the Tidal Basin.
Cherry Blossom season, usually in April, brings more than 1.5 million people to D.C. each year to see the gorgeous blooms, ranging in color from white to a spectrum of pinks.
The timeline for peak bloom changes every year, so check the projections online if you want to see the blossoms at their peak.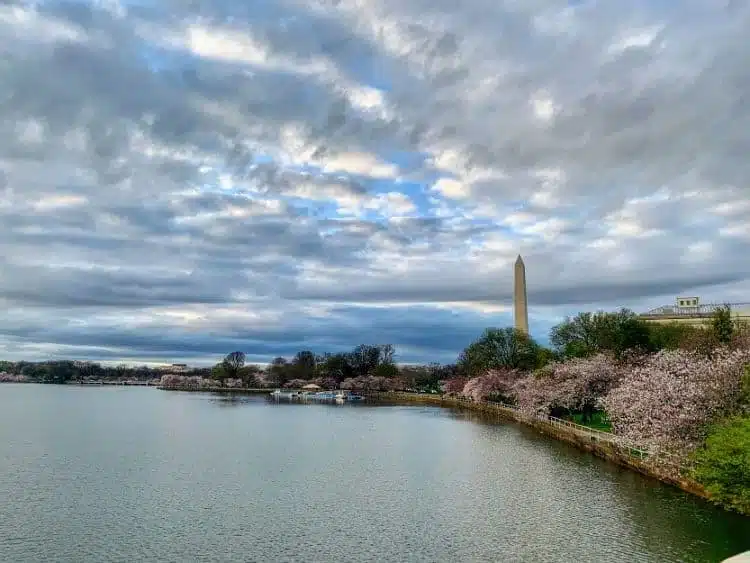 Although extremely crowded, it is worth visiting to see these blooms in person while enjoying the Tidal Basin, which houses the Jefferson Memorial, Martin Luther King, Jr. Memorial, and the FDR Memorial.
The best spot to view the Cherry Blossoms is near the FDR Memorial, as it is less crowded and gives a stunning view of the Washington Monument in the background.
It's also worth visiting the Tidal Basin during sunrise or sunset, as the crowds aren't as dense, and the views really pop with the colors of the changing sky.
Visiting the Tidal Basin in the Spring to see the famous Cherry Blossoms is one of the best things to do in Washington, D.C., and worth doing at least once.
Best Places to visit in the USA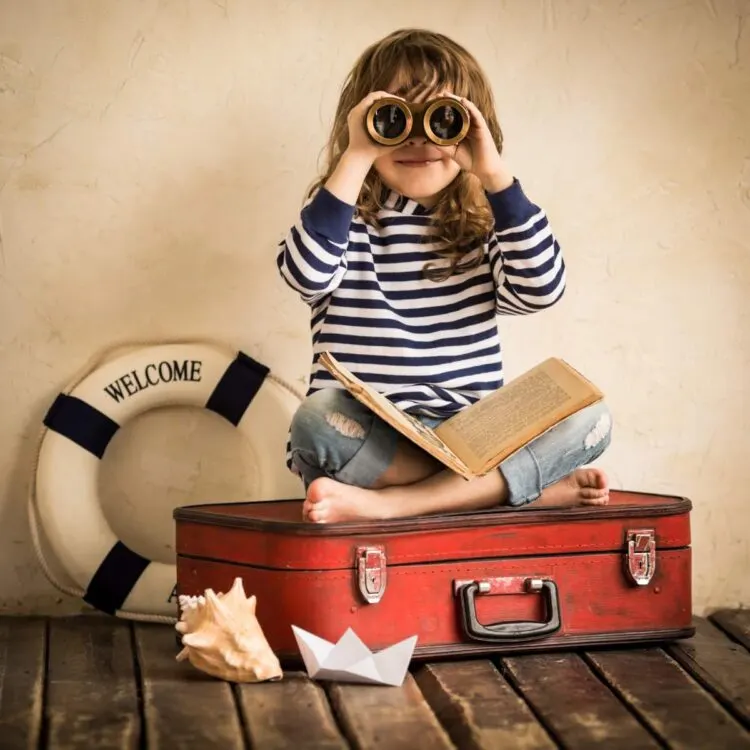 Protect your trip: With all our travel experience, we highly recommend you hit the road with travel insurance. SafetyWing offers flexible & reliable Digital Nomads Travel Medical Insurance at just a third of the price of similar competitor plans.