A complete guide to the best things to do in New York City, including museums, attractions, restaurants, shopping, and more.
New York is the city that never sleeps.
No matter what you are into, you will most probably find it in New York City.
Best VPN for Travel: ExpressVPN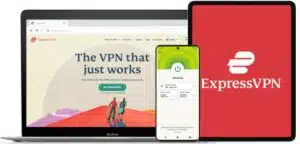 Heading abroad? Use ExpressVPN to access your social media accounts, unblock your favorite entertainment sites, and stay connected with friends and family. And get cheaper flights, of course.
Pros
✅ Next-gen, high-speed servers in 94 countries
✅ Works on iOS, Android, Windows, Mac, Linux, browsers, and more
✅ 256-bit AES encryption protects your data, even on hotel Wi-Fi
✅ Unblocks Netflix and other streaming sites
Cons
❎ No dedicated IPs
Get 3 extra months free of ExpressVPN when signing up for a 1-year plan. That's a 49% saving and a monthly cost of just $6.67! You also get a 30-day money-back guarantee.
Discover the best top things to do in New York City, including The Empire State Building, Central Park, Brooklyn Bridge, and many more.
Tip: Get the New York Pass and save up to 70% on regular admission prices when visiting just three attractions a day. Choose from 1-10 day passes and enjoy entry to over 80 of New York's top tours & attractions, many with skip-the-line privileges.
Best Things to do in New York City
1. Helicopter Ride
Recommended by Colin from Our Tiny Corner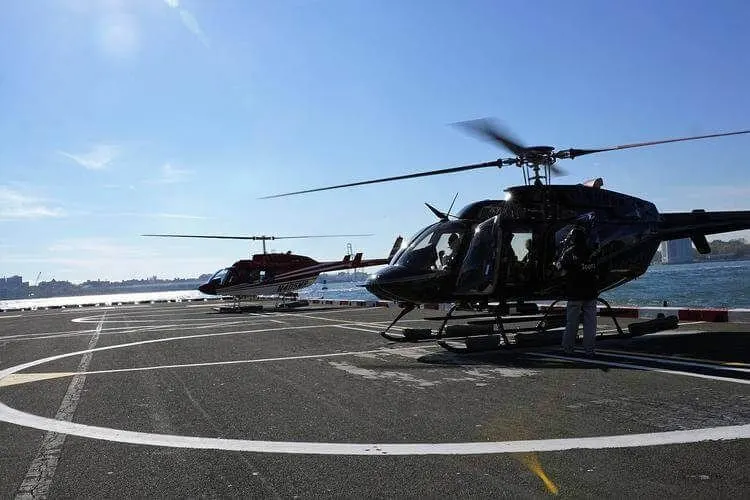 From Times Square to the Empire State Building to Wall Street, any visit to New York City will contain a lot of time looking up.
Looking for a new, unique perspective?
How about looking DOWN from a helicopter?
These short flights depart from the Downtown Manhattan Heliport at the tip of Lower Manhattan. They will thrill you as you gain a birds-eye view of iconic sights such as the Statue of Liberty, Staten Island, the Hudson River, Central Park, and the dramatic New York City skyline.
This really stands out in the memory of all the traveling we've done. The view of NYC as you fly back towards Manhattan is unforgettable; this really is a bucket list activity you'll remember forever.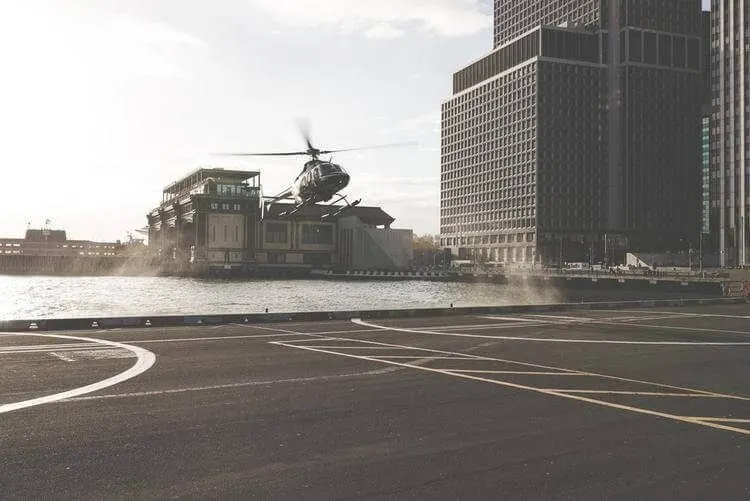 It doesn't come cheap, though; tours start at around $200 per person, and the cheapest flights only last 10-15 minutes, so don't expect a long flight.
The heliport is easily accessible and is a short walk from many subway lines. Flights are weather-dependent, but companies will generally refund you if they cannot reschedule you.
2. Visit the Empire State Building
Recommended by Sally from our3kidsvtheworld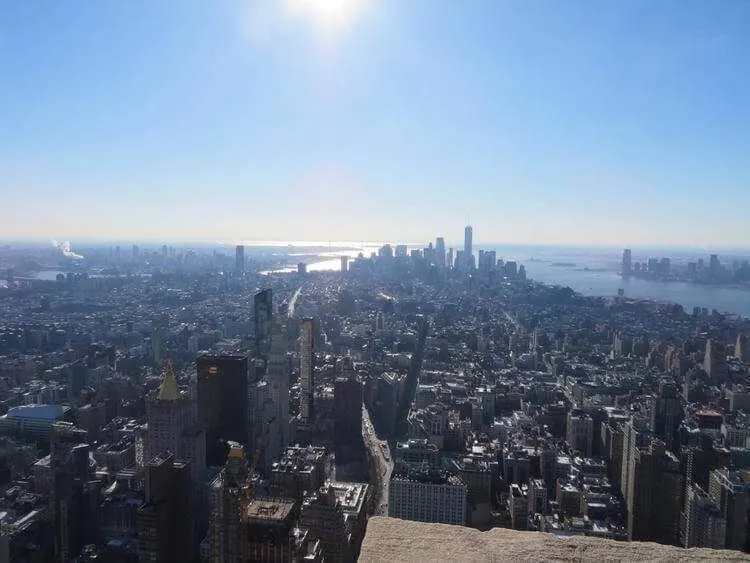 We left visiting the Empire State Building, one of the most famous New York landmarks, until our last day in New York City. We had already experienced Top of the Rock and thought visiting both would be a waste of money.
We decided we would just walk past and take a photo. As we walked closer, I started to recite the words in my head that I tell everyone else 'no regrets, see it all.
I stood on the other side of the road and took a photo, and my husband said, 'are you sure?'
Yeah, I knew I would regret it when I returned to Melbourne, so we went in the line.
The queue was huge, and it took a good 1 hr 40 mins to get up there. It was 2 January and freezing cold.
We would walk outside, slip off our gloves, take a couple of photos, and then run back inside. It was too cold to stay outside for long.
As you walk around the observation deck, you take in different views of New York City. There are two observation decks located on the 86th and the 102nd floors.
It is definitely worth visiting both. Now I am home, I'm so glad I didn't just walk past that day; I totally would have regretted it.
Tip: Purchase your ticket online and skip the Ticket Line. The ticket is flexible so you can decide spontaneously when you want to use it.
3. Brooklyn Bridge
Recommended by Lizzie & Dave from Wanderlust & Life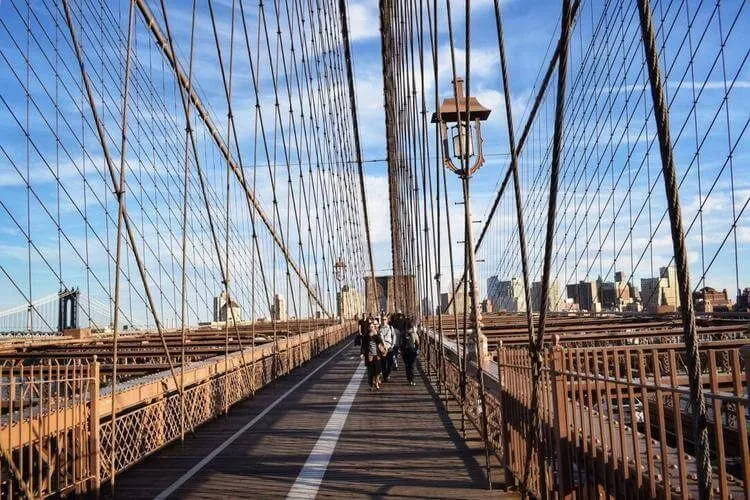 One of the most iconic structures in New York has to be the Brooklyn Bridge. This is why in our opinion, no trip to New York is complete without walking the bridge.
Construction started in 1869 and was completed 14 years later in 1883. The bridge was built to connect Manhattan and Brooklyn and was originally called the New York and Brooklyn Bridge.
These days, despite the obvious need to get from one borough to another, it is also a top tourist attraction. The Bridge is just under a mile in length and can take between 30 minutes to 1 hour to walk across.
That is, of course, depending on your pace and how many selfies you are planning to take. You will probably cross it in an hour if you are anything like us.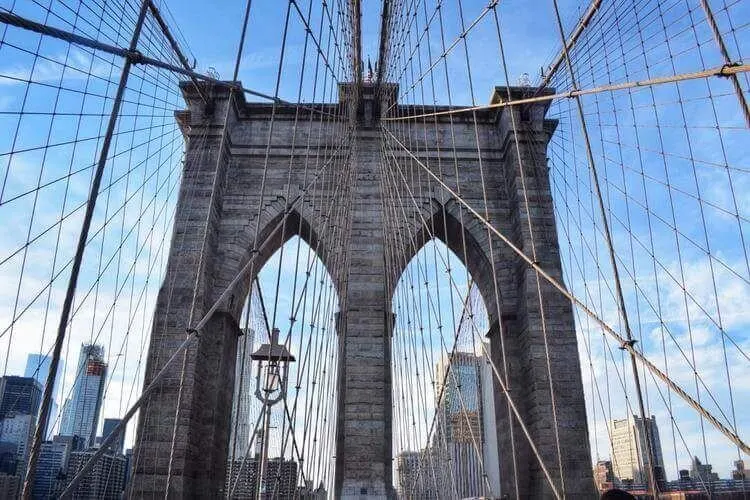 Mainly because there are so many fantastic photo opportunities, particularly of the Manhattan skyline.
Though it is probably not ideal if you fear heights, there are parts, particularly in the middle of the bridge, where you can look through the wooden slats and see straight down.
Still, it was worth doing and a great New York City experience for us.
4. Intrepid Sea, Air & Space Museum
Recommended by Amanda from The Travelling Blizzards
When visiting New York City, boarding an aircraft carrier might not be at the top of your list of things to do in New York City… But it should be!
Stepping back in time to experience how Navy men lived and fought during WW2, the Cold War, and the Vietnam War is an unforgettable experience.
The USS Intrepid was decommissioned in 1974 and now invites people on board to tour 4 of its decks and get a closer look at life aboard a warship.
It's home to the space shuttle Enterprise, the submarine Growler, and a Concorde jet that broke records by crossing the Atlantic in under 3 hours! These and more than two dozen restored aircraft are on display for you to get up close and personal with.
We spent about 4 hours wandering the ship and its exhibits, but we're enthusiasts, so you might spend less time there. We loved exploring each deck to get a taste of military life through the years, and the aircraft collection is impressive. There's even a scale model of the ship made out of Lego!
Docked at Pier 86 in Hells Kitchen, it's a quick walk from the Intrepid Museum to the start of the High Line, so a great place to start a day of exploring!
5. Top Of The Rock
Recommended by Pari from Traveling Pari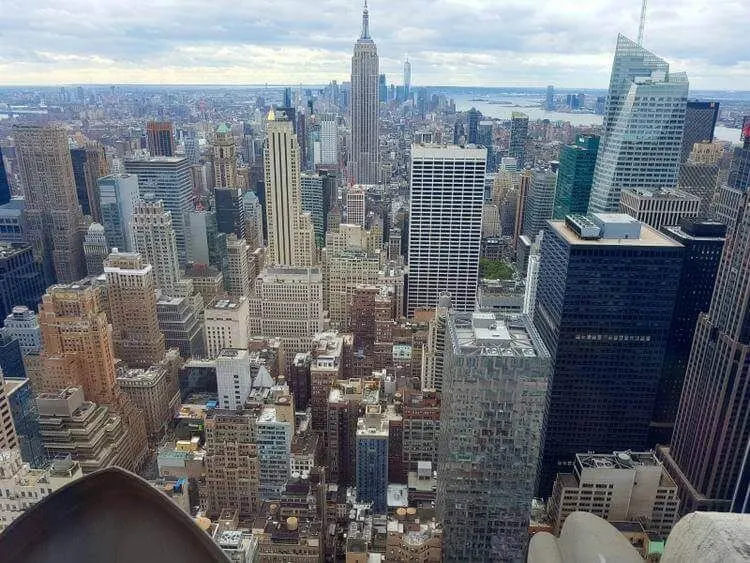 One of the must things to do in New York City is to go up to the top of the Rockefeller Centre.
This is one of the few moments in New York City when you won't feel minuscule compared to the tall buildings surrounding you.
Up there, you will see unobstructed panoramic views of the city and Central Park. On a clear day, you can also see the Statue Of Liberty in the distance.
A tip for travelers visiting in fall/winter: Make sure you wear warm clothes if you are going up there on a chilly day. My husband and I went to the top in November, and the winds were brutal.
We could hardly stay there for a few minutes. Fortunately, there was a covered glass enclosure where we could still get some great shots of the city through the windows and warm up before going out again.
Click here to purchase your flexible date ticket for the Top of the Rock Observation Deck and enjoy a 360-degree panorama.
6. Calvary Cemetery in Queens
Recommended by Gábor from Surfing the Planet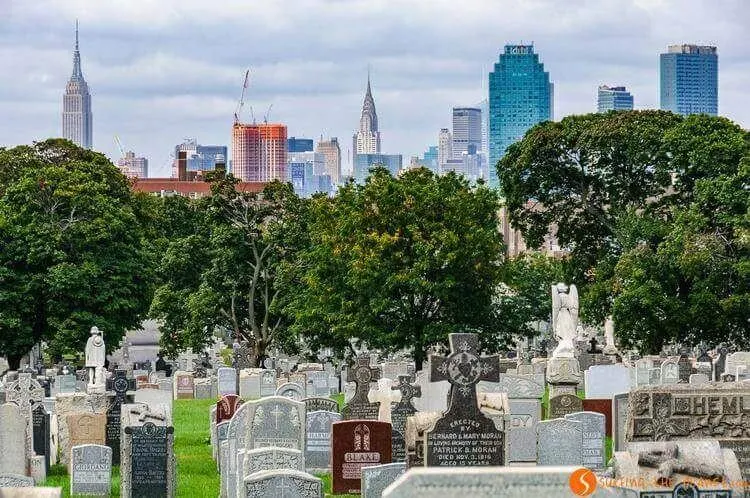 Visiting New York for most people means staying in Manhattan and Brooklyn, but the other districts also have hidden gems worth being checked out.
In Queens, you will find, for instance the oldest cemetery in New York, where many important characters of New York are buried.
In Calvary Cemetery, you will find, for instance, the crypts of leaders of the Italian mafia, from Joe Masseria to Thomas Lucchese.
Many claims that Lucchese's funeral inspired Vito Corleone's burial service in the Godfather movie, a scene that was filmed here. You would not expect it, but Calvary Cemetery is also a great place to see one of the best views of the NYC skyline.
Tombs in the foreground and skyscrapers in the background; it's quite an amazing image to capture.
The entrance to the cemetery is free of charge, and Calvary Cemetery is easily accessible since you can use the direct subway connection (Line 7) from Times Square to 52 St-Lincoln Av Station and walk a few minutes from there.
7. The Frick Museum
Recommended by Talek from Travels with Talek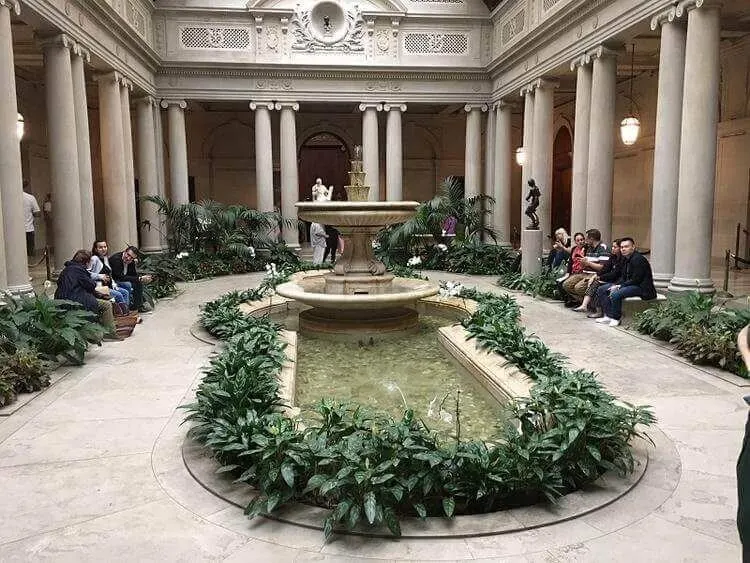 The Frick Museum is on 70th street and 5th Avenue. It is the former home of Henry Clay Frick, a millionaire industrialist who was also a fascinating character from the Gilded Age.
Of course, people visit museums mostly to see beautiful art. The Frick has an abundance of these, including paintings by Gainsborough, Rembrandt, Manet, Renoir, and El Greco.
As if that were not enough, they have on display three of the finest paintings by Vermeer, the ones you will recognize from high school art classes.
My absolute favorite painting of all time is the portrait of Sir Thomas Moore by Hans Holbein at The Frick. It is amazing to look at the subject's face and see the beginnings of a beard.
Or look at his sleeves and see the red velvet that you can almost touch. You know you are seeing exactly what the artist saw about 500 years ago.
The fact that The Frick was an actual home also always impressed me. It's incredible to imagine people actually living in this New York City palace among the interior fountains, marble staircases, vaulted ceilings, and rose gardens.
And all this in front of Central Park treating this landscaped gem as it if was their front lawn!
8. Wall Street Historic District
Recommended by Samah from God & Wanderlust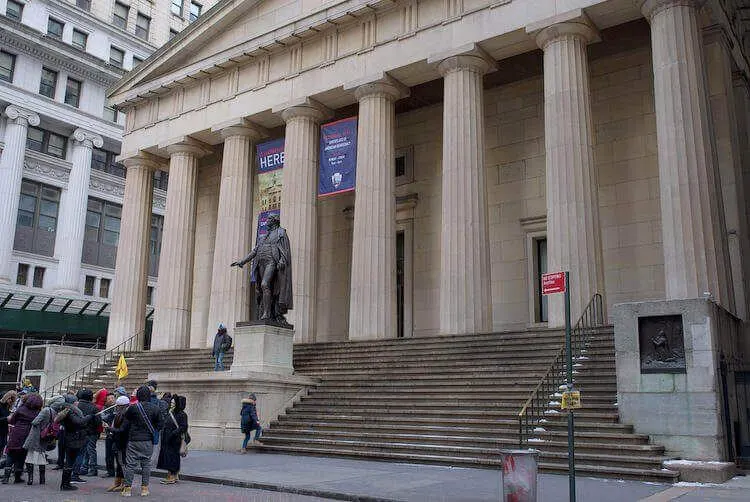 Developed in the colonial era, Wall Street Historic District is a must-visit to see the dominating architecture that reflects medieval European towns.
The history embedded in this (no so) little part of Manhattan is interesting. It's the site of a 1920's terrorist bombing that occurred using a horse cart, where Italian Anarchists are assumed to have played a role.
30 people were killed and 300 others were injured. The J.P Morgan building wields the scars to this day.
To its left, the towering New York Stock Exchange exemplifies everything American – long, slim columns, the small people statues on the roof, the greyish white building color, and the three American flags swaying upfront. There's also the Federal Hall National Memorial across from it, which held George Washington's inauguration.
Rightfully so, you'll find his statue in front. Trump building is hard to miss – a building tall and wide, with "The Trump Building" in bold, block letters gleaming along the front. As controversial as the name is, it's worth taking a look at.
9. Explore the Central Park
Recommended by Maria & Rui from Two Find a Way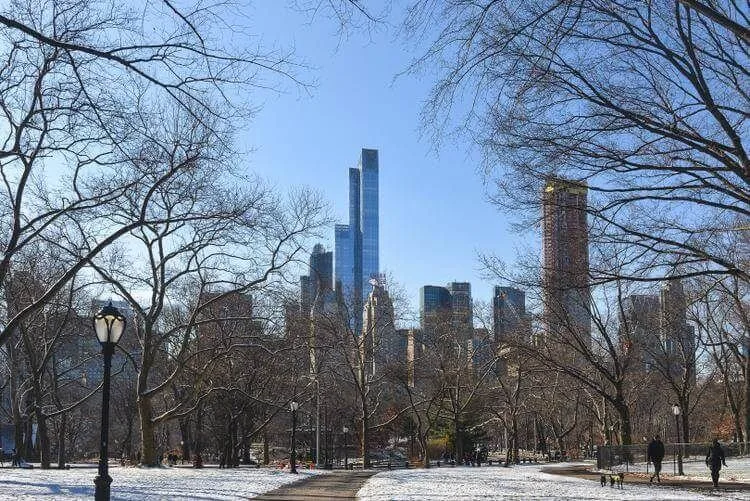 With more than 800 acres, Central Park is considered the lung of New York City, and the perfect oasis for locals to escape the skyscrapers and bustling streets of the city.
Visiting the beautiful park is also one of the best things to do in New York City: there is plenty to explore, depending on your own preferences and the time of the year you visit.
Inside Central Park, you can find several different attractions, from lakes to bridges, statues, monuments, and beautiful gardens.
On the public park's website, you can find several tours that will help you explore this beautiful area.
Whether you prefer to take part in a guided tour or to make your own way on a self-guided tour, there is plenty of information online and at the park itself to help you!
If the weather is not appropriate for a picnic on the lawn, there are also plenty of places to eat, both cafes and restaurants, as well as some food stalls around the park.
You can also find many authentic ethnic restaurants in New York City.
If you like being surrounded by nature, you could easily spend a whole day walking around and getting to know this part of the city, but even if you're time in the city is short, make sure to save at least a few hours for the Central Park.
10. Listen to Jazz in Washington Square Park
Recommended by Stuart from Go Eat Do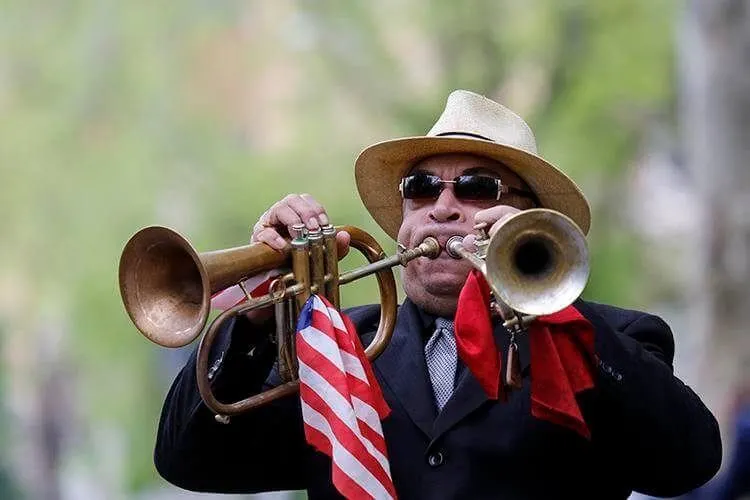 Washington Square Park is in New York's Greenwich Village and a lovely spot to sit and listen to jazz music.
Talented musicians perform regularly in the park, which draws a throng of visitors at weekends. Sit down on one of the park's benches and enjoy a performance.
Of course, band members welcome a donation of a dollar or two in return for the show. It's easy to while away an hour listening while watching passing people.
The park is well worth a visit and lies at the lower end of Fifth Avenue. The Washington Park Arch marks the entrance to the park, which has a fountain at its center and draws an array of talented street performers.
Acrobats, jugglers, and poets count among the acts you're likely to see in Washington Square Park along with jazz musicians.
Prefer being active to spectating?
On weekday mornings you can participate in free tai chi and yoga classes held in Washington Square Park.
11. The Comedy Cellar
Recommended by Mikkel from Sometimes Home
It's always fun to re-discover a city you're familiar with. The great thing about New York City is even if you think you know it, it's a forever changing, expansive urban scene.
I grew up near "the city," (as locals call it) and have adored discovering something about it in each phase of life. The Comedy Cellar on MacDougal Street was one of my discoveries during my college years.
I discovered it during summer nights of going into Manhattan from Long Island, looking for things to do aside from a usual night at a bar or club. It's a wonderful comedy venue and a great place to simply unwind and laugh.
They mix big names with up-and-coming comedians; many people got their start or big break here, from Ray Romano to Jon Lovitz. It's always worth a reservation in advance.
For a cover charge (which varies from $5 to $24 per person, depending on the show) and a two-item minimum (food and soft drinks included), it's a great way for 21-and-over visitors to spend an evening in The Village. It's simply an extra perk it's in a very cool neighborhood in NYC!
12. Staten Island Ferry
Recommended by Lee and Stacey from One Trip at a Time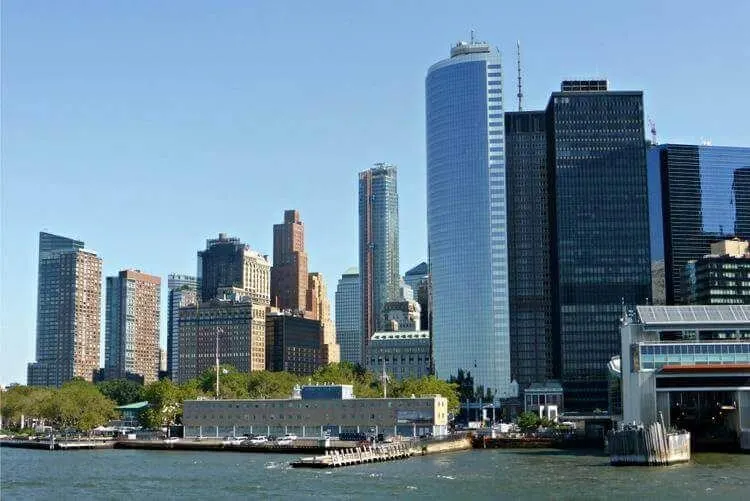 In our view, there is no better way to get to New York City – certainly no more picturesque and relaxing way, than riding the iconic orange Staten Island Ferry.
Even if you are in New York, it's still worth the trip out and back to Staten Island to enjoy.
Sailing much closer to the Statue of Liberty than we expected and skirting Governors Island with views back to Brooklyn Bridge, you'll have the ever-present New York skyline as a backdrop on your ride.
It certainly beats arriving underground on a train, or trying to deal with New York traffic!
As the ferry is a completely free service, you just turn up at either terminal and wait in the departure lounge for the next ferry.
The ferries run every 15 minutes in rush hour and 30 minutes at other times and the ride takes 25 minutes each way. This gives just enough time to exit and re-board the same ferry if you want to take a round-trip from New York.
13. Gulliver's Gate in Times Square
Recommended by Justine from Wanderer of the world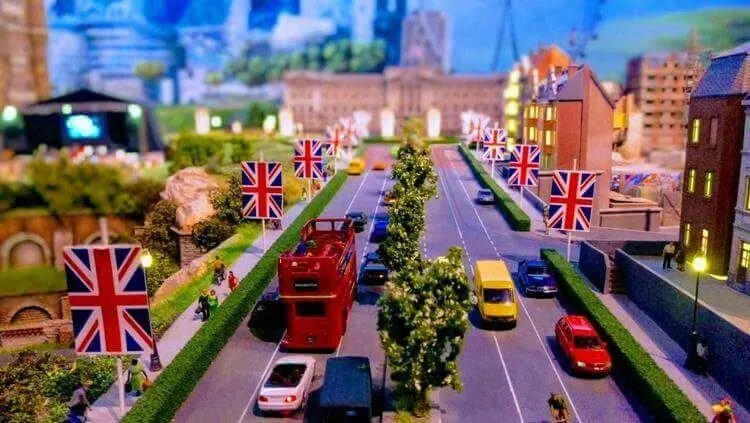 There are so many attractions and tours to do in New York, but one of the best things to do in New York City has to be Gulliver's Gate in Times Square.
It's an exhibit that is based on Gulliver's Travels and is essentially lots of miniature models that cover nearly every continent. If you like traveling, then you'll definitely love seeing these models.
In just a few hours, you can walk between New York City, Russia, London, Thailand, Japan, and lots more top countries and cities.
Each model has been handcrafted and they are incredibly detailed.
Gulliver's Gate is open every day from 10 am to 8 pm and tickets can either be bought at the door for $36 or online in advance for $31.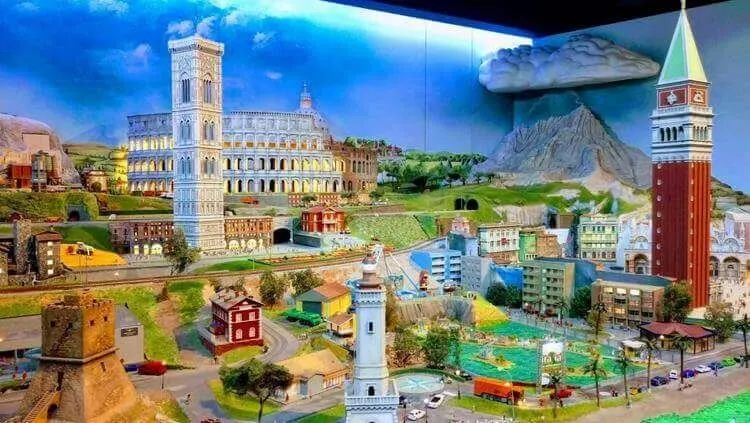 As part of your ticket price, you'll also be given a souvenir key that you can keep at the end. This key can be inserted into various boxes around the exhibit and brings parts of the models to life; you'll see a digger spring into action, for instance, or spot a boat whizz by.
Top tip: Make sure you look at the leaflet that they give you upon entry. This gives you a checklist of extra things you can look for throughout your visits, such as Yoda from Star Wars or the Beatles walking across Abbey Road.
14. Walk the High Line
Recommended by Elaine & David from Show Them The Globe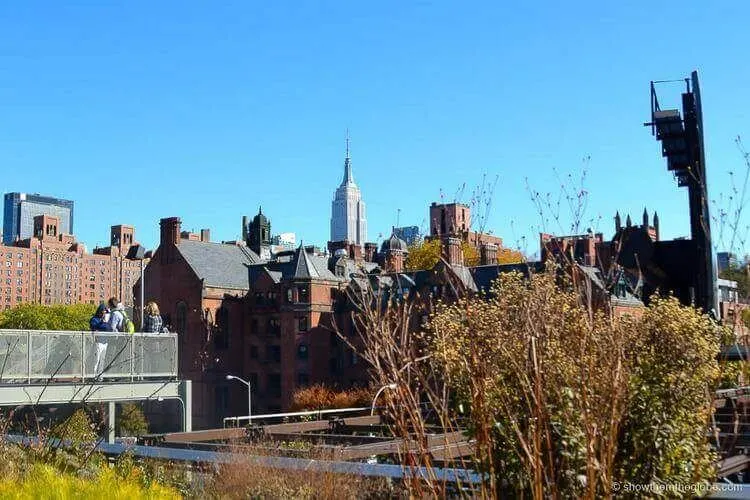 One of our favorite things to do in New York City is to take a walk on the High Line, an elevated public park and walkway meandering up the West side of Manhattan.
Originally a train line, this beautifully landscaped public park offers some of the best views of New York due to its unique perspective from above the busy city streets.
A stroll on the High Line is the perfect escape from the hectic pace of the Manhattan streets below.
Some of the best views of the New York skyline can be seen from along the walkway: our favorite view of the Empire State Building is from the High Line as it peeks out above the downtown rooftops.
There are often quirky sculptures and street art along the route.
The park runs from Gansevoort Street in the Meatpacking District to West 34th Street between 10th and 12th Avenue and is open from 7 am to 10 pm every day. Entry is free.
15. New York River Cruise
Recommended by Suzanne from The Travel Bunny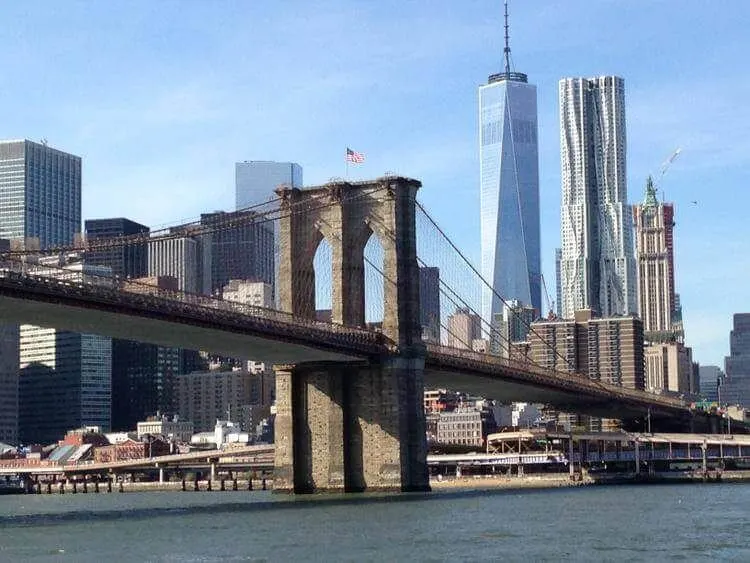 Explore New York from a different perspective and leave behind the buzz of the city by taking a relaxing river cruise around downtown Manhattan.
A New York river cruise is a great way to kick back for a bit as you glide by some of New York's most iconic landmarks. See the Statue of Liberty from the water and check out the Empire State Building in all its glory.
Get close up to Ellis Island by boat just like the very first immigrants did when they arrived. Sit up on deck and check out Brooklyn Bridge from beneath as it looms overhead with One World Trade Centre in the background.
The narrated cruise will fill you in on the city's history and culture and give an added insight to the tour. A day cruise will give you loads of photo opportunities but maybe think about taking a night cruise as well with dinner on board.
Taking in the views of the New York skyline as it lights up and the city sparkles against the night sky is a magical way to spend an evening in New York.
16. Sea Kayaking
Recommended by Maya from Travel with the Smile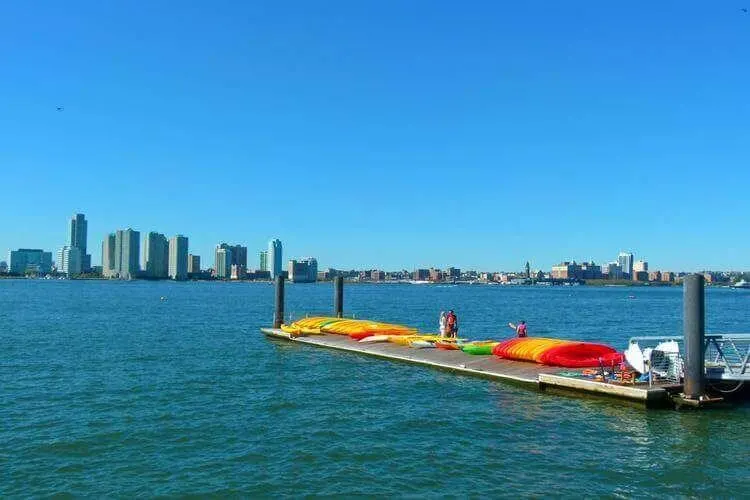 Fresh air and free activity it's a combination you don't see very often, especially in New York City.
Even though it's an amazing city full of life and endless attractions, some people used to being outdoors might start to crave some fresh air after a while. One option is Central Park and the other option during summer is Sea kayaking on Hudson.
There are several locations now which offer kayaking for free, choose the one that's closest to you. And come as early as possible to avoid a long wait.
Locations: Manhattan Community Boathouse (Pier 96 at 72nd Street), The Downtown Boathouse (Pier 26), Brooklyn Bridge Park Boathouse (Pier 1&2), North Brooklyn Boat Club (at Greenpoint), and Long Island City Community Boathouse.
Sessions usually run for 20 minutes and some locations also offer sunset kayaking. So bring a change of clothes and have fun!
17. Knish ar Yonah Schimmel
Recommended by Colin from Our Tiny Corner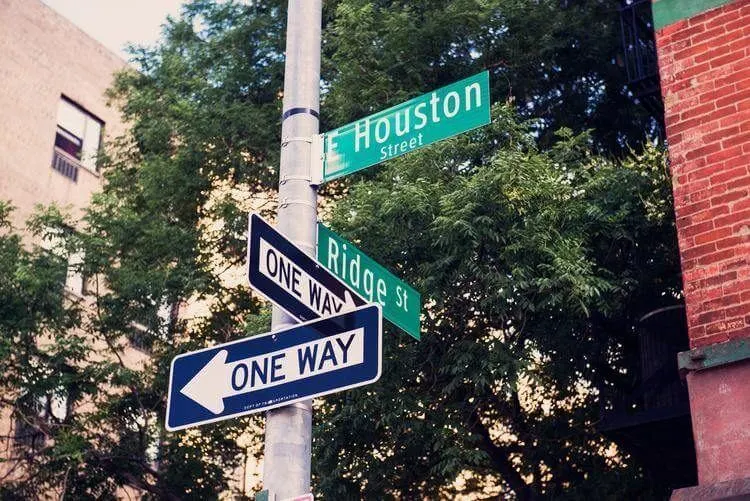 If you're looking for a genuine New York experience, you can't neglect the food.
Pastrami sandwiches at Jewish delis, coffee and a bagel, the New York Slice, Shake Shack burger, and a milkshake…they're all part of the food culture in this amazing city.
But you're doing yourself a disservice if you skip a visit to a Knishery, and Yonah Schimmel's is the one to visit.
A knish is a Jewish Central and European tradition, and consists of a filling (historically it's potato) covered in dough and baked, grilled, or deep-fried. Flavors range from the traditional to the more modern and experimental.
Yonah Schimmel's (137 East Houston st) is the oldest knishery in the city and has become an integral part of Lower East Side culture. It was once said that "No New York politician in the last fifty years has been elected to public office without having at least one photograph taken showing him on the Lower East Side with a knish in his face.".
Foodies: miss it at your peril.
18. Statue of Liberty
Recommended by Karen from Wanderlustingk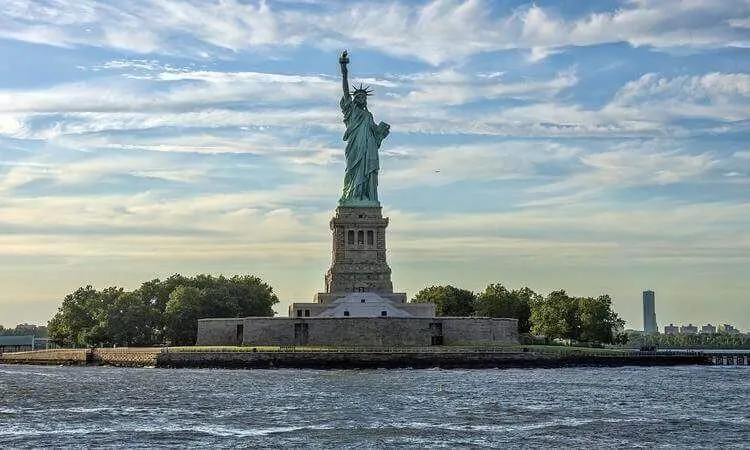 There's a reason why the Statue of Liberty is a classic activity in New York. For anyone who has a family who has immigrated, you must visit the Statue of Liberty.
Originally gifted to the United States in 1886 by France, the Statue of Liberty is meant to symbolize Liberty. She was intended to welcome immigrants arriving from abroad to the shores of New York City.
Even my own family passed through the nearby Ellis Island, the main entry point for immigrants that allowed visitors to glimpse this famous icon.
Many people only visit the grounds as this ticket is the easiest to get, however, it's worth planning in advance to climb the crown, which provides stunning views of New York.
I especially enjoyed the museum, however, I'd encourage people who are only visiting the grounds to also include the nearby Ellis Island in their visit to understand more about America's immigrant history.
Tip: Take a 30-minute guided tour of Battery Park and then get guaranteed access to the Statue of Liberty pedestal & Ellis Island with this GetYourGuide exclusive.
19. Dumbo
Recommended by Alex from Swedish Nomad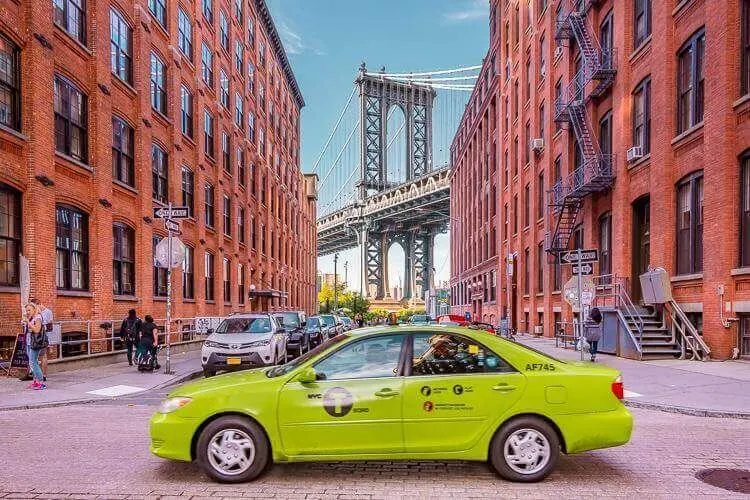 I suggest visiting Dumbo when you go to New York, simply because it offers some stunning views and great photo opportunities. The most classic spot is probably where you can see the Manhattan bridge between two buildings.
Dumbo is actually short for Down Under the Manhattan Bridge Overpass, and it's a neighborhood in NYC. Here you can find the Brooklyn Ice Cream Factory and Grimaldi's.
From Dumbo, you also get a pretty amazing view of Manhattan, and I suggest coming here shortly before sunset to take in the beautiful views.
To get here you either walk over Brooklyn Bridge or take the subway to York Street or High Street. Or the buses B25, B67, and B69.
I recommend getting here by walking over the Brooklyn Bridge since you then can visit two major attractions in the city at the same time.
20. African Burial Ground
Recommended by Shobha from Years of Therapy Ahead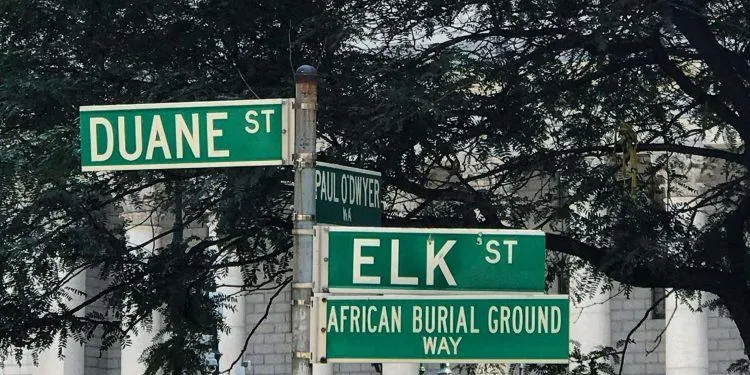 The African Burial Ground in lower Manhattan is run by the National Park Service and offers free admission. It was only accidentally discovered in 1991 when foundations were being dug for a federal office building on the site.
The site was estimated to have been the final resting place of both free and enslaved Africans in the 17th and 18th centuries. Africans were not allowed to be buried within the then city limits and so an estimated 15,000-20,000 people were buried here.
The memorial is located in a small park and the museum is in an office building around the corner. The museum goes into detail about how Africans contributed to the building and prosperity of New York.
African slaves were an essential part of the labor force and their importation was encouraged by both the Dutch and English settlers. In fact, 20% of the population of New York City were of African descent.
Contrary to what many people think that slavery was just a Southern USA issue, New York City was an important center of the slave trade (second only to Charleston, South Carolina).
Where to stay in New York City
1. The Knickerbocker
Recommended by Priya from Outside Suburbia
New York City is not a place that you can easily scratch off your bucket list, no matter how many times you have visited. Like London, Paris, and Milan – Manhattan forever remains on our list to be explored and experienced in bite-sized portions.
On one of the trips to NYC, we wanted to visit Times Square and we picked our Hotel – The Knickerbocker, a legendary New York landmark reborn as the first luxury hotel in Times Square as our base.
The Knickerbocker is located right between the bright lights of Broadway and the calm of Bryant Park, it is a haven of refined elegance, created by John Jacob Astor in 1906 and now reimagined into a sophisticated urban sanctuary mere blocks from Fifth Avenue, MoMA, Rockefeller Center and Central Park was perfectly located.
All the places that we wanted to see during this trip, were a quick taxi ride away!
Click here for more photos, information and prices.
2.
Archer Hotel in Midtown Manhattan
Recommended by Jackie from Get Lost with Jackie
When visiting New York you're definitely going to want to stay at a centrally located, luxury hotel, and Archer Hotel in Midtown Manhattan is the perfect place to base yourself to see the entire city.
The property has a cool, modern design with black, white, and tan adorning the rooms, subway tiles in the bathrooms, and heaps of cool in-room amenities – think local sweets on your bed for turndown service or a few of "Archer's Favorites" books placed on the headboard to lull you into sweet dreams.
From check-in to room service and when asking for tips from the concierge, you can expect to receive only five-star service and smiles from the staff.
The only thing that's better than the staff?
The amazing views from the Archer Hotel rooftop bar!
Overlooking the Empire State Building with amazing skyline views, the views of the Empire State building are reason enough to book with Archer!
Click here for more photos, information and prices.
Was this post helpful? If so, be sure to pin it to refer to later!

Best Places to visit in the USA