Barcelona is one of the most popular tourist destinations in Europe. But where is Barcelona located in Spain?
Barcelona is located in the autonomous community of Catalonia in the northeast of Spain.
Barcelona's exact location is 41.38879 latitude and 2.15899 longitudes.
Distance to other major destinations:
Barcelona to Madrid: 390 miles or 628 kilometers
Barcelona to Malaga: 619 miles or 996 kilometers
Barcelona to Valencia: 563 miles or 350 kilometers
Barcelona to Bilbao: 378 miles or 609 kilometers
Barcelona to Sevilla: 618 miles or 995 kilometers
Barcelona to Granada: 526 miles or 846 kilometers
Where is Barcelona on the Map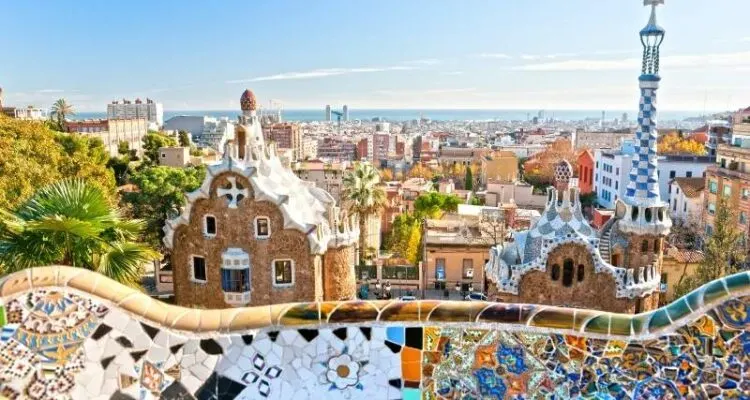 Barcelona Fun Facts
1. Barcelona had no beaches until the Olympic Games took place in the city in 1992. Nowadays, Barcelona is one of the best beach cities.
2. Barcelona is older than Rome. It may have been founded around 400 years before Rome. No one, however, knows exactly.
3. Barcelona is the most visited city in Spain and ranks on place 4, after London, Paris, and Istanbul, of the most visited cities in Europe.
Every year more than 8.2 million tourists visit Barcelona, making it the 12th most visited city in the world.
4. The Sagrada Familia, one of Barcelona's most famous landmarks, takes longer to construct than the great pyramids in Egypt.
The construction of the pyramids only took 20 years, whereby the construction of the Sarada Familia takes more than 100 years already. It started in 1882 and is planned to be finished by 2026.
5. Barcelona's popular boulevard "Las Ramblas" actually consists of five different avenues flowing smoothly into each other.
6. The famous Eiffel Tower was supposed to be built in Barcelona instead of Paris. However, Spain disapproved of the project as they decided that the Eiffel Tower did not fit Barcelona's aesthetics.
7. Antoni Gaudí is by far the most famous architect of Barcelona and has greatly influenced the design of the city and its buildings.
Frequently Asked Questions about Where is Barcelona located in Spain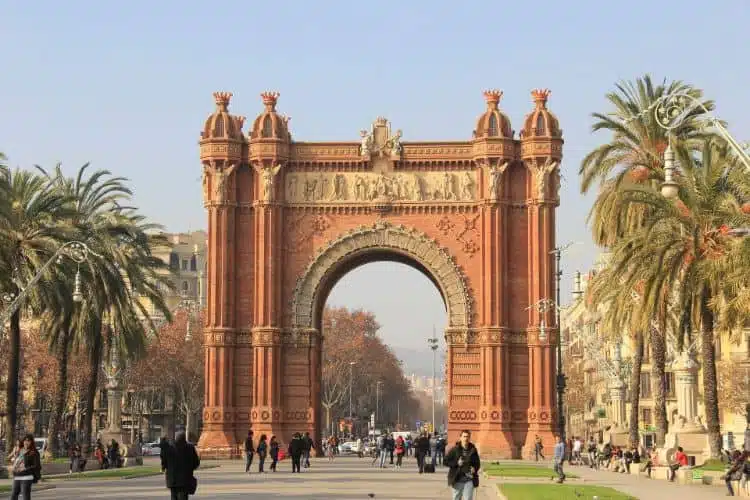 Best VPN for Travel: ExpressVPN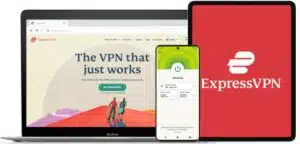 Heading abroad? Use ExpressVPN to access your social media accounts, unblock your favorite entertainment sites, and stay connected with friends and family. And get cheaper flights, of course.
Pros
✅ Next-gen, high-speed servers in 94 countries
✅ Works on iOS, Android, Windows, Mac, Linux, browsers, and more
✅ 256-bit AES encryption protects your data, even on hotel Wi-Fi
✅ Unblocks Netflix and other streaming sites
Cons
❎ No dedicated IPs
Get 3 extra months free of ExpressVPN when signing up for a 1-year plan. That's a 49% saving and a monthly cost of just $6.67! You also get a 30-day money-back guarantee.
What part of Spain is Barcelona in?
Barcelona is located in the autonomous community of Catalonia in the northeast of Spain.
Where is Catalonia located?
The autonomous community of Catalonia is located in the northeastern corner of Spain and borders France and Andorra.
What are the most famous cities in Catalonia?
Barcelona is the capital and largest city in Catalonia. Other famous cities are Lloret de Mar, Sitges, Tossa de Mar, Lleida, Girona, Figueres and Tarragona.
How far is Barcelona from Madrid?
The distance between Barcelona and Madrid is 390 miles or 628 kilometers. By car, it takes 6.5 hours to get from Barcelona to Madrid.