Malaga sights – Malaga has developed into one of the most popular travel destinations in Spain. Here you can find the most interesting things to do in Malaga.
Malaga, the capital city of the Costa del Sol, has so many things to offer to even the most discerning tourist.
Malaga Spain exudes timeless beauty, with its many attractions dating thousands of years back.
It also speaks of natural wonders, surrounded by majestic mountain ranges and vast coasts.
The society, arts, and culture in Malaga are highlights of their own.
Imagine being able to trace the steps of world-renowned artist Pablo Picasso, exploring the streets and surroundings that may have helped shaped his powerful mind.
Time truly has been friendly with the city, with developments easily easing in and finding their spots in this seemingly olden capital.
Take the curious case of Soho de Malaga. Calling itself the "neighborhood of the arts," this hip urban zone is home to tasteful galleries, provoking cuisines, and visual modernities.
Where is Malaga?
Malaga is located on the Mediterranean coastline in the southern part of Spain. The city belongs to the region of Analucía.
Nearby cities are Granada (82 miles or 132 km), Seville (132 miles or 213 km), Tarifa (98 miles or 158 km), Gibraltar (82 miles or 132 km)
Read also: HOW TO GET FROM MALAGA AIRPORT TO MALAGA DOWNTOWN
Things to do in Malaga Spain
Get Your Guide helps you find the best tours wherever you are heading to. It's usually the first website I check when I plan a trip to a new place.

1. Walk up to the Mirador Gibralfaro – Viewpoint Malaga
The Mirador de Gibralfaro offers the best view of Malaga and is a great place to watch the sunset.
It is a bit down the hill from the Castillo de Gibralfaro, making it easy to combine these two activities. Just make sure to bring enough water as the way up is especially in the summer sun, quite tiring.
Once you made it all the way up, you will be rewarded with a breathtaking view of Malaga, the port, and the La Malagueta Bullring.
2. Castillo de Gibralfaro
If you continue your way up the mountain from the Mirador de Gibralfaro for another few minutes, you will reach the Castillo de Gibralfaro.
The castle dates back to the 10th century and overlooks the city and the port. Even if you are not into history, I still highly recommend visiting the Castillo as it offers amazing views of Malaga and the surrounding mountains.
The entrance to the Castillo de Gibralfaro costs 3.50 Euros. If you also want to visit the Alcazaba, I recommend you to buy a combined ticket for in total of 5.50 Euros.
Tip: Free entrance on Sunday afternoon after 2 PM.
3. Take a walk at Monte Gibralfaro
Take a walk at Monte Gibralfaro if you need a break from city life. Within a few walking minutes, you can get from the busy Plaza de la Merced to a quiet place in the middle of a small forest.
If you walk all the way up, you will reach the Castillo de Gibralfaro. On the way there you can enjoy beautiful views of Malaga.
Tip: Once you are at the top at the Castillo, walk down on the other side of the mountain and make a stop at the Mirador de Gibralfaro.
4. Relax at Malaga's Beaches
One of the fun things to do in Malaga, Spain, is to visit its beaches that offer a unique kind of relaxation.
1. Playa de la Malagueta – Malagueta Beach is just a few minutes away from the city center and very popular amongst tourists and locals.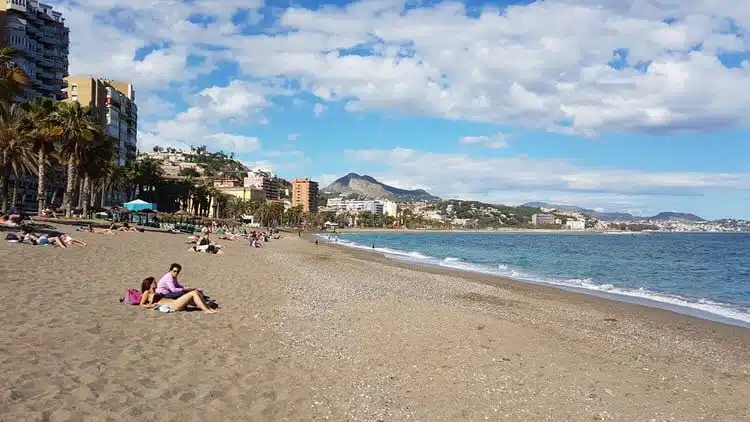 2. Playa de el Palo – Follow the boulevard along the coast of Malaga for around five kilometers to reach Malagas fishermen's village, El Palo. Many locals prefer to relax at this beach and to enjoy fresh fish.
Tip: Try one of the famous sardine skewers cooked on a barbecue made out of an old fishing boat. Afterward, you can enjoy a drink or a coffee in one of the many bars and cafes with an amazing view of the sea.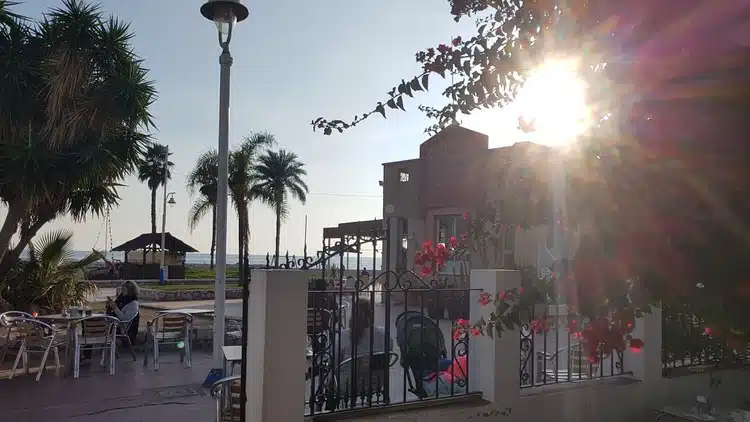 3. Playa Peñón del Cuervo – Playa Peñón del Cuervo is situated on the east coast in between Candado Marina and the Fabrica de Cemento. There are two beaches that comprise the Playa Peñón del Cuervo. They are separated by a rock formation called Raven Rock.
4. Playa de la Misericordia – This beach lies south and is quite a popular spot for runners, bicyclists, and other fitness enthusiasts. The beach stretches for two kilometers and is awarded a blue flag for its outstanding efforts in environmental management.
Drop by the Chiringuito la Campana located just along the beachfront and indulge in savory Spanish seafood dishes best grilled to perfection. There is also the simpler Chiringuito Maria which is best known for its delicious barbecue and good wine.
5. Malaga City Guide – Alcazaba
La Alcazaba is one of the most celebrated tourist destinations in the area. It is a fortress that resembles a massive palace.
La Alcazaba used to be the land's means of defense against pirates. In the Arabic language, the name translates to a citadel.
Visiting La Alcazaba during your trip to Spain is one of the ultimate things to do in Malaga.
The entry to this fortress costs 3.50 euros. Malaga residents, the youth, and students enjoy discounted rates.
During summer, it is open from 9 AM to 8 PM. During wintertime, La Alcazaba closes early, at 6 PM.
Tip: Free entrance on Sundays!
Explore Alcazaba and the ruins of the adjacent Roman Theater with an official guide on this Roman Theatre and Alcazaba Guided Tour.
6. Puerto de Malaga (Malaga Port)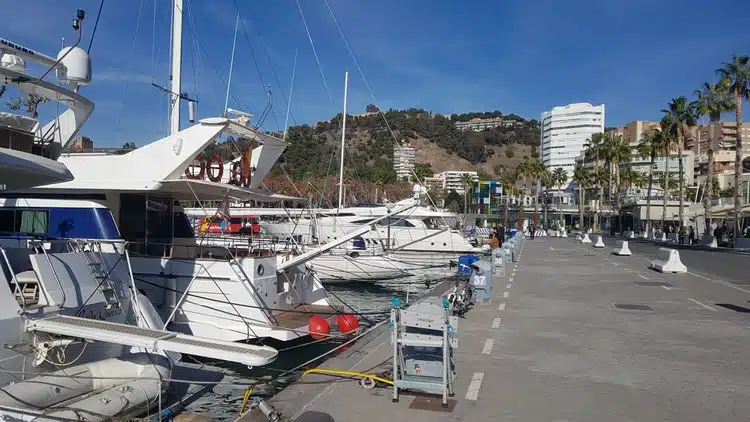 The Port of Malaga is one of the tourist ports in Spain. Its history dates back to the 8th century BC, although people claim it goes way before that.
The port was highly utilized to export products such as silk, cane sugar, and ceramics.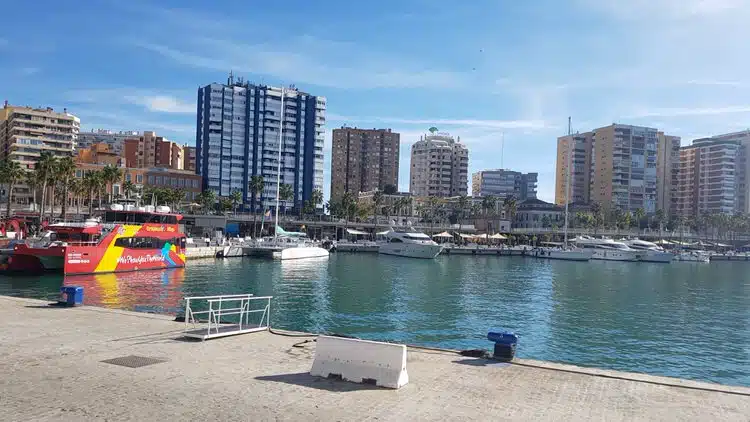 7. Parque de Málaga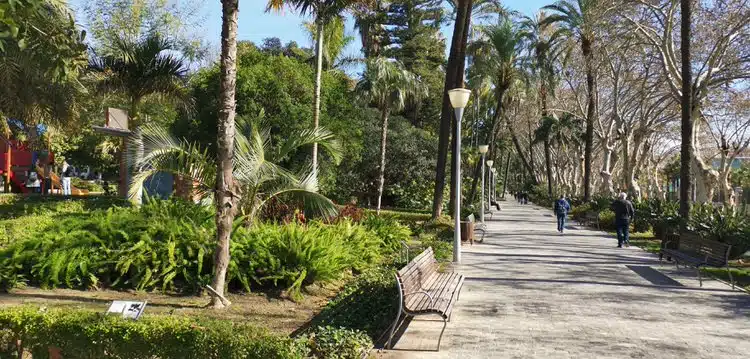 Parque de Malaga is one of the top tourist attractions that you can visit for free.
While walking through the park, you will be treated to sights of green trees and colorful parakeets.
Parque de Malaga to locals goes by two more names: Parque de la Alameda and El Parque. It is situated near the Port, occupying a piece of the reclaimed area used to be part of the Mediterranean Sea.
During Christmastime, there is a quaint Christmas Market well-loved by residents and visitors alike.
8. Go Shopping on Calle Larios
Calle Larios is one of those types of attractions that stay with you even after you leave.
It is bustling with people, its elegant interiors adding a touch of class to your usual stroll.
Though this social venue is just 350 meters long, both sides are filled with shops that tickle your fancy and decors that speak of tasteful architecture.
Calle del Marqués de Larios, its official name, is also known to many by the name of Málaga's Gran Vía.
There are two special times of the year when you shall see the grandiose beauty of Calle Larios – during Holy Week and around the Christmas season.
Tip: During Christmas time, there is a daily light show at Calle Larios. Many people travel to Malaga during this time of the year to see the show, which is really popular.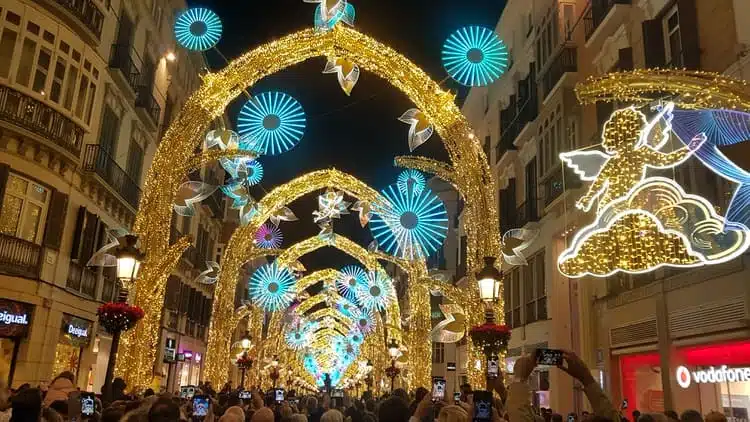 9. Roman Theatre Malaga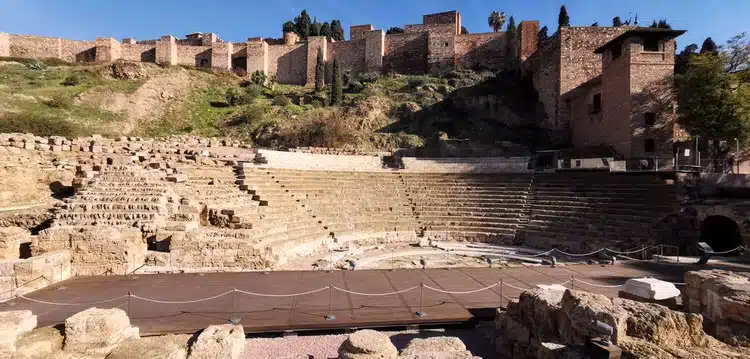 See the timeless beauty of Hispanic Rome at the Roman Theatre in Malaga. It is even made more wonderful by the enhancements contributed by technological additions to the theatre.
The Roman Theatre was built sometime during the first century AD and was quite hidden in the Casa de la Cultura.
Excavations exposed a significant discovery that later on will unfold as the wholeness of the Roman Theatre.
Today, the place acts as a venue for various shows, just like the olden times. A visit to the Roman Theatre in Malaga is free of charge.
10. Explore Malaga by Bike
One great way to explore a new place is by bike. The historic city center of Malaga is rather small and perfectly walkable; however, places like El Palo or Pedregalejo are a bit further away.
From Malagueta Beach, you can cycle the boulevard along the coast of Malaga, enjoy the views of the sea and get some drinks in a beach bar on your way.
Tip: If you don't want to explore Malaga on your own, you can join a guided tapas and wine tour of Malaga by bike.
11. Things to do in Malaga – Plaza de la Merced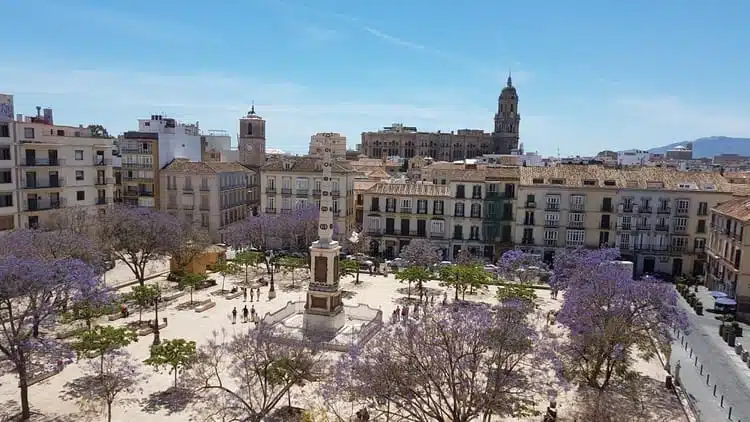 Plaza de la Merced or Mercy Square is also known to many as Plaza del Mercado and Plaza de Riego.
Many notable personalities such as Pablo Picasso and Fernando Ortiz have lived within the vicinity of the square, possibly making them frequent Plaza de la Merced visitors.
The highlight of Plaza de la Merced has got to be the Monument to Torrijos, a giant obelisk commemorating the fall of General José María Torrijos and his companions in the hands of Ferdinand VII.
One of the fun things to do in Malaga, Spain, is to experience its nightlife.
Tip: Plaza de la Merced is a great place to have some drinks in the afternoon after a full day exploring Malaga. If you want to experience Malaga's nightlife, the bars at La Merced are also a good start.
12. Malaga Hop-on Hop-off Tour
The Malaga Hop-on Hop-off Tour is a great way to get a first overview of the city and an ideal tour if you don't have that much time in Malaga.
There are two different lines with, in total, 19 stops all over the city. The onboard audio guide, available in eight languages, gives you interesting information about Malaga and its landmarks.
During the tour, you can hop off and on the panoramic double-decker bus as many times as you want. You can book a 24 or 48-hour hop-on hop-off bus tour that includes free entry at various attractions.
13. Malaga Nightlife
Does Malaga have a good nightlife?
The answer is a definitive yes.
In fact, one of the best things to do in Malaga is to check out the different bars and clubs that are spread out all across the city.
Do as a local does and eat some good tapas before you go venue hopping.
Once you've had your food fix, prepare to go from one bar to another, mingle with residents, and have an awesome time in Malaga.
Take it up a notch and head over to the best beach clubs in the city.
Here are some of my personal recommendations of bars and clubs you definitely have to check out:
Best Clubs and Bars in Malaga
1. Garrapata Malaga
Garrapata is a Bar near Cervantes Theatre and a great place to start your night out. They play different kinds of music, from rock music to flamenco fusion music.
Address: Calle Mariblanca, 9, 29012 Málaga
2. ZZ Pub
ZZ Pub offers nightly live rock, soul, blues & indie bands since 1991.
Address: Calle Tejón y Rodríguez, 6, 29008 Málaga
3. Sala Spectra
Address: Plaza de San Francisco, 8, 29008 Málaga
4. Club D Sastre
Address: Plaza de San Francisco, 8, 29008 Málaga
5. Cruzcampo microbrewery
For a gastronomic explorer like me, a Malaga must-do would have to be a visit to La Fabrica Cruzcampo.
This 1904 microbrewery treats eating and drinking as an art, as envisioned by the two brothers Tomas and Roberto Osborne.
They have perfected a unique taste that exudes freshness, following crucial steps in quality assurance for every glass of beer served.
There is no other perfect location for a creative brand like La Fabrica Cruzcampo than in Soho in Malaga. The exotic place compliments the soulfulness of the brewery; indeed, art is home here.
Address: Calle Trinidad Grund, 29, 29001 Málaga
14. Hammam in Malaga: Bath and Relaxing Massage
Is there a better way to relax after a long day exploring Malaga than going to a Hammam?
The traditional Hammam Al-Andalus in Malaga offers warm, cold, and hot baths, a relaxing steam room, and delicious mint tea. You can also book a relaxing massage with aromatic essential oils.
15. Andalusian Horse and Flamenco Show
Join 'Ritmo a Caballo,' an Andalusian Horse, and Flamenco Show with a mixture of cowboy moves and dressage to Spanish music.
The show is performed every Wednesday uninterrupted for 26 years. The riders wear old Andalusian costumes during the one and a half hours show.
16. Try Fresh Food at Mercado Atarazanas (Atarazanas Market)
You have to try the fresh food at the Mercado de Atarazanas or the Atarazanas Market. This area is one of the places you must see in Malaga, Spain.
Many locals frequent this place daily to buy their daily needs, so it is a good location to be at if you want to observe how everyday life goes in Malaga.
Don't just watch people, though. Interact with the vendors and get to know the city from their perspective.
Marvel at the stained glass windows as you indulge in the smell of fresh fruits and local favorites.
Give into the offer of cut produce served right on in olive oil and taste the harvest season right through your tastebuds – on top of our list of what to do in Malaga, Spain.
17. La Tèrmica
La Térmica is a cultural center that offers, amongst others, live music festivals, art expositions, workshops (for example, about painting, writing, photography), talks, conferences, and events for kids.
Address: Av. de los Guindos, 48, 29004 Málaga
18. Enjoy a drink at one of Malaga's rooftop bars
What's so special about drinking on the topmost floor of a building?
I'd ask you back – what is NOT special about it?
You have an unparalleled view of the city, your favorite drink on hand, and the best people to be around with.
Truth be told – special is such a relative word, but the beauty of Malaga makes it easy for you to classify these rooftop bars as truly special.
The idea of floating amid the sea of people from below gives you a natural high that only remarkable places can give.
Don't miss any of the fun things to do in Malaga, Spain, and say yes to a night out, several floors above your usual.
Best Malaga Rooftop Bars
Here is my recommendation of the best rooftop bars in Malaga:
1. Chinitas Urban Hostel & Rooftop Bar
Address: Pje. Chinitas, 3, 29015 Málaga, Spain
2. AC Hotel by Marriott Malaga Palacio
Address: Calle Cortina del Muelle, 1, 29015 Málaga, Spain
3. Larios Terrace Malaga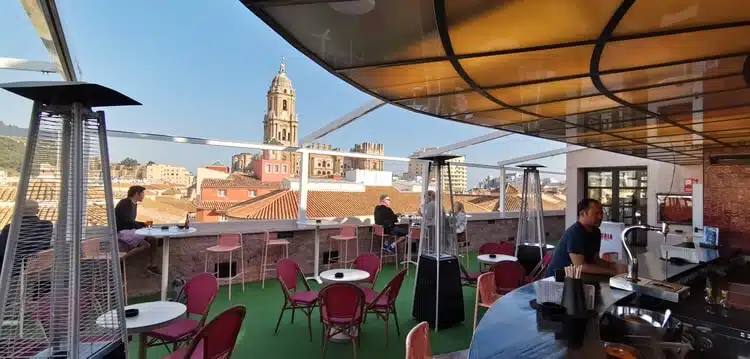 Address: Calle Marqués de Larios, 2, 29005 Málaga
19. Malaga Cafés
Malaga has a wide variety of cafés to offer. From rooftop bars to old, traditional cafes to cafés with views of the beach and the ocean.
There are also a few cafés to work from in Málaga if you have to check your emails or get some work done.
Best Malaga Cafés
Here are some of my most favorite cafés in Malaga, Spain:
1. Cobalto 15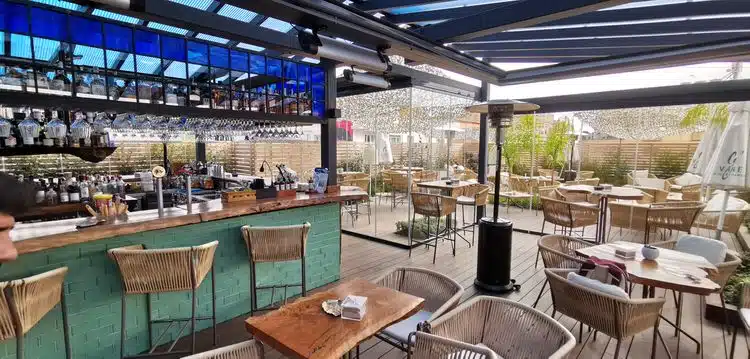 Cobalto 15 is a rooftop and cocktail bar; however, also a nice place to have a coffee during the daytime. It has an indoor and an outdoor area so you can go here even if it's raining in Malaga.
Address: Calle Casas de Campos, 15, 29001 Málaga
2. Julia Bakery Málaga
Julia is a cute little bakery in Malaga that offers one of the best cheesecakes that I have ever tried. They also bake delicious bread. You might have to wait some time as it is almost always super busy.
Address: Calle Carretería, 44, 29008 Málaga
3. Recyclo Bike Café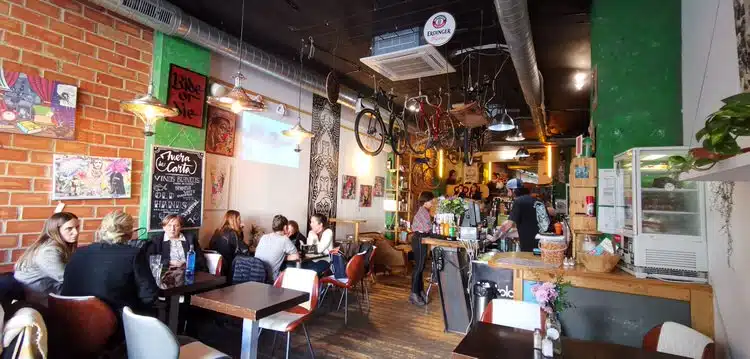 Recyclo is a hip cafe with an affiliated bike shop at plaza Enrique García-Herrera. It is nicely decorated with old bikes and other pieces of art.
The service is really good, and the prices are fair. You can get a breakfast menu including bread, coffee or tea and fresh orange juice for just three Euros.
Address: Plaza Enrique García-Herrera, 16, 29005 Málaga
4. Casa Mira – Ice Cream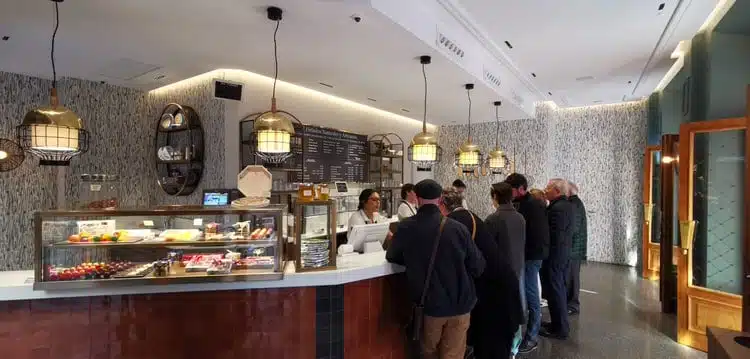 Casa Mira is my favorite ice cream place in Malaga. It opened in 1890 and is now in the fifth generation.
My favorite ice creams are Yogurt and pistachio (Yogurt y mitad pistacho), as well as Cujada (with honey and pine nuts)
Address: Calle Lirios 5, 29015 Malaga
20. La Malagueta Bullring
The La Malagueta Bullring was built in 1874 and has a capacity of 14,000 people. During the bullfighting season, from April to September, you can watch the Matador's fighting with the bulls.
There is also an interesting museum where you can learn more about the history of bullfighting.
21. Antigua Casa de Guardia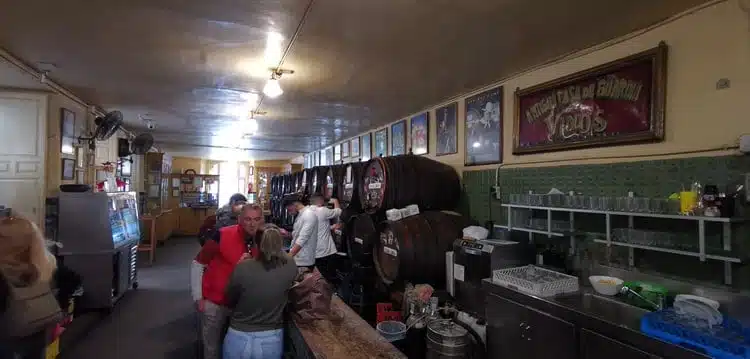 Antigua Casa de Guardia is a famous bodega y taberna (english: ) in Malaga. It exists since the 19th century and is named by the royal kingdom of Isabel the second.
They mainly serve Pedro Ximénez, a white Spanish wine grape variety, and produce a varietal wine with an intensely sweet, dark, dessert sherry.
Address: Alameda Principal, 18, 29005 Málaga
23. Malaga Cathedral
If I only have to cut this list to my top 10 things to do in Malaga, a visit to the Cathedral of Malaga is hands down going to occupy one of the spots.
This architectural wonder is also regarded as La Manquita, which, when translated, is roughly saying something about a one-armed woman.
The Cathedral got this characterization because it was first envisioned to have two towers to adorn it. When funds proved to be inadequate, they settled for just one tower – hence the term one-armed.
A tour of the Malaga Cathedral from the inside will show you Renaissance and baroque inspirations.
Don't miss out on the opportunity to tour the Cathedral's rooftop to know more about the history of the place.
24. Join a guided city tour
Joining a city tour is one of the best things to do in Malaga, Spain. Not only does this allow you to visit a couple of sights in one go efficiently, but it also allows you to share the experience with other visitors.
Exploring Malaga is best done with an experienced local guide. This ensures that you get all the essential details in knowing the city in a deeper sense.
Malaga's Best Guided City Tours
Here are some of the best-guided tours in Malaga which you can book:
1. 3-Hour Complete Walking Tour of Málaga
Join this three-hour guided walking tour around Malaga to visit all the important sights and learn more about the city.
2. 1-Hour Panoramic Segway Tour
Visit the top sights of Malaga during this one-hour Malaga-guided Segway Tour and learn interesting facts about the city and Andalucia.
3. 3-Hour E-Bike Tour to White Village Olías
Join this Malaga E-Bike Tour and comfortably ride up the Monte de Málaga that offers breathtaking views of the city, the football stadium, and the botanic garden. On the way down, you will make a stop at Olías, one of the famous white villages.
4. 2-Hour Historical Center & Cathedral Tour
Explore the historic center and the Cathedral of Málaga on this 2-hour guided tour. Walk around the most important sights of Málaga such as Calle Granada, Plaza de la Constitución, Iglesia de Santiago, Calle Larios.
5. Malaga Bike Tour
Tour the historic city of Malaga by bike, and discover its attractions, including the ancient Roman Theater and Gibralfaro Castle.
25. Explore Malaga's bay with a boat trip
The best things in Malaga can be summed up in one great trip!
Hop on a boat that will take you to the city's historical landmarks while you sip on delicious wine and enjoy authentic tapas.
Your experienced boat guide will talk you through all the interesting points during the boat trip. For a good four hours, you get to use all your senses to experience Malaga and all its best features.
A boat trip around Malaga Bay with these inclusions costs about 77 euros, depending on the tour boat company you will sign up with.
26. Theatro Cervantes de Malaga
If you think of more activities in Malaga, Spain, a visit to the Teatro Cervantes de Malaga may be what you're looking for.
Check their website for the upcoming programs at the theater and prepare yourself for some cultural immersion.
The conception of the Teatro Cervantes de Malaga started after the Teatro de la Libertad was engulfed in flames, leaving them with no theater to enjoy.
Leaders of art and culture started coming together to form the Malaga landmark that is Teatro Cervantes de Malaga.
27. Mirador de la Alcazaba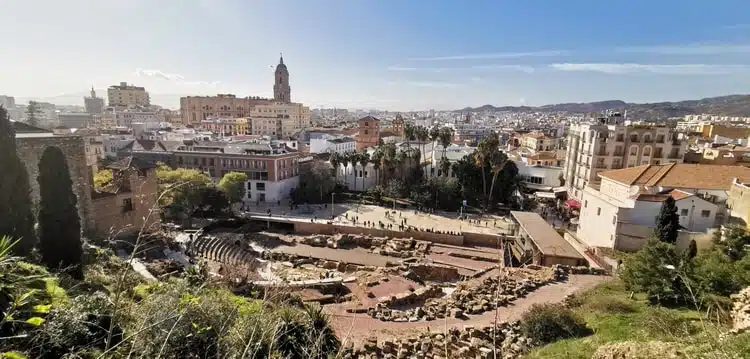 The Mirador de la Alcazaba offers great views of Malaga and shows you the Roman Theatre from a different perspective.
The entrance is free, and the walk-up only takes between five and ten minutes.
28. Malaga museums
In Malaga, there are several interesting museums on various topics.
From the Picasso Museum to a museum for contemporary art, to a wine and automobile museum, there is something for everyone.
For more info, read our article on the best museums in Malaga.
Frequently Asked Questions about Malaga
Best VPN for Travel: ExpressVPN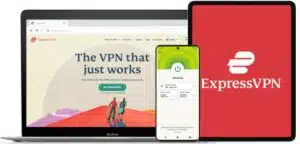 Heading abroad? Use ExpressVPN to access your social media accounts, unblock your favorite entertainment sites, and stay connected with friends and family. And get cheaper flights, of course.
Pros
✅ Next-gen, high-speed servers in 94 countries
✅ Works on iOS, Android, Windows, Mac, Linux, browsers, and more
✅ 256-bit AES encryption protects your data, even on hotel Wi-Fi
✅ Unblocks Netflix and other streaming sites
Cons
❎ No dedicated IPs
Get 3 extra months free of ExpressVPN when signing up for a 1-year plan. That's a 49% saving and a monthly cost of just $6.67! You also get a 30-day money-back guarantee.
Is Malaga a walkable city?
Most of the main tourist attractions in Malaga are within walking distance of each other. The historic center of Malaga is rather small, and most parts are car-free, which makes Malaga a walkable city.
How to get from the Airport to Malaga?
The cheapest option to get from Malaga Airport to the city is by train. The journey only takes around twelve minutes and costs 1,80 Euros. Another cheap option is to go by bus, which costs three Euros and takes around 20 minutes. If you want to take the hassle out of your Malaga arrival, you can also hire a Malaga airport taxi for around 15 Euros or a private transfer from Malaga Airport to your hotel in a comfortable car.