There is an abundance of things to do in Malaga, Spain. This ultimate Malaga City Guide provides you tips on which places to see, nearby areas to explore, and hotels to consider.
Malaga, the capital city of the Costa del Sol has so many things to offer to even the most discerning tourist.
Malaga Spain exudes timeless beauty, with its many attractions dating thousands of years back.
It also speaks of natural wonders, surrounded by majestic mountain ranges and vast coasts.
The society, arts and culture in Malaga are highlights of their own.
Imagine being able to trace the steps of world-renowned artist Pablo Picasso, exploring the streets and surroundings that may have helped shaped his powerful mind.
Time truly has been friendly with the city, with developments easily easing in and finding their spots in this seemingly olden capital.
Take the curious case of Soho de Malaga. Calling itself the "neighborhood of the arts," this hip urban zone is home to tasteful galleries, provoking cuisines and visual modernities.
Where is Malaga?
Malaga is located on the Mediterranean coastline in the southern part of Spain. The city belongs to the region of Analucía.
Nearby cities are Granada (82 miles or 132 km), Seville (132 miles or 213 km), Tarifa (98 miles or 158 km), Gibraltar (82 miles or 132 km)
Read also: HOW TO GET FROM MALAGA AIRPORT TO MALAGA DOWNTOWN
Things to do in Malaga Spain
Hot Tip: Many attractions in Malaga offer free entrance on Sunday, either during the whole day or in the afternoon.
1. Walk up to the Mirador Gibralfaro – Viewpoint Malaga
The Mirador de Gibralfaro offers by far the best view of Malaga and is a great place to watch the sunset.
It is a bit down the hill from the Castillo de Gibralfaro which makes it easy to combine these two activities. Just make sure to bring enough water as the way up is especially in the summer sun quite tiring.
Once you made it all the way up you will be rewarded with a breathtaking view of Malaga, the port and the La Malagueta Bullring.
2. Castillo de Gibralfaro
If you continue your way up the mountain from the Mirador de Gibralfaro for another few minutes you will reach the Castillo de Gibralfaro.
The castle dates back to the 10th century and overlooks the city and the port. Even if you are not into history I still highly recommend visiting the Castillo as it offers amazing views of Malaga and the surrounding mountains.
The entrance to the Castillo de Gibralfaro costs 3.50 Euros. If you also want to visit the Alcazaba I recommend you to buy a combined ticket for in total 5.50 Euros.
Tip: Free entrance on Sunday afternoon after 2 PM.
3. Take a walk at Monte Gibralfaro
Take a walk at Monte Gibralfaro if you need a break from city life. Within a few walking minutes you can get from the busy Plaza de la Merced to a quiet place in the middle of a small forest.
If you walk all the way up you will reach the Castillo de Gibralfaro. On the way there you can enjoy beautiful views of Malaga.
Tip: Once you are at the top at the Castillo walk down on the other side of the mountain and make a stop at the Mirador de Gibralfaro.
4. Relax at Malaga's Beaches
One of the fun things to do in Malaga Spain is to visit its beaches that offer a unique kind of relaxation.
1. Playa de la Malagueta – Malagueta Beach is just a few minutes away from the city center and very popular amongst tourists as well as locals.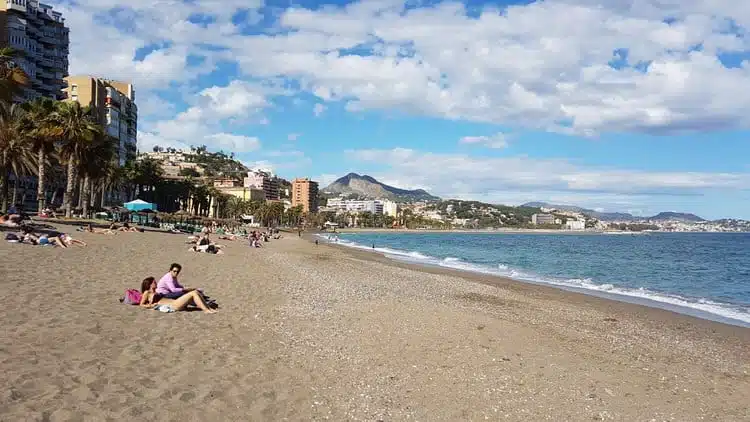 2. Playa de el Palo – Follow the boulevard along the coast of Malaga for around five kilometers to reach Malagas fishermen village, El Palo. Many locals prefer to relax at this beach and to enjoy fresh fish.
Tip: Try one of the famous sardine skewers that are cooked on a barbecue made out of an old fishing boat. Afterwards you can enjoy a drink or a coffee in one of the many bars and cafes with an amazing view at the sea.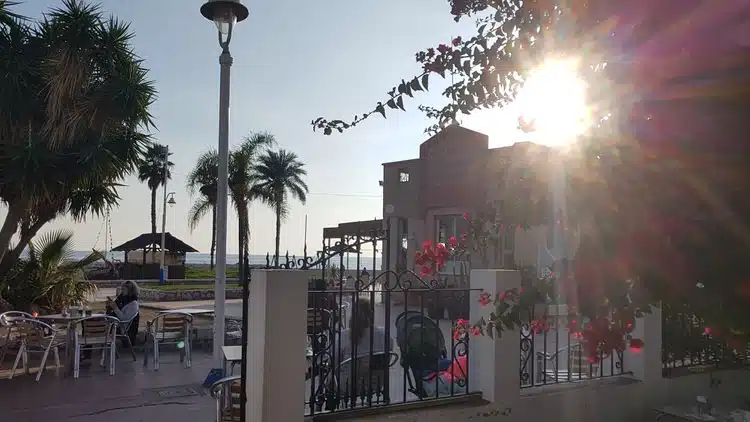 3. Playa Peñón del Cuervo – Playa Peñón del Cuervo is situated on the east coast in between Candado Marina and the Fabrica de Cemento. There are two beaches that comprise the Playa Peñón del Cuervo. They are separated by a rock formation called Raven Rock.
4. Playa de la Misericordia – This beach lies south and is quite a popular spot for runners, bicyclists, and other fitness enthusiasts. The beach stretches for two kilometers and is awarded a blue flag for its outstanding efforts in environmental management.
Drop by the Chiringuito la Campana located just along the beachfront and indulge in savoury Spanish seafood dishes best grilled to perfection. There is also the simpler Chiringuito Maria which is best known for its delicious barbecue and good wine.
5. Malaga City Guide – Alcazaba
La Alcazaba is one of the most celebrated tourist destinations in the area. It is a fortress that resembles a massive palace.
La Alcazaba used to be the land's means of defense against pirates. In Arabic language, the name translates to a citadel.
Visiting La Alcazaba during your trip to Spain is one of the ultimate things to do in Malaga.
The entry to this fortress costs 3.50 euros. Malaga residents, the youth and students enjoy discounted rates.
During summer, it is open from 9 AM to 8 PM. During wintertime, La Alcazaba closes early at 6 PM.
Tip: Free entrance on Sundays!
Explore Alcazaba and the ruins of the adjacent Roman Theater with an official guide on this Roman Theatre and Alcazaba Guided Tour.
6. Puerto de Malaga (Malaga Port)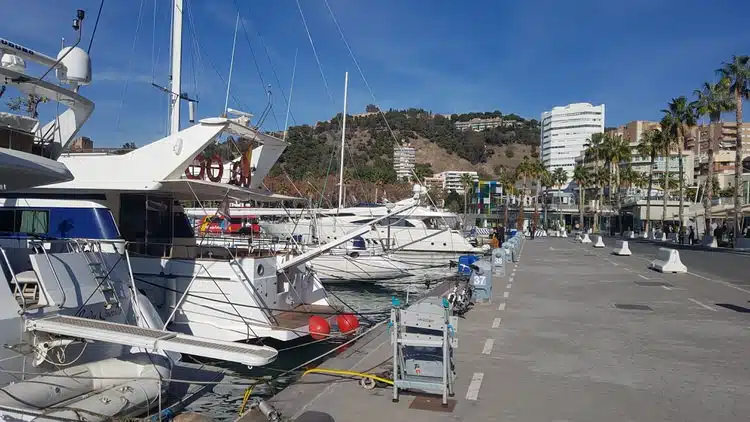 The Port of Malaga is one of the tourist ports in Spain. Its history dates back to the 8th century BC, although people claim it goes way before that.
The port was highly utilized for the shipment of export produce such as silk, cane sugar and ceramics.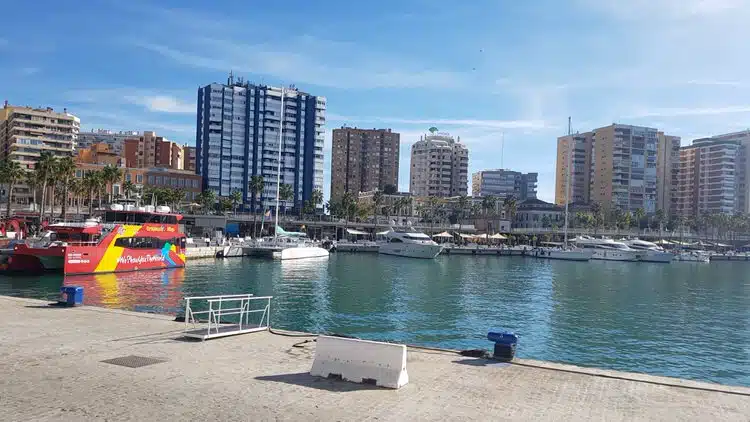 7. Parque de Málaga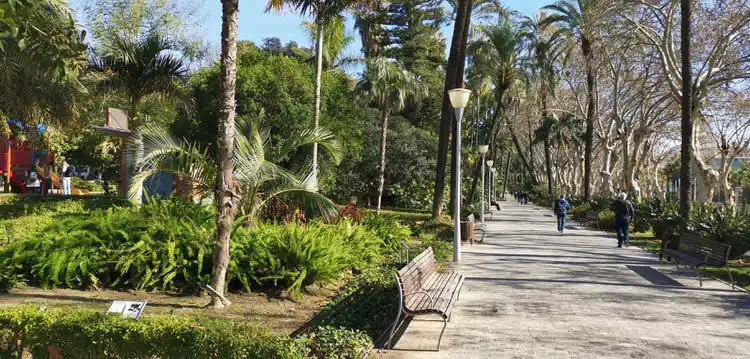 Parque de Malaga is one of the top tourist attractions that you can visit for free.
While walking through the park, you will be treated to sights of green trees and colorful parakeets.
Parque de Malaga to locals goes by two more names: Parque de la Alameda and El Parque. It is situated near the Port, occupying a piece of the reclaimed area which used to be part of the Mediterranean Sea.
During Christmastime there is a quaint Christmas Market well-loved by residents and visitors alike.
8. Go Shopping on Calle Larios
Calle Larios is one of those types of attractions that stay with you even after you leave.
It is bustling with people, its elegant interiors adding a touch of class to your usual stroll.
Though this social venue is just 350 meters long, both sides are filled with shops that tickle your fancy and decors that speak of tasteful architecture.
Calle del Marqués de Larios, its official name, is also known to many by the name of Málaga's Gran Vía.
There are two special times of the year when you shall see the grandiose beauty of Calle Larios – during Holy Week and around Christmas season.
Tip: During Christmas time there is a daily light show at Calle Larios. Many people travel to Malaga during this time of the year just to see the show which is really popular.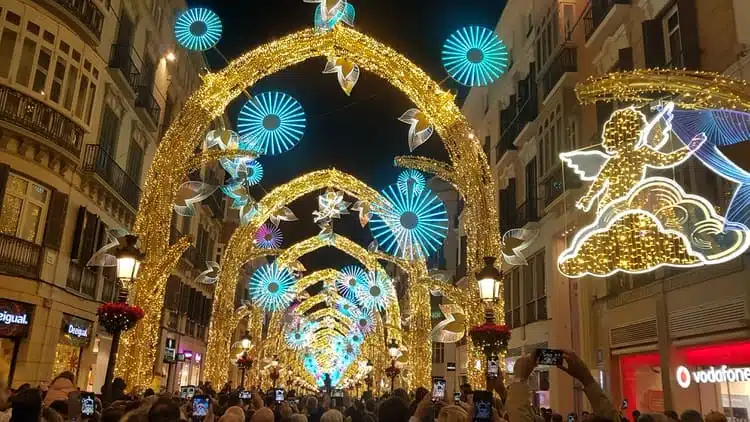 9. Roman Theatre Malaga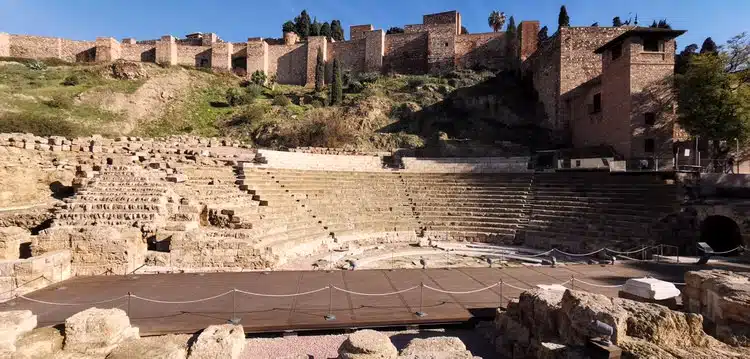 See the timeless beauty of Hispanic Rome at the Roman Theatre in Malaga. It is even made more wonderful by the enhancements contributed by technological additions to the theatre.
The Roman Theatre was built sometime during the first century AD and was quite hidden in sight amid the Casa de la Cultura.
Excavations exposed a significant discovery which later on will unfold as the wholeness of the Roman Theatre.
Today, the place acts as a venue to various shows just like the olden times. A visit to the Roman Theatre in Malaga is free of charge.
10. Explore Malaga by Bike
One great way to explore a new place is by bike. The historic city center of Malaga is rather small and perfectly walkable; however, places like El Palo or Pedregalejo are a bit further away.
From the Malagueta Beach you can cycle the boulevard along the coast of Malaga, enjoy the views of the sea and get some drinks in a beach bar on your way.
Tip: If you don't want to explore Malaga on your own you can join a guided tapas and wine tour of Malaga by bike.
11. Things to do in Malaga – Plaza de la Merced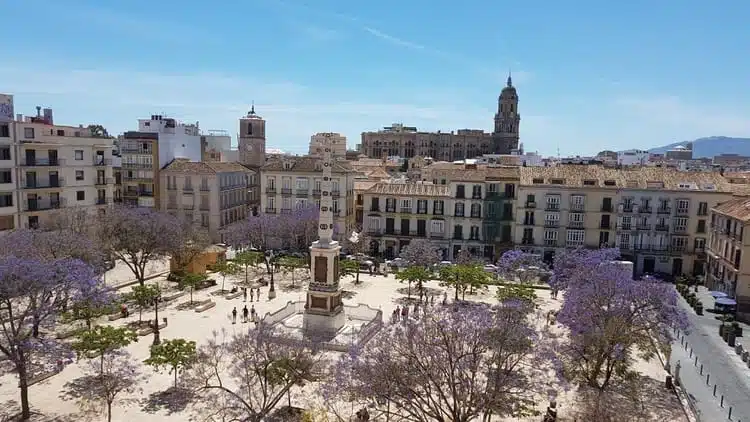 Plaza de la Merced or Mercy Square is also known to many as Plaza del Mercado and Plaza de Riego.
Many notable personalities such as Pablo Picasso and Fernando Ortiz are said to have lived within the vicinity of the square, possibly making them frequent visitors of Plaza de la Merced.
The highlight of Plaza de la Merced has got to be the Monument to Torrijos, a giant obelisk commemorating the fall of General José María Torrijos and his companions in the hands of Ferdinand VII.
One of the fun things to do in Malaga Spain is to experience its nightlife.
Tip: Plaza de la Merced is a great place to have some drinks in the afternoon after a full day exploring Malaga. If you want to experience Malaga's nightlife the bars at La Merced are also a good start.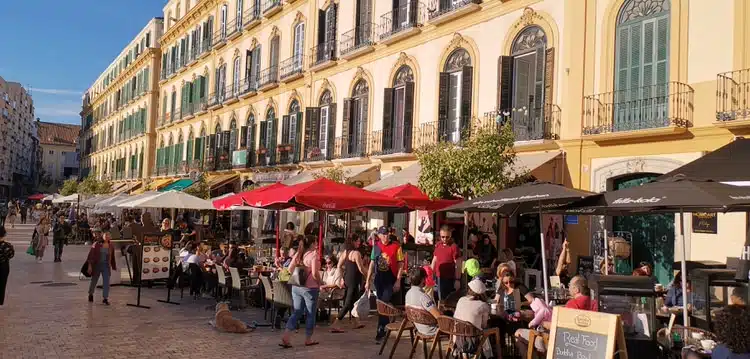 12. Malaga Hop-on Hop-off Tour
The Malaga Hop-on Hop-off Tour is a great way to get a first overview of the city and is also an ideal tour if you don't have that much time in Malaga.
There are two different lines with in total 19 stops all over the city. The onboard audio guide, which is available in eight languages, gives you interesting information about Malaga and its landmarks.
During the tour you can hop off and on the panoramic double-decker bus as many times as you want. You can book a 24 or 48-hour hop-on hop-off bus tour that also includes free entry at various attractions.
13. Malaga Nightlife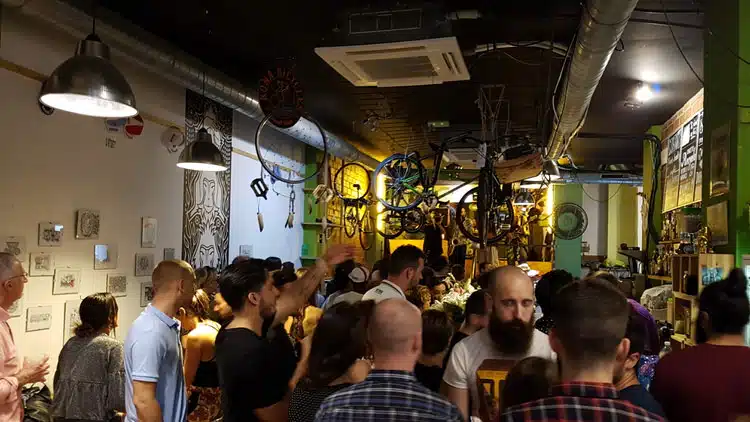 Does Malaga have a good nightlife?
The answer is a definitive yes.
In fact, one of the best things to do in Malaga is to check out the different bars and clubs that are spread out all across the city.
Do as a local does and eat some good tapas before you go venue hopping.
Once you've had your food fix, prepare to go from one bar to another, mingle with residents, and have an awesome time in Malaga.
Take it up a notch and head over to the best beach clubs in the city.
Here are some of my personal recommendations of bars and clubs you definitely have to check out:
Best Clubs and Bars in Malaga
1. Garrapata Malaga
Garrapata is a Bar near Cervantes Theatre and a great place to start your night out. They play different kinds of music from rock music to flamenco fusion music.
Address: Calle Mariblanca, 9, 29012 Málaga
2. ZZ Pub
ZZ Pub offers nightly live rock, soul, blues & indie bands since 1991.
Address: Calle Tejón y Rodríguez, 6, 29008 Málaga
3. Sala Spectra
Address: Plaza de San Francisco, 8, 29008 Málaga
4. Club D Sastre
Address: Plaza de San Francisco, 8, 29008 Málaga
5. Cruzcampo microbrewery
A Malaga must-do for a gastronomic explorer like me would have to be a visit to La Fabrica Cruzcampo.
This 1904 microbrewery treats eating and drinking as an art, as envisioned by the brothers Tomas and Roberto Osborne.
They have perfected a unique taste that exudes freshness, following crucial steps in quality assurance for every glass of beer served.
There is no other perfect location for a creative brand like La Fabrica Cruzcampo than in Soho in Malaga. The exotic place compliments the soulfulness of the brewery; indeed, art is home here.
Address: Calle Trinidad Grund, 29, 29001 Málaga
14. Hammam in Malaga: Bath and Relaxing Massage
Is there a better way to relax after a long day exploring Malaga then going to a Hammam?
The traditional Hammam Al-Andalus in Malaga offers warm, cold and hot baths, a relaxing steam room and delicious mint tea. You can also book a relaxing massage with aromatic essential oils.
15. Andalusian Horse and Flamenco Show
Join 'Ritmo a Caballo', an Andalusian Horse and Flamenco Show with a mixture of cowboy moves and dressage to Spanish music.
The show is performed every Wednesday uninterrupted for 26 years. The riders wear old Andalusian costumes during the one and a half hours show.
16. Try Fresh Food at Mercado Atarazanas (Atarazanas Market)
You have to try the fresh food at the Mercado de Atarazanas or the Atarazanas Market. This area is one of the places you must see in Malaga Spain.
Many locals frequent this place daily in order to buy their daily needs, so it is a good location to be at if you want to observe how everyday life goes in Malaga.
Don't just watch people, though. Interact with the vendors and get to know the city from their perspective.
Marvel at the stained glass windows as you indulge in the smell of fresh fruits and local favorites.
Give into the the offer of cut produce served right on in olive oil and taste the harvest season right through your tastebuds – on top of our list of what to do in Malaga Spain.
17. La Tèrmica
La Térmica is a cultural center that offers amongst others live music festivals, art expositions, workshops (for example about painting, writing, photography), talks, conferences and events for kids.
Address: Av. de los Guindos, 48, 29004 Málaga
18. Enjoy a drink at one of Malaga's rooftop bars
What's so special about drinking at the topmost floor of a building?
I'd ask you back – what is NOT special about it?
You have an unparalleled view of the city, your favorite drink on hand and the best people to be around with.
Truth be told – special is such a relative word, but the beauty of Malaga makes it easy for you to classify these rooftop bars as truly special.
The idea of floating amid the sea of people from below gives you a natural high that only remarkable places can give.
Don't miss any of the fun things to do in Malaga Spain and say yes to a night out, several floors above your usual.
Best Malaga Rooftop Bars
Here is my recommendation of the best rooftop bars in Malaga:
1. Chinitas Urban Hostel & Rooftop Bar
Address: Pje. Chinitas, 3, 29015 Málaga, Spain
2. AC Hotel by Marriott Malaga Palacio
Address: Calle Cortina del Muelle, 1, 29015 Málaga, Spain
3. Larios Terrace Malaga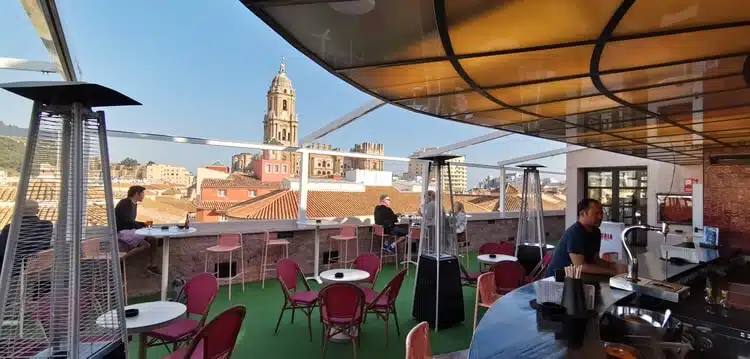 Address: Calle Marqués de Larios, 2, 29005 Málaga
19. Malaga Cafés
Malaga has a wide variety of cafés to offer. From rooftop bars to old, traditional cafes to cafés with view of the beach and the ocean.
Best Malaga Cafés
Here are some of my most favorite cafés in Malaga, Spain:
1. Cobalto 15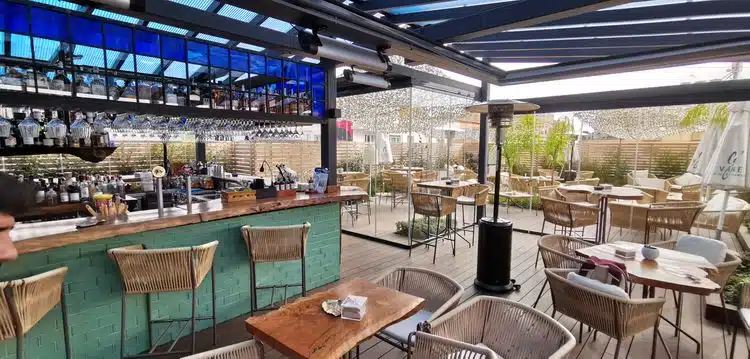 Cobalto 15 is a rooftop and cocktail bar; however, also a nice place to have a coffee during the daytime. It has an indoor as well as an outdoor area so you can go here even if it's raining in Malaga.
Address: Calle Casas de Campos, 15, 29001 Málaga
2. Julia Bakery Málaga
Julia is a cute, little bakery in Malaga that offers one of the best cheesecakes that I have ever tried. They also bake delicious bread. You might have to wait some time as it is almost always super busy.
Address: Calle Carretería, 44, 29008 Málaga
3. Recyclo Bike Café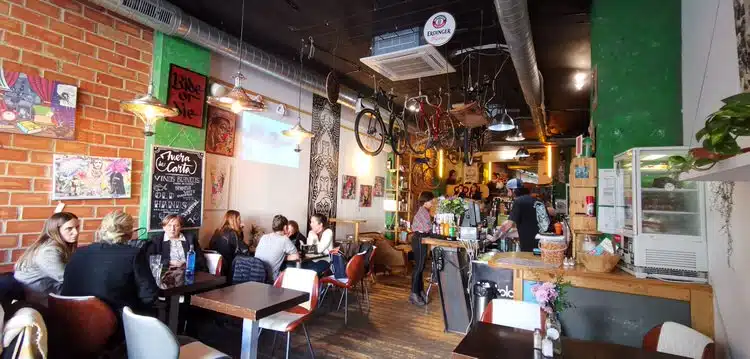 Recyclo is a hip cafe with an affiliated bike shop at plaza Enrique García-Herrera. It is nicely decorated with old bikes and other pieces of art.
The service is really good and the prices are fair. You can get a breakfast menu including bread, coffee or tea and fresh orange juice for just three Euros.
Address: Plaza Enrique García-Herrera, 16, 29005 Málaga
4. Casa Mira – Ice Cream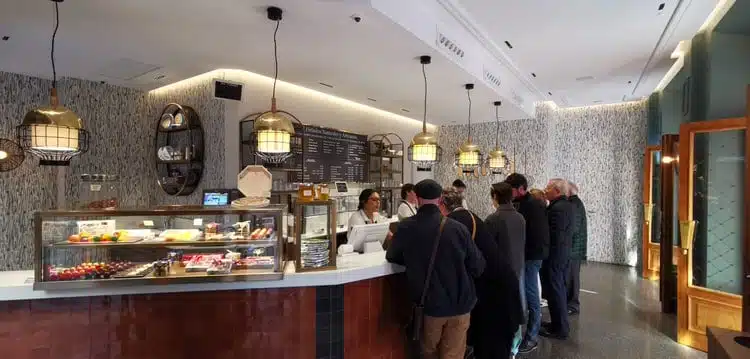 Casa Mira is my favorite ice cream place in Malaga. It opened in 1890 and is now in the fifth generation.
My favorite ice creams are Yogurt and pistachio (Yogurt y mitad pistacho) as well as Cujada (with honey and pine nuts)
Address: Calle Lirios 5, 29015 Malaga
20. La Malgueta Bullring
The La Malgueta Bullring was built in 1874 and has a capacity for 14,000 people. During the bullfighting season from April to September you can watch the Matador's fighting with the bulls.
There is also an interesting museum where you can learn more about the history of bullfighting.
21. Antigua Casa de Guardia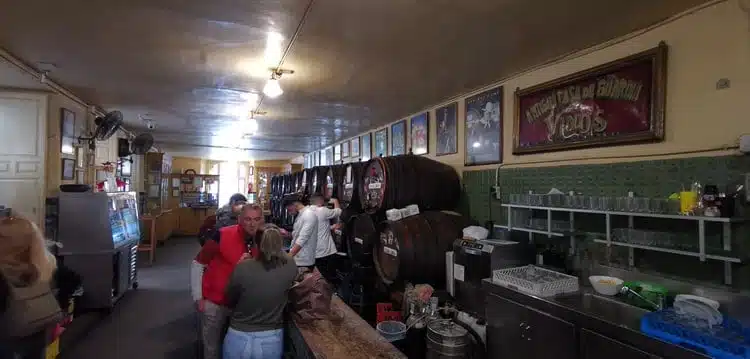 Antigua Casa de Guardia is a famous bodega y taberna (english: ) in Malaga. It exists since the 19th century and is named by the royal kingdom of Isabel the second.
They mainly serve Pedro Ximénez, a white Spanish wine grape variety and produce a varietal wine that has an intensely sweet, dark, dessert sherry.
Address: Alameda Principal, 18, 29005 Málaga
23. Malaga Cathedral
If I only have to cut this list to my top 10 things to do in Malaga, a visit to the Cathedral of Malaga is hands down going to occupy one of the spots.
This architectural wonder is also regarded as La Manquita which, when translated, is roughly saying something about a one-armed woman.
The Cathedral got this characterization because it was first envisioned to have two towers to adorn it. When funds proved to be inadequate, they settled for just one tower – hence the term one-armed.
A tour of the Malaga Cathedral from the inside will show you Renaissance and baroque inspirations.
Don't miss out on the opportunity to tour the Cathedral's rooftop to know more about the history of the place.
24. Join a guided city tour
Joining a city tour is one of the best things to do in Malaga Spain. Not only does this allow you to efficiently visit a couple of sights in one go but it also gives you the opportunity to share the experience with other visitors.
Exploring Malaga is best done with an experienced local guide. This ensures that you get all the details that are essential in knowing the city in a deeper sense.
Malaga's Best Guided City Tours
Here are some of the best guided tours in Malaga which you can book:
1. 3-Hour Complete Walking Tour of Málaga
Join this three hour guided walking tour around Malaga to visit all the important sights and to learn more about the city.
2. 1-Hour Panoramic Segway Tour
Visit the top sights of Malaga during this one hour Malaga guided Segway Tour and learn interesting facts about the city and Andalucia.
3. 3-Hour E-Bike Tour to White Village Olías
Join this Malaga E-Bike Tour and comfortably ride up the Monte de Málaga that offers breathtaking views of the city, the football stadium and the botanic garden. On the way down you will make a stop at Olías, one of the famous white villages.
4. 2-Hour Historical Center & Cathedral Tour
Explore the historic center and the Cathedral of Málaga on this 2-hour guided tour. Walk around the most important sights of Málaga such as Calle Granada, Plaza de la Constitución, Iglesia de Santiago, Calle Larios.
5. Malaga Bike Tour
Tour the historic city of Malaga by bike, and discover all its attractions including the ancient Roman Theater and Gibralfaro Castle.
25. Explore Malaga's bay with a boat trip
The best things in Malaga can be summed up in one great trip!
Hop on a boat that will take you to the city's historic landmarks while you sip on delicious wine and enjoy authentic tapas.
Your experienced boat guide will talk you through all the interesting points during the boat trip. For a good four hours, you get to use all your senses to experience Malaga and all its best features.
A boat trip around Malaga Bay with these inclusions costs about 77 euros, depending on the tour boat company that you will sign up with.
26. Theatro Cervantes de Malaga
If you are thinking of more activities in Malaga Spain, a visit to the Teatro Cervantes de Malaga may just be what you're looking for.
Check their website for the upcoming programmes at the theater and prepare yourself for some cultural immersion.
The conception of the Teatro Cervantes de Malaga started after the Teatro de la Libertad was engulfed in flames, leaving them with no theater to enjoy.
Leaders of art and culture started coming together to form what is now the Malaga landmark that is Teatro Cervantes de Malaga.
27. Mirador de la Alcazaba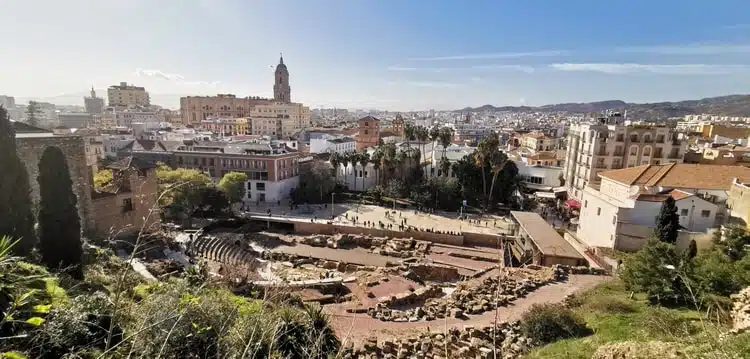 The Mirador de la Alcazaba offers great views of Malaga and shows you the Roman Theatre from a different perspective.
The entrance is free and the walk up only takes between five and ten minutes.
The best museums in Malaga
A great thing to do in Malaga is to immerse in the different museums that speak of the city's vibrant history, rich culture, and tasteful art.
1. Museo de Malaga (Malaga museum)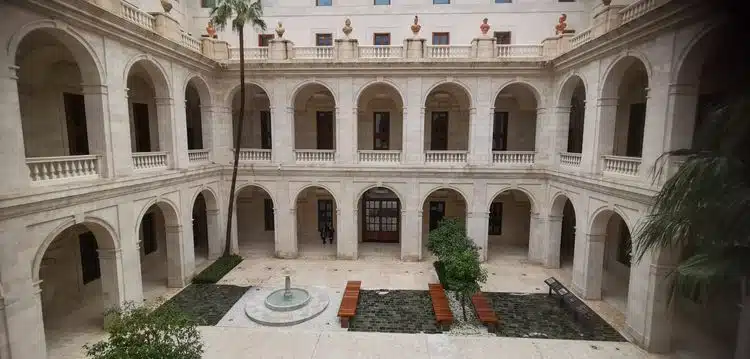 Museo de Malaga is one of the best places to explore, with 18,000 square meters of the Palacio de la Aduana dedicated to archaeology and fine arts.
It is free to explore the Malaga Museum for all European Citizens. Noncitizen visitors have a minimal admission fee of 1.50 euros to pay.
Address: Plaza de la Aduana, 29015 Málaga, Spain
2. Picasso Museum
A trip to the Museo Picasso should be on your list of things to do in Malaga.
It is located at Palacio de Buenavista and will take you to the different artworks made by distinguished artist and Malaga-born Pablo Picasso.
The cost for a visit to the Picasso Museum in Malaga ranges from 6 to 9 euros. Admission rates depend on the galleries on display.
Discounts are given to seniors, students and the youth. Persons with disability, among others, can enter the museum at no charge.
If you want to enjoy the Picasso Museum for free, head over to the venue on Sundays during the last two opening hours and during select holidays.
Tip: Free entry on Sunday afternoon! If you prefer to go on another day skip the line and buy your Picasso Museum ticket online.
Address: Palacio de Buenavista, Calle San Agustín, 8, 29015 Málaga, Spain
3. Centre Pompidou Malaga (Pompidou Centre)
One of the most outstanding points of interest in Malaga would have to be the Centre Pompidou. It was established by President Georges Pompidou with the Plateau Beaubourg as its location.
This cultural center is composed of ten floors that house two cinemas, two libraries, several galleries, a performance venue and a lecture area.
To enter the Centre Pompidou, admission fees apply to every gallery and show.
A visit to the Centre Pompidou is definitely one of the ultimate things to do in Malaga.
Tip: Buy your ticket online and skip the line through a separate entrance. Free entry on Sunday afternoon!
Address: Pasaje Doctor Carrillo Casaux, s/n, 29016 Málaga, Spain
4. Centro de Arte Contemporáneo (Contemporary Art Museum)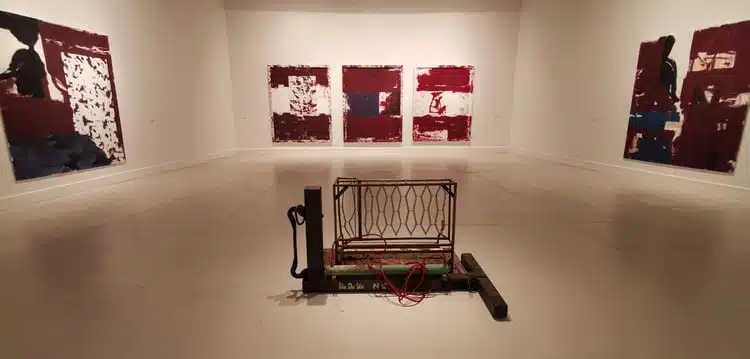 The Contemporary Art Museum easily bags a slot in the list of the best things to do in Malaga. CAC, as it is called, can be found at Soho de Malaga. This area is an area that is best described as hip and edgy.
The Contemporary Art Museum displays various exhibits coming from different private collections. Hundreds of artworks have been loaned by collectors to the museum for a specific period of time.
There are also temporary exhibits that welcome artists that are new to the scene.
A visit to the Contemporary Art Museum is one of the many free things to do in Malaga.
Address: Calle Alemania, S/N, 29001 Málaga
5. See where Picasso lived at Museo Casa Natal
It's not always that you get to be in a city which birthed one of the most influential artists of all time. Therefore, one of things to see in Malaga Spain would have to be the home of none other than Pablo Picasso.
Pay a visit at the Museo Casa Natal or the Picasso Foundation and see a birthplace museum dedicated to showcasing the first four years of Pablo Picasso.
Many of the things you can see at the Museo Casa Natal are donations from the family of the prominent painter. There are also books authored not only by Picasso but also by renowned artists such as Max Ernst.
Admission fee to the Museo Casa Natal with a Picasso Museum audio guide starts at three euros.
Tip: Buy your ticket online and skip the line.
Address: Plaza de la Merced, 15, 29012 Málaga
6. Museo Carmen Thyssen (Carmen Thyssen Museum)
One of the places to see in Malaga is the Carmen Thyssen Museum. It is home to the vast art collection of Carmen Cervera, the third wife of Baron Hans Heinrich Thyssen-Bornemisza.
The building where you can find the museum is a 16th century beauty which covers 7,147 square meters in area.
Three of the main highlights in the hundreds of art pieces in Carmen Thyssen's collections are Maria Fortuny's Bullfight, Guillermo Gomez Gil's The Reding Fountain and Niccolo Frangipane's Penitent.
A general full-access ticket to the Carmen Thyssen Museum costs ten euros. Every Sunday from 5 PM, you can access the museum at no cost.
Tip: Buy your ticket online and skip the line.
Address: Calle Compañía, 10, 29008 Málaga
7. Museo del Vidrio y Cristal (Museum of Glass and Crystal)
One of the interesting facts about Malaga: it is home to an elaborate museum that displays decorative arts which are made of glass and crystal. The name of the place is Museo del Vidrio y Cristal.
There are a total of 16 rooms, all of which are dedicated to specific centuries in time.
Don't get deceived by the unassuming facade of the Museum because beneath its simple surface lies colorful installations full of stories waiting to be told.
General admission to the Glass and Crystal Museum is priced at seven euros. Rate is reduced for children, seniors, students and groups of ten.
Address: Plazuela Santísimo Cristo de la Sangre, 2, 29012 Málaga
8. Museo del Vino (Museum of Wine)
Are you a hardcore wine lover?
Personally, I am.
That is why my list of the top 20 things to do in Malaga includes a trip to the Museum of Wine.
The place and all its 800 square meters are dedicated to showcasing exceptional bottle labels, artistic wine posters and everything else related to wine from the 19th and 20th centuries.
A guided visit to the Museo del Vino lasts for 40 minutes. A group can avail of this service for the price of 25 euros.
This fee includes two wine tastings; additional ones cost one euro each.
Address: Plaza de los Viñeros, 1, 29008 Málaga
9. Museo Automovilistico
The Museo Automovilistico has around 90 classic cars, including a collection of Cadillacs on display. The museum is located in the spectacular "La Tabacalera" building, a former tobacco factory that was built in 1923.
Every Sunday at 12:30 you can enjoy the activity "Running the Engines" where you have the chance to listen to the engines of some of the vehicles.
Address: Av de Sor Teresa Prat, 15, 29003 Málaga
Tip: You can buy your ticket and an optional guided tour to the Museo Automovilistico online.
Where to eat in Malaga, Spain?
Do you want to prepare delicious Spanish food at home? Then check out my new food blog with Easy Spanish Recipes.
1. La Cosmopolita
Address: Calle José Denis Belgrano, 3, 29015 Málaga
2. Óleo
Óleo prepares Mediterranean cuisine as well as Sushi.
Address: Calle Alemania, s/n, 29001 Málaga
3. Perroloco
Perroloco offers traditional Malaga cuisine fused with international cuisine.
Address: Calle Madre de Dios, 43, 29012 Málaga
4. Back Tapas Bar & Restaurant
Address: Calle Pablo Casals, 8, 29602 Marbella, Málaga
5. La Deriva Restaurant
Address: Alameda Colón, 7, 29001 Málaga
6. Restaurante Alexso
Address: Calle Mariblanca, 10, 29012 Málaga
7. Uvedoble Taberna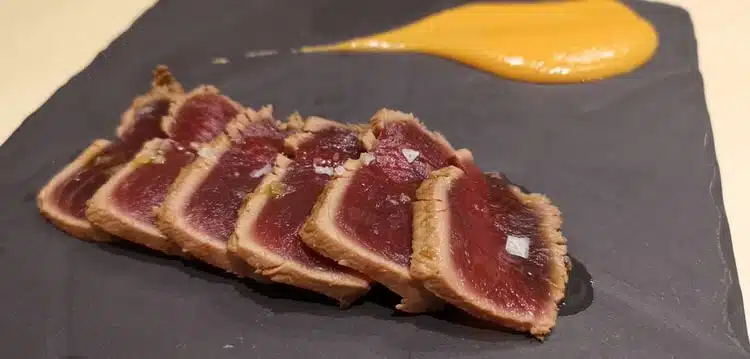 Address: Calle Císter, 15, 29015 Málaga
What to see near Malaga?
1. Visit Nerja
The municipality of Nerja is a beach town near Malaga with the Sierra Almijara mountain range in its vicinity. Its Muslim name is Narixa which translates to "abundant source."
One pride of the town of Nerja is the Balcon de Europa. This viewpoint is set on a cliff that overlooks the vast Mediterranean Sea and the majestic Sierra Almijara.
There used to be a watchtower where the Balcony stands erect. Now, its surroundings are filled with quaint coffee shops sharing the same breathtaking scenery with this Nerja attraction.
Another must-see in Nerja are the Gardens of Capistrano Playa, adding color to the elegant white villas occupying the neighborhood.
2. Tarifa
Tarifa belongs to the province of Cadiz and is at the south tip of the Iberian Peninsula. Despite its smallness in size, Tarifa is frequented by visitors, especially for its watersports activities.
The beaches in Tarifa are more than enough to make you want to stay, probably construct a small cottage and live by the ocean.
The sand is pristine, the waves inviting and the atmosphere in its purest state. Some of the cool activities you can do in Tarifa include stand up paddling, surfing, windsurfing and kitesurfing.
Take a trip down memory lane and explore the old streets of Tarifa. See gorgeous white houses and stunning courtyards that truly give off some rustic vibes.
3. Granada
Another great place close to Malaga is the city of Granada, the capital of the Spanish province of the same name.
Read here how to get from Malaga to Granada.
The Moorish heritage is widely evident in the community, as depicted in courtyards and gardens fit for royalty. Granada is definitely one of the places to see near Malaga Spain.
One of the best things to do in Granada is to visit the captivating Alhambra. Built around the 1200s – 1300s, this fortress is frequented by visitors because of its rich history and enchanting beauty.
Another tourist destination in Granada that is not to miss is the Sierra Nevada. From the city proper, you can reach the mountain ranges in just thirty minutes.
Get treated to lush scenery during your short drive and see the rich vegetation surrounding the mountains.
Tip: Hike the Ruta del Gollizno
Less than one hour away from Granada is the beautiful Ruta del Gollizno. I highly recommend this hike when you want to escape the city life for a few hours.
The route has a length of around eight kilometers and offers spectacular views.
4. Fuengirola
People go to Fuengirola primarily for its beautiful and pristine beaches that occupy seven kilometers of the coast.
A leisurely walk through the Paseo Maritimo will give you a great introduction to this seaside town.
Don't miss the Sohail Castle during your visit to Fuengirola. It may have undergone countless rebuilding, yet the value of this Castle still holds dear and true.
A visit to the Sohail Castle is one of the fun things to do in Fuengirola.
5. Torremolinos
West of Malaga, we have the town of Torremolinos. It is considered as one of the most upbeat destinations near Malaga Spain.
A visit to this coastal town is not complete without visiting at least one of its numerous chiringuitos or beach bars-slash-cafes.
Ask locals for recommendations and they will most likely point you towards the district of La Carihuela.
Should you want a more wholesome atmosphere, head over to the Parque La Bateria. This park is strikingly clean and organized, with several activities that cater to the whole family.
A man-made pond can be explored by renting a small boat and paddling your way past fountains and green sceneries.
6. Antequera
Visiting the quaint town of Antequera proves to be a popular activity for those thinking about what to do near Malaga.
Situated in the hills of Andalusia, Antequera exudes an old charm that is unique to the medieval period. Preserved ruins are set amid an abundant valley that produces delicious olives and vibrant sunflowers, among others.
Antequera is the largest municipality in Malaga when it comes to surface area. It is regarded as the "heart of Andalusia" because it lies at the center of the region being shared by the provinces of Malaga, Granada, Cordoba and Seville.
Antequera is located 62 kilometers away from the city center of Malaga. The El Torcal National Park Reserve is one of the many reasons why visitors drive here from Malaga.
From afar, the El Torcal de Antequera registers as something unusual – almost alien-like to onlookers.
Its limestone landscapes are byproducts of the whole place being submerged deep in ocean waters for millions of years, and are quite interesting to study up close.
Best Day Tours from Malaga
1. Caminito del Rey
This three-hour guided tour of Caminito del Rey takes you on a journey of a lifetime.
The views as you hike up the mountains is dramatic as it is challenging, so this activity is definitely not for the faint-hearted.
What was once a mere pathway for the workers of the El Chorro Hydroelectric plant is now a landmark that allows visitors to bask in the great views in the area.
Included:
Entrance to Caminito del Rey
English and Spanish-speaking guide
A drink
2. Nerja Cave and Frigiliana
Costa del Sol is home to two scenic places: Nerja Cave and Frigiliana
Take this ultimate tour from Malaga and get to know about the Andalusian history and customs that play integral roles to their society.
See how the Moorish structure differs from others, its beauty captured by the houses and fortresses built to last through the ages.
Explore the Caves of Nerja and marvel at how one of Spain's popular natural attractions are formed over time.
Included:
Transport from the meeting point
Skip-the-line tickets to the Nerja Cave
3. Gibraltar Sightseeing Tour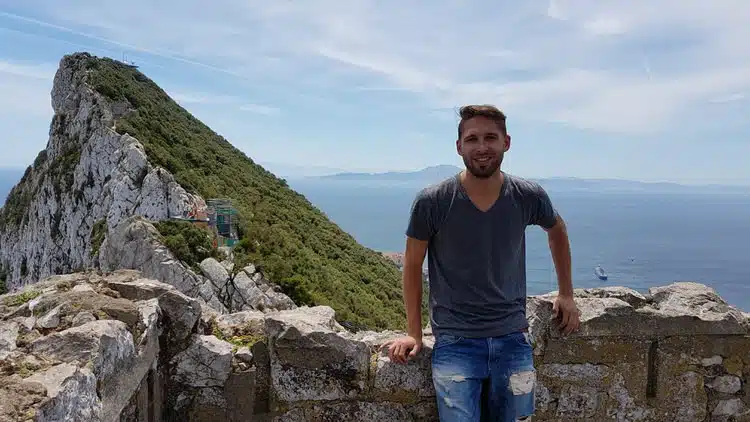 Take a minibus and journey through the wonders of Gibraltar where a massive rock formation entices visitors out of Malaga and into this small peninsula.
Head over to the Punta of Europa and enjoy breathtaking sights featuring the African mountains. Explore the nearby Cuevas de San Miguel and uncover secret passages that lead you from one stunning point to another.
End your full day tour from Malaga at Calle Real, a shopping destination you will surely take delight in.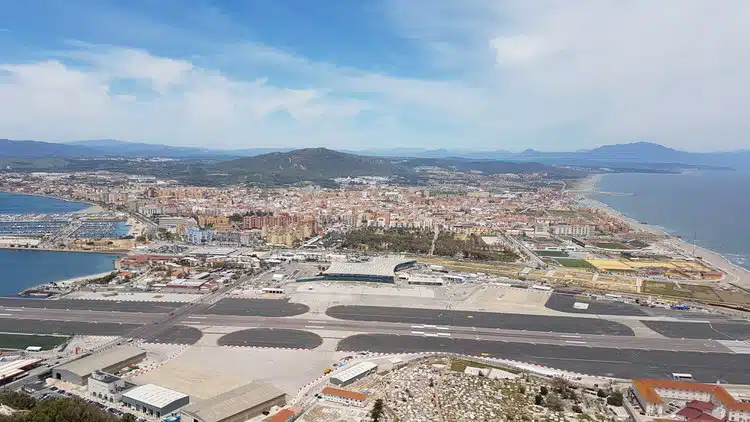 Included:
Air-conditioned motor coach
Multilingual guide
Saint Michael Caves entrance fee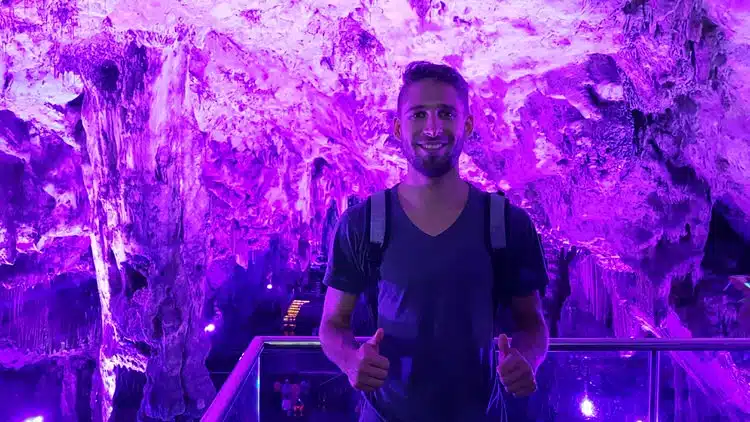 4. Day Trip to Tangier, Morocco by Ferry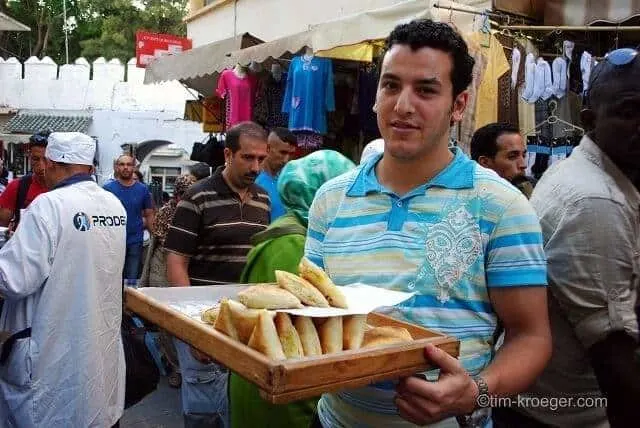 Be driven towards Costa del Sol to Tarifa where a ferry to your ultimate destination awaits. Navigate through the Strait of Gibraltar until you arrive at Tangier.
From here, it is time to visit the different markets of old, making a quick yet essential stop to see the snake charmer in the area.
Have your fill of local food and traditional products which are readily available at the bazaar.
Take lots of pictures of the environment – the camels, the vendors, the fun and excitement in the place.
Read full article: TANGIER – THE GATEWAY TO AFRICA
Included:
Air-conditioned bus transport
Local guide
Round-trip ferry tickets
Lunch
5. Day Tour Alhambra
A Day Tour to Alhambra is a must-consider when thinking of embarking on a short trip from Malaga Spain.
Head over to Granada and feel the vibe of the city center as you make a quick stop here.
Then comes the main event – the Alhambra, an Arab monument that has the following sites to see: the Nasrid Palaces Alhambra, the Carlos V Palace, the Medina and the Generalife Garden.
Enjoy some free time to yourself and explore the place to find a good restaurant to eat in.
Before heading back to Costa del Sol, a quick stop at the San Cristobal viewpoint calls for some photos to be taken.
Included:
Entrance ticket (Nasrid Palaces and Generalife Gardens)
Guided tour with an official guide
Transport
Where to stay in Malaga?
1. Vincci Selección Posada del Patio
One of the five star hotels in Malaga that you should check out is the Vincci Selección Posada del Patio.
Located in the historical center of the city, the hotel boasts of 106 rooms and suites with only the best interiors and amenities.
Enjoy exclusive deals that only the Vincci Selección Posada del Patio offers. Have direct access to Malaga's old walls and begin to discover the historic city with just a few steps from the hotel.
2. Gran Hotel Miramar
Gran Hotel Miramar is a five star hotel situated near the Bay of Malaga.
It invites you to experience one of its 190 rooms that all speak of tasteful elegance, with decors that show influences of Arabic, Mediterranean, Nasrid, Classic and Modernist designs.
Gran Hotel Miramar has a total of three restaurants and two bars that all enjoy beautiful views of the nearby waters.
Spend an afternoon at the outdoor seating of Principe de Asturias Restaurant, have a glass of fine wine and marvel at the sun setting by the bay.
3. Palacio Solecio, a Small Luxury Hotel of the World
Right in the heart of the old town of Malaga, there lies what they regard as "a small luxury hotel of the world."
The Palacio Solecio is truly a prized find. This restored palace of the 18th century oozes with olden feels, complete with a stone staircase and a glass-ceilinged terrace.
Stay in one of its 68 rooms and get to experience a unique charm that only a true palace can give.
4. Parador de Málaga Gibralfaro
Parador de Málaga Gibralfaro is undeniably in a league of its own.
This stone-built hostel stands atop Mount Gibralfaro, with the Gibralfaro Castle and the Alcazaba as its neighbors. When it comes to premium location, Parador de Málaga Gibralfaro takes it all.
Enjoy authentic Andalusian food with a view when you stay in this hostel. Traditional Malaga dishes are taken up a notch with the use of ingredients in season and developments in the world of gastronomy.
Enjoy exclusive deals that only the Vincci Selección Posada del Patio offers. Have direct access to Malaga's old walls and begin to discover the historic city with just a few steps from the hotel.
Frequently Asked Questions about Malaga
Is Malaga a walkable city?
Most of the main tourist attractions in Malaga are within walking distance of each other. The historic center of Malaga is rather small and most parts are car-free which makes Malaga a walkable city.
How to get from the Airport to Malaga?
The cheapest option to get from Malaga Airport to the city is by train. The journey only takes around twelve minutes and costs 1,80 Euros. Another cheap option is to go by bus, which costs three Euros and takes around 20 minutes. If you want to take the hassle out of your Malaga arrival you can also hire a Malaga airport taxi for around 15 Euros or a private transfer from Malaga Airport to your hotel in a comfortable car.