Experience the nature of Lake Arenal, Costa Rica, and enjoy its array of activities! Check out our guide and read everything you need to know for an unforgettable Costa Rica Lake Arenal adventure!
Lake Arenal is one of the most beautiful lakes in Costa Rica and is truly a nature lover's paradise!
Surrounded by a lush jungle, magnificent mountains, a captivating volcano, and all of the wildlife and wonder that comes along with being in a place so magical, it's no surprise Arenal Lake has become one of the top tourist destinations in Costa Rica!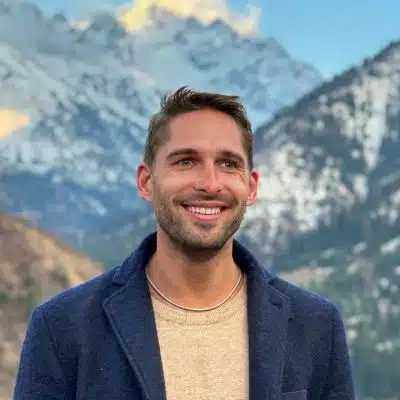 Kayakers, fishermen, windsurfers, jet skiers, and boats frequent the lake to take advantage of its abundance of activities and natural beauty!
There is something truly inspiring about the surrounding countryside, too – hills covered with pastures and forests stretch out into the distance, and the Arenal Volcano dominates the eastern sky.
The Arenal National Park is teeming with wildlife and has dozens of waterfalls. The views are spectacular, and the landscape is enchanting.
So, if you're hiking through Arenal National Park, make sure you experience the beauty of Lake Arenal!
This area truly does have something for everyone. Whether you're looking for family fun, a relaxing vacation, or an exotic adventure, we have everything you need at Lake Arenal, Costa Rica!
Where is Lake Arenal, Costa Rica, located?
Costa Rica's northern highlands are home to Lake Arenal, located at the foot of Arenal Volcano and Monteverde cloud forest in the Guanacaste and Alajuela provinces.
With a surface area of almost 33 square miles or 85 square kilometers and a depth of around 200 feet, it is the biggest landlocked body of water in Costa Rica!
Planning a trip to Costa Rica? Sometimes, it's easy to be overwhelmed by all the options. That's why booking a customized vacation using a local partner makes it much easier!
Let us arrange everything for you when you plan your trip to Costa Rica. All we want to do is make sure you enjoy your holiday even more!
Just share your travel dates, places of interest, and other details that would make your trip to Costa Rica unforgettable in this form, and we'll get right on it!
About Lake Arenal, Costa Rica

The gorgeous Lake Arenal, which is also part of the Arenal Volcano's protection zone, is located right next to the Arenal Volcano.
With the magnificent volcano to its east and rolling hills and forests surrounding it, this is the most spectacular lake in Costa Rica!
The ingredients for an incredible location are there when you combine the breathtaking scenery with various activities available, including world-class windsurfing and sailboarding, kayaking, fishing, bird watching, and more!
Two to three million years ago, geological movements in the Earth caused a small crater in the Arenal Valley that later filled with water, forming a small lagoon that served as the lake's initial state.
This is how Lake Arenal looked until 1973, when the Costa Rican Institute of Electricity expanded the lake and constructed a dam on its eastern edge.
The lake is currently the largest in Costa Rica, with a surface area of 85.5 square kilometers. A hydroelectric project on the lake generates 70% of the nation's energy.
The little town of Nuevo Arenal, situated along a portion of the lake, was also established in 1973 due to the lake's development flooding the town's original location.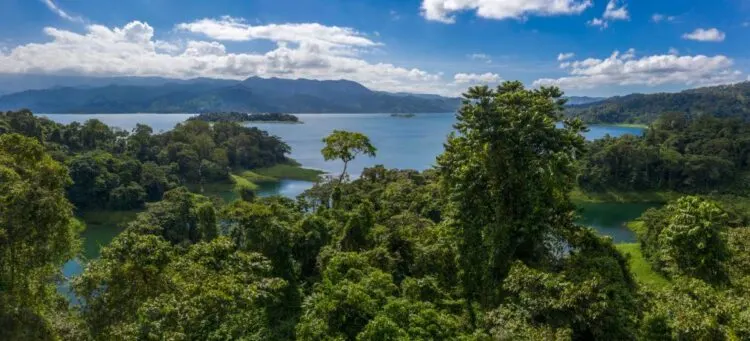 Lake Arenal and its surroundings offer visitors and locals a wide range of activities.
Fishing, boat trips, kayaking, sailboarding, and windsurfing are all year-round activities on Lake Arenal.
Due to the lake's warm waters and heavy winds, essential elements for top windsurfing locations—the windsurfing is incredibly exceptional!
The fishing is excellent as well! Cichlids like rainbow bass are particularly common in the lake's waters. They are challenging to catch but also a treat because of their delicious white meat and tenacious temperament.
There is a ton of activity around the lake as well. Excellent hiking, mountain biking, horseback riding, and bird watching are all possible day trips!
Hummingbirds, woodpeckers, kingfishers, aricari, toucans, and other birds can be seen in the region.
La Fortuna is located 10 miles from Lake Arenal, Monteverde is 66 miles, and Liberia is 87 miles away. As a result, visiting Arenal Lake from one of these places makes for a fantastic day trip!
So, if you're hiking in the area of the Arenal Volcano, be sure to take in the splendor of Lake Arenal!
Tip: Want some more adventure in La Fortuna? Check out the best La Fortuna day trips and tours!

With our local tourism agency partner onboard, organizing a customized Costa Rica vacation has never been this hassle-free!
Share your travel dates, places of interest, and other details that would make your travel to Costa Rica memorable.
After completing this form, one of our Costa Rica experts will contact you. Tours, transport, other travel services – you name it, we'll arrange it!
The Best Lake Arenal Activities
For those who thirst for adventure and love nature, Lake Arenal in La Fortuna, Costa Rica, is a must-visit.
Here are the best lake Arenal activities:
Windsurfing
Have you ever thought of riding the wind on water?
Lake Arenal ranks among the world's top three windsurfing destinations, sharing the honor with Italy's Lake Garda and the George River in Columbia, United States.
The lake's consistent solid winds and pristine waters make it a haven for enthusiasts.
The best conditions for this thrilling sport are found during the dry season, from December to March.
Kayaking
Whether you're an expert or a beginner, kayaking at Lake Arenal is an experience to cherish.
Ideal for group outings, paddling on this vast lake offers both a fantastic workout and an intimate encounter with marine life. Don't miss out on this immersive aquatic journey.
Recreational Fishing
Anglers, take note!
Lake Arenal is abundant with guapote, tilapia, and machaca, making it a prime spot for recreational fishing.
Enhance your fishing experience with the breathtaking sunrises and sunsets that the lake promises.
Boat Riding
While it may seem more laid-back than other activities, boat riding on Lake Arenal is no less captivating.
Glide on its waters, and you'll be treated to panoramic views of the imposing Arenal Volcano and the lush landscape.
Moreover, birdwatchers can spot an array of local and migratory birds, while the occasional mammal or reptile might appear along the water's edge.
Maximizing your Lake Arenal boat riding experience:
Dress Comfortably
Opt for loose and light clothes to remain at ease throughout your journey. Staying relaxed is vital to fully appreciating the ride.
Additionally, wearing closed-toed athletic shoes can help you move around safely and prevent any missteps on the boat.
Protect Yourself from the Sun
Many overlook the importance of sun protection during boat rides. Remember to wear sunscreen if your journey on Lake Arenal is scheduled during the day.
Complement this with a hat and sunglasses to guard against the potentially harmful effects of direct sunlight.
Steer Clear of Seasickness
Motion sickness can be a common downside of water-based travel, but there are ways to combat it.
It's advisable to eat light before the ride and to avoid activities like reading, which can exacerbate dizziness. Also, try not to fixate your gaze on a single point for too long. These precautions can ensure a more pleasant experience.
Embrace the Scenic Splendor
Don't forget to pack your binoculars for this voyage! Lake Arenal promises an unparalleled display of local wildlife.
There's so much to witness, from diverse bird species like herons, kingfishers, and anhingas to captivating mammals such as sloths, monkeys, and white-nosed coatimundis.
Capture these breathtaking sights with your camera to cherish the memories long after the ride.
With these tips in mind, you're all set to fully immerse yourself in the beauty and serenity of Lake Arenal. Enjoy the journey!
Beyond the lake, the surrounding terrain beckons with more adventures, including hiking trails, mountain biking, and horseback riding.
All in all, whether solo, with friends, or with family, Costa Rica's slice of paradise awaits. Experience the warmth and vibrancy of the "Pura Vida" nation.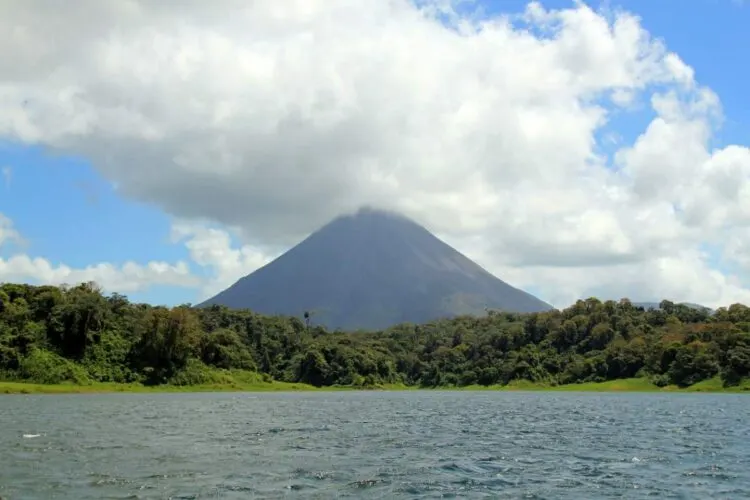 The Best Lake Arenal Tours
1. From El Castillo: Lake Arenal Kayak & SUP Tour with Snacks
Paddle around the lake's edge and take in the breathtaking surroundings with this Lake Arenal Kayak & SUP Tour with Snacks!
Start your picturesque tour from El Castillo with a paddleboard or kayak and take in the sights of the Arenal Volcano and the magnificent surrounding rainforest.
Bilingual and experienced experts will teach you how to kayak or stand-up paddle board on Lake Arenal as you take in the spectacular scenery of your surroundings.
The tour starts with a 30-minute safety lecture during which you are taught paddling skills, SUP, and kayaking rights and wrongs.
Depending on your comfort level and preferences, you'll paddle between 2 and 5 kilometers. You'll have a unique experience of the Arenal Volcano and the tropical rainforest!
Enjoy the breathtaking sights and the challenging activities the guides will invite you to play. The route has an upwind beginning and a downwind finish; thus, returning to the starting position doesn't even need much effort!
You'll each get a towel once you get back. In addition, an a la carte lunch and a professional photography service are also available at the start of the tour for an additional fee.
Don't pass up the chance to participate in La Fortuna's most popular water sport!
Check the prices, photos and dates, and book this Lake Arenal Kayak & SUP Tour with Snacks!
Tip: Want to experience all the area has to offer? Check out the best things to do in La Fortuna.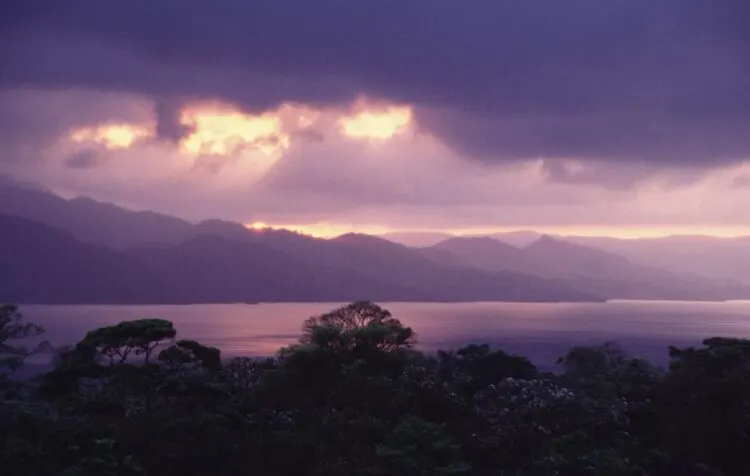 2. From La Fortuna: Lake Arenal Kayaking Trip with Transfer
Take in panoramas of the Arenal Volcano, the lush rainforest, and the local fauna as you paddle along the tranquil waters of Lake Arenal on this Lake Arenal Kayaking Trip with Transfer! Get in contact with nature by participating in this escorted kayak adventure from La Fortuna.
Your kayaking adventure starts with a pick-up from your La Fortuna accommodation, followed by a 45-minute drive out of town to El Castillo, a village that offers stunning scenery of the dry side of Arenal Volcano and the Cerro Chato.
The trained staff will set up the gear, provide you with water, and give you a brief safety training once you get to the starting location.
After that, you can spend two hours kayaking on the tranquil waters of Arenal Lake while observing several animal and bird species, including the howler monkey, the red macaw, the red-headed toucan, and the tiger heron.
Fresh fruits and beverages from Costa Rica will be available to cap off the experience!
Check all the additional information, price and amazing photos to make a reservation right away!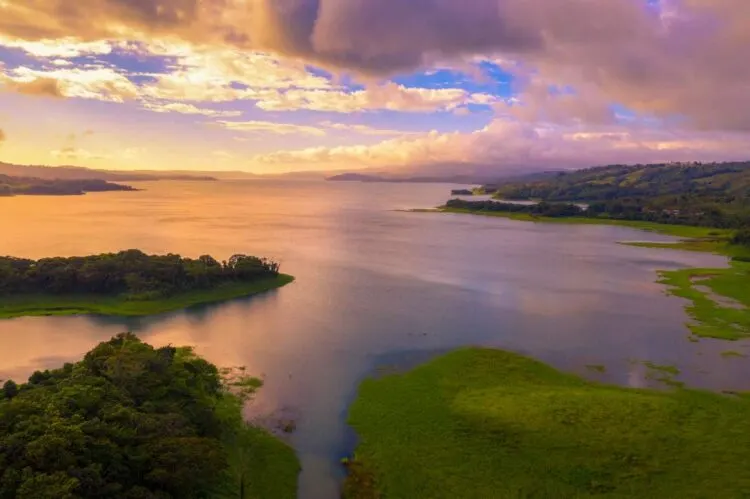 3. Lake Arenal: Kayaking & Hanging Bridges
This Kayaking & Hanging Bridges tour will take you on an exploration of Lake Arenal and its magnificent jungle surroundings! Kayak around Lake Arenal in Costa Rica's northern highlands.
With an area of 85 square kilometers, Lake Arenal is the biggest lake in Costa Rica. Seasonally, its depth ranges from 30 to 60 meters. Paddle through the lake while taking in the scenic backdrop of Arenal Volcano.
After that, take a trip up the slopes of the Arenal Volcano, encircled by gorgeous gardens and a great place to see howler and spider monkeys, lots of birds, and different kinds of trees.
Discover the labyrinth, two viewing points, and the spectacular greenery of the forest while strolling through Mistico Park's 16 hanging bridges and tropical rainforest. This adventure invites you to explore the heart of the jungle!
Check everything you need to know and book this tour here!
Tip: Visit the La Fortuna waterfalls and Tabacon Hot Springs to complete your adventure and discovery of Arenal Volcano National Park!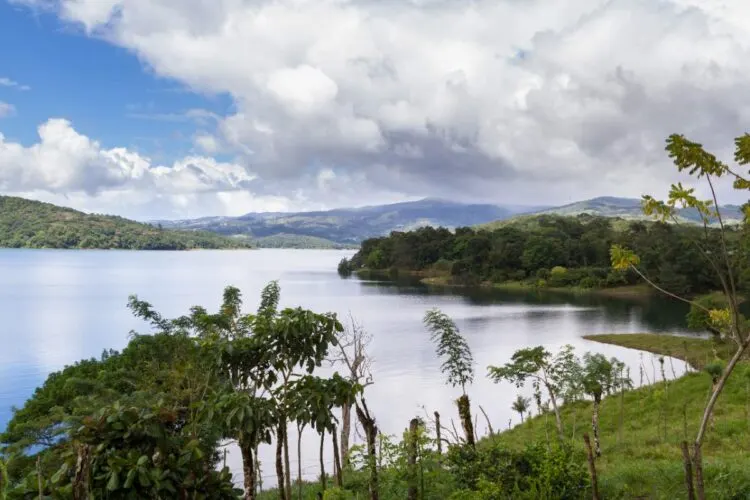 Frequently Asked Questions
Best VPN for Travel: ExpressVPN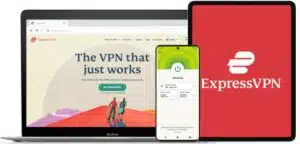 Heading abroad? Use ExpressVPN to access your social media accounts, unblock your favorite entertainment sites, and stay connected with friends and family. And get cheaper flights, of course.
Pros
✅ Next-gen, high-speed servers in 94 countries
✅ Works on iOS, Android, Windows, Mac, Linux, browsers, and more
✅ 256-bit AES encryption protects your data, even on hotel Wi-Fi
✅ Unblocks Netflix and other streaming sites
Cons
❎ No dedicated IPs
Get 3 extra months free of ExpressVPN when signing up for a 1-year plan. That's a 49% saving and a monthly cost of just $6.67! You also get a 30-day money-back guarantee.
Where is Lake Arenal?
Costa Rica's northern highlands are home to Lake Arenal, located at the foot of the Arenal Volcano.
Can you swim in Lake Arenal in Costa Rica?
The lake's water is warm and suitable for swimming. So, yes, you can swim in Lake Arenal! However, sailing, windsurfing, and fishing are the most popular lake activities.
Is Lake Arenal worth visiting?
Lake Arenal is a beautiful sight and, as a tourist destination, has plenty to offer. That being said, in our opinion, visiting Arenal Lake nowadays is a must-have Costa Rica experience!
What lives in Lake Arenal, Costa Rica?
The lake has become a popular fishing location due to the presence of the machaca and the well-known rainbow bass. The lake's water source also helps more than 100 other creatures to survive.
What is the best month to visit Arenal, Costa Rica?
September through October are the ideal months to visit Arenal.
How do you get to Arenal Lake?
La Fortuna or Nuevo Arenal are the gateway cities to Lake Arenal. You can travel to Lake Arenal from one of these cities by private transfer, shared shuttle, or rented vehicle.
How long does it take to drive to Lake Arenal?
Route 142 is a paved road that circles Lake Arenal entirely from La Fortuna. It takes about 1.5 hours to get on this road from La Fortuna to Arenal Lake.
Can you drive around Lake Arenal?
Driving around Lake Arenal's curvy roads is a lot of fun. Ensure you are not rushing and have enough time to stop wherever you like and spend some time.
How deep is Lake Arenal?
The water depths of Arenal Lake range between 100 and 200 feet.