Don't know where to stay in Tulum? We have rounded up all the best hotels in Tulum Mexico to help you decide which of the various Tulum hotels suit your taste.
Tulum has always been on the radar of visitors who find delight in exploring Mother Nature's resplendent beauty.
The numerous cenotes in Tulum Mexico are more than enough to testify to this statement. These formations of sinkholes and caves never fail to amaze.
Where is Tulum, Mexico located? Tulum is located in the Mexican state of Quintana Roo. Know more about Tulum location along with other fun facts about this tourist destination in our article.
Are you planning on going to Tulum soon? Make sure to read our list of the best things to do in Tulum Mexico so that you can make the most out of your stay.
After you have plotted all the Tulum activities that you find interesting, it is time to search for the best of the best Tulum hotels.
Your Tulum accommodation can truly make or break your whole vacation experience, so make sure to give ample thought on where you will be staying.
[ez-toc]
Tulum Hotels
1. Olas Tulum
Recommended by Hayley from alovelyplanet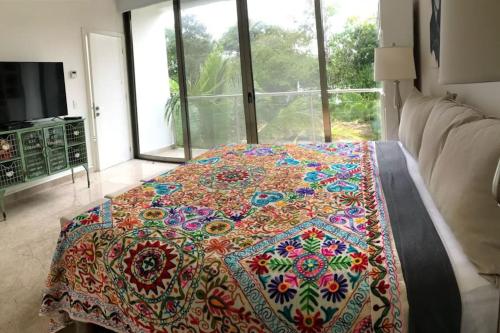 I visited Tulum as part of a longer Yucatan itinerary and was looking for a chilled hotel on the beach, away from the crowds. Olas was a perfect choice.
Located right at the very end of Tulum beach before the Sian Ka'an Biosphere Reserve, the hotel is sheltered from the noise of the bars and restaurants, but you can still access everything within a few minutes' walk along the sandy beach.
Olas is an eco-resort and runs on solar power, as well as using rain and groundwater. In the rooms, you'll find the most incredible smelling locally produces shampoos and soaps in refillable bottles, and everything is done with a minimal waste ethos in mind.
There are only eight rooms at Olas, each unique and beautifully designed and all with ocean views.
Breakfast is included and lunch and dinner are optional for an additional fee. Again all food is sourced locally and served on a long communal table set under palm trees on the sand.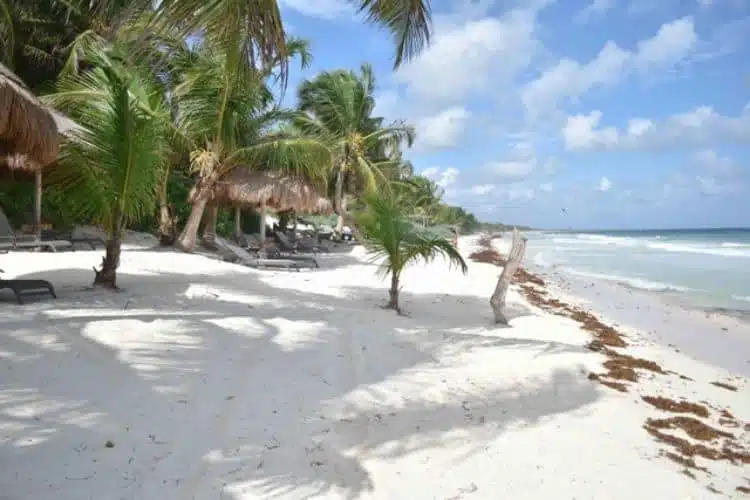 There are plenty of places to relax around the property, including the communal table, beach loungers, and a new rooftop lounge with beautiful views of the Caribbean Sea and Sian Ka'an Biosphere Reserve. There is a yoga studio and you can also enjoy a massage by the water.
2. Xscape Tulum
Recomended by Demi from Around The World With Her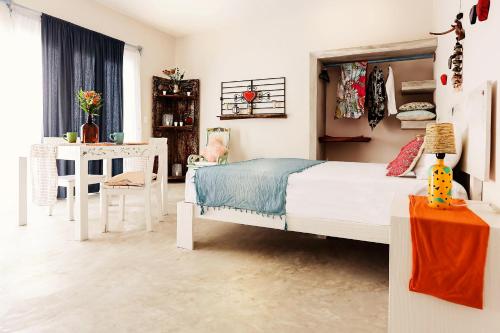 For a hotel in Tulum that doesn't break the bank, try Xscape Tulum. Situated on the south end of the town down a quiet street, this is a great, budget-friendly hotel.
Do not be put off by how cheap this hotel is though- the rooms here are quirky, spacious, and many have hot tubs! The hotel itself is set in lush gardens, with a pool in the center.
The staff are amazingly friendly and always on offer to help. They take great pride in getting to know guests and helping you navigate Tulum, as well as offering great personal recommendations for local restaurants.
There are a few parking spaces too, making it a great addition to a longer Yucatan itinerary.
The rooms themselves have many unique touches. Much of the furniture and decor is handcrafted or artisanal, with lots of wood, macrame, and drapings.
Some rooms have hot tubs in the gardens, protected by private hedges. A few of the bigger suites have hot tubs inside the rooms. The hotel may be a 3 star; however, it has a more luxurious feel than you would expect and is of great value for the money.
There are also bicycles on site that can be rented, a fun way to get around Tulum. The hotel has recently added an onsite restaurant too.
3. The Alea, Tulum by Blue Sky
Recommended by Cazzy from Dream Big, Travel Far
The Alea Tulum by Blue Sky is a fantastic hotel which opened in 2018 and is located just 10 minutes from the center of Tulum. This unique property is a perfect place to stay for several reasons.
Firstly the quirky building design and beautiful decor throughout will leave a great first impression. The pool is a unique shape which wraps around the front of the hotel looking onto the beach.
Each room faces onto the sea and provides epic sunrise and sunset views. You can even book a swim-up room which means you just need to step out your sliding door and you're in the pool!
The rooms in the hotel are beautifully designed and come with a large double bed, his and her sinks, a complimentary minibar, a Nespresso coffee machine which is free to use and refilled daily, and perfect for enjoying a sunrise drink on your private balcony.
Extras in the room include comfortable bathrobes, towels, complimentary toiletries, and a hairdryer.
One of the highlights of a stay in The Alea is the beach access and the complimentary kayak rental. You can start your day by kayaking over the bay of Tankah, with spectacular views over the second largest coral reef in the world.
Or why not treat yourself to a massage on the pier surrounded by the sounds of the ocean. Don't worry, you will never go hungry at The Alea either as the food is delicious, fresh, and beautifully presented.
If you want to explore the local cenotes or other nearby beaches, you can take out the complimentary bikes on offer too.
4. The Beach Tulum
The Beach is among the best places to stay in Tulum. This property proudly describes itself as an upscale boutique eco-hotel.
The Beach is an adult-only hotel which has junior suites, deluxe rooms and rooftop accommodation to suit your needs.
If you are in Tulum for a special occasion, consider booking the prestigious Beachfront Rooftop. This space features a king-size bed designed to have breathtaking ocean views all day long.
Take delight in the complimentary morning yoga classes that the hotel offers to every guest. Come nighttime, treat yourself to wonderful seafood dishes at Ziggy's.
5. Azulik Tulum
How often do you get to stay at a treehouse hotel? Grab this unique opportunity by staying at the luxurious Azulik Tulum.
Azulik describes their guests' experience as mystical – and it is easy to understand why.
Its 48 villas are designed to complement nature in every way possible that you might be shocked to know there are no electric lights, no air conditioning and no television present in your accommodation.
Opt for the Mayan Villa, a space that is intricately designed to mimic the creativity of this culture-rich community. Be treated to views of the verdant jungle as you enjoy your time at your outdoor tub filled with natural cenote water.
6. Hotel Sanara Tulum
The name Sanara means "you will heal," a phrase which truly embodies what you will experience in this accommodation.
Sanara is a barefoot luxury hotel set in the beautiful Tulum beach. It is best defined by its elegant simplicity that transcends from the hotel's walls down to the guest experience.
Choose one of their ten Beach Side Suites and enjoy spacious living areas complete with a private garden courtyard.
Check out the daily programs at Sanara Studio and sign up for mindfulness, meditation and yoga classes that will help you relax and recharge.
7. La Valise Tulum
La Valise consistently ranks as one of the best hotels in Tulum Mexico.
It is where privacy meets luxury in the most artful way possible. The nine rooms of La Valise all speak of elegance, offering views of the lush jungle and the turquoise sea.
For your utmost enjoyment, book an Elevated Ocean Room where you get to sleep among the stars and then wake up from the glorious sunlight.
The most special addition to the room is its large private hammock terrace, a place where you can simply relax after partaking in all your Tulum activities.
8. Mi Amor a Colibri Boutique Hotel Tulum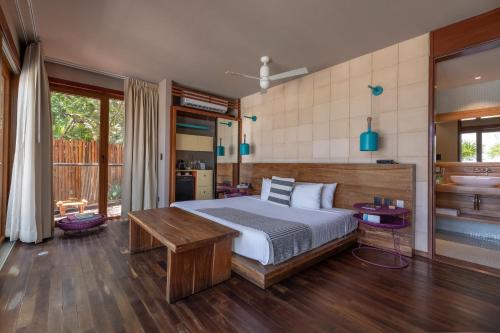 Mi Amor in Tulum Mexico is where you must stay if you need a quiet refuge amidst the bustling tourist town of Tulum.
This adults-only hotel has six different room categories, depending on your preferred view and amenities.
Choose the Seafront Room and get spoiled with a view of the Carribean Sea as you lounge in your private, cool water outdoor tub.
Elevate your experience at Mi Amor by taking part in their Mystic Tours. One night's stay at this hotel is enough for you to know why Mi Amor is regarded as one of the best hotels in Tulum Mexico.
9. Casa Malca Tulum
Known primarily as Pablo Escobar's former mansion, Casa Malca has successfully placed itself as one of the best hotels in Tulum Mexico.
The hotel is adorned with the vast collection of artworks owned by Leo Malca, along with masterpieces made by local artists.
Casa Malca has a total of 71 suites and beach rooms set across its expansive property.
The Master Suite Ocean View is definitely worth staying at, with its smart and spacious features that are sure to attract even the most discerning traveler. Enjoy amazing views of the Caribbean Sea at the comfort of your luxurious king-size bed.
Frequently Asked Questions about the Best Hotels in Tulum Mexico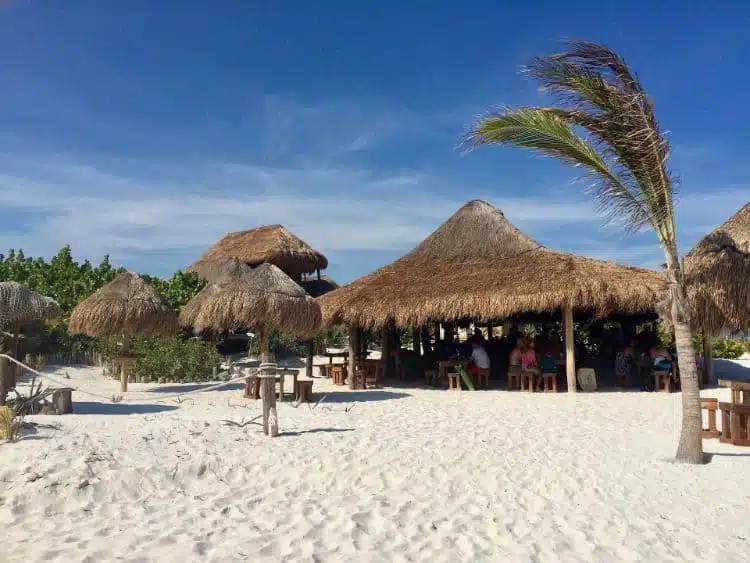 What is the best area to stay in Tulum?
The best area to stay in Tulum depends on the type of views and activities you wish to have easy access to. There are basically two areas where most people stay: the Pueblo and the Playa. Stay within the Pueblo if you wish to be downtown where all Tulum things to do and Tulum places to visit can be conveniently arranged. Alternatively, stay at the Playa for a more relaxing stay. This is where most of the best hotels in Tulum Mexico are located.
Where should I stay in Tulum Mexico?
Stay wherein you get good access to all the best areas that Tulum has to offer.
Is Tulum Mexico safe for tourists?
Mexico has been known for drug-related crimes, among others, yet Tulum is still regarded as a safe tourist destination. Despite this advisory, common sense and safety precautions still apply.
Is it better to stay in Tulum town or beach?
If you wish to be around locals, better stay in Tulum town. You get to see them immersed in their daily routines, ready to show you more about the community.