This post is also available in:
German
San Francisco is a city perfectly designed to make trip planning difficult!
Unless you are planning to spend a lot of time in the city, you will have a hard time squeezing in all the places you want to see.
Fortunately, it is a small city and with a little careful planning you can take in a lot of diverse sights.
Regardless how long you stay or what you see, you're sure to leave your heart in San Francisco.
Find here the Best Things To Do In San Francisco.
1. Best Things To Do In San Francisco – Ride a cable car
The San Francisco cable cars have been operating since 1873 and have become a beloved icon of the city.
They are a mobile, functional, piece of history and you'll enjoy your ride! You can combine your ride with a view of Lombard Street, a visit to Fisherman's Wharf, or a trip to Chinatown.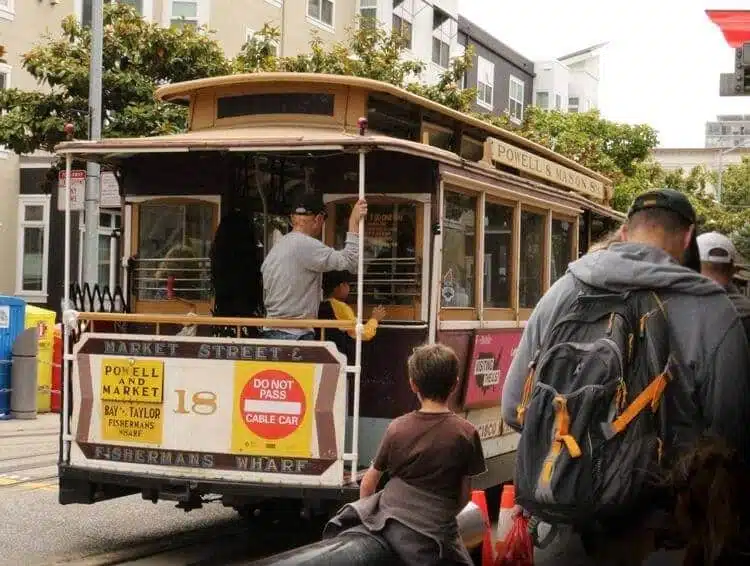 2. Explore Fisherman's Wharf
This super touristy area is packed with crowds and souvenir shops.
It's still worth a (short) visit during your San Francisco tour and you can check out gems like the Musee Mecanique's collection of antique coin operated games.
Admission is free but plan on getting quarters to play!
3. Go over the Golden Gate Bridge
Speaking of San Francisco icons, there's nothing more iconic than the Golden Gate Bridge.
Throughout the city, you'll find breathtaking views of the bridge (assuming it's a clear day!) but it's hard to beat the view from the bridge itself.
Rent a bike, take a tour, or just drive over it! On the Marin side of the bridge you'll find a parking lot for scenic overlooks, but beware this gets crowded!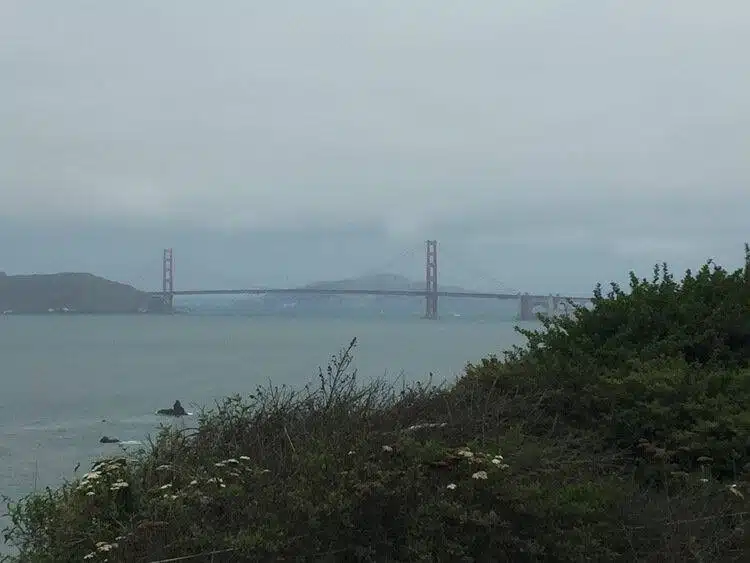 4. Take a tour of Alcatraz
Ride the ferry to "the rock" and experience all that Alcatraz has to offer!
You can choose a guided tour but the self-guided audio tour "Doing Time: The Alcatraz Cellhouse Tour" is getting rave reviews.
It features actual stories and interviews with inmates and wardens and will make the whole experience come to life.
5. Grab some Dim Sum in Chinatown
San Francisco's Chinatown is the largest outside of China and a great place to explore.
Start at the Dragon's Gate but make sure you work your way to Washington and Stockton for great shopping and views of the Chinese lanterns.
6. Visit Mission Dolores for a piece of California History
The Mission system was hugely influential in the early development of California.
Walk through the chapel and museum to learn about the Spanish missionaries, the Ohlone Indians, and the history of San Francisco.
7. Have tea in the Japanese Tea Garden
5,000 miles away, you can still experience all the zen of Japan right in San Francisco.
Grab a seat by the waterfall and slurp some Matcha tea and Udon noodles. It is right in the middle of Golden Gate Park, so think about visiting the de Young Art Museum or the San Francisco botanical garden while you're here.
8. Visit the sea lions at Pier 39
The sea lions first arrived at K dock in 1989 and have been quite the attraction ever since.
You'll know you've found the right pier by the crowds gathered around, but head up to the second story for fewer crowds and great views. You'll also find the Sea Lion Center here so you can learn about your new friends.
If you have a hard time with the smell, get a little distance but still a good view at Pier 40.
9. Lounge on the beach at Crissy Fields
There will be views of the Golden Gate Bridge, Alcatraz, and Sausalito and you'll be watching kite surfers and sailboats.
Check the weather in advance to know if you'll need a nice fleece blanket or a bikini.
10. Take a Windy Drive Down Lombard Street
If you have a car, take the hairpin turns down Lombard Street.
If you aren't driving, just take in the view and snap a few pictures from the bottom! (The intersection of Leavensworth and Lombard).
The Powell-Mason cable car line also goes right by the top of this crazy road.
11. Best Things To Do In San Francisco – Visit Sutro Baths
Originally a luxurious indoor pool facility from the late 1800s, Sutro Baths is now in ruins.
The pool almost looks natural except for the remaining wall separating the pool from the beach. Spend an hour or two climbing on the old ruins, exploring the sea caves, visiting the Cliff House, or hiking the Land's End Trail for magnificent views of the Golden Gate Bridge.
12. Take the ferry to Angel Island
Once you're on the island enjoy the views of the City while you hike, bike, or take a tour.
The open-air tram tour is a great way to see and learn about the City and the Island.
13. Go for a hike in the Presidio
Very few things are as wonderful as little pieces of wilderness in urban areas.
The Presidio is a great place to get lost and enjoy the outdoors. When you stumble upon an overlook you'll be amazed to find the city so close!
14. Visit the Palace of Fine Arts
If you get a chance, attend an actual event at the Palace of Fine Arts theatre.
If that isn't in the cards, enjoy a picnic in front of the grand Roman-style rotunda and watch the swans go by.
15. Wait in line for a trendy restaurant
San Francisco loves to wait in line for the best restaurants!
Make a plan, get there early, and get comfortable!
Crowd-pleasers for brunch include Mama's and Brenda's French Soul Food. You'll have the best luck mid-week.
After you've finished with those things, there are still dozens of great things to do and see in San Francisco!
Jessica is a travel-loving Mom living in the San Francisco Bay Area. When she's not traveling the world she is exploring California with her two kids. She loves to hike, camp, and spend time in nature and her 2 and 4-year-olds are even more enthusiastic about it! So far her favorite destinations have been New Zealand and Thailand and she plans her trips years in advance! Visit Jessica's blog Magnets from Everywhere and follow her on facebook & instagram.
Are you keeping up with my San Francisco Series

San Francisco has so much to offer making it difficult to plan your trip. To help you out I have put together a list with the BEST THINGS TO DO IN SAN FRANCISCO and provide you with ideas on HOW TO SPEND AN AFTERNOON IN SAN FRANCISCO.
Find here all you need to know about HOW TO GET TO SAN FRANCISCO.
Do you want to escape the city for a few days? How about a trip to Las Vegas? Read here WHAT TO DO IN LAS VEGAS and HOW TO GET TO LAS VEGAS FROM SAN FRANCISCO.
You will never run out of places to travel to in the US. Here is our list of the BEST PLACES TO VISIT IN USA.
If you fall in love with American Food check out these recipes to prepare TRADITIONAL AMERICAN FOOD at home.
This post is also available in:
German
Was this post helpful? If so, be sure to pin it to refer to later!