There are so many things to do in LA Los Angeles California aside from the usual fanfare on the beach. Here is our ultimate list of what to do in Los Angeles.
Almost everyone's dream about fun things to do in LA involve the sun, sand and sea. You picture yourself on that surfboard, conquering one wave after another and crashing ever so joyously to the shore.
You see yourself sipping a cool drink by the beachfront bar, chilling with newfound friends and discussing where to hang out next.
You imagine bumping into that LA celebrity resident that you like, managing to work out a short conversation about the weather, his movies, or Los Angeles California in general.
There are so many things to do in LA, though, aside from the usual fanfare on the beach.
While Los Angeles is indeed how you picture it to be, so much of what to do in Los Angeles is left out because you have a limited list of places to visit in Los Angeles.
LA California is for the film buff who is eager to know more about Hollywood and beyond.
It is also for the art enthusiast who looks for cultural masterpieces in every city he visits.
Los Angeles is for the foodie in everyone of us, bringing in a feast of multicultural delicacies to the table.
LA is both for the day tripper and for the long vacationer. There are several city highlights that can easily fill up a day's itinerary, and there are also LA activities that reward those who choose to stay for a while longer.
Truth be told: touring LA can be quite an exhausting activity to partake. Not only are there so many things to do in LA, but also its fame draws in quite a crowd, making all lines long and almost unbearable.
Nevertheless, is Los Angeles California still worth a visit?
It is – and always will be. Here is our ultimate list of best things to do in LA.
1. Things to do in LA – Santa Monica Beach
Recommended by Sean from LivingOutLau
A trip to Los Angeles would not be complete without a visit to the famous Santa Monica beach.
Spanning a total of 3.5 miles along the coast of southern California, the Santa Monica beach is certainly a bucket list item for the United States.
The thing that makes Santa Monica Beach so popular is its various activities available.
Are you an avid surfer?
The waves of the Pacific Ocean is perfect for surfers with any level of experience.
Do you want to just relax on the beach?
The soft white sand, soaring palm trees, and the gorgeous sunset over the Pacific Ocean will take your breath and worries away.
Don't like the beach?
The famous Santa Monica Pier is the perfect place for family or a romantic date. Featuring an amusement park, an aquarium, restaurants, and shops, Santa Monica Pier has something for everyone.
Want something a little more physical?
The Original Muscle Beach (not to be confused with the Muscle Beach on Venice Beach) is the perfect place to get in shape and break a sweat.
If you want more of a cardio workout, Santa Monica Beach has a scenic 26-mile long biking path that will challenge even the toughest athletes.
Whatever you decide to do in Santa Monica Beach, you will unquestionably have a good time!
2. Hiking at Runyon Canyon Park
Recommended by Shandos Cleaver from Travelnuity
Hiking isn't exactly the first thing that comes to mind when you think about a visit to LA.
But heading to Runyon Canyon Park to hike is a favourite pastime of LA locals, and should be high up on your list of things to do in Los Angeles.
The hiking trails in the park offer some of the best views across LA, the skyscrapers of downtown visible in the distant on a clear day. It's also pretty easy to get to the park.
Its southern entrance is less than a 5-minute drive from the Hollywood Walk of Fame, with on-street parking easy and free.
Alternatively, head up to Mulholland Drive to the southern entrance, complete with a small car park.
The 160 acres of parkland at Runyon Canyon offers up multiple trails of differing lengths, most able to be hiked in a loop.
Be warned that some of the steeper trails are quite tough, especially the unpaved sections. A water bottle is a must on warmer days, along with decent footwear.
Don't be surprised to spot a celebrity or two joining you on the trails, it's a favourite celebrity haunt.
Alternatively, there's never any shortage of friendly dogs in the park, thanks to it being one of the largest off-leash dog areas in the LA area. It's a must-do if you've visiting LA with a dog!
3. Escape to Catalina Island
Recommended by Jenn and Ed Coleman from Coleman Concierge
Catalina Island is a short ferry ride away from Los Angeles, but you feel like you've landed on a Mediterranean Island.
As soon as you step off the dock, you realize that everything is different over there. The air, land, and water are cleaner, fresher, and innately more peaceful.
Instead of the gridlock of the valley freeways, you find meandering streets where the golf cars outnumber the cars twenty to one.
What can you do on Catalina Island?
There are ziplines, glass-bottom boats, and kayaks to get your adventure on, and divers will want to try shore diving at Casino Point. It's the best shore diving experience you can imagine.
The partitioned dive park separates divers from boats and fishermen. It's only a 50′ kick out to the first dive buoy, and not much farther to kelp forests, a couple of wrecks, and 100′ of clear blue water.
It's a super convenient dive site too with a stairway for entry and exit, and air fills right in the parking lot. The only trick is getting your dive gear from the shop to Casino Point, but you can always hire a lift.
Perhaps the best thing to do on Catalina Island is nothing at all.
Wander the shops and restaurants with no real plan other than searching for Catalina Island's signature drink, buffalo milk.
Vast herds of buffalo roam the highlands above the coast, which is the namesake for this delicious blended sweet drink.
The mix of creme de cocoa, creme de banana, Kahlua, vodka, and half & half topped with whip cream, nutmeg, and a slice of banana epitomizes the feeling on Catalina Island.
Maybe you get a massage or eat seafood with an ocean view.
Whether you stay for the day or weekend, a trip to Catalina Island makes a fabulous romantic Southern California getaway.
4. Things to do in Los Angeles – Griffith Observatory
Recommended by Cee from It's a Family Thing
The Griffith Observatory is special to locals and a must-see for anyone visiting Los Angeles. The location is more famous than the observatory itself.
It is located on the south slope of Mount Hollywood, in Griffith Park. From here you have a stunning view of the Downtown Los Angeles, Los Angeles Basin, Hollywood, and the Pacific Ocean.
If you are looking for some of the best views in Los Angeles, this is it.
The best time to see the amazing views the observatory has to offer is both in the morning and at night.
You will have to plan strategically because parking fills up quickly. If you are up to it the best way to the observatory in the morning is by hiking.
The hike to the observatory is moderate and you can enjoy the open space without a lot of crowds. It will also give you a chance to get an awesome picture of the Hollywood sign.
This is the closest you will get to the sign since the hike to the sign has been closed for several years.
If you plan to visit at night, it is best to wait until after rush hour; this area can get congested due to the narrow streets.
The city comes alive at night with the bright lights of Los Angeles shining. Inside the observatory, there is a planetarium that has exhibits, bookstore, café, and telescopes.
The Griffith Observatory is one of the few places in Los Angeles where you can be surrounded by people and feel as if you have the city to yourself. It is truly that magically.
5. La Brea Tar Pits
Recommended by Sharon from Dive IntoPhilippines
One of the top things to do in LA Los Angeles is also one of the most unique attractions which is visiting La Brea Tar Pits.
La Brea Tar Pits are a collection of tar pits in the middle of Los Angeles along with a museum and cinema.
You can also see current excavations of the site. The Tar Pits have been around for about 50,000 years and trapped animals within the tar throughout this time.
This has lead to many cool discoveries in the pools of tar and underground.
You can see exactly how the palaeontologists are excavating the tar pits and looking for fossils.
It's fascinating to see this firsthand with the museum explaining what is going on, how they excavate and showcasing many of the animals that have been found at the site.
Then outside, you can see the excavating that is taking place with sign posted tar pits. It's smelly but very interesting!
You need a ticket for the museum but the tar pits are free. I recommend visiting the museum first as it gives you a good understanding of what you are seeing and what is happening before touring the grounds.
The Los Angeles County Museum of Art is right next door so it's easy to visit both of these attractions at once.
6. What to do in Los Angeles – Universal Studios
Recommended by Holly from Globeblogging
Combining the wonder of movies and television with the fun of a traditional theme park, Universal Studios should be high on the LA itinerary of any movie buff.
You might think this is a destination for families only, but Universal Studios caters uniquely to the solo traveller too.
With the exception of the shows and studio lot tour, most rides include a singles line which gets used to fill any gaps created by uneven groups.
As a single, it is possible to walk virtually straight on the rides with even a long queue.
The glitz and glamour of Hollywood abounds, the entire park resembles a movie set, and naturally the studio tour is a must to see the real sets and props from movies including Jaws, The Fast and the Furious, Back to the Future and Transformers.
Many of the rides combine virtual reality and motion, rocking cars giving the illusion of movement as a screen in front shows you scenes of flying through the air with Harry Potter, or watching King Kong fight a T-rex around your bus on the studio tour.
The Wizarding World of Harry Potter will delight fans of the movies, be sure to try the Butterbeer and browse the dedicated store!
7. Hollywood Sign Hike
Recommended by Daria from The Discovery Nut
If you are up for some physical challenge while in LA, hit the trail to the famous Hollywood sign!
This is arguably one of the most beautiful hikes in the greater LA area and one of those quintessential things that most visitors want to do.
Located in the urban Griffith Park, one of the largest urban parks in the United States, this 6-mile hike is extremely popular with tourists who come here to snap a picture in front of the iconic sign.
While there are several ways to get to the top, the easiest place to start is at 3200 Canyon Drive in Los Angeles. When you arrive at this address, you will find a parking lot and several signs that will guide you toward the trail.
Many other trails leading to the Hollywood Sign have been closed in recent years after residents filed complaints against excessive traffic and worked with authorities to close off several trails near residential areas.
There is still a lot of misleading information about how to get to the sign, however, this is one of the easiest (and still open) trails that will help you to get above the sign.
The trail has a gradual climb, and is suitable for beginner hikers, however, you will need to bring at least one bottle of water, especially if you are going to hike on a hot summer day.
The first part of the hike takes you through a shadowy part, while about two-thirds of the hike are out in the open and snakes through the Santa Monica Mountains.
If you are a frequent hiker and exercise regularly, the round trip should take you no more than 2,5-3 hours.
It's better, however, to begin your journey sooner rather than later, as the trail tends to get a bit crowded, especially on weekends!
Also, make sure to plan your hike for a bright sunny day when there is no clouds.
This way, you will be able to see not just the Hollywood sign but also the 360-degree view of the Los Angeles skyline and the beautiful coastline of California. I hope you enjoy your hike!
If you are looking to escape the busy LA, take a day trip to Santa Barbara, a true pearl of Central California.
This guide will tell you about some of the most amazing things to do in Santa Barbara!
8. Going to a basketball game
Recommended by Alexander from Gourmand Trotter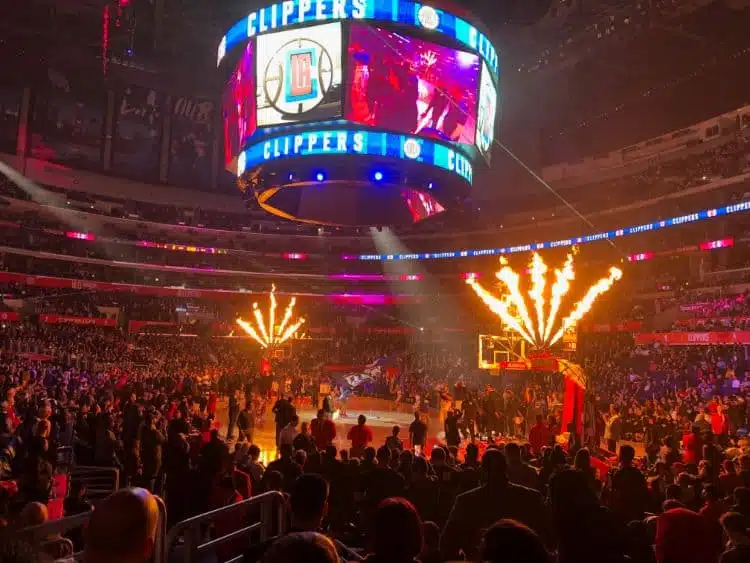 Going to a basketball game is one of the best things to do in LA Los Angeles since the city is home to two major NBA teams, namely the Los Angeles Lakers, and the Los Angeles Clippers.
Lakers is perhaps the most famous of the two with some of the most famous basketball stars playing in the team, and several celebrities supporting the team.
The Lakers games are often attended by celebrities who are shown in the celeb cam, which can be fun, especially if you're a tourist and visiting LA to get that Hollywood feel.
Moreover, the other LA team, namely the Clippers offers a more fun vibe to their games with lots of activities to get the crowd cheering.
Tickets to a Laker's game range from $56 to several thousand dollars depending on seat and availability.
It's recommended to book Lakers tickets as soon as you know the date or game that you want to watch, as they sell out quite fast most of the time.
Clipper games are somewhat cheaper but still cost around $50 and upwards depending on which row and availability.
It's a fun activity for the whole family or even for couples and friends. Even if you're not that interested in basketball or the NBA, it will be fun as the atmosphere is always great.
9. Shopping With the Stars in Malibu
Recommended by Carole from Travels With Carole
Once upon a time, when I was driving along Highway 1 to L.A., I stumbled upon a popular local shopping center in Malibu. (Here Highway 1 is referred to as the PCH, for Pacific Coast Highway.)
In a town that has no center, many locals treat the Malibu Country Mart as an informal town square.
It's a great spot to take a rest from the road and is just a few blocks from toney Broad Beach, where many mega-stars have gorgeous beach-front homes.
My routine is to stop here for a snack, usually at The Coffee Bean, where I sit looking cool in my shades, play with my iPhone, and check out the other coffee drinkers.
I also enjoy browsing the boutiques that are loaded with shiny, and pricey, goodies. I've seen so many people who look like they are somebody, but have only yet made one star spotting here.
That was Minnie Driver hiding beneath a huge sun hat playing with her child out on the grass at the popular children's playground. We made eye contact, and I was 99% sure it was her and that turned to 100% when I heard her speak.
I didn't ask for an autograph or a selfie, I just enjoyed the moment. Another time I enjoyed a quick late lunch at the Malibu Kitchen–their coffee comes from Peet's, bread from LaBrea Bakery, and bagels from H&H in NYC, all stars in their own right.
And this deli is the location where Jerry and Kramer once had coffee together in a "Comedians in Cars Getting Coffee" segment.
While I was out on the porch enjoying a delish pasta salad, somebody pulled up in an expensive Aston Martin with swan-wing doors and a scene unfolded, but I just wasn't able to figure out who it was.
The stars are here. Stay alert, and keep your eyes peeled.
10. The Getty Center
Recommended by Dave Chant from www.davechant.com
As you ride the tram up to the Getty Center, you'll feel like you're being cleansed from the noise of Freeway 405 below you.
There are many great things to do in LA, but the size and sprawl of the city can be daunting. For those days when you just want to relax, The Getty is the art museum equivalent of yoga for the soul.
It's set in the hills of Santa Monica Mountains, and its combination of art, spectacular views across Los Angeles, stunning architecture and beautiful gardens make it not just a visit for those interested in art.
But if art is the main feature, you'll find plenty on offer in buildings reported to have cost between $0.7 to $1.3 billion.
It was the art collection of businessman J.Paul Getty – twenty years after his death it was relocated to this present site, and opened in 1997.
You'll find a collection of pre-20th Century European paintings, sculpture and decorative arts, as well as American and European photos from the 19th and 20th Centuries.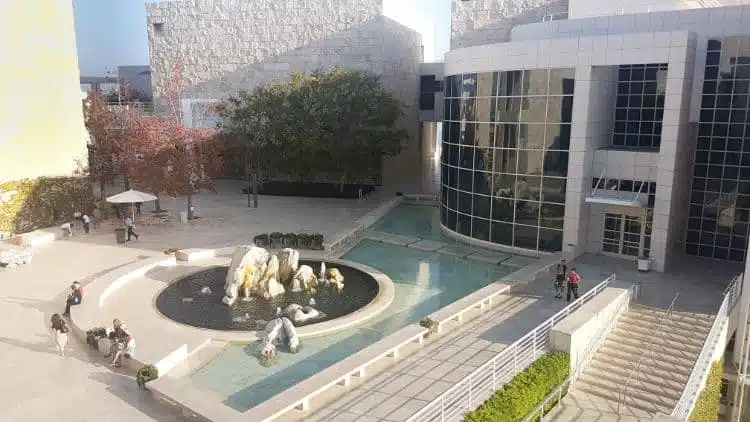 Wander through collections from Pontormo, Titian, Rubens, Rembrandt, Turner, Manet, Monet, Cezanne, and that chap that cut off his own ear.
It's not surprising the Center attracts 1.8 million visitors a year, but it doesn't feel overly busy.
It's a great place to spend at least a few hours or longer if you wish, as you can relax in the gardens and make use of the restaurant or one of two cafes.
Practicalities: Entry is always free, and usually admission is 10am-5:30pm with longer Saturday opening but check getty.edu for details.
Parking is up to $20 dependent on day and time, but the center is accessible by ride sharing companies and taxis (just note that the only entrance is on the intersection of Sepulveda Boulevard with Getty Center Drive).
11. Long Beach, California
Recommended by Gwen from Healthy Travel Mom
With its beautiful coastal location, amazing restaurants and array of fun activities, Long Beach is a great place spend a day when visiting Los Angeles!
Located just south of LA, Long Beach has a lot to offer both families and adults. From beaches to museums to the Queen Mary, don't miss your chance to check out Long Beach.
One of our favorite things to do in Long Beach is visit the Aquarium of the Pacific. Located right on the harbor, the Aquarium of the Pacific features numerous indoor and outdoor exhibits (many are interactive).
There are over 11,000 animals from 500 species, in more than 50 exhibits that represent the diversity of the Pacific Ocean on display.
The aquarium is home to shark lagoon, sea lions, jellies, penguins, seals and the usual array of fish. Catch an educational show or one of the feedings scheduled throughout the day.
Another wonderful attraction in Long Beach is Shoreline Village. Shoreline Village is Long Beach's quaint, waterfront shopping and dining village.
Nestled along Rainbow Harbor, this is a great spot to grab lunch and do a little souvenir shopping.
In addition to its many shops and restaurants, Shoreline Village has a carousel, an arcade, and spots where you can rent boats, jet skis, kayaks, sailboats, bikes and more. In the summer, live music is scheduled to perform.
Finally, you can't visit Long Beach without taking a tour of the Queen Mary. The Queen Mary is a luxury ocean liner that is now permanently docked in Long Beach.
Her maiden voyage took place in 1936 and she came to Long Beach in 1967, and today operates as a hotel and attraction.
The Queen Mary offers numerous different tours, annual events, and has several restaurants and lounges you can visit. She is also said to be one of the most haunted destinations in America!
Are you keeping up with my United States Series
You will never run out of places to travel to in the US. Here is our list of the BEST PLACES TO VISIT IN USA.
If you fall in love with American Food check out these recipes to prepare TRADITIONAL AMERICAN FOOD at home.
Is Las Vegas on your travel itinerary? Here are 95 FREE AND CHEAP THINGS TO DO IN LAS VEGAS.
Do you need more inspiration? We also put together lists of best things to do in NEW YORK, BOSTON, SEATTLE and LOS ANGELES.