I collaborated with a couple of other bloggers to put together the ultimate list of the best things to do in Bangkok + Where to stay in Bangkok.
For many visiting Thailand, Bangkok is just a stopping-over point.
Many international travelers land in the city, spend a day or two getting organized, and then set out to see the other destinations Thailand is famous for: the Phi Phi Islands, Phuket, Chiang Mai (a city quickly becoming the digital nomad capital of the world), or the ancient jungle capital of Ayutthaya.
Best VPN for Travel: ExpressVPN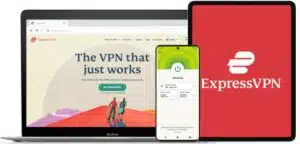 Heading abroad? Use ExpressVPN to access your social media accounts, unblock your favorite entertainment sites, and stay connected with friends and family. And get cheaper flights, of course.
Pros
✅ Next-gen, high-speed servers in 94 countries
✅ Works on iOS, Android, Windows, Mac, Linux, browsers, and more
✅ 256-bit AES encryption protects your data, even on hotel Wi-Fi
✅ Unblocks Netflix and other streaming sites
Cons
❎ No dedicated IPs
Get 3 extra months free of ExpressVPN when signing up for a 1-year plan. That's a 49% saving and a monthly cost of just $6.67! You also get a 30-day money-back guarantee.
But there are so many things to do in Bangkok, Thailand, that we think the city is worth a visit all its own (or at least a few extra days on your next trip to Southeast Asia).
Built along the Chao Phraya River and near the Gulf of Thailand, this city's one-of-a-kind, colorful, organic tapestry has so much to offer.
There are so many places to visit in Bangkok that it can be difficult to decide what to do on your own.
So, if you're wondering what to do in Bangkok, look no further.
I've partnered with several travel bloggers to bring you this comprehensive post on the best Bangkok tourist attractions.
From a temple with a 50-meter-long Buddha to a riverboat tour, Chinatown, and more, here's what we recommend.
1. Airplane Graveyard Bangkok
Recommended by Ben from Horizon Unknown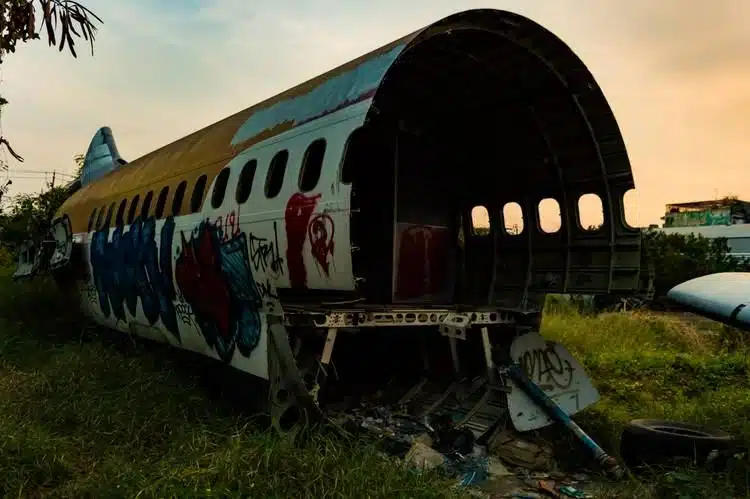 Thailand is a country that attracts hordes of visitors every year. Bangkok, the capital city, is no exception.
Even though tourists well travel to this bustling city, there are still lesser-known attractions that are well worth the time and effort to explore.
Many travelers to Bangkok are unaware this city holds an airplane graveyard.
Despite being quite small – only three planes are resting here – it is one of my favorite memories of this busy metropolis.
The planes that sit decaying are completely gutted and scavenged for parts by the families that call the property home.
One 747 and two MD-82 planes have their final resting place at this graveyard.
Exploring these hollowed shells is a unique and unforgettable activity in Bangkok.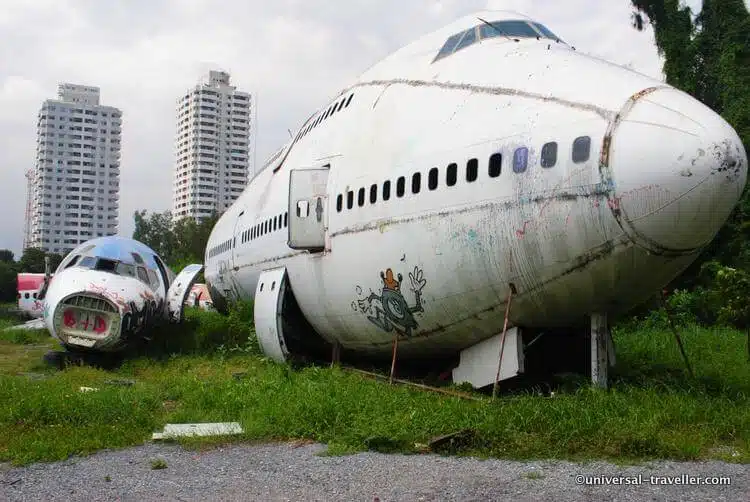 While this isn't an official tourist site, the families that live here do charge a fee – anywhere from 100 to 800 Baht.
These people depend on this income to survive, and it's well worth even the high end of that price scale.
You can reach this plane graveyard by a canal taxi leaving from Klong Saen Saep pier or by taxi from most places in the city.
As this isn't a common tourist attraction, it took a few taxi drivers to agree to drop two mates and me off on a seemingly random stretch of highway.
Read also: AIRPLANE GRAVEYARD BANGKOK
2. Grаnd Pаlасе
Recommended by Sharon from Simpler & Smarter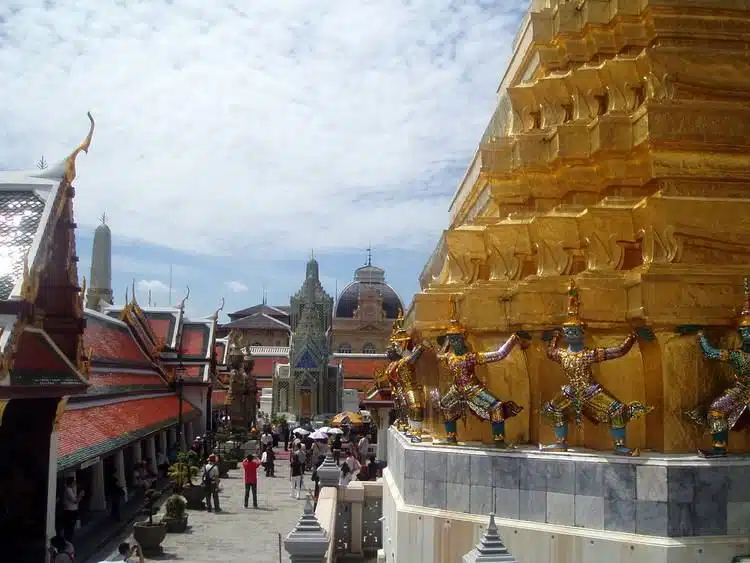 The Grand Palace is one of the most popular attractions in Bangkok, and it is a must-visit on your Thai adventure.
Located close to Khao San Road, it is also easy to visit. You can walk or get a tuk-tuk from this strip, or you can also take a boat.
The Grand Palace is a complex of buildings and temples. It's a large site and there are many gardens and courtyards to wander as well.
Construction started on the site in 1782 and, from that time until 1925, it was home to Thailand's kings.
It still houses some royal offices today, but most of the site is set up for the public to visit.
Its star attraction is the Temple of the Emerald Buddha or Wat Phra Kaew. This small Buddha is about 2000 years old and is very sacred. This is Thailand's most sacred temple.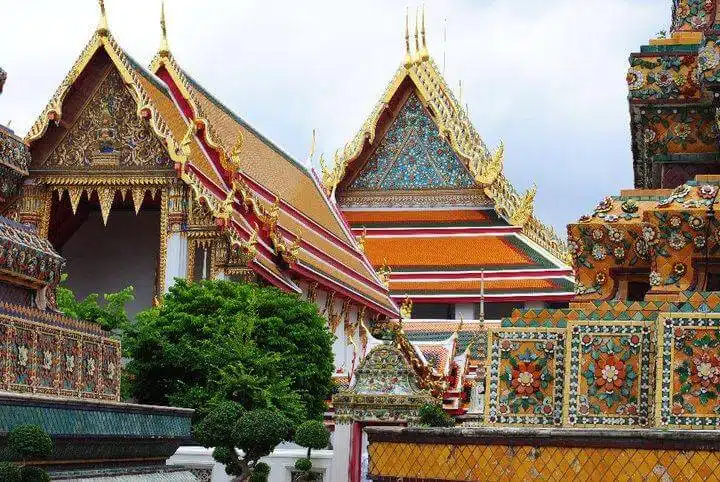 There is a strict dress code and you need to cover your knees and shoulders. It is also the site of one of Bangkok's most notorious gem scams.
Do not believe anyone who walks up and tells you the site is shut.
They are lying.
It opens at 8:30 am, and I recommend you visit as early as possible as it does get very hot.
*Tip: Explore the extraordinary former residence of the Kings of Siam on a Grand Palace & Wat Pho Half-Day Private Tour
3. Khao San Road
Recommended by Rooben from Been Around The Globe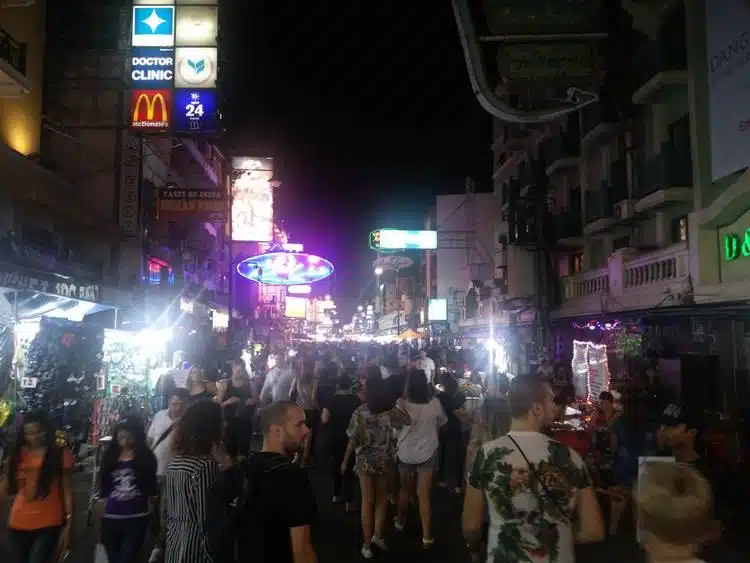 Almost all the travelers I met have been to Southeast Asia already. Some of them wanna explore the area, others want to party.
Most of them first go to Bangkok, the starting point for backpacking in Southeast Asia! For those who mostly want to party, you just cannot missKhao San Road
What's that!?
A notorious street in Bangkok that is full of bars next to one another and one of Bangkok's tourist spots.
Alcohol flows in abundance there, locals offer tequila shots in the street, you can spot some stalls selling Thai food, but above all, Khao San Road is extremely loud!
As I said, there are bars next to one another, and each one plays very loud music.
Even outside, you feel like you're inside the bars, the music is so loud! Oh and needless to say, you can easily find Thai hookers, and drugs there (like Luang Prabang in Laos).
Since Khao San Road is the place to be in Bangkok for parties, all the backpackers go there, so the street is crowded! It's hard to get around there!
Imagine a street full of people, noise, alcohol, etc… This is insane! Wanna have fun there? Don't miss the Brick bar, where only locals go (therefore it's cheaper!).
Don't feel like drinking? They offer foot massages on the sidewalk, and it's cheap (100 baht/2.50€ for 30 minutes).
Wanna be an outlaw?
They sell fake IDs, fake driving licenses, and fake passports… They are also several travel agencies and fast food if you had too much alcohol.
Oh, and I almost forgot the ping pong shows, but I won't get into more details about this show…
Khao San Road is also known for its cheap hostels, so many backpackers decide to stay there.
Hate it or love it, you can't miss Khao San Road if you go to Bangkok!
4. Chаtuсhаk Wееkеnd Mаrkеt
Recommended by Rose from Where Goes Rose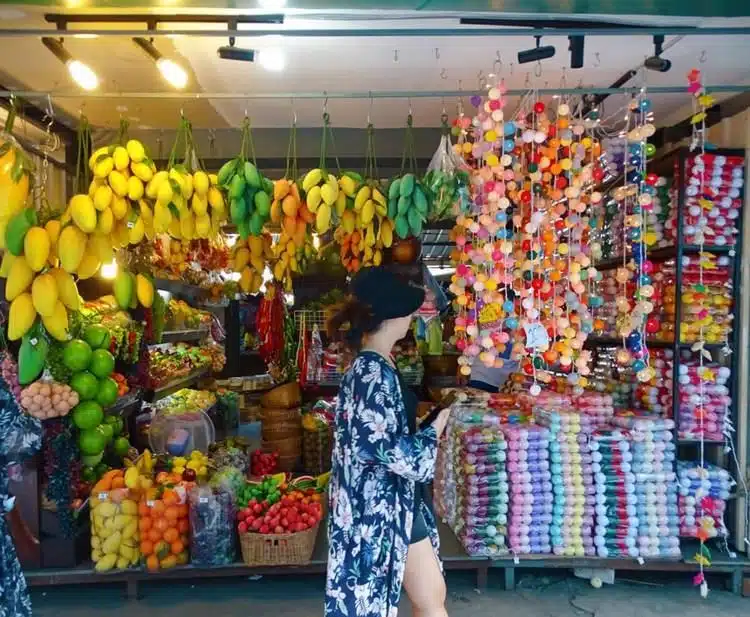 If you're visiting Bangkok on a weekend, don't miss Chatuchak Market.
Hailed as the largest weekend market in the world, it receives around 200,000 visitors across any given Saturday-Sunday period and is one of the best places to visit in Bangkok.
This means you can expect it to be VERY busy – but don't let that put you off going!
Shoppers will find everything under the sun at this 35-acre market beside Chatuchak Park station.
There is no end to vendors ranging from modern, pop-up shops to hidden stalls serving local delicacies, from clothes to jewelry, bags, souvenirs, trinkets, and flowers.
Look:
It's the perfect place to tuck into favorite Thai dishes like pad Thai and mango sticky rice – or why not get more adventurous and sample some squid or quail's eggs?
If it's your first time, you can travel between the different sections using the handy map at the entrance.
You'll easily be able to work out which section you're in… But since they're not grouped by categories of goods, it might not help you locate what you want to buy.
The best thing to do is let your senses lead the way as you get wonderfully engrossed. Don't worry; it's in a circle with plenty of exits, so you're never TOO lost.
Related Posts:
5. Visit the Bangkok malls
Malls in Bangkok aren't like malls in many other places in the world.
In the West, malls are often places where people go to buy things they can't easily get online (clothes, Cinnabon, etc.).
But in Bangkok, they are much more of a cultural gathering point. Locals and ex-pats often meet at Bangkok's malls to get drinks with friends, sip coffee, catch a movie, or grab a bite to eat.
Food is one reason to go to the mall in Bangkok – the mall food courts serve up some seriously great cuisine and are a great place to grab a quick bite for lunch.
Many malls in the city specialize in a certain product or type of shopper. Terminal 21 is where to go if you're looking for fare from other parts of the world (each floor is dedicated to a different region).
There's also the MBK Center (an electronics hotspot), and the Siam Paragon, which caters to upscale shoppers (and also hosts Sea Life).
6. Thonburi Canal Tour in Bangkok
Recommended by Marianne from Mum on the Move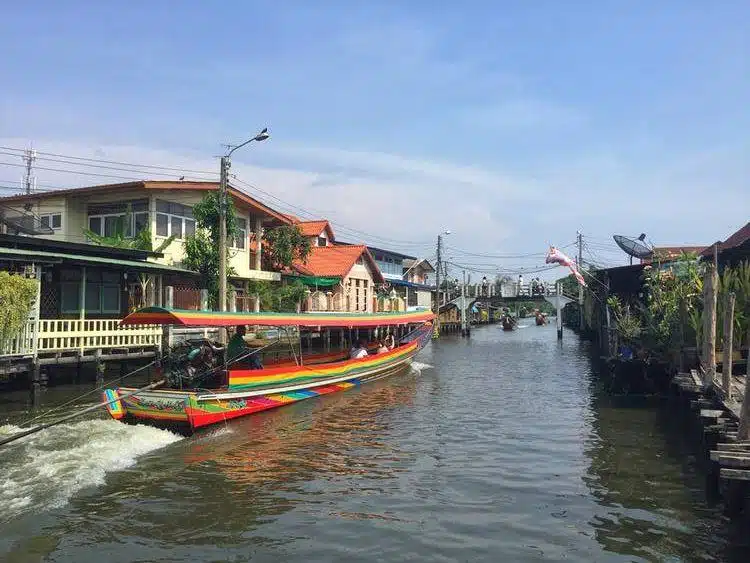 Taking a longboat canal tour of the Thonburi district in Bangkok is a great way to see a different side of Bangkok.
Bangkok was once known as the 'Venice of the East due to its large network of canals during the 18th and 19th Centuries. However, many of these canals were filled in to create roads with the growth and urbanization of Bangkok.
One area where many of these canals (or khlongs as they are known here) remain intact is Thonburi.
Located across the other side of the Chao Praya River from the Grand Place, Thonburi remained an independent province from Bangkok until 1971 and escaped much of the modernization of the rest of the city.
Therefore, the area has maintained much of its original rustic charm, and you can cruise the criss-cross of Thonburi canals in your longboat, admiring old wooden bridges, ramshackle teak buildings, and traditional temples that remain alongside newer developments.
Ask your longboat driver to stop off at the Baan Silapin (Artist's House). Housed in a 200-year old teak house, this artist's community is a cultural treasure trove.
There are traditional puppets to admire, and an upstairs gallery full of art to browse through and where you can watch the artists at work.
There is also a traditional puppet show held here every afternoon at 2 pm except Wednesdays.
The show is based on the traditional story of Hanuman, and the puppet troupe is really talented and hugely entertaining. Lots of laughs guaranteed!
7. 3D Art Museum
Recommended by Jo from Wander With Jo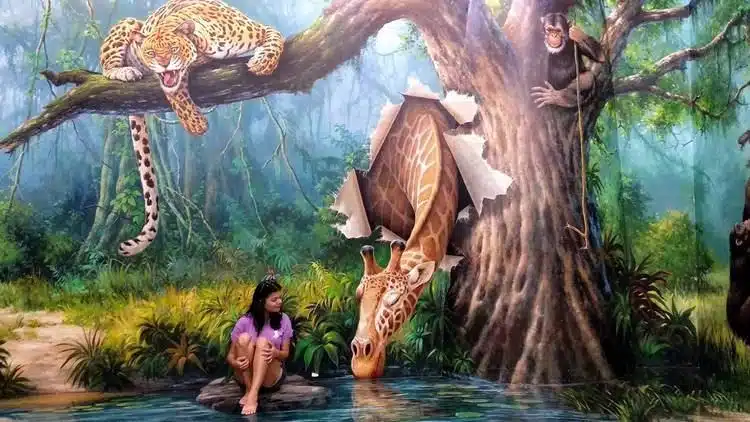 Did you know there was a one of its kind 3D Art Museum in the bustling metropolis of Bangkok?
Well, Art in Paradise is slowly gaining repute as a popular family attraction with its stunning displays and Instagram-worthy photo opportunities.
With three branches spread across Thailand, this interactive imagery museum draws crowds in Bangkok, Pattaya, and Chiang Mai.
Each room has a different theme and you get transformed into another era altogether.
With over 150 realistic paintings to pose with, it's a fun attraction for adults and kids alike. It is easy to get engrossed in this extremely interactive and lively world.
The museum is divided into 6 sub different themes – Media art, Safari, Fantasy, Nature, Classic and Modern zone, each depicting paintings matching the theme.
Hence, adding the Art in Paradise 3D museum to your Bangkok itinerary is an absolute must. Let your imagination run wild in this fantasy land.
8. Ancient City Bangkok
Recommended by Gina from Jet Set and Forget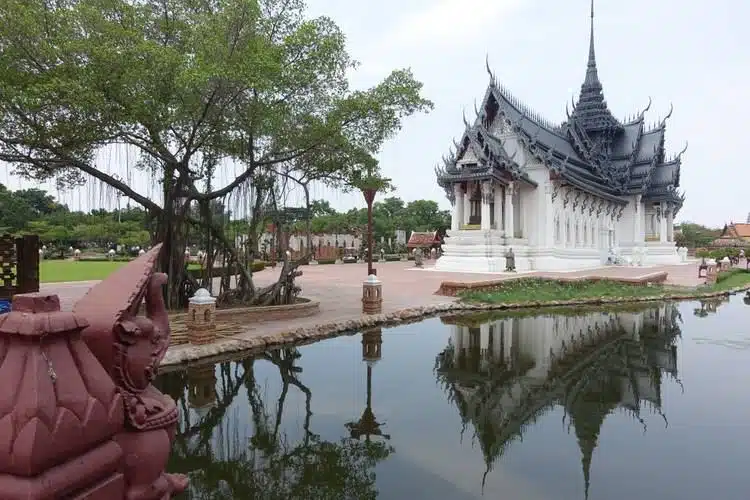 Located 35km east of the city center, the Ancient City or Ancient Siam is a hidden gem that should not be missed on your trip to Bangkok.
This park is the world's largest outdoor museum and is the brainchild of eccentric Thai billionaire Lek Viriyaphant.
He originally wanted to create a park with miniatures of every Thai temple or historical building in one place so that the Thai people and visitors would have a place to go to learn about Thai history.
But in the end, he decided to create 3:1 and 1:1 size replicas of these buildings, so if you cannot make it to all areas of Thailand, visiting this park gives you a chance to immerse yourself in Thai culture.
You will see things such as the Grand Palace, the recreated Ayutthaya, as well as a floating market and an old city market. In total there are 116 replicas.
You have the option to purchase tickets in advance or at the gate. Take either the BTS to the Bearing station and then hail a taxi to the Ancient City. Or you can take a cab the entire way from Bangkok's city center.
Admission ranges from 600- 700 baht, you get a free bicycle to ride around the grounds, or you can rent a golf cart for the day.
You will also receive a free headset in multiple languages, so you can learn all about Thailand's history. It truly is breathtaking and well worth the journey.
9. Relaxing at Lumpini Park
Recommended by Sandrina from The Wise Travellers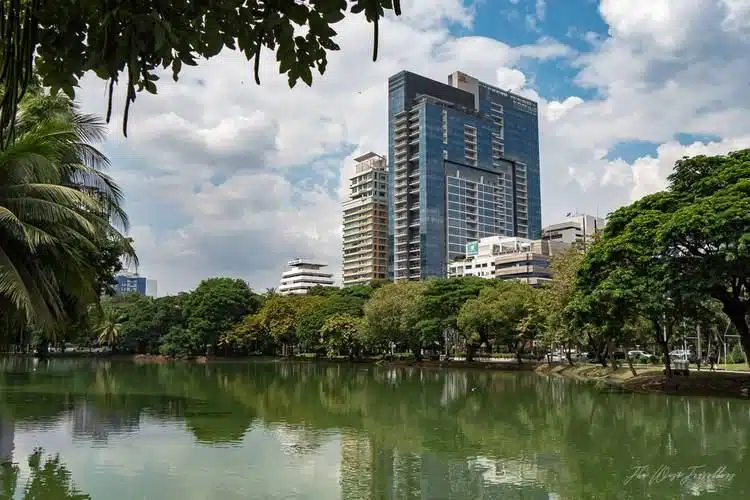 Although Bangkok is a busy city, it's also green with relaxing places. There are many parks around the city where you can enjoy some fresh air and contact with nature.
Lumpini Park was first inaugurated in 1920 by the King. It was a museum but, after World War I, was rebuilt into the first park of the city. The name was taken from the birthplace of Buddha in the Ruperdehi district of Nepal.
The access is free and is normally used by locals and tourists.
It is common to see Thai people practicing tai chi, riding bicycles, jogging, engaging in free open-air aerobics sessions, or playing sepak takraw (kick volleyball).
Each year, classical and other concerts are held in one of the gardens in the park.
At the southern entrance, an imposing statue of the founder was erected. There are also a few ornamental gazebos and pavilions in Thai architecture along the park.
A public library, a few other community buildings, including Lumpini Hall, a cultural center, a clock tower, and several administrative buildings are also featured.
Fauna and flora are present at the park, with pigeons, many colorful birds, squirrels, varieties of trees and flowers, and even the monitor lizards don't resist this place.
On the subject of food, Lumpini Park has food vendors camped outside the gates. There is a weekend market where you can enjoy fresh seafood, vegetables, and fruits. Patpong night market district is nearby, at 400 meters.
If you are more into some ethical eateries you can also find them around.
Lumpini Park, in the heart of the city this haven of tranquility, many times named the 'green lung' of Bangkok.
It's so hot in Bangkok that the park is one of the good places to visit in Bangkok City to take a break from the sun.
10. Wаt Phо
This Buddhist temple is famous for its massive Buddha statue. But unlike those you may have seen elsewhere in Southeast Asia, this Buddha stretches out almost 50 meters in a reclining posture.
While the statue is a stunning artistic and cultural gem – and all leafed in glistening gold – the temple itself is also worth a visit.
Most just come for the Buddha, but if you have the time, wander around for a while. The Wat Pho temple complex is one of the largest in the city.
You can also purchase coins for each of the temple's 108 bowls. Each bowl symbolizes one of the 108 positive actions Buddha took to reach enlightenment.
11. Bangkok Unicorn Cafe
Recommended by Maire from Temples and Treehouses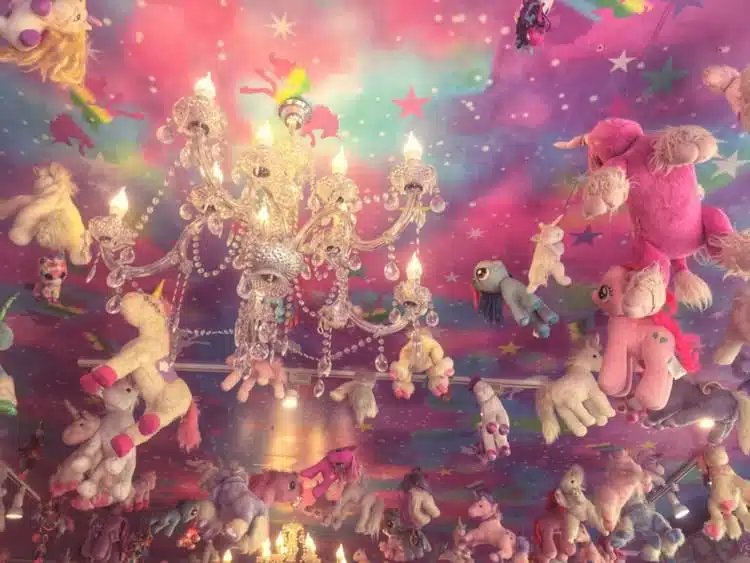 Bangkok's pastel-colored Unicorn Cafe is one of the most Instagrammable places in the city.
So popular that it takes up two adjoining cafes around the corner from each other, the Unicorn Cafe features plush pink and turquoise furniture, walls covered in rainbow-colored painted unicorns, and a roof hung with crystal chandeliers and hundreds of stuffed unicorn toys in pastel colors.
You're pretty much guaranteed to run into at least one set of Instagram stars posing for selfies and taking moody photos of pastel-hued desserts.
You can order cakes in rainbow shades, cotton candy, brownies, waffles, and toasts decorated with ice cream, fruits, sprinkles, and pointed upside-down ice cream cones (i.e., unicorn horns).
I had an extremely sweet cotton candy soda, an icy mix of pastel pink and blue.
I also had a burger with a cone stuck in the top. The melted cheese was literally dyed pastel pink and blue. They also serve bright pink and blue spaghetti.
I'll be honest, next time I'll go for cake instead! The prices are a little higher than average in Bangkok, but overall, visiting the Unicorn Cafe is a fun, photogenic experience.
12. Get a Traditional Thai Massage
Recommended by Jason from Mint Habits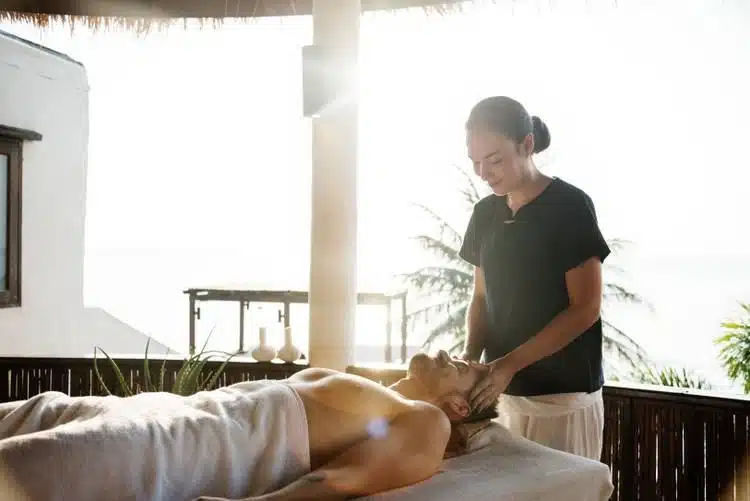 Bangkok is a city with a million things to do, but one thing you will probably want to try is an authentic Thai massage.
A Thai massage isn't any ordinary massage. Let me just say that it HURTS and oh does it feel sooo good afterward!
A Thai massage is a very "interactive" massage where the masseuse will typically incorporate their whole body to massage you.
They will be all over you, pulling your arms, throwing elbows into your body, stretching you, leaning on you, kneeing you, basically, they gonna bring on the pain!
Sessions go for 30 mins to an hour typically.
A Thai massage will probably be the most painful experience you'll ever have at a massage place, but you feel incredible after; it's almost like you are floating!
How interactive the masseuse is with you depends on who that person is.
I had many Thai massages and every one was different. You can absolutely let them know what you want so they can tailor the massage to you.
Another awesome way to experience a massage and one of the top things to do in Bangkok is simply getting a foot massage on the streets.
It's maybe $5-$10 and you can relax your tired feet.
I did this many times as well during my trip through Thailand and it was money well spent. Thai massage businesses are everywhere and all over.
You can almost always simply walk in and get a massage right there on the spot. It's what I did in between traveling and Instagramming!
I really encourage you to give it a shot! It's inexpensive and one of those things you gotta try in Thailand!
13. Bangkok Flower Market
Recommended by Paige from For the love of wanderlust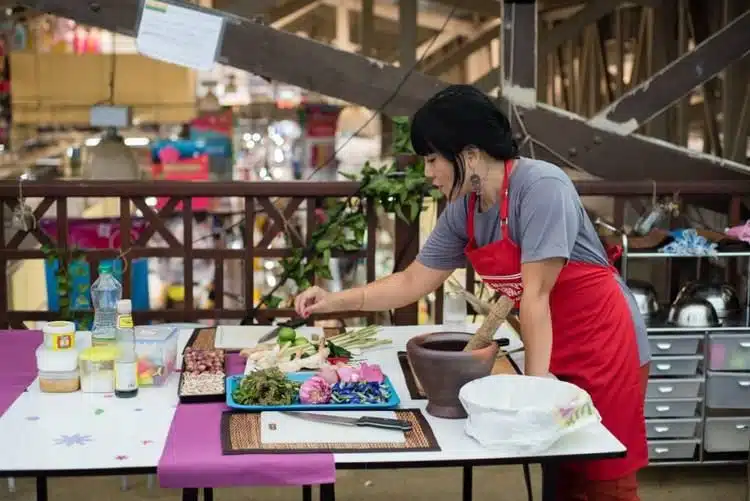 The Flower Market in Bangkok is a must for anyone who loves to see the hustle and bustle of a culture.
The Flower Market is open all day every day and the main, covered section is overflowing with beautiful tropical flowers like lotus flowers and orchids.
A walkthrough here is sure to brighten any day. However, there's even more!
If you continue venturing through you'll find a food market as well with all kinds of tasty treats, local produce, and more.
When we visited the Flower Market, we shopped around some, but we also did something extra-special.
We took a cooking class with The Market Experience. It's located inside the Flower Market, and you cook up traditional Thai foods, but with a twist – you add flowers from the market to add flavor and/or interesting pops of color!
It was so much fun!
Before the cooking class, we went to the Flower Market with the chef for a tour explaining more about the foods we saw and tasted many delicious snacks.
The Flower Market is located less than a 15-minute walk from other big attractions like Wat Pho and The Grand Palace and makes a beautiful addition to any trip to Bangkok whether you just stroll through or stay a little longer and take a super unique cooking class.
14. Visit one of the many Rooftop Bars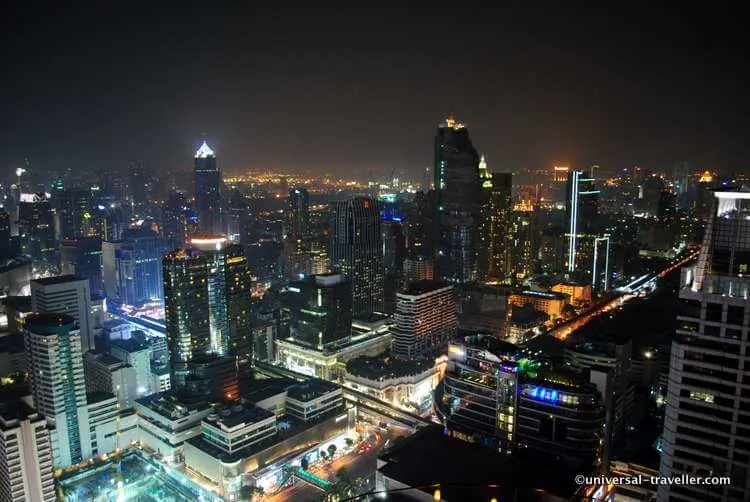 Looking for a great way to escape the hustle and bustle of Bangkok's streets?
Try sipping a cocktail with friends on one of the city's many rooftop bars. There are many to choose from – some are open-air and offer 360-degree views of the skyline, while others offer a more intimate indoor dining experience with only floor to ceiling city views.
Most of these establishments cater to Bangkok's wealthier patrons, so expect to pay a bit more for food and drinks than you would at other places in the city (and also be sure to dress appropriately).
But the ambiance, service, and views are well worth the hassle, trust us.
We recommend the trendy Park Society at Sofitel So and also the Lebua Sky Bar. The latter serves some delicious Nikkei (Japanese-Peruvian) cuisine.
15. National Museum
Recommended by Danielle from Libein10countries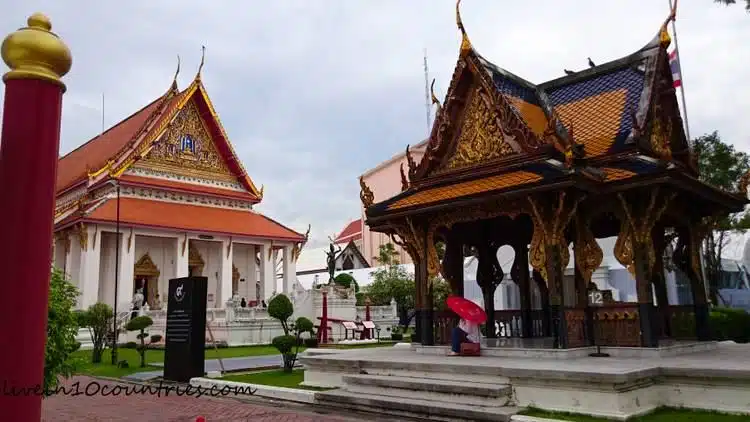 Step away from the bustle and hubbub of Bangkok, and you'll find that the National Museum is a real haven of calm and history. Shielded by high gates and ringed with pretty gardens, it's the perfect getaway for a little me time.
It's one of the largest museums in South East Asia and is open Wednesday to Sunday over normal business hours, so plan your trip for those days.
If you come in the early afternoon of a weekday, you have the best chance of finding it quiet and free from other tourists.
It's just around the corner from the Grand Palace, so it fits well with other itineraries, even if you're on a Bangkok layover tour.
It's worth planning ahead because the museum doesn't have too many signs and pamphlets in English.
Bring a guidebook with you to help you understand, or call ahead to ask for a volunteer-led guided tour in English.
Without those, the exhibits are beautiful, but you may struggle to understand the true meaning of the museum's temples, sculptures, historic masks, and other stunning objects.
Things are arranged inside by period, starting from the most ancient and moving chronologically, so this is a fascinating way to get under the skin of the local culture.
If you're interested in the Thai people and keen to understand their story, Í'd recommend starting here.
16. Soi Cowboy
Soi Cowboy is one of Bangkok's red-light districts. The neighborhood has grown in popularity among both ex-pats and tourists wanting to experience (or just take a look at) the city's seedier side.
Even if you don't want to engage in certain elicit activities, Soi Cowboy can be a great place to enjoy Western pub food and draft beer (though prices, for obvious reasons, are a bit more expensive than elsewhere in the city).
17. Go Cycling at Bang Krachao
Recommended by Josh from The Lost Passport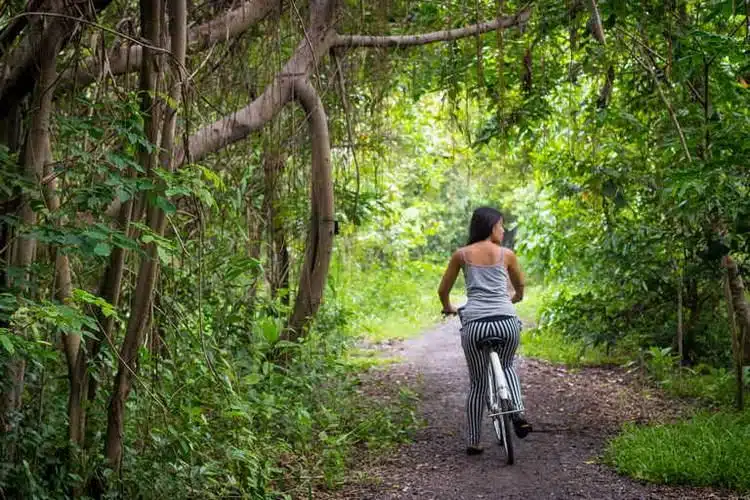 There is an island lying discreetly in the heart of Bangkok, filled with jungle, small community farms, and a lively weekend market. This island is called Bang Krachao, otherwise known as the Green Lung of Bangkok.
It is one of the best places to go with friends and experience a local Bangkok culture, yet most tourists have never even heard of it.
To go cycling at Bang Krachao you will need to hop on a ferry at Bang Na. Once on the island side, you can rent a bicycle for just 100 THB per day.
You can cycle to the market and back in about two hours. You could also make it a full day of exploring by just wandering around the streets and elevated bicycle paths.
Some of my favorite destinations include the huge wetland park and the Bang Nam Pheung floating market (weekends only), however equally as amazing is just seeing how much slower life is here than along Sukhumvit Road just a kilometer away.
Cycling anywhere in Bangkok during the summer can be exhausting, the heat and humidity really take it out of you. Be sure to drink plenty of water as you go.
There are plenty of convenient stores along the way in case you don't want to carry water bottles around with you everywhere.
18. Night Markets
Many of Bangkok's best markets only come alive after dark. You can find almost anything at these night markets, from vintage clothes to knock-off goods, street food, and cheap (even by Thai standards) daily-use products.
Several of these markets have become famous because they amalgamated bright tents and awnings, illuminating the night in dozens of vibrant colors.
For this reason, you'll probably recognize the Rot Fai Market from photos you've seen online.
But the less famous night markets, like Siam Gypsy Junction or Asiatique, all hold hidden treasures for scrupulous buyers to unearth.
19. Jim Thompson House
Recommended by Priyanko from Constant Traveller
Some complain that Bangkok is a loud and chaotic city. These are those who haven't had the pleasure of visiting the Jim Thompson House, named after one of the most well-known traditions of Thailand – silk weaving.
Let's start with the man first, shall we? Who is Jim Thompson?
Well, if you've admired the silk shops at Suvarnabhumi airport and elsewhere in Thailand, then you have Thompson to thank.
The American ex-pat is credited with single-handedly changing the fortune of the Thai silk industry.
During his stay, he fell in love with Thailand and bought and converted six traditional Thai houses into an apartment complex of sorts for himself.
He stayed in Bangkok for over two decades before he disappeared during a holiday with friends in Malaysia.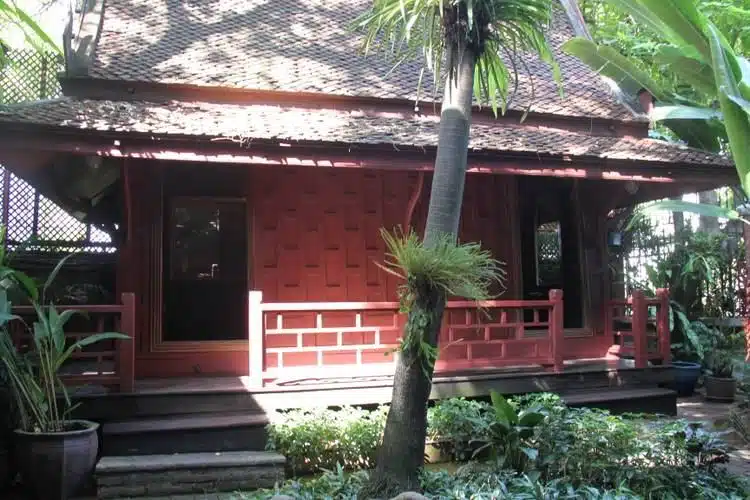 The housing complex is preserved as it was during Thompson's time. There are guided 40-minute tours that give more information and silk is woven using traditional methods in the open courtyard.
More than anything, Thompson's house is a welcome retreat from the chaos that is otherwise commonplace throughout Bangkok.
The Jim Thompson House is well within the city center. It is located on Soi Kasemsan Song, opposite the National Stadium on Rama I Road, and is open from 9:00 a.m. to 6:00 p.m.
20. Sea Life Bangkok
Sea Life Bangkok Ocean World is an aquarium featuring an incredible collection of sea and water life.
Their animals include three types of sharks, a coral reef, clownfish, seahorses, and even a tropical rainforest ecosystem with otters.
The center also hosts two types of penguins, which provide near-endless entertainment opportunities for kids if you're traveling with family.
On top of the standard aquarium tour, you can also book an underwater scuba diving tour.
For just under 7000 Baht (or less if you are a licensed diver), you can take a swim with Sea Life's sharks and rays. It's such an exhilarating experience you'll forget you're in a mall.
Sea Life Bangkok is open daily from 10 am to 9 pm.
It's located in the Siam Paragon Shopping Center, which is near the center of town (between the Bangkok Art and Culture Centre and the Erawan Shrine). Standard admission is about 900 Baht.
21. Boat tour on Chao Phraya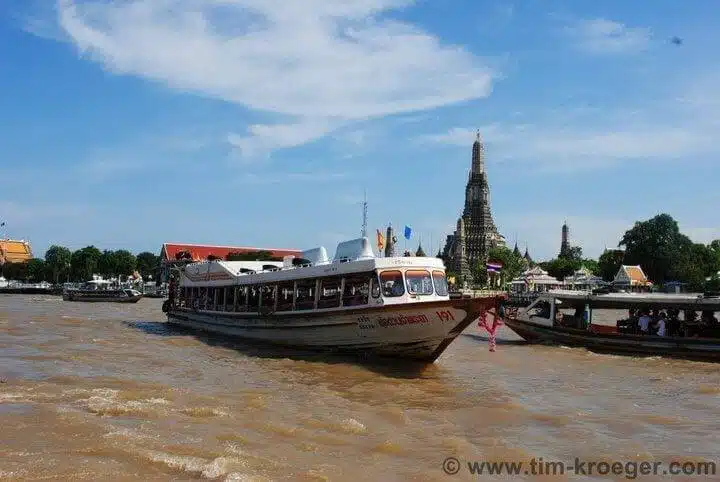 The Chao Phraya River winds south through Bangkok before emptying into the Gulf of Thailand. Along the way, the river sheds water to hundreds of canals that crisscross the city.
Bangkok is famous for its traffic jams and congested streets, but a boat tour on the waters of Chao Phraya offers a different, more relaxing view of Thailand's chaotic capital.
Though you can book a ticket on a tour boat, you can't beat the price of simply taking one of the many commuter boats that ferry residents up and down the river to different parts of the city.
A ride from Central Pier to the end of the line and back can be had for the equivalent of USD 1.
*Tip: Enjoy shimmering views of Bangkok's landmarks at night on a 2-Hour Dinner & Shows on the White Orchid River Cruise.
22. Street Fооd
Recommended by Veronika from Travel Geekery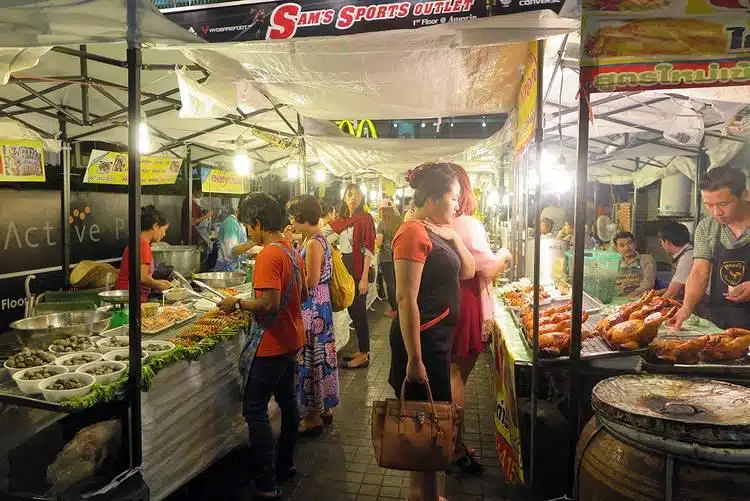 When you're in Bangkok, you absolutely must eat on the street. If that's not your thing, do it at least once.
Street food in Bangkok is truly special and a must-do in Bangkok. It's high quality and popular. Locals eat on the street all the time.
Even in Bangkok's business districts, you can still find small tucked away areas serving delicious street food for quick lunches of the corporate employees.
While generally, you don't have to worry about food bought at a street stall, you should take one basic precaution: if no Thai people are eating at a stall, don't eat there either.
I've heard from locals that if a food stall's quality is not good, it'll go out of business pretty quickly.
And what can you eat on the streets of Bangkok? Pretty much anything!
Delicious soups, stir-fried noodles or rice, Pad Thai, (massaman) curry, barbecue, spring rolls, desserts such as mango sticky rice or sweet rice balls… Anything that exists in Thai cuisine can be found on the streets of Bangkok.
Street food is everywhere in Bangkok. But the most popular area is inarguably Chinatown.
Also, Sukhumvit, especially Soi 23 to 39, offers plenty of street eating opportunities.
And it's so cheap! You can easily have an amazing meal for $3!
23. Wat Bowonniwet Vihara
Recommended by Pari from Traveling Pari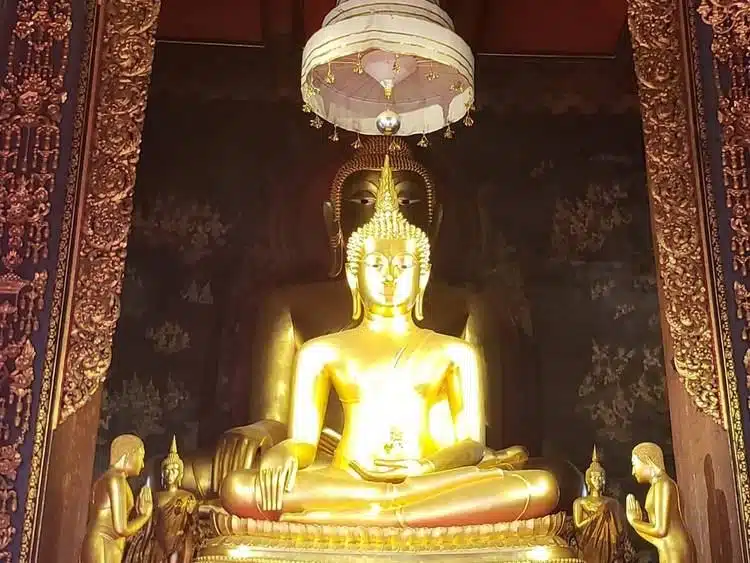 Bangkok is well-known for its beautiful temples. Some of the famous ones are the Emerald Buddha Temple, Wat Pho, and Wat Arun.
The downside of visiting these famous temples is that they are always very crowded.
It's difficult to have any kind of spiritual experience here and these temples are reduced to nothing more than a tourist attraction.
If you are looking to get away from the crowds and enjoy the beauty of Bangkok in peace, then visit Wat Bowwoniwet Vihara. This temple is in the Phra Nakhon district near the famous Khao San road.
Though it's located in a busy neighborhood, it's very peaceful and one of Bangkok's points of interest.
The only sounds you will hear here are the chanting of the priests which will drive your worries away.
The temple has beauty comparable to the other famous temples, though on a much smaller scale. Like the other temples, it also has a golden Chedi.
However, the unique feature of this temple is that there are two Buddha statues positioned one behind the other inside the temple.
The shine of the smaller Buddha statue is so blinding that you may not notice the bigger Buddha behind it at first.
For more information on this wonderful temple and other hidden gems, read this post on Bangkok temples.
24. Visit Chinаtоwn
Bangkok holds the world's largest Chinatown. The city's Chinese population first began to expand when Chinese immigrants moved down into Southeast Asia from famine-ridden southern China.
Though these immigrants initially settled in different parts of the city, they were eventually forced to move to Chinatown's modern location.
Bangkok's sprawling Chinatown offers the same great cultural experiences and attractions as many of the world's other Chinatowns.
Here, you'll find delicious food (including some of the best seafood in all of Bangkok), stunning Chinese-Buddhist temples, and also some of the most chaotic, vendor-filled street markets in Thailand.
Tip: Join a Chinatown Highlights Walking Tour with Food Tasting at hand-picked street food vendors along the way!
25. Wаt Saket (Gоldеn Mоuntаin)
Recommended by Cat from Walk My World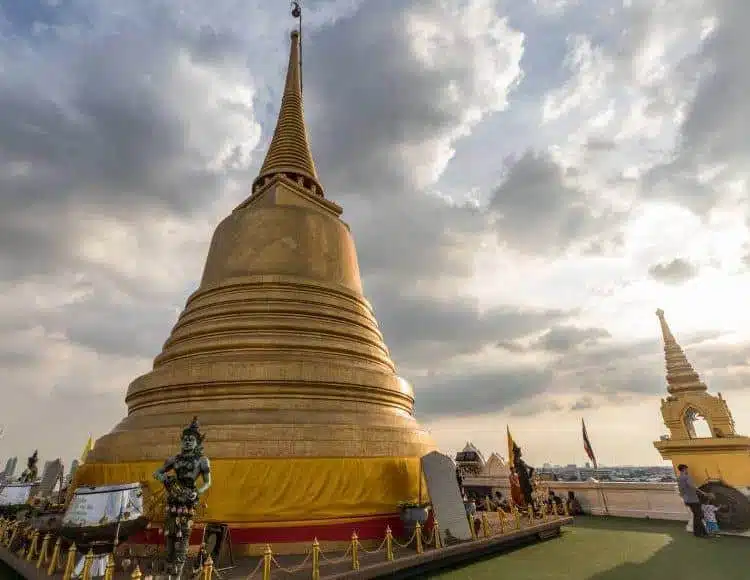 Bangkok is blessed with some of the most beautiful temples in the world. However, few offer a view to parallel the top of Wat Saket.
More commonly known as the Golden Mount, Wat Saket is an interesting temple complex and one of the best places in the city to watch the sunset and should be added to any Bangkok itinerary.
There are 340 steps to reach the top of the temple, but it's a very easy climb as the steps are so small you have to take them two at a time.
The stairs start in a picturesque garden with trees, water features, and a lot of "see no evil, hear no evil, speak no evil" sculptures of humans, monkeys, and various other creatures.
Soon the stairs wind up to the main temple where you'll pass some huge gongs and see a collection of gold buddhas. Then it is just a few more steps until you reach the golden stupa and one of the best views in Bangkok.
On the way down, you'll come across a few more strange statues, including a set that illustrates the huge cholera epidemic that wreaked havoc in the city during the early 1800s.
The graphic statues depict the dead bodies being eaten by a pack of hungry vultures in the temple grounds, a fate that befell over 30,000 people.
Wat Saket is located in the Banglamphu area of Bangkok, close to the infamous Khao San Road, and is open from 9 am until 7 pm.
Entry costs 50 baht per person and it is one of the things you have to see in Bangkok.
26. Enjoy Bangkok's Nightlife (and learn what to do to avoid scams)
Bangkok is one of Southeast Asia's nightlife hotspots. From the city's red-light districts to trendy rooftop bars and upscale dance clubs, there's plenty of ways to while the night away while having a great time.
But as welcoming and kind as many Thai locals are, travelers also need to stay vigilant.
There are many ways that hapless or unsuspecting tourists can be taken for what they're worth.
Here are a few steps you can take to avoid getting scammed while out on the town.
1. Avoid going out alone.
Even if you're a solo traveler and comfortable enjoying the city on your own, it may be a good idea to hook up with a few other people – whether they're other travelers or locals you trust.
Scammers often target solo drinkers by luring them into an unfamiliar bar or restaurant, ordering drinks or food, and then bailing before the exorbitant bill arrives.
2. Never let your drink leave your sight.
Scammers often target travelers and non-locals, regardless of gender, with drinks spiked with sleeping pills or other drugs.
Once the traveler passes out, their belongings are stolen (or worse).
3. Keep whatever you can't lose off of your person.
Lock your passport in your hotel safe and carry a photocopy instead. Carry credit cards instead of debit cards (so you can dispute fraudulent charges after the fact).
If you must carry a debit card, consider opening a separate "travel" checking account that only holds the funds you need for a few days at a time.
27. Visit the Erawan Museum
Recommended by Karla from Karla Around the World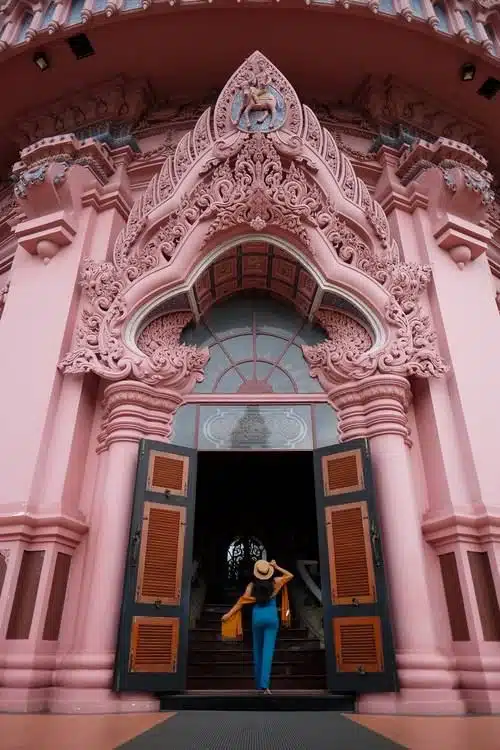 Have you seen the famous three-headed elephant picture that's been going around Instagram?
Well, that's the Erawan Museum, located in Samut Prakon. It's so grand that it took them almost 10 years to complete this project, from the moment they conceptualized it until they finally had it up.
The giant three-headed elephant is going to be the first and last thing you see upon entering the museum for sure because it is 250 tons heavy, 29 meters high, and 39 meters long on top of a 15metres pedestal.
But the charm of the Erawan museum doesn't end on the outside.
This place is super Instagrammable, the inside contains intricate details, from the grandeur of the staircase, the impressive craftsmanship of the designs, and the glass ceilings—it will leave you in awe.
When you reach the top of the staircase, you will find an elevator where it will lead you to what the museum defines as "heaven".
If you have more time, you can use the free audio guide to help understand the significance of the place.
Have I convinced you to visit this yet? Even better, the Erawan Museum is not that far from Ancient Siam City and you can easily do both on the same day.
It can also be reached by taking the BTS Skytrain to Samrong and then possibly hiring an uber/grab/taxi from there.
There is an entrance fee of 400THB to enter this museum but it's one of those unique places that make it worth the visit.
Where to stay in Bangkok
1. The Sukosol Bangkok
Recommended by Sharon from Simpler & Smarter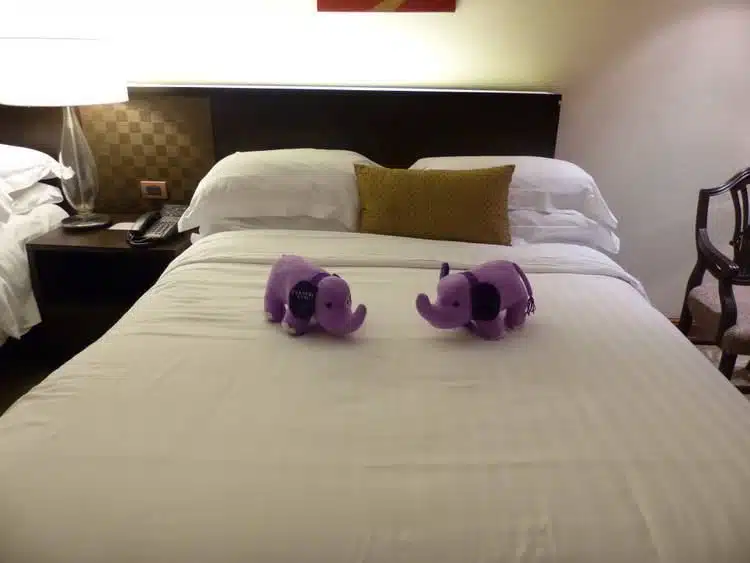 If you are looking for a 5 star, luxury hotel in Bangkok, look no further than The Sukosol Bangkok.
Located close to Siam Square and just a couple of minutes walk from the sky train station, Phaya Thai, this hotel is a very convenient base from which to explore Bangkok and there are many restaurants and shops in the vicinity as well.
As you would expect from a 5-star hotel, there are many facilities. Our favorite was the big rooftop pool.
There is also a gym and day spa and multiple restaurants and bars as well as a few shops.
The ground floor of the hotel feels more like an upper-class shopping center than a hotel. There is great local art and historical artifacts on display throughout the hotel too.
There are many room options including family rooms and connecting rooms so even bigger family groups can have enough space here.
The rooms come complete with a desk, couch, plenty of cupboard space, free good wifi, cable TV, DVD player, minibar, dressing gowns, toiletries, and one of the biggest bathtubs I have seen.
If you have kids they have a mini VIP program where you will get a whole lot of kid swag too. Everything is comfortable and of high quality.
Click here for more information, photos, and/ or to make a booking.
2. Sheraton Grande Sukhumvit Bangkok
Recommended by Nancy from enSquaredAired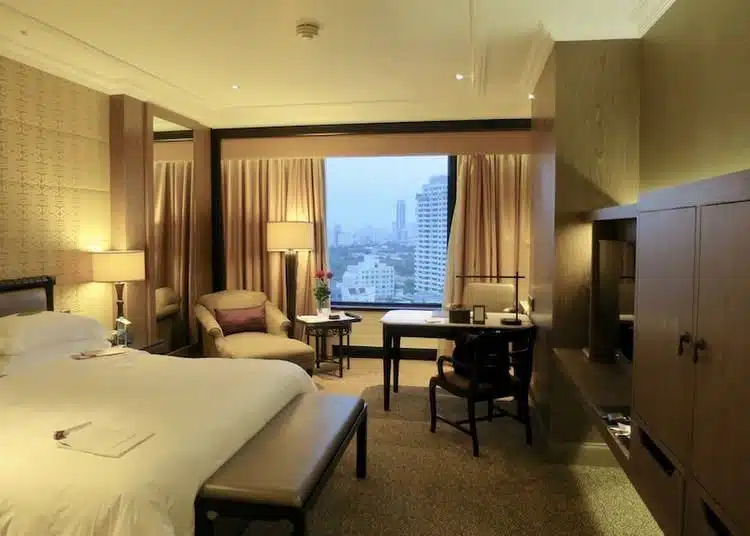 There are many reasons why the Sheraton Grande Sukhumvit is one of the best luxury hotels in Bangkok.
While this hotel is in the heart of Sukhumvit, this beautiful hotel makes you feel tranquil and at peace.
The rooms are spacious with a comfy bed and the butler service is incredible. Of course, the service at the Sheraton is top-notch, and the staff will go out of their way to ensure that you are happy and feel welcomed.
All the amenities are exceptional, and their spa will make you feel pampered.
My favorite part of this hotel is their beautiful pool, where they create an oasis for guests to relax.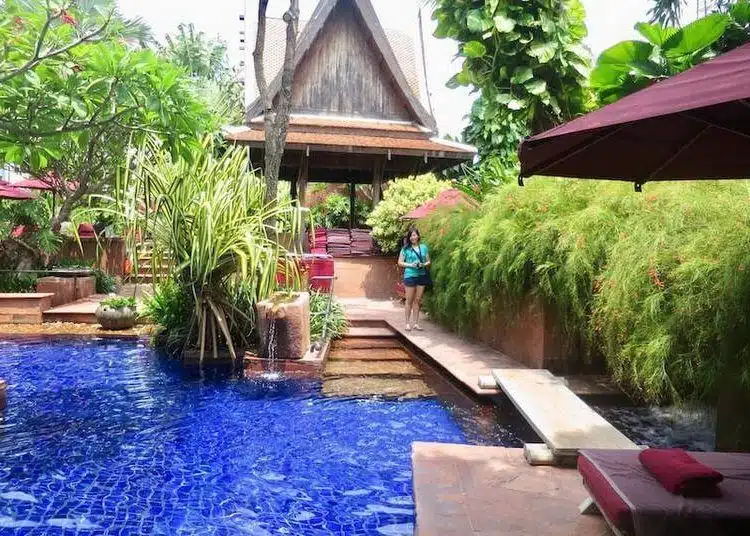 After a long day of exploring Bangkok, nothing is more inviting than some quiet time by the pool.
The swimming pool is surrounded by lush tropical gardens and even has music piping through the water.
Another great thing about this hotel is the Thai massages that are offered to guests.
The ambiance could not be more perfect for a Thai massage experience, whether alone or as a couple.
Thanks to these thoughtful touches and the exceptional staff, the Sheraton Grand Sukhumvit in Bangkok is a great place for your luxury vacation.
Click here for more information, photos, and/ or to make a booking.
3. Sukhothai Bangkok
Recommended by Maire from Temples and Treehouses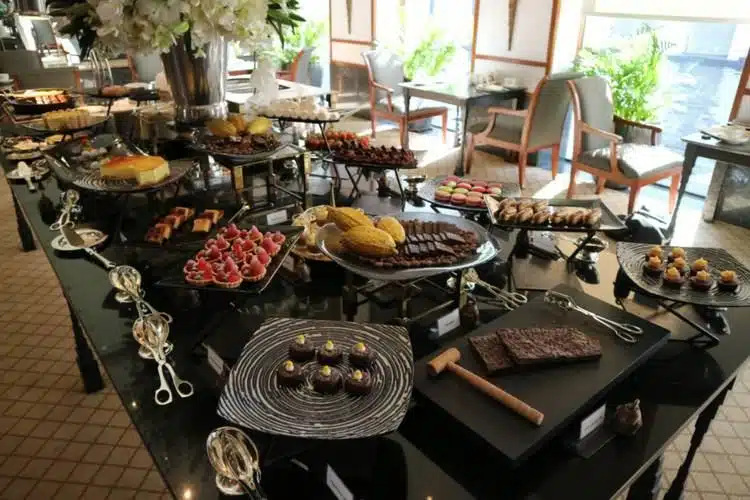 The Sukhothai Bangkok is a 5-star hotel in Bangkok's Sathorn business district area. It's near Lumphini Park and a 10-minute walk from Lumphini MRT subway station.
This is a beautiful, serene hotel surrounded by lotus ponds and gardens. Inside, it's colonial-era luxe: think wooden floors, rich teak wood furnishings, and Thai silks.
The Telegraph calls it "the very definition of old-fashioned Far Eastern luxury" and Forbes says it "feels like a hidden oasis far from the chaos of tuk-tuks and street food hawkers."
The hotel has a pool with sun loungers, a spa, and a gym. Plus, there's a choice of restaurants.
For a serious weekend treat, you can visit The Sukhothai Bangkok for a chocolate buffet afternoon tea.
It's a seriously indulgent experience and one I'd strongly recommend if you need a break from Bangkok's hustle and bustle.
There's a huge buffet-style table creaking with chocolate, desserts, and melted chocolate for dipping.
Plus, a pastry chef is on hand manning a liquid chocolate station, where you can sample gourmet chocolates from around the world.
The chef will tell you all about the chocolate's origins and tasting notes, before serving it up espresso-style, topped with cream.
Click here for more information, photos, and/ or to make a booking.
4. Marriot Executive Apartments Sathorn Vista Bangkok
Recommended by Claire from Claire's Footsteps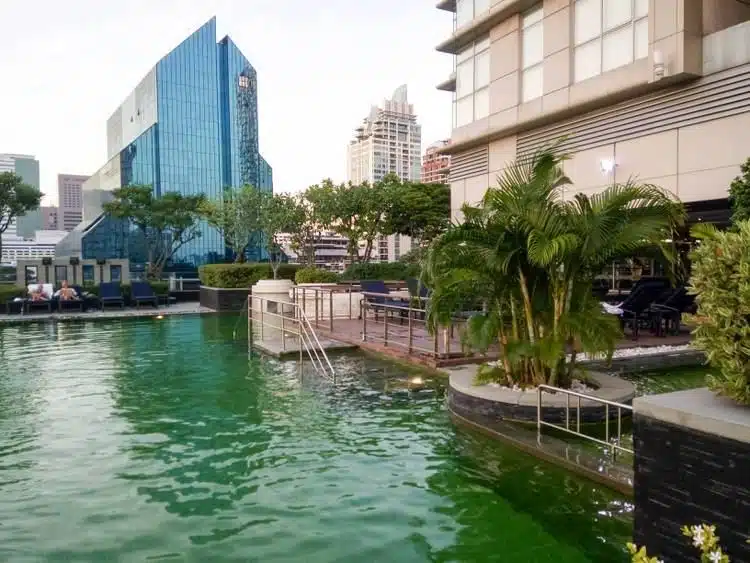 The Marriot Executive Apartments Sathorn Vista is a wonderful place to stay in Bangkok.
As you'd expect from a hotel of its standard, it features high-quality suites, impeccable cleanliness, and luxury facilities.
Take a dip in the fifth-floor pool and enjoy a cocktail at the bar, or spend some time in the sauna to feel fully relaxed after a day exploring Bangkok.
Or just hang out in your apartment; all suites at the Marriot are self-contained, with their kitchen, which makes them very livable.
Featuring rain showers, bathtubs, comfy beds with high-quality bed linen, and plasma screen TVs – you'd be forgiven for not wanting to leave your suite while staying at the Marriot Sathorn Vista!
One and two-bedroom apartments are available, so families and groups can stay together.
The staff at the Marriot Sathorn Vista are incredibly attentive, ready to help with any queries, 24 hours a day. There is also a café on the ground floor and breakfast is offered to guests who desire it.
Located between Lumpini Metro Station and Sala Daeng BTS, Marriot Sathorn Vista is in a quieter, more spacious area of the city that feels a lot more residential than others.
Perhaps this is why it is favored by people who have visited Bangkok before, or who are searching for somewhere to get away from the hustle and bustle of the city, yet still, be well connected.
If you're taking the train to Bangkok, it is easy to reach Hua Lamphong Station.
Nearby attractions include Lumpini Park and Wat Hua Lamphong.
Click here for more information, photos, and/ or to make a booking.
Frequently Asked Questions Thailand
Where is Bangkok?
Bangkok is located in Thailand, a Southeast Asian country that borders Myanmar in the west, Laos to the north, Cambodia in the east, and the Gulf of Thailand and Malaysia in the south. Bangkok itself sits in the middle of the country along the northern shore of the Gulf of Thailand.
What's the capital of Thailand?
Thailand's capital is the eclectic yet intriguing city of Bangkok. Home to over 8 million people, Bangkok is the largest city in Thailand and also one of the primary cultural centers of both Thailand and Southeast Asia.
More Bangkok Internet Resources:
1. Thailand Travel Tips – Everything you need to know
2. 13 common scams in Southeast Asia and how to avoid them
3. Organize your Honeymoon in Bangkok
Was this post helpful? If so, be sure to pin it to refer to later!