This article may be sponsored or include a provided product or affiliate link. See footer and Affiliate Disclaimer for full details.
Did you ever walk on an airplane wing? You can experience it at the Airplane Graveyard Bangkok and take amazing photos of an abandoned Jumbo Jet Boeing-747 and two MD-82 Jetliners.
Visiting the Airplane Graveyard is one of the best things to do in Bangkok. Read at the end of the article how to get to the Airplane Graveyard Bangkok and how much it costs.
The location of the airplane graveyard is quite strange. It is neither close to an airport nor in an industrial area. In the direct surrounding there are condos, a primary school and a temple. Not an area where you would expect airplanes.
Related Posts:
When you get closer to the airplane graveyard you will first notice the huge Jumbo Jet, once known as the Queen of the Skies. Next to it are two McDonnell Douglas MD-82 formerly operated by Orient Thai Airlines. One of them was involved in a bad crash 2007 at Phuket International Airport.
It is said that the planes were owned by a business man who has recycled them and sold all components that could be reused. Nowadays they are home for three Thai families who use them as shelter and to earn money by charging tourists a small entry fee.
It is possible to go inside the planes and to walk on the wings. As I am a big fan of the Boeing-747 it was my personal highlight to climb into the Jumbo Jet. You can enter the Jet via the cargo compartment and climb up a ladder into the main deck. The original airplane stair into the upper deck is still working and you can also enter the flight deck. An amazing experience!
Everything has its time I guess and for these planes their time has passed. There are many ways you can use an old airplane, as luxury hotel like the Jumbo Jet Hotel in Amsterdam, as Restaurant or bar or simply as a shelter. This way the airplanes remain useful.
Read also: Abandoned Airplanes in Bali (no one knows how they got there)
How to get to Bangkok's Airplane Graveyard
There are three options to get from central Bangkok to the Airplane Graveyard.
1. Taxi or Uber
Probably the easiest way is to take a taxi or Uber to "Ramkhamhaeng Soi 103". Depending on the traffic it takes a maximum of 1 hour to get there.
2. Bus
The cheapest but also longest option is the bus. You can take bus number 40 from Airport Link Ramkamhaeng Station or Phrakanong BTS Station.
3. Klong Ferry
Catch a Klong Ferry for example from "Asok Pier" near Phetchaburi MRT Station or "Hua Chang Bridge Pier" near Ratchathewi BTS Station. You have to get off at the last stop "Wat Sri Bunruang Pier". From there walk through the temple complex to Ramkhamhaeng Road. It takes about four minutes. At Ramkhamhaeng Road turn right, pass by 7/11 and cross the canal bridge. From here you can already see the Airplane Graveyard Bangkok on your right side.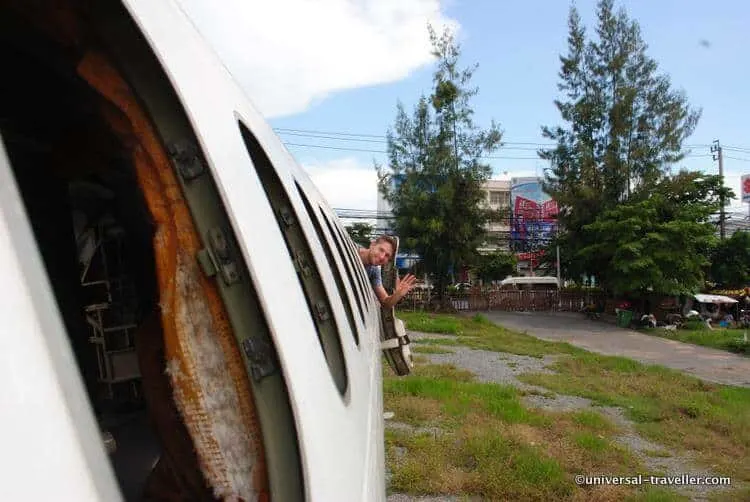 How much does it cost to visit the Airplane Graveyard Bangkok
On the ground there are three families living who are unofficially managing the site. They ask for a entree free of 200 Baht which is less than 6 USD. The families need the money to make a living so you have to decide for yourself if you want to bargain.
More photos of the Airplane Graveyard Bangkok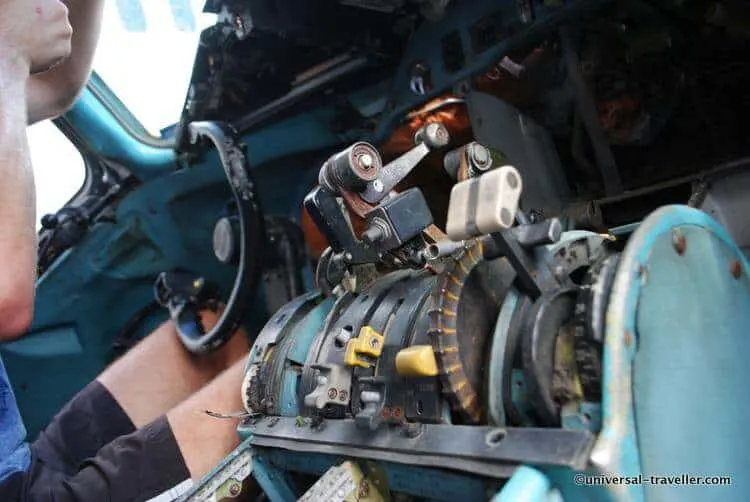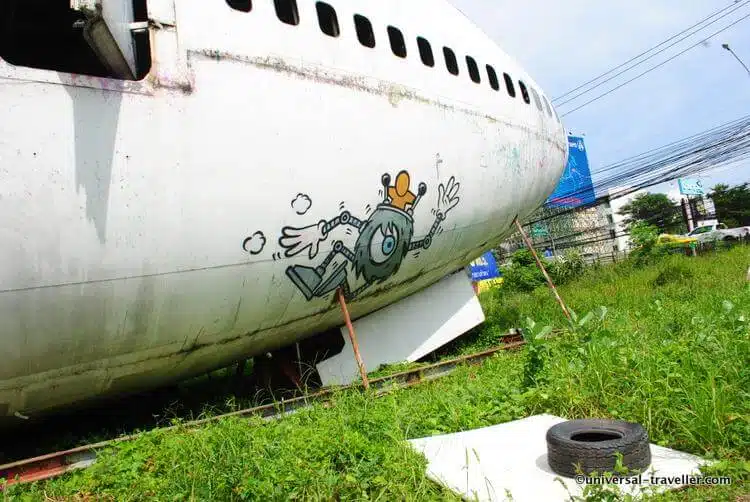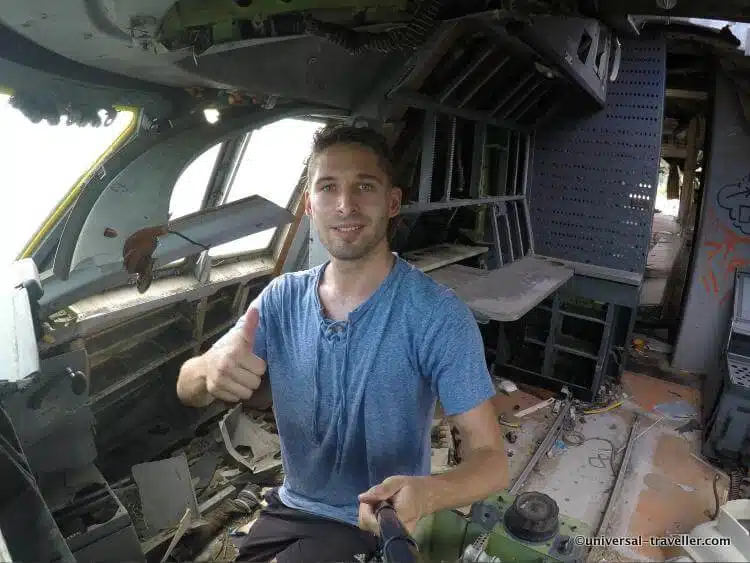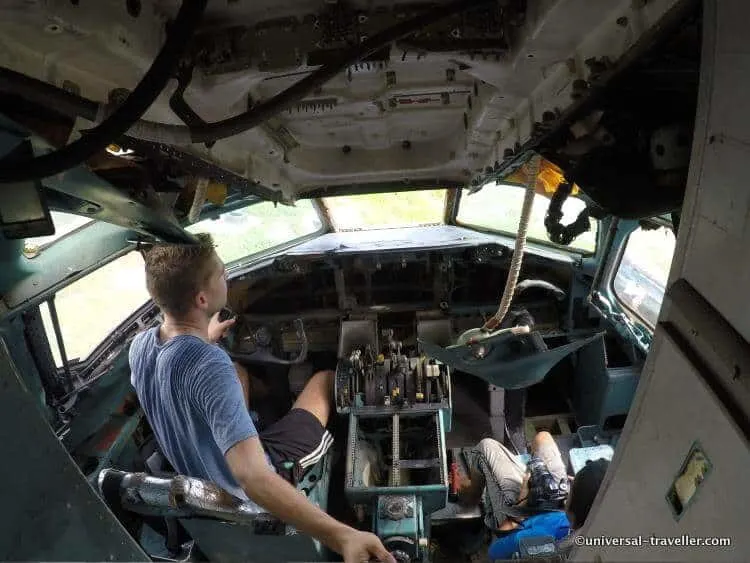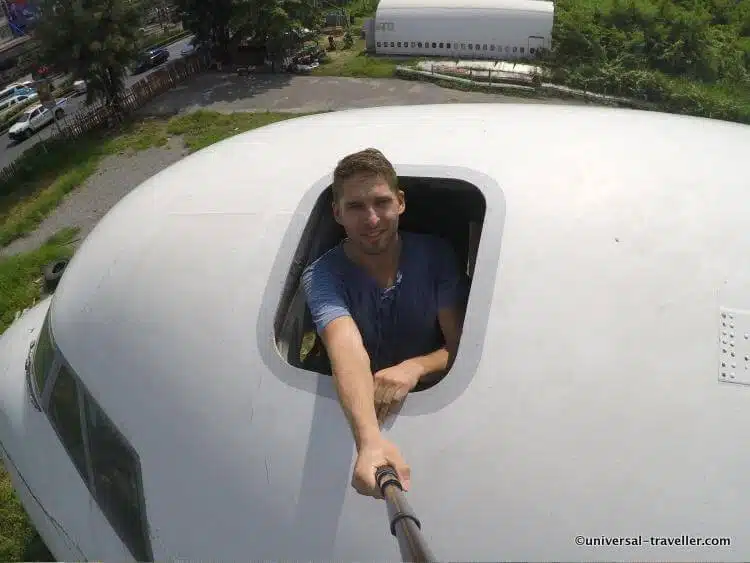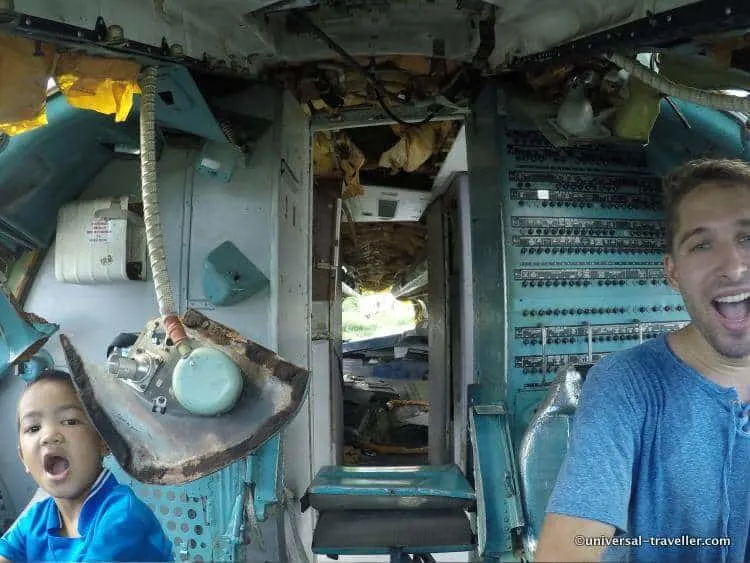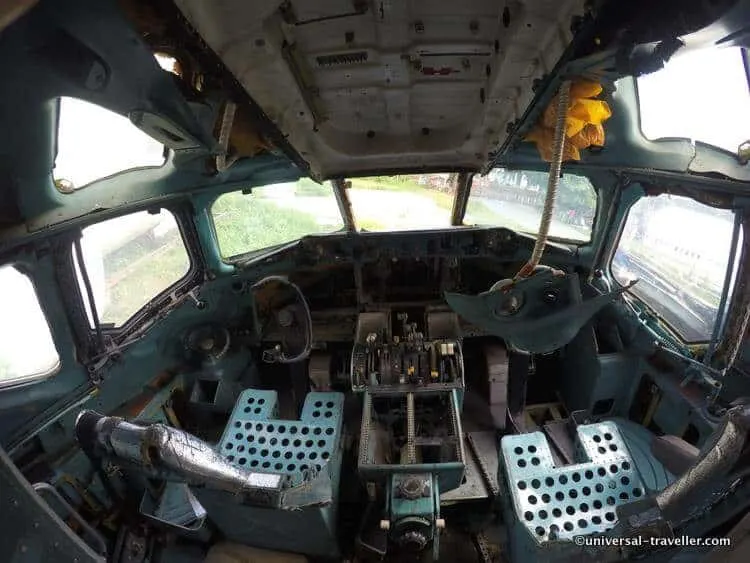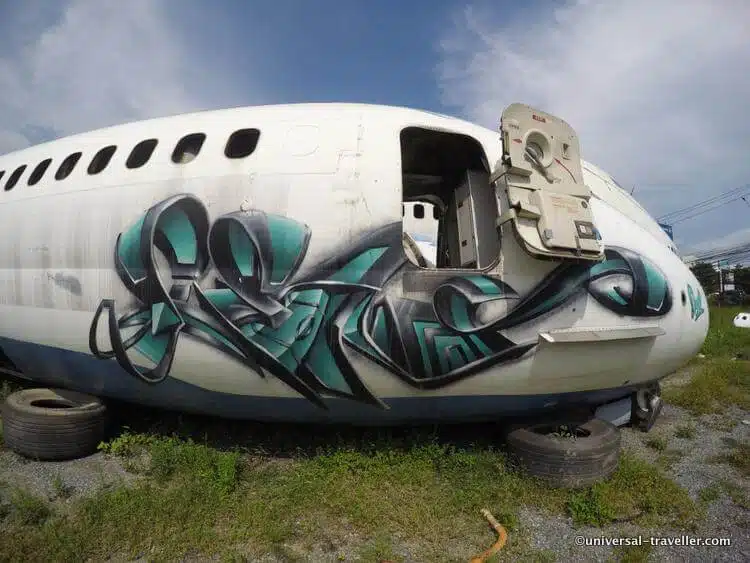 Logistics
Cheap Flights:
My top choice is kayak.com. You can easily search for the best fares over 30 days or see where you can go on your budget. My favorite airline is Qatar Airways, I especially like the on-demand menu in Business Class.
Hotel Deals:
I would recommend checking out Agoda.com. It is one of the leading hotel sites with worldwide more than 500,000 hotels. Other sites I check are Booking.com and Expedia. Trusted Housesitters connects you with home and pet owners who need a sitter when going away. Another great option is Airbnb – Use this link to get $40 off your first stay. Visit TripAdvisor for hotel reviews.
Are you on Pinterest? Pin this!
This post is also available in:
German