How to get to Phuket from Bangkok, Thailand? You can travel by train, bus, taxi, or plane to Phuket from Bangkok.
Phuket is, besides Ko Phi Phi, one of the most popular islands in Thailand, Asia.
Traveling from Bangkok to Phuket is easy, and there are different options to choose from. Taking a flight is by far the fastest way to reach the beautiful beaches in the south.
Bangkok to Phuket by Bus is the cheapest option, and a train to Phuket offers you lots of amazing Thai scenery along the way.
How far is Phuket from Bangkok?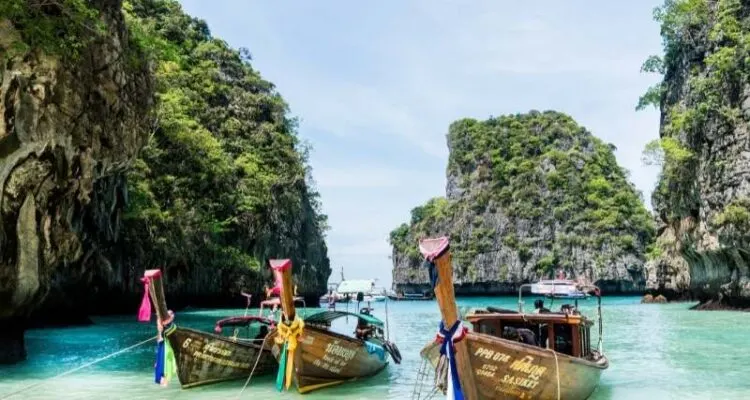 The road distance from Bangkok to Phuket is about 840 kilometers or 520 miles. The flight distance is 674 kilometers (419 miles).
How to get from Bangkok to Phuket
1. Flight from Bangkok to Phuket
By far, the fastest and easiest way to get to Phuket is by plane. The flight time from Bangkok to Phuket is just 1 hour 25 minutes.
Flights depart from both airports whereby the lower-cost airlines like Nok Air, Thai AirAsia, and Thai Smile mostly take off from the smaller Bangkok Don Mueang Airport.
Thai Airways and Bangkok Airways depart from the big international Suvarnabhumi Airport, which is well connected by Skytrain with Bangkok downtown.
Plane tickets with low-cost carriers start at around 22 USD, depending on the season.
The airport in Phuket is located in the north of the island. To get to your final destination, there are different options, including a taxi, minibus, direct bus to Patong Beach, or Private Phuket Hotel Transfer.
The transfer to the most popular beaches and hotels takes between 30 and 60 minutes.
Tip: Book a VIP arrival or departure experience at Phuket Airport, including Premium Immigration Lane, Lounge access, and personal assistant.

2. Bus from Bangkok to Phuket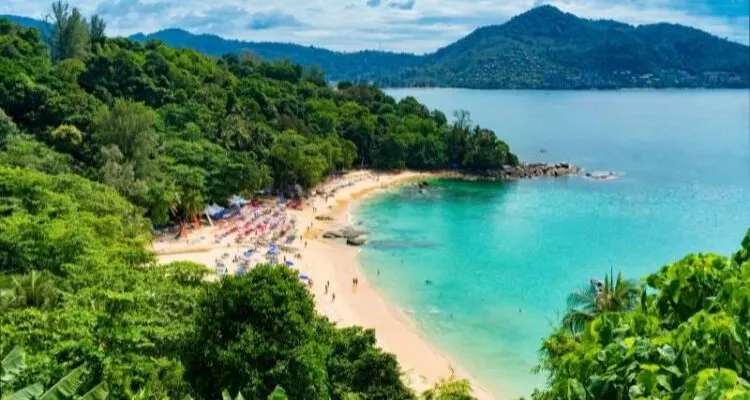 The most economical way to travel from Bangkok to Phuket is by bus.
Busses depart from Bangkok Southern Bus Terminal and the Bangkok to Phuket bus travel time betrays between 13 to 16 hours.
Service and comfort vary a lot, though!
Be careful when you purchase bus tickets around Khao San Road. They are renowned for bad service, and there is a risk of getting scammed.
If you pay a little more, you can travel quite comfortably in spacious and air-conditioned busses. You get what you pay for.
It is advisable to book your ticket in advance to get a better price and a guaranteed seat in your preferred booking class.
3. Night Train + Bus to Phuket from Bangkok
Another option to travel to Phuket is by train. You can board the train at Hua Lamphong railway station in Bangkok to Surat Thani. From there you have to take a bus.
Unfortunately, there are no direct trains from Bangkok to Phuket!
The most comfortable option is to take a sleeper train for the 8 hours journey. They are really comfortable and will arrive early in the morning in Surat Thani.
The following bus trip takes about 5 hours so that you will arrive in Phuket around lunchtime.
It is possible to buy a combined ticket; for both the train and the bus.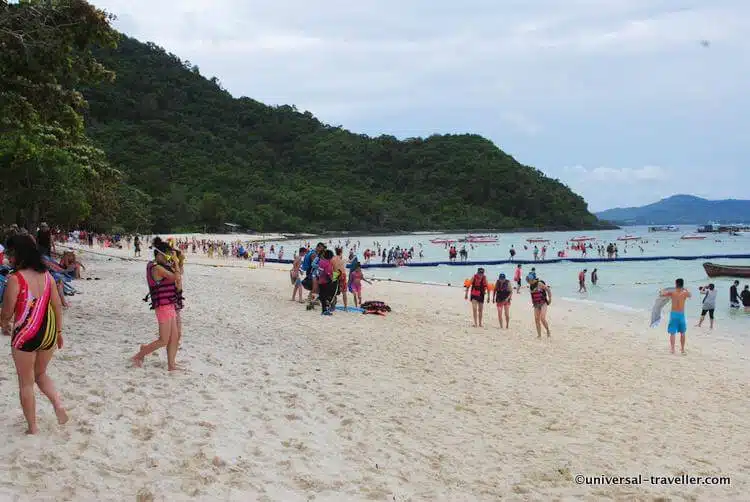 4. Travel from Bangkok to Phuket by car
Another way to getting from Bangkok to Phuket is by car. You can either book a transfer from Bangkok to Phuket or travel by taxi.
The journey will take around 10 hours, and the Taxi fare from Bangkok to Phuket starts at 420USD.
More Phuket Transfers
Many people travel straight to Phuket from their home country. It is, however, also a popular stop during a round trip in Thailand.
To make it easier for you, I added a couple of transfer options from other destinations in Thailand.
1. Ferry Transfer to Koh Lanta from Phuket, Ao Nang, and Railay
2. Phuket Airport to/from Khao Lak Hotels Shared Van Transfer
3. Ferry Transfer Between Phuket and Koh Phi Phi
4. Private Transfer from Krabi to Phuket with English speaking driver
FAQ
What is the cheapest way to travel from Bangkok to Phuket?
The cheapest way to travel from Bangkok to Phuket is by bus. The trip starts at Bangkok Southern Bus Terminal and takes a minimum of 13 hours.
Depending on the carrier and travel class, it costs between 700 and 1.100 Thai Baht (around 20 to 36 USD).
For taking a flight from Bangkok to Phuket do we need to go through immigration?
If you start your trip in Bangkok, you don't have to go through immigration as it is a domestic flight.
If you are arriving on an international flight into Bangkok Suvarnabhumi Airport and have your luggage checked through to Phuket, you can use a special immigration facility for connecting flights.
In this case, passport control will take place in Phuket.
More Routes from Bangkok, Thailand