Costa Rica is located in Central America and borders in the north to Nicaragua and in the south to Panama. It is one of the few countries that has a Pacific as well as Atlantic Ocean coast.
Costa Rica is with 51.100 square kilometers the 131st largest country in the world. It became independent from Spain in 1838.
San José is the capital city of Costa Rica and has around 339,581 inhabitants. Within the larger metropolitan area there are more than 2 million people living.
Did you know? Costa Rica has no army!
Read also: HOW TO TRAVEL AROUND COSTA RICA
Where is Costa Rica located on the map?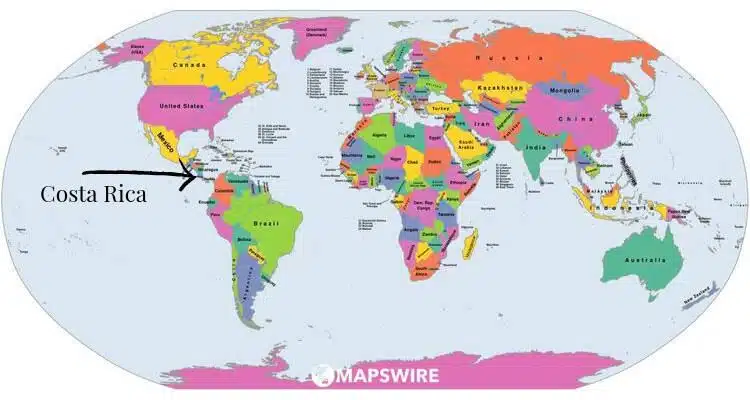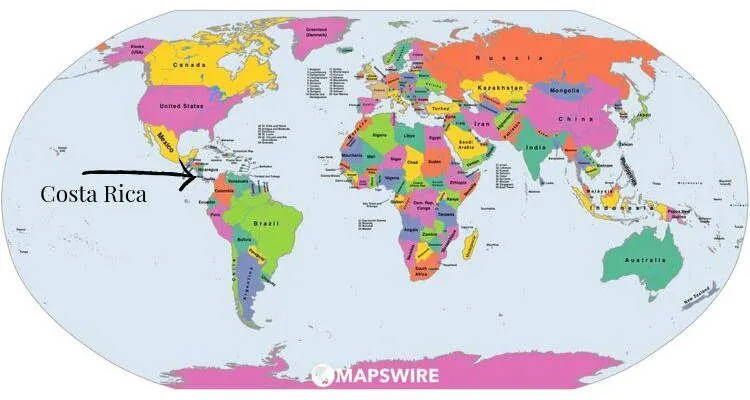 FAQ about Costa Rica
1. Is Costa Rica part of the United States?
Although many Americans like to travel to Costa Rica, it is an independent Central American country and definitely not part of the United States!
2. Is Costa Rica an island?
Costa Rica is not an island but a country on the mainland of Central America.
However, there are some beautiful islands that belong to Costa Rica including Islas Murciélagos, Islas Catalinas, The islands in the Gulf of Nicoya, Caño Island Biological Reserve, Isla Uvita and Cocos Island National Park.
3. Costa Rica phone code
The phone code of Costa Rica is +506.
4. How far is Costa Rica from the Equator?
Costa Rica is located 1,084.37 km (around 674 miles) north of the equator. That means that it is in the northern hemisphere.
5. Which continent is Costa Rica in?
Costa Rica is a Central American country. Geographically speaking, it belongs to the North American continent.
Are you keeping up with my Costa Rica Series
I have lived and worked in Costa Rica for one year. While working for a local tour company in the capital city San José I travelled to all the BEST PLACES TO VISIT IN COSTA RICA.
To help you plan your trip to Costa Rica I put together a guide about HOW TO GET AROUND IN COSTA RICA and BEST LUXURY HOTELS IN COSTA RICA.
Costa Rica is well known for its beautiful beaches and hot springs. Find here THE MOST BEAUTIFUL BEACHES IN COSTA RICA and the BEST HOT SPRINGS IN COSTA RICA.
Do you prefer organised tours and all-inclusive resorts? I've put together a list of BEST ALL-INCLUSIVE RESORTS IN COSTA RICA and COSTA RICA MULTI DAY TOUR PACKAGES.
This post is also available in:
German