Santa Cruz is the second-largest island in the Galapagos and holds the islands' largest village, Puerto Ayora. Check out the best things to do on Santa Cruz Island.
The island was formed by a now dormant volcano left behind a stunning lava tunnel, which stretches a full two kilometers beneath the island's surface.
I spent my time in Santa Cruz enjoying great beaches, food, snorkeling, and other adventures.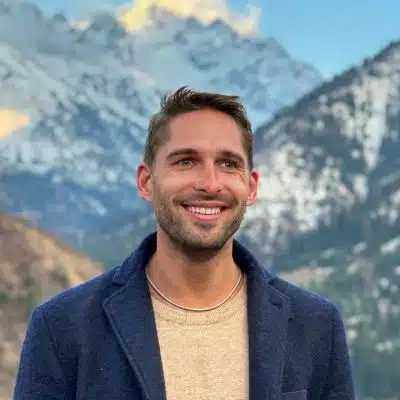 Because the island holds about half of the Galapagos' permanent population, Santa Cruz also has some of the area's best accommodations.
For this reason, I think the island can act as a great home base to start your Galapagos journey.
Read also:
1. Las Grietas
Las Grietas is a crack in the rocks where you can swim in freshwater between two massive cliffs. Though you won't see a wide variety of animals, this is a spectacular place to snorkel and one of the best things to do on Santa Cruz Island.
Tip: If you swim to the end of the first pool and climb over the rocks, you'll find a second pool.
The water in this one is much clearer (you might even be able to see bigger fish).
Las Grietas, as a whole, is also less crowded, as many people don't know about it or don't have enough time to visit with a tour.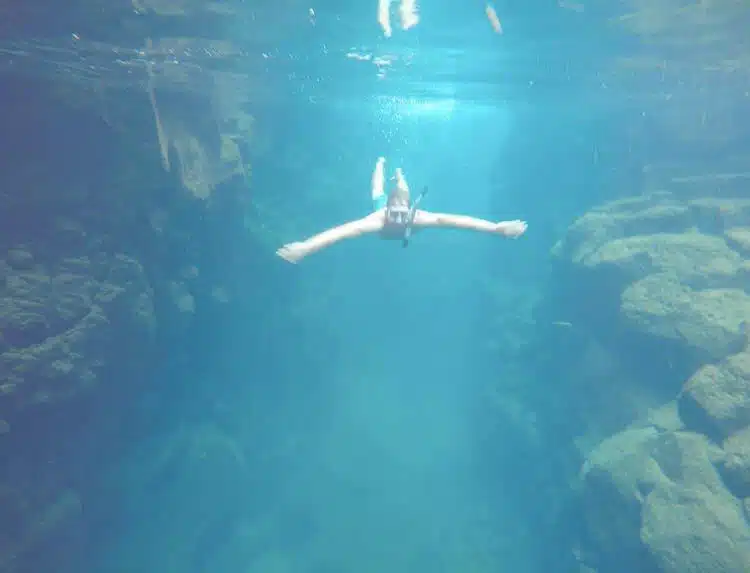 How to get to Las Grietas without a guide?
From Puerto Ayora, take a water taxi from the main pier to the other side of the water. The ride will only take a few minutes and costs 0.60 USD.
From there, pass Finch Bay Hotel and follow the signs to Las Grietas. It's a 20-minute walk.
I recommend you wear closed shoes, as you have to cross a lava field. The stones can be quite hot and sharp.
2. Visit Santa Cruz Fish Market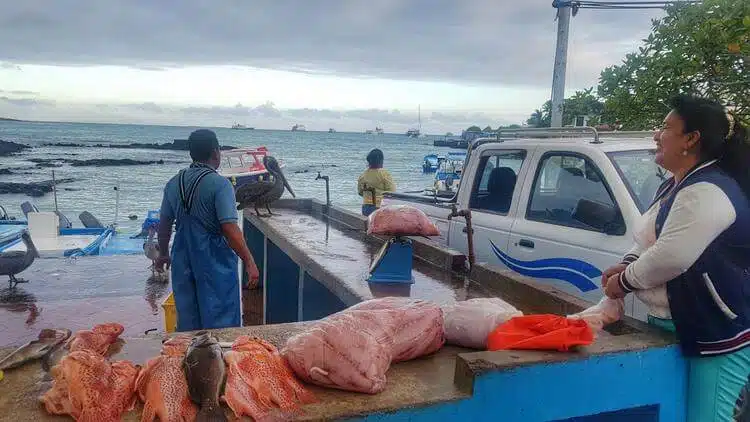 If you want to watch local fishermen cut and sell fresh fish, check out the Santa Cruz fish market.
It is also a great place to spot pelicans, who constantly circle, waiting for the opportunity to snag a piece for themselves.
3. Walk through Lava Tunnels
Have you ever walked through a tunnel created by a flood of hot lava?
It's spectacular and another must-do activity while in Santa Cruz.
How were the lava tunnels formed?
The outside layers of lava cooled and created a crust, but the lava within stayed hot and liquid. It bore out a lava pipe, and when the lava stopped flowing, the tunnel remained.
4. Visit Rancho Primicias to see Giant Tortoises.
Recommended by Jackie from Life Of Doing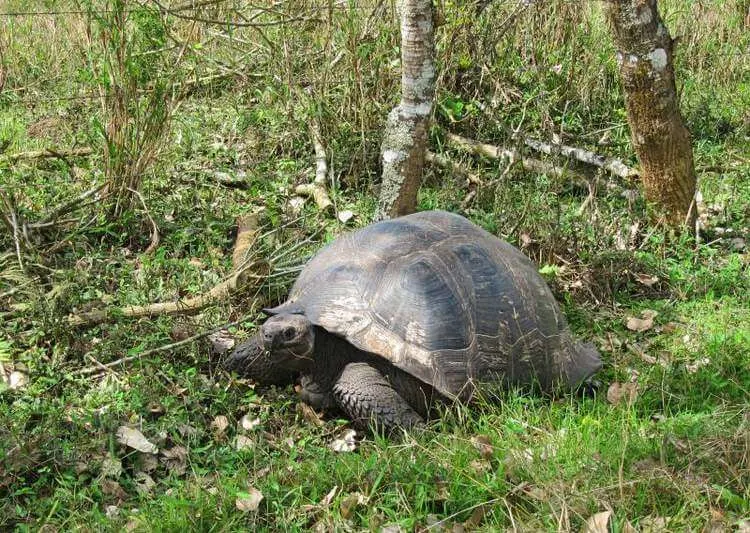 If you're visiting Galapagos Islands, stop by Santa Cruz Island to see the giant tortoises in action.
One of the best places to see the tortoises in their natural habitat is at Rancho Primicias. It isn't far from the main area, Puerto Ayora, and takes 20-30 minutes to get here by taxi.
Rancho Primicias is a peaceful area as it's quiet and not too crowded with visitors. During our visit, our taxi driver served as our tour guide and took us around the area.
It was amazing to see them everywhere and up close. Most of the tortoises enjoyed their lunch munching on luscious grass and plants as we walked by. They didn't seem to notice us standing near to them for photos.
We saw a few of them lounging in the pond while others walked at a snail-like pace to their next destination. It's a stress-free lifestyle for them.
Your guide may also take you to see the lava tunnels, which are on the same premise. Watch out for your head as the ceiling is low.
Consider bringing a flashlight since the tunnel is dark. We loved the experience at Rancho Primicias, and it is a worthwhile trip to visit here.
5. Enjoy a Spa Treatment at Zenia Spa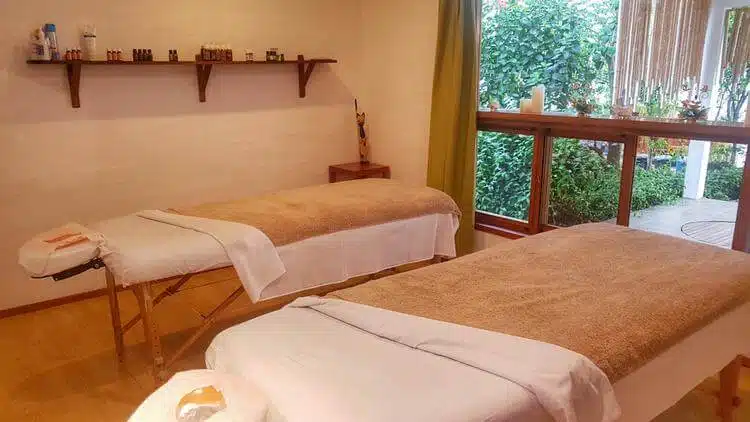 If you're on the Isle of Santa Cruz and need a day indoors after snorkeling or ocean swimming, I recommend visiting Zenia Spa.
Zenia offers some of the best massages on the island. Their facilities and atmosphere are clean and calming, and my masseuse was quite professional.
She asked not only what kind of massage I would like (after explaining the different options), but also wanted to know where I was having pain or issues so she could better focus on making me comfortable.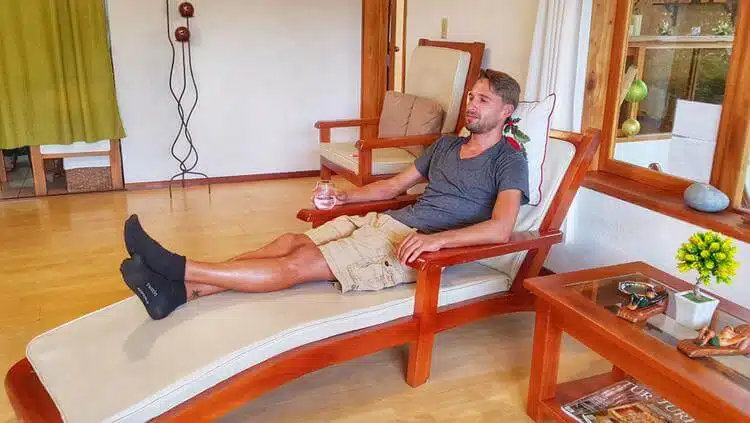 Their services include massage therapy and custom facials, peeling, body wraps, body exfoliation, zen pedicure, manicures, and an after-sun soothing wrap (this is especially popular among those who forgot to apply sunscreen at the beach the day before!).
The spa is near the Darwin Research Center. Massages start at USD 45.
6. Get a drink at Bongo Bar
If you want to drink with locals and tourists alike, Bongo Bar is the place to go. I've been told they offer the best sushi in the Galapagos Islands.
Let me know how you liked it. Unfortunately, I couldn't try it myself.
7. Join a Half-Day Bay Tour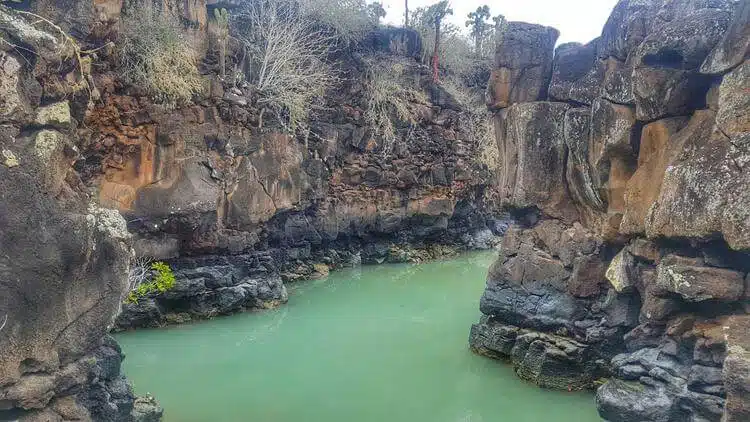 While in Santa Cruz, I decided to book a tour with the local company, Galapagos Dreams Adventures. The tour I chose was a half-day excursion around Bahia.
It ended up including one of my most memorable experiences on the Galapagos: snorkeling with sharks.
It wasn't as crazy as it sounds. The sharks weren't that big, and they mostly ignored us, but it was still quite an adrenaline rush.
Those who'd rather avoid sharks can opt to swim and snorkel at Las Grietas, which is also phenomenal.
Snorkel gear is included with the tour price, and guides provide information and instructions in English and Spanish.
The tour was both over water (by boat) and overland (via some excellent hiking).
8. Visit the Charles Darwin Research Station
At the Charles Darwin Research Station, you'll get the chance to learn a bit about the local species that live on the Galapagos Islands.
You'll catch glimpses of giant tortoises, baby tortoises, and marine iguanas. The center also provides a wealth of interesting information about its tortoise breeding program.
9. Walk to Tortuga Bay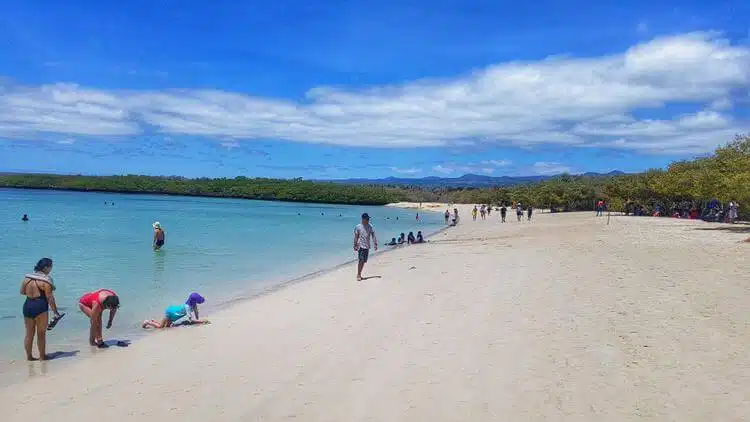 If you're on Isla Santa Cruz and looking for a lazy and laid-back beach day, I recommend Tortuga Bay.
Located about two and a half kilometers from Santa Cruz's main village, Puerto Ayora, the bay offers some beautiful beaches and a more protected stretch of sand that's great for swimming.
Though tour groups don't regularly service the bay, there is a clearly defined trail that marks the route from Ayora.
The hike usually takes about 45 minutes (and there aren't any facilities on the beach, so bring plenty of water), but it's well worth it.
When you arrive, you'll have the ocean more or less to yourself.
10. Visit El Chato Reserve
The El Chato Reserve, located in the highlands of Santa Cruz, is one of the best places to observe giant tortoises in their natural habitat.
11. Check out Las Linfas Lagoon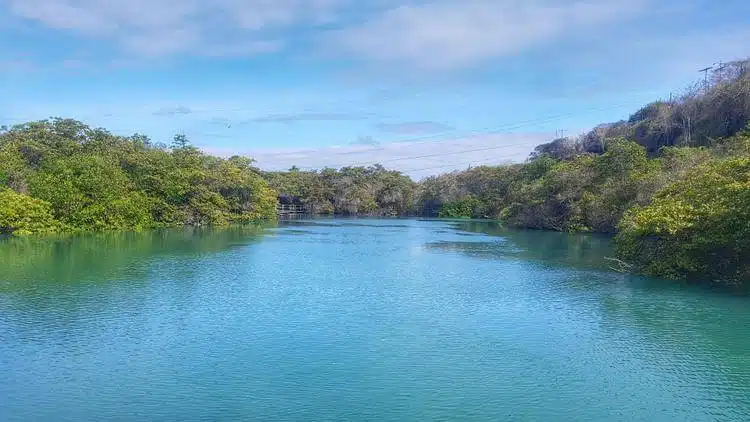 Las Linfas Lagoon is a quiet and calming spot located just blocks from downtown Puerto Ayora.
It's a great place to unwind or relax after a morning or afternoon tour around the island.
A boardwalk winds its way above the water, offering some excellent chances to spot marine tortoises and other endemic Galapagos wildlife in the shade of the lagoon's mangrove trees.
12. Take a taxi to Garrapatero Beach
From Puerto Ayora, you can take a taxi to Garrapatero Beach for about 30 USD. The 30 minutes drive takes you through the beautiful highlands of Santa Cruz.
If you are lucky, you might spot a few tortoises. The beach itself is breathtaking and super quiet. You'll see lots of marine iguanas and maybe a few flamingos in the small lake next to the beach.
13. Try local food at the Los Kioskos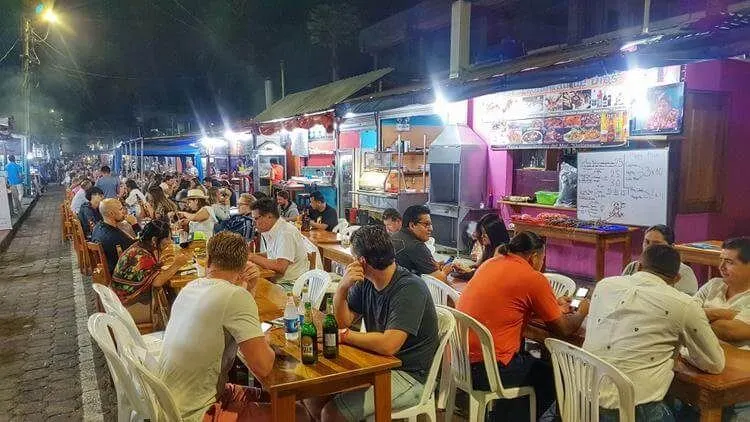 Every night, all the restaurants put tables and chairs out on the street and prepare delicious seafood. It reminded me a bit of the street food in Thailand.
You can actually choose the fish you want to be grilled for you.
Tip: Try the local Brujo fish (Pescado Brujo).
About the Author
More info
Best VPN for Travel: ExpressVPN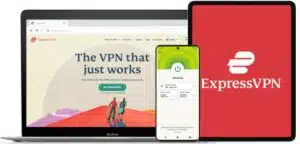 Heading abroad? Use ExpressVPN to access your social media accounts, unblock your favorite entertainment sites, and stay connected with friends and family. And get cheaper flights, of course.
Pros
✅ Next-gen, high-speed servers in 94 countries
✅ Works on iOS, Android, Windows, Mac, Linux, browsers, and more
✅ 256-bit AES encryption protects your data, even on hotel Wi-Fi
✅ Unblocks Netflix and other streaming sites
Cons
❎ No dedicated IPs
Get 3 extra months free of ExpressVPN when signing up for a 1-year plan. That's a 49% saving and a monthly cost of just $6.67! You also get a 30-day money-back guarantee.