San Cristobal Island rises from the water some 50 kilometers east of the other Galapagos islands. Find here the best things to do in San Cristobal, Galapagos Islands.
Though not as large as Isla Isabela or as populated as Isla Santa Cruz, San Cristobal is definitely worth a stop. This island is actually one of the oldest of all those in the archipelago.
It also has the most fertile land and the only source of permanent fresh water in the Galapagos: El Junco lake.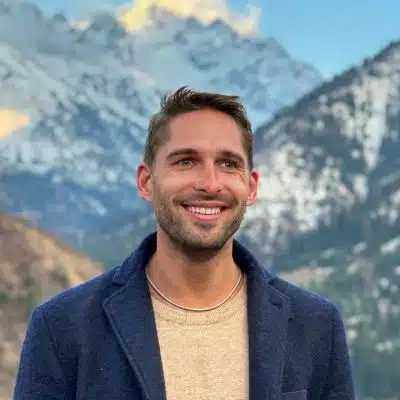 On a visit to San Cristobal, you'll get the chance to experience some fantastic beaches, the Galapagos's fascinating highlands ecology, and more.
Read also:
1. Diving at Kickers Rock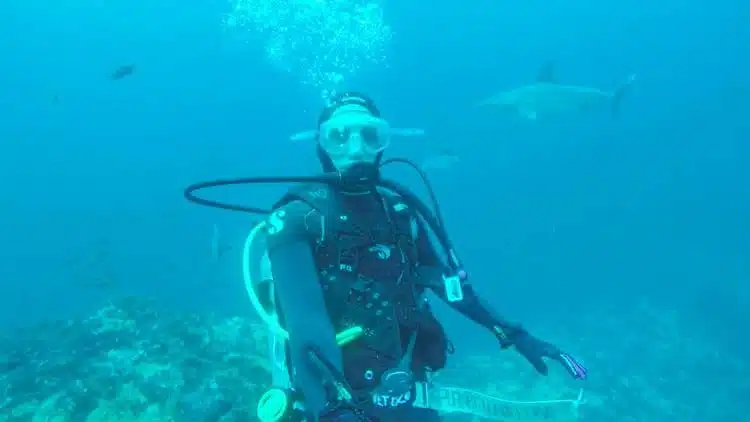 My scuba dive at Kicker's Point was the absolute highlight of my entire trip to the Galapagos Islands. I partnered with the scuba diving tour company Planet Ocean for the experience, and it was an absolute blast.
The process actually began the day before the tour, when we all met up with the divemaster and company owner, Alex, to go over the tour and get fitted with all the proper equipment.
The tour itself was well planned and flawless. Although there were twelve other divers, the company kept everyone well organized, safe, and comfortable.
The boat we dove from was quite high-end, and all the crew members were professional and happy to explain or go over things multiple times for anyone that had questions.
Between dives, the tour company offered snacks and a lunch with salad, fish, chicken, and brownies.
On my first dive into the water, I saw a school of 40 hammerhead sharks. I was awestruck.
The tour company crew got some phenomenal shots, and all that material was available to us for free at the end of the day.
2. Day Tour to Loba Island
Recommended by Lora from Explore with Lora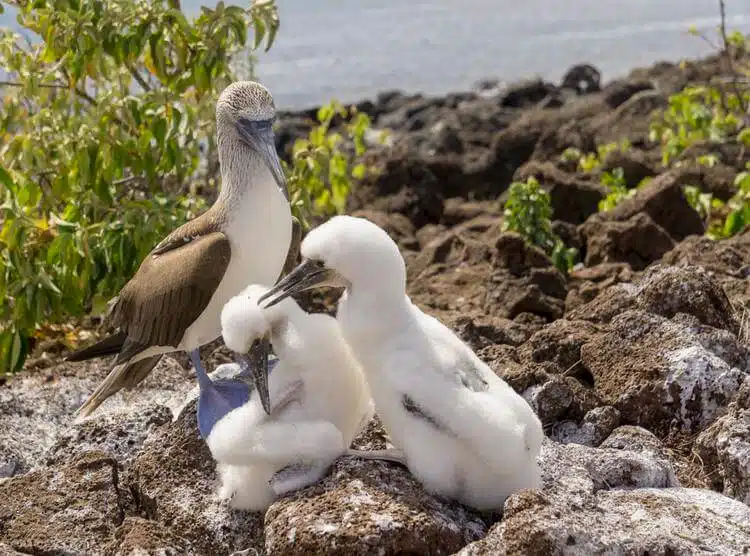 Isla Loba is a smaller island near San Cristobal that is easily accessible by day tours. The tour starts off with a boat ride to the island where you will see many birds along the way.
Once you arrive on the island, the naturalist guide will take you on a hike to spot wildlife up close. On arrival we immediately saw many frigate birds flying around, and at the time it was mating season (June) so the male frigate birds had their red necks fully inflated in an attempt to court a mate.
We kept walking and shortly came across the famous blue-footed Boobies. We saw these birds doing courtship dances, nesting their eggs, and a mother with her new young.
As we continued walking towards the ocean we saw many marine iguanas bathing in the sun from their swim.
After the guided hike, we returned to the boat for a quick ride to a nearby snorkelling site. The water was absolutely gorgeous and we could see sea lions waiting or us to jump in.
Our guide led us on a snorkelling trip where we were able to swim with the playful sea lion cubs and explore some beautiful coral reefs filled with large schools of colourful fish. After the snorkel, we returned to the boat where they fed us a nice warm lunch.
The last part of the tour was a quick boat ride over to a stunning beach where there was almost no one else (except of course the resident sea lions).
Here we were able to sunbathe, swim, and hang out with the sea lions. This was one of my favourite day tours that I did in the Galapagos and an excellent choice if you want to see the diversity of wildlife the islands have to offer.
3. Rent a bike and drive to the highlands and Playa Chino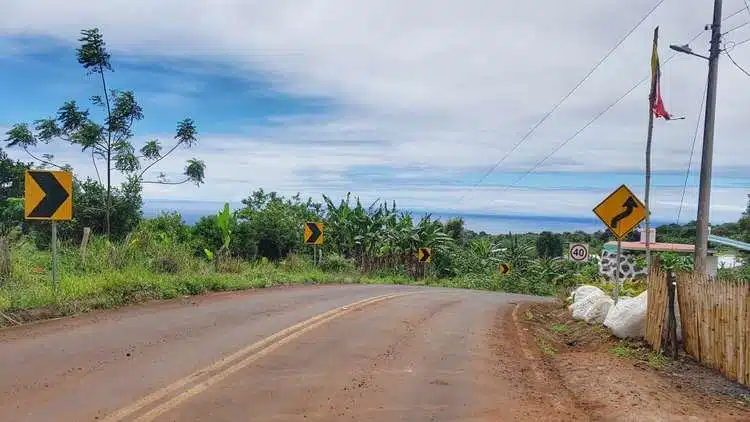 If you'd rather not take a tour of San Cristobal's highlands or take a taxi to Playa Chino, you can take a bike ride through the highlands on your way to the beach.
You can rent a bike from a shop in Puerto Baquerizo Moreno. Most shops on this island charge about 20 USD per day.
Before you jump in, though, you should know that this ride isn't for the faint of heart or the out of shape.
The climb from Puerto Baquerizo Moreno up into the highlands is almost 600 meters (and the descent down to Playa Chino was also more than a little exhilarating).
My advice is to take both parts slow and bring more water than you think you'll need. Also, depending on the season, you may want a raincoat.
Luckily, there are a few places along the way where you can stop and spend some time off your bike. I recommend a visit to the lagoon, and there's also a turtle center and a nice lookout along the road.
It's also worth noting that you won't be able to ride all the way up to the beach. There's a carpark where you can leave your bike. From there, it's a five minutes walk.
4. Lagoon El Junco
If you do spend some time exploring San Cristobal's highlands, I recommend you check out Lagoon El Junco.
Though it's called a lagoon, El Junco doesn't have much in common with many of the other lagoons in the Galapagos. It's actually a lake made from an ancient caldera that's since flooded.
The lake is a great place to spot some local wildlife, including the Galapagos frigate birds, who come to El Junto to wash the sea salt off their feathers.
I recommend visiting on a clear day, as the thick rains that hug the lake and Highlands will detract a bit of the view away. It's about a 10-minute hike up to the lake from the car park.
5. Take a Highlands Tour
If you aren't adventurous enough to strike out on your own by bicycle across San Cristobal's highlands on your way to Playa Chinco (or if you did, but you want a closer look), I recommend a dedicated visit or tour.
The island's highlands really are unlike anything else in the Galapagos. The landscape varies widely as you climb in elevation, from forest to grassland and rolling volcanic hills.
While you can explore on your own by hiring a taxi, I chose to go with a nature tour. My guide was very knowledgeable and passionate about the island's ecology. I learned and observed much more with him than I would have on my own.
6. Join a 360 Degree Tour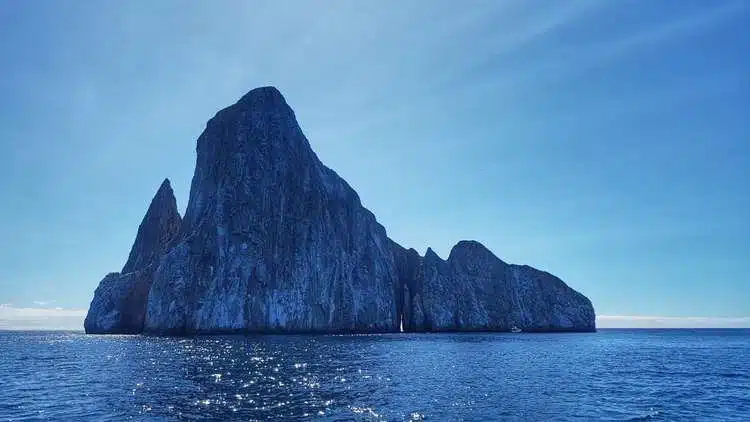 A 360 Degree tour is a great way to visit the most interesting places on San Cristobal.
The tour begins between 7 and 8 am and returns around 4 pm. As part of the tour, you'll circumnavigate the whole island by boat.
Stops include snorkelling, beautiful beaches and bird-watching opportunities. You'll witness Rosa Blanca, Punta Pitt, Sardine Bay, Punta Pucana, Cerro Bunjo, and Kicker Rock.
7. Hike Up To Cerro Tijeretas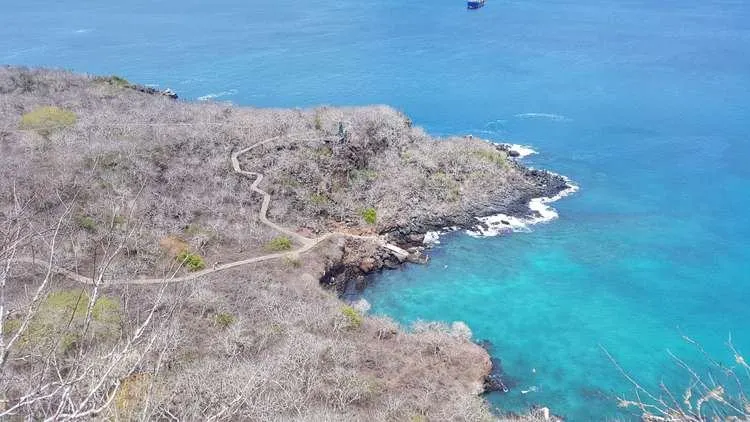 Next to San Cristobal's Intepretation Center, you'll find a quiet trail that leads to some of the best views on the island. The hike takes about 45 minutes to walk (though it's well marked and maintained).
You'll begin by walking along the beach. There's some great snorkeling in this area near the Charles Darwin statue, so make sure to bring or borrow some equipment if you want to take a look beneath the waves.
If you'd rather get a birds eye view, you can follow the trail up to several lookout spots along the ridge overlooking the ocean and Kicker Rock.
From there, you can either turn back or, if you're feeling ambitious, continue on to Baquerizo Beach.
8. Wander around Puerto Baquerizo Moreno
If you've had your fill of paradise beaches and ecological adventures (or if you find yourself wanting a more laid back afternoon, you can always spend a few hours wandering around Puerto Baquerizo Moreno.
The town is actually the province capital of the Galapagos Islands and was founded way back in the mid 1800s.
Nestled against one of the island's mountains, the island port is home to about 7000 people and full of quiet streets and quaint views.
If you walk closer to the sea, you may even find sea lions, completely comfortable with the locals, lounging about on park benches or boat decks.
9. Walk all the way to Baquerizo Beach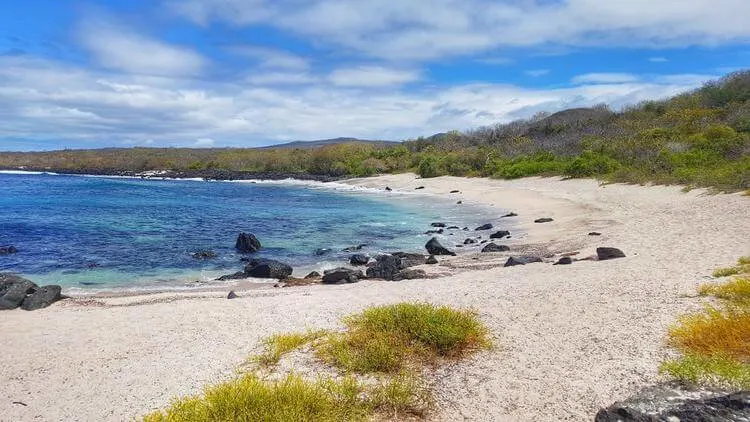 A little further up the same trail that takes you to Cerro Tijeretas from the Interpretation Center, you'll find Baquerizo Beach. Though this a bit secluded, (it takes about two hours to get there on foot), Baquerizo's privacy more than makes up for the trip.
You won't have the whole beach to yourself though—hopefully there will be some sea turtles, sea lions, and manta rays in the water to keep you company.
Make sure to bring your snorkeling equipment hiking shoes, and plenty of freshwaters. Even without the beach, the hike was quite engaging and fun.
10. Visit the Interpretation Center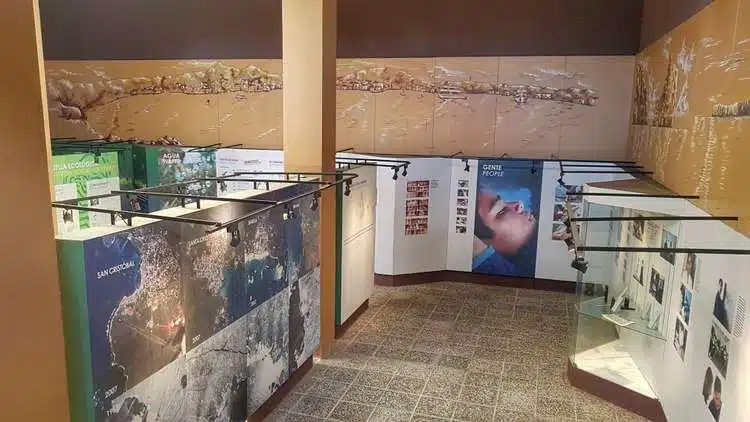 An afternoon at the San Cristobal Interpretation Center may be worth your time if you're interested in learning more about the history of the Galapagos Islands (or if you're looking for an activity to fill a rainy day).
The center doesn't just focus on the islands' natural history, but also their human history and current efforts at conservation.
The exhibits here are thoughtful, engaging and full of pictures and stories. All text is written in both English and Spanish. Once you've finished learning, there's a great trail system to explore right next to the center.
11. Swim with Sea Lions at La Loberia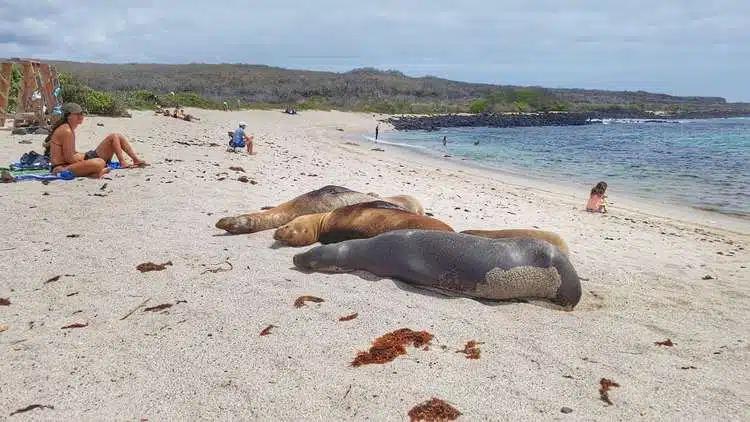 La Loberia is a stunning white sand beach that's quite close to San Cristobal's largest town, Puerto Baquerizo Moreno. The beach itself, which is shaped like a half-moon, is home to a colony of sea lions who are pretty friendly with humans.
Though its always best to keep your distance (especially from the younger looking males, who can occasionally get aggressive) I enjoyed sharing the waves with these creatures.
They're so surprisingly graceful in the water. You can get to the beach on foot in about 20 minutes, or you can flag down a taxi for a ride that usually costs about 3 USD.
12. Trip to Punta Pitt
Punta Pitt is a beautiful cove located on the north side of San Cristobal Island. The area is only accessible by tour boat, but there are several companies on the island that can give you a lift.
There's a small beach flanked by rising volcanic cliff faces, and the water there is a great place for snorkeling. But the hike is what makes the journey worth a day.
Punta Pitt's trail, which is about two kilometers long, ascends a nearby hill and offers some incredible views.
As a bonus, this is also one of the only places in the Galapagos where you can see every species of boobie: red-footed, blue-footed, and masked.
13. La Galapaguera Tortoise Habitat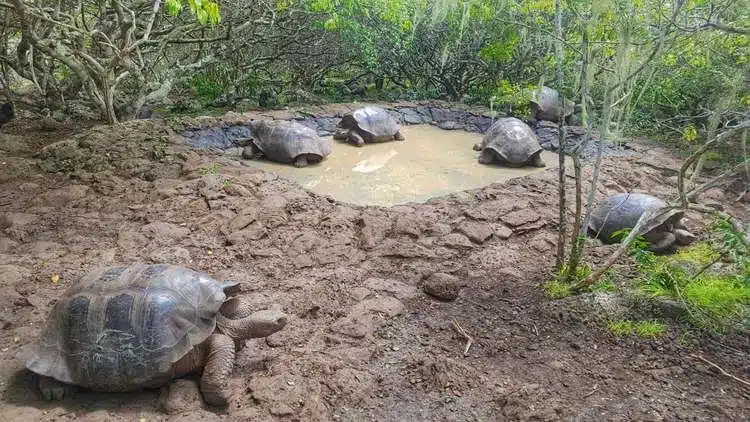 Like the tortoise conservation facilities on the other Galapagos islands, San Cristobal's La Galapaguera Tortoise Habitat raises Galapagos tortoises from the time they hatch until they're old enough to be released into their natural environment.
If you haven't yet had the chance to see these creatures for yourself (or if you want to see a few more before departing), La Galapaguera is a great place to do so.
They offer guided tours from knowledgeable staff members, and there's also no entrance fee (though donations are appreciated).
14. Make a day trip to Española Island
Española Island is the furthest south of all the Islas in the Galapagos. Though it's a bit of a trip, it is possible to visit the island in a day.
The island itself is very flat and only rises a couple hundred meters above sea level at its highest point. I recommend visiting Gardner Bay (or Bahia Gardner), which has some great beach (and a large colony of sea lions).
If you enjoy bird watching or cataloging the many species of the Galapagos yourself, Española's Punta Suaraz won't disappoint.
In addition to a huge population of blue-footed boobies, almost every waved albatross in the world descends on the small island to breed between March and January.
One other note, the boat ride from San Cristobal is about two hours each way, though it can be quite eventful. I've heard some people spot whale breaches along the route.
Where to eat in San Cristobal
1. Delicious grilled fish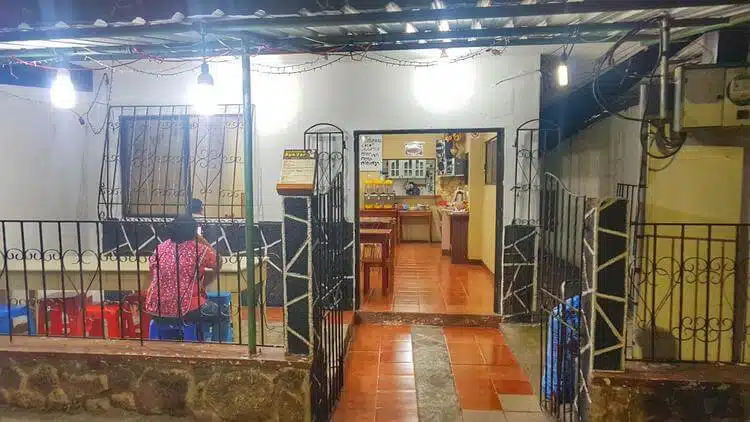 On the opposite side of the church in the center of the city there is a small, family-owned restaurant where you can order really good, grilled fish. I recommend the local Brujo fish.
2. Best Empanadas in town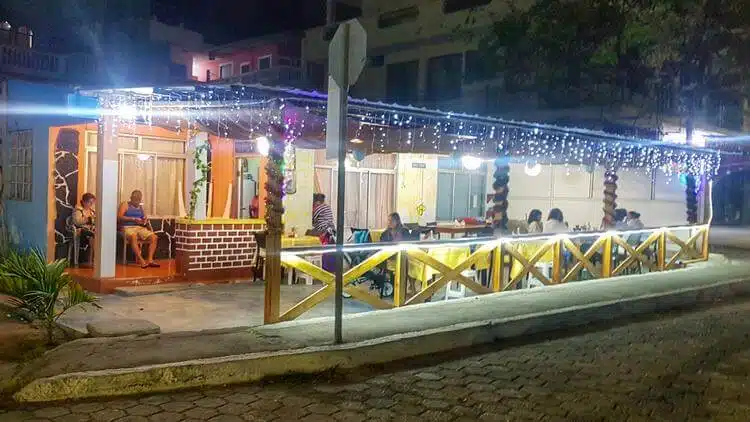 Next to the park and the table tennis hall there is a small, local restaurant where you can get the best Empanadas on Galapagos Islands. I highly recommend the Seafood Empanada. Delicious!
3. Cri's Burgers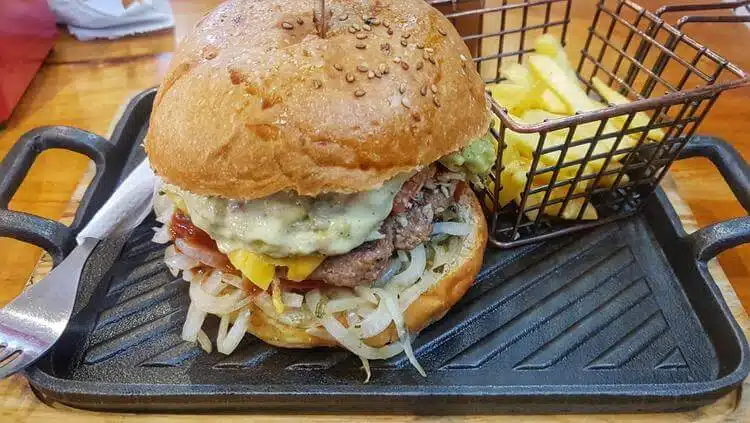 Cri's Burgers offers delicious Burgers with French Fries. The portions are huge and you can choose between a huge variety of Burgers and other dishes.
About the Author
More info
Best VPN for Travel: ExpressVPN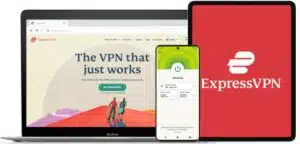 Heading abroad? Use ExpressVPN to access your social media accounts, unblock your favorite entertainment sites, and stay connected with friends and family. And get cheaper flights, of course.
Pros
✅ Next-gen, high-speed servers in 94 countries
✅ Works on iOS, Android, Windows, Mac, Linux, browsers, and more
✅ 256-bit AES encryption protects your data, even on hotel Wi-Fi
✅ Unblocks Netflix and other streaming sites
Cons
❎ No dedicated IPs
Get 3 extra months free of ExpressVPN when signing up for a 1-year plan. That's a 49% saving and a monthly cost of just $6.67! You also get a 30-day money-back guarantee.