Galapagos Islands Hotels – I traveled to the Galapagos Islands on my own. Instead of sleeping on a boat, I booked hotels on the three main Islands Isabela, Santa Cruz, and San Cristobal.
The Galapagos Islands offer not only spectacular nature but also very nice hotels to make your vacation even more special.
During my three-week trip to the islands, I tested different hotels in Santa Cruz, Isla Isabela, and San Cristobal.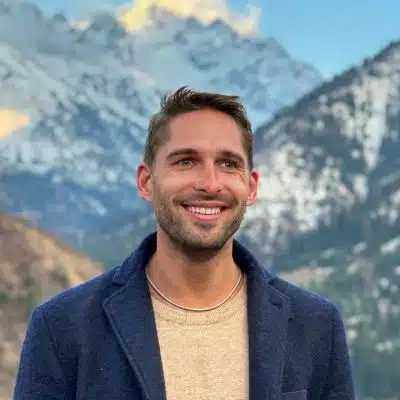 Here are my favorite hotels on the Galapagos Islands.
Read also:
Galapagos Islands Hotels Santa Cruz
1. Cucuve Suites Santa Cruz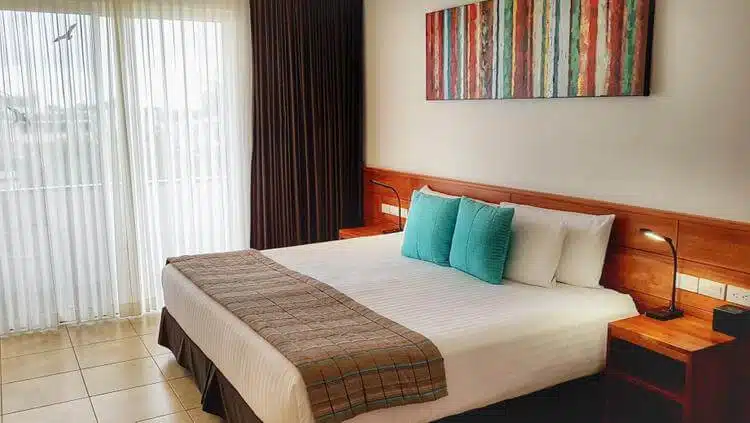 Cucuve Suites is a small boutique hotel owned by a Swiss couple.
The two started by offering a single room for friends and family visiting the islands, but as the Galapagos Islands grew into a popular tourist destination today, the two expanded the hotel.
You can now stay in one of their seven beautiful rooms. The hotel is located just a few meters away from Puerto Ayora's main street, shops, travel agencies, restaurants, and more.
The hotel got its name from the species of mockingbirds that call the Galapagos Archipelago home. Though the Darwin finches get most of the attention, the different mockingbirds and their adaptations were also vital to Darwin's research on the island.
The second-floor rooms have spacious balconies with hammocks for lounging and a great view over the village and out across the ocean.
The number of beds in each room varies, but all were well decorated, impeccably designed, and quite clean. They even had laptop-friendly desks and workspaces (just if you need to get a little work done during your stay).
Each morning, the hotel offers a good breakfast. The buffet includes ham and cheese, fresh eggs, fruit juice, bread, cereals & nuts, pancakes, and coffee and tea.
One note, the hotel offers free coffee, tea, water, and snacks to guests throughout the day. This was an unexpected treat because the hotel's good location made it easy to slip in halfway through the day for a pick me up.
Most of the Galapagos tours that feature snorkeling opportunities include snorkeling equipment.
But, if you'd like to strike out and do some snorkeling on your own while on Isla Santa Cruz, Cucuve Suites will make a great home base. Guests can rent snorkeling equipment for just USD 5 per day.
Click here for more information, photos, and/ or to make a booking.
Galapagos Islands Hotels Isla Isabela
1. Hotel Albemarle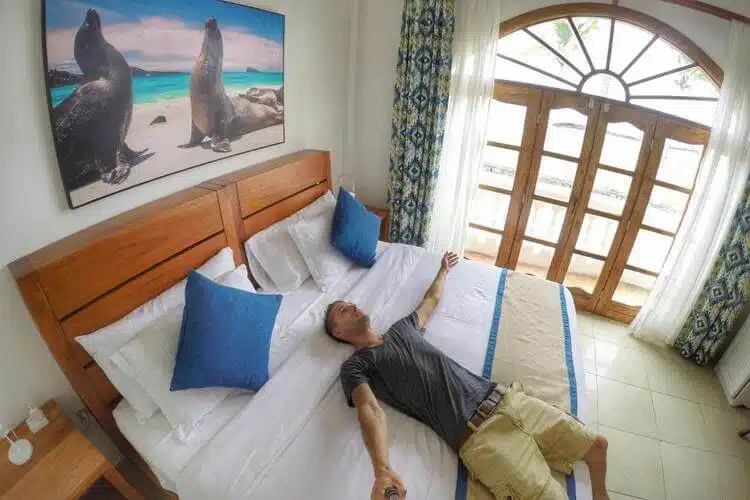 Hotel Albemarle is a small boutique hotel that is steps away from the beach.
They were awarded the best small hotel on the island this year, and after my stay, I can see why.
I was able to book an ocean view room. It was spectacular to wake up and look out across the ocean. At night, the waves lulled me to sleep.
If you can't book an ocean-facing room, don't worry. The hotel also has several immaculate sun decks with great views.
The hotel's accommodations were all quite good. Breakfast was available every morning.
The buffet spread included ham, cheese, fresh eggs cooked to preference, two types of fruit juice, coffee and tea, bread, cereal, and yogurt. If you're planning to stay for a few days or are running low on clean clothes, they also offer a laundry service.
My room was clean and had a safe. Free coffee, tea, hot chocolate, and unlimited purified water were available 24 hours a day.
Apparently, they even sell craft beer made right in there in Galapagos Islands.
Overall, I had a great time at Hotel Albemarle. When I wasn't off exploring Isla Isabela, I lounged around in their fresh-water pool, bathed in the sun, and took advantage of their free wifi to see what life was like for everyone, not on the islands.
If you plan to spend a few days on Isla Isabela and would like a more intimate hotel setting with gracious and helpful hosts, check them out!
Click here for more information, photos, and/ or to make a booking.
Galapagos Islands Hotels San Cristobal
1. Casa Playa Mann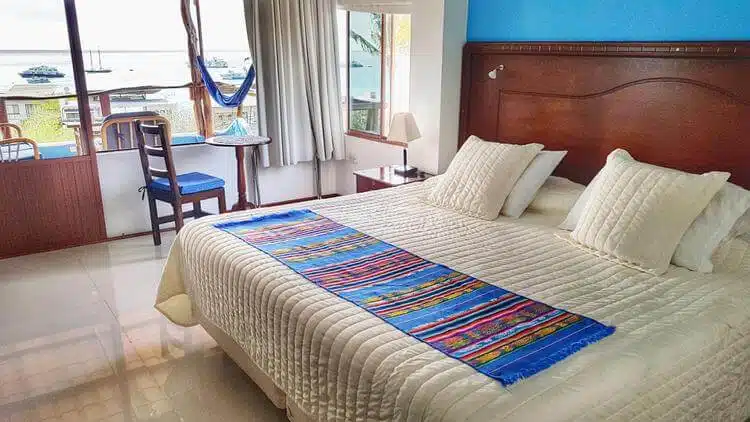 Casa Playa Mann is my favorite place to stay on San Cristobal. They had everything I look for in a local hotel.
My room was well decorated and designed, spacious, and had a comfortable mattress.
The bathroom was clean and well kept. My suite also had a personal fridge, large TV, and coffee maker.
But the location is really what makes Casa Playa Mann a place worth staying. It's less than ten minutes by foot from the town's main pier and the interpretation center. And, the hotel is just a two-minute walk from its namesake beach, Playa Mann.
Here, you can try your hand at snorkeling (you can rent equipment from the hotel for $5 per day). But you don't have to leave the hotel to enjoy the ocean.
The property had a rooftop terrace and balcony (complete with hammock) to watch the sunset and listen to the ocean. Most of the hotel's six rooms are ocean-facing.
The breakfast was American-style with a few local flavors. It included an omelet made to order (I had mine with bacon, tomatoes, and cheese), fresh organic juice, a fruit salad, and pineapple and orange jam.
Tea and coffee are also available. Apparently, the coffee they brew is grown and roasted right there on San Cristobal island.
This hotel has also earned a reputation as one of the most eco-friendly on the island. It was built not to disturb existing ecological features (including a 120-year-old cactus on the premises that they were careful to keep intact).
The rooms and layout were designed to minimize the need for electric lighting and air conditioning.
Click here for more information, photos, and/ or to make a booking.
2. Katarma Hotel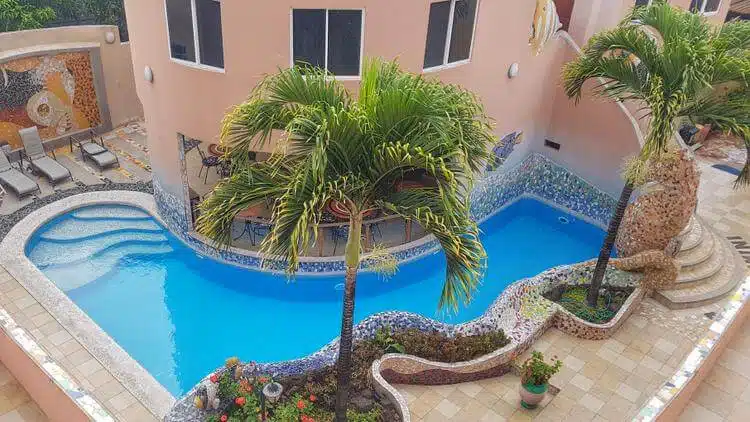 If you're looking for a truly memorable and unique place to stay while on San Cristobal island, Hotel Katarma will be a great fit for you.
The hotel is managed by two artists, a father and son team, and their passion for the visual shines through in this place's colorful and eclectic design and decoration.
At this hotel, art is everywhere.
And I mean, everywhere.
I don't think I found a single wall in the entire building that did not display some kind of masterpiece. To be honest, I actually found this a bit inspiring.
Many visit the Galapagos Islands for the unparalleled ecological diversity, but the archipelago also has a rich human culture.
These two sides of the islands, the natural and human sides, mix with and enhance each other. This hotel is a great representation of that.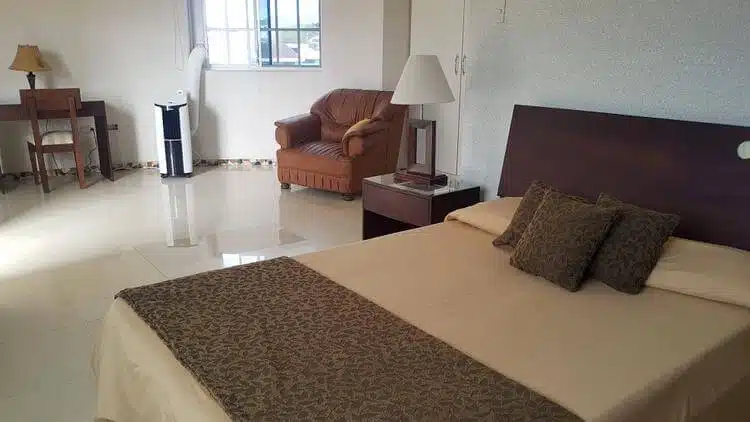 Aside from all the art, the hotel also had a very welcoming outdoor pool and sauna. The rooftop terraces each had great views of the ocean. There was also a business center, free wifi and a couple of areas for social gatherings.
Like several other hotels on the island, Katarma partners with local businesses and can help you plan your day trips and excursions.
The managers of the hotel also take strides to limit the environmental footprint of their business. Many of the property's paintings and works of art were created with local recycled and reused materials.
Wind turbines completely power the building itself. All food served is organic and locally acquired (as importing goods to the island is quite resource intensive). All organic waste is donated to a composting program for agricultural use.
Click here for more information, photos, and/ or to make a booking.
3. Galapagos Eco Friendly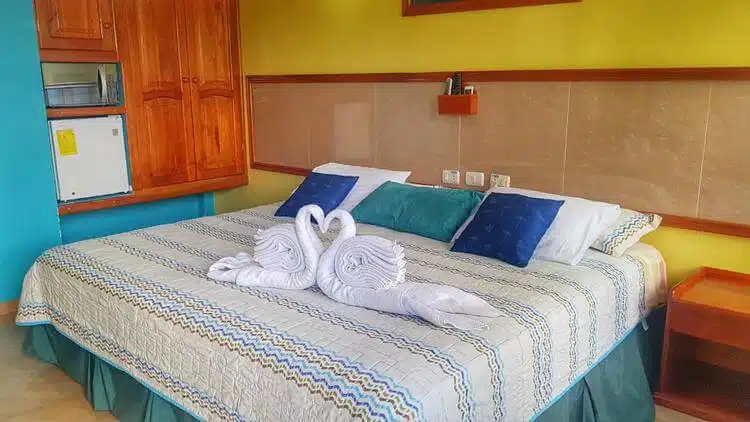 Galapagos Eco Friendly is a family-owned 3-star hotel located at the end of Puerto Baquerizo Moreno at around 75 meters above sea level.
From the terrace where breakfast is served, you'll enjoy an amazing view of the small town and the sea. On my first day, I even witnessed a beautiful rainbow.
The main street's restaurants, travel agencies, and shops are only 10 minutes away by foot.
Each room has comfortable beds, air conditioning, a small TV, a fridge, and even a microwave so you can warm up leftovers.
Because the hotel is a little ways from the city center, the nights here are quiet. I slept very well after an adventurous day in San Cristobal.
A small breakfast is served from 07:00 to 08:30 AM. You can expect coffee & tea, fresh fruit juice, an omelet, cereal with yogurt, bread, and cheese.
On the first day, I enjoyed a ham and cheese sandwich, and on the second day, Empanada with cheese.
The staff is quite friendly and helpful. You can borrow mountain bikes from the hotel free of charge and enjoy an outdoor hot tub.
Click here for more information, photos, and/ or to make a booking.
About the Author
More info
Best VPN for Travel: ExpressVPN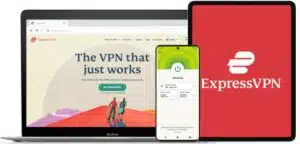 Heading abroad? Use ExpressVPN to access your social media accounts, unblock your favorite entertainment sites, and stay connected with friends and family. And get cheaper flights, of course.
Pros
✅ Next-gen, high-speed servers in 94 countries
✅ Works on iOS, Android, Windows, Mac, Linux, browsers, and more
✅ 256-bit AES encryption protects your data, even on hotel Wi-Fi
✅ Unblocks Netflix and other streaming sites
Cons
❎ No dedicated IPs
Get 3 extra months free of ExpressVPN when signing up for a 1-year plan. That's a 49% saving and a monthly cost of just $6.67! You also get a 30-day money-back guarantee.