We've put together this Las Vegas itinerary to help you have the most glamorous and adventurous quick weekend trip to Vegas.
We've included some of the top Las Vegas attractions that you won't want to miss. Primarily, we'll take you through all the best attractions on the Las Vegas Strip.
To find out more about cool Las Vegas attractions that lie off the strip, click here.
Where to Stay in Las Vegas
If you're stopping in Las Vegas for a quick weekend trip, it's best to stay right on the Strip. On the strip, you'll be within walking distance of the wildest clubs, coolest bars, and tastiest restaurants Vegas has to offer.
Read also: Free and cheap things to do in Las Vegas
Particularly, there are a few hotels that make the top of the list. I love the Bellagio, the Venetian, and the Cosmopolitan. Also, Trump International cuts due to its proximity to the strip and a few unique features it offers.
The Bellagio hotel is classic Vegas; you'll want to spring for a room with fountain views.
The Bellagio Hotel also offers gorgeous pool gardens, its own Botanical Garden, the world's largest chocolate fountain, and Cirque du Soleil's famous O performance.
Just south of the Bellagio is the equally famous Cosmopolitan Hotel. The Cosmopolitan Hotel offers excellent nightlife and food options.
At Cosmo, you can get a drink at the glamorous Chandelier Bar, take an Instagram-worthy photo in the oversized Stiletto, and party the night away at Marquee Nightclub. Cosmo is also set up to nurse your hangover at their breakfast favorite Egg Slut.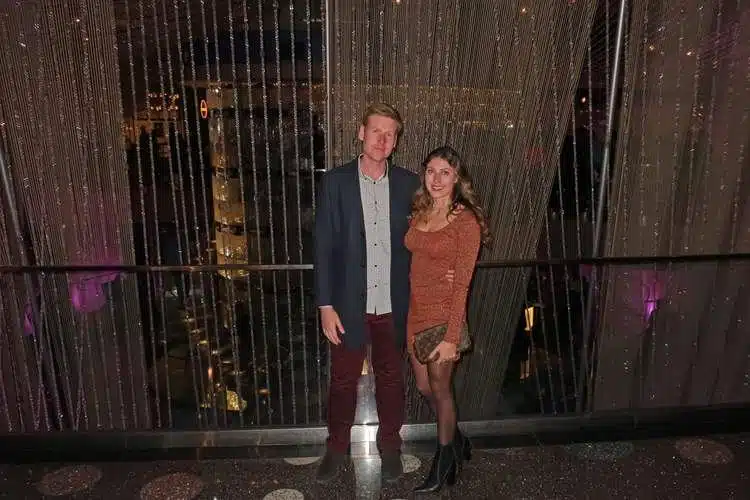 Just across the street from the Bellagio and Cosmo, you'll find the Venetian Hotel. The Venetian Hotel is uniquely equipped to deliver an Italian feel in the center of the Nevada desert.
The Venetian's enormous mall complex is built around Venetian canals. Inside the canals, spectators can take gondola rides and appreciate the cloud-colored sky.
The Venetian Hotel is also famous for its "LOVE" installation, an instagrammable attraction.
I want to clarify that I am by no means a Trump supporter. However, I mentioned Trump International previously because it can provide a lower-cost five-star hotel experience with unique amenities.
The Trump International is the only hotel on (or just adjacent to) the Strip that offers free parking, smoke-free common areas, and gambling-free accommodation.
While that may not sound like a plus for some, I assure you that this can be a sanctuary from the crowds, cigarettes, and flashing lights of most Vegas hotels.
Also, it is truly stepping away from the Strip (7-minute walk at most), but the hotel does offer complimentary shuttle services.
General Tips
Leave work early on Friday, and head to Las Vegas. Plan to stay in Las Vegas all of Saturday and most of Sunday. Although, it may be ideal for flying out late Sunday evening or early Monday morning.
You may want to rent a car, especially if you're interested in checking out restaurants off the Strip or hiking outside of the city.
Summer may be the most popular time to visit Las Vegas, but the heat can sometimes be unrelenting. Visit in the spring or early fall for milder temperatures.
Saturday in Las Vegas
– Spa Experience
– Breakfast Buffet
– Pool Party Season
– Walk the Strip
– Ride the Stratosphere
– Nightlife
Spa Experience
Start your Saturday morning off right and book a spa experience at your hotel. Whether it's a massage or a facial, you'll be glad you took the time to pamper yourself.
After all, luxury and excess are what Las Vegas is about. Now that you're good and glam, has a hearty breakfast.
Breakfast Buffet
Las Vegas is famous for its opulent breakfast buffets. If it is your first time in Vegas, the buffet experience is a must! While most hotels will offer them, some are certainly better than others.
I recommend the Buffet at the Wynn Hotel, Wicked Spoon at the Cosmopolitan, and Breakfast at Aria. The Buffet at the Wynn has been voted as Best Buffet in Las Vegas by the Southern Nevada Concierge Association.
Wicked Spoon at the Cosmo offers fantastic bottomless beverage options if you are looking for a boozy brunch. Otherwise, the Aria Hotel's breakfast always delivers fresh flavors and healthy alternatives.
Now that you've nurtured your soul and filled your belly, it's time to jump into pool party season.
Pool Party Season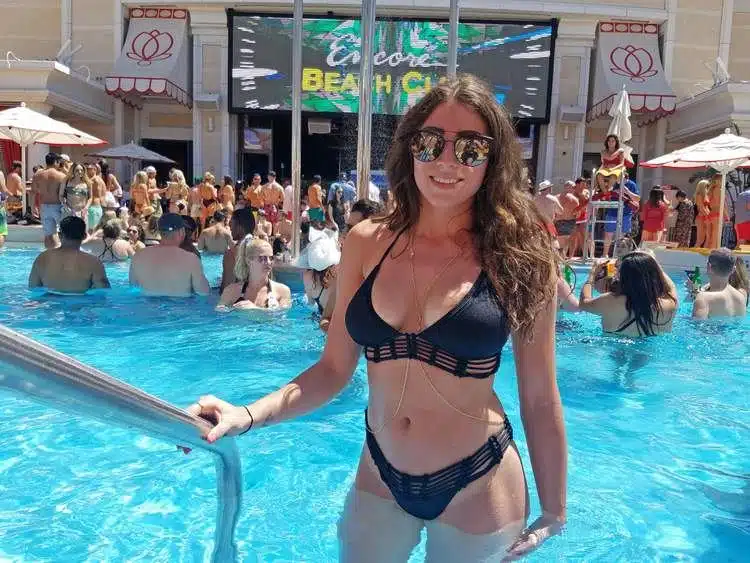 Saturdays from March through October are pool party days in Las Vegas. My favorite day clubs are the Encore Beach Club, Wet Republic at the MGM Grand, and Liquid pool at the Aria.
I've seen Avicii at the Encore Beach club too many times to count. Unfortunately, he'll never get to play there again… but all your other favorite DJs and EDM artists will. You'll want to do some research and get tickets beforehand.
If you're looking to have personal space while listening to chill EDM music, you may want to get to the pool party earlier. On the other hand, if you're all about seeing the headliner, don't rush.
The headlines are notoriously hours late into the party; by this time, the venue is packed and starting to get rowdy. Expect expensive drinks and difficulty finding space.
You'll want to rent a locker at a minimum. Upgrade to table service for the full experience.
Walk the Strip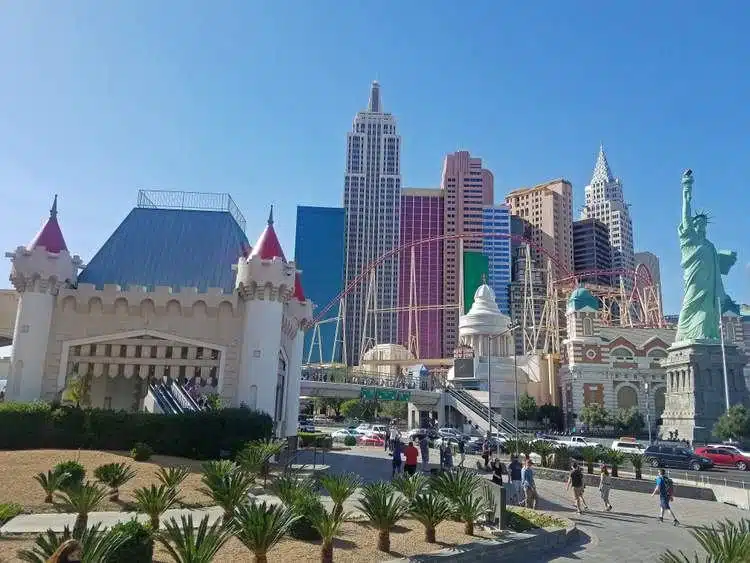 Your Saturday afternoon in Vegas may be significantly affected by how hard you partied during the morning. I will graciously provide a nap option during this afternoon.
Although, if you've still got spring in your step, there's plenty of amazing Las Vegas attractions to explore. I'd recommend taking a walk down the Strip itself.
Appreciate the unique styles and designs of each hotel. Get some steps in. If you need refreshment from the unrelenting desert sun, head to Momofuku Milk Bar in the Cosmopolitan for an out-of-this-world milkshake.
Craving a cool photo opportunity?
Take a quick cab ride down the Strip to South Las Vegas Boulevard and snap a photo in front of the "Welcome to Fabulous Las Vegas" Sign. Don't be surprised to find a crowd lined up here.
Ride the Stratosphere
The Stratosphere Hotel offers a couple of thrilling experiences. All of these rides provide wicked cool views of the Las Vegas Strip. The three thrill rides are called The Big Shot, Insanity, and the X-Scream.
The Big Shot propels you 160 feet up at a speed of 45 miles per hour, and just as you reach the max altitude of 1,081 feet, you plunge towards the ground.
In the Insanity ride, you'll get to dangle from the extent of a tremendous mechanical arm. The arm spins rapidly and tilts upwards of 70 degrees, allowing you to feel 3Gs worth of force.
The X-Scream shows you what it would be like to fall face-first off the side of a cliff. If these seem a bit much for you, you may still consider the slightly tamer Sky Jump experience offered by the Stratosphere Hotel.
Sky Jump is like a downward zipline or controlled skydive. It will have your heart racing!
Las Vegas Nightlife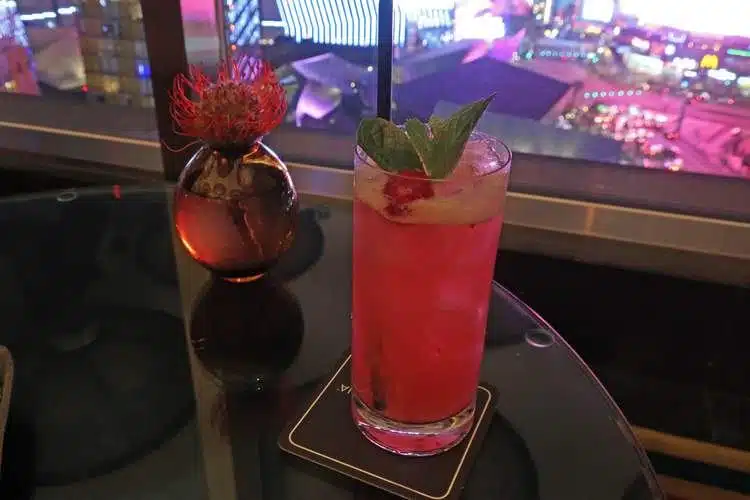 Saturday evenings in Vegas are the best times to gamble, get drinks at cool bars, have fancy dinners, and dance the night away. I don't have any particular gambling recommendations, as most of the Strip hotels offer casinos.
Most any place is a good enough place to lose your money, I guess? (I'm not a big gambler, as you might be able to tell). Besides gambling, there are endless opportunities in Vegas to experience fine dining and craft cocktails.
While there are numerous great bars and restaurants, few stand out. Notable bars are the Chandelier bar at Cosmopolitan, Parasol Up at the Wynn, and Skybar at the Waldorf Astoria.
Chandelier Bar is as glamorous as Parasol Up is colorful and elegant.
Skybar offers the absolute best views of the Las Vegas Strip.
Some of the best places to eat in Vegas are a short cab ride off the Strip. Trust me; you'll be glad you did it. These local favorites are hip, always busy, and innovative.
I recommend Raku for Japanese cuisine, Lotus of Siem for Thai, and Sparrow +Wolf for creative American. You will need a reservation, at least a few weeks in advance, for these places. Otherwise, some great restaurants on the Strip include Sage, Estiatorio Milos, and Cut.
The cut is Wolfgang Puck's award-winning steakhouse in the Venetian. Estiatorio Milos offers impressive seafood and Mediterranean fare. Sage gives farm-to-table options at the Aria Hotel. Reservations are always recommended.
To finish your Saturday evening in Las Vegas, entertainment can come in many forms. For EDM lovers, they can continue back to the party.
The best parties are at Tao, Marquee, and Hakkasan nightclubs. Tiesto is currently resident DJ at Hakkasan, so check his schedule.
Besides partying, there are plenty of other entertainment options. Vegas offers shows of all kinds throughout the year. Some are relatively consistent, and others are subject to change.
Last year, we got super cheap tickets to be front row at a Backstreet Boys (men, now…) concert. I highly recommend one of the Cirque du Soleil shows for those who have never been.
Sunday in Vegas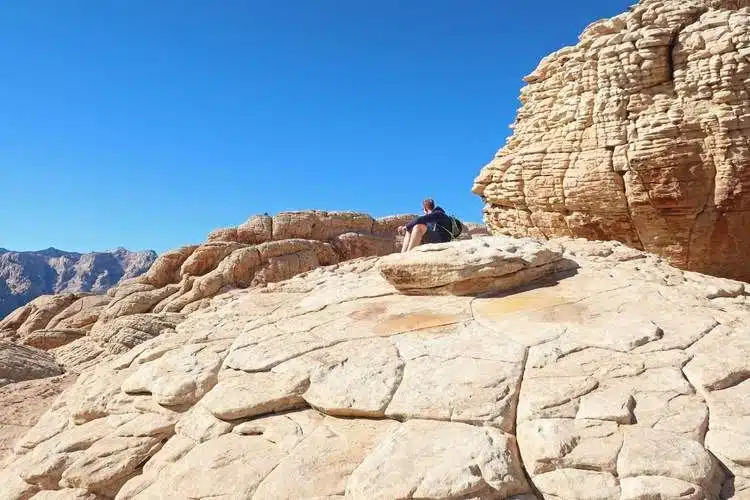 Wake up on your last day in Vegas and be prepared for some adventure. Start your morning with breakfast at Chica or Mon Ami Gabi on the Strip.
Then, choose your adventure:
Option 1: drive out to Red Rocks or Mt. Charleston for a day of hiking and exploring.
Option 2: book a helicopter tour to see the Grand Canyon from above.
If you've got more time in Vegas, we've got more ideas:
– Hiking
– Helicopter tour over the Grand Canyon
– Fremont Street
Option 1: Hiking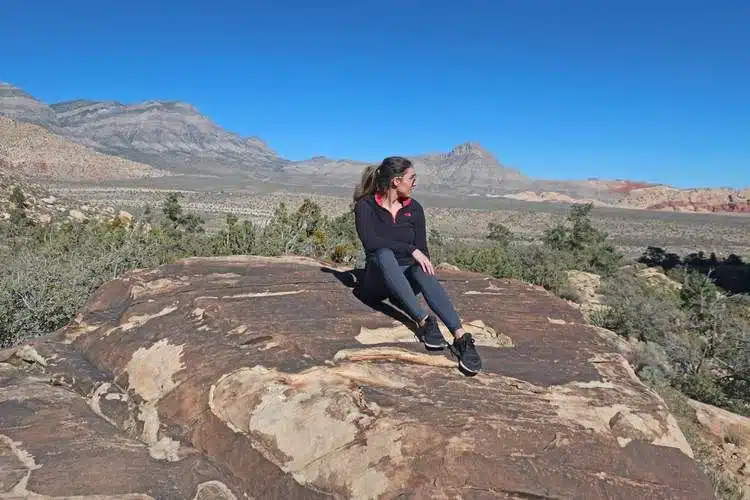 You will need to rent a car for this excursion. Red Rock Canyon is about a 30-minute drive from the Strip.
Mount Charleston is about an hour out from the Strip but provides a more refreshing landscape during the summer heat. If it's not too hot, I'd recommend Red Rock.
Red Rock Canyon has endless trails, rugged landscapes, and cool climbing opportunities. On Mount Charleston, the Charleston Peak hike is the most impressive.
In the winter, you can even ski on Mount Charleston. Besides these two parks, Nevada offers many other worthwhile hiking opportunities. You could spend a week in Vegas and not run out of National Parks to see!
Option 2: Helicopter Tour over the Grand Canyon
For those who aren't excited about the prospects of hiking all day, another cool adventure option in Las Vegas is the Grand Canyon helicopter tour.
This may be especially interesting for those who have never seen the Grand Canyon. If you were to drive to the Grand Canyon from Las Vegas, you would need 2-3 hours one way.
The helicopter tours get you there and back in under 4 hours and include views of the Hoover Dam, Lake Mead, and the Colorado River. Some helicopter tours land on the canyon's rim and allow you to get out and take in the scenery.
The tours include in-flight narration, history, and a total luxury experience. Some tours pick you up from your hotel in stretch limos, offer champagne toasts, and more!
The helicopter experience can be pretty pricey, as you may assume. You'll spend about $300-400 per person depending on the details, but it will all be worth it!
Extra time: Fremont Street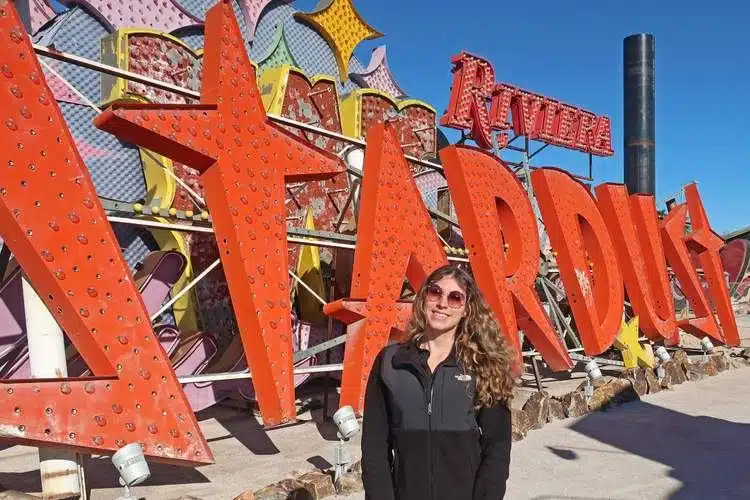 If you've got more time in Las Vegas, we have a couple more ideas for you. First, grab a burger at Gordon Ramsay Burger, located in the Planet Hollywood Resort & Casino.
Next, head to Fremont Street, or "the Old Strip." This is the Las Vegas downtown neighborhood, and it offers a few fun attractions. Namely, the SlotZilla Zip Line, the Mob Museum, the Neon Museum, and the Gold and Silver Pawn Shop.
From considerably boring museums to thrilling ziplines, Las Vegas downtown has it all. The Neon Museum is an especially great place to take photos.
The Mob Museum takes you through the history of the Mob in American society. The Gold and Silver Pawn Shop is as seen on TV –from History Channel's Pawn Stars. Finally, the SlotZilla zip line can whirl you over the busy downtown area.
Was this post helpful? If so, be sure to pin it to refer to later!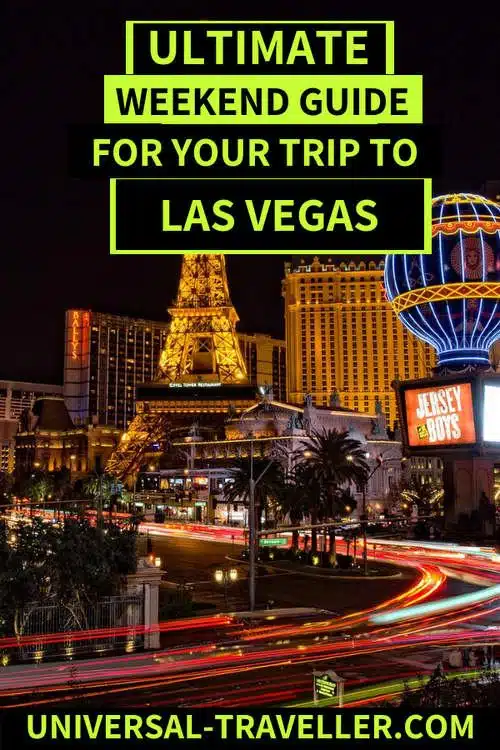 Best VPN for Travel: ExpressVPN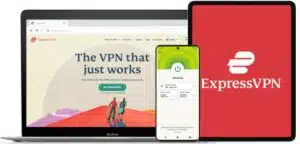 Heading abroad? Use ExpressVPN to access your social media accounts, unblock your favorite entertainment sites, and stay connected with friends and family. And get cheaper flights, of course.
Pros
✅ Next-gen, high-speed servers in 94 countries
✅ Works on iOS, Android, Windows, Mac, Linux, browsers, and more
✅ 256-bit AES encryption protects your data, even on hotel Wi-Fi
✅ Unblocks Netflix and other streaming sites
Cons
❎ No dedicated IPs
Get 3 extra months free of ExpressVPN when signing up for a 1-year plan. That's a 49% saving and a monthly cost of just $6.67! You also get a 30-day money-back guarantee.