Thinking of traveling to Seattle from Portland? Here are the different ways to get from Portland, Oregon to Seattle, Washington. The choice is yours.
You can travel between Portland and Seattle by different means of transportation.
If you are fond of arriving via air, travel from PDX, and arrive at SEA in no time.
Read also: BEST THINGS TO DO IN SEATTLE.
Should you like the idea of just lounging on your chair with the comfort of land transport, Bolt Bus can take you to Seattle from Portland.
Fancy seeing wondrous sights while in transit? Amtrak Cascades has the best of the West Coast right outside its train windows.
Love being in control? Why not rent a car and drive your way from Portland OR to Seattle, WA?
Tip: We offer detailed guides about USA transportation.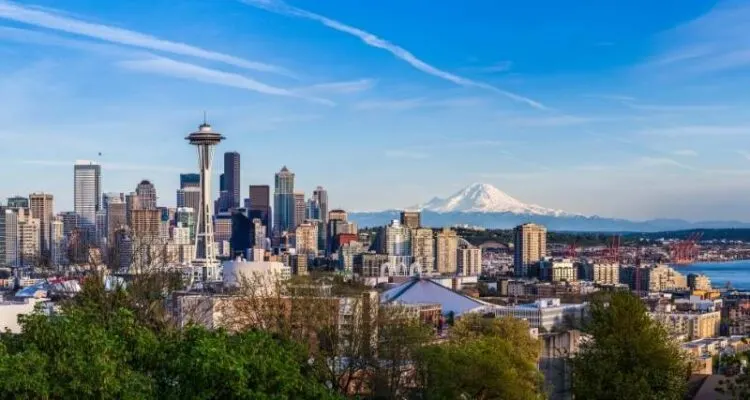 How far is Seattle from Portland?
The distance between Portland and Seattle is 233 kilometers or 145 miles.
How to get from Portland, Oregon to Seattle, Washington
1. Flights from Portland to Seattle
Several air carriers service the Portland to Seattle direct route. Some of these are Alaska Airlines and Delta Air.
Flying to Seattle is the best option for those who need to arrive at the city fast, even when it means that this option is by far the most expensive of all.
You can fly from Portland to Seattle by traveling from the Portland International Airport (PDX) to the Seattle-Tacoma International Airport (SEA).
A one-way fare coming to Seattle from Portland costs $35 to $55, depending on the airline of your choice.
The Portland to Seattle flight takes a little less than an hour to complete. This only counts the travel time, so add at least two hours for boarding and arrival terminal procedures.
2. Bus from Portland, Oregon to Seattle, Washington
Catch the Portland to Seattle bus if you wish for someone else to do the driving for you. This option is made possible by Bolt Bus, a transport company owned by Greyhound.
The fleets of Bolt Bus are designed to give each passenger a comfortable ride. Enjoy having more legroom, personal power outlets, and Wifi access as you travel to Seattle from Portland.
To catch the Bolt Bus in Portland, Oregon, head to Lloyd Center northeast of 13th Avenue.
For bus tickets, you can either buy them online on their website, over the phone, or try lining up for a walk-up ticket. A one-way bus fare in Bolt Bus costs $14.
Taking the bus from Portland to Seattle takes time. Allot three to four and a half hours of your time if you intend to use this option.
In Seattle, Bolt Bus stops at 5th Avenue South and Dearborn Street and at the Seattle bus station at S Royal Brougham Way.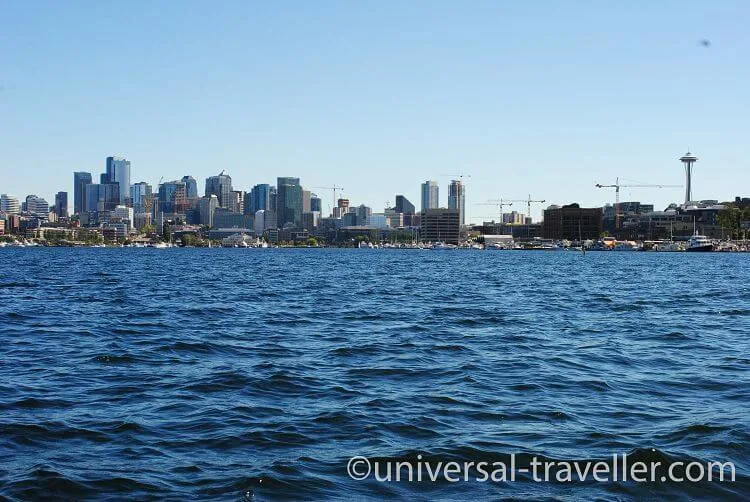 3. Train from Portland to Seattle
Taking the train from Portland to Seattle is regarded by many as the most relaxing option of all.
Amtrak services this route, and if you are the type who likes scenic rides, this might be the one for you as well.
Take the Amtrak Cascades and journey through the West Coast without thinking of the road traffic.
The Portland train station is hard to miss, as it is considered a regional landmark that can be found northwest of 6th Avenue.
It takes three and a half to four hours to travel by train from Portland to Seattle. The cost of train tickets to Seattle depends on the ticket option you choose when making a reservation online:
Saver – This is the cheapest option which is refundable within 24 hours.
Value – This is a ticket refundable within eight days before your trip. A 25% fee applies if you decide to cancel.
Flexible – This ticket is fully refundable and cancellable at no extra cost.
Business – This ticket entitles you to a seat with extra legroom and complimentary non-alcoholic drinks. The ticket is fully refundable and cancellable at no extra cost.
Following the above information, the train tickets from Portland to Seattle are at $27, $36, $65, and $56, respectively.
Amtrak Cascades will make a total of seven stops to reach your destination. In Seattle, you are to disembark at the King Street Station.
4. Drive from Portland to Seattle
A Portland, Oregon to Seattle, Washington drive is actually a good option to consider. You do not have to worry about making any reservations; you can leave and go as you please and decide on the number of stops you make.
If you are traveling as a group, you can even make a full road trip itinerary out of your drive. The route is interesting and has several scenic views that are definitely worth stopping for.
Interstate 5 takes you directly from Portland, Oregon, to Seattle, Washington. Your Portland to Seattle drive time will reach at least three hours during favorable conditions.
If you are traveling on the weekend, add at least an hour on top of that.
If you want to rent a car to drive to Seattle from Portland, the rental rate starts at $57 a day.