What to do in Cartagena besides exploring the historic city center? Escape from the colonial city and go diving!
The magnificent archipel Rosario Island Nationalpark is one of the 46 Nationalparks of Colombia.
It consists of about 30 small islands and is located around 1 hour bout ride away from them mainland. Secluded beaches and pristine water invite you for a relaxed day at the beach or for an exciting diving trip!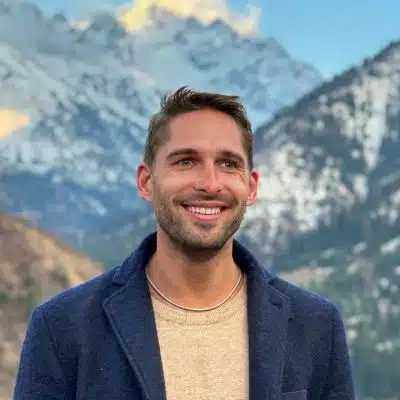 It was my first Scuba Diving trip ever and I was so much looking forward to this day. It was something I wanted to do already for a long time, so now the day finally has come!
I chose Diving Planet, a certified 5 Star Dive Center, as they won the Trip Advisor Award and are ranked #1 Watersports Cartagena. With Diving Planet I did the beginner excursion.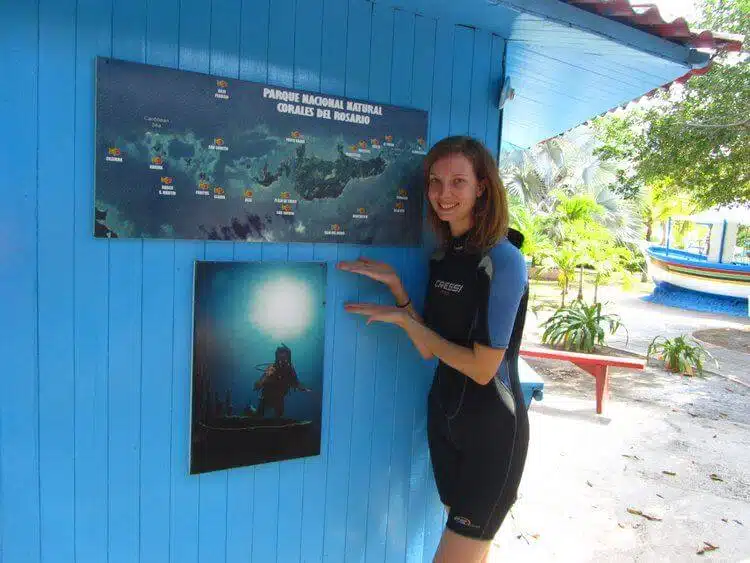 The day before the tour, I had to register myself, answer some basic questions and sign a document, stating I am taking responsibility for myself. Then, finally, the Scuba Diving Day has come!
We started at 08.00am at the dive center, situated at "Calle de Arguadiente" (btw. Aguardiente is a typical Colombian liquor). First adrenaline was, that I almost came late, as I got lost in the many streets of Cartagena and the locals were not pretty sure or not the same opinion about how to get there. But I made it on time and after being served with water, I was now ready to enjoy the trip!
You first enjoy a scenic on a 1-hour boat ride to the Beach Hotel Resort of Diving Planet, where the introduction and trial dive takes place. They dive only at the Rosario Islands due to perfect conditions throughout the year: Average temperature is 32º C, water temperature 28º C and visibility 10 – 20 meters.
We were 3 beginner divers and our Dive Master. In the first part of introduction, the Dive Master explained every item of the diving equipment, showing it to us, I asked some questions just to make sure I understood everything correctly. He was very patient and gave detailed answers, so we could start our trial dive without any doubts!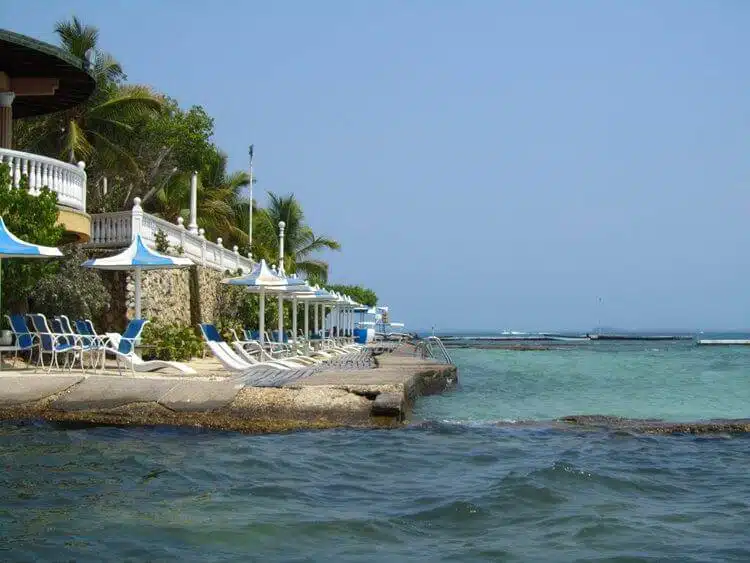 We did the trial dive right in front of the Beach Resort, at approximately 1.5m -2m depth, practicing how to use the regulator under water (blowing the water out of the regulator), clean the mask, read the information console, using the inflator, talking with signs and much more!
Then, finally, ready for my first real dive! We go to one of the 25 dive spots of Rosario Islands, surrounded by crystal clear water, in the middle of the Carribbiean Sea!
The adrenalin starts by leeting you fall down backwards from the boat, pretty funny!!
Slowly we are going down to 14m (45ft). So many impressions that you almost forget to level the pressure, first it hurts in your ears, but you keep on balancing the pressure and after about 5 minutes, everything is fine and you start to actually observe the underwater world! Looking to the left and right it makes me feel a bit dizzy, so I try not to move my head too much.
Concentration is necessary in order to not lose control of your body, strange feeling, as I never have been so deep below sea-level. Under water you hear nothing else than you breezing through the regulator and if you are lucky, sounds of the marine animals.
You are completely alone with your thoughts, your imagination, your perception, just perfect way to observe, to relax, to enjoy life, to be happy!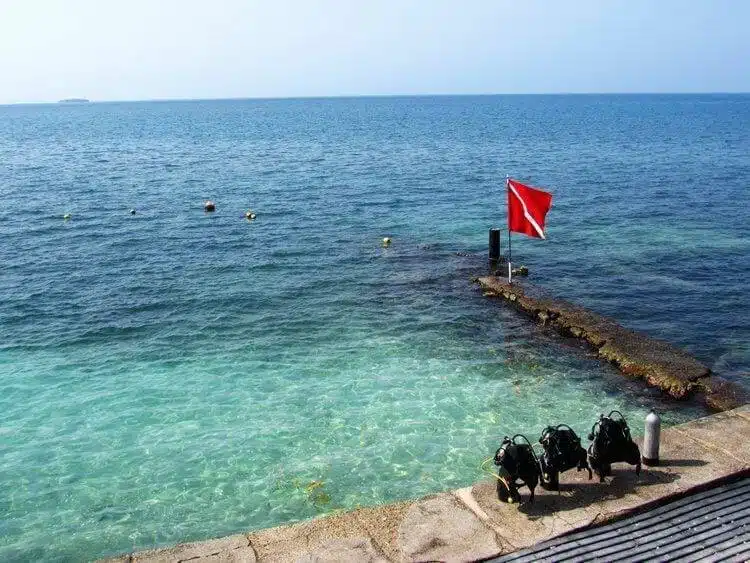 On the right sight there are colorful corals, sponges, algae on the left side the deep and dark ocean. I don't even dare to go further to the left, as the dark hole seems too scary for my first dive (also we were not allowed to dive deeper than the dive master and had to stay close all the time).
All of the sudden I am in the middle of a swarm of coral reef fishes! Triggerfishes, parrotfishes, and a sea snake are passing by, I can't name all, as there are too many beautiful underwater species!
Our dive master is checking frequently if we are fine, having enough air, giving signs to go up or down. He did a very good job, I felt always safe! 20 minutes later we are going back to the surface. With a huge smile on my face I am totally grateful for this experience.
As a travel lover you should not only discover different countries, but also the underwater world, there is completely different world below us! Thank you Diving Planet for this wonderful trip and for making my 30th birthday even more special!! Definitely I will go for more dives, I am ready for getting addicted!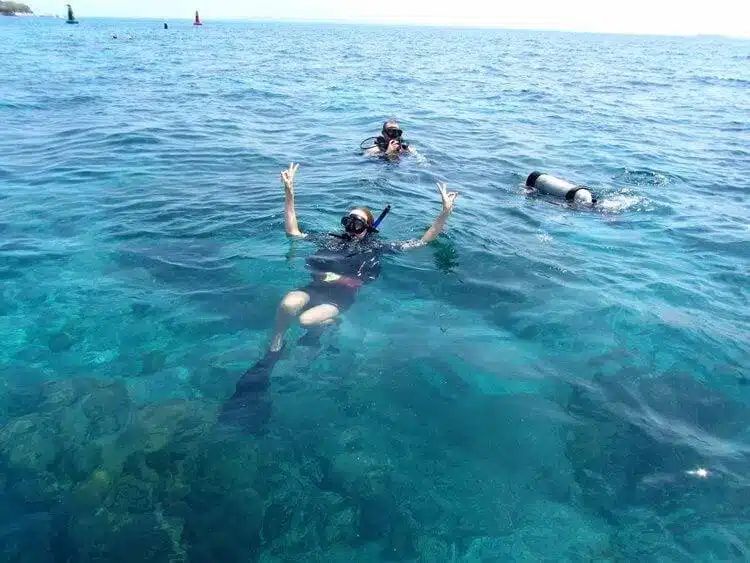 Ever since Mareike did her first 2months of stay abroad in Fort Lauderdale, 12 years ago, she got passionate about traveling and living abroad. For her, it is a feeling of freedom to discover new landscapes and experience different cultures, as it makes her happy! She lost her heart to the countries of Latin America (till now) and since October 2013 she has been living in Costa Rica, designing happiness for people wishing to discover Costa Rica, Panama, Nicaragua. She is working on her social media presence and currently creating her blog MyGoAway focusing on hotels, regions, and individual vacations for Costa Rica, Panama, Nicaragua. Follow her on Facebook, twitter and instagram.
Disclaimer: Marieke was a guest at Diving Planet Cartagena. Her opinions, as always, are solely her own.
ARE YOU KEEPING UP WITH MY COLOMBIA SERIES
Read here WHY COLOMBIA SHOULD BE YOUR NEXT TRAVEL DESTINATION.
To help you plan your trip to Colombia I put together a list of THE BEST THINGS TO DO IN MEDELLÍN and BEST THINGS TO DO IN BOGOTÁ.
If you want to extend your stay in South America don't forget to check out my ultimate list of BEST PLACES TO VISIT IN SOUTH AMERICA.
More Rosario Island Nationalpark Internet Resources:
1. 5 Ways to Enjoy The Rosario Islands From Cartagena
About the Author
More info
Best VPN for Travel: ExpressVPN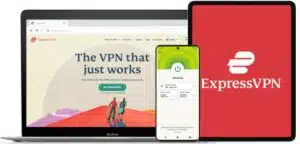 Heading abroad? Use ExpressVPN to access your social media accounts, unblock your favorite entertainment sites, and stay connected with friends and family. And get cheaper flights, of course.
Pros
✅ Next-gen, high-speed servers in 94 countries
✅ Works on iOS, Android, Windows, Mac, Linux, browsers, and more
✅ 256-bit AES encryption protects your data, even on hotel Wi-Fi
✅ Unblocks Netflix and other streaming sites
Cons
❎ No dedicated IPs
Get 3 extra months free of ExpressVPN when signing up for a 1-year plan. That's a 49% saving and a monthly cost of just $6.67! You also get a 30-day money-back guarantee.