Hidden beaches, fascinating ruins, jungle escapes, and freshwater lagoon are just a few of the best day trips from Tulum. Find here the best excursions from Tulum.
Written by Kristin Young
Tulum is a beautiful destination that deserves time and a sense of wonder when explored. A paradise in itself, the town offers travelers fantastic beaches, a friendly culture, buzzing nightlife, and breathtaking archaeological wonders.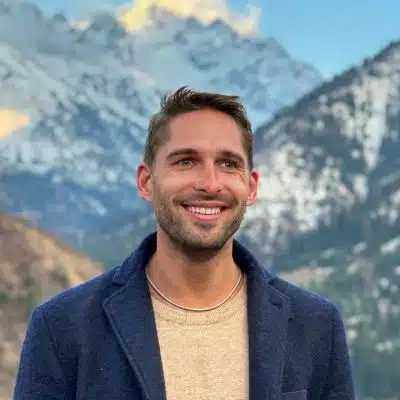 Once you've started planning your trip to the beautiful coast, be sure to factor in the time for adventures that can be had outside the town.
Venture outside of Tulum to discover colorful inland towns, hidden beaches, fascinating ruins, jungle escapes, and freshwater lagoons.
If you don't know where to begin, this post is the perfect starting point. You'll find the top day trips from Tulum, from budget-friendly activities to once-in-a-lifetime experiences.
7 EXTRAORDINARY DAY TRIPS FROM TULUM
Thanks to Tulum's fantastic location, it's a perfect place for basing your travels on all of the nearby sights and activities. These spots promise adventure and a chance to get to know Mexico's history, nature, and culture.
Trips to Tulum's surrounding areas can be made by renting a car, using public transport, booking a taxi, or participating in a tour.
1. Snorkel in Cozumel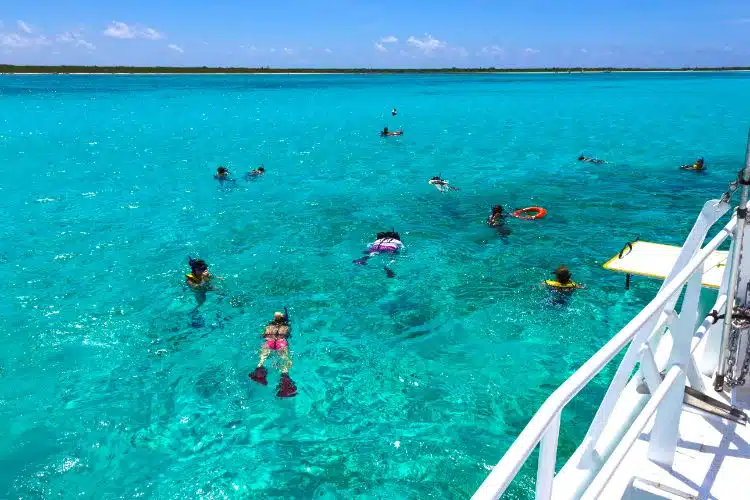 Prepare yourself for one of the best snorkeling experiences in the Caribbean, which is rather impressive given how renowned the area is for its beautiful underwaters.
For a day trip, you'll want to get an early start to the morning to make the most of your time in Cozumel. It's a destination that boasts incredible snorkeling during the day and lively bars for early evening sundowners.
You can spend hours snorkeling in the warm turquoise waters right from the beach or take a boat tour out to some of the best reefs in the world. You'll probably see plenty of inquisitive fish species, brightly colored corals, starfish, rays, and turtles.
While on the island, feel free to include some time to relax on the beach, take a walk through the jungle or rent a scooter to do some extra exploring.
Getting to Cozumel: To get to the island, you'll take a car, taxi, or bus from the center of Tulum to Playa del Carmen. From there, a 40-minute ferry will transport you to Cozumel. In total, the journey will last you a little over 2 hours one way.
2. Zipline in the Riviera Maya Jungle
While there's always the chance to make your own adventures, Aventuras Mayas offers thrill-seeking travelers an opportunity to explore the Mayan jungles with an extreme sport.
The zip-lining adventure will bring you out of your comfort zone as you whizz through canopies of trees and experience the lush paradise. During your tour, enjoy the local wildlife and discover the colorful collection of bird species and small mammals residing in the jungle.
One of the biggest highlights of the Aventuras Mayas tours is that they cater to small groups, avoid big crowds, and are non-invasive towards the environment. Adventure-seekers have the choice to customize their tours to ensure that you're making unforgettable memories.
Being only a 30-minute drive from Tulum, it's ideal for embarking on one of their longer tours. The company offers other adventures, including swimming with dolphins, exploring the underwater cenotes, and ATV rides to the ancient ruins.
Some of the best resorts in Riviera Maya are in this area. Turning a day trip into a night stay can enhance your adventure and allow you to participate in some of the longer excursions.
Getting to Aventuras Maya from Tulum: You can get to Aventuras Maya by car, whether you've rented one or opt for a taxi. Travel time is around 40-minutes.
3. Swim in Ancient Cenotes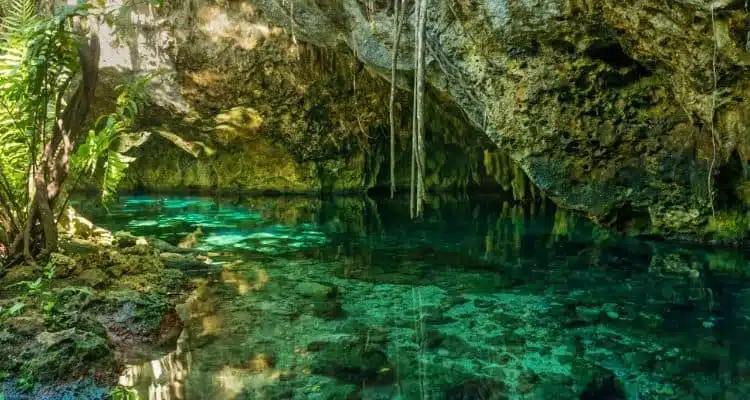 Cenotes are arguably one of the most iconic Tulum, Mexico, excursions. While they may look like sinkholes from above ground, they can stretch deep into the ground and reveal all kinds of caves and rock formations.
Depending on your level of experience or interest, you can choose to swim in open cenotes exposed to the sky or scuba dive in cenotes that are completely submerged.
Across the region, you'll find an array of cenotes that are open to the public. You can spend the entire day at one or a road trip to explore several. Some popular cenotes and sinkholes around Tulum include Cenote Calavera, Cenote Dos Ojos, and Gran Cenote.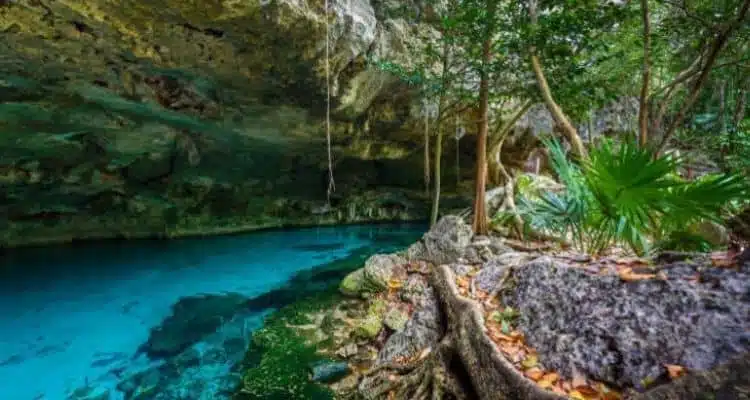 To explore some cenotes, like the bat cave at Cenote Dos Ojos, you'll need a guided tour. Tours generally provide snorkeling equipment, a wetsuit, a helpful guide, and sometimes transportation.
Getting to the ancient cenotes: Depending on the cenote you plan on visiting, transportation varies. Most cenotes can be reached by car. However, if you are planning on snorkeling as part of a tour, operators will almost certainly provide transportation.
4. Chichen Itza Tour from Tulum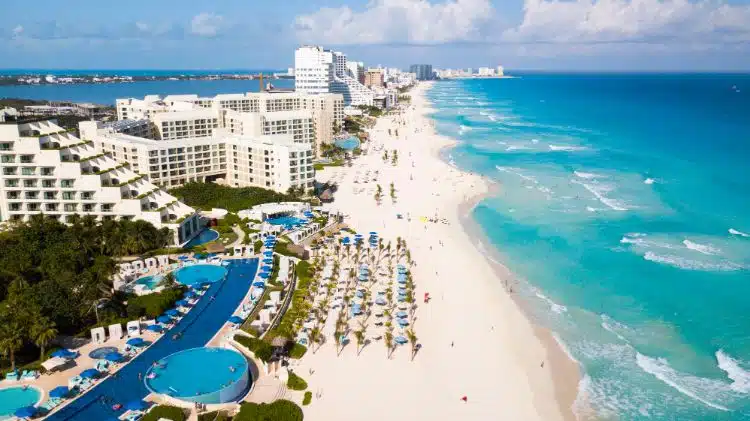 The ruins of the ancient Mayan city, Chichen Itza, bring to life the dazzling city that once thrived here. With pyramids, temples, and stone structures, the site forms an important part of the region's history.
The most iconic structure in Chichen Itza is the Temple of Kukulkan, an impressive step pyramid. It's also considered as one of the new 7 wonders of the world, making it a great excursion to tick off of your bucket list.
Back in the day, the temple was used to help the Mayans with their astrological endeavors and highlights the importance of astrology among the people. Their astrology was so advanced that it could even predict solar eclipses.
Opting for a Tulum and Chichen Itza tour is the best way to discover the history of the Mayans and explore this UNESCO heritage site.
Getting to Chichen Itza: While many Chichen Itza tours leave from Tulum, you can also rent a car (2 hours) or take the bus (3 hours) to get to Chichen Itza. The bus is the cheapest option for those looking to make your day trips budget-friendly.
5. Plan a Day Trip to Cancun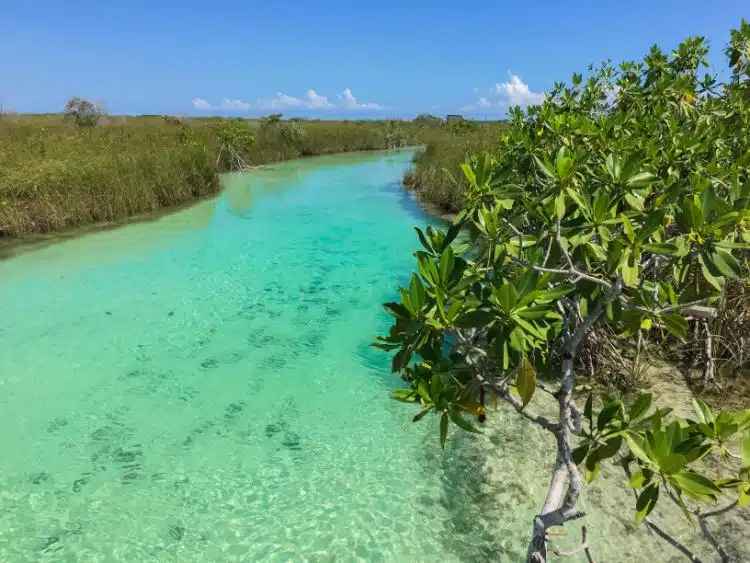 Thousands of tourists flock to Cancun each year for a holiday spent soaking up the sun and enjoying the white-sand shores. Of course, seeing the beach is something you can't miss out on, but you can still combine hours at the beach with adventures in the area.
As it's a prime spot for tourists, you'll find an array of absolutely incredible restaurants, trendy bars, and beachside cafes. A trip to the Thai Lounge offers dining in one of their overwater bungalows that house a resident crocodile.
Apart from dining, optimize your beach time by spending time on the waters. Stand Up Paddleboarding (SUP) is an easy activity that most people can participate in. Either book a lesson with a friendly local or rent a board and head out on your own.
Visit downtown Cancun and get a taste of the city, where local life thrives. Visit the flea market, Mercado 28, to pick up some handcrafted pottery, handmade items, and souvenirs. The city's main park, Parque Las Palapas, features food stalls, live music on the weekend and is a hangout spot for the locals.
Getting from Tulum to Cancun: Getting from Tulum to Cancun is reasonably simple, as a highway connects the two towns. Taking a taxi or the public bus is another option if you haven't rented a car. Although, a taxi can end up being quite expensive given how long the drive is.
If you're taking a bus into Cancun, be sure to check the bus schedule to see when the last bus runs from Cancun to Tulum. Cancun has great nightlife, which is worth experiencing.
6. Tours From Tulum to Sian Ka'an For the Environmentally Conscious Traveller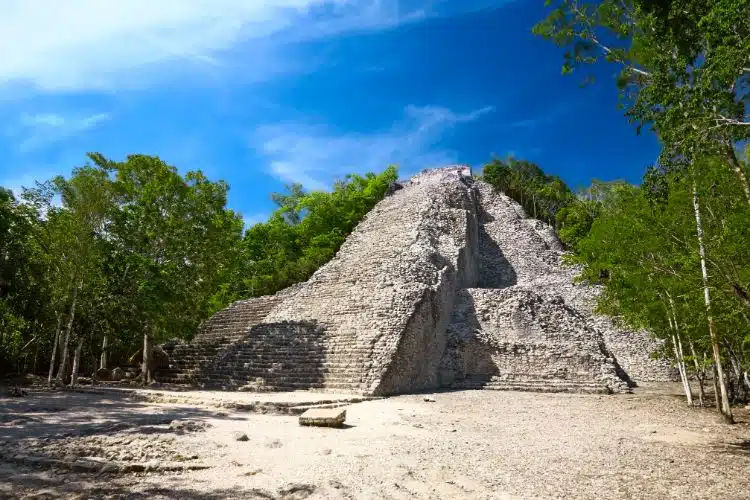 For those looking to explore the local area that's preserved from crowds of people, Sian Ka'an is a beautiful nature reserve of both the land and ocean. Sian Ka'an offers personalized tours designed for consciously aware travelers looking to avoid commercial excursions.
The surreal experiences are picture lagoons with wild dolphins and crocodiles, colorful coral and sea life, and spectacular wildlife.
While you have the option of discovering the reserve on your own terms, it's highly recommended to join a tour for your Sian Ka'an day trip. There are plenty of tours to choose from.
1. Sian Ka'an Reef Snorkel & Mayan Canal
Head to some of the region's best beaches to embark on a snorkeling excursion to the warm waters and winding mangrove canals. During your tour, spy upon tropical birds hunting for fish, stop at one of the ancient ruins, or float in the freshwater canals and explore the ecosystems below water.
2. Sian Ka'an Nature Encounter
Ride along the ancient mangrove channel that the Mayans constructed over 1,000 years ago. Your guide will share their knowledge on the history and diversity of the region, with a stop at a magnificent Mayan temple along the way.
Your route will include stunning views of flora and fauna, chances to see wildlife butterflies and bird species flying above, and perhaps the chance to see a manatee or two.
3. Sian Ka'an Fly Fishing
Most of the locals in Tulum have been fishing since childhood, and the salt-water lagoons in Sian Ka'an are renowned for their flyfishing. This tour is fit for all levels of experience, whether you're an expert fisherman or novice.
Fly fishing is an experience that shows off the beauty and scenery of the reserve, where you can also catch some snook, tarpon, bonefish, and more.
Getting to Sian Ka'an from Tulum: If you've rented a car, the easiest way of getting there is to travel to Muyil, which highlights the inland parts of the country, showing off forests, mangroves and lagoons. The trip will take you 30-minutes to get to the entrance.
To see the country's marine highlights travel to Punta Allen. You'll need an early start for getting to the reserve, as roads are rocky and can be tough to handle with rental cars. Consider booking a tour that includes transport for the marine safari.
7. Visit Cobá and Climb the Pyramid Stairs
When it comes to ancient ruins, Tulum and the surrounding region are a goldmine. However, Cobá is one of the most important ruins when it comes to Mayan history. Hidden amongst the trees, the city of Cobá was once a hub of activity and one of the main points of trading.
Part of what makes this such a special site are the incredible views that can be experienced from the top of the Nohoch Mul Pyramid. The climb is quite steep and requires comfortable shoes that offer a good grip.
Apart from the climb, there is a ball court to visit, an integral part of the Mayans ' culture. The courts were used for sport, and in some cases, the losers of the game were sacrificed.
In total, you'll most likely spend 2.5 hours exploring the site. To extend your adventure, there are options to rent a bike and cycle around the once-thriving city. The bike paths are wide and flat enough to fit everyone.
Getting from Tulum to Cobá: The Cobá ruins can be reached by car; you can choose to rent a car or book yourself a tour that includes transportation. The car ride will take you around 45-minutes. If you haven't rented a car, there's the option to take the ADO bus.
READY TO EMBARK ON ONE OF THESE DAY TRIPS FROM TULUM?
When traveling to a new destination, it's always exciting to explore as much of the region as time allows. Tulum is one of those places that are fantastic for basing your travels.
Being on the beach, travelers have endless opportunities for venturing out in the waters and discovering the second largest reef globally, the Mesoamerican Reef System. However, it's not the only thing worth exploring.
Head out into the nearby jungles to find ancient ruins, wander around nature reserves, experience new cities, and dose yourself up with some adrenaline activities.
Best VPN for Travel: ExpressVPN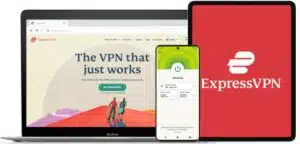 Heading abroad? Use ExpressVPN to access your social media accounts, unblock your favorite entertainment sites, and stay connected with friends and family. And get cheaper flights, of course.
Pros
✅ Next-gen, high-speed servers in 94 countries
✅ Works on iOS, Android, Windows, Mac, Linux, browsers, and more
✅ 256-bit AES encryption protects your data, even on hotel Wi-Fi
✅ Unblocks Netflix and other streaming sites
Cons
❎ No dedicated IPs
Get 3 extra months free of ExpressVPN when signing up for a 1-year plan. That's a 49% saving and a monthly cost of just $6.67! You also get a 30-day money-back guarantee.