While some take pleasure in Korea, China, Japan, or Malaysia, others are happy to experience the natural scenes in Taiwan.
In fact, more and more tourists are coming to this city to enjoy the different tastes of small city life.
So if you're going to visit Taipei this year, here are some of the best things to do in Taipei: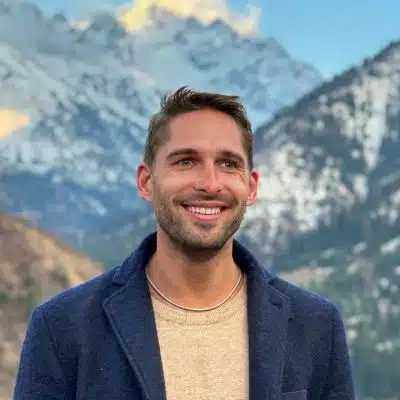 1. Elephant Mountain
Climbing mountains in Taipei is one unforgettable experience to have. Just ride the MRT at Xiangshan Station going to the Elephant Mountain, and you'll find hiking trails for a more convenient adventure.
The magnificent walking trails will suit any age and type of hikers. And at the top of the mountain, you'll get a remarkable view of Taipei City.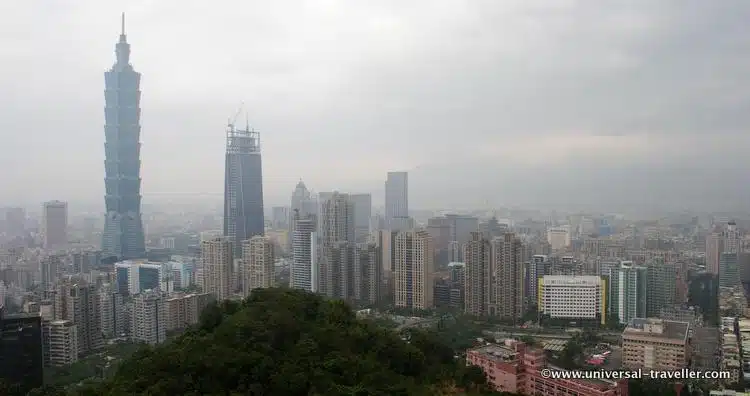 2. Taipei 101 Observatory
This is a popular site in Taiwan that people love to visit. Taipei 101 is an extremely high structure that is established with an iconic design. If you're going downtown, this is a must-visit place.
You'll be amazed by the skyscrapers and the impressive city view from the observatory. Tourists also check out the restaurants, movie theater, and mall at Taipei 101.
Related Posts:
3. Foot Massage
If you feel tired after a long day of walking around the city, you can always have a relaxing foot massage good for an hour. The first 10 minutes will give you a scented oil massage.
Then as you relax, the masseuse will massage your neck and shoulder. And after several minutes, you will feel your body aches subside. To complete the experience, your acupuncture points in the feet will be activated.
4. Lungshan Temple of Manka
For some quality time with the gods and retreat, you can visit Lungshan Temple. This is found near the Danshui River, located in the western part of the city.
The temple is a highly revered place when it comes to worship. It looks like a Chinese palace with breathtaking views such as a flowing waterfall, fish pond, flowers, and incense smoke mixing in the air.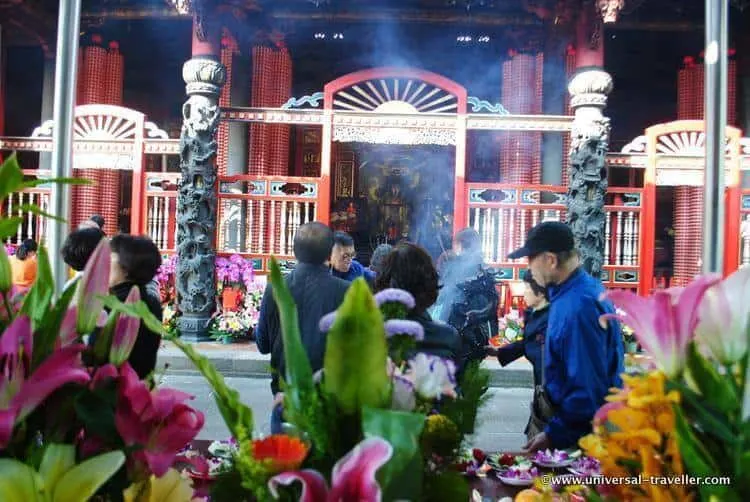 5. National Taiwan Museum
To see some ancient treasures, you'll have to check out the National Taiwan Museum. The place is filled with Chinese artworks and artifacts rare and owned by Chinese emperors of the time.
You will also witness the famous Jadeite Cabbage carved from jadeite pieces colored in white and green. The challenge is to find the camouflaged grasshopper in the carving.
Aside from that, there are more sights to explore while touring around the museum.
6. Beitou Hot Spring
Your Taipei getaway won't be complete without experiencing the Beitou Hot Spring. It's located in the north part of the city where other popular hot springs are found.
This is the ultimate relaxation you need after a day of exploring the tourist spots in the area. Here, visitors benefit from the warm bath and fresh spring water while relieving them from physical pain and other illnesses.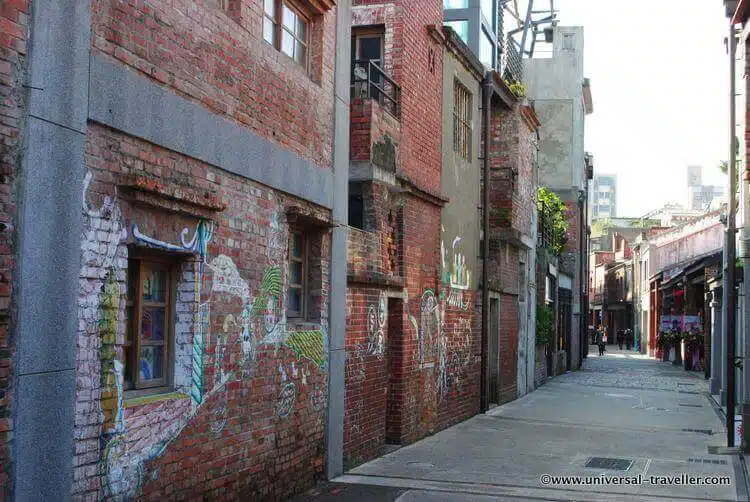 7. Red House Theater
Do you want to experience kung fu personally? Well, the Red House Theater is the place to be. When you visit the area, you will feel like you're in another era.
The red-bricked walls calming balconies, ponds, and octagonal windows offer a traditional scene from the popular movie Kung Fu Panda. Also, the place will give you an ambiance filled with the customary culture of the early days.
It may not be as prominent as the National Taiwan Museum of Taipei 101, but it will surely give you unforgettable moments.
8.

Night Market
In Taipei, night markets are trendy to both local and foreign tourists. In fact, they love midnight snacking in this city because there are many choices for local foods and drinks.
So if you are planning to experience some nightlife in Taipei, be sure to visit the magnificent markets for an ultimate adventure and try some of the best street food in Taiwan.
Some night markets you can add to your list are Shilin Night Market, Ningxia Night Market, Huaxi Night Market, Raohe Street Night Market, and Linjiang Night Market.
These markets are open from 6 in the evening until midnight.
9. Best things to do in Taipei – Day trip to Juifang
In New Taipei City is where you will find the Chiufen village, also called Juifang. Before, it served as the home for gold mining in the city. But today, the village is popular with tourists because of its natural beauty.
Hills and mountains surround Chiufen while it faces the spectacular view of the ocean. It's ideal for retreat and relaxing vacation from the busy city life.
The foggy weather makes it more appealing to travelers. In fact, many couples choose to stay in this area due to its romantic atmosphere.
Along the old street, you can buy local snacks as well as special accessories. Lastly, don't forget to check out the Chinese teahouses also located in the village.
My Hotel recommendation – Shangri-La Taipei
I stayed at Shangri-La's Far Eastern Plaza Hotel in Taipei and can highly recommend that hotel. It opened in 1994 and was completely renovated in May 2015.
It is located in the business district of Taipei, around 40 minutes away from the Airport. Next to the hotel is "The Mall" situated with numerous shops & boutiques, restaurants, and entertainment facilities.
The well-known LinJiang Night Market with local foods and products is within walking distance of the hotel. A bus stop right next to the hotel is really convenient when you would like to explore the city.
If you ask me, the absolute highlight and unique selling point of Shangri-La is the view! Make sure to get a room with a view of Taipei 101. I also really enjoyed my time at the Horizon Club. Read more about my time at Shangri-La here.
More Taipei Internet Resources:
This article is now available as a mobile app. Go to GPSmyCity to download the app for GPS-assisted travel directions to the attractions featured in this article.
Are you on Pinterest? Pin This!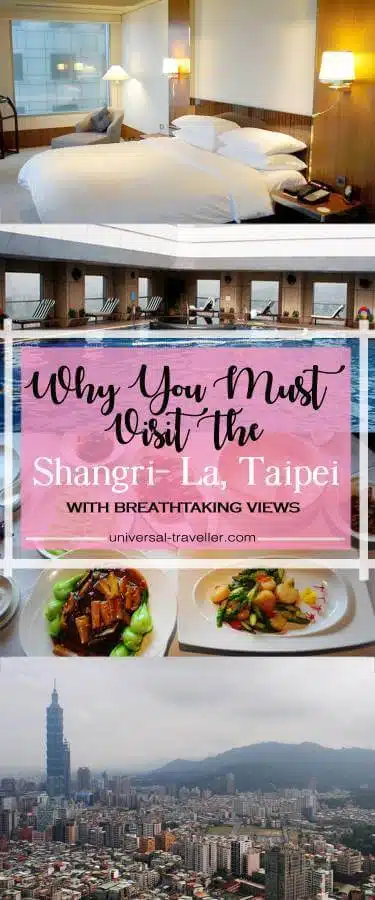 Disclaimer: I was a guest at Shangri-La's Far Eastern Plaza Hotel in Taipei. My opinions, as always, are solely my own.
About the Author
More info
Best VPN for Travel: ExpressVPN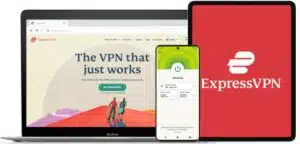 Heading abroad? Use ExpressVPN to access your social media accounts, unblock your favorite entertainment sites, and stay connected with friends and family. And get cheaper flights, of course.
Pros
✅ Next-gen, high-speed servers in 94 countries
✅ Works on iOS, Android, Windows, Mac, Linux, browsers, and more
✅ 256-bit AES encryption protects your data, even on hotel Wi-Fi
✅ Unblocks Netflix and other streaming sites
Cons
❎ No dedicated IPs
Get 3 extra months free of ExpressVPN when signing up for a 1-year plan. That's a 49% saving and a monthly cost of just $6.67! You also get a 30-day money-back guarantee.