Are you looking for a Taipei hotel recommendation? Do you want to stay in one of the best hotels in Taipei?
Then consider staying at the Shangri La Taipei City Hotel, considered one of the best Taipei luxury hotels.
From the tallest hotel in the city, you will enjoy breathtaking views across the city, including fantastic views of the reopened Taipei 101.
Best VPN for Travel: ExpressVPN
ExpressVPN defeats content restrictions and censorship to deliver unlimited access to video, music, social media, and more, from anywhere in the world.
Try Express VPN now and get 3 extra months free!

From the minute you arrive, the staff at the Shangri La Taipei will treat you like absolute royalty.
Keep reading below for my Shangri-La Taipei review, my choice of where to stay in Taipei.
How to get from the Airport to the Shangri La Hotel
Travel like a Boss
Why not let your Taipei Shangri-La Hotel experience start from the moment you land at the Taoyuan International Airport of Taipei and be welcomed by a hotel representative in a brand new BMW 730LI limousine and driven to the hotel.
Hell yeah, arrival like a boss!
Let the Shangri-La Far Eastern Hotel Taipei staff know your flight details at least one day before your arrival to arrange to pick up.
Charges for the BMW pick-up are NTD 2,900. Alternatively, you can request a seven-seater minivan for NTD 3,500. The travel time is 45 minutes from the Taoyuan International Airport.
Transfers from Taipei Sungshan Airport to the Far Eastern Plaza Hotel Taipei are cheaper at NTD 1,800 for the BMW pick up or the minivan (same price for both).
The travel time is 20 minutes from the Taipei Sungshan Airport.
Taxi
Taxies are available from the airport and take approximately 50 minutes and cost around NTD 1,250.
Airport Shuttle
The CitiAir Bus 1960 departs from the airport every 20 minutes and takes approximately just over 1 hour, with the shuttle dropping you off right by the hotel at the corner of Tun Hwa South Road.
The fare is NTD 145. The journey by shuttle to Shangri La Hotel Taipei takes around 80 minutes.
Location
At 43 stories, the Shangri-La's Far Eastern Plaza Hotel is the tallest in Taipei. It opened in 1994 and was completely renovated in May 2015.
This hotel is located in the business district of Taipei. It is part of the Taipei Metro Complex on Tun Hwa South Road, which features numerous shops & boutiques, restaurants, and entertainment facilities.
The hotel is perfect; you want one of the hotels in Taipei city center or a Taipei hotel near MRT.
A bus stop next to the hotel is convenient if you want to explore the city. Just be aware that you need to purchase the "easy card" to pay for the bus/ metro. You can get it, for example, at 7-Eleven or at an MRT station.
Following are distances from the Shangri-La's Far Eastern Plaza Hotel Taipei to the main tourist attractions:
Taipei World Trade Convention and Exhibition Centre – 15 minutes by bus
Taipei 101 – 20 minutes by bus
LinJiang Night Market – 10-minute walk
The Mall – next to the hotel – 2 minute's walk
Accommodation Options
Shangri-La Far Eastern Plaza Taipei has 420 guest rooms, including generous-sized guest rooms, Horizon Club member rooms, and 37 luxury suites.
All rooms have breathtakingly beautiful views of the Taipei skyline, including views of Taipei 101. This is an excellent choice if you want a hotel near Taipei 101.
This Taipei 101 hotel has seven different room categories offered; Superior Room, Deluxe Room, Premier Room, Horizon Premier Room, Plaza Suite, Specialty Suite, and an impressive Presidential Suite.
Being one of the best luxury hotels in Taipei, regardless of room choice, all rooms feature the following:
Free WiFi;
Telephone;
Satellite TV, including a TV in the bathroom;
Marble bathroom with separate shower;
Safety box;
Tea and coffee making facilities; and
24-hour room service.
Check Agoda, Expedia, or Booking.com for more photos, information, and prices.
Horizon Club Premier Room Experience
During my stay at the Shangri-La Far Eastern Taipei, I stayed in a Horizon Premier Room.
Being perhaps the best 5-star hotel Taipei offers, guests staying in the Horizon rooms are invited to check into the exclusive Horizon Club Lounge, located on level 36.
The Horizon Premier Rooms have recently been renovated and offer a very generous space of 58 square meters. The room is so big that you may think you upgraded to a suite!
The highlight of the room is, without doubt, the huge window that offers a breathtaking view of Taipei 101 and the city.
You can even see the massive skyscraper from your bed! Fantastic views in the evenings too of the city lights.
The rotatable chairs next to the window are a great place to drink a glass of wine and chat about the day's experiences.
If you have to get some work done, the desk just in front of the big window is an ideal place to do so. It was only hard not to look out of the window all the time at the Taipei view.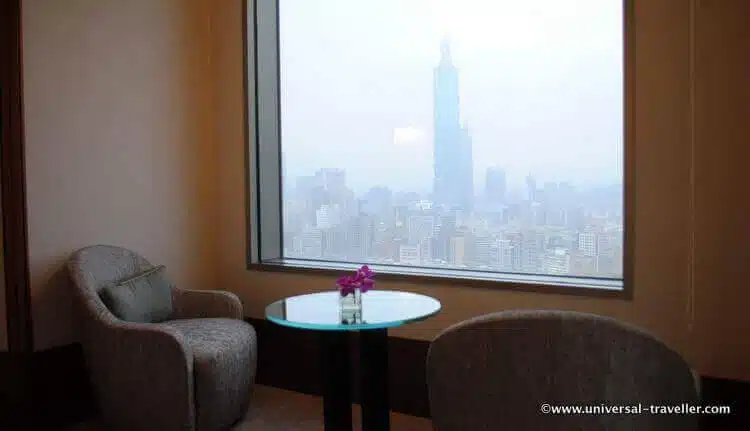 Other fantastic inclusions of the Horizon Club rooms are the Nespresso Coffee Machine and the adjustable 40-inch flat-screen TV that you can maneuver to watch from pretty much anywhere in the room.
The bathrooms are luxurious, too, with double sinks, automated toilets, deep soaking tubs, and showers with a huge rain shower. The hotel also provided quality toiletries and luxurious towels.
There are more benefits to staying in the hotel as a Horizon Club guest, which I will mention below.
Restaurants and Bars
Being one of the top hotels in Taipei, there are five restaurants and three bars here.
Shang Palace Cantonese Restaurant
The Shang Palace Cantonese Restaurant is located on level 6 and serves Cantonese food, a dim sum for lunch, and an extensive tea collection.
I visited the restaurant on my first day in Shangri-La for lunch. The chef prepared the best duck that I have ever eaten.
Seriously!
He brought the whole duck to our table and cut the best part in front of us.
The way to eat it in Taiwan is by wrapping it and adding uncooked pieces of cucumber & onions and a tasty sauce. The skin, which is the best part, in my opinion, you eat with sugar.
Duck is a specialty of the restaurant.
The Shang Palace Cantonese Restaurant is open daily from 11.30 am to 2.30 pm for lunch and 6 pm to 9.30 pm for dinner.
Eating in the Horizon Club Lounge
A great perk of staying at one of the best Taipei five-star hotels is that guests staying in the Horizon Premier Rooms and Suites have exclusive access to the Horizon Lounge.
Small snacks and refreshments are served throughout the day.
Every day from 5:30 pm to 7:30 pm, there is a Happy Hour with cocktails, wine, and other drinks free of charge. Small snacks, as well as a specialty of the day, are offered as well.
Horizon Club guests can choose between eating in the Cafe at Far Eastern or the Horizon Club Lounge for breakfast. I preferred to have my breakfast at the Horizon Club Lounge.
The buffet is smaller than at the big breakfast restaurant; however, the atmosphere is quieter and more personal.
The buffet offers, amongst others, fresh fruits, different juices, tasty salmon and bread, and a different soup every day. Besides the buffet, guests can also choose one dish á la cart, and I did not miss anything.
Other Restaurants and Bars at Shangri-La Taipei
Other places to dine in the Shangri-La Taipei include:
Lobby Court: located on level 1 and serves snacks, drinks, and afternoon tea.
The Cake Room: located on level 1 and serves bread, cakes, and pastries.
Cafe at Far Eastern: located on level 6 and serving a buffet breakfast and an Asian and Western buffet for other meals.
Li Bai Lounge: located on level 6 and serving snacks and drinks.
Ibuki by Takagi Kazuo: located on level 7 and serving Kyoto Kaiseki, Teppanyaki, Nigiri, and Tempura. This is a fantastic restaurant and operates following Michelin standards.
Marco Polo Restaurant: located on level 38 and serving Italian cuisine.
Marco Polo Lounge: located on level 38 and serving cocktails, snacks, and afternoon tea with fantastic views of Taipei 101.
Shanghai Pavilion: located on level 39 and serving Shanghainese.
Check Agoda, Expedia, or Booking.com for more photos, information, and prices.
Recreation and Other Facilities
Guest of the Shangri-La has access to a range of first-class recreation facilities.
The Health Club
Guest as welcome to use the fully-equipped Health Club, which includes modern equipment and on-site personal trainers.
If you enjoy working out, there is a range of modern equipment, on-site personal trainers, and various aerobic classes held each day of the week.
Afterward, you can relax in the dry sauna, steam room, or Jacuzzi.
The Rooftop Pool
There are two outdoor swimming pools on-site, including my favorite – the year-round heated rooftop pool!
This was a highlight of the hotel as the rooftop pool is spectacular on the 40th! Floor.
It is all year round heated and offers spectacular views of Taipei.
During summer there is another pool on the 7th floor. Perfect for those looking for a luxury Taipei hotel with a swimming pool.
Qi Shiseido Salon and Spa
If you are in the mood for some relaxation or pampering, visit the Qi Shiseido Salon and Spa located on level 40.
You can enjoy massages and various body, facial, hair, and nail treatments at the spa.
Visit one of the six private spa suites for the ultimate in luxury, each with a marble bathtub, personal sauna, steam room, and shower.
The Qi Shisedio Salon and Spa is open daily between 10 am and 10 pm.
What I loved about Shangri-La Taipei
If you are after one of the hotels in Taipei with the friendliest staff, stay here! The staff throughout the hotel are friendly, attentive and make you feel welcomed.
The view is the absolute highlight and what makes the Shangri-La the best hotel to stay in Taipei! Not all rooms have a view of Taipei 101, so if you want a hotel with Taipei 101 view, be sure the room you book has a view.
I spent most of the time at the Horizon Club! The whole team creates a pleasant atmosphere, and the food & drinks are excellent. I highly recommend booking a room with exclusive access to the Club.
Once you start eating at Shangri-La, you cannot stop! The five restaurants offer such a wide variety that you will not want to leave the hotel and eat anywhere else during your whole stay.
A heated rooftop pool on the 40th floor with views of Taipei 101 and the city. Do I have to say more?
According to TripAdvisor Taipei hotels reviews, the Shangri La is one of the best hotels in Taipei City, Taiwan, with 94% of people rating it above average.
For more photos, information and prices, check Agoda, Expedia or Booking.com
What to do in Taipei?
Although Taipei is a relatively small city, there is so much to do.
For great views of the city, I recommend going to the observatory deck of Taipei 101 or climbing up the Elephant Mountain. You can visit the Beitou Hot Springs or enjoy a Foot Massage for ultimate relaxation. Oh, and don't forget to try the street foods in Taipei!
Check out my post about the best things to do in Taipei for more ideas.
Disclaimer: I was a guest at Shangri-La's Far Eastern Plaza Hotel in Taipei. My opinions, as always, are solely my own.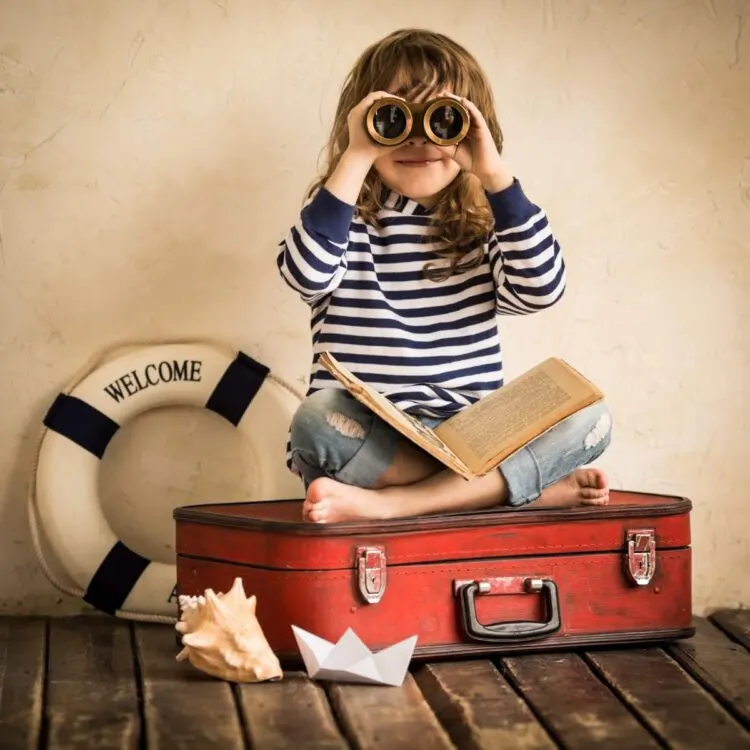 Protect your trip: With all our travel experience, we highly recommend you hit the road with travel insurance. SafetyWing offers flexible & reliable Digital Nomads Travel Medical Insurance at just a third of the price of similar competitor plans.