The tropical metropolis of Miami is a vibrant and exciting place to explore. Here are our favorite day trips and tours from Miami.
Written by Alice from Adventures of Alice.
Miami is one of those cities that you build up a reputation for in your head before you actually arrive there.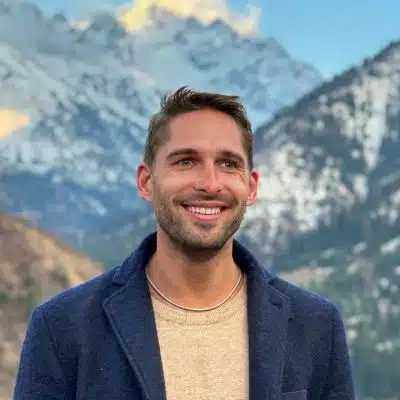 Long, sandy beaches, fancy restaurants, glitzy clubs and bars, and wonderful nightlife, the great thing about Miami is that it quite often lives up to its reputation completely!
However, if you're staying in the city for an extended period of time, it can be good to escape the hustle and bustle and explore outside the city with some of the best day trips and tours from Miami.
The tropical metropolis of Miami is a vibrant and exciting place to explore, with some of the best and most beautiful beaches, lively neighborhoods, and world-class dining.
But venture outside of the main city into the areas that surround Miami, and you'll find that they are pretty awesome too.
Whether you're into water sports, alligator spotting, birdwatching, or are in the mood for even more beaches; there are plenty of Miami day trips for every type of traveler.
When we visited Miami, we stayed in the coastal city for 5 days, and 3 of those days were spent taking day trips!
It's a wonderful way to explore other parts of southern Florida and see some memorable landmarks, delicious dining options, participate in exciting activities and, in some cases, find some utterly blissful solitude.
The best day trips and tours from Miami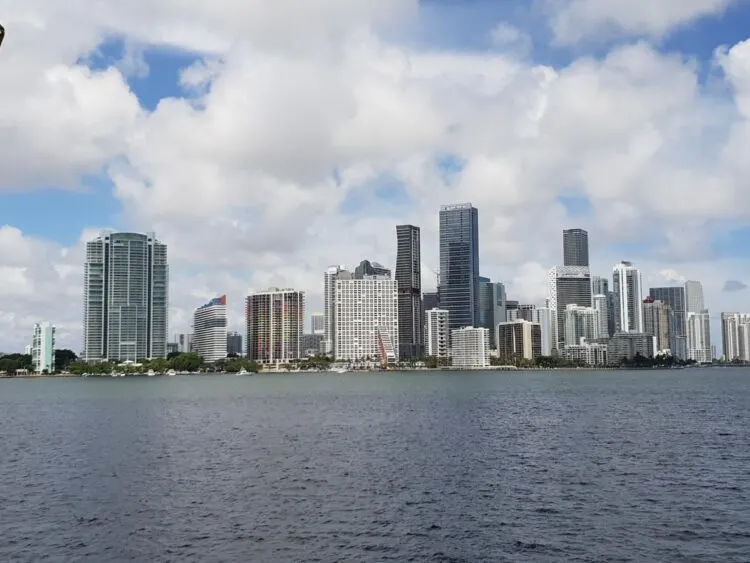 Want to get up close and personal with alligators? Curious about Miami's Cuban roots and want to visit a traditional cigar factory? Fancy sipping ice-cold cocktails on a deserted beach?
Well, if you're thinking of taking a tour or day trip from Miami, these are just a few of the things that you could be doing!
So, here are the 5 best tours and day trips from Miami for an even more satisfying southern Floridian adventure.
Get Your Guide helps you find the best tours wherever you are heading to. It's usually the first website I check when I plan a trip to a new place.

1. Bimini, Bahamas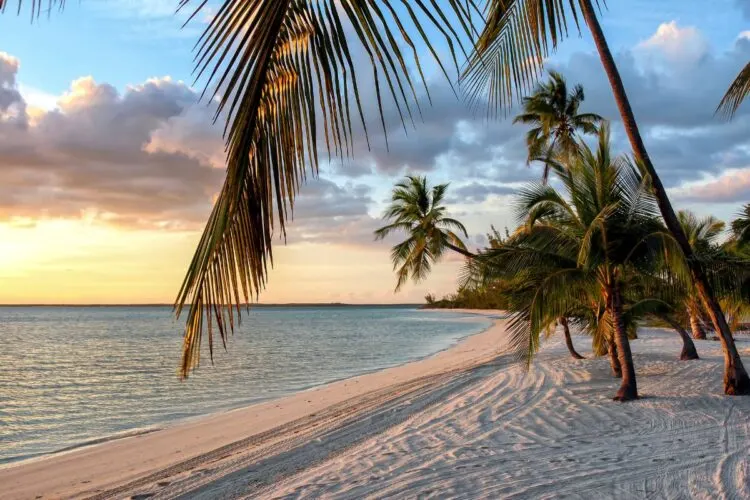 Whenever I travel, I always check which other countries are near to my destination. For example, the gorgeous European city of Vienna is just an hour away from Bratislava.
So, if you visit both, it's a win-win, right? You get to see two stunning cities and don't have to splash out on multiple plane tickets! Well, the same can be said for the Bahamas.
Although it's one of the cheapest Caribbean islands to visit, a trip to the Bahamas might mean two costly flights if you visit it on separate trips. However, on a day trip from Miami, you can travel to Bimini and back in a day.
Tip: Book your ferry ticket to Bimini, Bahamas online. This ticket includes a day pass to the Hilton at World Resorts.
The trip takes about 18 hours in all, so it certainly will be a long day; however, it will be totally worth it once you see the crystal clear waters and white beaches of the island.
Plus, as it's the closest Caribbean island to the US, it only takes about 3 hours to reach the Bahamas, so the rest of the time can be spent at your leisure.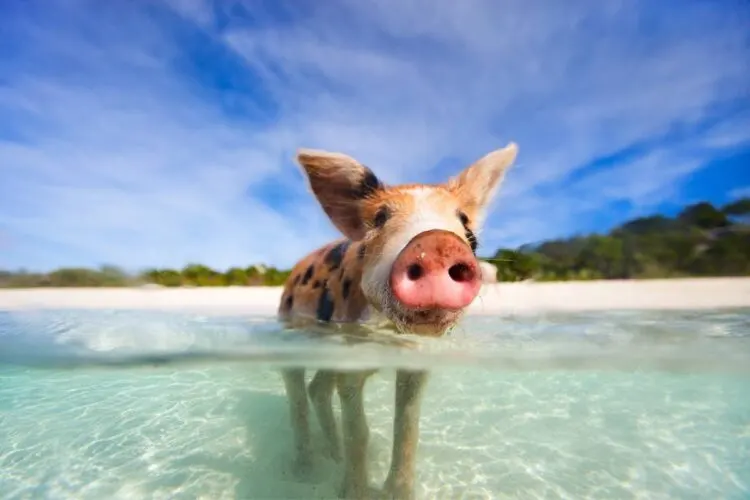 Even the ferry ride will be enjoyable as it features a fully stocked bar, a casino, and duty-free shopping!
Once you arrive, there's plenty of free time to explore the island, relax on the beaches, go shopping, and explore the beachfront towns. You could even take a trip to the famous pig beach and go swimming with the piggies!
Don't forget to bring your passport and definitely pack a beach bag and suncream!

2. Key West and the Florida Keys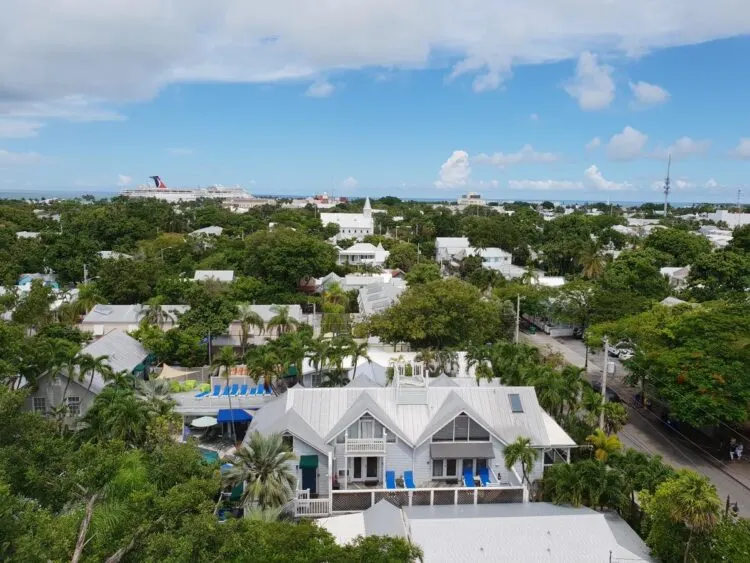 The most popular day trip from Miami, a visit to the Florida Keys almost feels like a trip to another country, even though you're not actually leaving the state!
The Florida Keys are a chain of picturesque islands at the southernmost tip of the USA.
The drive itself is just as impressive as the destination as you cross a total of 43 bridges, the longest of which is the infamous Seven Mile Bridge, to reach the keys.
Surrounded by endless ocean on all sides, the bridge is magnificent and connects the Middle Keys to the Little Duck Key in the Lower Keys.
You can either take this day trip to Miami as another booked tour, or you could rent a car and go on a road trip down one of the most scenic routes in the US.
Purely due to ease, we opted for the tour, which was easy to book, and they picked us up from our hotel. Bear in mind that this is a pretty early start and another long day at around 14 hours, so you might not want to hit the clubs on the night before!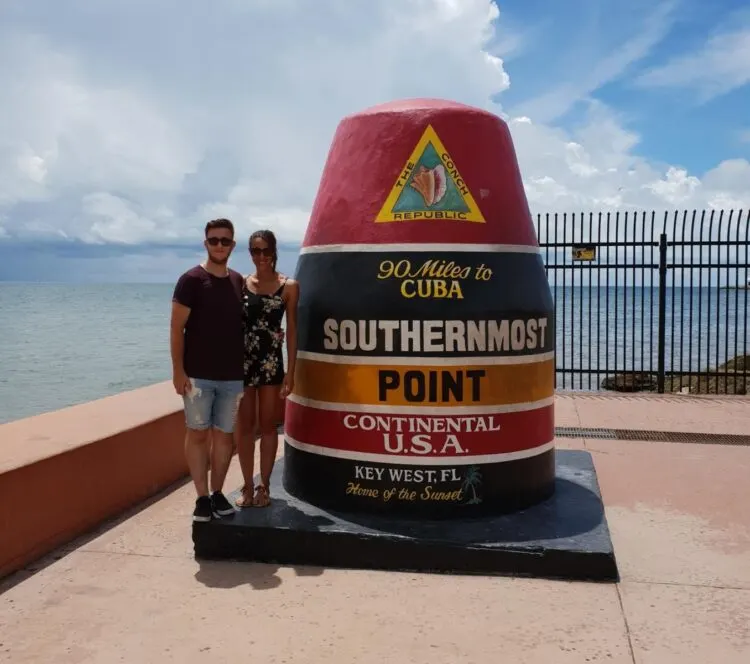 Once you've arrived in Key West, you get around 6 hours of free time to explore the island. The tour guide might offer you some water sports or snorkeling activities, or you can stay on land and explore the quaint towns on foot.
Be sure to stop by Earnest Hemmingway's House, Duval Street, Mallory Square, and the infamous red, black, and yellow concrete marker that symbolizes the southern-most point of the continental US.
You can also climb to the top of the Key West lighthouse for some stunning panoramic views of the city.
3. Everglades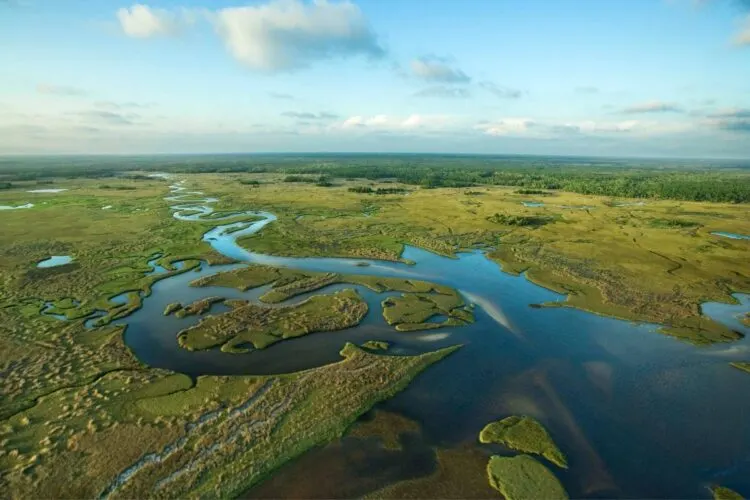 For a unique wildlife scene that is actually one of only two places in the world to have its own ecosystem, the Everglades is one of the most beautiful day trips from Miami.
If you love the natural world and would jump at the chance to see some of Florida's most impressive wildlife in its natural habitat, then this day trip will be right up your street.
Of course, the obvious sighting, and one that most enthusiasts come to spot, is the American Alligator, of which an estimated 200,000 live in the Everglades.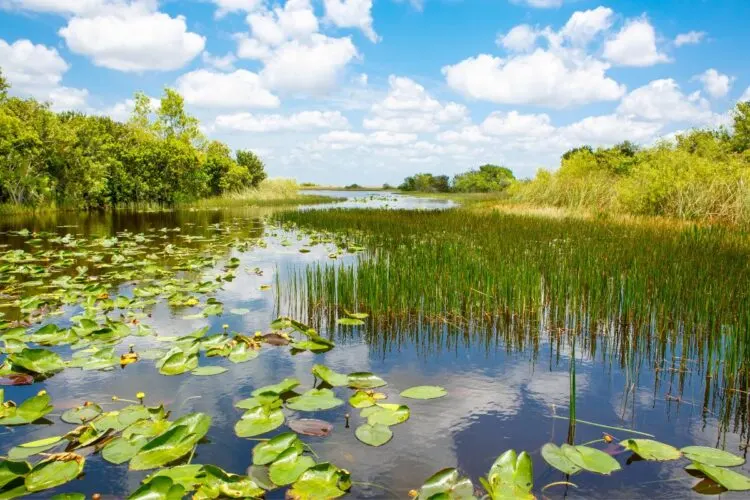 But a few other creates that you might get a chance to whip your binoculars out for include the banded water-snake, the colorful roseate spoonbill, the shy river otter, the beautiful Florida panther, or even a playful dolphin!
On a trip like no other, you'll have the chance to get up close to these magnificent creatures, and the educational tour guide will be able to tell you a few fun facts about the species you spot.
The Everglades are unforgettable and should definitely be on your US bucket list.
4. Miami City Tour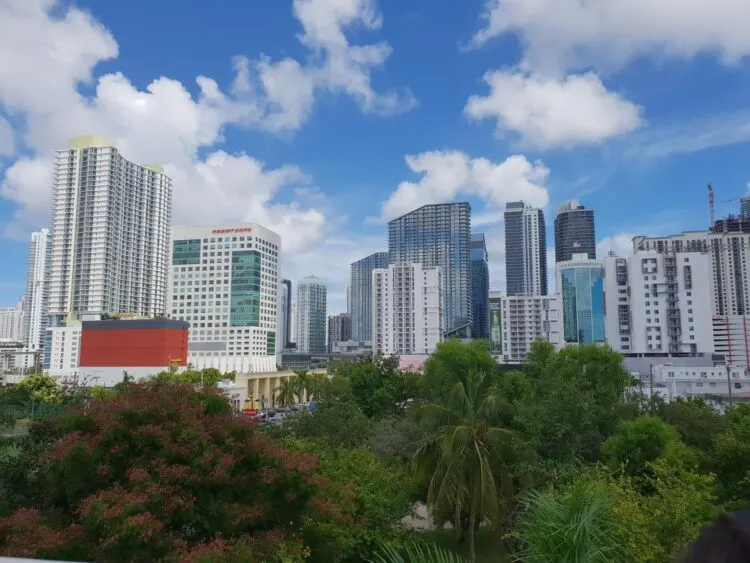 Did you know that there's a lot more to the swanky streets of Miami than meets the eye?
Although you might not think it, there's a lot that goes on beneath the surface and a lot of fascinating history which you can discover on a Miami day tour.
We chose an open-top bus tour that took us on a cruise past the impressive Miami skyline, past homes of famous stars, the Venetian Islands, and South Beach.
The tour began on Lincoln Road. We also passed Ocean Drive, the Brickell district with its endless high-rise condos, the contrasting artistic Wynwood neighborhood with its delightful street art, and the Cuban neighborhood of Little Havana had a look inside a traditional cigar shop.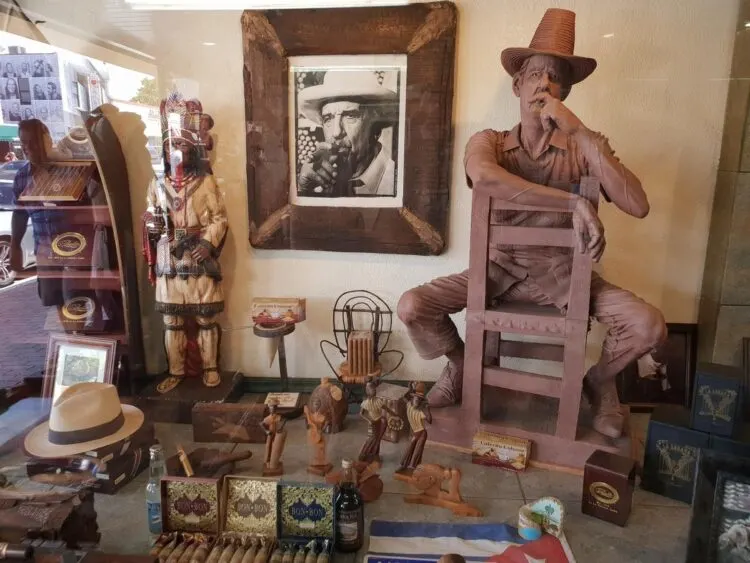 The tour was fascinating and allowed us to see a whole new side of Miami, and the guide was hilarious and informative. You can also find bus tours that include a boat ride on Biscayne Bay if you'd also like to see Miami from the water.
5. Naples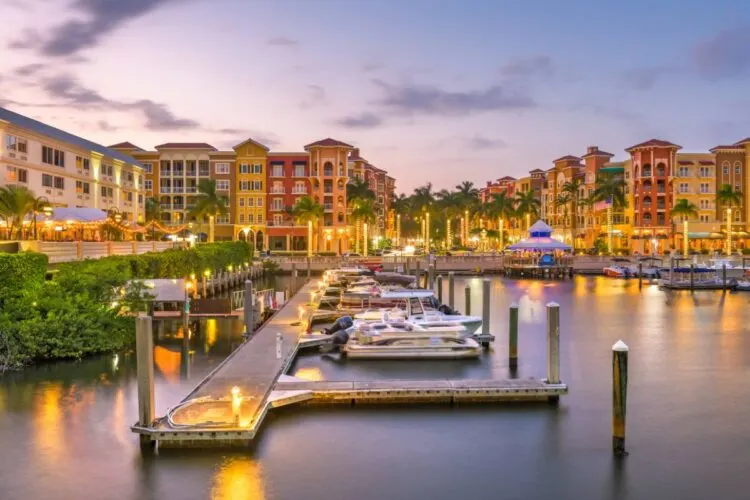 Of course, when I say Naples, I'm not referring to the famous Italian city. This Naples is in Florida, about an hour and a half from Miami, making it the perfect day trip.
If you decide to hire a car, take Route 41 to Naples, and you'll pass right through the Everglades. If not, you can take a bus which will take around 2 hours.
A former winter hideaway for the wealthy, Naples has blossomed into a wonderfully vibrant city with a clash of modern and historic cultures.
You'll pass snazzy restaurants and traditional antique stores, cozy tearooms, and modern art galleries. Plus, the beaches in Naples are truly amazing, and it's not unlikely that you'll spot dolphins whilst enjoying the summer sun.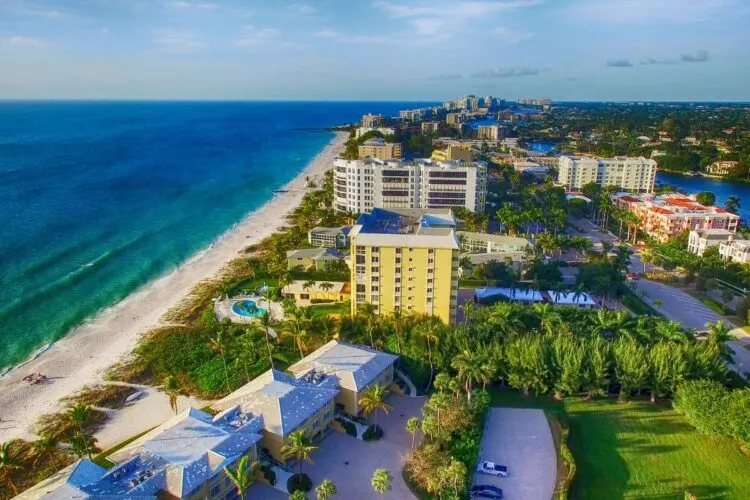 Why not spend a day exploring the delightful towns, window shopping (or actually shopping if you fancy it!), sampling the delights of Naples' upcoming craft brewery scene, or exploring the floral displays at the Naples Botanical Garden.
But one thing's for certain, be sure to catch the sunset from the beach because it truly is mesmerizing.
Best VPN for Travel: ExpressVPN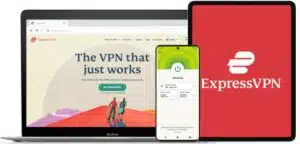 Heading abroad? Use ExpressVPN to access your social media accounts, unblock your favorite entertainment sites, and stay connected with friends and family. And get cheaper flights, of course.
Pros
✅ Next-gen, high-speed servers in 94 countries
✅ Works on iOS, Android, Windows, Mac, Linux, browsers, and more
✅ 256-bit AES encryption protects your data, even on hotel Wi-Fi
✅ Unblocks Netflix and other streaming sites
Cons
❎ No dedicated IPs
Get 3 extra months free of ExpressVPN when signing up for a 1-year plan. That's a 49% saving and a monthly cost of just $6.67! You also get a 30-day money-back guarantee.