Whether you're looking for a low-key sunset drink with a friend or an insane party with the best people, you're definitely going to find what you're looking for in this list of the best Tulum beach clubs!
Tulum is the place to be in the Riviera Maya! Known for its beaches and having less commercialism than the neighboring Cancun and Playa del Carmen, this beautiful beach destination will appeal to those looking for something other than a "beach resort experience".
Tulum is one of those special places that will stay with you long after your trip is over!
There's nothing quite like the luxury of lying down on a sun-soaked sandy shore with a cool breeze running through your hair. The hot weather, white sand, and turquoise water are a true paradise for any traveler looking to spend their days by the beach.
Each beach has its own personality, vibe, and style. When it comes to Tulum beach clubs, the choice is vast. In a search for the best beach clubs in Tulum, you may be overwhelmed with the options.
There are just too many good beach bars in Tulum and not enough time to try them all!
So here's my attempt to help you out and make it easier for you to find the best beach clubs in Tulum. Enjoy!
Read also:
1. Ahau Tulum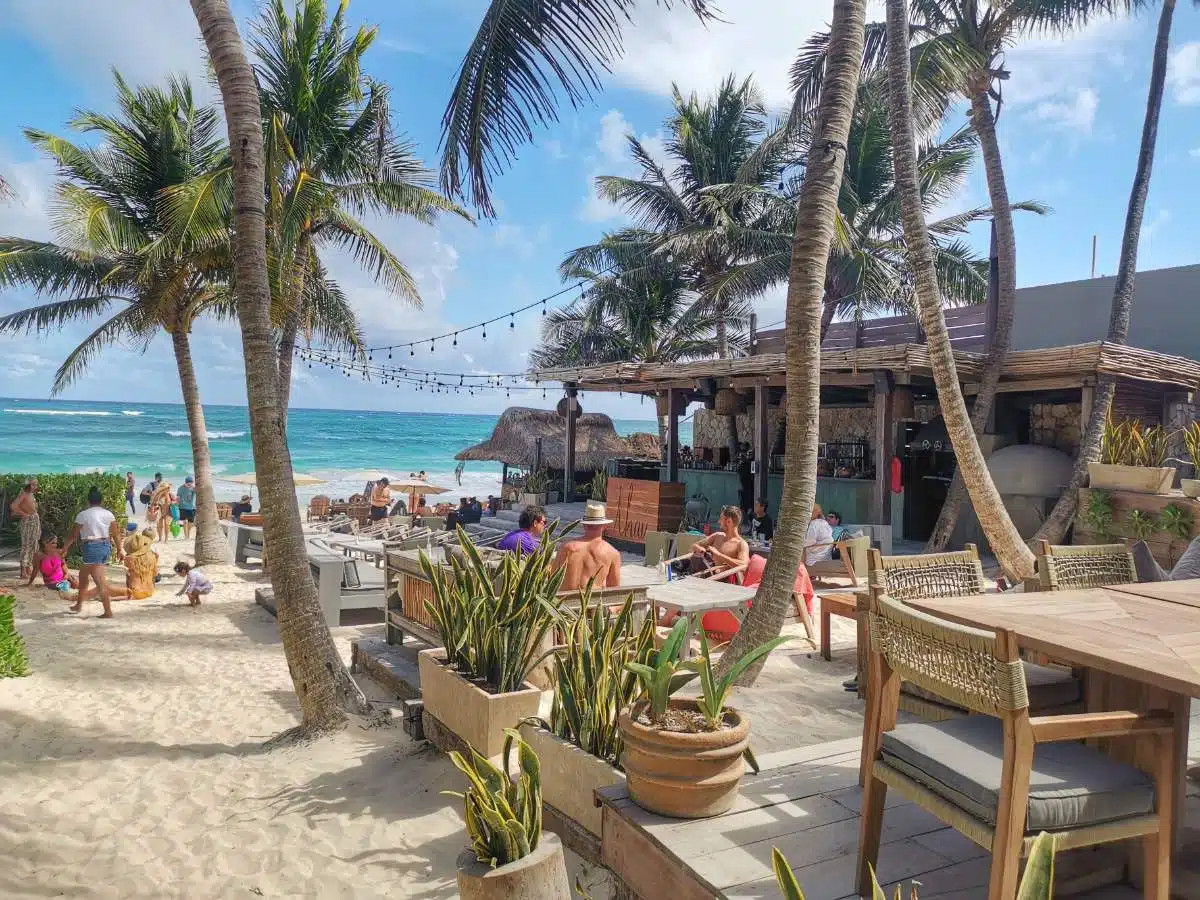 Minimum spend: USD 20
Do you want to escape the hustle and bustle of your daily life, and find yourself surrounded by white sandy beaches, turquoise seas, swaying palm trees, and a lot of luxury?
Then Ahau Tulum is the kind of place you want to visit!
There are many activities to enjoy at this luxury beach resort including their pool, cabanas, and even a hammock area like no other! From the Cabanas to the beach huts, everything about this beach club caters to the eco-conscious traveler.
At Ahau, you can unplug, unwind, and enjoy barefoot sophistication amid the soft powdery white sands of Tulum.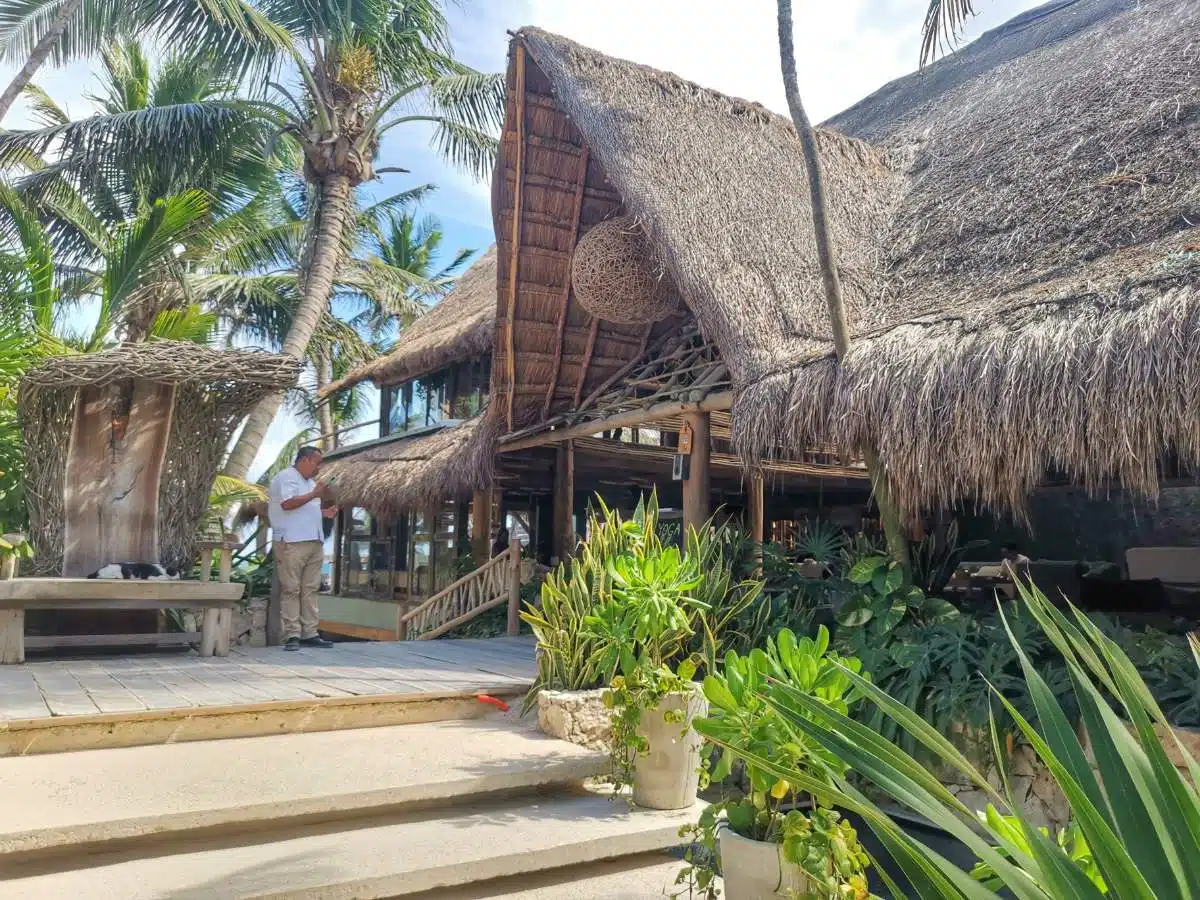 This beach club combines elements of traditional Mayan architecture with contemporary style and luxurious aesthetics. It's all about the interiors at this gem where walls are composed of teak wood and oversized, pop-culture artworks are pieces of progressive art that'll make you look twice and smile.
You'll want to post pictures from your visit so definitely bring your camera along with you to document your experiences. The best part is that if you stay at Ahau, you get complimentary yoga lessons and sunrise meditations — who wouldn't want that?
If you want excellent food & ambiance, an awesome view of the ocean, and an overall quality experience visit Ahau Tulum!
Some of the highlights of Ahau Tulum include:
Breathtaking entrance
Their tempura tacos
It is pet-friendly
Yoga and meditation lessons
2. Ziggy's Beach Club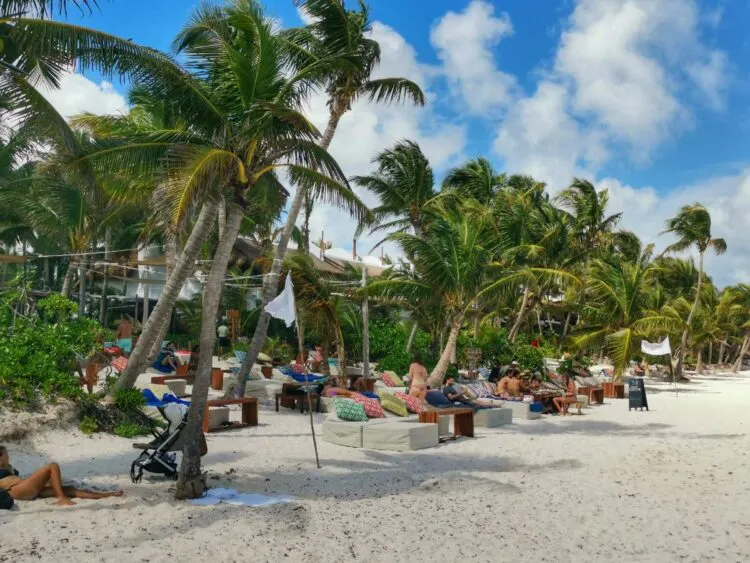 Minimum spend: USD 50
When you start looking for the best beach clubs in Tulum, you'll probably run across Ziggy's Beach Club!
Ziggy's, an authentic beach bar serving up a great selection of delicious drinks. This place really does tick all the boxes when it comes to what makes Tulum so special with its chill vibes, hammocks, and palm trees lining the beach.
It is also really quick to spot from either street so you're never too far from a cocktail or coconut with some rum in it!
Ziggy's is a popular club with many options on its menu. I recommend you go in with an open mind, order something new, try out some new flavors, and have fun!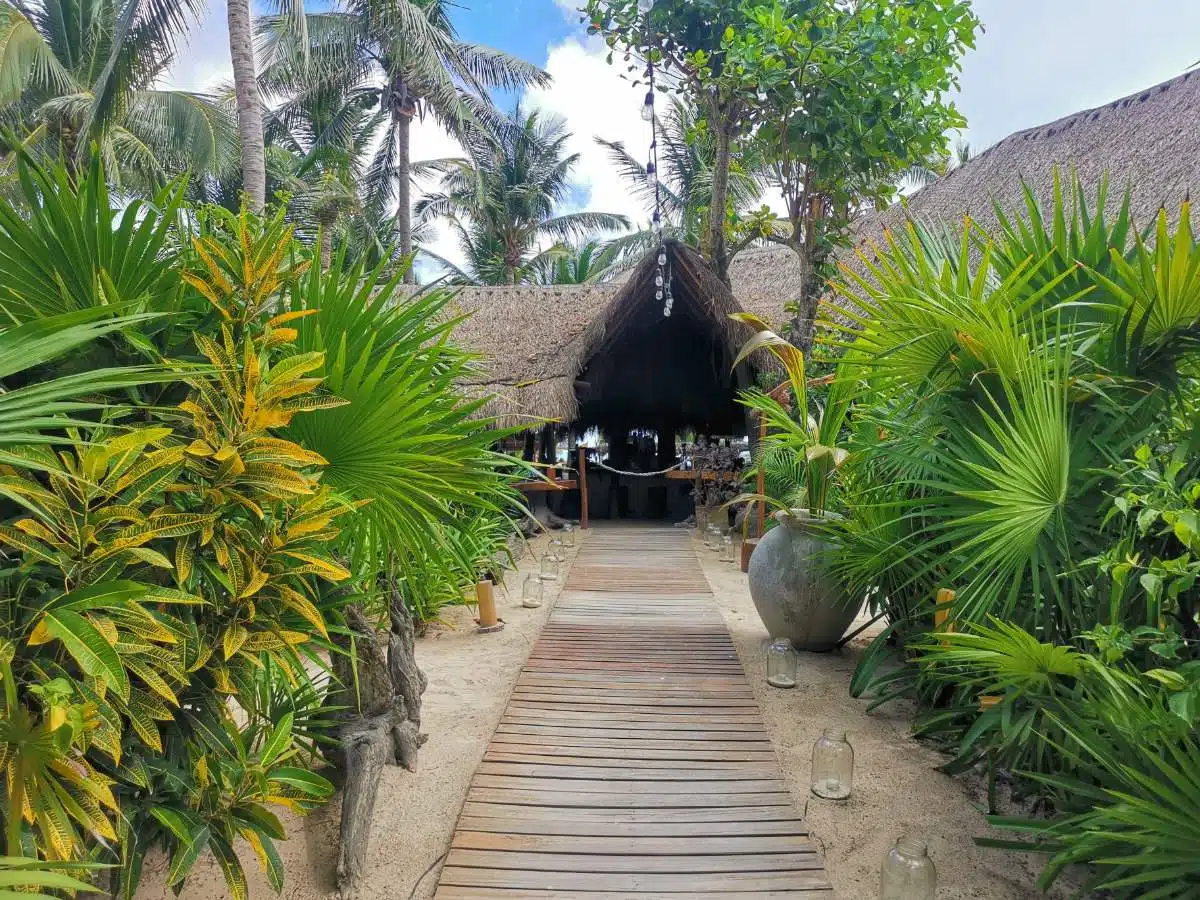 At Ziggy's, you can have an experience with a little more character and adventure. There are activities on the shore every single day, so there's something for everyone!
They keep their website up to date about upcoming special events that they host on a daily basis. Their schedule is packed with events like Spanish flamenco and guitar, tequila tastings, wine tastings, Mexican folk music, Caribbean Latin rhythms, and tasting of Mezcal!
If you're looking for an all-around awesome day at the beach with a little bit of everything, this is your place.
Some of the highlights of Ziggy's Tulum Beach Club include:
Breakfast menu and early opening hours.
They host different daily events.
Private event space.
3. Casa Malca Tulum
Recommended by Shelley of Travel To Merida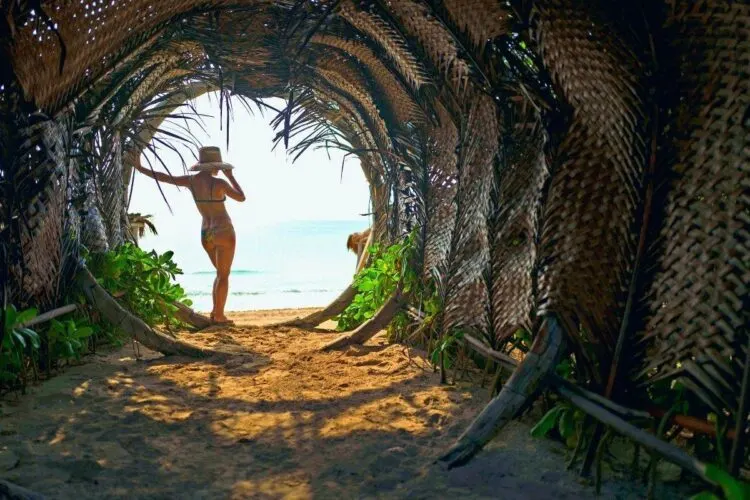 Minimum spend: USD 100 minimum spend and USD 50 entrance
Casa Malca sits right on Tulum Beach, one of the best beaches in the Yucatan Peninsula. It is perhaps the most notorious of all Tulum beach clubs because of its ties to Pablo Escobar.
That's right, the Casa Malca mansion itself was once owned by Escobar. It has since been revamped into one of the poshest Tulum resorts and beach clubs.
New York City art dealer, Lio Malca, is responsible for turning Casa Malca into what it is today. As you'd imagine being renovated by an art dealer, the whole place is itself a work of art.
The gorgeous esthetic indoors continues right out onto the Casa Malca beach area. You'll leave the resort and walk through a tropical sculpture garden, past the pool area, and out onto the beach club.
Located on some of the most beautiful Caribbean Sea real estates, Casa Malca Beach Club has a tropical-sexy vibe — just what you'd imagine from Escobar's former home. It has the perfect mix of rustic teepees and beach beds to lounge on, to colorful Mayan hammocks and shaded palapas to relax under.
A Casa Malca day pass costs USD 150; USD 50 for the entrance fee, and USD 100 for the minimum spend (AKA food and drink credit). With your USD 100 credit, you can enjoy any of Casa Malca's three restaurants: Philosophy, Ambrosia, and Head of a Mad Man.
With the Casa Malca day pass, you have access to the whole property.
Some of the highlights of Casa Malca Tulum include:
Underground Pool, located off the beach, but still a must-see
Rooftop Terrace, which is an amazing place to enjoy the Tulum sunset
Casa Malca's Calma Spa, while treatments costs extra, the spa itself is very nice and you can access some areas
4. Rosa Del Viento Beachclub Tulum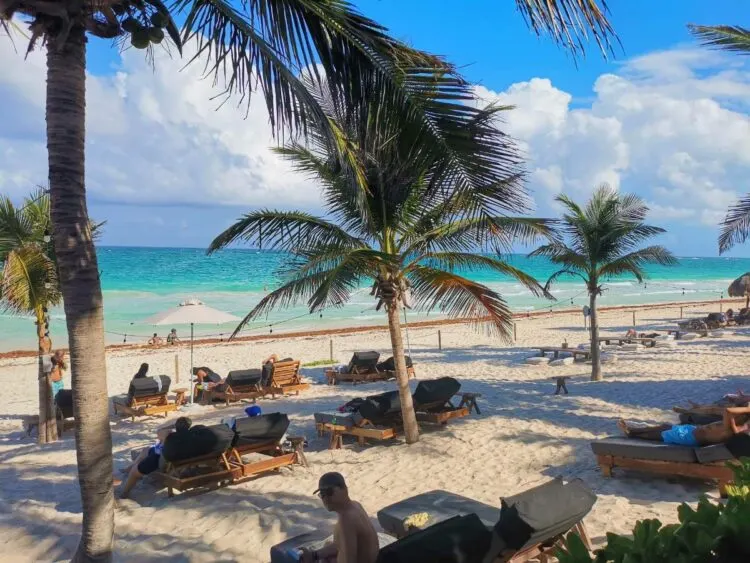 Minimum spend: USD 20
This place is a good choice if you want to stay off the beaten path!
With a location far from the crowds, you can have a quiet and relaxing vacation and a gastronomic experience like no other!
Rosa Del Viento has pioneered the concept of a restaurant in the middle of the beach that can be enjoyed at any time and in any season.
This restaurant and beach club offers an exclusive dining experience along the beach of Tulum, with a fusion of Mediterranean and Mexican flavors.
It was designed to take full advantage of its privileged location on the coast with a wide variety of options to delight all tastes.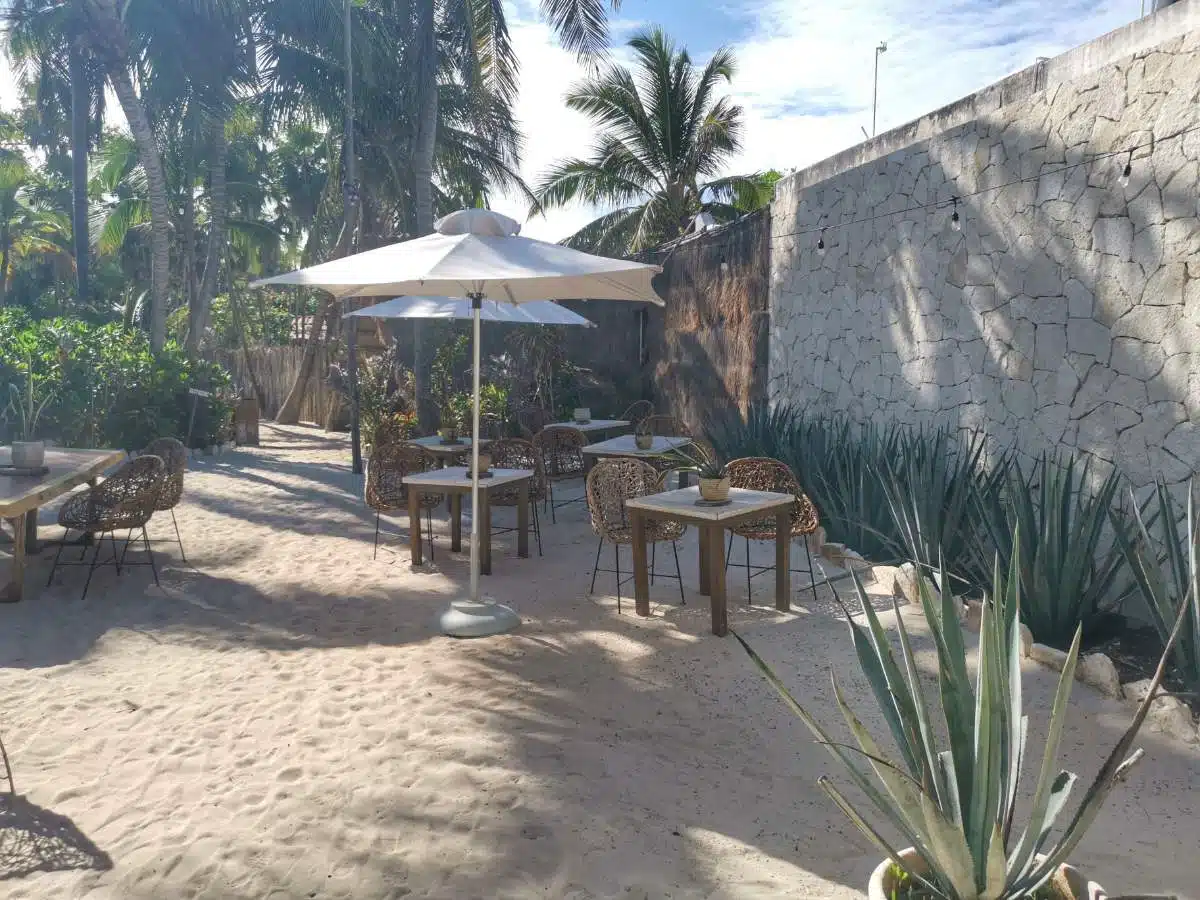 If your dream destination is Tulum, and you are looking for a great beach club to enjoy a beautiful sunset and delicious meal on the beach, Rosa Del Viento is prepared to make your visit unforgettable!
Some of the highlights of Rosa Del Viento Beachclub Tulum include:
Rooms located directly on the white sandy beaches.
A massage at the beach.
A peaceful and relaxing environment.
5. Coco Beach Club Tulum
Recommended by Victoria from Guide your Travel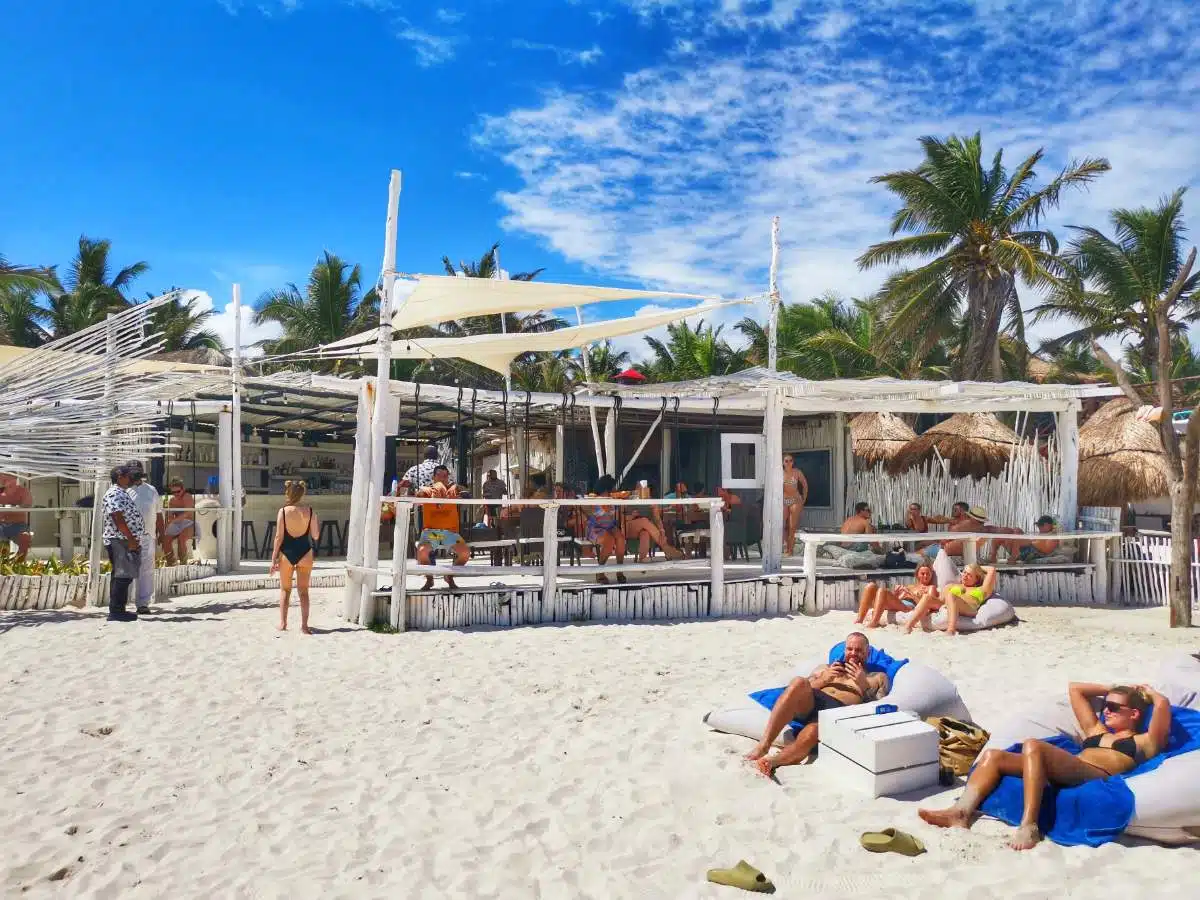 Minimum spend: USD 25
Coco Beach Club is a beautiful venue located on the beachfront in Tulum. Keep in mind that if you're staying in town it might be a bit tricky to get to and you will need either a scooter or get a collectivo public bus.
The trip is worth it though. Coco Beach Club is one of the most beautiful beach clubs in the area with delicious authentic Mexican food and international dishes. You'll love the incredible beachfront location and fun atmosphere.
This is definitely not an affordable beach club and drinks and food can be expensive. On some days of the week, there is a DJ which entertains the guests and there can even be beach parties during the high travel season.
In the evenings' Coco Beach Club in Tulum is usually very lively with lots of travelers and locals gathering to listen to electronic beats.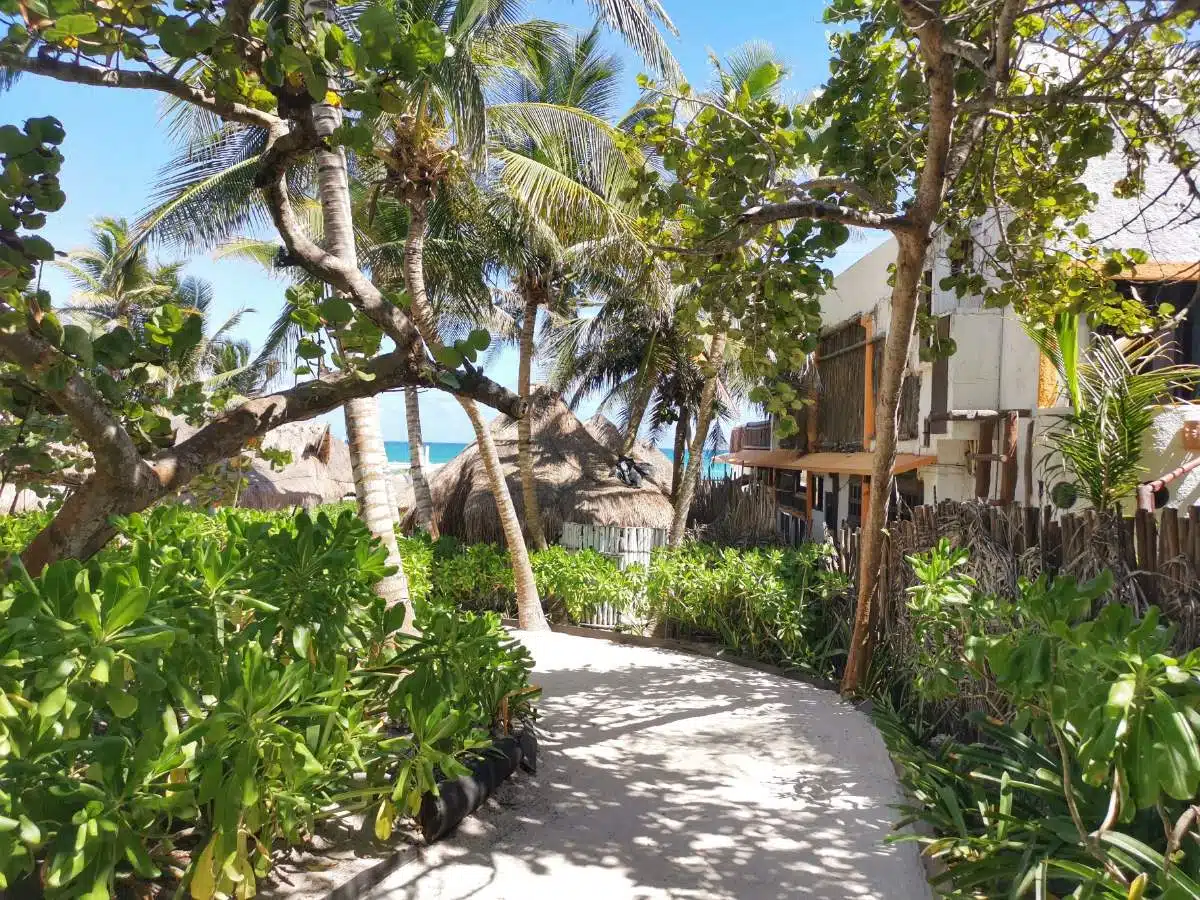 During the day, the beach club is a lot more laid back and great for a few afternoon cocktails and a day by the beach.
One of the highlights is the beach swings which face the ocean and make for a fantastic place to take Instagram photos. The views are absolutely perfect.
Highlights of the Coco Beach Club Tulum:
Beach front
Very aesthetic and great for taking photos
Incredible food
6. The Papaya Playa Project Beach Club Tulum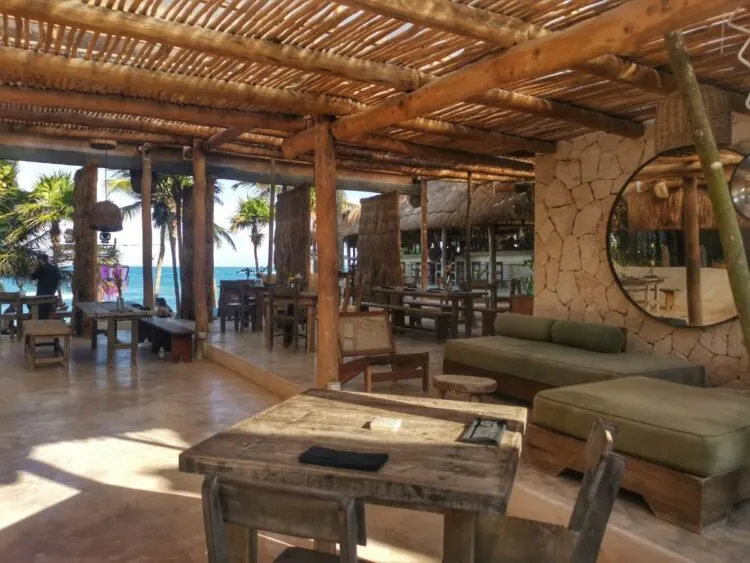 Minimum spend: USD 50
Papaya Playa is one beach club that keeps getting better and better!
Re-designed with an array of fresh, sustainable, and rich flavors that work in harmony with their new mixology menu, there are lots of delicious bites to be had. The cleverly designed interior highlights the natural beauty that surrounds its exterior walls.
The renovated venue is fanning up the flames with delicious new drinks, an updated menu, and a fun new space to make your vacation extra special!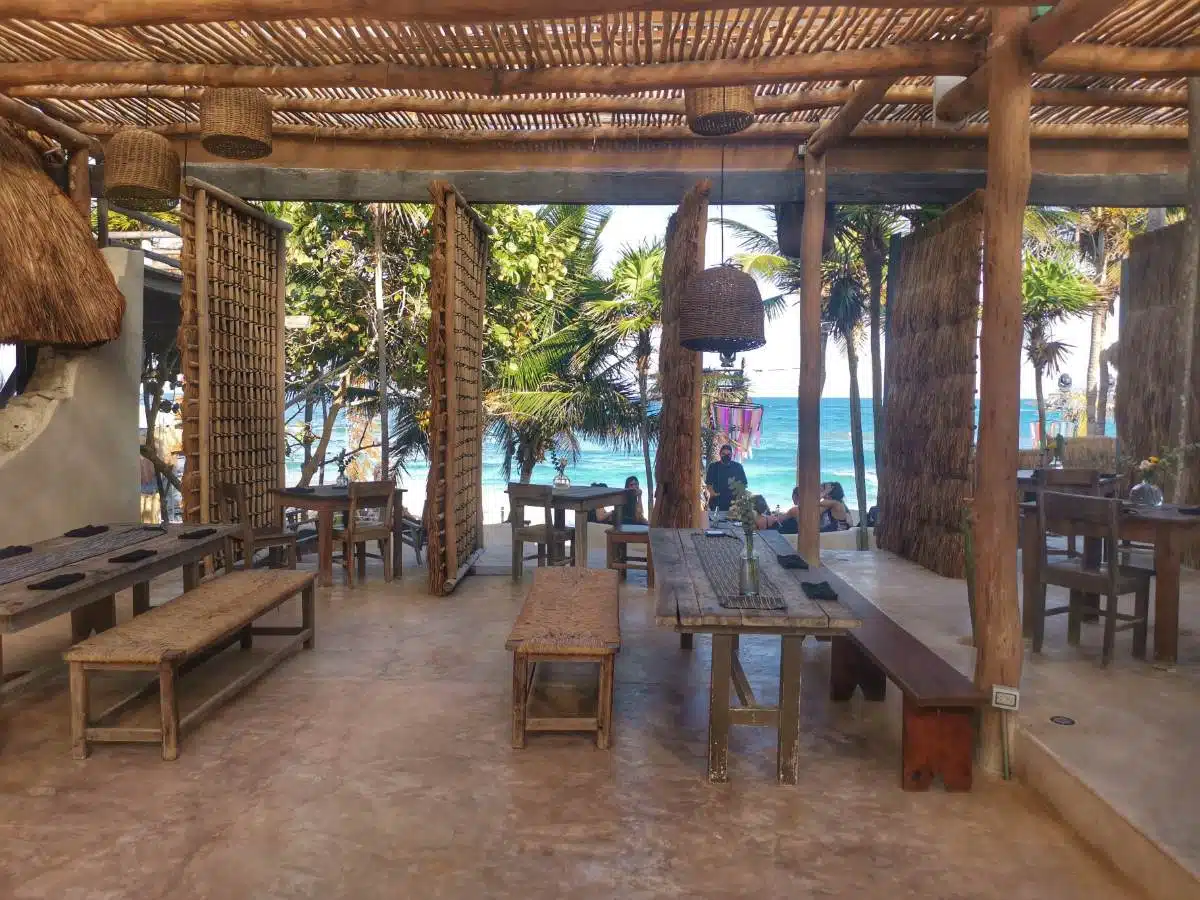 Located on the northern stretch of Tulum Beach, this luxury beach club boasts unobstructed views of the magnificent shore. It is a must-visit for anyone planning their vacation in Mexico.
With the crystalline waters of the Caribbean at your feet and the soothing breeze caressing your skin, you can sit back and relax, knowing that you've found the right place. Papaya Playa is a premier beach club presenting an outstanding waterfront relaxing experience!
If you're looking to enjoy some local drinks in a gorgeous setting with incredible music then Papaya Playa is a good place to check out.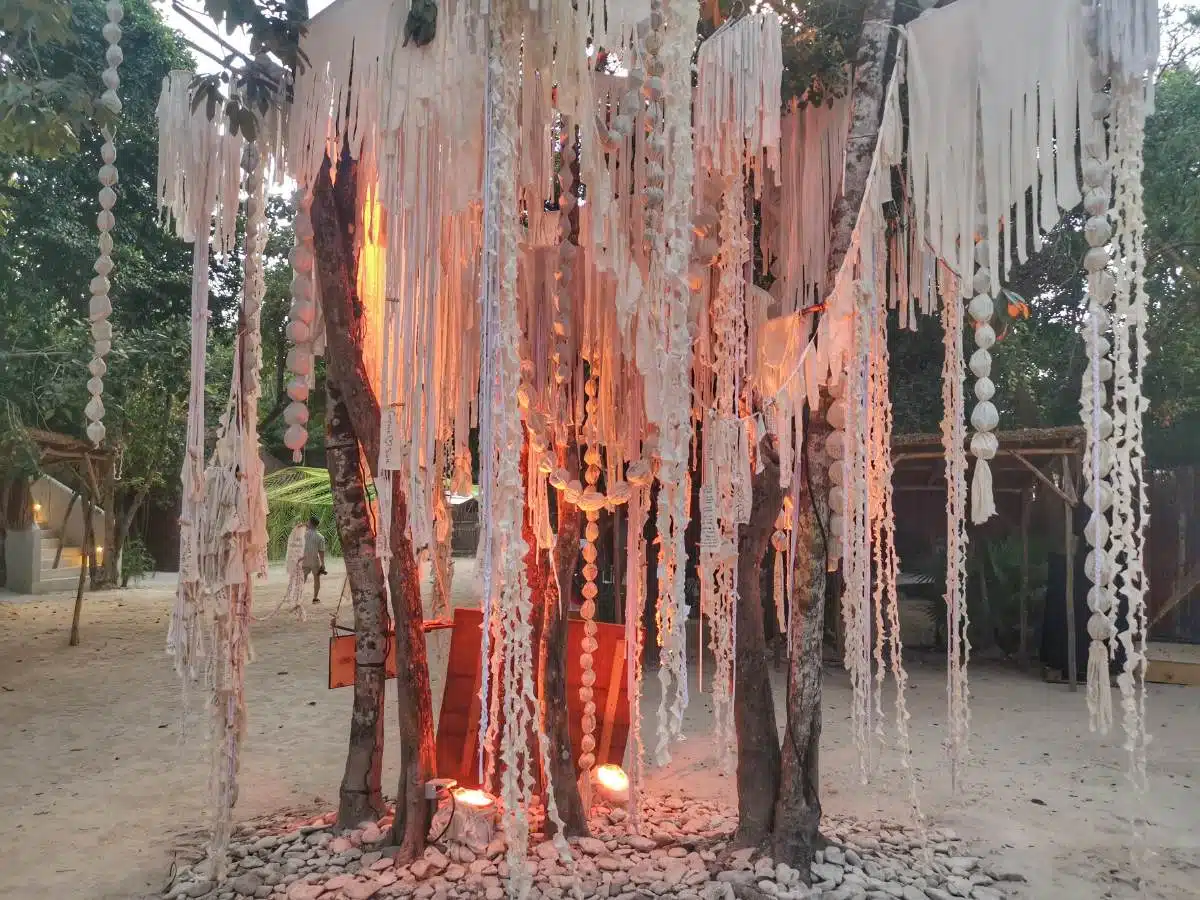 Some of the highlights of Papaya Playa Project Beach Club include:
Design of the space and the food/drink menu.
The amazing location!
A large shaded area for eating and drinking.
7. Paraiso Beach Club Tulum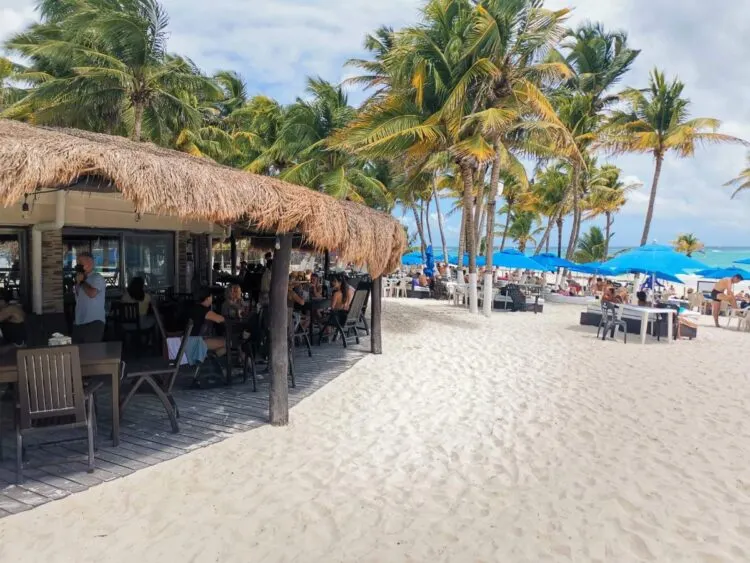 Minimum spend: USD 5
You will find the Paraiso Beach Club neatly positioned on the sandy beaches in Tulum just minutes away from the Mayan ruins.
This is the perfect place to cool off, snag some shade, and enjoy some delicious food and drinks.
The oversized beach beds, which are unheard of at most other beach clubs in the area, are incredibly comfortable, inviting you for a relaxing day in the sun under the natural shade of palm trees.
And let's not forget to mention that the food at this beach club makes it even more appealing.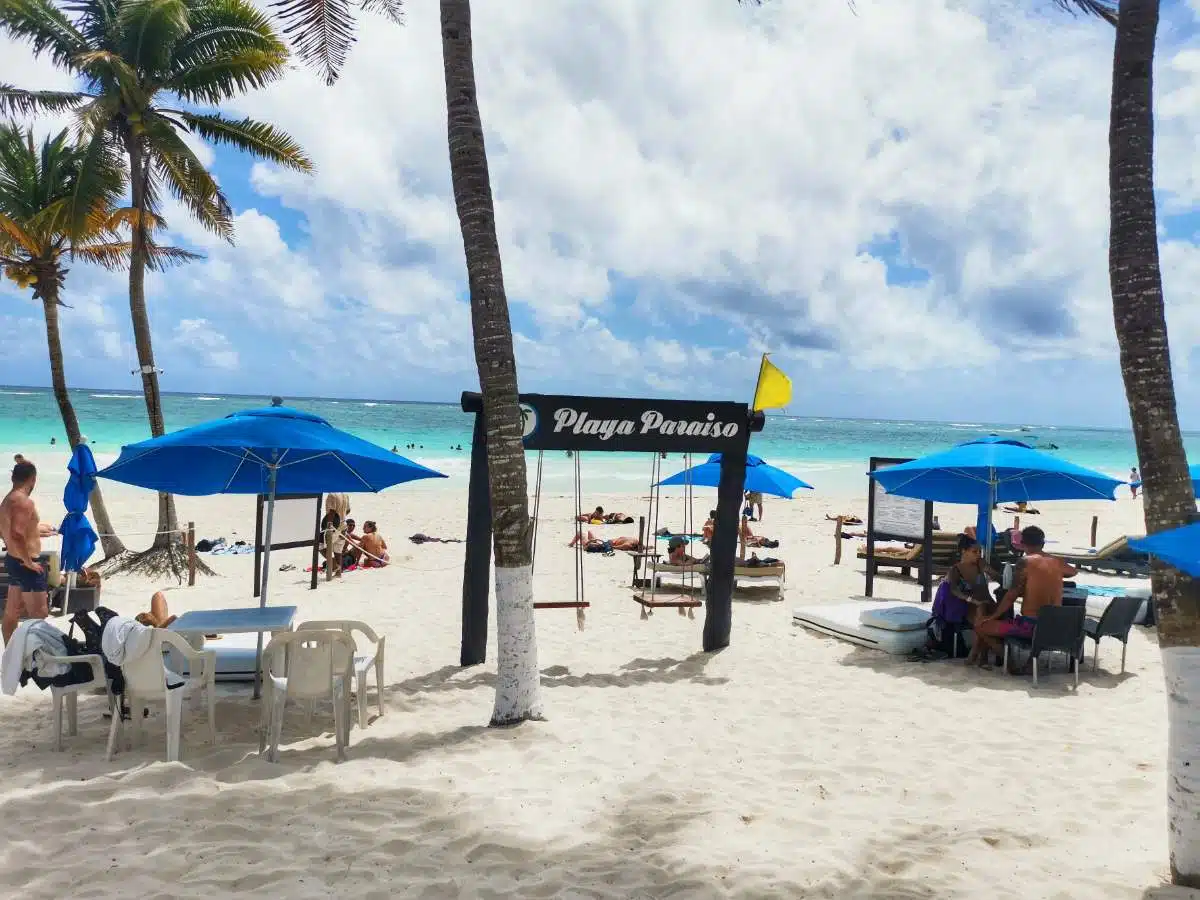 You can enjoy small plates of flavorful food, or larger dishes like lobster straight from the sea! The coral reefs just off the shore are a great place to snorkel as well.
If you are looking for an awesome beach club to have fun at, to relax in the sun, or to enjoy a meal, Paraiso Beach Club should be at the top of your list!
Some of the highlights of Paraiso Beach Club include:
Amazing food.
The most comfortable beach beds ever!
The shoreline is filled with vibrant marine life.
8. Hip Hotel Tulum Beach Club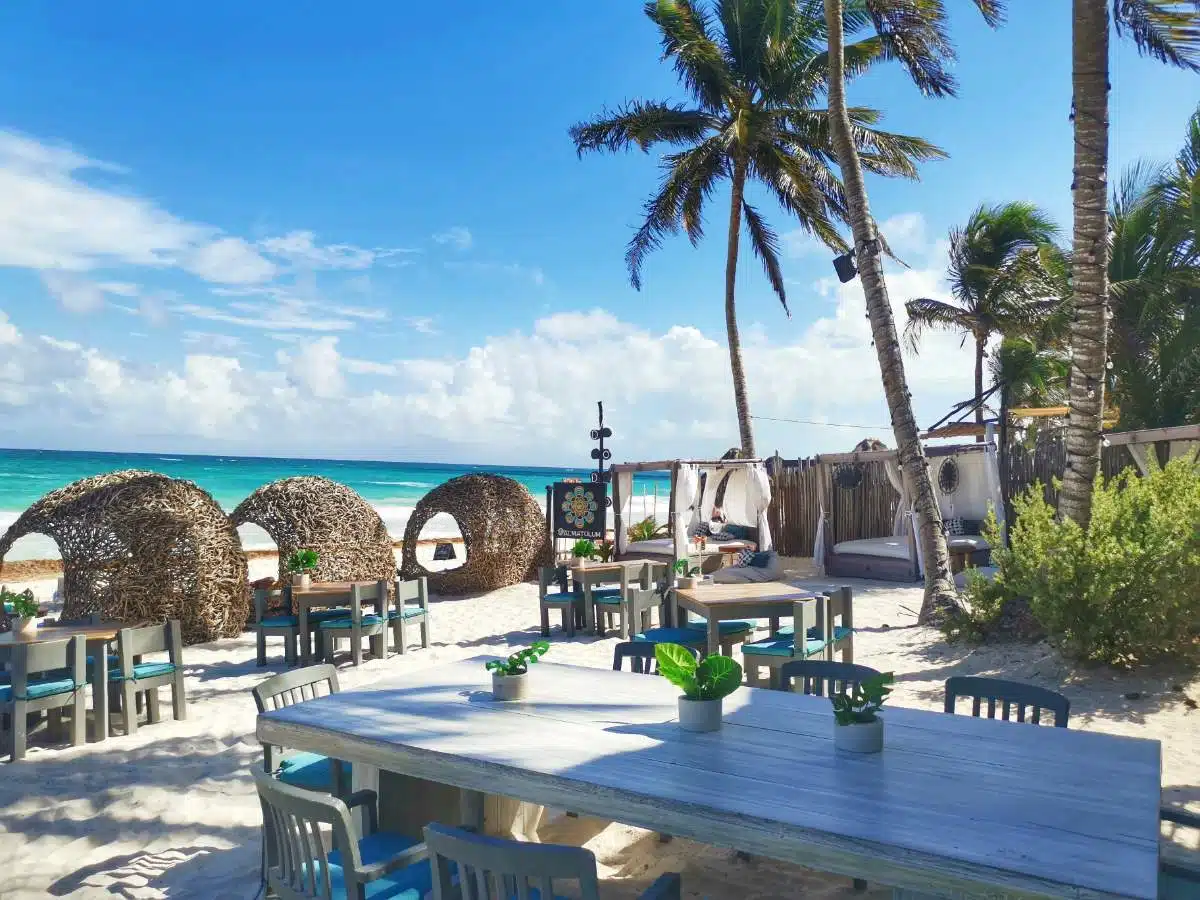 Minimum spend: USD 25
If you're planning on going to Tulum then you have to check out Hip Hotel Beach Club!
You can lounge under the white drapes, enjoy the dream catchers, and take a swim in the ocean between relaxing on the soft beds. The place is dreamy.
There is no mistaking the essence of the Tulum lifestyle in the decor of this place. The nautical rope swings will rock you back and forth as you order your next round of drinks at the bar in all-white and turquoise blue.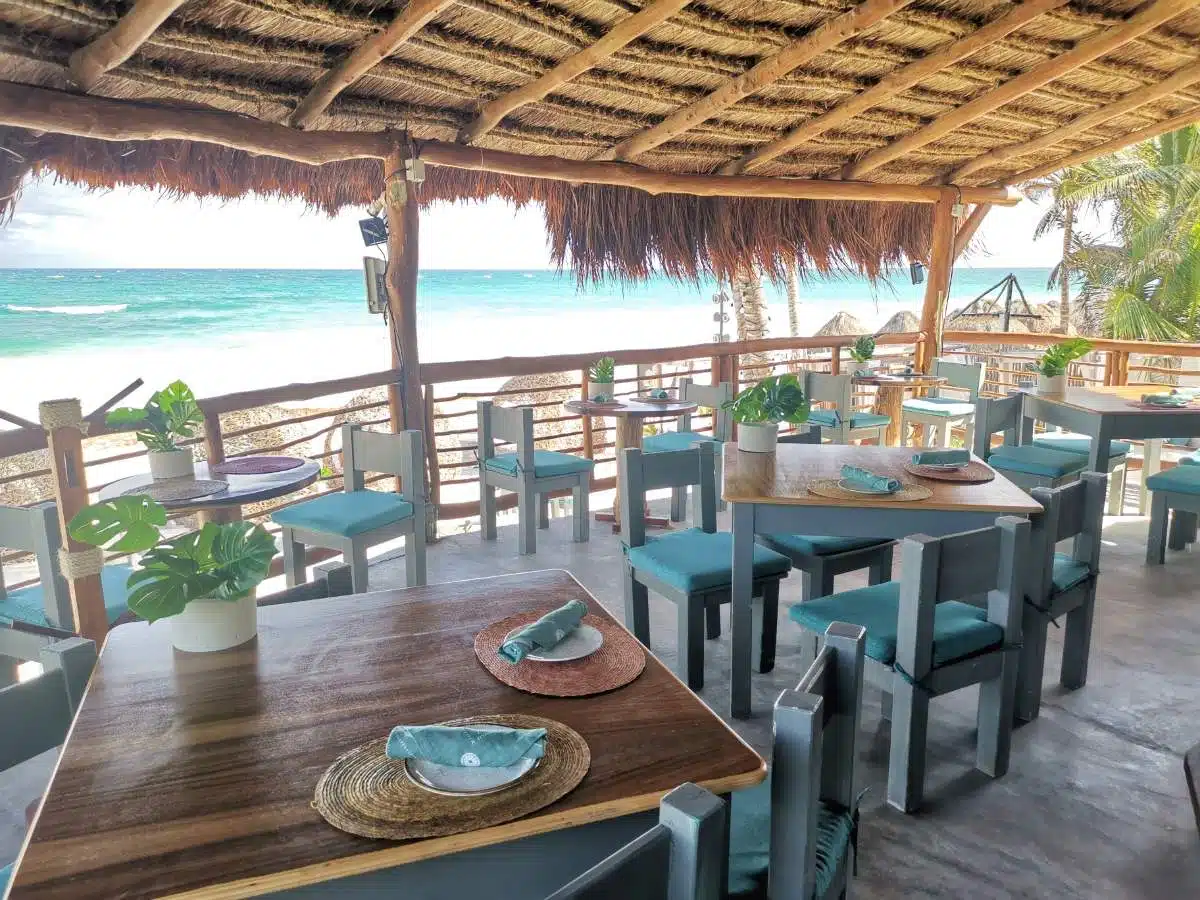 It's a fast, friendly place that makes the best mango mojitos you've ever had!
Tulum's Hip Hotel Beach Club is the embodiment of everything you've heard about the city. With the sun setting, twinkling fairy lights illuminate palm trees while a DJ spins cool electronic beats into the night.
You might catch a full moon party if you're lucky enough!
Some of the highlights of Hip Hotel Tulum include:
Amazing Mango Mojitos.
Comfortable beach beds.
Cool parties and DJs every day.
Full moon party!
9. Mia Restaurant & Beach Club Tulum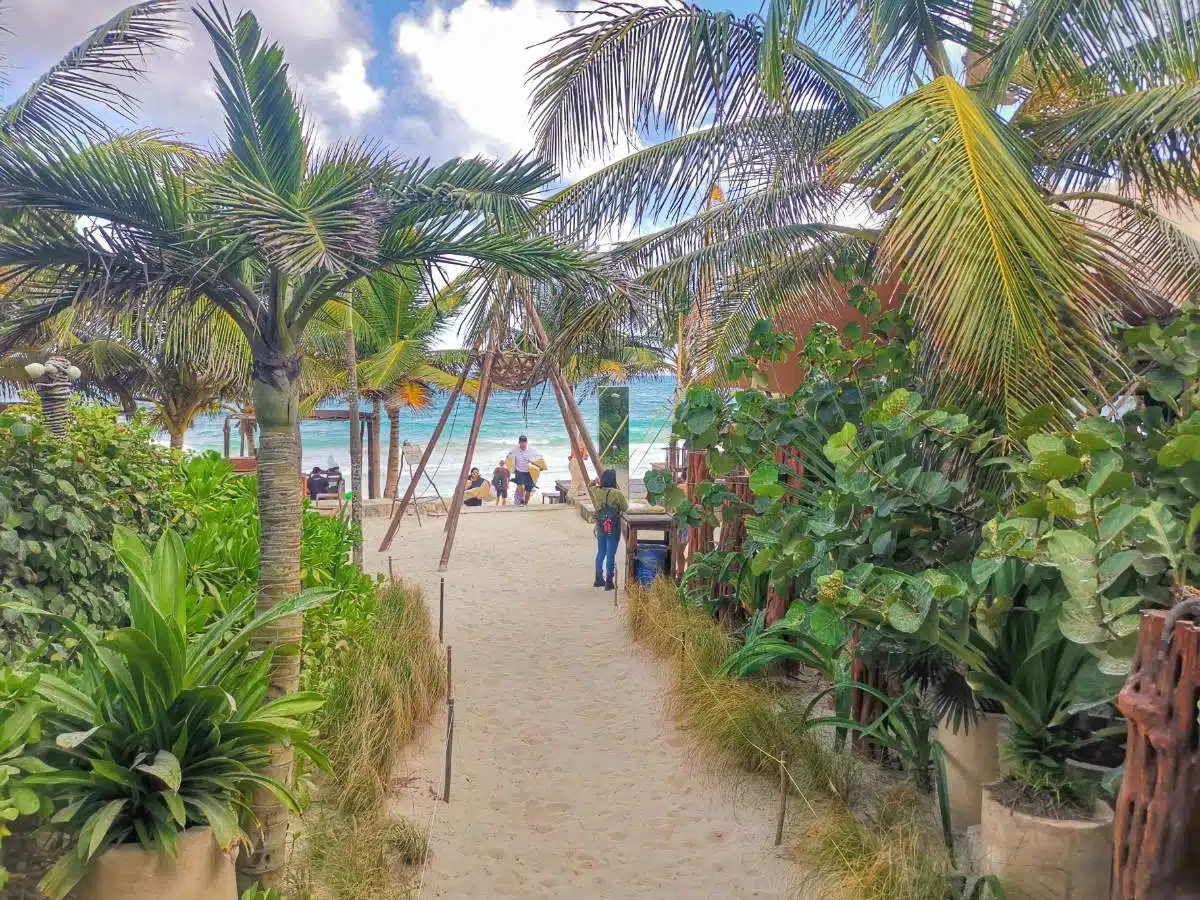 Minimum spend: USD 20
One of the best places to come for tasty food and good times is Mia Restaurant & Beach Club.
They offer breakfast, lunch, and dinner, as well as plenty of vegan and vegetarian food choices in the best location of the hotel zone.
Mia is also the place to be for wine lovers! Here, you can enjoy more than 200 elegant labels from around the world.
You can even enjoy the onsite pool if you prefer to avoid the waves. The indoor area provides shade to escape the blazing Caribbean sun while you relax on the cushioned sofas.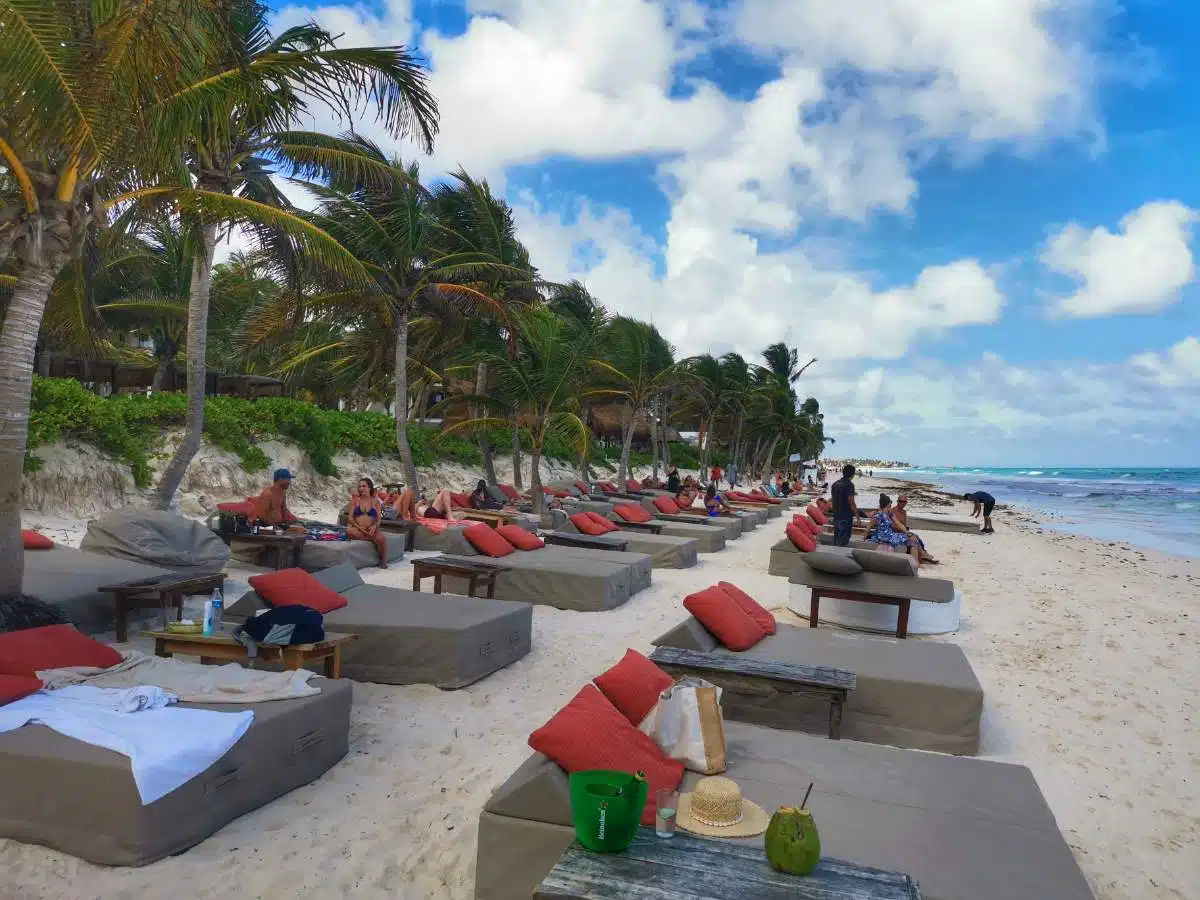 What's not to love about this beach club? It's got everything you want to enjoy – great food, gorgeous decor, beach access, and a pool! So put on your swimsuit and head to Mia Restaurant & Beach Club if you want a slice of the tropical life in Mexico.
Some of the highlights of Mia Restaurant & Beach Club include:
An extensive wine list.
Exceptional service.
Beautiful decor and design.
10. La Zebra Beach Club Tulum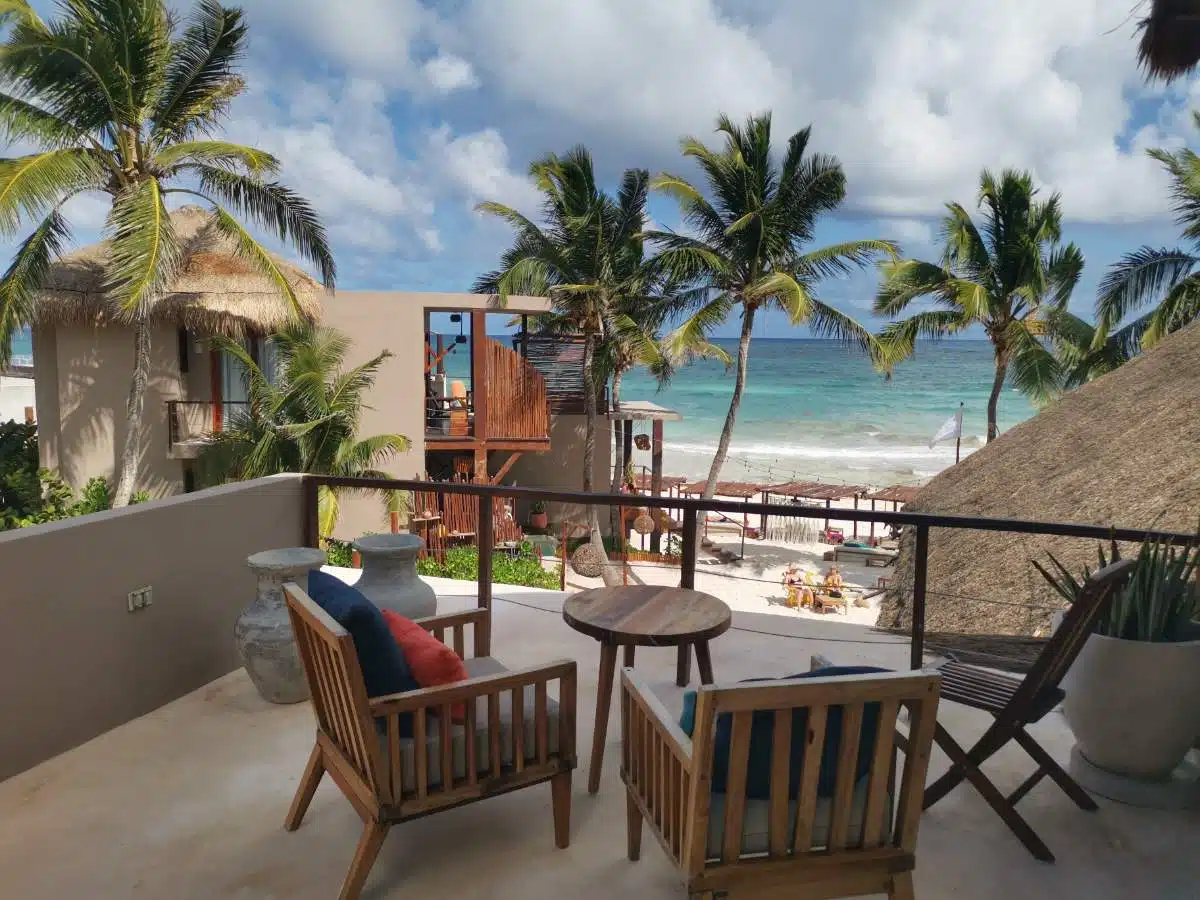 Minimum spend: USD 50
When thinking about Tulum or the Riviera Maya, the first thing that comes to mind, probably, is the turquoise color of the Caribbean, palm trees, and perhaps, a refreshing drink in a beachfront lounge chair.
La Zebra Beach Club is here to offer you that experience! You can relax in the lounge chairs and beds at La Zebra beach club while you sip a beer, a mojito, or a pina colada while you enjoy the view of the sea.
The restaurant at La Zebra serves tacos, ceviches, lunch, dinner, and breakfast every day as well as authentic Mexican food. Moreover, there is rumba on Sundays, since salsa classes are held that evening and then a Cuban salsa group performs that piques the interest of the guests.
During the afternoon of Saturday between 12 and 5 pm, you have a very good chance of getting to enjoy the beach barbecue. This is prepared by chef Eleazar Bonilla, while a DJ plays live music lounge-techno style!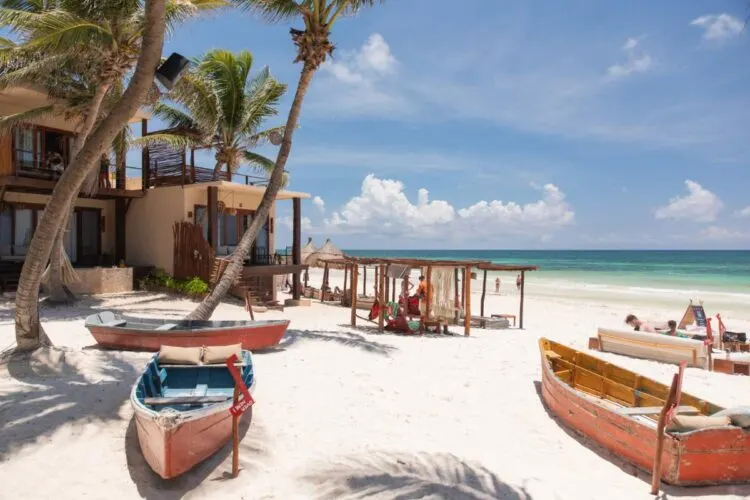 Frequently Asked Questions
What is the best time to visit Tulum?
The best time to visit Tulum is during the dry season, which is November through April. This time of year is when the temperatures are at their most comfortable and the humidity is low.