Volcano Boarding was discovered 6 years ago by an Australian and is the newest extreme sport in Central America. You race down the active Cerro Negro Volcano on only a little piece of wood. There are basically two ways to do it, either standing like on a snowboard or sitting like on a sled.
The Cerro Negro is, with only 164 years, the youngest volcano in Central America. It erupted, however, already 23 times in this short time. The last major eruption took place in 1999, causing ash damages to the city of Leon, which is located 25 kilometers away from the volcano.
Arrived at the volcano, our Tour guide and the bus driver prepare the boards and the equipment.
Best VPN for Travel: ExpressVPN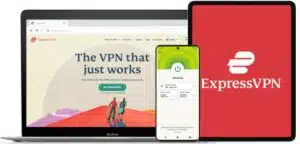 Heading abroad? Use ExpressVPN to access your social media accounts, unblock your favorite entertainment sites, and stay connected with friends and family. And get cheaper flights, of course.
Pros
✅ Next-gen, high-speed servers in 94 countries
✅ Works on iOS, Android, Windows, Mac, Linux, browsers, and more
✅ 256-bit AES encryption protects your data, even on hotel Wi-Fi
✅ Unblocks Netflix and other streaming sites
Cons
❎ No dedicated IPs
Get 3 extra months free of ExpressVPN when signing up for a 1-year plan. That's a 49% saving and a monthly cost of just $6.67! You also get a 30-day money-back guarantee.
Related Posts: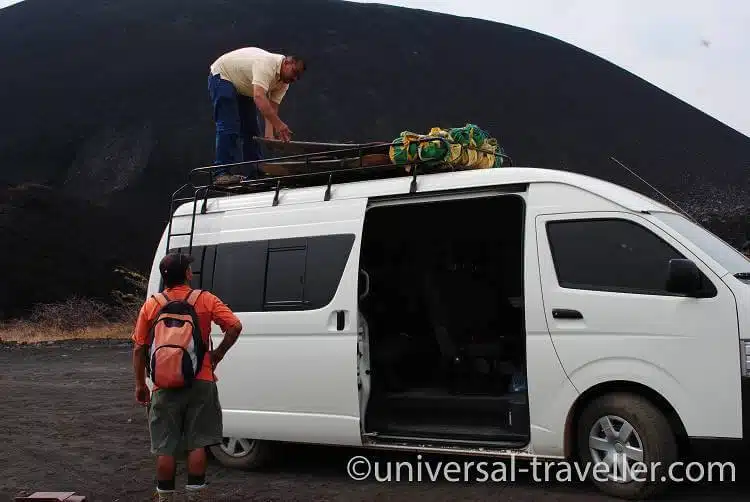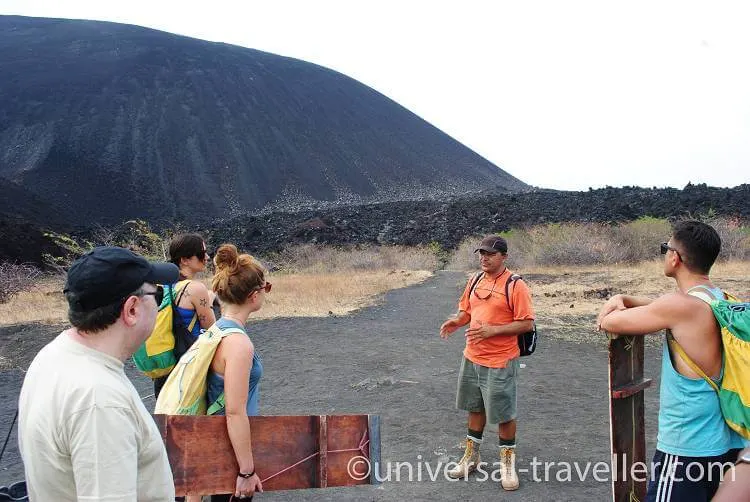 Before we start climbing the volcano, our guide gives us some information about the volcano and the latest eruptions. We discuss the program and prepare the equipment. "Are you guys ready for the Ultimate Adrenaline Rush?"

YEEESSSS, WE ARE! Let's Go!!!!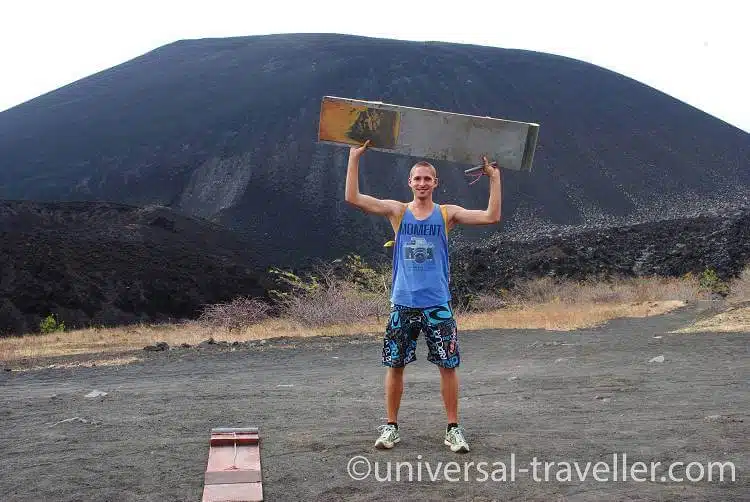 Let's rumble! The hike up the 731 meters takes about 45 minutes. Business before pleasure or climbing before adrenaline.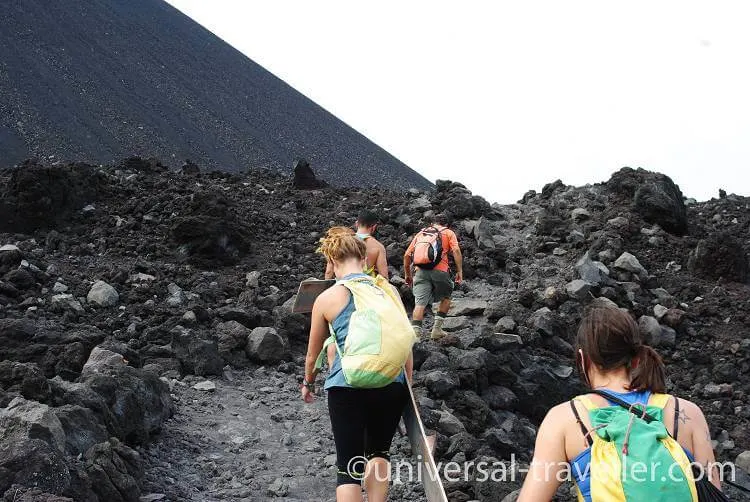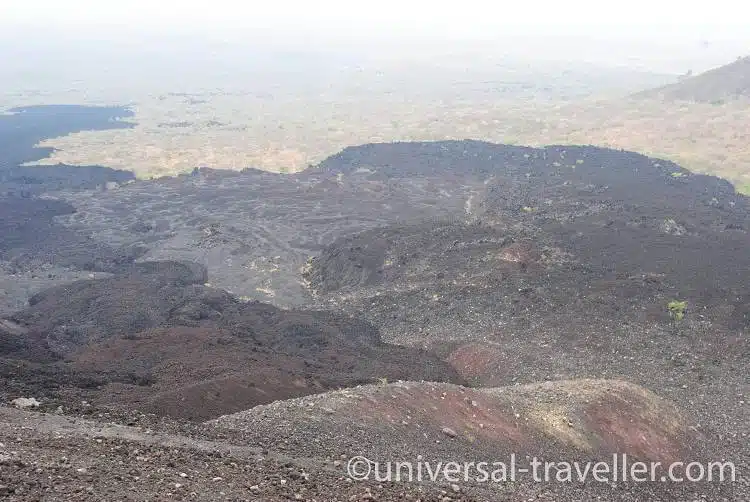 The hardest part is done, and we take a break to enjoy the fascinating landscape.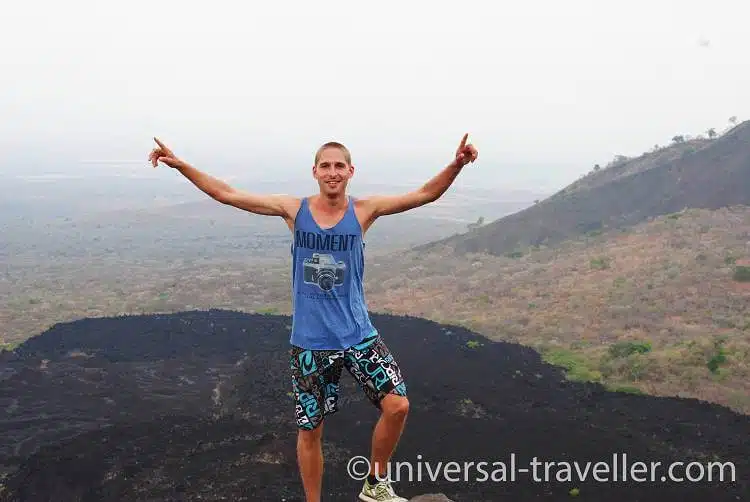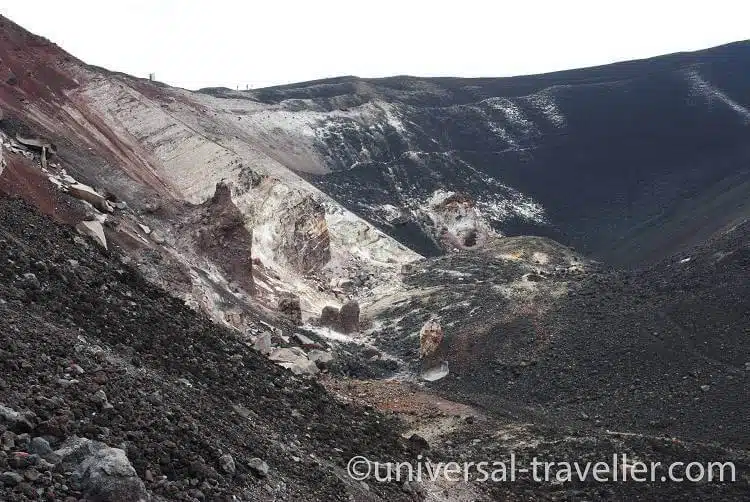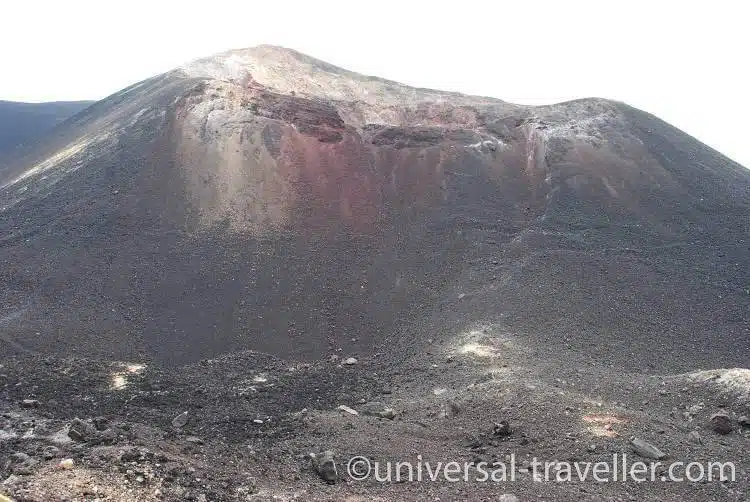 We continue our way, and 20 minutes later, we finally arrive at the crater of the Cerro Negro Volcano.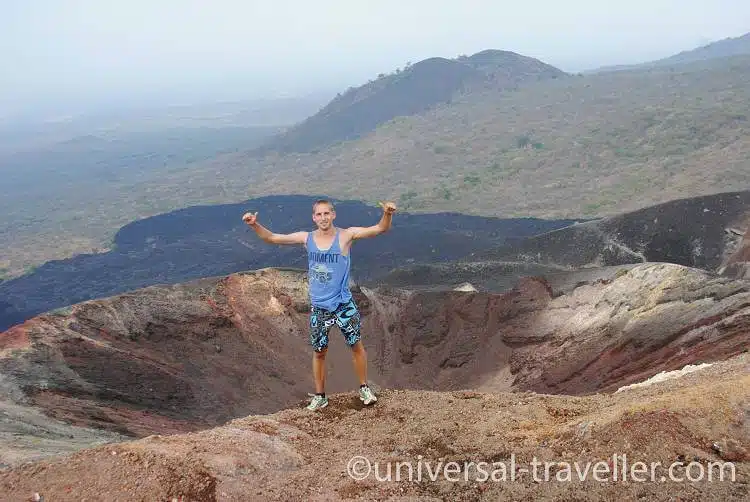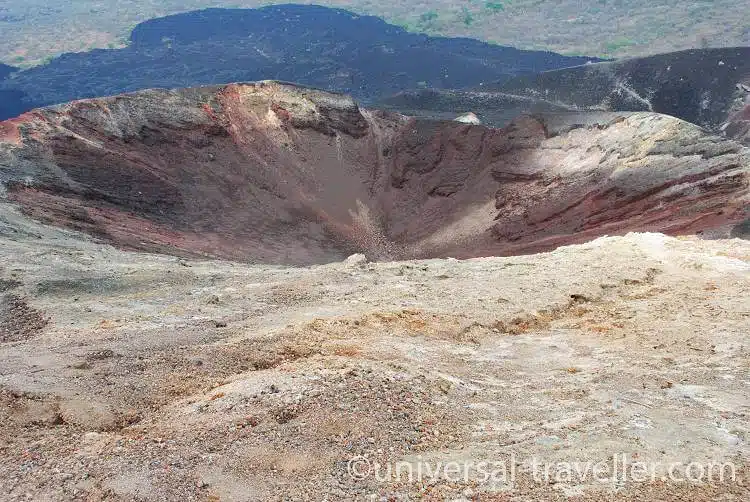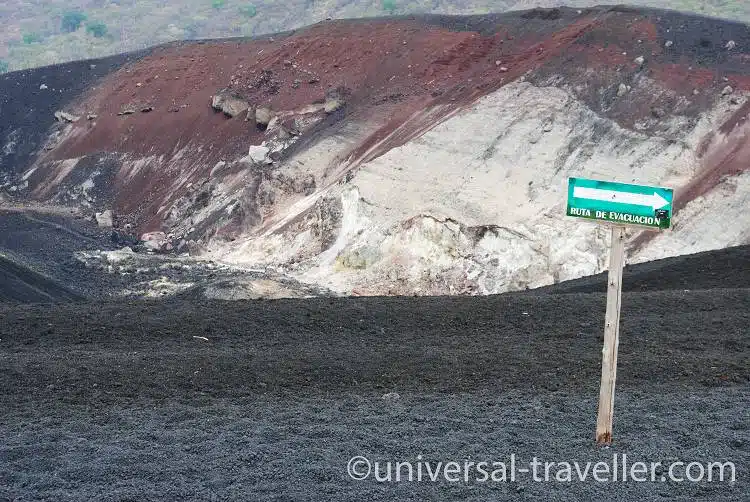 Now it is time for the real adventure. Volcano Boarding on an active volcano in Nicaragua. This is the black piste … literally. In real it looks even steeper than in the photos, and you cannot see where you are going. Additionally, the wind is blowing pretty strong, and I really have respect.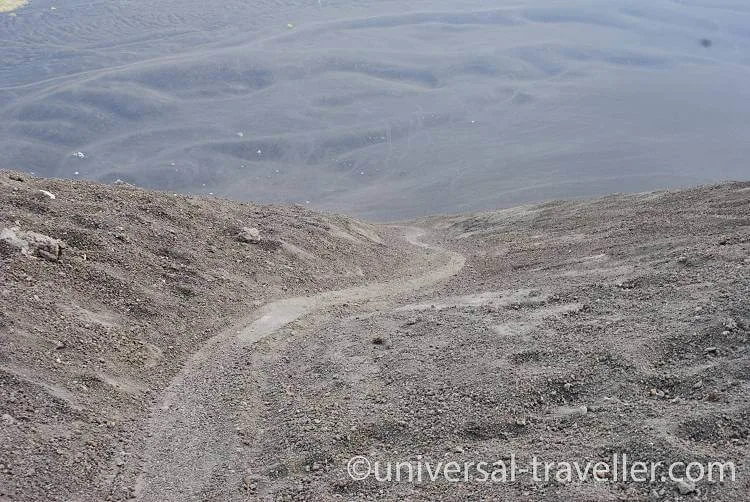 Our guide gives us the last instructions and tips …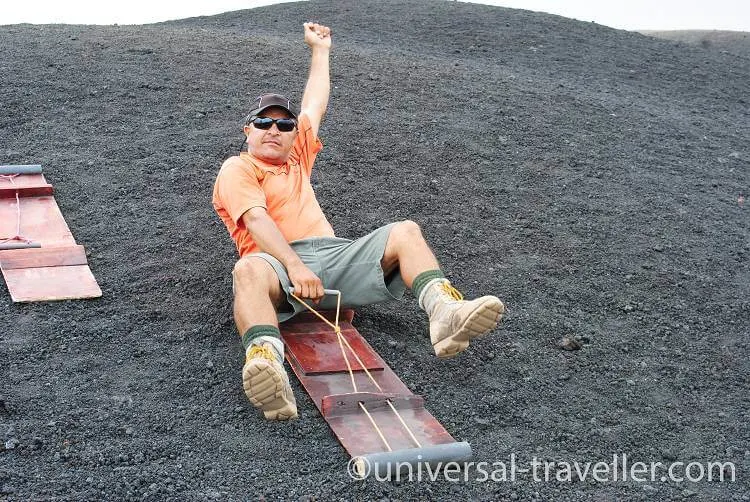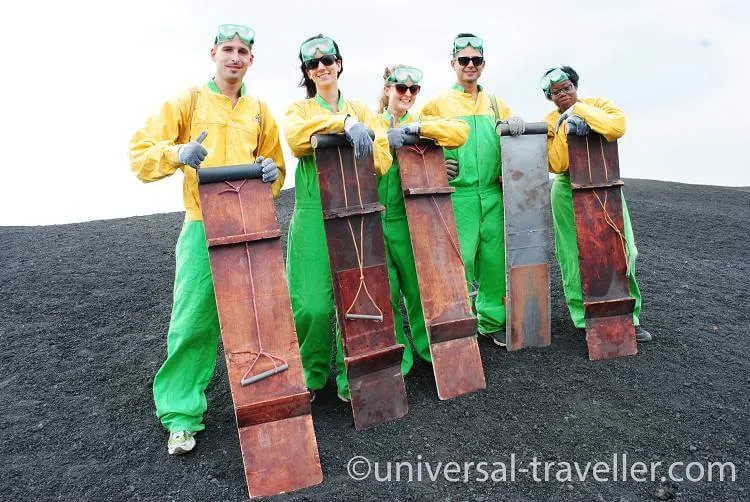 … takes a group photo …
… and we are READY TO GO.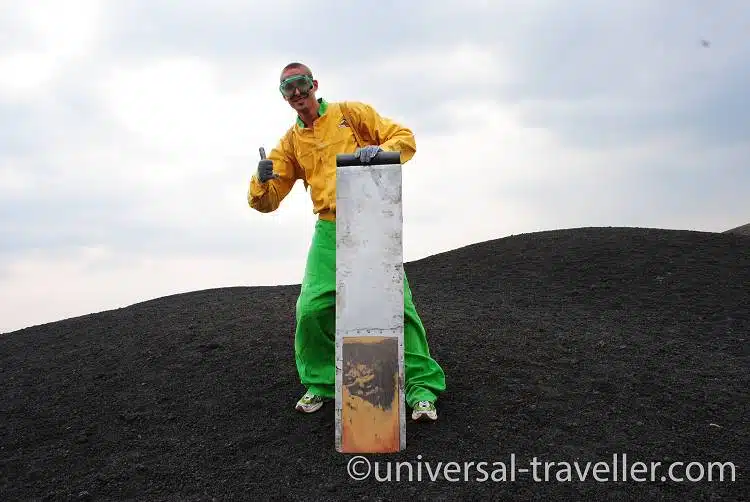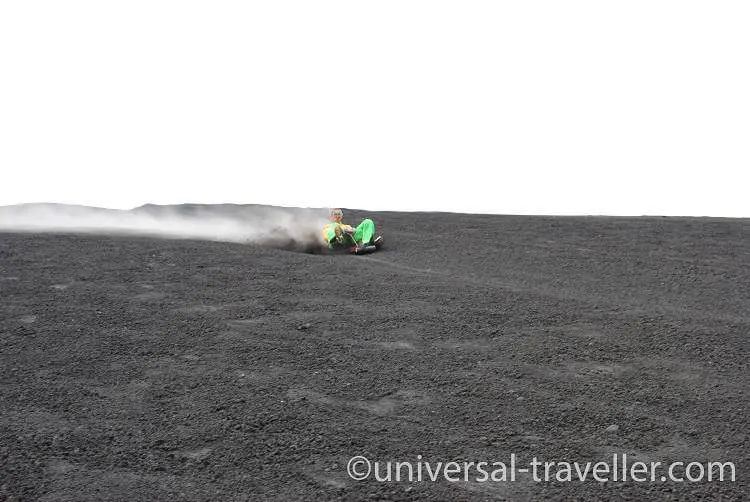 I start slowly but quickly build up speed when I reach the steepest part with about 41 degrees. I pose for the photo … and lose control. Volcanic rocks kick in my face, and I fell off my board. My overall is full of stones, and I need a moment to orientate. I am a little more than halfway; take my board and start again. My glasses are pretty scratched. I cannot see where I go and how far it is to the end of the piste. I speed up again, and more stones kick in my face.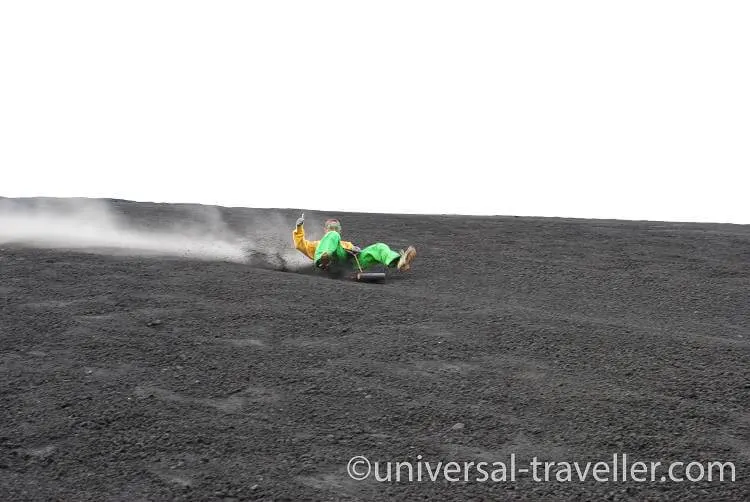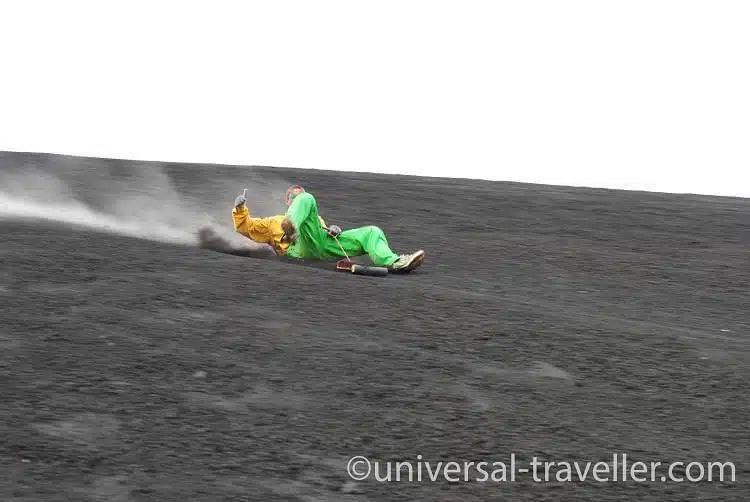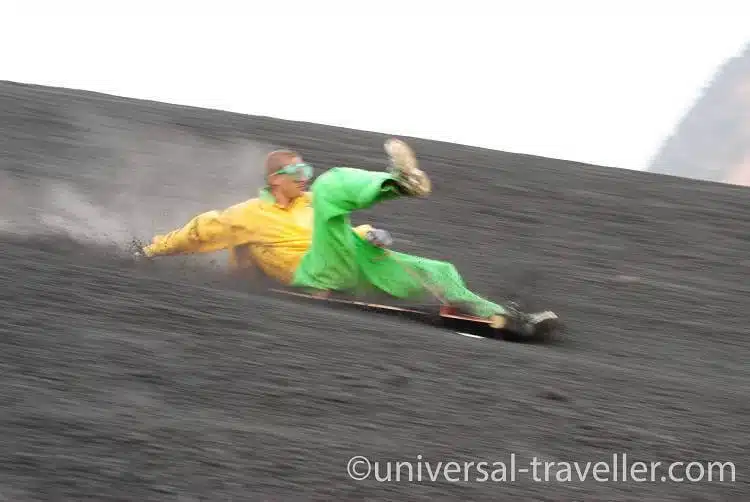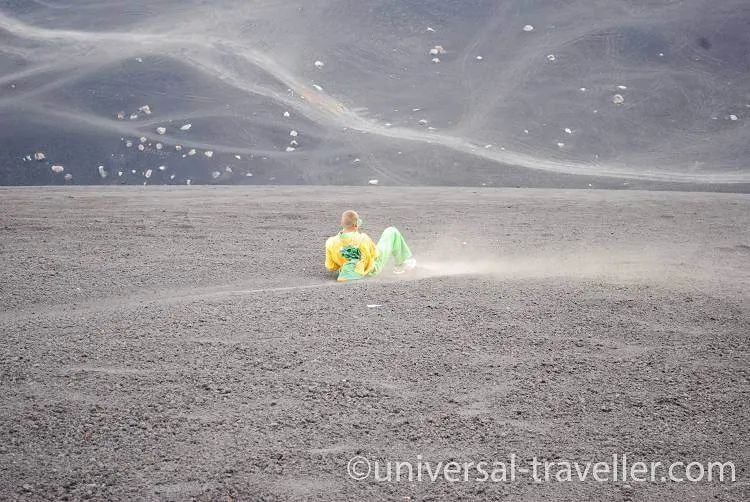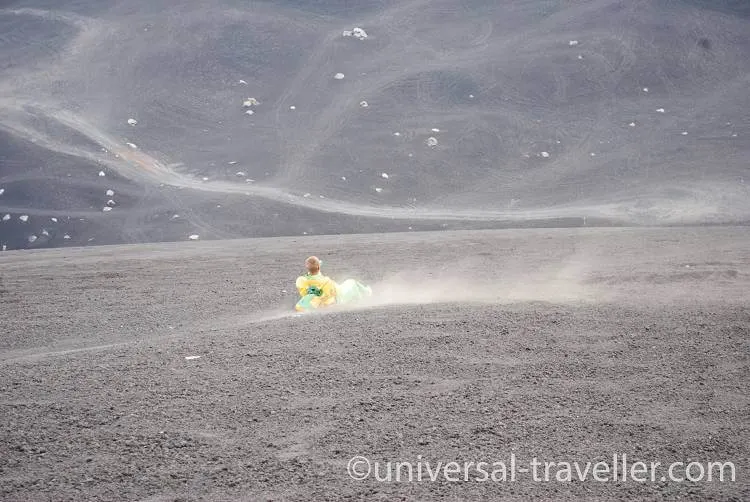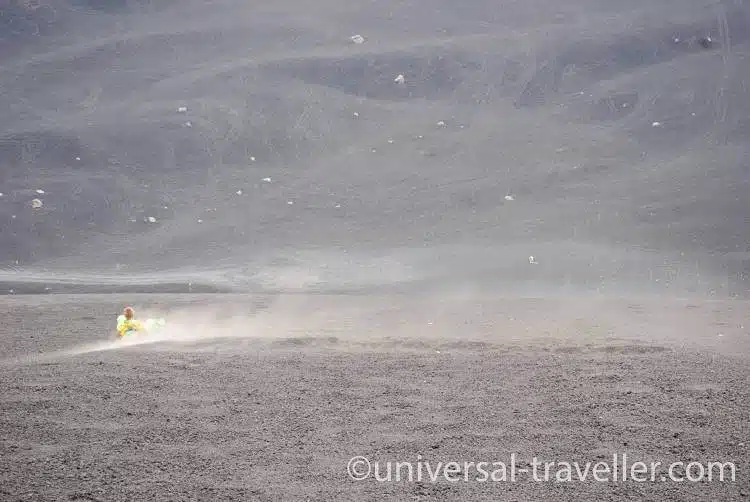 The slope is even steeper and longer as I first thought, and although I crashed once and countless volcanic stones kicked in my face, it was a lot of fun, and I want to do it again.
In the snow, it is still way cooler; however, it is a special experience to do it on an active volcano and a Must-Do activity in Leon, Nicaragua.
Leave a comment: Have you ever done Volcano Boarding, or is it something you would do?