Isla Ometepe is an island on Lake Nicaragua. During an island tour, you may visit Punta Jesus, a narrow strip of sand where you can see beautiful sunsets, the national reserve Charco Verde, the natural pool Ojo de Agua as well, as the 4-kilometer long beach Playa Santo Domingo.
I take a bus to Rivas from Granada, which is close to the San Jorge Ferry port. I travel together with all kinds of people.
There is this European couple, which is backpacking through Central America, an Argentinian family looking for a new place to stay in Nicaragua, some young men on their way to work, an old lady that just bought food on the local market, a group of children, a very young Nicaraguan girl with a baby, and there is me.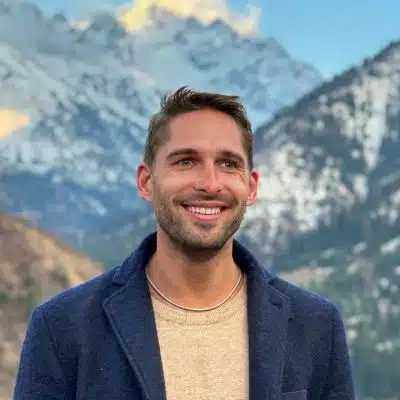 We are all traveling together for the next 1.5 hours on an old American school bus.
Some people call these busses "chicken busses" because they are so full, people are crammed in like chickens. Every space is used.
Related Posts:
From Rivas, I share a taxi with a young Nicaraguan boy to San Jorge. It is normal in Nicaragua that the taxi driver stops on the way to pick up other passengers.
In San Jorge I take the ferry to Moyogalpa on the Isla Ometepe. It is a very old and small boat. When I arrive, it is already full, and I am happy to get a seat …
Well, we are in Nicaragua and what applies to the busses applies obviously also to the ferries.
More and more people enter the boat looking for a place to sit. The crew carries motorbikes, construction materials, and big food boxes on the boat.
While I wonder where they want to stow all these things, a truck with cement bags arrives…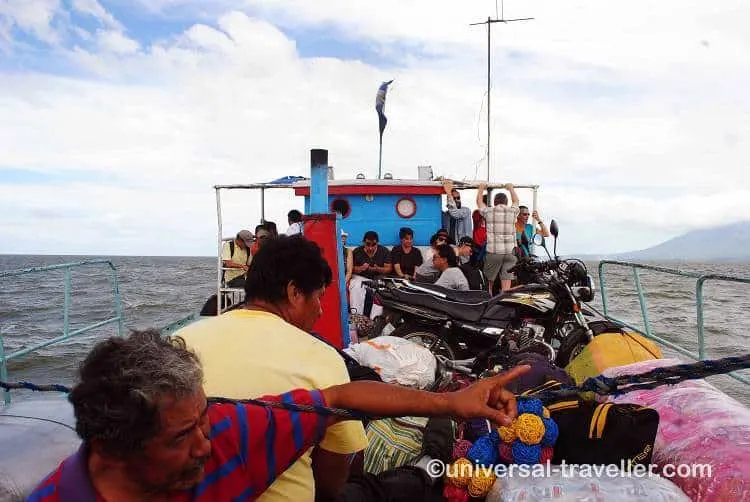 It is a really adventurous drive with this old, totally overloaded boat on Central America's largest lake. I am happy when we finally arrive on Isla Ometepe and when I am on firm ground again.
Isla Ometepe is a beautiful island with very friendly people. Once you are there, I highly recommend making a tour around the island.
In Moyogalpa, there are many places where you can rent a motorbike for $25 and a bicycle for $8 per day.
I choose a more sustainable way and explore Ometepe by bike. From Moyogalpa, I drive to Punta Jesus Maria, a narrow strip of sand, the natural reserve Charco Verde, to the beautiful natural pool Ojo de Agua, relax on the beach Santo Domingo and end my tour in Altagracia.
During the whole day, I can see the impressive Concepción volcano. From Altagracia, I take the bus back to Moyogalpa, where I really need some rest.
It is a tiring tour by bike with some small hills and partly strong wind, however, in my opinion, the best way to explore the island.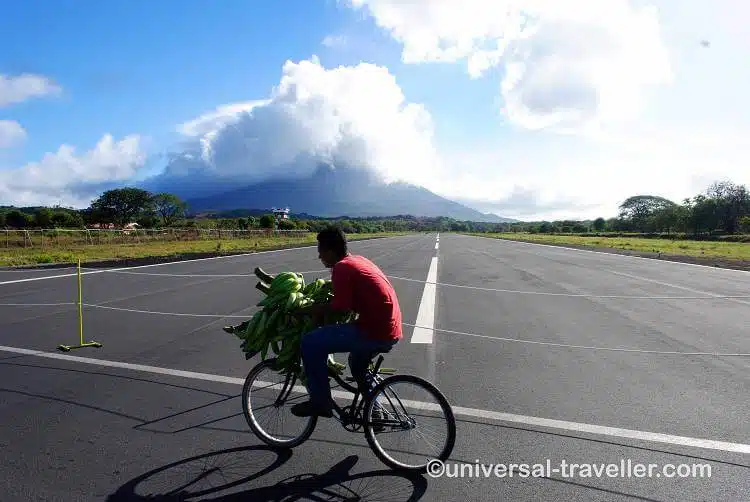 Moyogalpa
When you take the ferry from San Jorge near Rivas, you will arrive in Moyogalpa.
It is a small, calm town that offers all-important tourist facilities. The first thing you will see is the active Concepción volcano.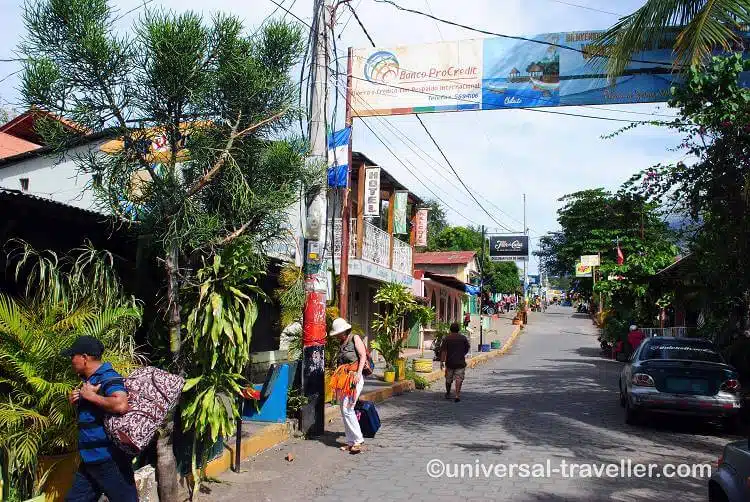 Punta Jesus Maria
Punta Jesus Maria is a narrow strip of sand and the most western point of Isla Ometepe. During the dry season, it can reach almost 1 kilometer into the lake.
Punta Jesus Maria is famous for its beautiful sunsets. During the rainy season, you can see waves coming from the left and right sides crashing into each other.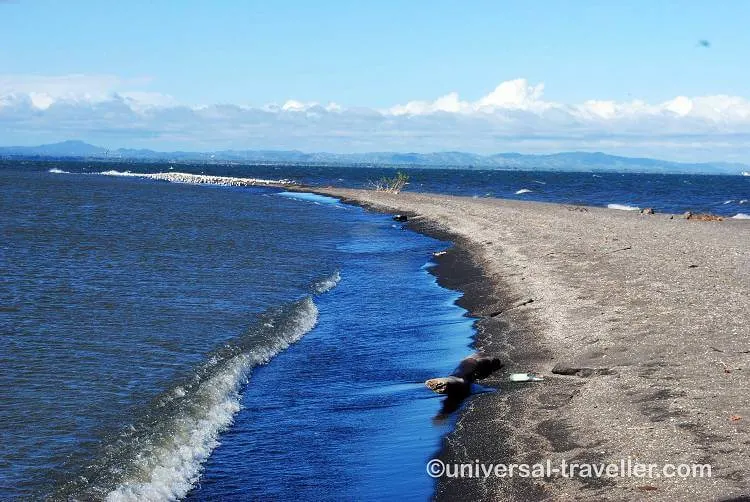 Charco Verde
Charco Verde is a natural reserve between the two volcanos of the island with a forest and a beautiful lagoon, and a beach.
The beach is one of the best ones on Ometepe and perfect for swimming and relaxing.
Within the national park, there is a trail that connects all interesting places. From the highest point, you have an amazing view of the lagoon and the reserve.
The hike takes about one hour. The entrance fee for the park accounts for $4.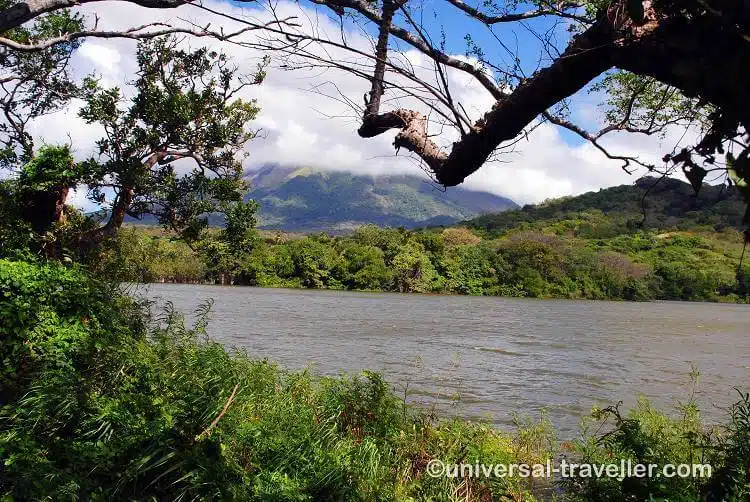 Natural Pool – Ojo de Agua
Ojo de Agua is two natural pools in the forest of Isla Ometepe, surrounded by old trees. The pools are filled with thermal spring water that comes from the underground of the upper pool.
A continuous flow of freshwater makes this the perfect place for pleasant cooling. The pools are on the deepest point, almost two-meter deep and more than 40 meters long.
The entrance to the pools costs $4. Therefore wooden chairs are provided as well as dressing rooms, showers, toilets and a parking lot.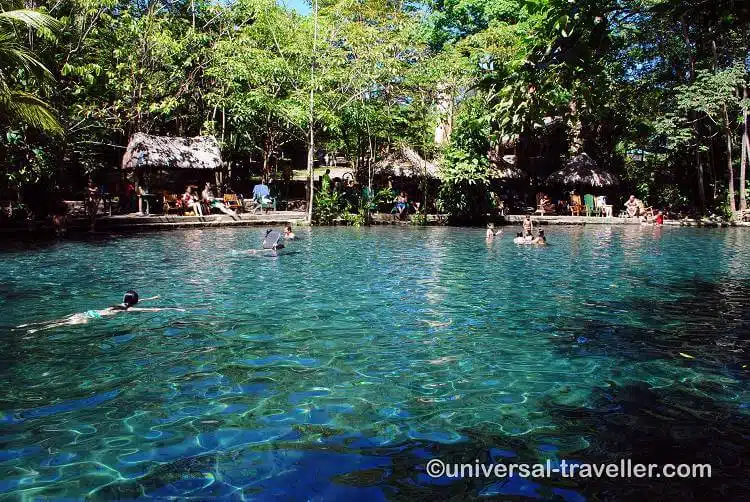 Playa Santo Domingo
Playa Santo Domingo is a 4 kilometers long beach on the northeast side of Ometepe. It offers a great view of the Maderas volcano and is considered one of the best beaches in Nicaragua.
Although there are always waves, it is shallow, and the warm water is safe for swimming.
Next to the beach, there are several accommodations and restaurants for different budgets. On the beach, you can often spot egrets and ibises.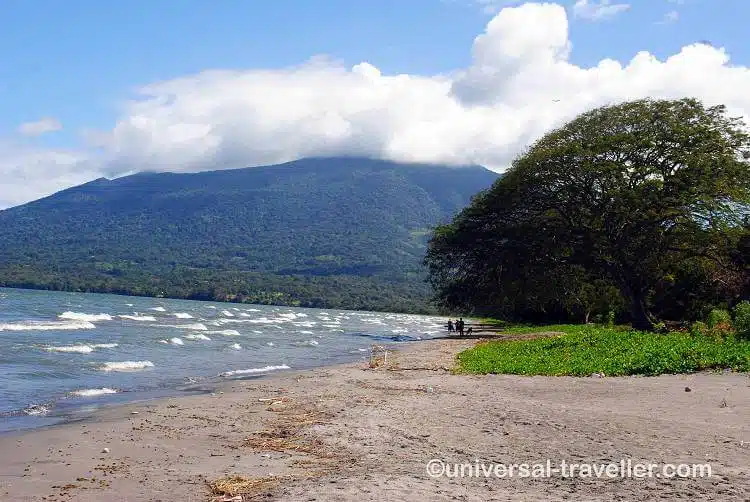 Concepción and Maderas Volcanoes
During the whole trip, you always have a nice view of the two volcanoes of the island. Concepción, the larger one, is an active volcano and the second-highest one in Nicaragua.
The last activity was in March 2010, when it spits out a huge ash cloud. In the southeast half of Isla Ometepe, there is the Maderas volcano.
It is covered with coffee and tobacco plantations, and on its summit, there is a crater lake.
Altagracia
Altagracia is a small town with a relaxed life. You can visit the Pre-Columbian Museum with ceramics, statues, and petroglyphs found on the island.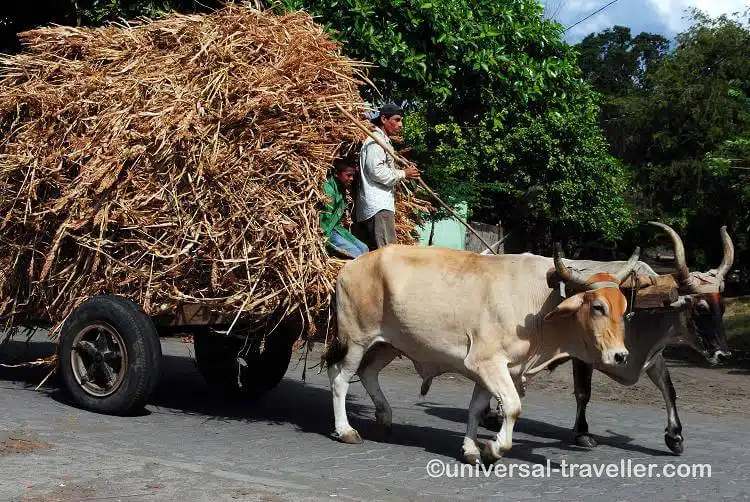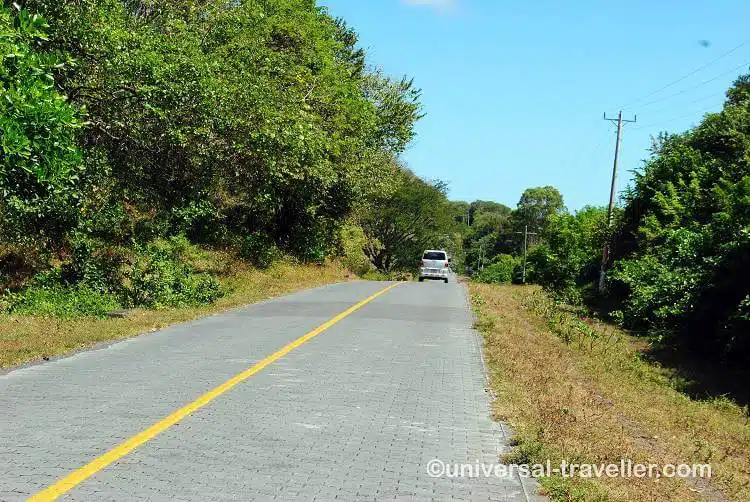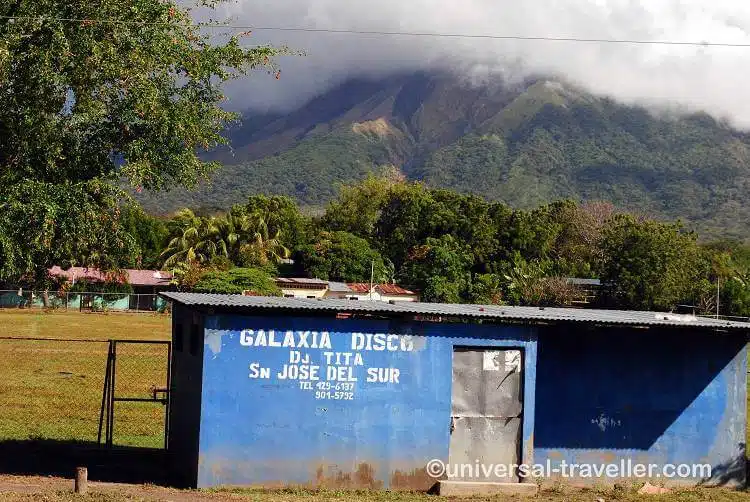 About the Author
More info
Best VPN for Travel: ExpressVPN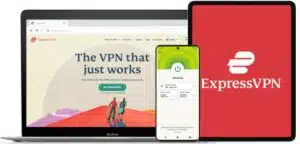 Heading abroad? Use ExpressVPN to access your social media accounts, unblock your favorite entertainment sites, and stay connected with friends and family. And get cheaper flights, of course.
Pros
✅ Next-gen, high-speed servers in 94 countries
✅ Works on iOS, Android, Windows, Mac, Linux, browsers, and more
✅ 256-bit AES encryption protects your data, even on hotel Wi-Fi
✅ Unblocks Netflix and other streaming sites
Cons
❎ No dedicated IPs
Get 3 extra months free of ExpressVPN when signing up for a 1-year plan. That's a 49% saving and a monthly cost of just $6.67! You also get a 30-day money-back guarantee.