How to get to Phi Phi Islands? There are two options to get to Phi Phi; by ferry or speed boat from Phuket and Krabi.
The Phi Phi Islands have some of the most beautiful beaches in Thailand. Especially Maya Bay is world famous since Leonardo DiCaprio's film The Beach.
Although Maya Bay is currently closed there are still many many things to do in Phi Phi Islands.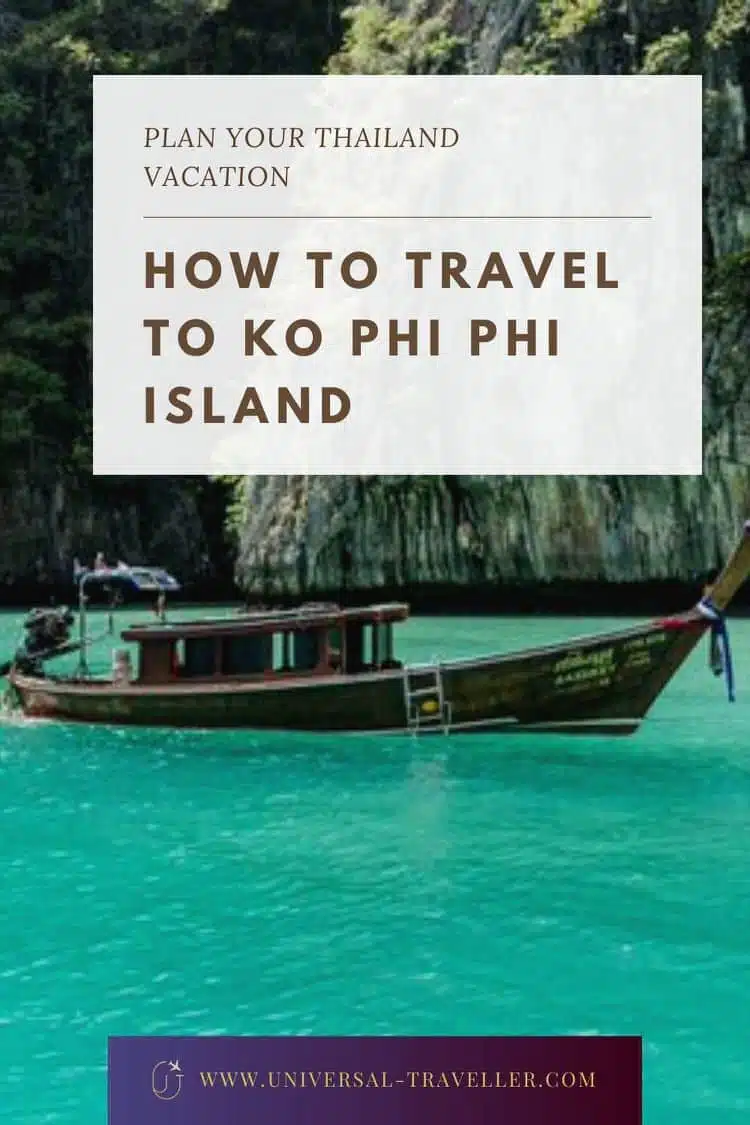 How to get to Phi Phi Island?
The Phi Phi islands are about 46 kilometres from Phuket and Krabi and you can get there by ferry or speed boat.
1. Krabi to Phi Phi Speedboat
The speedboat is a great option if you have limited time or just want to visit the islands for a day trip.
It is obviously more expensive but also a fun and fast way to get to Phi Phi.
If you don't want to stay overnight at Phi Phi Islands you can book a Full-Day Speedboat Trip from Krabi. On that tour you will visit a viking cave, snorkel with colorful fish and enjoy a nice lunch on Koh Phi Phi Don.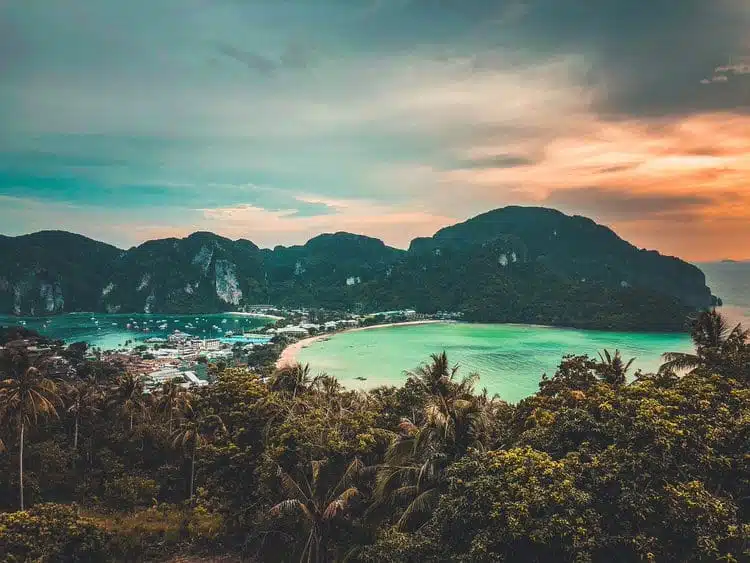 2. Ferry from Krabi to Phi Phi
Another way to travel from Krabi to Koh Phi Phi is by ferry. It is the most economic way and costs around 450 Thai Baht.
There are regularly discounted prices available so that you will be most probably able to get it even cheaper.
The boats depart from the new "Klong Jirad Pier" around 3 kilometres south of the city. The pier is also simply called "Phi Phi Island Pier".
Tip: There is usually a free transfer from the ticket counter to the pier included in your ferry ticket.
There are four daily trips from Krabi (effective March 2019) at 9am, 10.30am, 1.30pm, and 3pm. The 3pm ferry departs at 4pm on Fridays!
The journey takes about 90 minutes and you will arrive at Koh Phi Phi Don, the largest Island.
The pier is really close to most of the hotels and restaurants.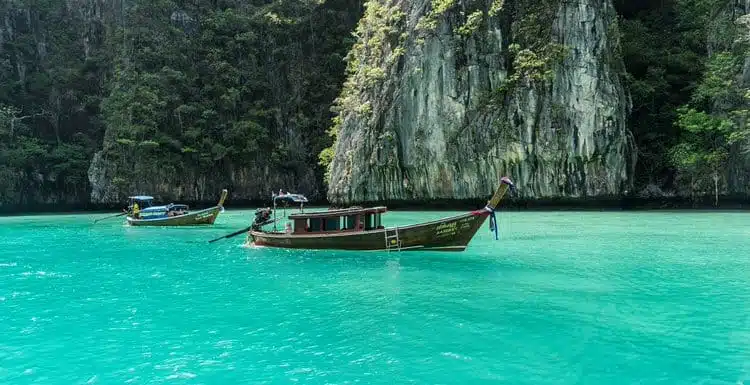 3. Phuket to Phi Phi Speedboat
Speedboats are leaving directly from some of the beaches in Phuket.
If you are traveling with a larger group it might be an option to charter a boat.
If you just want to visit the Phi Phi Islands for the day you can join a speedboat day tour from Phuket.
A more luxurious way to explore the islands is with a Full-Day Private Speedboat Charter.
4. Ferry from Phuket to Koh Phi Phi
Another option is to take a ferry from Phuket to Phi Phi.
The boats depart from Rassada Pier in Phuket and the journey takes between 1.5 and 2 hours.
How to get to Phi Phi Island from Bangkok?
The only way to get from Bangkok to Koh Phi Phi is by ferry or speed boat from either Krabi or Phuket.
That means you first have to travel to one of these 2 cities and then follow the steps above.
Read here how to travel from Bangkok to Phuket.
More Transfer Options
1. Boat Transfer to Koh Phi Phi from Samui, Koh Phangan and Koh Tao
ARE YOU KEEPING UP WITH MY THAILAND SERIES
I have travelled to Bangkok many times so I know that this city has a lot to offer. One super cool place is THE AIRPLANE GRAVEYARD BANGKOK.
I put together a list with all the BEST THINGS TO DO IN BANGKOK so that you don't miss anything.
Most people want to travel to the islands and the beautiful beaches in the south. One of the most visited places is Phuket. Click here for BEST THINGS TO DO IN PHUKET and BEST LUXURY HOTELS IN PHUKET.
Was this post helpful? If so, be sure to pin it to refer to later!