If you love chocolate, you'll want to take a peek at the Bellagio Chocolate Fountain in Las Vegas at Bellagio Patisserie, making an unforgettable stop for anyone visiting!
Picture a 27-foot-tall waterfall of melting chocolate cascading from a central fountain.
It's a sight to behold and one you might expect to see only in Willy Wonka's fictional chocolate factory.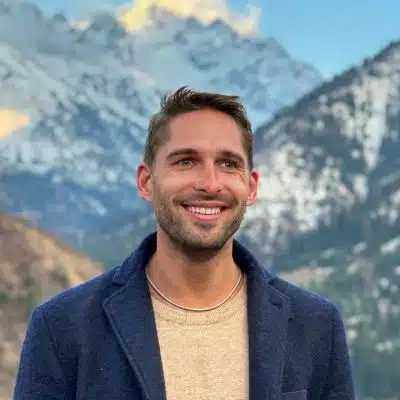 But this is no fairy tale—this is real life!
The Bellagio Hotel and the world-famous Bellagio Patisserie are home to one of the largest chocolate fountains in the world!
Located inside the Bellagio Hotel, Bellagio Patisserie is an elegant spot with a European flair, where specialty desserts made from fresh ingredients are prepared daily.
Whether it be pastries and fresh baked goods, frozen desserts, or ice cream treats, you can find something to satisfy both your sweet and savory sides at this famous hotel patisserie.
It's a wonderful place to visit when you're in town looking for an excellent espresso or dessert.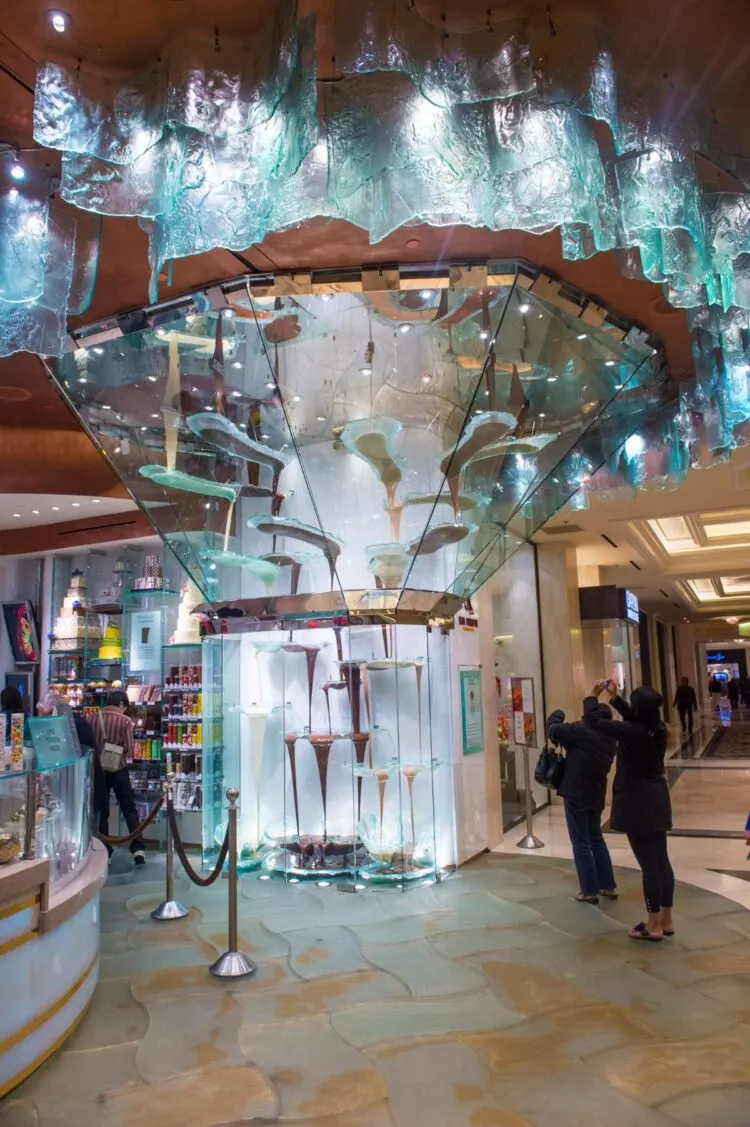 But not only can you buy a variety of delicious hand-crafted goodies, but you can also see the largest chocolate fountain in Las Vegas!
The Bellagio Chocolate Fountain is a real chocolate masterpiece and a must-see attraction for anyone visiting Las Vegas!
Tip: If you want to visit more Las Vegas attractions, check out and book some of the most popular Las Vegas Tours!
Where is the Bellagio Chocolate Fountain located?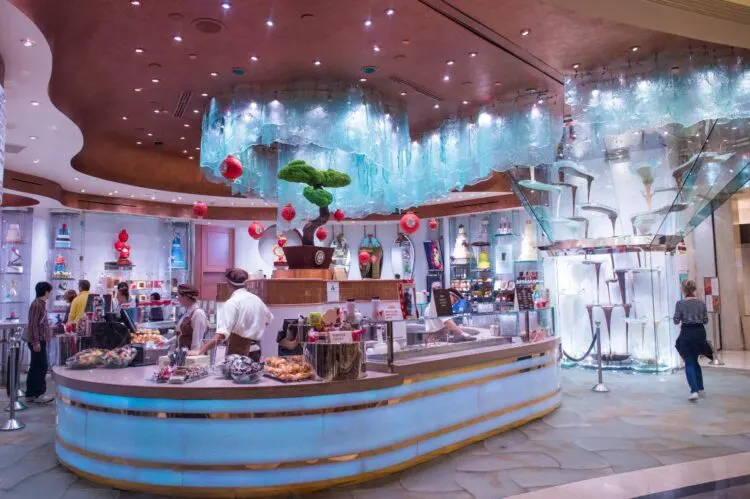 Bellagio Patisserie's chocolate fountain is located at the Spa Tower near the Bellagio conservatory in the Bellagio Hotel and Casino in Las Vegas!
And if you're trying to get to Las Vegas, we've got you covered! Learn how to get there by following our simple Vegas guide and find out what is the best time to visit Las Vegas!
About The Bellagio Chocolate Fountain in Las Vegas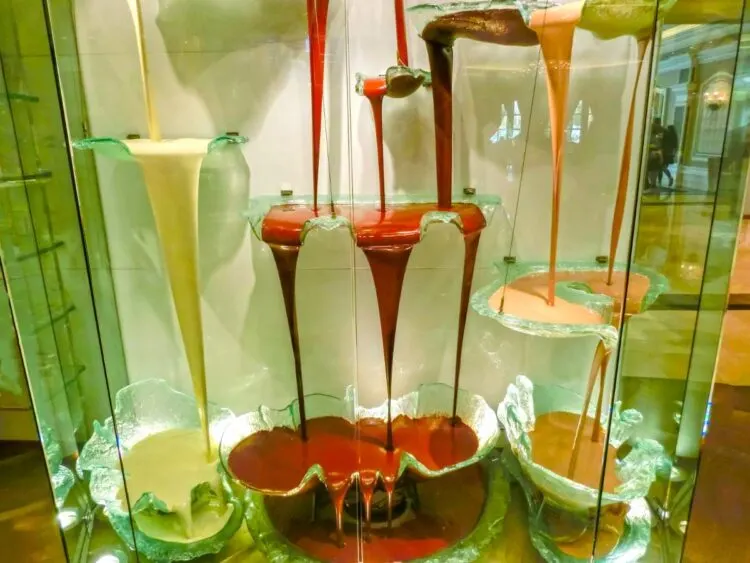 Located on the promenade of the Spa Tower, the bakery and chocolate shop Bellagio Patisserie offers a visual and aromatic masterpiece created by the pastry chef himself!
Throughout the day, over 2,100 pounds of melted milk and rich dark and white chocolate are circulated through 500 feet of pipes making up the magnificent ceiling-high sculpture.
A temperature of 120 degrees F produces the motion of the chocolate, mimicking the flow of water.
While admiring the work of art outside, we are intoxicated by the smell that drew us there in the first place while watching the chocolate cascade 14 feet from one suspended glass vessel to another.
Look:
Montreal artist Michel Mailhot designed and built the vessels to a precise size, shape, and design.
These hovering vessels coax and capture paths of free-falling liquid chocolate with their irregular shapes, some oblong, some round, and each irregular.
It is impossible not to be captivated for hours by the unique handcrafted glass basins and the visually stimulating flow of chocolate in three colors.
And those who love chocolate should know this is strictly a visual and olfactory experience; no dipping is allowed!
This unique fountain took two years to plan, design and engineer! The masters behind this creation are the award-winning pastry chef Jean-Philippe Maury and Norwood and Antonia Oliver Design Associates, Inc.
What came out at the end was a brilliant piece of kinetic sculpture and daring engineering achievement. Upon unveiling the Vegas Chocolate Fountain, the casino's president praised it as "nothing less than genius."
Tip: Are you a foodie traveling to Vegas? Besides the Bellagio chocolate shop, here are the best places to eat in Las Vegas!
Know Before You Go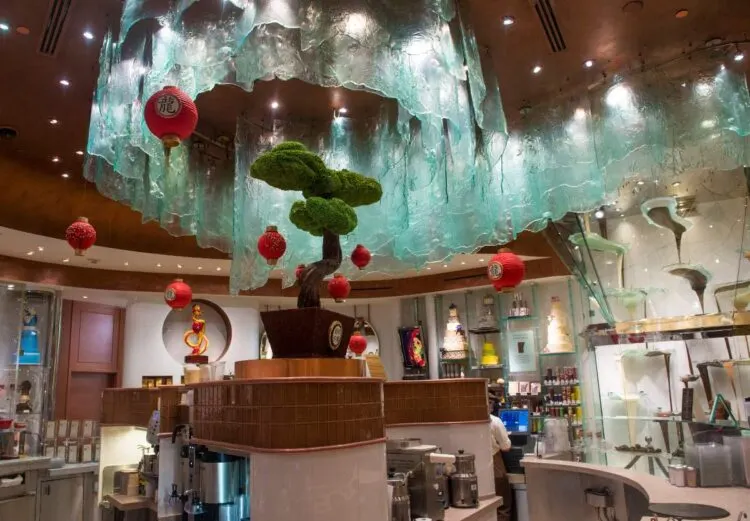 Can You Use The Chocolate Fountain?
Although you can't try the chocolate from the fountain, the Bellagio Patisserie sells chocolate and all sorts of amazing treats you can try!
Since the fountain never stops flowing but the Bellagio bakery and store close, check their working hours to ensure you can get a nice view of the chocolate wonderland and sample their delicious delicacies.
Visiting and seeing the Las Vegas chocolate fountain also doesn't require an entrance fee or ticket. This extraordinary attraction is completely free!
Want to experience other cheap and free attractions in Vegas?
Read here all about the things you can do in Las Vegas and not break the bank!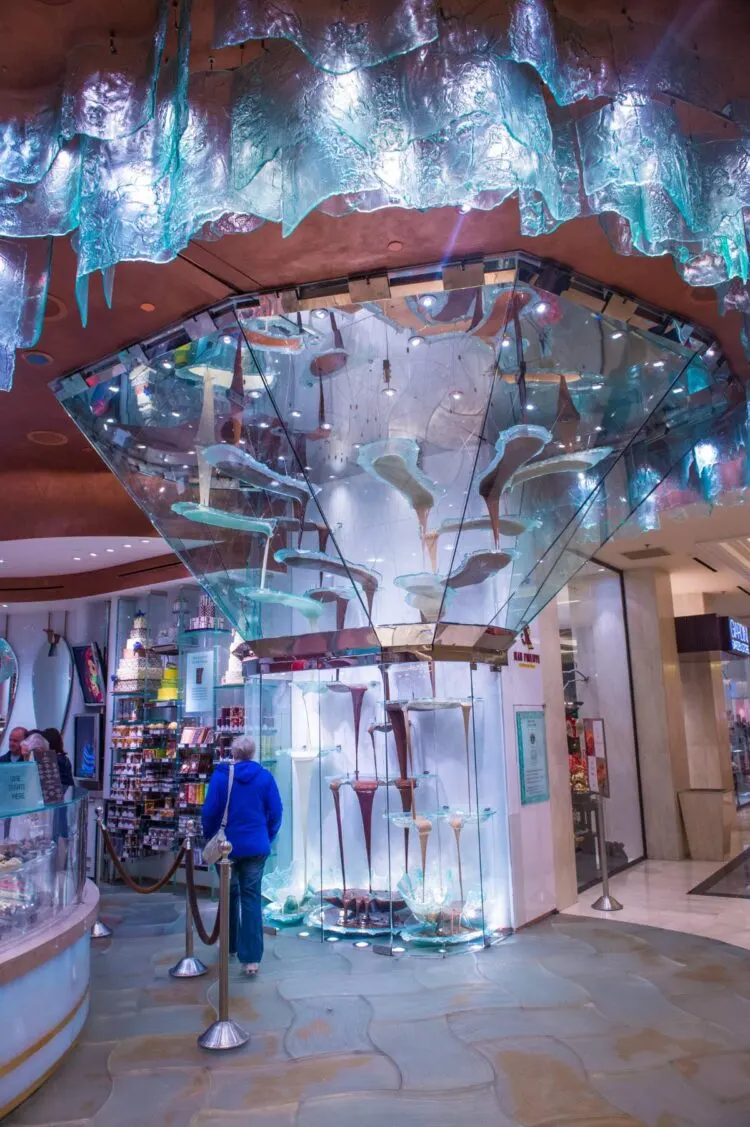 How To Find It
The Bellagio Casino's Bellagio Conservatory and Gardens are right next to the fountain.
It stands just outside the Patisserie, and it's something you can't miss when you walk by, so you should have no problem locating it!
Opening Times
The Bellagio Patisserie is open to the public every day of the week!
They work weekdays from 06:00 AM to 08:00 PM (from Monday to Thursday).
And on weekends (Friday-Sunday), the Patisserie Bellagio is open from 06:00 AM to 11:00 PM.
So, the chocolate fountain at the Bellagio can be seen at any of those times!
Contact Bellagio Patisserie
Address: 3600 S Las Vegas Blvd, Las Vegas, NV 89109, United States
Phone: +17026938865
Website: bellagio.com
Nearby Attractions
Are you trying to decide what to do in Las Vegas? Well, how about visiting the Bellagio Hotel and Casino?
After you've looked at the world's largest chocolate fountain, Las Vegas' Bellagio still provides an incredible array of inspiring views, jaw-dropping collections of artwork, gourmet food and drinks, luxurious accommodations, famous shows, entertainment, and the list goes on!
And the following free activities are worth checking out while you're at the Bellagio:
Bellagio Conservatory & Botanical Gardens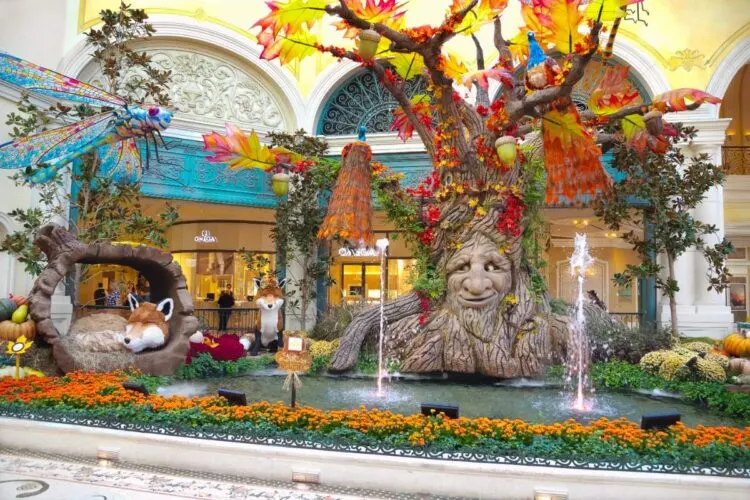 The Conservatory & Botanical Flower Gardens, a panorama for your senses, are located outside Bellagio's elegant foyer.
Get lost in this spectacular garden's abundance of scents, textures, and colors. Exotic flowers and plants are arranged in rows to create a beautiful tapestry that captures the unique aspects of each season and occasion.
There isn't a more appealing setting for a picture!
You can't miss the Bellagio Conservatory & Botanical Gardens while you're in the area!
Bellagio Hotel Lobby Chandelier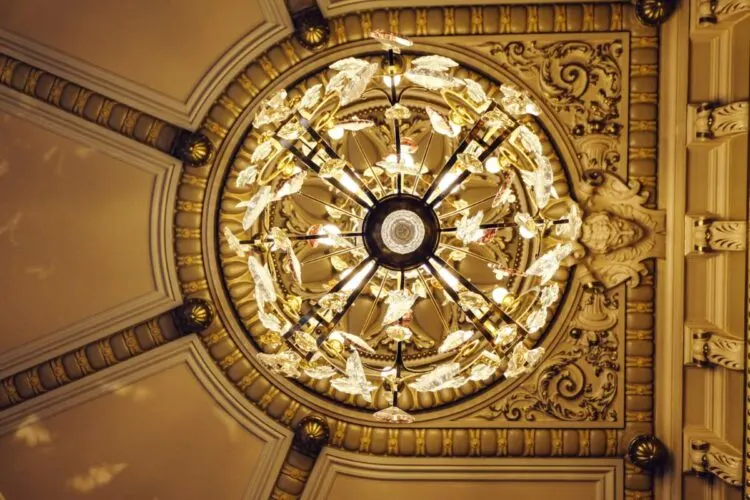 The Bellagio Hotel Lobby Chandelier is only one of the numerous features that make the Bellagio Hotel renowned!
Look above, and you'll see the Fiori di Como, a stunning arrangement of 2,000 hand-blown glass flowers made by the well-known artist Dale Chihuly.
Additionally, the Chihuly Gallery features precious works created by Chihuly that you can examine and purchase.
Bellagio Fountains Water Show
Located outside The Bellagio hotel in Las Vegas, Nevada, The Fountains of Bellagio is an impressive water show that has boosted Bellagio's reputation over the years!
The show is choreographed to music and features dancing fountains, lasers, and colored lights.
Look:
Nothing compares to experiencing them in person. Bellagio's renowned fountains were made to enchant your senses.
Enjoy a stunning display of water, music, and light skillfully combined to hypnotize viewers.
It is the most ambitious and choreographically challenging water feature ever created, and everyone who visits can experience it for free.
Interested in seeing some of The Best Las Vegas Shows? Check out our detailed list!
Cirque du Soleil Art Gallery
In the recently rebuilt "O" Theatre foyer at Bellagio, Richard MacDonald has over 50 bronze sculptures on display, as well as original drawings, serigraphs, and lithographs portraying circus and performing artists.
A visit to the Cirque du Soleil Art Gallery while at The Bellagio is a must!
Tip: If you're staying in Vegas, we can help you find the best Luxury Las Vegas Hotels for your vacation & The most famous Movie Hotels in Las Vegas!
Also Visit:
FAQs about Bellagio Chocolate Fountain in Las Vegas at Bellagio Patisserie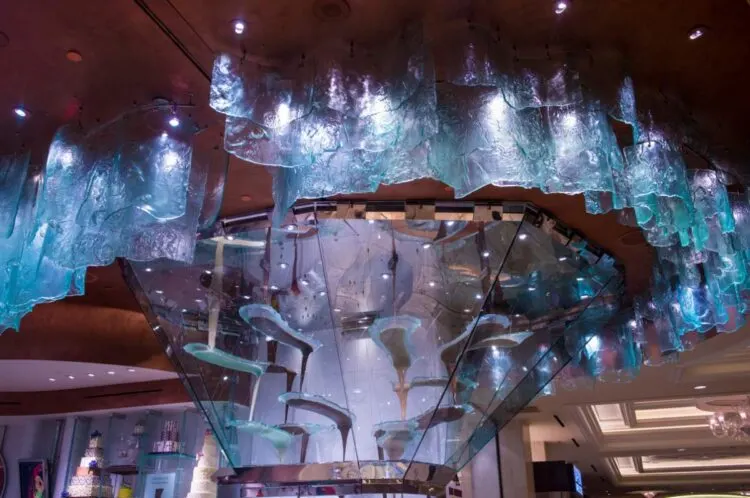 Best VPN for Travel: ExpressVPN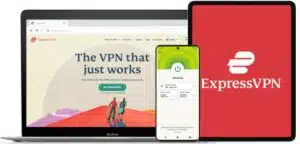 Heading abroad? Use ExpressVPN to access your social media accounts, unblock your favorite entertainment sites, and stay connected with friends and family. And get cheaper flights, of course.
Pros
✅ Next-gen, high-speed servers in 94 countries
✅ Works on iOS, Android, Windows, Mac, Linux, browsers, and more
✅ 256-bit AES encryption protects your data, even on hotel Wi-Fi
✅ Unblocks Netflix and other streaming sites
Cons
❎ No dedicated IPs
Get 3 extra months free of ExpressVPN when signing up for a 1-year plan. That's a 49% saving and a monthly cost of just $6.67! You also get a 30-day money-back guarantee.
Where is the chocolate fountain located in the Bellagio?
The chocolate fountain is in the Bellagio Casino, close to the Bellagio Conservatory & Gardens.
How big is the Bellagio Chocolate Fountain in Las Vegas?
It stands 27 feet tall and has approximately 500 feet of stainless steel plumbing. At a flow rate of 120 quarts per minute, six pumps move 2 tons of chocolate.
Where is the world's largest chocolate fountain?
According to Guinness World Records, the Bellagio Chocolate Fountain in Las Vegas was the biggest chocolate fountain in the world until a new Lindt shop in Switzerland opened, replacing this reputation by launching the biggest chocolate fountain till this point.
Is there a fee to see the chocolate fountain at The Bellagio in Las Vegas?
The Bellagio's chocolate fountain is open to the public for free, and the café Bellagio Patisserie serves delicious macaroons and other treats!
Who designed the Chocolate Fountain at the Bellagio?
Michel Mailhot designed the extraordinary Bellagio Las Vegas chocolate fountain.
How tall is the Chocolate Fountain at Bellagio?
The fountain is 27 feet tall from the tank room beneath to the pipes above, although only 14 feet are visible from within the store.
Best Places to visit in the USA