Quito, Ecuador, is a sprawling city that lines the rolling hills and slopes of the Guayllabamba basin.
At nearly 3000 meters above sea level, Quito is one of the highest national capitals in South America and the world.
Home to nearly 3 million inhabitants and 32 districts, Quito has a rich history. The city was founded by Inga nearly 1000 years ago.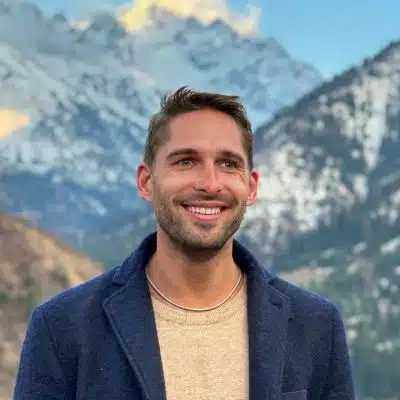 Later, in the 16th century, the Spanish conquered the region, who believed the city might hold the secret treasures of Atahualpa, the Incan monarch. The Ecuadorian people later won independence from the Spanish empire in the 1800s.
Today, Quito serves as a jumping-off point for eco-travelers hoping to catch a flight to the Galapagos islands or bask in the beauty of mainland Ecuador.
But the city itself offers plenty of opportunities to explore.
Here, you'll find stunning colonial architecture, colorful local traditions, and the (literal) center of the world.
To help you decide what to do with your time in Quito, I asked a bunch of bloggers about the best things to do in the city.
From volcano hikes to sprawling urban parks, cooking classes, and stunning cathedral tower views, here's the best of what Quito has to offer.
1. La Mitad del Mundo
Recommended by Elisa from World in Paris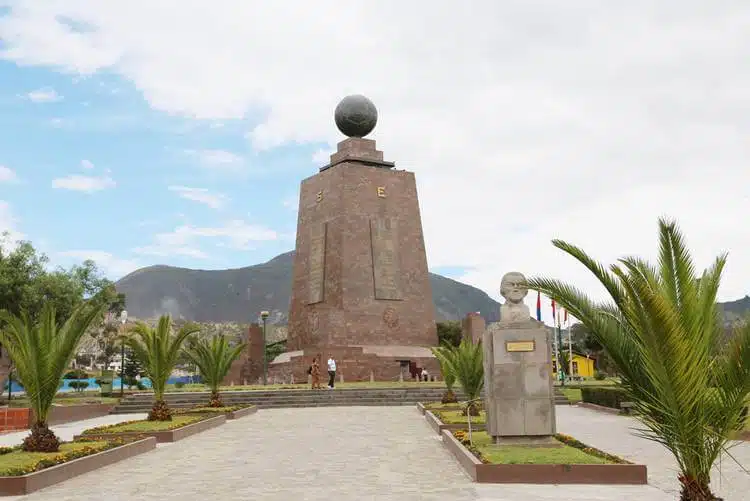 La Mitad del Mundo (Half of the World) stands right on the Ecuador line, the 0° 0' 0" point. People visit La Mitad del Mundo, 26 km from Quito, to get a picture of the Ecuador line, with one foot on each hemisphere.
Apart from the Ecuador line, there is a small monument and some pavilions to visit where visitors can learn about the French Geodesic Mission of 1736, lead by the astronomers Charles Marie de La Condamine, Pierre Bouguer, Louis Godin to carry out the necessary measurements to prove the coordinates.
Today, using modern GPS systems, the Ecuador line is proved to be 240 meters north of this place, but La Mitad del Mundo still attires many visitors from all around the world.
[amazon_link asins='1742207855,B00YTSWQ74,B01N46FENS' template='ProductCarousel' store='timkrotrarout-20′ marketplace='US' link_id='55bebd2e-03b8-11e9-b143-07fed279a626′]
From La Mitad del Mundo, there is the option to book a two-hour guided tour to Pululahua Volcano. This volcano is interesting because its caldera is inhabited. Actually, this is one of the two inhabited calderas in the world!
From the top (there is no time to go down to the bottom of the caldera), you can see all the houses and cultivated fields with different crops, and it is a very atmospheric place.
You can reach La Mitad del Mundo by cheap public bus. However, there are many pickpockets on these buses, so be careful.
Alternatively, you can travel to La Mitad del Mundo by taxi or with a half-day guided tour.
If you want to experience the Mitad del Mundo without organizing anything yourself, you can join a Full-Day Ciudad Mitad del Mundo Tour.
2. T
ake the Cable Car and Hike to the top of the Pichincha Volcano
Recommended by Jane from Scarlet Jones Travels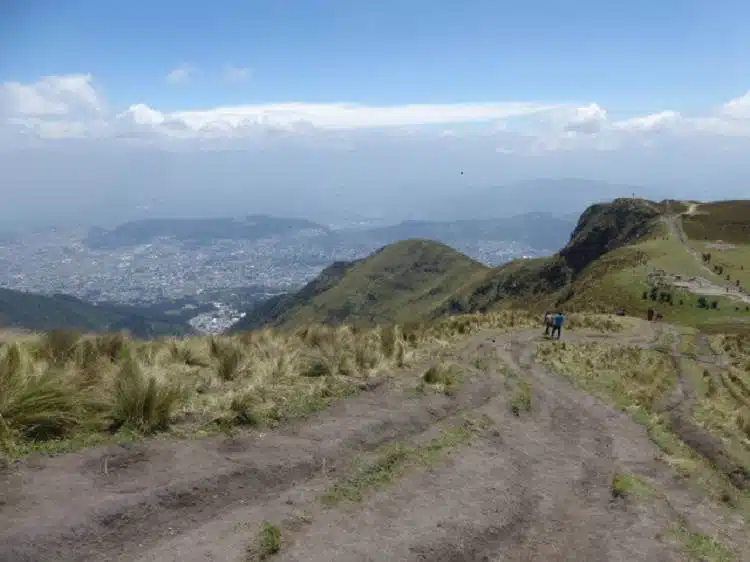 Quito is a remarkable city that's surrounded by mountains and volcanoes. If you get the chance and the weather is kind to you, one of the best things you can do in Quito is to take a trip up the nearby Pichincha volcano in the cable car called the TeleferiCo.
This gondola system is one of the highest cable cars lifts in the world. The views as you ride up in the glass capsules to the top are fantastic, provided there's no cloud; although up this high, the weather can change in seconds when clouds and fog swirl down, blocking out everything.
Quito sprawls below you from the top along a long, narrow valley whilst all around, as far as the eye can see, are the impressive mountains.
If you're feeling energetic, you can hike along the ridge and up to the peak of the Pichincha volcano. The last significant eruption happened in 1998, although there have been several rumblings since then, which is crazy when you consider how close the city of Quito is.
You will certainly feel the effects of the altitude up here, and there are even points where you can get an oxygen fix should you need one. The higher you hike, the bleaker the landscape becomes, with grey rocks and shale replacing the grass and shrubs.
A bit of a clamber and a climb for the final hour will reward you with a great sense of achievement, probably aching legs, and if you're unlucky, a thumping headache from the altitude.
Go prepared with a warm jacket, a raincoat and plenty of drinking water, although I would choose a different day if rain is forecast.
Suppose you don't have much time in Quito; I recommend this Quito Tour, Teleferico & Pichincha Volcano Horseback Ride. It combines some of the Must-Sees in a 1-day tour.
3. Metropolitan Park Quito
Recommended by Jen from Long Haul Trekkers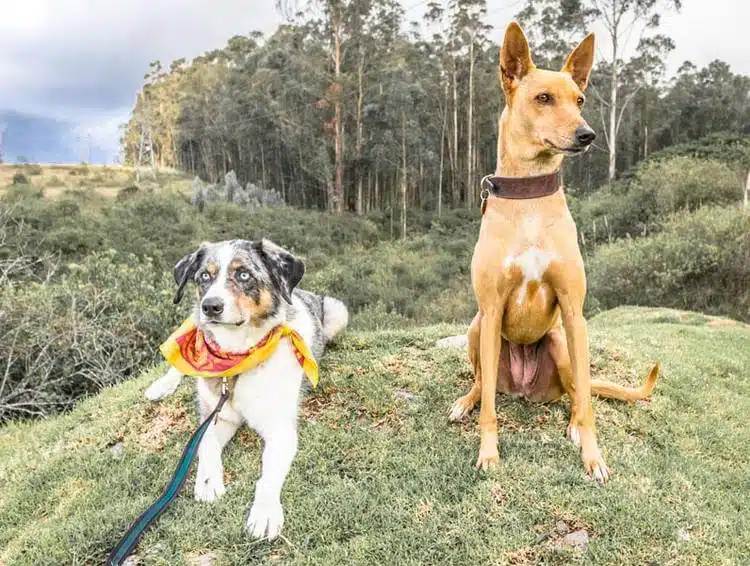 Few Latin American cities have dedicated as much park space as Quito. At 1,418 acres (574 hectares), Parque Metropolitano Guangüiltagua is one of Latin America's best and largest urban parks.
Rising out of the eastern edge of the city at 2,890 meters, visitors can escape the noise and pollution of the city below and enjoy a peaceful hike, trail run, or mountain bike ride. For a fun scavenger hunt, go in search of the Quito sign for a fun photo.
Parque Metropolitano is a native forest and an ecological reserve with art installments, viewpoints, picnic areas, dog agility parks, playgrounds, and sports fields.
The Ashintaco Gorge, located on the northeast side of the park, is home to 10 different species of hummingbirds and over 70 species of nesting birds, some of which are in danger of extinction.
If you can, arrive early in the morning and find a quiet bench to watch the clouds snake through the Cumbayá Valley below. Alternatively, pack a dinner and enjoy a picnic to watch the sunset in the evening. Just be aware of afternoon storms that come through!
4. Join a Food Tour & Cooking Class
Recommended by James from Travel Collecting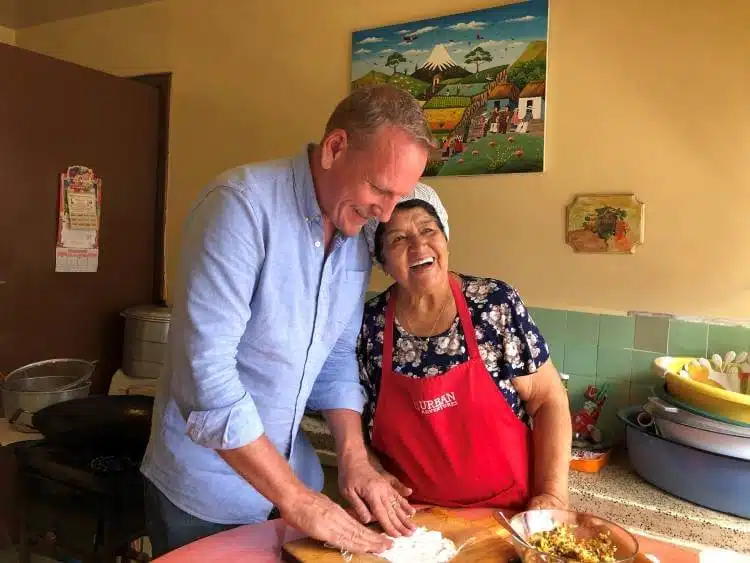 I love to take food tours and cooking classes when I travel, as they are a great way to gain deeper insight into the culture and experience things that you may not otherwise.
The Sweets and Culinary Experience Tour with Urban Adventures in Quito started with a drive to a local market, where my guide Jorge explained all of the fruits and other unfamiliar foods – there was a lot.
It was interesting to discover things such as a white squash that looked like a watermelon and several kinds of passion fruit that looked nothing like the purple ones I am used to. The people in the market were all very friendly and even offered to be in my photos.
Then we drove to Las Quesadillas de San Juan. This bakery has been making Quito-style quesadillas for almost 100 years, and it was interesting to see them being made and help out by rolling paper-thin wheat tortillas.
The tortillas are topped with a cheesy cake mix and baked to make cake-like quesadillas that have virtually nothing in common with their Mexican namesakes.
We ate some along with delicious Ecuadorian hot chocolate, drunk like the locals with pieces of mozzarella-like cheese softened in it.
Then we drove into the old town to the home of Maria, where I helped make both sweet and savory empanadas and pristiños (fried crown-shaped dough typically eaten at Christmas and served with piel de panela, a syrup made from raw sugar).
It made for a sweet and slightly greasy lunch but was a fun introduction to Ecuadorian cooking.
Quito Food Tours:
1. 6-Hour Sweets & Culinary Experience Tour in Quito
2. Taste Your Way Through Quito! Half-Day Market Tour
3. From Quito: Otavalo Indigenous Market Tour
4. Quito: Old Town and Gastronomic Tour with a Local
5. The Original Quito Craft Beer Tour
5. Visit the Historic Center of Quito
Recommended by Kaila from KailaYu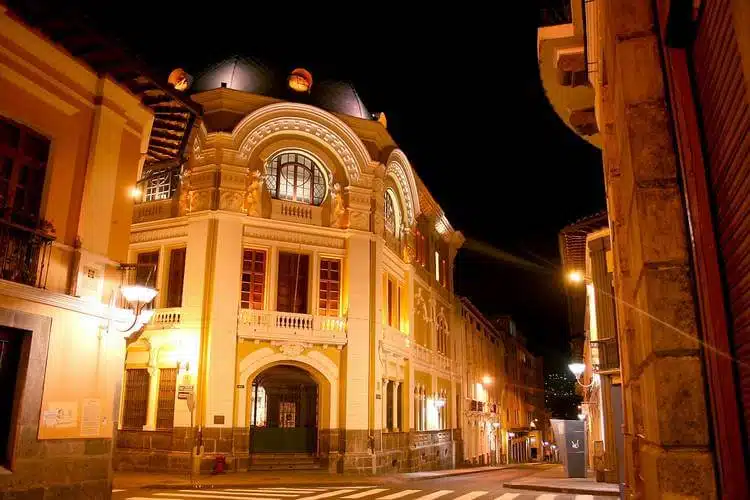 Named for and located in the capital city of Ecuador, this famous center is located just 22 km from the Equator.
This Centre is widely accepted as one of the most well-preserved historical Latin American centers. Because of its cultural and historical significance, in 1978, it became the first center of its kind to become a UNESCO World Heritage site.
The area is filled with historic homes, government buildings, churches, squares, museums, monuments, and landmarks that contain ancient value and mystery.
One example of the many attractions is El Panecillo. The 200-meter-high volcanic hill features a monument of the Virgin Mary.
Perched on a beautiful pedestal, the 45-meter-tall statue can be seen from almost anywhere in the city. Due to the higher altitude of the city of Quito, be prepared to adjust to the change in elevation if you are not accustomed to being at 2,800 meters.
6. Cathedral Tower
Recommended by Thea from Zen Travellers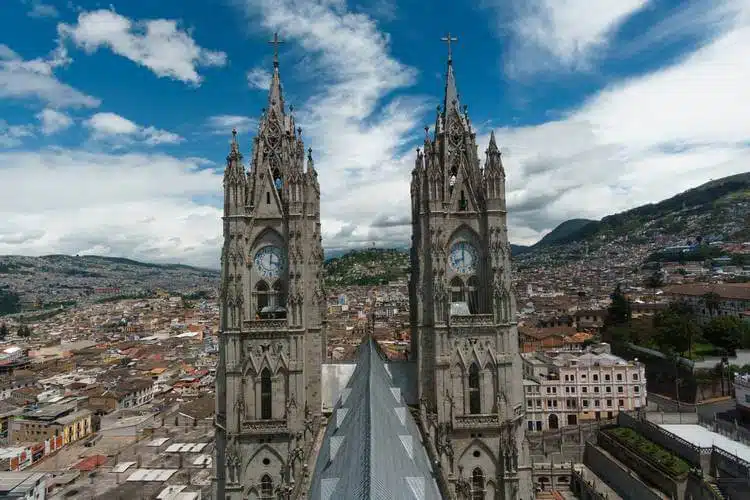 In the historic center of Quito is the Basilica del Voto Nacional, the largest Roman-Catholic neo-gothic basilica in the Americas. It can be visited as part of a walking tour or on its own.
Construction of this magnificent church began in 1892 but remains technically unfinished to this day, and local lore would lead one to believe that if it's finished, the world may come to an end.
Unfinished or not, the basilica features incredible architecture, including a brilliant gold-leafed entrance archway and stone gargoyle-like carvings of famous Ecuadorian animals, including condors, iguanas, frogs, and tortoises.
The $2 entrance fee does not include a guide, and the church is open to the community to be used for everyday services, so the main hall might not be available to walk through. It is still worthwhile to visit the Basilica, in my opinion, because the highlight by far is the view from the 115m belltower.
Although somewhat frightening to get to the top because the route winds up steep and exposed steel staircases, a "bridge" of wood planks above the main hall, and an exposed ladder, the views make the journey worth it.
From the top, you can see a full panorama of the city below and a view of the nearby mountains, including the famed "Panecillo," which gets its name because it is shaped like a loaf of bread (pan in Spanish).
The hill also features a statue called the La Virgen del Panecillo which can be seen from any corner of the city, including this one.
7. Visit the Equatorial Line & Quito City Tour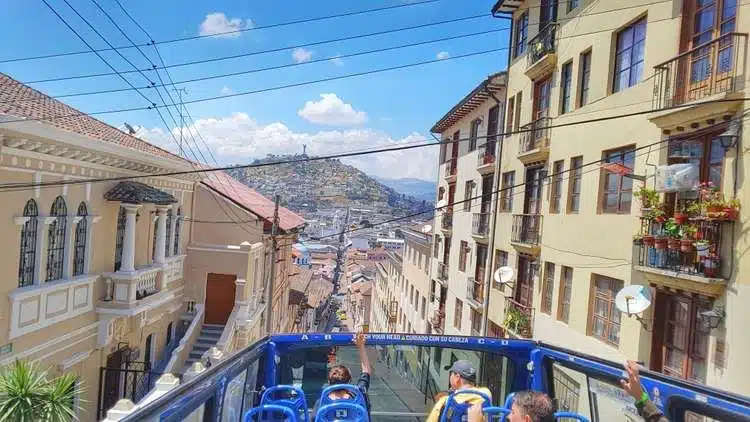 If you're looking for a one-of-a-kind way to check out some of the best things to do that Quito has to offer, I recommend booking a trip with Quito Tour Bus.
This company uses modern double-decker buses that give you a 360-degree view of Quito's mesmerizing historic architecture, public art, and modern skyline for their city tour.
But the best part is that your tour pass is good for the entire day.
We were free to hop off anywhere we wanted to spend more time exploring, like the historic center. Then, when the next tour bus arrived, we hopped back on.
Click here to book your Quito Hop-on Hop-off City Bus Tour.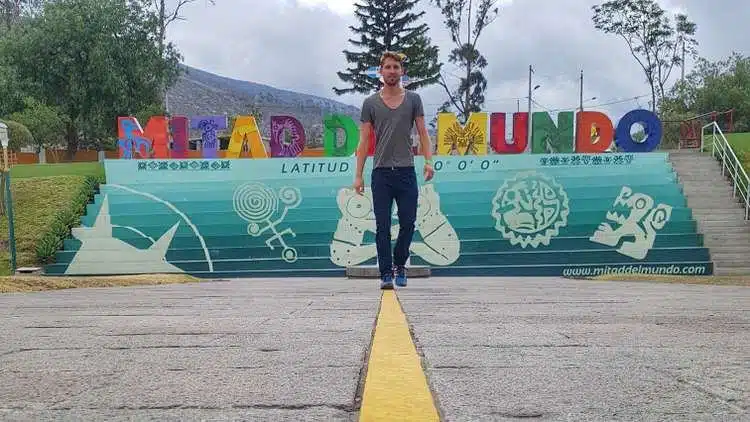 Quito Tour Bus also offers a half-day bus excursion that takes you to several cool places around the city.
This tour departs from Quito at noon. Just outside the city, you'll stop at Pululahua Volcano Crater for a breath-taking view of the Ecuadorian mountains.
Next, you'll stop at the "Middle of the Earth," a complex right on the equator with museums and a planetarium.
The tour also comes with the chance to witness some of the mysterious natural phenomena that occur right on the equator.
Where to stay in Quito, Ecuador
1. Kaia Hotel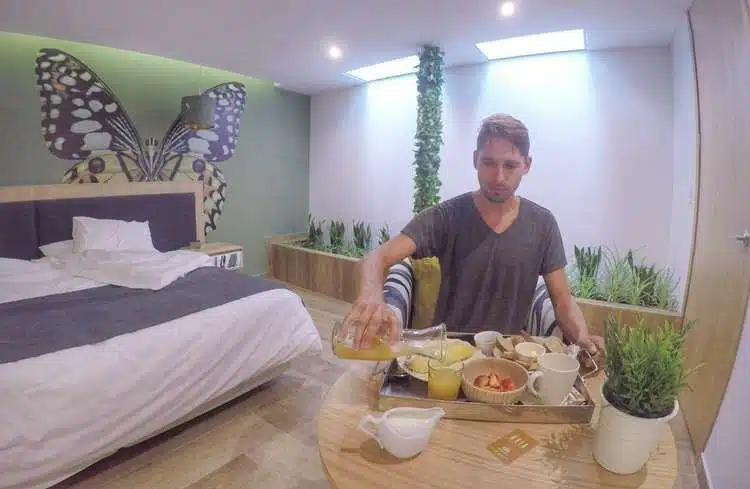 If you're looking for a high-quality hotel in Quito, Kaia will definitely live up to your expectations.
The first thing about the property that impressed me was its architecture and interior design.
Staying here was like stepping into an architecture magazine: clean lines, gorgeous artwork, sleek accents, and stylish decor and furniture.
But I wasn't just pleased with Kaia's looks. The service here left nothing to be desired.
On top of a tasty breakfast delivered right to my room every morning (which was included in the room price!), they also have free 24/7 coffee in the lobby (as well as daily tea and coffee tastings) and a pretty extensive room service menu.
When you leave the hotel (and you might not want to!), Kaia can also help you book tours. They even have a bike rental service.
Located in La Foresta, the bohemian center of the city, there are some great things to do nearby: street art, jazz clubs, and dozens of restaurants with seriously great grub that will fulfill whatever craving you're having at the moment.
Click here for more info, photo, and/ or to make a booking.
2. Casa Gangotena
Recommended by Stefan and Sebastien from Nomadic Boys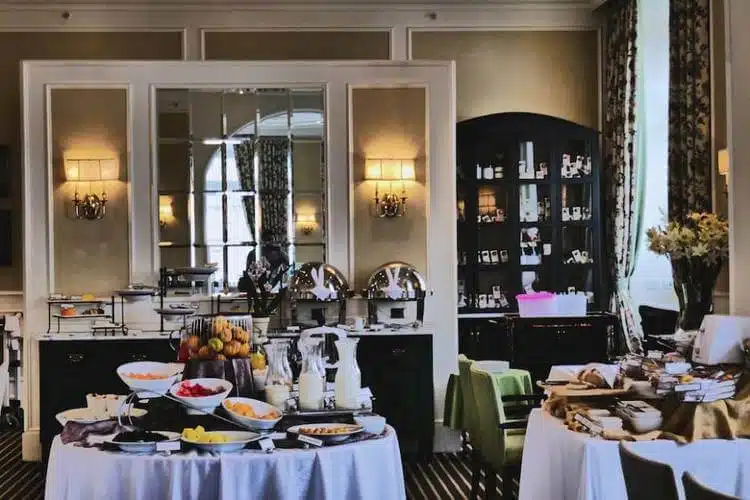 Casa Gangotena is one of the best 5-star luxury hotels in Quito.
We stayed here for a few nights as our base in Quito before departing to cruise in the Galapagos Islands.
Casa Gangotena is situated in a restored mansion overlooking Plaza San Francisco in the heart of Quito's old town. The upside of this is you are located within walking distance to all the main attractions of the old town – which is itself a highlight of Ecuador.
However, the downside of Casa Gangotena's location is that the Quito metro is currently being built right outside of its front door, so until that is formally opened (estimated in around 2019), the view outside is quite unsightly, but improving by the day.
Casa Gangotena has one of the best restaurants in the city, and for a good reason. It's a gourmet dining experience. We loved the breakfast here with some of the best Eggs Benedict we've ever had.
The rooms at Casa Gangotena are huge, with super comfortable mattresses, balconies with all the modern luxuries you'd expect from a 5-star hotel.
Casa Gangotena is world-famous as a luxury hotel that CNN rated as one of their top 25 luxury hotels in the world.
Click here for more info, photo, and/ or to make a booking.
3. JW Marriott Quito
Recommended by James from Travel Collecting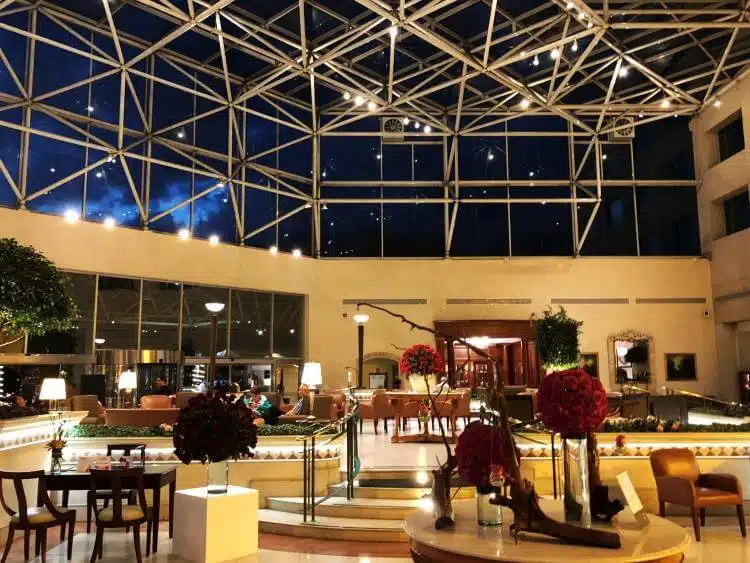 The JW Marriott is one of the most luxurious hotels in Quito. The location at the north end of the modern center puts it a little out of the action, but taxis are cheap and easy to take in Quito.
The lobby is a huge atrium with a glass ceiling, and there are also several private seating areas in a mezzanine garden. There are plenty of electrical outlets to recharge your phone or laptop in the lobby, but the staff can also give you a portable charger to use.
There are four restaurants to choose from. In the Exchange Bar and Kaori Sushi Bar, you can also get basic food like burgers and nachos, and women are given a fresh rose when they leave. The Bistro Latin is where breakfast is served, and it's also open for lunch.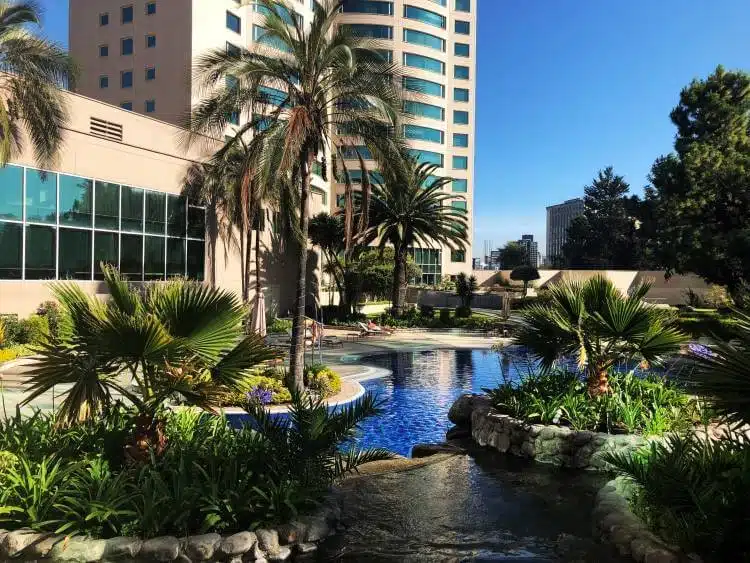 The breakfast buffet has a large selection of Ecuadorian and western food, including a smoothie bar and eggs made to order. The Cafe Gourmet has pastries and sandwiches, and La Hacienda Steakhouse is a more formal Argentinian steakhouse.
There is a 24-hour gym, spa center, and a nicely landscaped outdoor pool area. The rooms have tubs and showers, a room safe, soft bedding, and a large TV with a few English stations. Internet access costs extra, unfortunately.
The staff was, without exception, extremely helpful and polite during my stay.
Click here for more info, photo, and/ or to make a booking.
Was this post helpful? If so, be sure to pin it to refer to later!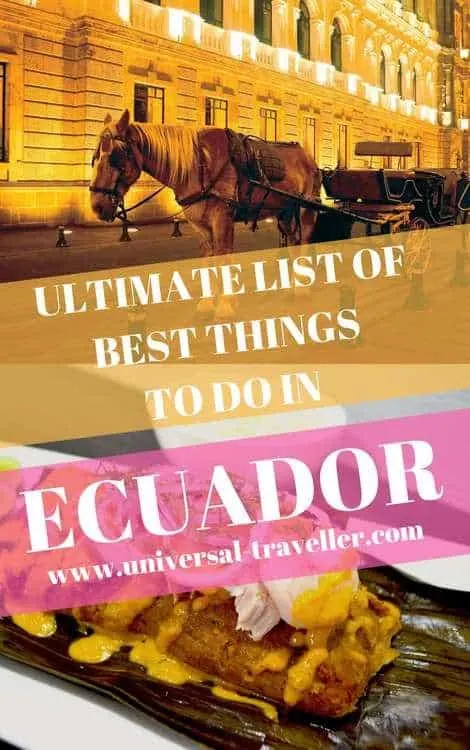 Disclaimer: I was invited by Quito Tour Bus and Kaia Hotel. My opinions, as always, are solely my own.
About the Author
More info
Best VPN for Travel: ExpressVPN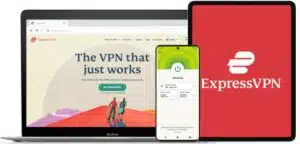 Heading abroad? Use ExpressVPN to access your social media accounts, unblock your favorite entertainment sites, and stay connected with friends and family. And get cheaper flights, of course.
Pros
✅ Next-gen, high-speed servers in 94 countries
✅ Works on iOS, Android, Windows, Mac, Linux, browsers, and more
✅ 256-bit AES encryption protects your data, even on hotel Wi-Fi
✅ Unblocks Netflix and other streaming sites
Cons
❎ No dedicated IPs
Get 3 extra months free of ExpressVPN when signing up for a 1-year plan. That's a 49% saving and a monthly cost of just $6.67! You also get a 30-day money-back guarantee.