Valencia Itinerary: Valencia is known for its beaches, relaxed vibes, & stone architecture. Check out our suggestions on how to spend 2 days in Valencia, Spain.
Written by Samantha from Sam Sees World
Valencia is one of Europe's hidden gems. Situated along the coast of Spain, it is known for its beaches, relaxed vibes, and stone architecture.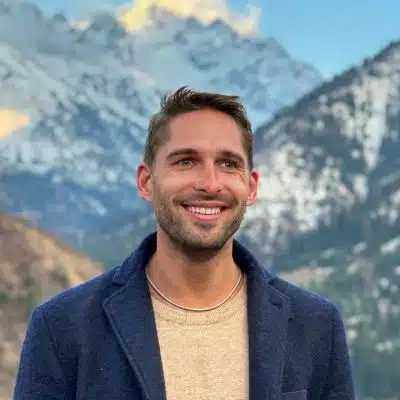 However, it is often overlooked for more popular places in Spain like Madrid, Málaga, Barcelona, or Alicante on the Costa Blanca. This fact only makes visiting and exploring Valencia all the more special since it will feel like your own little getaway.
Not only is Valencia beautiful and historical, but it is also one of the most romantic places to visit in Europe!
The atmosphere in Valencia is super laid back and offers a ton of exciting things to do in Valencia which leads to it being such a perfect couples getaway destination.
It is also a place to visit for solo travels, families, and more in the same breath. Valencia is an easy place to fall in love with palm tree-lined streets, old stone fortresses, unique local foods, and huge stretching beaches.
With just 2 days in Valencia, you can see and do a ton in the city. Luckily, the city is straightforward to navigate, and you can walk or bike around with ease.
Use this guide for 2 days in Valencia for an amazing stay!
Day 1 in Valencia:
Explore The Central Market of Valencia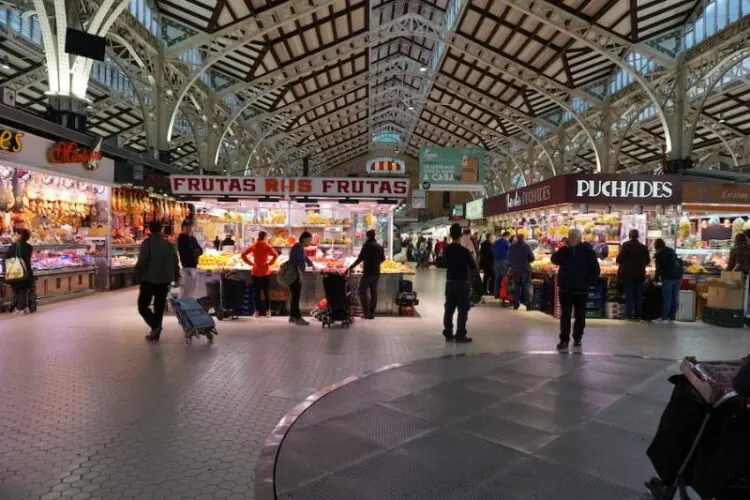 The Central Market of Valencia is one of the most popular places to be in Valencia in the morning. This makes it the perfect place to start your 2 days in Valencia for a cultural overload!
One of the best ways to learn and immerse yourself in a culture is through food, and this is exactly what you will find at the Central Market.
This huge building is home to row upon row of different food stands, all serving various foods, from meats to cheese, to seafood, to pastries, and beyond.
Your eyes will be wide from all the colors and different foods, your nose will be tingling at the smell of everything new, and your ears will be jumping around from all the talking and yelling!
Wandering around this market, you will see locals going about their day and get to experience the lively and vibrant market culture of Spain.
This is the perfect opportunity to try new special foods in Valencia and get out of your comfort zone! Moreso, this is the perfect place to get something to eat for breakfast to fuel your day.
You can find fresh pastries, smoothies, fruits, and more. Luckily, Spain is one of the cheapest places in Europe, meaning you can get everything of high quality at low prices!
Old Town Explorations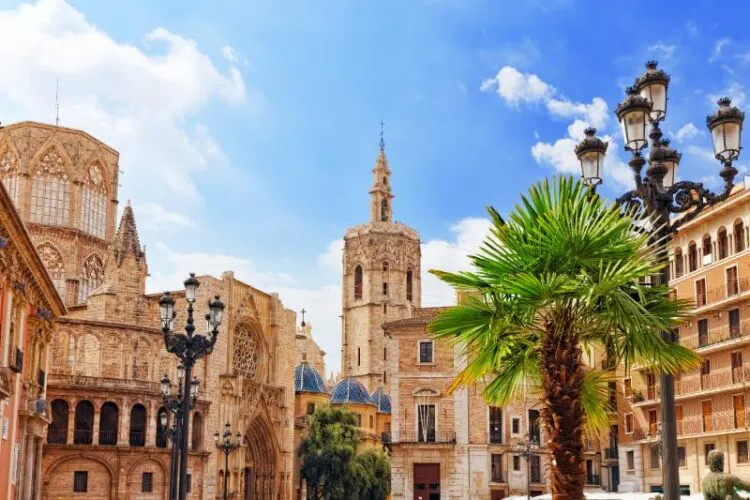 After the sensory overload that is the central market, you can spend a few hours exploring the stunning old town of Valencia. The old town in Valencia is home to various stone structures, famous buildings, and historical monuments.
One of the most famous places to venture to in the old town is the Valencia Cathedral. Here is where you will find the Holy Grail, which is said to be the cup Jesus drank from during the last supper.
There are three alleged Holy Grail Cups around the world, with this being one of them. Heading here to view the cup enclosed in the glass case is a popular thing for all, especially religious people.
One of the best things about exploring the old town is wandering about and stumbling upon stunning buildings and hidden squares.
The entire old town is beyond beautiful and is one of the most charming in Europe. Exploring with no direction for hours is one of the best ways to experience Valencia and all its beauty.
Top of Torres De Serranos
Torres De Serrano is one of the most beautiful viewpoints in Valencia. It is one of the 12 gates that made up the ancient wall that protected the city.
Today it is a tourist attraction open to the public to climb to the top and view the city from above! This is one of the best ways to see Valencia and all its magic.
The cost to go to the top is 2 euros, which is well worth it. Just note that this is not the best attraction for you if you have difficulty climbing as there is no elevator and only old stone stairs.
Nonetheless, the walk-up will show you what it was like in ancient times when the city needed defense. You will feel like you've transported back in time with the views and stone surroundings.
Eat Local Foods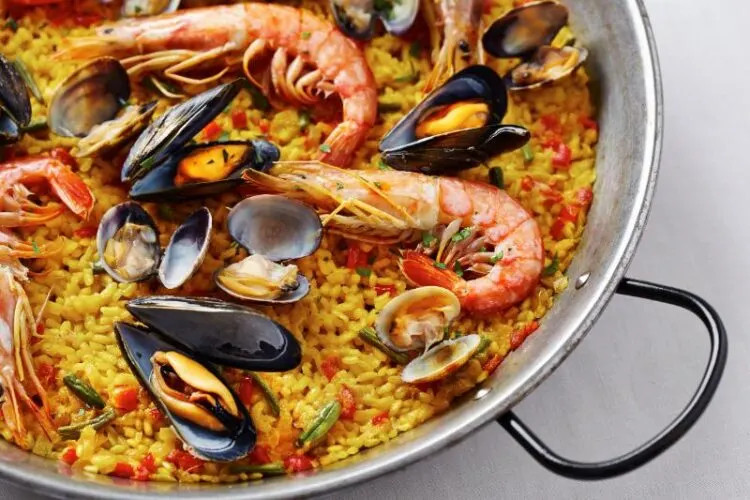 The food in Valencia is one of the many highlights of the city. Valencia is known for many dishes, the most famous being Paella! Yes, Valencia is the birthplace of the famous Spanish dish Paella.
Therefore, eating this dish here is like eating pizza in Naples; it must be done! Many different paella options are running from seafood to meat to even vegetarian so that everyone can enjoy it.
Going for a meal focused on paella is a must in Valencia. This dish consists of rice, vegetables, and other additions of your choice. It is served in a large iron pan and is perfect for sharing.
The many meals and dishes you will eat in Valencia are made for sharing, which is one of the best ways to dine. You will find almost all restaurants have this paella on their menu, so you won't need to search very hard.
Be sure also to get sangria to drink with it as this is the famous Spanish drink! The combination of paella and sangria cannot go wrong.
Day 2 in Valencia
Go to the City of Arts and Sciences
After a day in the old town, it is time to explore the outside of the city and some of the more unique and modern aspects. One of these is the City of Arts and Sciences.
This is one of Valencia's most popular cultural places and a place of architectural brilliance! There is so much to do and see here that blocking off a few hours to explore and even enter some buildings is a must.
The buildings here are as follows: Oceanographic, The Hemisfèric, Príncipe Felipe Science Museum, Opera house, The Umbracle, and The Ágora & The Assut D'or Bridge.
All of these have their own unique offering of things to do and see. From watching films to learning about art and science, there really is something for everyone.
The best place to visit for families is the Science Museum; it is super immersive and fun for the entire family. One of the coolest places to visit is the Umbracle!
Here you will find a huge dome with a glass ceiling full of palm trees. It is super unique, and the best part is that it is free to enter and explore!
Spend a day on the Beach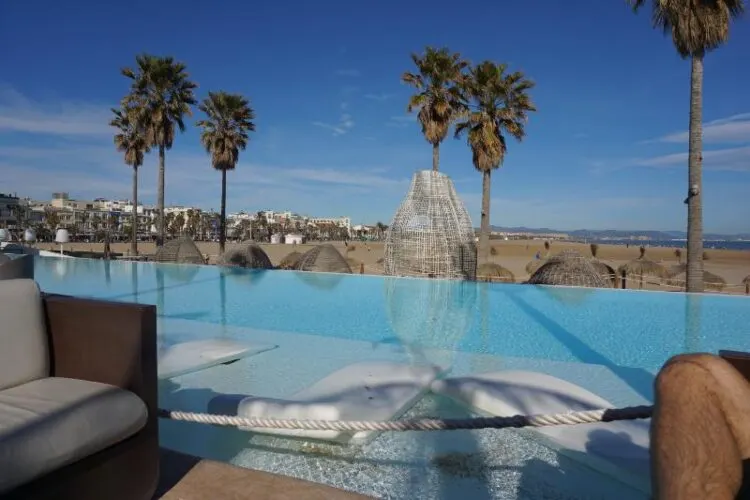 Spending an afternoon relaxing on the beach and dining in seaside restaurants is the best way to end your 2 days in Valencia.
The beach is easiest reached by bike or bus and has everything you need there. Renting bikes from the old town and biking through the park all the way to the beach is beyond enjoyable.
There are paths the whole way, and with this option, you can see more of the city and get a little exercise.
The sandy part of the beach is huge, so you will easily find space to relax on a towel and enjoy the coastal vibes. Plus, there are beach clubs and restaurants all along the beach which are perfect for enjoying a meal or drink in the warm sun.
—-
Spending 2 days in Valencia promises an amazing time. Two days will give you just enough time to explore the city's hotspots and do some relaxing on the beach.
Use this itinerary to guide your stay and keep an eye out for other interesting sights and attractions along the way.
Best VPN for Travel: ExpressVPN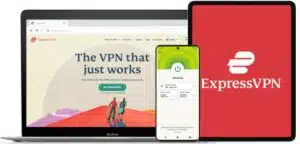 Heading abroad? Use ExpressVPN to access your social media accounts, unblock your favorite entertainment sites, and stay connected with friends and family. And get cheaper flights, of course.
Pros
✅ Next-gen, high-speed servers in 94 countries
✅ Works on iOS, Android, Windows, Mac, Linux, browsers, and more
✅ 256-bit AES encryption protects your data, even on hotel Wi-Fi
✅ Unblocks Netflix and other streaming sites
Cons
❎ No dedicated IPs
Get 3 extra months free of ExpressVPN when signing up for a 1-year plan. That's a 49% saving and a monthly cost of just $6.67! You also get a 30-day money-back guarantee.