Sponsored post
With over fifty casinos in the downtown strip area alone, it's no surprise that the city of Las Vegas is considered by many to be the spiritual home of casino gaming. There is a range of fantastic establishments to play at, including world-famous names such as The Bellagio and Caesars Palace, which are just some of the best casinos to visit in Las Vegas.

Taking a trip to Vegas gives players the chance to try their hand at everything from poker and blackjack to slot machines that can pay out truly life-changing sums. But if there is one table game that encapsulates the gambling experience of Las Vegas, it is roulette.
Almost every casino offers this classic game, and the roulette wheels attract new and experienced players alike to test their luck day or night.
It's long been one of the most popular games to play when visiting the city, whether you are a beginner or a seasoned player. So before heading to one of the most popular cities in Nevada and the whole of the United States, here are just some useful things to know about playing roulette.
So, what exactly is 'roulette'?
Roulette has been popular ever since it was invented in France in the 18th century and is named after the French word for 'little wheel.' Its charm lies in being a simple game while simultaneously offering a wide range of inside or outside betting options. Players can place bets on single numbers, whether the number is odd or even, the color is red or black, and much more.
At the start of each round, a dealer provides time for players to make their bets. Then the dealer spins a ball on a multi-pocketed wheel, and if players have selected the right outcome, they win. As the game is quite easy to play compared to other casino table games, it is a popular choice for many players to gamble on at a casino.
The proper player etiquette for land-based casinos
As well as helicopter rides over the city and the fountain show at the Bellagio Resort, the Las Vegas strip is one of the biggest tourist attractions in Las Vegas. Whichever casinos it might be, visitors to some of the cities greatest casinos need proper casino etiquette when playing table games.
Some behaviors like winning and losing gracefully go without saying, but these are essential table rules. There is a range of other important roulette rules that players should consider when playing.
Follow the dealer's instructions – Make sure to follow what your dealer is saying throughout the game. For example, do not try to place last-minute wagers after the 'no more bets' call has been made. Arguments and being rude to the dealer will also not be tolerated.
Keep your hands off the table – Throughout the play, ensure that you keep your hands away from bets that you or other players have placed. It's also important to never touch the roulette wheel either. Bad table behavior like this could have you labeled as a cheat, even if it was a genuine mistake.
Handle your chips properly – Players should always place their chips down carefully and avoid throwing them on the table as this is generally bad table etiquette and may also displace bets from other players.
Practice playing live roulette games at online casinos first
Another great way of ensuring you are ready to take on the tables of Vegas is by practicing online first. Many online casinos offer live gaming rooms hosted by real dealers, available at any time, on many different devices to players aged 18+.

As well as roulette, there is a range of other live games that can be played online too, including blackjack, baccarat, and poker. This provides the perfect opportunity to play real games to help develop an understanding of what's involved and is the ideal way to hone your strategy and practice before heading to play at the iconic Las Vegas Strip.
Whether playing online or in person, roulette is a fairly straightforward game to understand. You may wish to follow a strategy or bet on what you feel like at the time. Essentially roulette is a game of chance, so it's always a good idea to develop an understanding of the odds and risks associated with the range of bets that can be placed in the game before playing.

Best VPN for Travel: ExpressVPN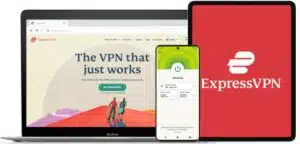 Heading abroad? Use ExpressVPN to access your social media accounts, unblock your favorite entertainment sites, and stay connected with friends and family. And get cheaper flights, of course.
Pros
✅ Next-gen, high-speed servers in 94 countries
✅ Works on iOS, Android, Windows, Mac, Linux, browsers, and more
✅ 256-bit AES encryption protects your data, even on hotel Wi-Fi
✅ Unblocks Netflix and other streaming sites
Cons
❎ No dedicated IPs
Get 3 extra months free of ExpressVPN when signing up for a 1-year plan. That's a 49% saving and a monthly cost of just $6.67! You also get a 30-day money-back guarantee.