Boston has so much to offer. To help you plan your trip, we put together this list of the best things to do in Boston, United States.
Though once dubbed as the Athens of America, the city of Boston is more than just the prestigious universities that made it famous all over the globe.
A walk through the area will quickly show you just how much Boston has to offer to all its visitors.
Best VPN for Travel: ExpressVPN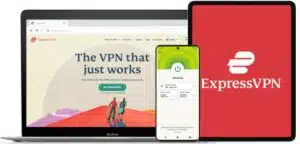 Heading abroad? Use ExpressVPN to access your social media accounts, unblock your favorite entertainment sites, and stay connected with friends and family. And get cheaper flights, of course.
Pros
✅ Next-gen, high-speed servers in 94 countries
✅ Works on iOS, Android, Windows, Mac, Linux, browsers, and more
✅ 256-bit AES encryption protects your data, even on hotel Wi-Fi
✅ Unblocks Netflix and other streaming sites
Cons
❎ No dedicated IPs
Get 3 extra months free of ExpressVPN when signing up for a 1-year plan. That's a 49% saving and a monthly cost of just $6.67! You also get a 30-day money-back guarantee.
There are so many historic areas and interesting museums to see when you visit Boston.
Read also: Recipes of Boston food and check out our United States Travel Guide.
The Freedom Trail alone brings you to many monumental churches, burial grounds, and other prominent landmarks that speak highly of the foundation of the United States of America.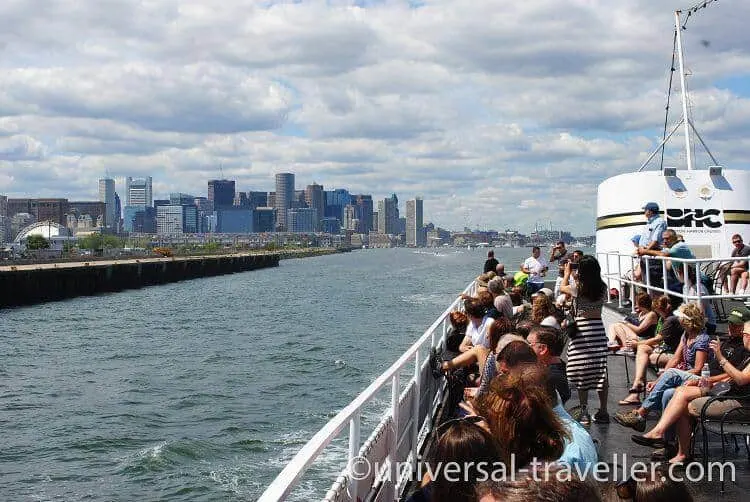 How about spending your leisure time learning more about life?
Some of the best things to do in Boston include visiting the Museum of Science – a sure hit for the whole family – and the Isabella Stewart Gardner Museum, which is a stunner, both inside and out.
It is not all serious talks and walks in Boston, though.
Part of the top Boston activities will have you lounging in botanical gardens, tasting treats at Little Italy, and diving into the local beer scene.
When it comes to meeting people from different walks of life, Boston has an atmosphere that fosters connection.
Given the diversity of persons coming to Boston to study, work, live, and relax, the city can develop spaces and ways through innovation for everyone to be connected.
These may be in business, fitness, in recreational activities, or daily living.
All the best of Boston cannot simply be encapsulated into one summary, so sit back and read our ultimate list of the best things to do in Boston.
What to do in Boston
1. Boston Public and Common Gardens
Recommended by Pia from Nextstoptbc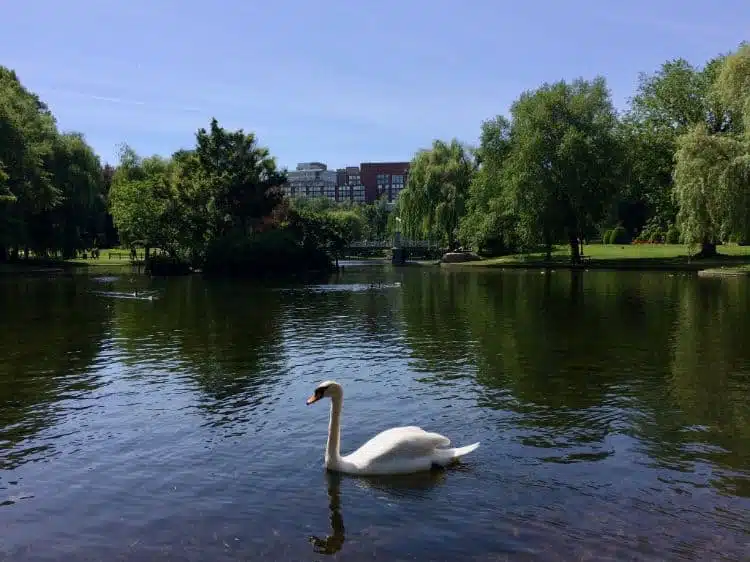 The Public and Common Gardens are Boston's iconic landmarks open to everyone and should not be missed when visiting the city.
The Public Garden was America's first public botanical garden, and many people find it the most beautiful place in Boston.
The lush green park is a peaceful oasis in a bustling city.
The most popular things to do in the garden include seeing the Duckling statues and riding around the lagoon on the Swan boats (from April to September).
Real swans nest here too; see if you can spot them. The Public Garden is the perfect place to begin a city walking tour – check out this Boston walking tour map for inspiration.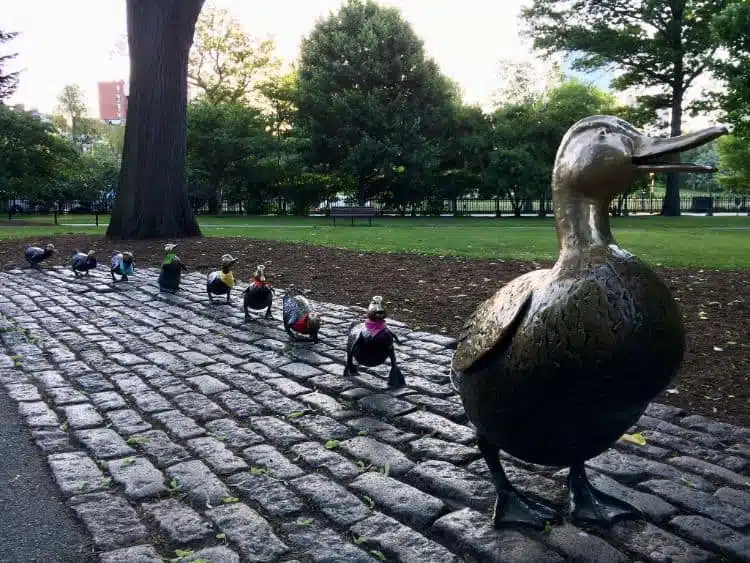 Cross the street to get to Boston Common Garden, the oldest public park in the USA.
It's a wonderful place for families to visit as here you can find a carousel and the Frog Pond that turns into a paddling pool for kids in the summer and becomes an ice skating rink in the winter.
The Frog Pond Café serves snacks, burgers as well as hot and cold beverages.
There are also impressive memorials for key points in Boston's history: Boston Massacre Memorial and the Soldiers and Sailors Monument commemorating the Civil War.
Boston Common Garden is the starting point for the famous Freedom Trail.
2. Boston activities – Visit Faneuil Hall Marketplace
Recommended by Sherianne from Out Of Office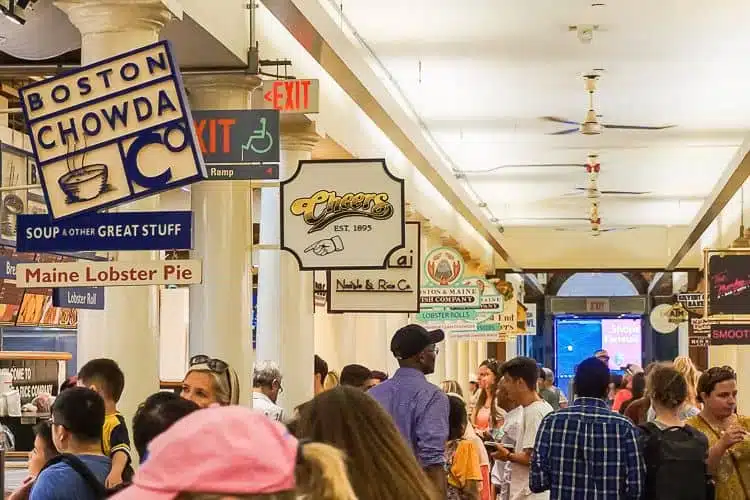 Merchant Peter Faneuil built Faneuil Hall in 1743 as a central shopping location for merchants, fishers, butchers, and produce sellers in Boston, Massachusetts.
The marketplace quickly became a meeting hall and was the site of James Otis and Samuel Adam's historical speeches advocating for independence from Britain.
Today you will find a hub of food stalls, souvenir shops, and street performers.
The Faneuil Hall Marketplace's North and South Markets are full of retail stores, boutiques, and souvenir shopping, including favorites like The Black Dog, Newbury Comics, Yankee Candle Best of Boston, Local Charm, Boston Tote, and 1630 Boston.
Quincy Market is full of traditional New England foods. Boston Chowda Co. is a must-stop for New England Clam Chowda in Bread Bowl and a Hot Buttered Lobster Roll.
Or, visit the Oyster Bar for oysters on the half shell. Check out the replica of the set, take selfies with the cast cutouts and grab a Norm Burger and Boston baked beans at Cheers.
Be sure to grab a beer at Ned Devine's Irish Pub or Sam Adams Brewing Tap Room while exploring the area.
Faneuil Hall Marketplace is a stop on the city Hop-On Hop-Off Sightseeing Tour or a short walk from the T's Blue Line/Aquarium or the Blue and Orange Lines/State.
3. Visit the Irish Famine memorial
Recommended by Talek from Travels with Talek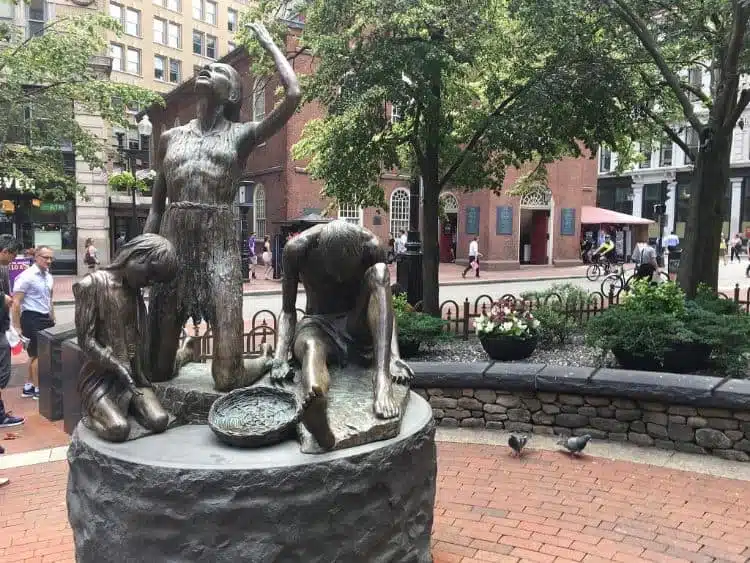 When you think of Boston, you think of history and the founding of the United States.
But there is a lot more to Boston than the Freedom Trail and iconic monuments to the birth of a nation.
Boston is also about soaring architecture, great food, rocking nightlife, and magnificent museums.
One can't-miss Boston monument on the Freedom Trail is the Irish Famine Memorial.
The memorial consists of two statues, one commemorating the Irish Famine that took place between 1945 and 49.
It represents a starving family with the mother looking at the sky as if asking "why?" while her ragged children cling to her.
The Irish Potato Famine was a period of disease and starvation that resulted in the death of one million people. It caused another million to emigrate to the Americas, mostly the eastern coast of the United States.
The other statue represents a prosperous Irish family and celebrates the accomplishments of the Irish-American citizens who emigrated to the United States escaping from the famine.
Irish-Americans are the largest ethnic group in the city of Boston.
The monument is a poignant memorial to a terrible time in Irish history and a tribute to the opportunity the Irish found in the United States.
4. What to do in Boston – Tour the Sam Adams Brewery
Recommended by Jen and Ryan from Passions and Places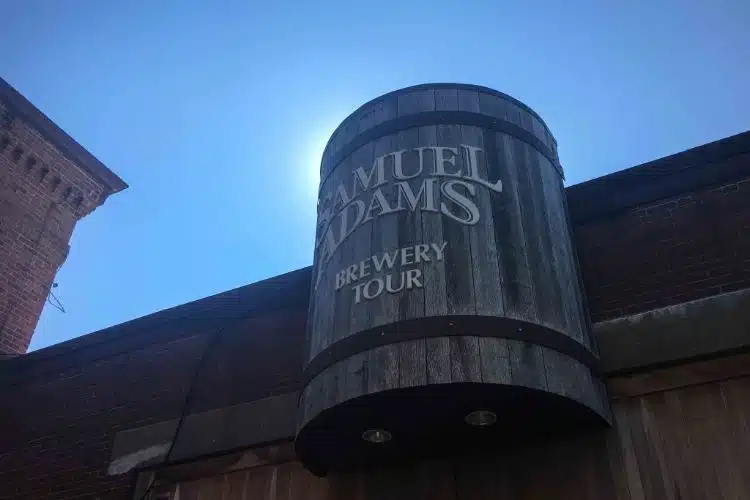 There's a strong argument to be made that the craft beer revolution started in Boston when Jim Koch started peddling his now-famous Boston Lager out of a briefcase to area bars.
Today, the Boston Beer Company, the parent company of Sam Adams, is worth billions and is considered the largest craft brewery in the country.
They're so big that many wouldn't even consider them a microbrewery – Boston Lager is ubiquitous, available at nearly every grocery store in the country.
So if you're a beer lover, touring the Sam Adams brewery is a must-do in Boston.
And there's nothing ordinary about their brewery in the Jamaica Plain neighborhood, which serves as a test kitchen for new flavors.
It's also where they make their one-off beers, like 26.2, which is brewed specially for the Boston Marathon and was previously only available at a few bars in the city.
Brewery tours are available throughout the day, Monday through Saturday, with no reservations needed.
This is a great learning tour if you don't know much about the brewing process.
The facility has no noisy machines, and the guides take their time, letting you smell the roasted malt and crumbled hops flowers between your fingertips.
You can sample a few of their latest creations at the end of the tour.
However, if you don't mind having a few beers before noon, the best way to experience the brewery is through the specialty Morning Mash-In Tour.
This one requires a reservation, and you'll probably need to make it a few weeks in advance.
This tour starts at 10:30 am, so there's even less activity in the brewery and more chances to ask questions about the process.
It also comes with a commemorative tasting goblet to sample a few of their specialty brews and a four-pack of cans to take home, with varieties made only at the JP facility.
5. The Boston Freedom Trail
Recommended by Jenn and Ed from Coleman Concierge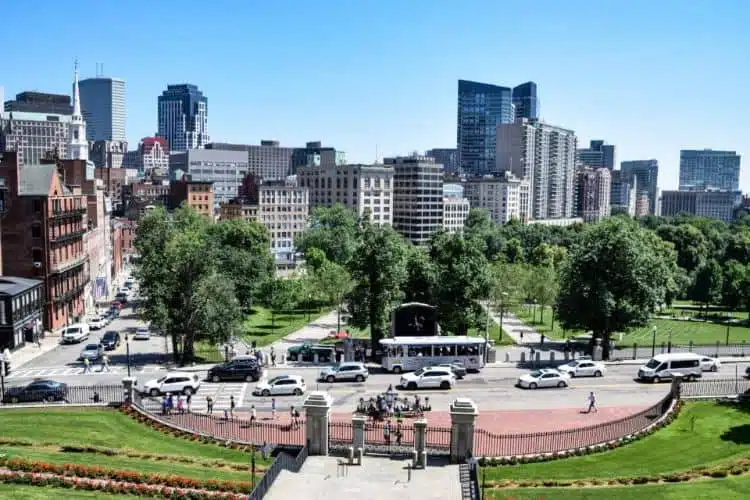 The Boston Freedom Trail is a 2.5-mile-long path that winds through downtown Boston, Massachusetts.
It passes by sixteen locations significant to the history of the United States. You can pick up the red brick trial at the Boston Common and follow it down to the Bunker Hill Monument.
Although it's well-marked, you can load an interactive Boston Freedom Trail map onto your mobile phone to optimize your visit.
Sites along the trail include simple graveyards, churches and buildings, and a historic naval frigate.
Most of the stops are free or suggest donations; the Old South Meeting House, the Old State House, and the Paul Revere House charge admission.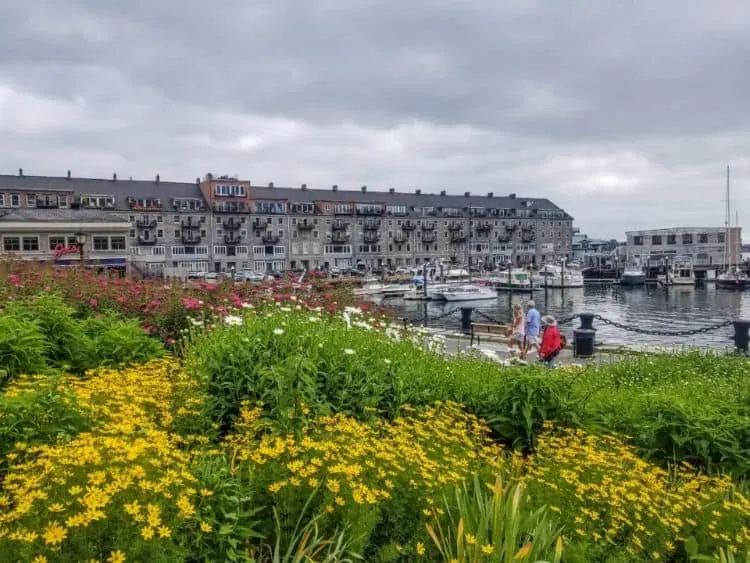 You'll see the site of the Boston Massacre, Ben Franklin's Boston Latin School, and the Old North Church (think one if by land and two if by sea).
How do you make the most of your Boston Freedom Trail visit? Most guests walk from Boston Common downhill to the waterfront.
It's a little easier, and you might want to turn around at Copp's Hill Burial Ground (Stop 14). You get more band for your buck walking 1.5 miles to see the first 14 stops.
The final two stops are each about a 1/2 mile apart. You can't miss the Boston Freedom Trail if you're a history buff.
6. Visit Boston's North End Italian Neighborhood
Recommended by Penny from Adventures of a Carry-on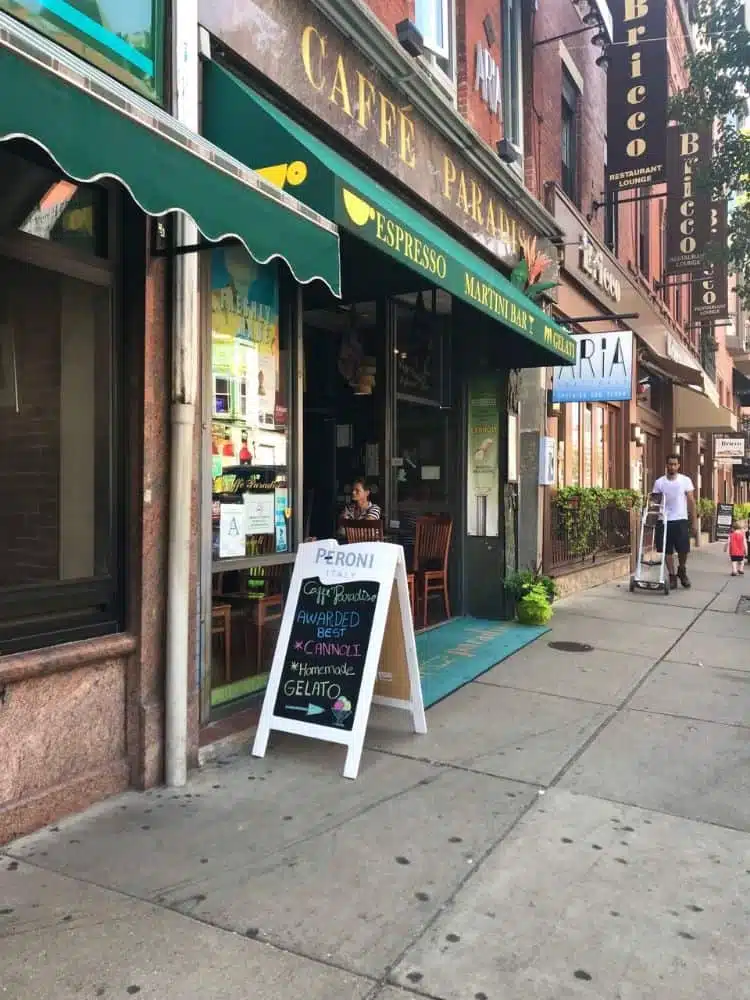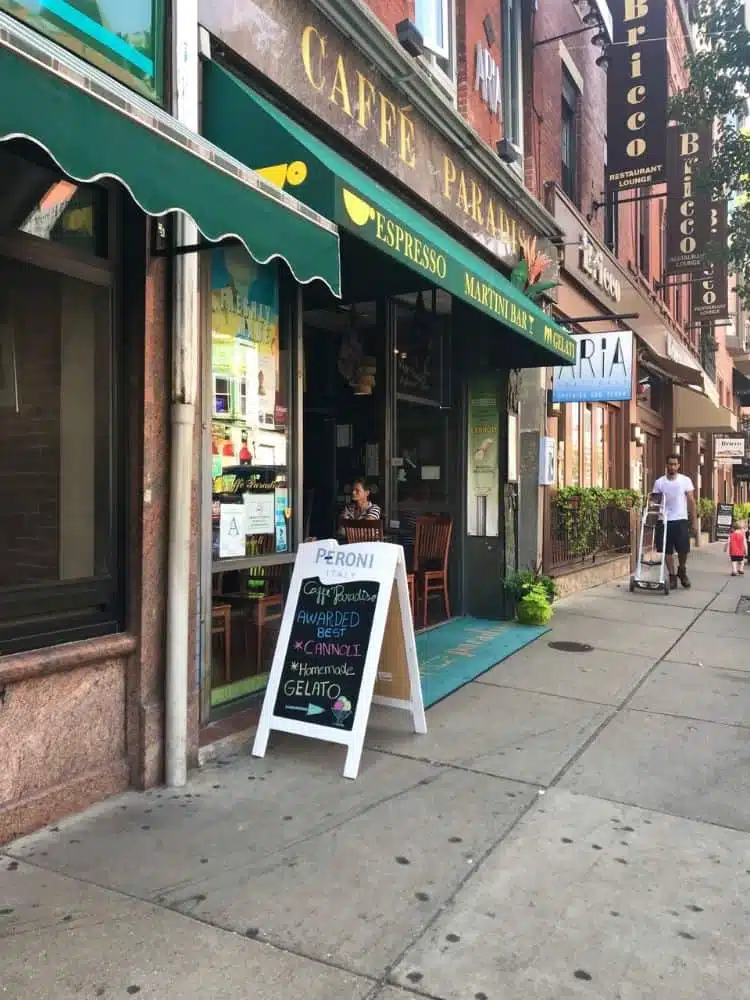 Boston's North End, also called Little Italy, is the city's oldest neighborhood.
The north and east boundaries of the area are the Boston Harbor; Washington St. defines the west boundary, and Christopher Columbus Park the south.
The best way to see the North End is on foot; the streets are narrow, and many charming alleys can wander through.
Famous for Italian food and culture, which can still be found in abundance, you'll also find several landmarks that are part of the Freedom Trail: Paul Revere's house, Copp's Hill Cemetery, and the Old North Church.
Since the entire area is only one square mile, you can plan a stroll around the neighborhood that includes the historical sights, shopping, and a stop for Italian pastries and pizza…in other words, you can do it all!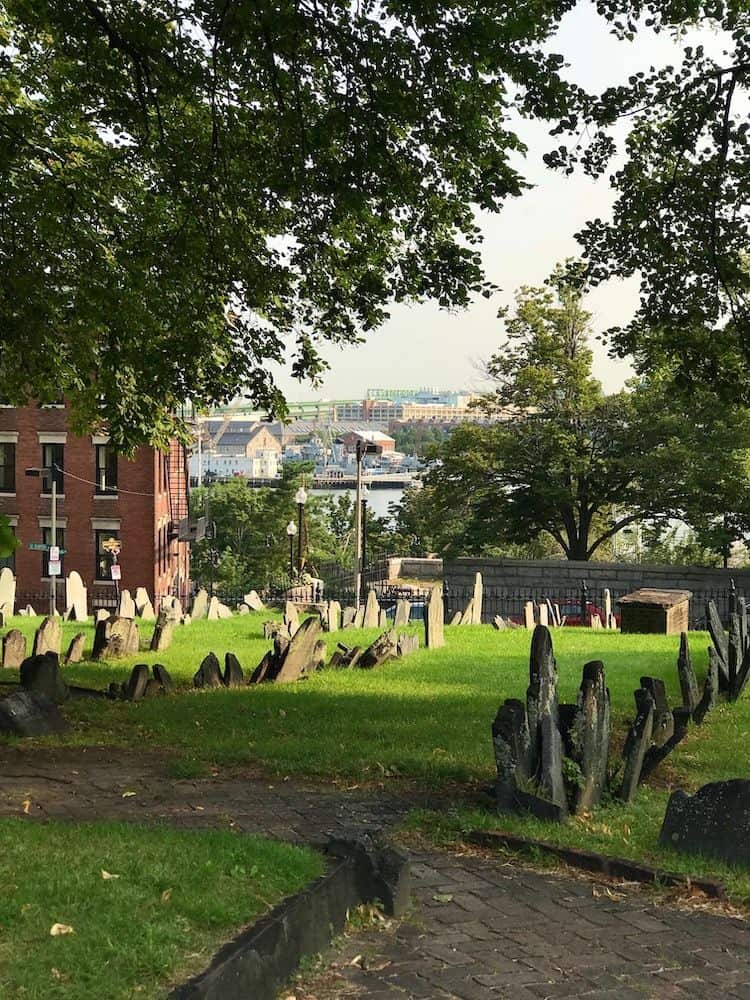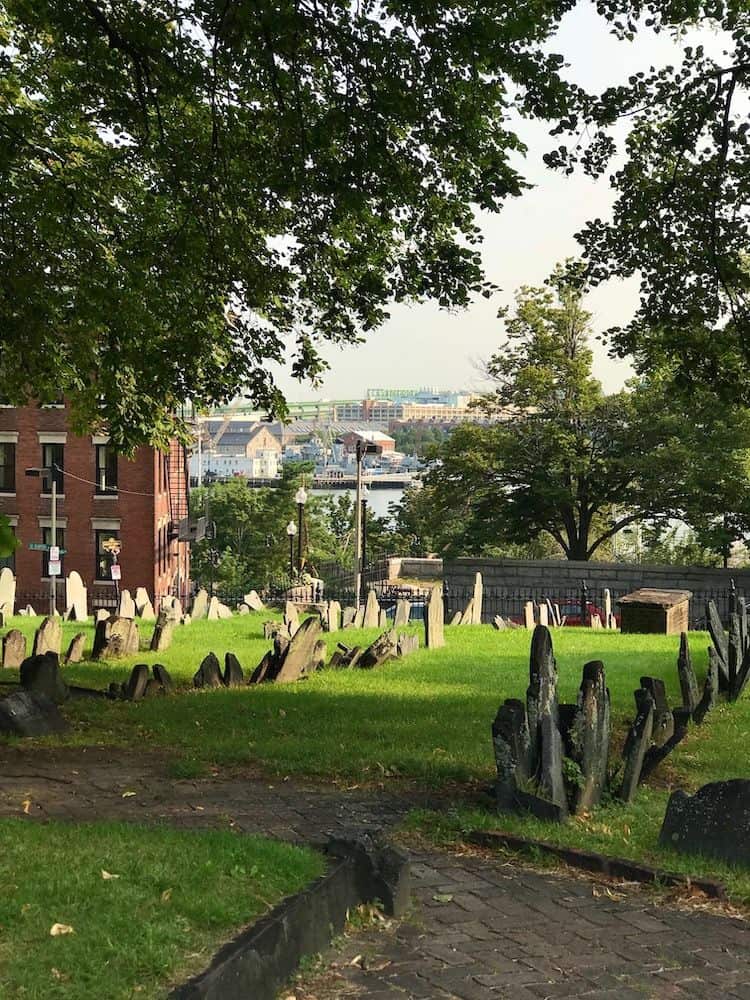 Hanover Street is the main street in North End and runs all the way to the Harbor.
It's where you'll find most of the Italian restaurants but be sure to spend some time on the side streets where you'll find lots of great architecture and interesting shops.
I spent about three hours just strolling around, taking photos, and stopping for an Italian coffee and cornetto ( a mini crescent).
One word of caution, do not expect the coffee and cornetto to be exactly like you find in Italy, and you'll be very happy.
7. Take a stroll along the Charles River Esplanade
Recommended by Jen from Where Jennie Goes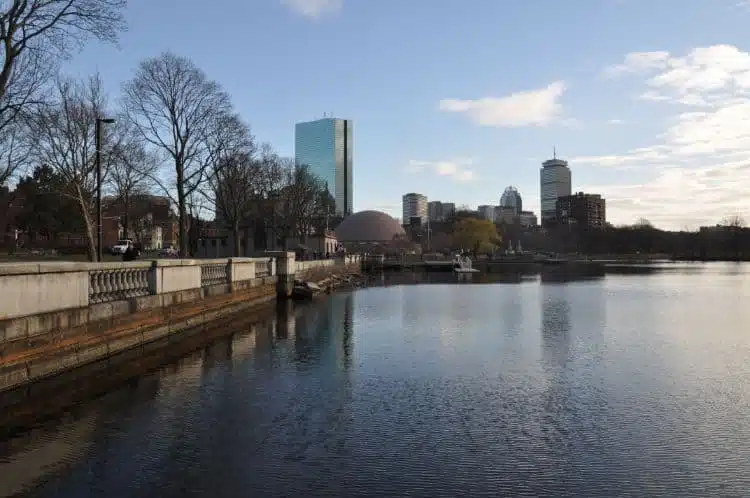 If you want fresh air and beautiful views, take a stroll along the Charles River Esplanade.
If you're coming from the Beacon Hill area, go right down Cambridge Street, past the CVS, until you see a footbridge.
Take that across the road, and though both ways are nice, I recommend going to the left. It's a lovely, easy stroll.
If you're in Boston in the fall or over the summer, you can stop by the Owl's Nest Beer Garden. It's open right along the Esplanade, but it's only open until 8 pm!
The Esplanade is also a great place for a picnic. There are docs you can sit on or on the grass, but watch out for geese droppings!
Enjoy your picnic while watching the sailboats play on the water on a nice day.
There are options if you want to get out on the water yourself! You can rent a kayak, a canoe, or a stand-up paddleboard.
Just make sure you return them on time, or the rental company will come looking for you.
If you're feeling ambitious, you can walk from the Esplanade starting at Cambridge Street and walk all the way down to Massachusetts Ave bridge and over to Cambridge.
From there, you can venture into Cambridge or simply stroll along the river on that side and take the Longfellow Bridge back toward Beacon Hill.
8. Fun things to do in Boston – Check out some speakeasies
Recommended by Destiny from Appetite for Adventure
The bar scene in Boston is really unique. I'd especially make sure you add some of the speakeasies to your Boston bucket list.
Nobody does craft cocktails like speakeasies, and there's so much fun in their secrecy and searching for their entrances.
Upon entering a modestly marked door in an alley, you'll follow along the hallway before reaching your destination— Backbar.
Their drink menu is fun and has drinks inspired by some bartenders' favorite books (including the Harry Potter series).
If a drink on the menu isn't speaking to you, they have a diverse collection of ingredients the bartender can use to whip up something delicious just for you.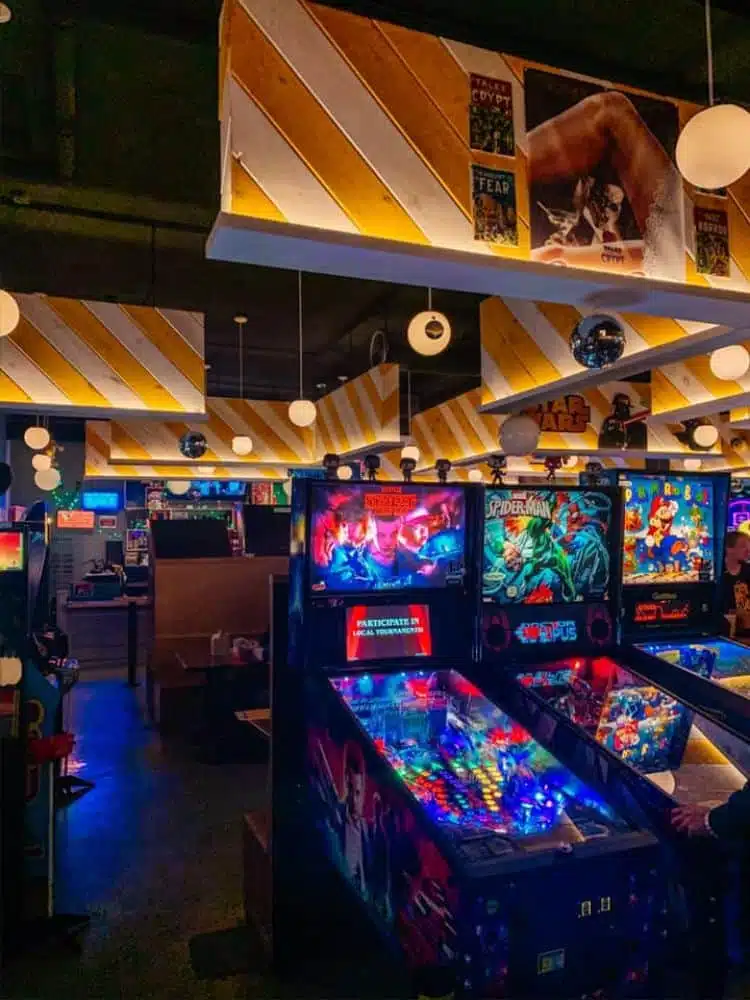 Brick and Mortar is a classic speakeasy with great cocktails. It took me a little while to find it— I first checked the alley, which had awesome artwork, but no door.
I eventually saw an unmarked door next to a restaurant, and the stairs behind it led me to my destination.
Even on a weekday in the winter, this place was bustling, so call to make a reservation to be safe.
A4cade was my favorite spot.
To get inside, walk into Roxy's Grilled Cheese. To the left of the ordering area, you will see two swinging doors that look like they lead to the kitchen but actually take you to a land of fun, games, and delicious adult beverages.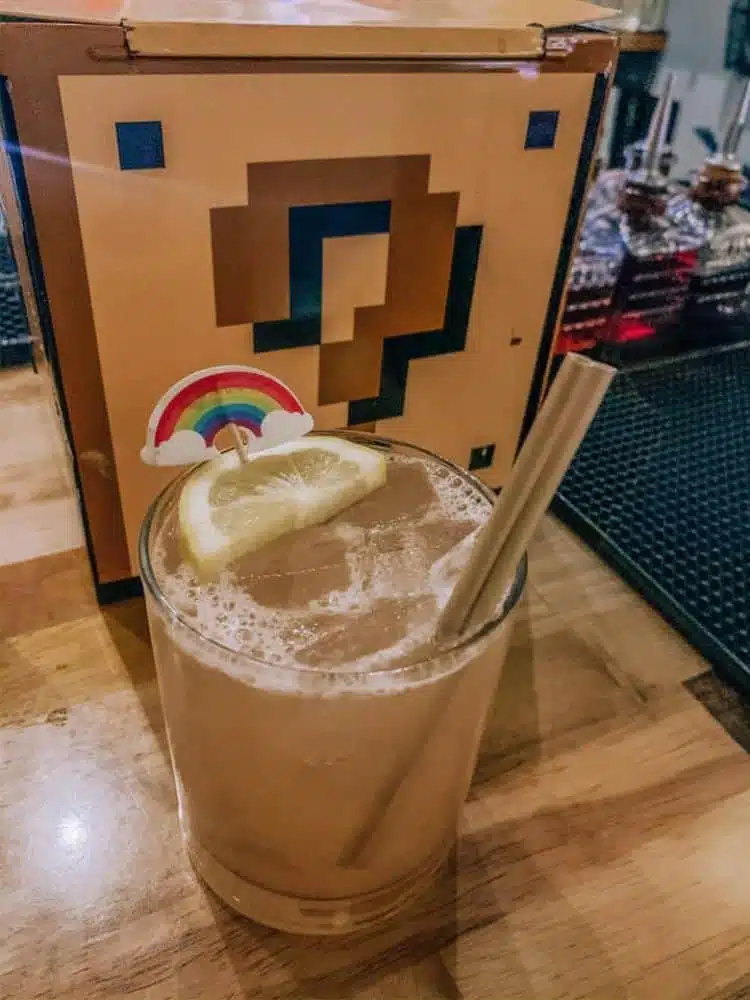 You aren't going to find your typical speakeasy-concocted cocktails with elegant ingredients like torched thyme or egg white.
You will find wacky, yummy drinks with fun names like "Worst. Drink. Ever."
What makes this place for me are the games, including pinball, Guitar Hero, and all sorts of other arcade classics— how fun is it to show off your competitive side while sipping craft cockt.
9. Top things to do in Boston – Boston Duck Tour
Recommended by Trijit from BudgetTravelBuff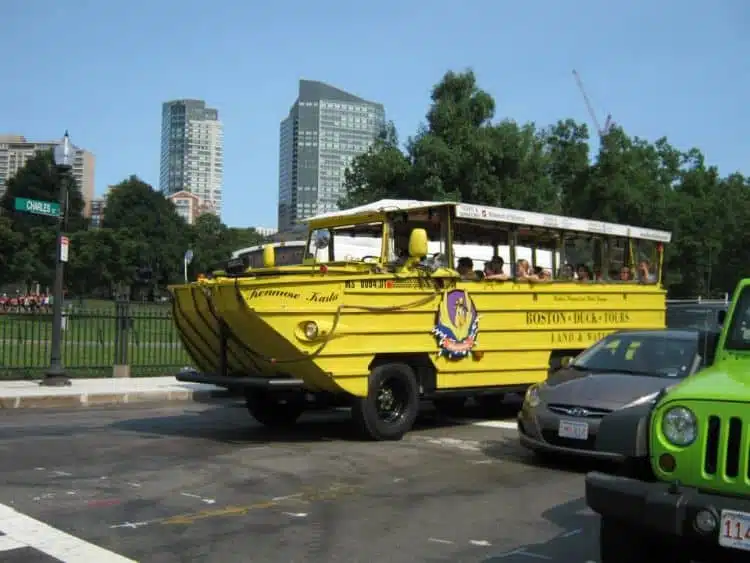 Whether you are on a solo trip, a family trip, or a budget trip, you cannot afford to miss Boston Duck Tour when you travel to Boston, one of the best solo travel destinations in the USA.
Once you board this amphibious World War II duck boat, your fun tour begins. If you want to discover Boston from a different angle, you must go for a Boston duck tour.
This 80-minute fun tour offers an amazing view of the city from the land and water on a non-stop journey.
If you come from the Prudential Center, you'll be able to see famous landmarks such as the Prudential Tower, Arlington Church, The Christian Science Church, State House, Mary Dyer's home, and many more.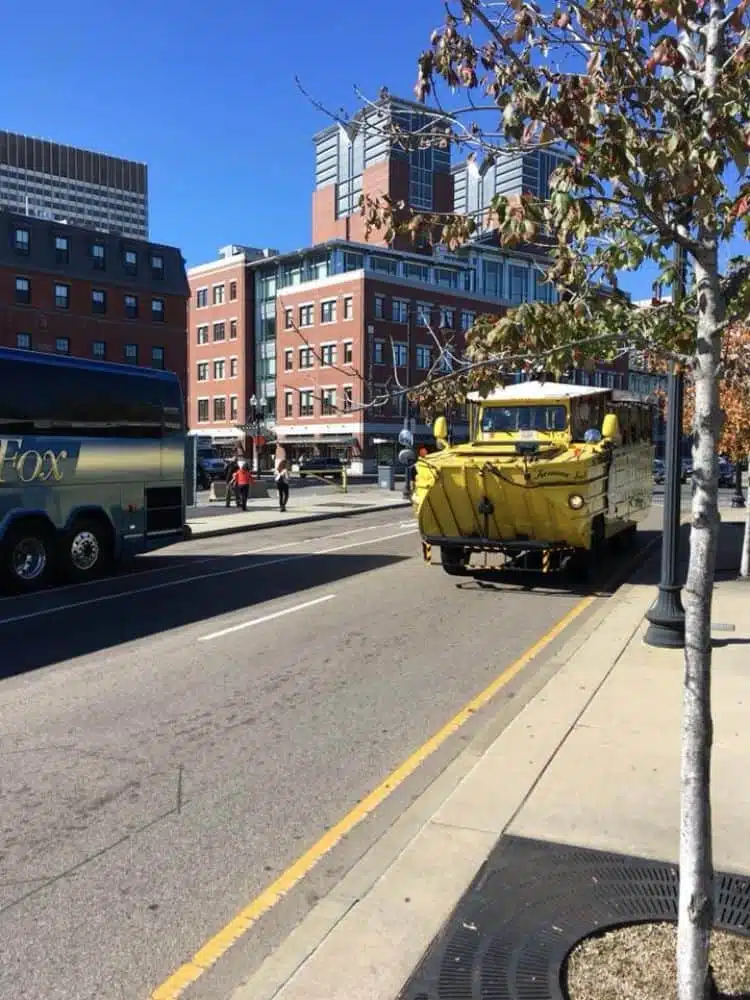 You'll also get to see well-known spaces such as Copley Place, the Boston Common, Scollay Square, and the Esplanade.
History buffs will definitely like historic stops such as the Robert Gould Shaw Memorial, the Holocaust Memorial, the Zakim Bunker Hill Bridge, Granary Burial Ground, and many more.
The best part about this duck tour is when the tour bus transforms into a boat(duck) and enters the Charles River with a splash.
Don't worry; you will not get wet. Enjoy the fantastic duck's eye views0 of Boston and Cambridge that you won't get anywhere else.
Boston Duck Tour operates seven days a week, every half hour from 9:00 am to approximately one hour before sunset.
10. Go on a Boston Cream Pie Tour
Recommended by Heather from Trimm Travels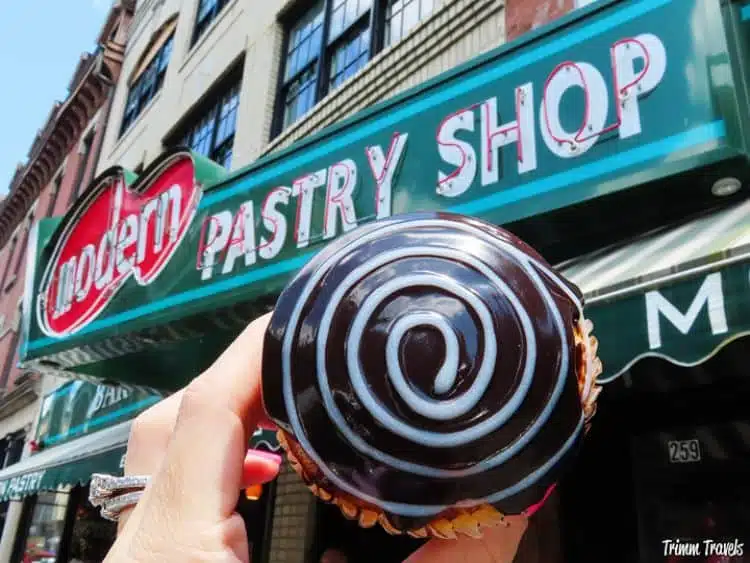 As you would expect, the Boston Cream Pie was invented in Boston, Massachusetts. It is actually known as the state's official dessert.
Because I love to do all things local, I decided way ahead of my trip that I would set out to find the best Boston Cream Pie in Boston.

The original recipe was invented in what is known today as the Omni Parker House. Chef Anezin decided to combine chocolate from the nearby chocolate mill with his pudding-cake pie dessert that the public thoroughly enjoyed.
The Parker House Chocolate Cream Pie became the Boston Cream Pie and the rest, they say, is history!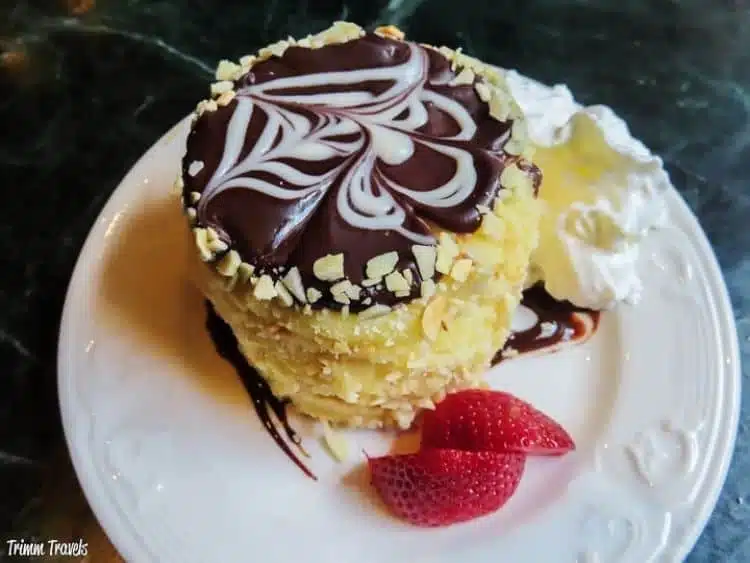 I didn't realize that there are different variations of Boston Cream Pie. I discovered cake types, pastry types, and even a cupcake version.
There are many places to grab the popular dessert all over Boston.
You must try the original at the Omni Parker House (and grab a martini off of the coolest and most extensive martini list I've ever seen). I also highly recommend Modern Pastry, especially if you are a cupcake lover.

Of all the things I did in Boston (and there were a lot), I loved my self-made Boston Cream Pie tour. It is perfect for dessert lovers.
You can even excuse yourself from the guilt because it is quite the local thing to do in Boston!
Best Places to visit in the USA