When you hear about online dating, what is the first thing that comes to your mind?
Perhaps, it's Tinder.
But did you know that there are actually a lot of dating apps you could use in order to connect to other people around the world?
Well, this is an excellent way for you to explore other personalities looking for "true love" just like you.
The most popular internet dating apps in the US, Australia, France, Germany, and other countries you could possibly think of right now are here.
So buckle up and see what other available opportunities you could get from these apps currently being used by so many singles worldwide.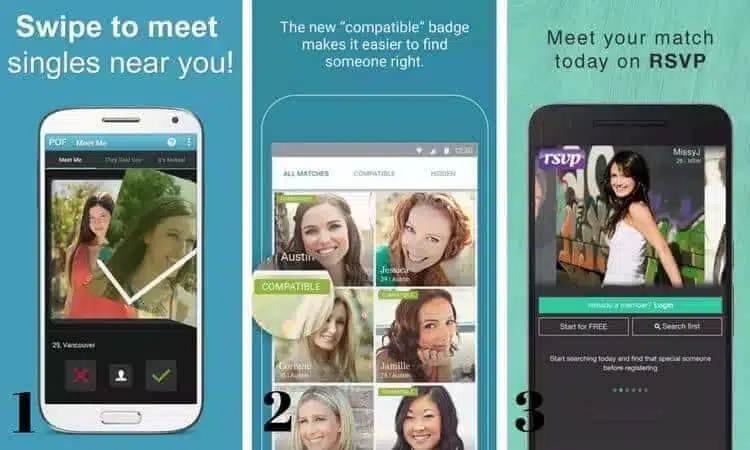 This app has already received plenty of awards and positive feedbacks from its users.
Due to the efficient and convenient features that this platform offers, more and more women are thrilled to be on this app when it comes to online dating and eventually finding their true love.
Alright, "true love" maybe a big word, but it's really what the users are mostly looking for.
If not, they won't be at eHarmony searching for potential partners who could understand them completely.
The regions it provides service for includes Australia, United Kingdom, Canada, and the United States.
With over a hundred million visitors viewing the web app each month, this is the exact place singles need to visit.
You will surely find the one you're looking for by using this online dating service.
In fact, there are currently more than 11 million registered users that take advantage of this simpler platform of connecting to other singles in Spain, New Zealand, Italy, Ireland, Germany, France, Australia, United Kingdom, Canada, and the United States.
This is included in the most popular online dating apps today where singles looking for potential partners in Australia hang out.
And for more than 15 years, this reliable service continues to provide better online dating opportunities to users.
Currently, there are approximately 1.6 million registered members and a staggering 1, 200 new users joining RSVP every day.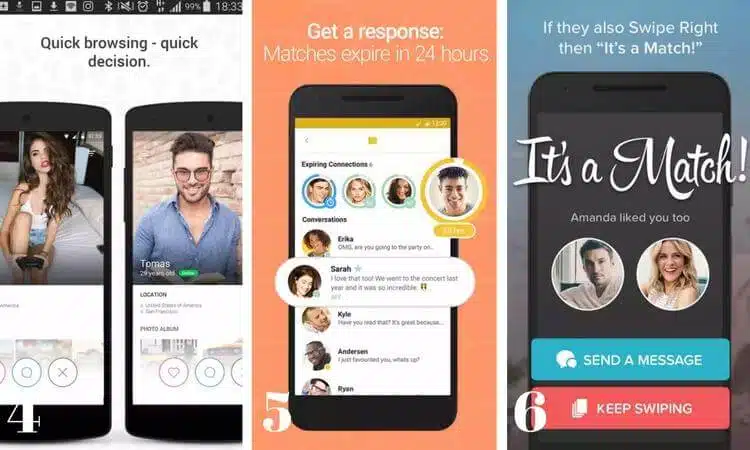 Via Facebook, this app allows you to connect with your friend's friends in the United States. An excellent advantage of this app is its boldness.
For those who are actively pursuing dates on Hinge, discretion should not be a great concern because your Facebook friends will still know about it.
However, this app will help you get rid of the middleman.
This is highly comparable to the Tinder app, but after making the match, only the women can make their first move and start the conversation.
So the main advantage is for the ladies when it comes to rude guys and perverts just looking for a sex partner.
By using this app, there are no accidental encounters since the user chooses whom to connect with.
This is absolutely the online dating app for women where they don't have to be worried about unexpected experiences with other singles.
So it's surely a win-win situation for all users.
Resulting to over 10billion matches worldwide since 2012, Tinder is indeed the ultimate dating app for singles out there.
This free app is more popular than you can imagine if you're not that into online dating.
And with the available plus subscription, users enjoy better "true love hunting" on the internet.
But the main glitch of this is that, people tend to base their choices on the physical appearance of the person.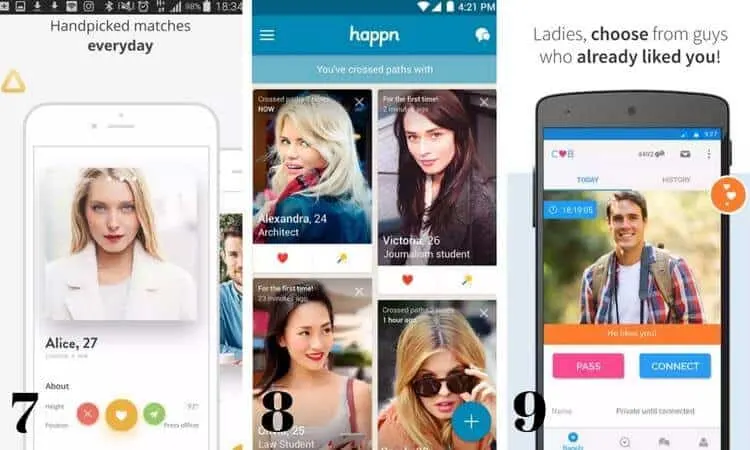 Here, the human matchmaker helps users get the best of online dating. A combined modern and traditional dating, this app lets individuals find the ideal date they want through human match-making feature that connects singles online.
Just like CMB, Once provides a potential match every noontime.
However, that person is personally chosen by the human matchmaker in order to provide positive dating experience on the internet.
So if you're looking for some real dating when you are travelling in Europe, this is the place to go.
For those who are fond of hooking up with other singles within their area, Happn is the perfect online dating app to use.
You can literally date someone in your town without the pain of long hours of matching.
In a matter of minutes, you can find the perfect partner within a 250-meter radius.
The app will give you potential matches who just passed by your house one hour ago.
More popularly known as CMB, this app is more inclusive than Tinder.
With a "bagel" delivered on your screen every noontime, you get one perfect match that meets your interests, likes, and location.
It's definitely not an accidental match since the app will based the search on your mutual friends as well as interests.
The app is downloadable for free, however if you'd like more matches or "bagels" you can buy and earn some beans for more exciting meet ups.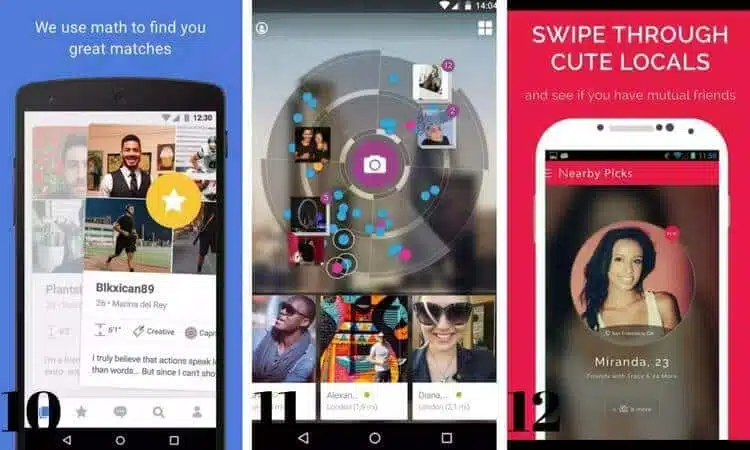 In order to get an ideal percentage match, OKCupid dating app provides personality quiz for potential partners in Spain, Portugal, France, England, Germany, USA, Philippines, Sweden and Thailand.
The advantage of this app is that users can easily discard people who have intolerable viewpoint or characteristics.
In other words, you don't have to deal with bigots, racists, and the likes.
This swipe-friendly internet dating app offers only one of its kind features in order to make sure that users get what they exactly want.
The features include radar system to find potential singles within you region.
That way, you can easily connect with them and start a conversation.
However, take note that some features should be bought through credits before you can fully take advantage of them.
Lovoo has more than 40 million users worldwide.
This app is the safest when it comes to letting your circle know that you are available.
All you have to do is swipe up if you want to date them or swipe down if you are willing to spend the night with them.
However, don't assume about Down too much as it makes more sense when you just let things happen just like how you want them to be.