Sri Lanka is a wonderfully diverse country, with rugged beaches, welcoming locals, delicious food, ancient ruins, and bountiful wildlife. Find the best places to visit in Sri Lanka and the best things to do in Sri Lanka.
Traveling to Sri Lanka is easy as the island is relatively small with reliable public transport.
You can do the popular circuit from Colombo to the Cultural triangle, passing down through Kandy and into the hill country, taking a safari stop in Yala before meandering along the coastline back up to Colombo.
Best VPN for Travel: ExpressVPN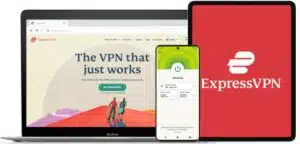 Heading abroad? Use ExpressVPN to access your social media accounts, unblock your favorite entertainment sites, and stay connected with friends and family. And get cheaper flights, of course.
Pros
✅ Next-gen, high-speed servers in 94 countries
✅ Works on iOS, Android, Windows, Mac, Linux, browsers, and more
✅ 256-bit AES encryption protects your data, even on hotel Wi-Fi
✅ Unblocks Netflix and other streaming sites
Cons
❎ No dedicated IPs
Get 3 extra months free of ExpressVPN when signing up for a 1-year plan. That's a 49% saving and a monthly cost of just $6.67! You also get a 30-day money-back guarantee.
All of this can easily be done in a two-week itinerary with diversions off to the lesser explored north or east coasts.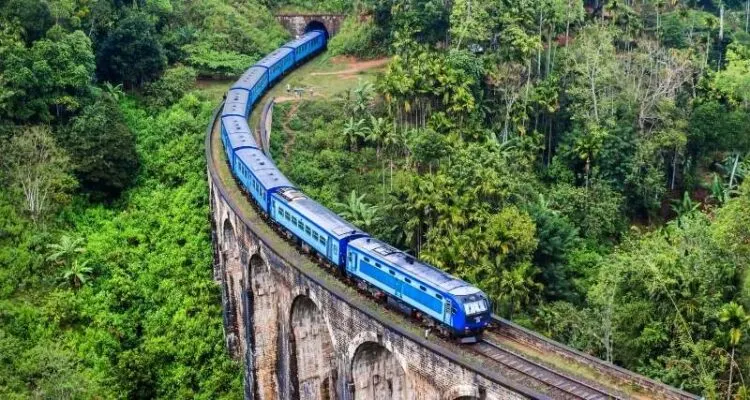 1. Climb Sigiriya or Pidurangala for a view of Sigiriya
Sigiriya is Sri Lanka's most iconic landmark.
This historic fortress was formed from volcanic magma and rises dramatically to 370 meters above sea level from a vast plateau between Habarana and Dambulla.
Climb the steep staircases to view the ruins of King Kasyapa's Palace and admire the incredible panoramic views from the top.
Originally carved into the shape of a lion, you'll notice that only the remnants of the huge lion's paws remain.
Combine your trip to Sigiriya with a hike up Pidurangala – a lesser-known rock located about a kilometer from Sigiriya.
The climb is a little challenging towards the end, requiring a scramble over and between boulders, but the unobstructed, crowd-free views of Sigiriya are well worth it.
Tip: If you don't want to stay overnight in Sigiriya, you can book a full-day tour from Kandy to Sigiriya.
2. Go on safari in Yala National Park
Located on the southeast coast of Sri Lanka, a safari in Yala National Park can be perfectly combined with a beach stay.
The national park has one of the highest densities of leopards in the world, so if you're going to see this elusive cat anywhere, it's here.
There's also the opportunity to see Sloth Bears, elephants, buffaloes, monkeys, and crocodiles. Self-drive safaris are possible, but your park entry ticket comes with a trekker who is experienced at tracking animals.
Take advantage of this or an organized safari as they have the best knowledge of the animals' habits.
*Tip: Book an All-Inclusive Overnight Tour to Yala National Park, including 2 game drives and one night in a luxury leopard's nest treehouse.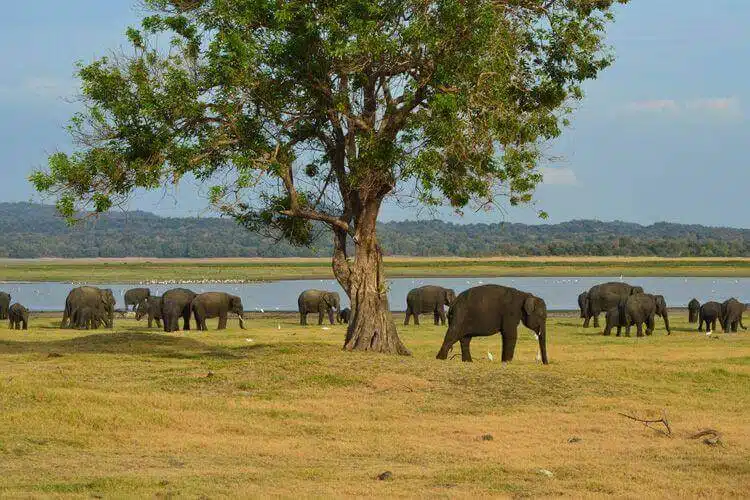 3. Take a surf lesson
Weligama is the perfect place to learn to surf, with a 2km stretch of shallow beach and clean surf sheltered within a bay.
Surf schools are abundant along the beachfront, offering board rentals or lessons, so take your pick.
For experienced surfers, nearby Mirissa and Gurubebila offer larger waves and reef breaks.
For backpacking Sri Lanka there are some great hostels in Weligama and nearby Mirissa.
4. Climb Ella Rock
Ella is nestled in the hill-country of Sri Lanka, surrounded by tea plantations, rugged mountains, and waterfalls.
It's a place to unwind for a few days and get back to nature, hiking to impressive viewpoints.
The climb to Ella Rock offers up some spectacular views, and navigating the unmarked route along train tracks, around farmland, and through forests is an adventure in itself.
A guide is not required, but you'll need good online directions for the Ella Rock Hike.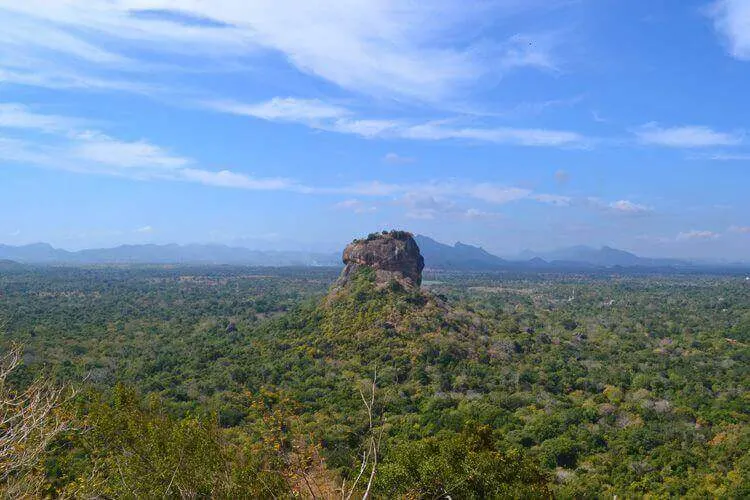 5. Take the train
No list of things to do in Sri Lanka would be complete without mentioning the epic train journeys in this picturesque country.
The Kandy to Ella journey will have you whizzing through the hill country, and the many tea plantations adorn the slopes. Book the observation carriage at least two weeks in advance for the best views.
The Galle to Colombo train also has stunning ocean views.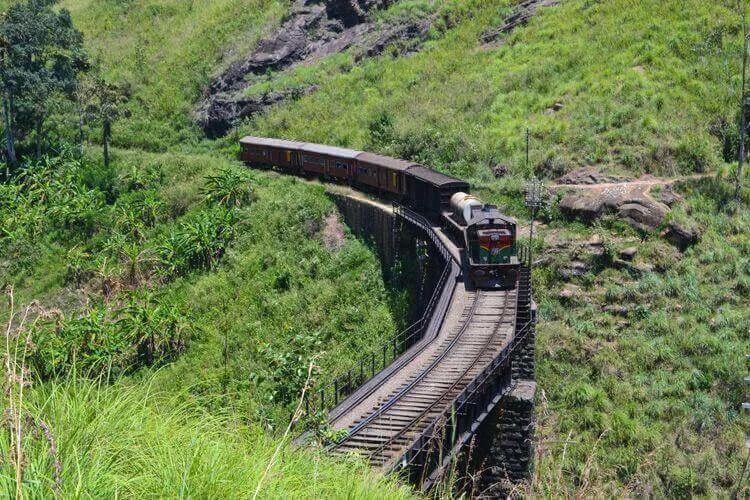 6. Visit a tea plantation
Demodera is the next village over from Ella, and their Tea Factory offers guided tours for Rs 350 per person and is highly informative about the production process.
You'll learn about how twenty types of tea grades are produced from the same tea leaves and how they are sold and exported around the world. You can then enjoy a delicious cup of tea!
7. See the elephant gathering at Mineryia
From July – October, the national park of Mineryia is home to around 300 elephants in search of water during the dry season.
They travel from far and wide to the artificial watering hole as alternative sources dry up.
This makes for spectacular wildlife viewing as herds of elephants creep from the surrounding vegetation to enjoy a drink and a cooling bath.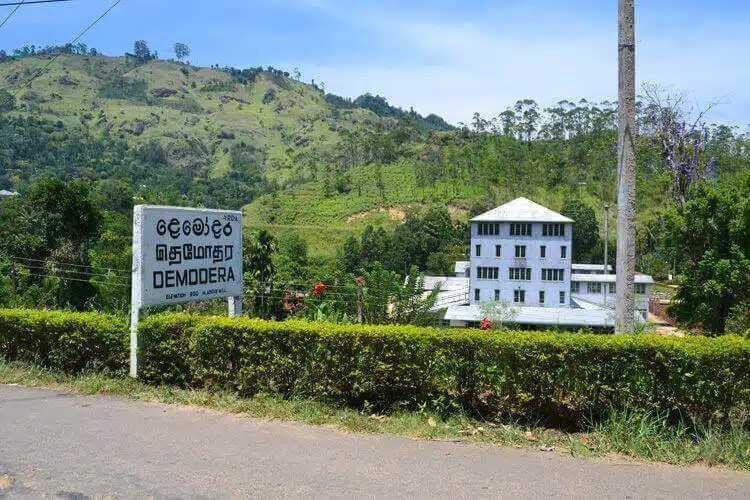 8. Sunset views in Colombo
For most traveling to Sri Lanka, Colombo will be where the journey starts and finishes.
It's worth spending a night to sample some of the great restaurants on offer or to take to the rooftop of Cinnamon Red Hotel to enjoy a cocktail during sunset.
9. Explore the temple village of Polonnaruwa
The ancient capital city of Polonnaruwa can be explored by tuk-tuk or bicycle depending on how active you're feeling (and the temperature).
The site houses impressive temple ruins, statues, and the remnants of the Royal Palace from the reign of King Parakramabahu (1153 – 1186). Polonnaruwa is also home to wild toque-macaque monkeys, so keep your snacks closely guarded!
10. The Temple of the Sacred Tooth Relic
Kandy is located in Sri Lanka's central province, making for a perfect stopover when traveling through the country.
An important ancient relic – a tooth of The Buddha – is kept here at The Temple of the Sacred Tooth Relic and draws in thousands of visitors daily for offerings and prayers.
Tourists are welcome to witness this moving event where visitors queue to pass the tooth and offer lotus blossom and frangipani as gifts.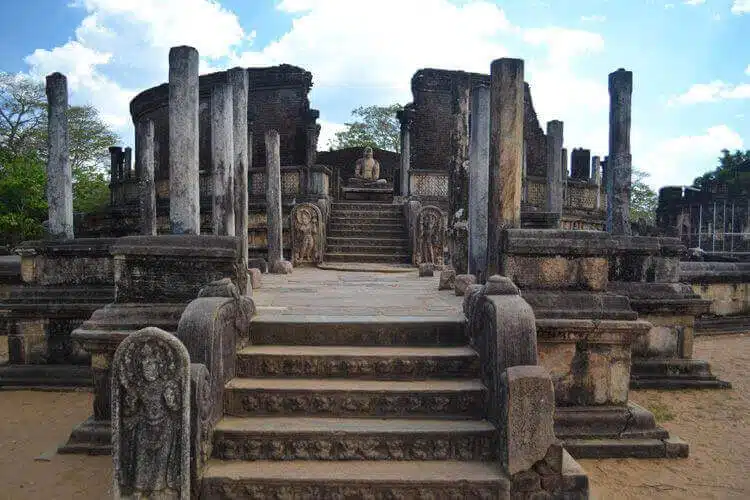 11. Whale watching in Mirissa
Set sail on the Indian Ocean in search of the largest mammal on the planet – the Blue Whale.
These impressive creatures, along with Sperm Whales, Pigmy Killer Whales, and Bride Whales, can be seen just a few nautical miles from the shore during a whale-watching Tour in Mirissa. You will also have the chance to see various types of dolphins, turtles, and whale sharks.
Raja & the Whales is a reputable family-owned company that adheres to international whale watching regulations.
There are many that don't and are overcrowded, so chose wisely.
12. Climb Adam's Peak for sunrise
Not to be confused with Little Adam's Peak, Adam's Peak is a place of pilgrimage for several faiths and a popular hike for tourists to watch the sunrise.
Start the hike around 2.30 am to allow enough time to hike the 5 kilometers in time for sunrise.
A reasonable fitness level is required to climb the steep 5,000 stair ascent, but the magnificent view is well worth it.
This article was written by GapYearEscape.com, a gap year site that documents an eight-year, seven continent adventure.
More Sri Lanka Internet Resources:
Was this post helpful? If so, be sure to pin it to refer to later!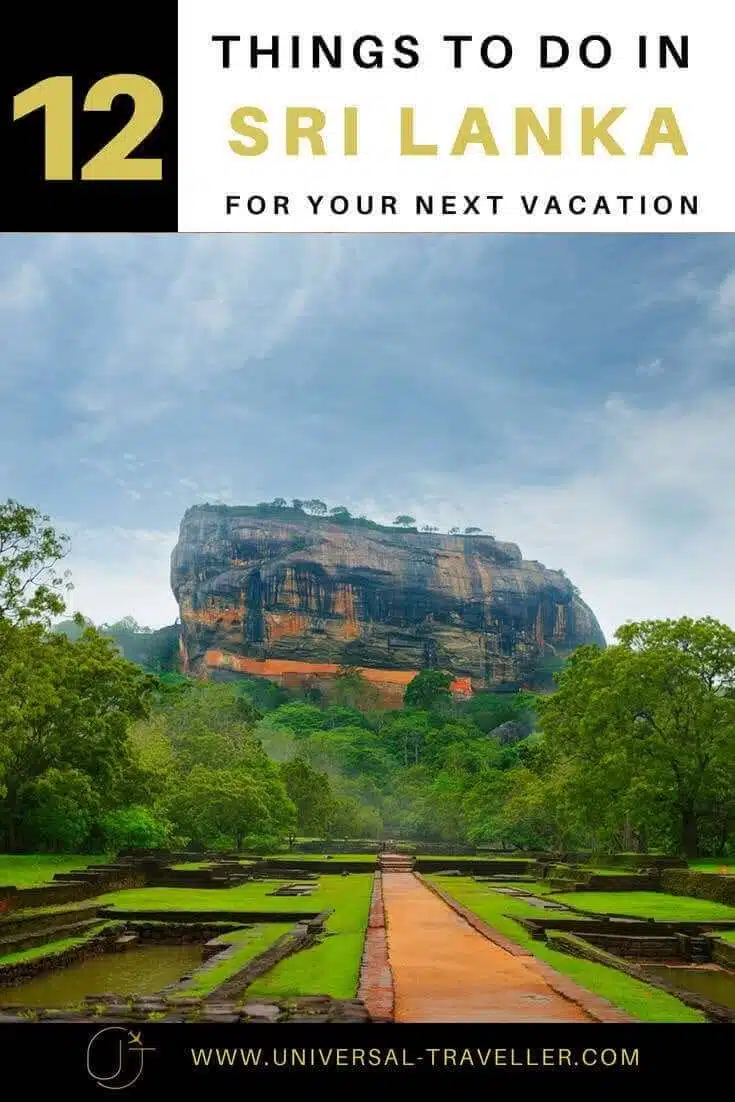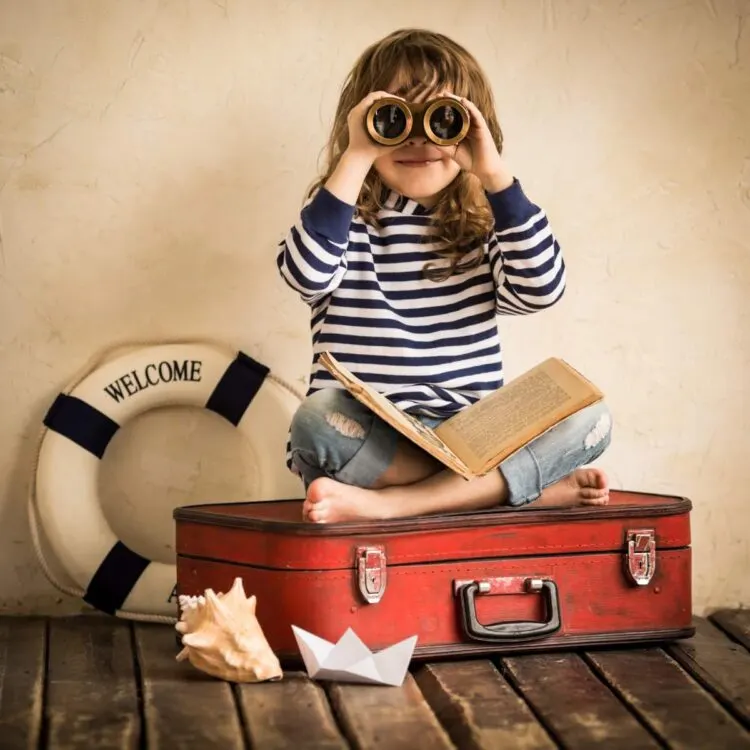 Protect your trip: With all our travel experience, we highly recommend you hit the road with travel insurance. SafetyWing offers flexible & reliable Digital Nomads Travel Medical Insurance at just a third of the price of similar competitor plans.