We use 50% of the plastic only once! I put together this list of products to help you reduce plastic waste while traveling.
Did you know? There are 8 million tons of plastic in our oceans! 8 million!
We use plastic every day, and 50 percent of the plastic we only use once before throwing it away.
More and more people get aware of the problem, and studies state that nearly 90% of travelers actually want to travel more sustainably… but don't know where to start.
With the help of fellow travel bloggers, I put together this list of products that you can use on your travels to reduce the use of single-use plastic.
1. Sea to Summit Ultra-SIL Day Pack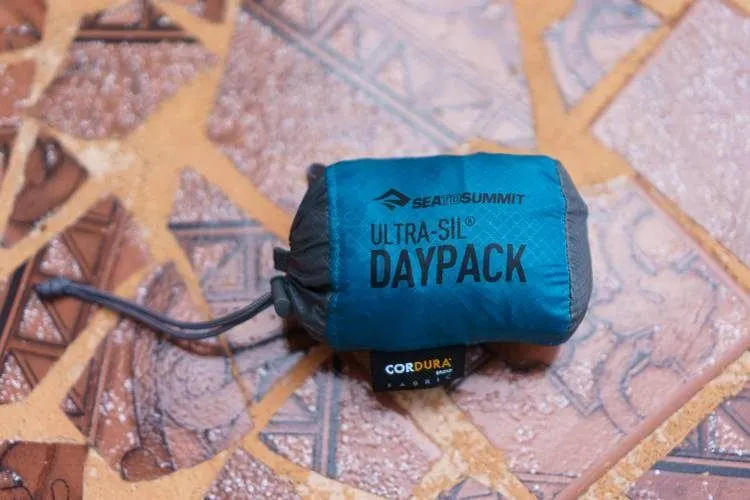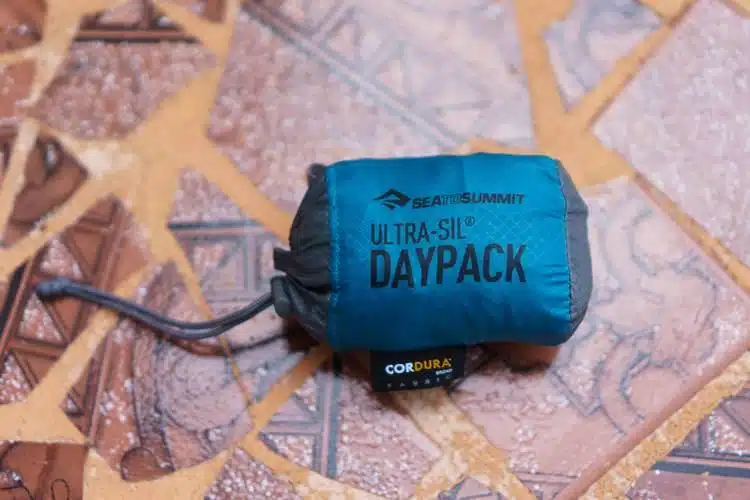 One of the best ways to reduce plastic pollution is for individuals to reduce single-use plastics.
Most people are aware of this fact and have good intentions, but they choose convenience over the environment when caught unprepared.
For instance, what happens when an individual is in a store purchase something, and they need to carry it.
Unless they were prepared with reusable bags, they likely take the plastic bag, kick themselves, and promise to do better next time.
An easy way to always be prepared and reduce plastic pollution is by carrying around a collapsible backpack like the Sea to Summit Ultra-SIL Day Pack.
This tiny bag takes up next to no space as it packs down to a tiny package and is extremely lightweight at only 2.4 ounces.
Amazingly, it expands to a 20L backpack that is comfortable to carry and can hold up to 250 times its weight.
It's also water-resistant, so users can be comfortable carrying electronics in it, even if they get caught in a surprise rain shower.
Because the Sea to Summit Ultra-Sil Day pack compresses to such a small size, it fits easily in a purse or a pocket.
It's a convenient way always to be prepared and take action to reduce plastic pollution.
Recommended by Philip from Zen Travellers
2. Collapsible Tupperware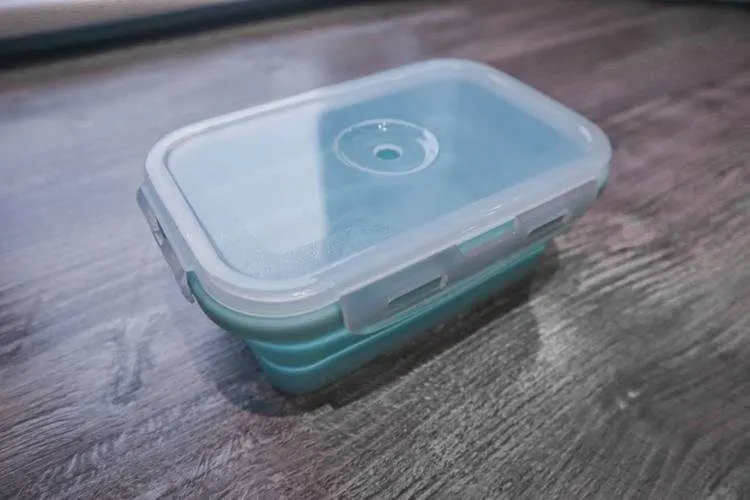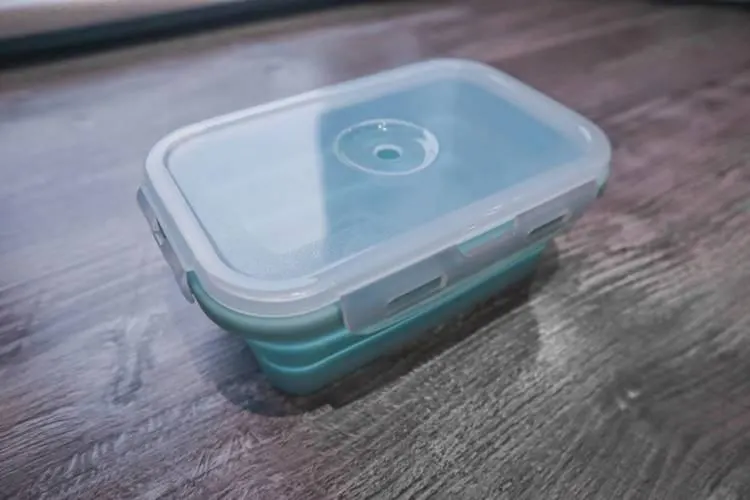 One item travelers should add to their packing list is collapsible Tupperware. These are storage boxes that fold down flat.
The silicone bottom pushes down into a flat pack which is ideal for carrying in day bags when out at about. It becomes ⅓ of its original size.
This space saver can be used for packed lunches and as a doggy bag. Fill it with food before you hike, go sightseeing, or after you've dined but can't quite eat the full portion.
This is especially helpful for holidays in the United States of America, where portion sizes are notoriously bigger than those in Europe.
A great money-saving tip is to carry this storage box and keep the leftovers for another meal. This also encourages less waste which many environmentalists care about too.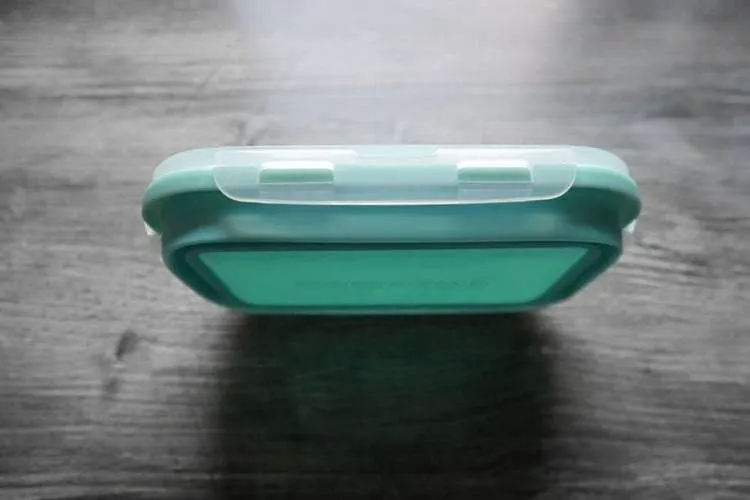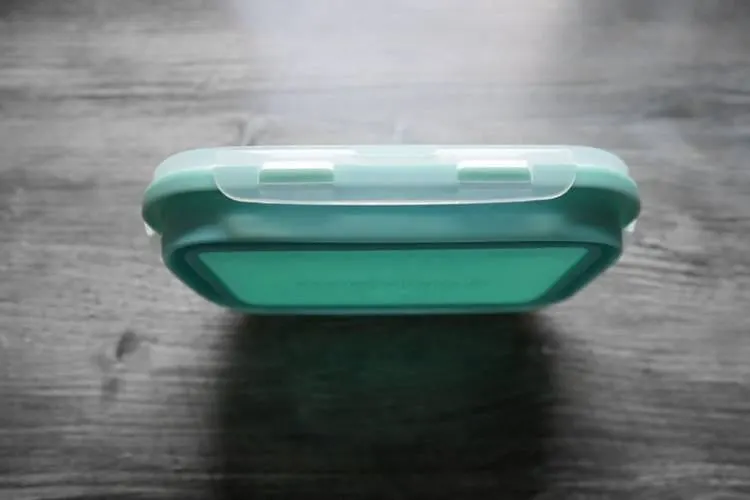 The airtight Tupperware is leakproof and microwavable (features an air vent on the lid). The tubs are easy to wash and dishwasher safe.
Packs come in a variety of sizes and are stackable. They also come in cute colors.
If anything, collapsing the tub is mighty satisfying! A must-zero waste item or gift for cautious travelers.
Recommended by Gemma from Two Scots Abroad
3. Menstrual Cup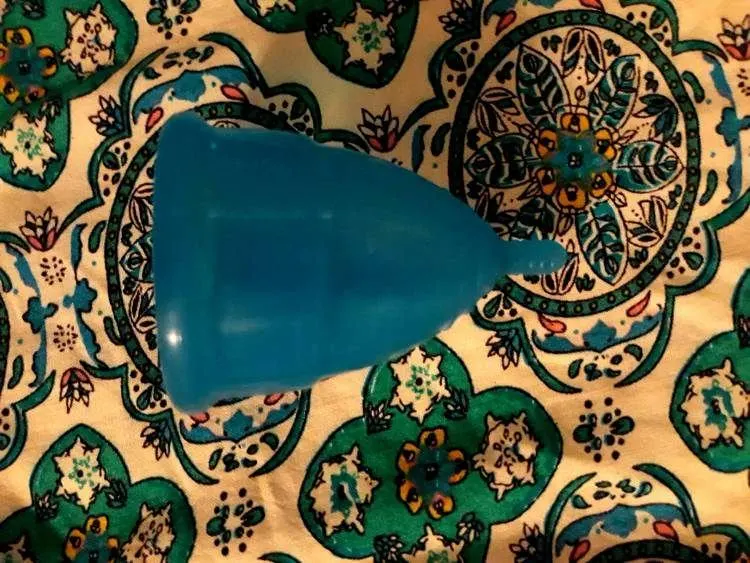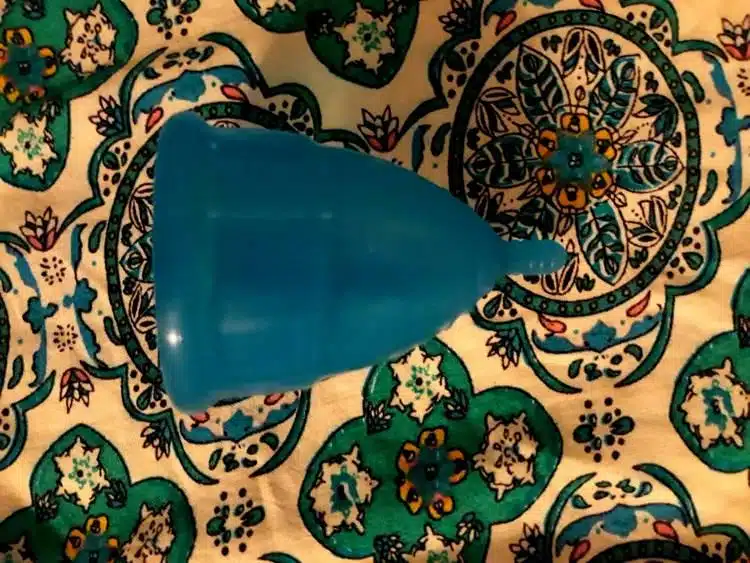 A menstrual cup is an absolute must-have for females on the road who want to reduce their dependence on single-use plastic.
A menstrual cup is basically a better version of a tampon, and if you haven't already converted to the cup, then once you do, you'll wonder why you didn't do it earlier!
Basically, regular menstrual products such as tampons and pads produce a lot of waste. Tampons contain plastic and are often flushed down the toilet, which means they can end up polluting water systems.
Because menstrual cups are reusable, plastic pollution is avoided. Another plus about menstrual cups is that they're budget-friendly.
They generally cost approximately 25USD and can last for approximately 10 years. That's huge savings when the amount spent on tampons every year is taken into account.
It also saves you having to remember filling your trolley each time you hit the supermarket! Another plus when traveling is that they save on space!
Instead of shoving loads of tampons into your bag, all you need is that one menstrual cup to do the same job!
In addition to saving the planet, there are so many advantages to owning a menstrual cup, so do it to all the women out there!
You can buy a menstrual cup online or in one of the many zero waste shops worldwide.
Recommended by Ann Marie from Eco Conscious Traveller
4. Reusable Water Bottle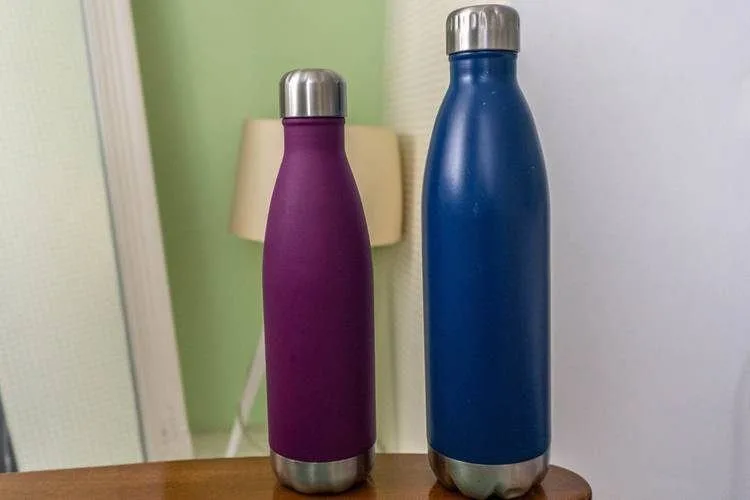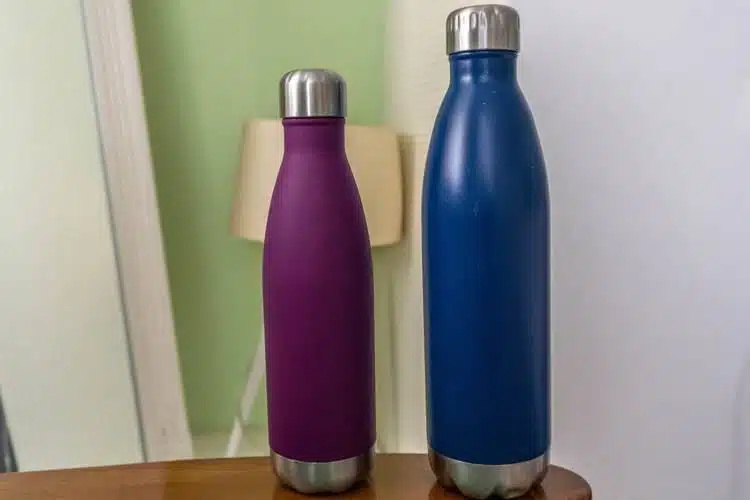 If you're looking for ways to reduce your plastic usage while traveling and be a more responsible tourist, one of the easiest changes to make is bringing a reusable water bottle.
Especially if you're traveling in Europe, North America, Oceania, or in other developed countries, relying on bottled water is not only incredibly wasteful, it is also unnecessary as tap water is generally safe to drink.
Depending on your preferences or destination, you can find a reusable water bottle that fits every travel style.
There are insulated steel water bottles that will keep your water hot or cold for hours, collapsible water bottles that take up as little bag space as possible (one of the best water bottles for backpacking!), or water bottles with filters to purify unsafe water or make bad-tasting tap water taste a little better.
With so many options for reusable travel water bottles out there on the market, there really is no excuse for continuing to rely on disposable plastic water bottles.
It is one of the easiest changes to make and will help you travel much more responsibly while reducing your impact. So, make the switch to a reusable water bottle today, and you can save both the planet and some money!
Recommended by Maggie from The World Was Here First
5. LifeStraw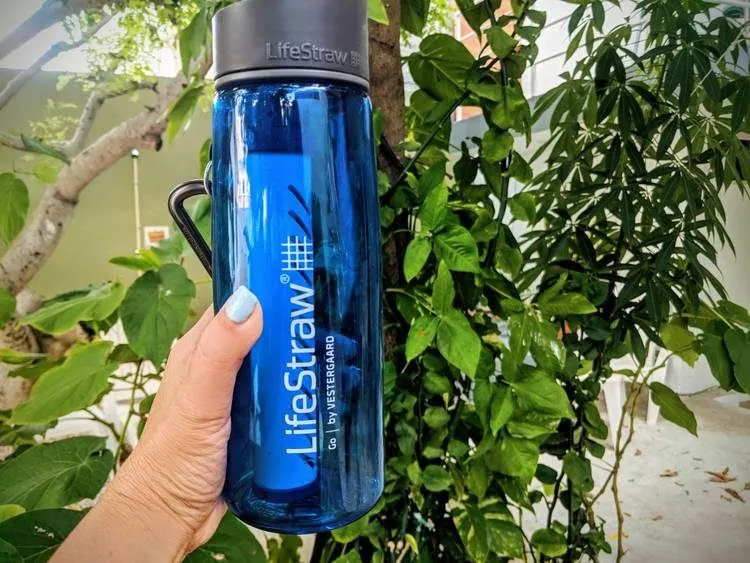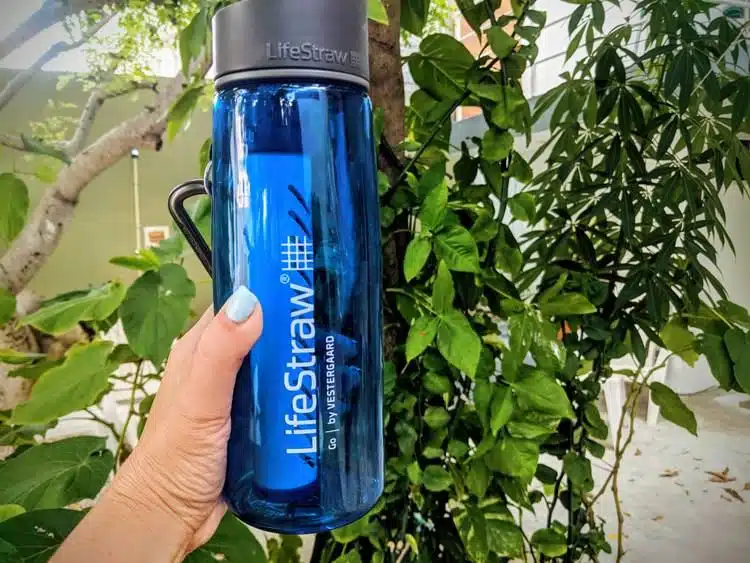 Like many countries in Latin America, it is not advisable to drink the water in Cuba.
In fact, most locals do not drink the water and either boil it, add chemicals to sterilize or have some filtration system in their homes.
For this reason, access to bottled water is readily available in most cities. However, visiting one of the hotter cities like Trinidad Cuba means consuming a lot of water and discarding many plastic bottles.
Although Cuba claims to recycle, most of the plastic ends up in the garbage bin and never arriving at recycling plants.
It is perfect for traveling as it holds 23 ounces and is very durable. The LifeStraw is ideal because the filter is in the water bottle, meaning you don't need to bring around a UV pen or anything else.
It is a reusable BPA-free plastic with a 2-stage activated carbon filter. Not only does it remove almost all (to be technical 99.9999%) of waterborne bacteria and protozoan parasites, it does so without chemicals and iodine.
And for those that have issues with the taste of water, it reduces the taste of chlorine and door without an aftertaste.
The company has pledged that for every bottle purchased; it will provide clean water to a child for a year.
Recommended by Ayngelina from BaconisMagic
6. Jute bag made of cotton
It's time to stop using plastic while traveling.
If you have ever been to a remote island in Indonesia, Thailand, or maybe the Philippines, you have probably found not only perfectly swung palm trees but also plastic bottles, plastic bags, and anything else that the sea could not have digested.
You can work against that with one little change in your travel behavior by simply carrying a cotton bag with you.
The next time you head to a 7/11 store in Bangkok, Bali, or Kuala Lumpur, reject the cashier's offer of giving you a plastic bag and show them your cotton bag.
Usually, this results in a kind smile and even a thank you from the person behind the cash desk and in making them think about their very own behavior.
And this, trust us, is also worth a lot considering that tourists and locals need to start changing their love of plastic.
Another advantage of having a cotton bag with you is that by carrying it around, you show others what you're doing and, thus, raise awareness.
Also, since most countries, especially in Asia, have amazing laundry services, you can easily give your cotton bag a little wash once it's gotten too dirty.
Above all, investing a dollar or two in a cotton bag will end up in having probably 20 plastic bags less on the next island you're visiting on your journey.
Recommended by Anne & Clemens from Travellers Archive
7. Reusable travel-sized toiletry bottles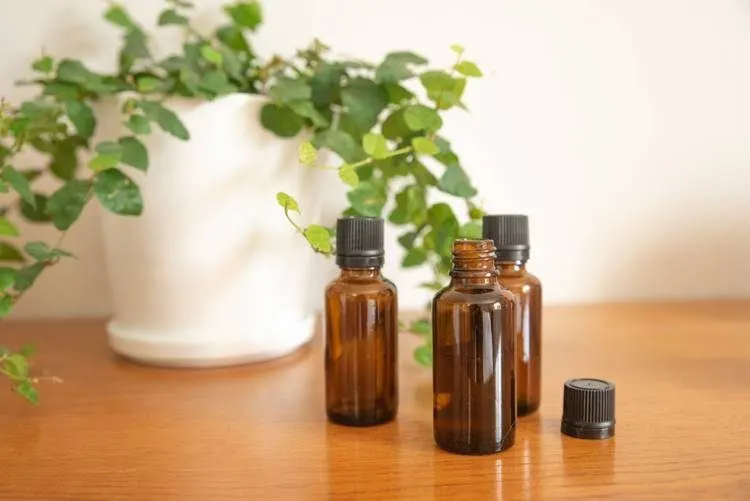 Hotels worldwide have a long way to go when it comes to reducing their impact on the environment. One area this is particularly apparent is the complimentary toiletry bottles they provide.
While many more consciously focused accommodation providers have already switched to refillable dispenser bottles for their toiletries, many more still offer their guests the traditional mini plastic bottles.
These mini toiletry bottles are often used just once before being thrown in the trash – meaning billions of bottles are discarded this way every year!
That's an astronomical amount of unnecessary plastic waste that will take centuries to break down.
While waiting for the hospitality industry to catch up on environmental issues, it's still possible to reduce your plastic waste substantially by bringing your own refillable toiletry bottles from home.
Glass bottles like the ones pictured can be used for many, many years and can be recycled safely once you no longer need them.
Due to their small size, they can be safely carried through security checks at the airport, making them perfect for carry-on travelers.
And as a bonus, you can still have your favorite hair and skincare products on hand while you travel!
Recommended by Nadine from Le Long Weekend
8. Bamboo Coffee Mug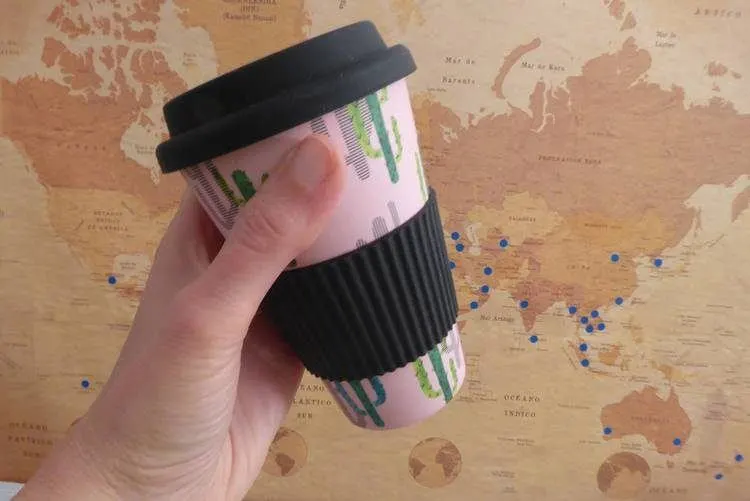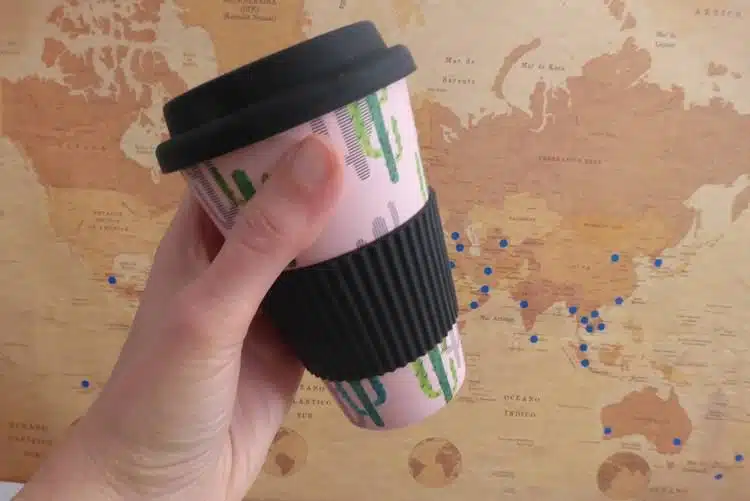 The bamboo coffee mug is one of the main items of any travelers' eco-kit, which spares dozens of single-use plastic or paper glasses.
This eco mug is made of bamboo and rice pasta with a silicon cover to keep your favorite drink hot.
In addition, these mugs come with endless beautiful designs and patterns to make them more personal, so they are a cool thing to have.
Travelers can use a bamboo coffee mug everywhere during their trips. On planes or trains, it is possible to give the bamboo coffee cup to the hostess when ordering a drink.
Also, when exploring a new city, travelers can order a takeaway coffee anywhere and propose their bamboo coffee mug instead of single-use plastic or paper cups.
Bamboo coffee mugs are also great for road trips. For example, there are not many cafes with takeaway glasses in less touristy areas, so having their own bamboo coffee mug can solve the problem, and travelers can drink their hot coffee for a long time while driving.
Bamboo coffee mugs are very robust and easy to store in a backpack or suitcase. Also, it is possible to use them to store your own cutlery in case you want to eat street food.
Recommended by Elisa from Travel France Bucket List
9. Steripen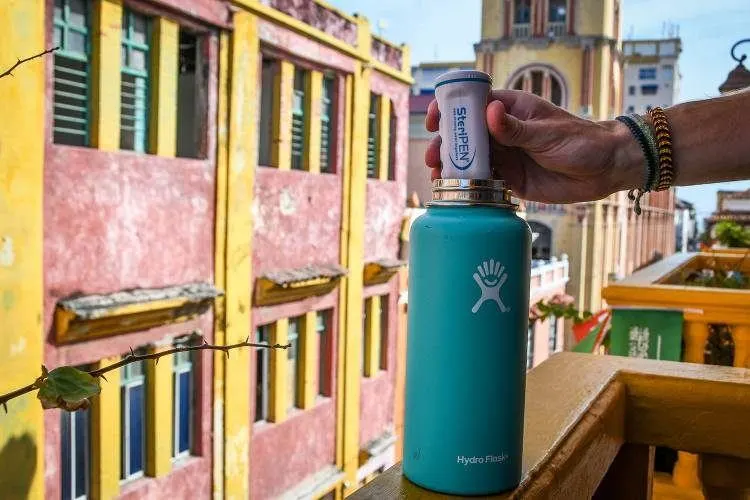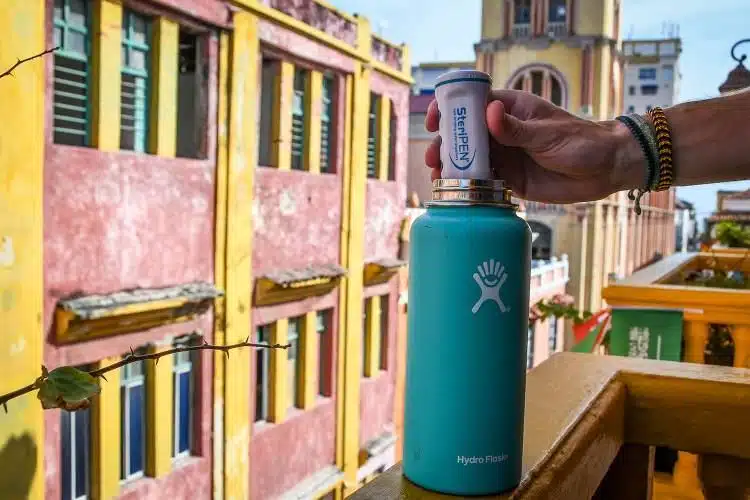 Whether traveling through developing countries where the water is unsafe to drink from the tap or trekking through mountains where the only water source streams, packing a Steripen is one of the best ways to reduce your use of single-use plastic.
This small device, which strikingly resembles a miniature Light Saber, is lightweight and compact, making it easy to pack even for the most minimalist of travelers.
Unlike alternatives, like pumps and tablets, the Steripen requires no physical effort, doesn't take hours to work, and doesn't change the taste of the water.
All you need to do is turn on the device and place it into the water you'd like to sterilize. When the water hits the sensor, it activates the light and will stay on for 90 seconds.
Once the light turns off, the water is completely safe to drink. Yes, even if you're in Mexico or Thailand or next to a remote stream.
So how does it work?
The UV light sterilizes the water by killing harmful bacteria. This is actually the same technology used to purify water in many countries where tap water is safe to drink.
Not only does the Steripen mean you reduce your use of plastic bottles since you can fill right from the tap, but it saves money, too, since buying all those bottles definitely adds up over time.
No matter what type of adventure you're on — whether trekking in the Himalayas or venturing through countries with unsafe tap water — the Steripen is an item that saves plastic and money and should be part of your eco-friendly packing list.
Recommended by Katie & Ben from Two Wandering Soles
10. Steel Straws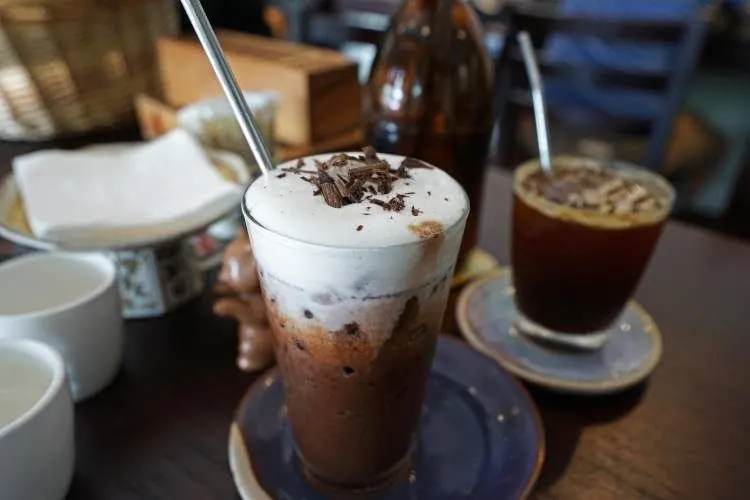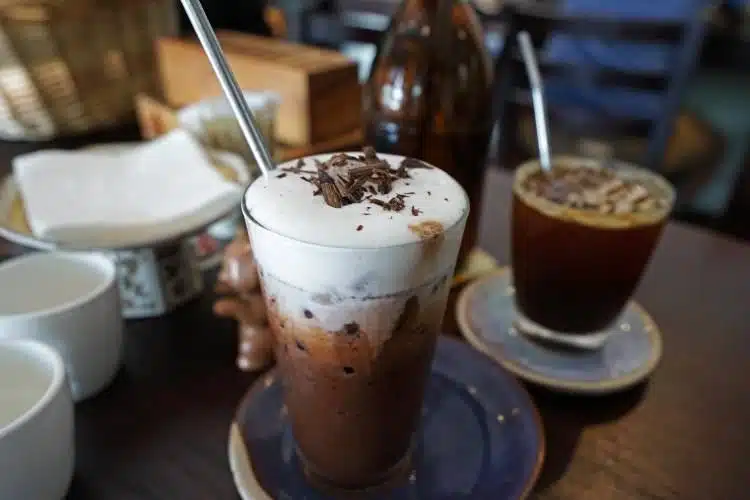 Responsible tourism has become increasingly relevant, with travelers more aware and concerned about the environment.
Steel straws are one of the simplest objects that you can take with you when traveling and with which you can contribute a bit to reduce the use of plastics.
According to some studies, 4% of the world's plastic garbage is plastic straws, which take an average of a thousand years to disintegrate.
That's too much time for a product that people only use an average of 15 minutes and then discard immediately.
Only McDonalds discard more than 60 million plastic straws worldwide every day… so imagine how many is the total for all restaurants, homes, and other users globally.
However, we understand that some cocktails and juices are most enjoyed when drinking a straw, allowing you to stir and mix the different ingredients constantly. The solution is simple: always carry a steel straw with you.
There are many designs, shapes, and colors. Some of them bring small brushes to clean them after every use; others can be folded into smaller parts to make them easier to transport (so no excuses for men! you can carry one in your pants pocket).
Next time you travel, remember to say, "without straw, please." It may seem an insignificant help for the magnitude of the problem of plastic pollution in the world, but these small actions will lead to improving the health of our planet in the future.
Recommended by Alejandra from Universo Viajero