Are you going on a trip to the ultimate Theme Park Capital? Where to stay should be your priority! We have some of the best hotels in Orlando, Florida, for you to choose from.
Orlando is among the best places to visit in the USA, especially if you are the type of traveler who likes a balanced mix of natural and artificial attractions on their trip itinerary.
All the exhilarating attractions and dreamy adventures waiting to happen in Orlando, Florida, must be complemented with one of the best Orlando hotels out there. Make your stay at Orlando world-class in every aspect by staying in a place fit for VIPs!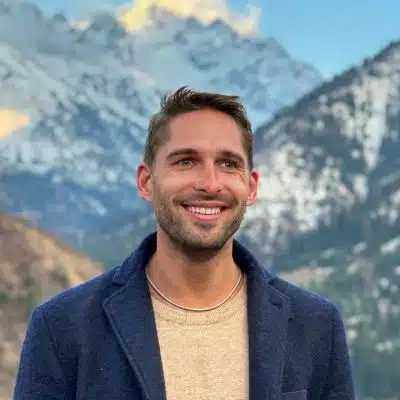 If you plan to stay at one of the best luxury hotels in Orlando, consider staying at the beautiful Balmoral Resort Homes.
If you desire convenience, the Hyatt Regency is a stone's throw away from the Orlando International Airport!
After exhausting your full list of the best things to do in Orlando, surely you would want nothing but the most comfortable and relaxing time as you retire to your accommodation.
A word of warning, though – the best hotels in Orlando, Florida, might just make you want to stay in and enjoy their features and amenities.
Best Orlando Hotels
1. Gaylord Palms Resort and Convention Center ~ Kissimmee, Florida
Recommended by Jenny from Traveling Party of Four
Our first experience at the enchanting and luxurious Gaylord Palms Resort and Conventions Center was ICE!, a unique, must-see magical holiday event that is, well, made of ICE!
Two million pounds of ICE, hand-carved into a themed walk-through interactive story that changes every year.
Themes in the past have included A Charlie Brown Christmas, Christmas Around the World, A Christmas Story, The Polar Express, and The Nutcracker.
After you tour the exquisite ice sculptures, your kids and you get to slide down a two-story ice slide (there are five to choose from). AND there is a live carving zone so you can watch the artisans at work. So cool.
If you are in Florida and want to get into the true Christmas spirit, feel a chill in the air and maybe even have a snowball fight, there is no better place.
But there's more…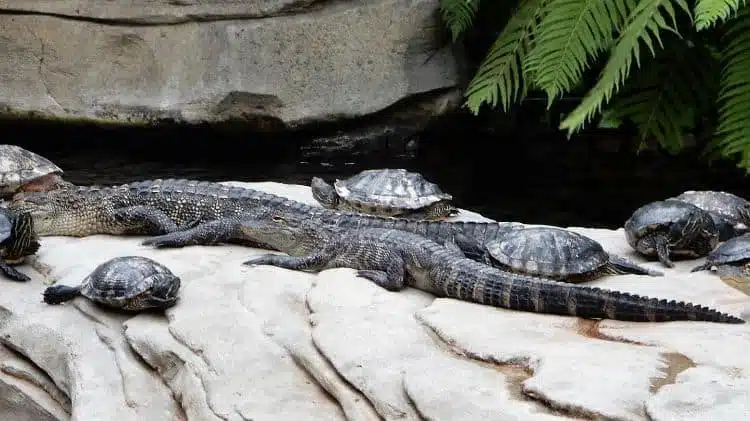 Once we experienced ICE!, we were fans for life. And Gaylord Palms has been our go-to ever since.
When you walk into the resort, you are surrounded by a captivating atrium full of lush greenery, koi ponds, turtles, and alligators (it's Florida, you know), plus the dreamy sound of waterfalls.
After a quick check-in, find your cozy room overlooking the atrium for the best view.
What's next?
Lather up with sunscreen (a must in Florida) and head to the kid-friendly pool deck with a zero-entry pool for the littles, slides, and the Flo-Rider for the bigs.
If you need a little peace away from the craziness (and your spouse or S.O. will watch the kiddos), you can sneak off to the adult-only pool and hide in a cabana with a glass of bubbly and your favorite novel.
Oh, you want more?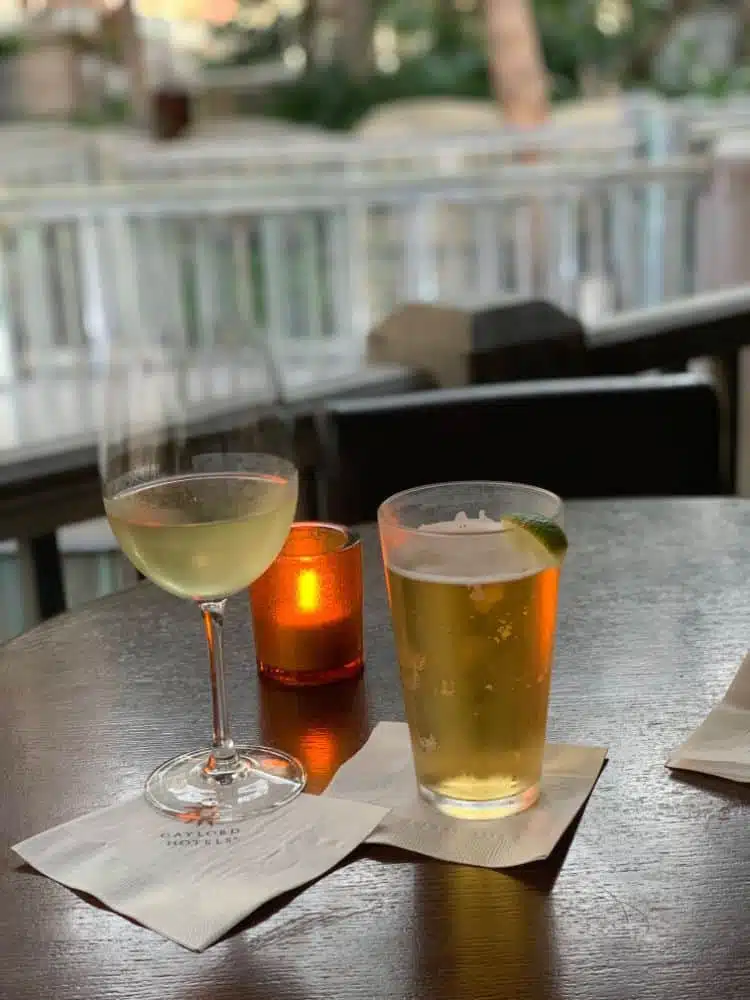 There are multiple shops, from tacky Florida souvenirs to boutique resort wear, a state-of-the-art fitness center, an award-winning spa, a variety of restaurants for all tastes, and a Starbucks for your caffeine fix.
The ultimate restaurant experience is the Old Hickory Steakhouse, serving wine and cheese and melt-in-your-mouth steaks. But, if you prefer beer, wings, and sports, check out Wrecker's Bar and Grill.
Gaylord Palms Resort and convention center is luxurious yet fun for the kids. And it's a hop, skip, and a jump to the Magic Kingdom and the surrounding Disney Parks.
For reviews, photos, and/ or to make a booking, check: Booking.com|Agoda
2. Walt Disney World Swan and Dolphin Hotel
Recommended by Donna from Likelovedo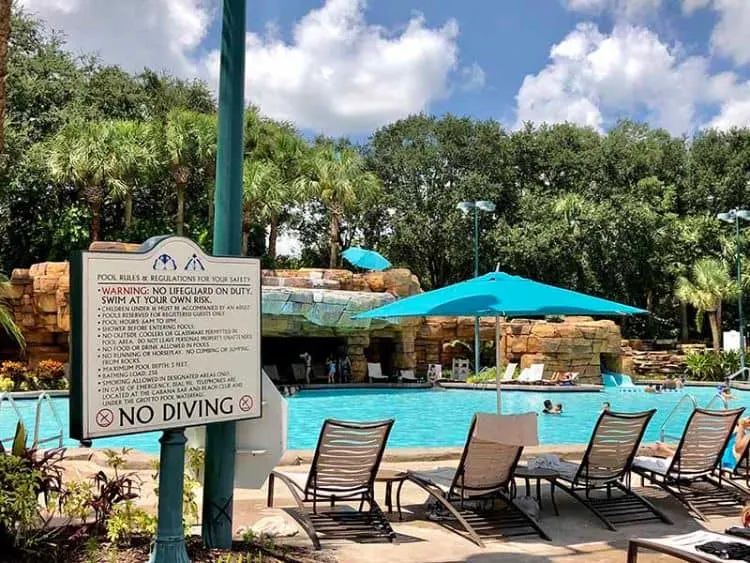 If you are heading off to Orlando and love Disney but are not sure you want to stay in a Disney hotel, you could try the Walt Disney World Swan and Dolphin Hotel.
At the Walt Disney World Swan and Dolphin, you get the perks of being a Disney resident but a little less Disney all day long. Making your stay a little less hectic and still easy to navigate the amazing world of Walt Disney.
The Swan and Dolphin is perfectly within walking distance of Epcot, Hollywood Studios, and the Disney boardwalk. There are many transport services to other Disney parks, such as a bus or taxi boat service, making the parks very accessible.
Staying at this resort enables you to use the 'Extra Magic Hours' at the parks, as well as the ability to book early for restaurants and fast passes at Disney.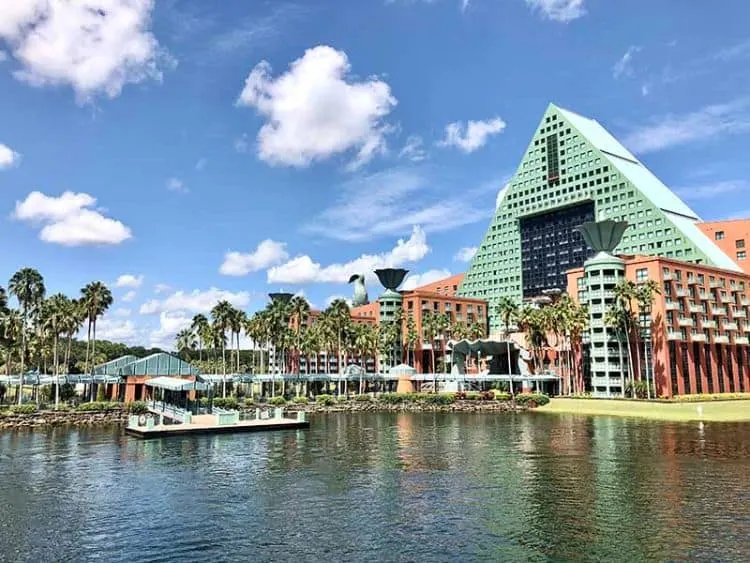 Both the Swan and Dolphin are very similar in rooms and design, and the hotels are also right next door to each other. You could choose to stay in either as you benefit from all of the restaurants and the pools when you stay.
Not only do you have access to other Disney restaurants, but the Swan and Dolphin also have some of the best on offer. Why not try Todd English's blue zoo, a contemporary fish restaurant serving cocktails, or Shula's for some steak?
The pool area is mellow and fun, with frozen mojitos to hand slides for the kids and activities by the pool. You certainly won't be disappointed if you choose this Orlando resort for your next Disney break.
For reviews, photos, and/ or to make a booking, check: Booking.com|Agoda
3. Hard Rock Hotel Orlando
Recommended by Donna from Likelovedo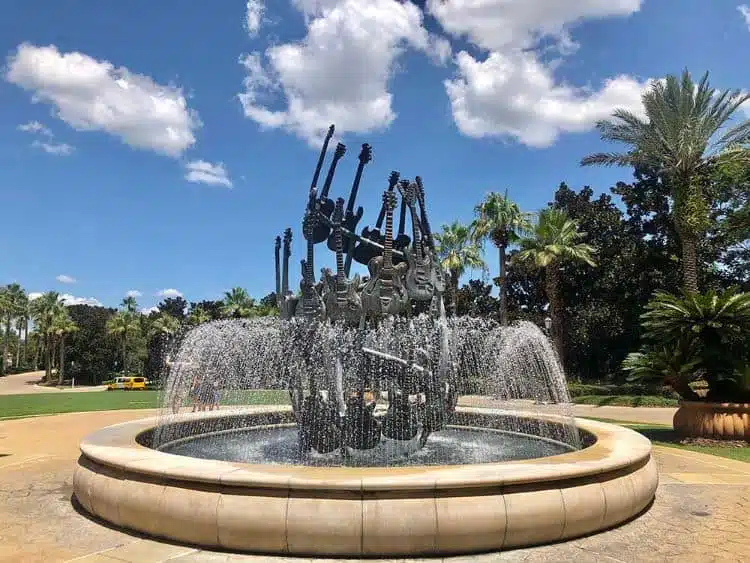 If you are heading off to Orlando, Florida, and want to get the best out of Universal Studios, then the Hard Rock hotel may be a great choice for you.
This star-studded hotel has everything for the budding rockstar in you and is within walking distance to Universal itself!
From the moment you rock up to Hard Rock, you feel just like a rock star! The hotel is luxurious and edgy, with concerts in the lobby and amazing cocktails in the bars.
The hotel walls are filled with memorabilia from all of the best rockstars, from Elvis to Madonna! Rooms are bright and airy with tailor-made rockstar artifacts.
You can even hire a guitar for your stay and practice your rock star skills!
The best thing about staying at the hotel is the proximity to City Walk, free, fast passes, and early morning opening. With only a 10 minute walk, you are right in the heart of the action.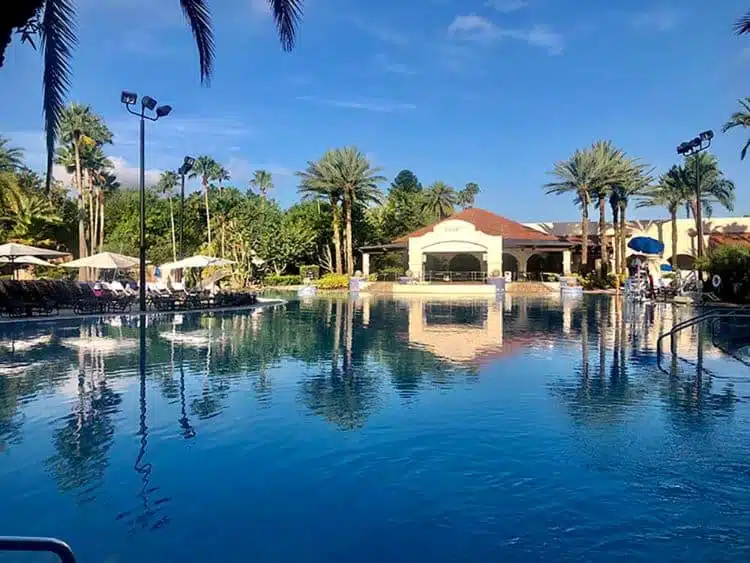 The extra hours of opening are just for customers staying at the hotels. This can enable you to get in early and get on the best rides without having to queue.
If you have ever wanted to visit the Wizarding World of Harry Potter, this is a great way. It is quiet and empty, so perfect for photos right before the hoards of people enter the park.
The pool area is another great feature of Hard Rock Hotel with its own beach! Cabanas are also available for hire alongside rock music playing later in the day.
The cocktails are fabulous, the food is fulfilling, and the atmosphere is electric. There are also evening movies by the pool and entertainment for children.
This is truly a Rockstars dream!
For reviews, photos, and/ or to make a booking, check: Booking.com|Agoda
4. Luxury stay at Balmoral Resort Homes
Recommended by Mary from Calculated Traveller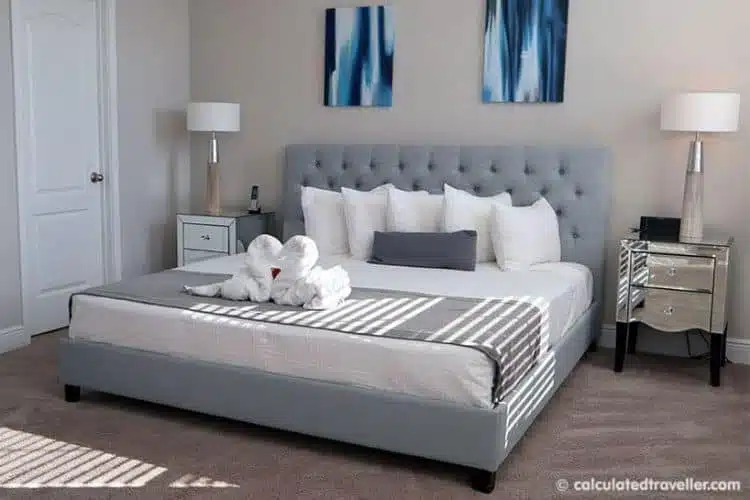 Orlando, Florida, has no shortage of hotels for staying in the land of theme parks and fun in the sun.
But my choice for where to stay in Orlando, especially if I have access to a car, is not a hotel at all but a vacation resort home such as Balmoral Resort Homes in Haines City, Florida, a short drive away from Orlando.
Featuring luxurious 2, 3, 4, and 6 bedroom properties, Balmoral Resort is ideal if you are traveling with extended family or friends.
You can come together as a group for playtime and relaxing, but you still have enough space for personal private time.
Renting one large vacation home is also budget-friendly since you split the costs of food and lodging versus paying for multiple hotel rooms and expensive meals for breakfast, lunch, and dinner.
Perks of staying in a Balmoral Resort home all to yourself are:
a private pool and screened patio
full kitchen including all appliances, cookware, dishes, and linen
in-suite laundry
family-friendly community with walking paths, lakes, gardens, restaurants and shops nearby
management team on site
The resort also features many shared facilities such as an all-ages water park, splash pad, hot tub, sizeable main clubhouse pool with private cabanas, games room, gym, onsite bar, and restaurant.
For reviews, photos, and/ or to make a booking, check: Booking.com|Agoda
5. Hyatt Regency at MCO
Recommend by Lisa from Planningaway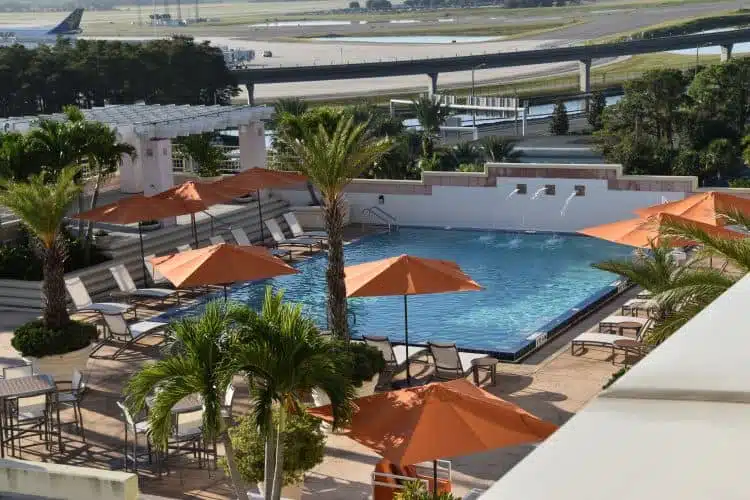 There are so many great reasons to visit Orlando! Disney World, Universal Studios, SeaWorld, or the starting point for a cruise. Whatever your reason, finding the perfect hotel is essential for your stay.
One of the most "generous" hotels in Orlando is the Hyatt in the MCO airport. Yes, it has all the perks many other hotels have, such as really nice rooms, a pool (although this one is on a roof with a view of the runways), and a restaurant on the main floor. But those amenities are nothing to the convenience of this hotel.
This hotel is the perfect option if you have ever taken a late flight or needed to arrive a day early for a cruise departure. What makes this option so wonderful is the ability to pick up your luggage from the baggage claim and already be at the hotel.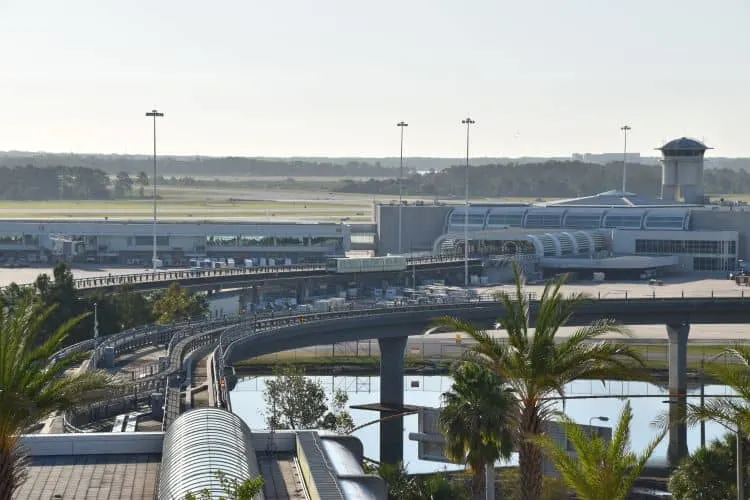 You access the hotel right in the main area by security. You literally go up an elevator or escalator, and you are there.
On our last visit, we didn't even have to go to the front desk. We entered our information at a kiosk, and the kiosk generated the room key. We were able to access our room very quickly. The rooms were very nice and clean.
You can get to sleep right away and wake up fresh early the next morning to get started on your Orlando vacation!
For reviews, photos, and/ or to make a booking, check: Booking.com|Agoda
About the Author
More info
Best VPN for Travel: ExpressVPN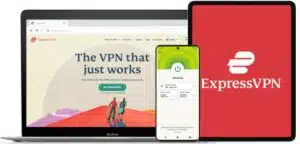 Heading abroad? Use ExpressVPN to access your social media accounts, unblock your favorite entertainment sites, and stay connected with friends and family. And get cheaper flights, of course.
Pros
✅ Next-gen, high-speed servers in 94 countries
✅ Works on iOS, Android, Windows, Mac, Linux, browsers, and more
✅ 256-bit AES encryption protects your data, even on hotel Wi-Fi
✅ Unblocks Netflix and other streaming sites
Cons
❎ No dedicated IPs
Get 3 extra months free of ExpressVPN when signing up for a 1-year plan. That's a 49% saving and a monthly cost of just $6.67! You also get a 30-day money-back guarantee.