Regardless of the type of traveller you are or the various outdoor activities you like to do, the chances are you want to bring various electronic equipment or other items that you want to keep safe from the elements.
Many of us love to capture many photographs of our adventures, even if that means bringing along a camera on our fishing trips or sea kayaking to see marine life.
Dry bags allow you to bring along your camera as well as other items that you need to keep dry without fear of them being damaged by water.
Related Posts:
In this post I am going to help you choose the best dry pack by including a variety of dry bag reviews for various outdoor activities.
The post covers the best dry bags for backpacking, the best dry bag for kayaking as well as other outdoor activities like hiking, fishing, and skiing.
[ez-toc]
Choosing the Best Dry Bags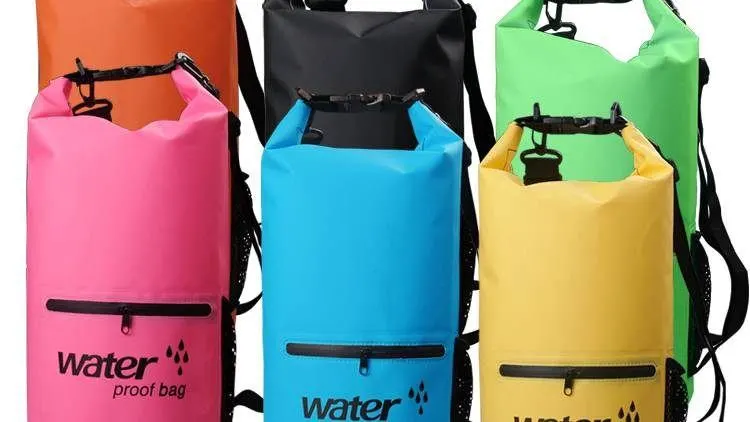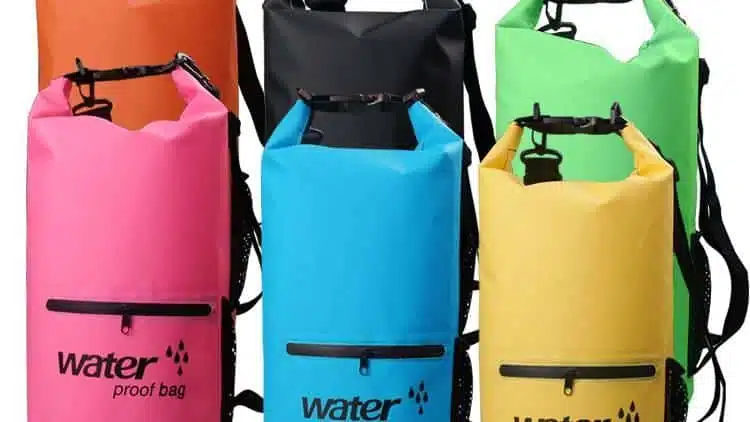 I highly recommend you don't go out and purchase the cheapest dry bag you can find.
Whilst there are stacks of fantastic dry bags on the market, there are just as many that will quickly let water in destroying your precious items.
Before spending your hard earned cash, its important that you consider what your intend to use the dry bag for.
1. How much stuff do you want to carry?
Dry bags come in a variety of shapes and sizes.
There are small dry bags to carry your phone, money, powerbank and a camera or large dry bags to carry everything you need for a few days.
Maybe you are better off with a small waterproof pouch, multiple different sized bags or maybe you want one large one with various compartments to keep your things organised.
2. Consider the material of the dry bag
Dry bags tend to be made from either nylon or vinyl.
Dry bags made from nylon are coated with a water repelling coating, usually a type of silicone.
Nylon dry bags tend to be much more light weight and can easily roll up compactly which is ideal for backpackers or those who travel lightly.
If the dry bag your considering is made from nylon look at its thread count. The higher the thread count the better quality of the bag.
Vinyl is a much more bulky material and therefore is usually made to make smaller dry bags.
One great feature of vinyl is that they can be clear allowing you the see the contents of your bag. Vinyl bags are also relatively easy to patch if your bag gets a tear.
It is vital that whatever your dry bag is made from, it is durable.
There is no point if your bag tears on a rock or your kayak whilst you are in the ocean, then your dry bag is no longer a dry bag and you risk the potential of your items being destroyed.
3. Consider the closure method of the dry bag
The good majority of dry bags close by a hypalon roll top closure.
This is where the bag is closed by rolling the top down several times. Other dry bags close by a press and seal zipper style closure.
Some dry bags use zippers which is certainly an easy and quick method or closing and opening your dry bag.
However zippers are not always reliable and if they break at an inconvenient time all your items may be ruined.
Another popular method of closure is drawstrings.
Often drawstring closures are used in conjunction with roll down tops.
4. What will you use your dry bag for?
There is quite a difference between using your dry bag out on a boat or kayak where it will consistently be exposed to waves as opposed to backpacking where you are occasionally exposed to the elements.
If you require your dry bag to hold up to the most extreme environments, you need a top quality dry bag as opposed to other situations where a water resistant bag may be enough.
You also need to consider what you are carrying.
If you want to carry your camera perhaps you need some built in padding to keep it protected from other items within the bag. Or maybe you are after a waterproof electronics bag or a simple cell phone dry bag.
Whatever you intend to use your dry bag for will influence the sort of straps and lanyards you should look for.
If you want a large dry bag for hiking or camping then a backpack style dry bag would be ideal, where as if you want a small dry bag to take your camera kayaking, perhaps a lanyard style dry bag is more appropriate.
12 of the Best Dry Bags for Backpacking and other Outdoor Activities
Now you have some idea of what to look for in a dry bag, lets look at some of the best dry bags on the market in 2017.
1. SealLine Baja Dry Bag
This SealLine dry bag is a versatile and durable bag offering protection for all sorts of outdoor activities from river running to motorcycle touring.
These dry bags are made from heavy duty scrim-reinforced vinyl and closes with a dry seal roll-top closure ensuring the best watertight seal possible. The dry bags have an attached D-ring for attaching to a kayak or other luggage.
The SealLine dry bags come in a range of colours and sizes including 5l dry bag, 10l dry bag, 20l dry bag, 30l dry bag, 40l dry bag and 55l dry bag.
2. Unigear Dry Bag Sack
Whether you love to kayak, fish, hike or any other outdoor activity, you will love the Unigear Dry Bag as it will keep precious belongings completely dry. Its even ideal for swimming as the dry bag floats.
The polyurethane-coated nylon bags feature welded seam construction providing a high quality bag at a fantastic price.
Being snow proof, dust proof and waterproof, the Unigear dry bag provides extreme durability and maximum protection.
This dry bag set also comes with waterproof cellphone bag offering additional protection.
The waterproof phone case fits all smartphones up to 6 inch. So you can even can text, talk on the phone, take pictures and videos when you are in the pool or the sea.
The Unigear dry bags are closed by a roll top and also comes with an an adjustable strap to carry it over your shoulder or across your chest. There are 2 sizes available 10l dry bags and 20l dry bags.
3. SKORCH Original Waterproof Duffel Bag
The SKORCH waterproof duffel bag is the ideal bag if you are after a large duffel size multi purpose bag.
These bags will keep your gear dry during a range of water sports including sailing, kayaking, paddle boarding, boating and snorkelling.
You can fit a stack of things in these bags with a capacity of around 40 liters.
Super easy to carry with soft, strong and wide straps that won't hurt your hands or shoulders. This is an ultralight dry bag weighing only 2 pounds.
You just need to read any dry bag backpack reviews to see how popular the SKORCH waterproof duffel bag is.
4. The Friendly Swede Dry Bag Backpack with Laptop Pocket
This is made of industrial-grade 500 Denier Polyvinyl Tarpaulin to keep items and personal belongings safe from water and other damaging elements.
It's designed to be highly water-resistant, even during the harshest weather conditions.
With this dry bag rucksack having a large capacity of 33 liters, it's possible to keep cell phones, clothes, shoes, and other gadgets dry even if you're walking under a heavy rain.
The front pocket is easy to access with 100% water-resistant Velcro closure. It also has functional add-ons like the reflective details, easy-to-access emergency whistle, and 2 spacious mesh pocket to keep water bottles in place.
The padded laptop sleeve-pocket makes sure that your laptop will never get damaged, making it a fantastic waterproof laptop bag. This bag is perfect if you are after the best waterproof dry bag on the market.
If you're hiking, the ergonomic straps with roll-top closure secures the rucksack on your back. That means you don't have to worry about the bag slipping in all directions as you hike mountains and forests.
It also comes with ultra tough PVC that features high-frequency, glue-welded seams.
5. ZBRO Waterproof Dry Bag
For those who want to protect their gear while going on extreme adventures, the ZBRO waterproof dry bag is ideal. It keeps your belongings safe and dry with its 100% waterproof dry sack.
This dry bag is one of the best dry bags for sea kayaking, fishing, trekking, boating and other outdoor activities.
At night, this water-resistant sack stays visible due to the reflective stripes.
It's convenient and organized for outdoor activities, thanks to the outer mesh pockets that hold tools, flashlight, wet clothes, and other essentials.
Its a large dry bag (options include 20l dry bag or 30l dry bag) with plenty of room for all your valuables such as keys, phone, money, and other gadgets on the inner detachable pocket without getting them wet.
The ZBRO waterproof dry bag is also comfortable and easy to carry. It has padded straps to keep your shoulders free from pain and discomfort.
You can simply adjust or remove the straps, whichever makes you feel comfortable in carrying the dry bag.
In addition, the high quality rucksack is guaranteed with lifetime warranty as well as money-back guarantee to ensure customer satisfaction.
6. LuckRoute Waterproof Dry Backpack
The roll-top closure with lock-and-fix sealing technology of these waterproof dry bags provides total protection for any outdoor activity.
Whether you're bringing your cell phone, laptop, tablet, iPad, GoPro, DSLR camera, or any other gadgets, you can keep them all safe and dry.
Made from durable 500D PVC, this roll-top dry bag is waterproof, snow proof, sand proof, water-tight, and dustproof, making it one of the best waterproof phone bags as well protecting your camera and laptop.
The splash-protected, water-resistant pockets attached to the backpack will help you keep your wallet, ID, keys, and other items within reach.
It is also designed with various compartments including inner cell phone pocket, and various D-rings for additional accessories. It also has removable adjustable shoulder and carry straps.
The convenience and versatility offered by this waterproof roll top bag also makes it one of the best dry bags for camping, mountain climbing, trekking, biking, swimming, rafting, snorkeling, diving, kayaking, yacht riding, and other physical activities.
The reflective tape makes it visible even during the darkest of nights. As a result, you can easily find it when your backpack gets misplaced in the middle of the night. It can also be used as an emergency flotation device.
This dry backpack comes in either 10l or 20l capacity.
7. Acordo Waterproof Dry Bag
The Acrodo clear waterproof bag is here to help you make sure your valuables are dry and undamaged, even during extreme weather such as heavy rain or snow.
This heavy duty dry bag is is made with premium and durable materials that can resist wear and tear. This dry bag is ideal for the harsh conditions present during activities such as fishing, hiking, boating, and kayaking.
It is even a floating dry bag if you leave some air inside the bag.
This is a clear dry bag, with the transparent material making it super easy to locate your valuables easy. You don't need to ransack your bag just to find your wallet or keys.
The handle and shoulder strap are designed for easy carrying. If you are looking for the best dry bag backpack you will love this bag.
8. Sak Gear Premium Waterproof Dry Bag
The durable water-resistant fabric of the all-new Sak Gear dry bag makes it a great dry backpack. It protects your valuables and gear from the elements such as water and sand.
This bag is made from heavy-duty 500 D fabric with vinyl coating for ultra watertight protection. The welded seams effectively seal out snow, dust, sand, mud, and water.
This is a roll down top dry bag and also has a detachable, adjustable nylon strap for comfortable carry.
Other features include a small exterior splashproof pocket and reflective strip for night time safety.
The Sak Gear dry bag comes in 2 sizes – 10 liter and 20 liter.
9. KastKing Dry Bag
The KastKing dry bag is waterproof, dust proof, sand proof, and snow proof, perfect if you are after the best dry sack. This is the perfect waterproof hiking bag, canoeing, kayaking, boating or waterproof fishing bag.
It is extremely durable being made from tough 500D PVC. This KastKing dry bag will keep your valuables clean and dry all throughout your trip.
You will love the the transparent window panel, making it so you can easily see which item you need without unpacking the entire bag. The bag also has an adjustable strap for easy carry.
Water can never get in because of the water tight double overlap roll-top.
This dry bag is the perfect waterproof camera bag as well as cell phones, travel essentials, and gear equipment. Tough and durable 500 D PVC material to resist water, dust, and other elements that may damage your valuables.
This KastKing dry bag also serves as supplemental survival flotation device. This waterproof floating bag will float when air is sealed inside making it a great submersible dry bag.
Yes this bag is even a waterproof bag for swimming.
The KastKing comes in 3 sizes – 10 liter, 20 liter and 30 liter.
10. MARCHWAY Floating Waterproof Dry Bag
If your looking for best dry backpack you will love this bag made from 500D RipStop tarpaulin, making it durable and lightweight for any outdoor activity.
It is specifically designed to resist snow, sand, mud, and water and has a strong welded seam designed for longer functionality. In fact, this dry bag can withstand harsh weather conditions, wear and tear, and even puncture.
It's the best solution for extreme adventures without the fear of water penetration and elements exposure.
This is a fantastic kayak dry bag, dry bag for swimming, waterproof bag for beach activities and any other water activities.
The durable, roll top closure mechanism ensures ultimate security from water and mud. It is even a waterproof submersible bag – you can even submerge it in the sea without getting your valuables wet.
The MARCHWAY dry bags are the perfect mid size coming in a variety of sizes including 5l dry bag, 10l dry bag, 20l dry bag, 30l dry bag and 40l dry bag.
11. Earth Pak Waterproof Dry Bag
Looking for a reliable dry bag to meet your outdoor adventure needs?
Look no further because the Earth Pak water-resistant backpack will help your valuables remain dry despite the muddy, watery conditions of the environment. Made from 500D PVC these dry bags provide fantastic durability.
The smaller sized bags come with a single shoulder strap , whilst the larger bags come with double backpack straps.
All bags are closed by the roll down method and come with a small waterproof phone bag, so you can easily keep your mobile device inside the bag without getting it wet.
Backpackers will love the IPX8-certified cases. It can fit various sizes of cell phone with snap-and-lock access.
Also, the dual sided clear windows conveniently allow you to take photos even if your phone is covered by the case.
The Earth Pak Waterproof dry bag comes in 5 different sizes – 10 liter, 20 liter, 30 liter, 40 liter and 55 liter.
12. Ultra Dry Premium Waterproof Bag
Protect your gear from water and other elements every time you go outdoors with this premium 20 liter waterproof bag. It is lightweight, sturdy, and durable with comfortable straps for easy carry.
These durable bags are made from pure grade Y7.5mm thick 500D waterproof polymer – designed to keep your gear safe in the harshest conditions.
Whether you are in need of a waterproof kayak bag, the best dry sack for backpacking, waterproof sailing bags, hiking dry bags or any other outdoor adventure, this bag will give you the ultimate protection.
Just roll down the top of the bag 3- 4 times and connect the buckle.
For added comfort, the extra long double backpack style straps can be removed or adjusted.
Additional features include the metal caliper to secure your keys or to attach the bag to equipment and a premium quality waterproof phone case. Lastly this dry bag comes with a 365-day customer care to ensure that you get your money's worth.
Was this post helpful? If so, be sure to pin it to refer to later!