After a decade of living in Maui, I am confident that these Maui activities are the best things to do in Maui. Without further ado, here are the top 10 things every traveler should experience while traveling to Maui.
Written by Jess from I'm Jess Traveling
Maui is the ultimate tropical paradise mixed with adventure, luxury, and relaxation.
I mean, what's not to love? The sun is always shining, it's warm all year round, the beaches are pristine, and there's adventure around every corner. I promise you won't run out of awesome things to do on Maui.
Maui, known as the "Valley Isle," is the second-largest Hawaiian Island. There is a saying on Maui, 'Maui No Ka Oi' which translates to 'Maui is number 1', and who can disagree.
Maui has the seclusion of Kauai, the nightlife of Oahu, and the natural landscapes of the Big Island.
Read also: Best things to do in Hawaii and best places to visit in the USA
Top 10 Things to do on Maui
1. Drive the road to Hana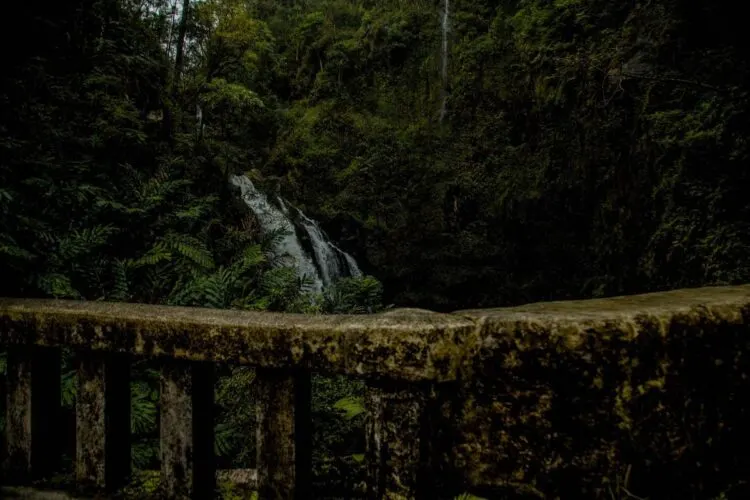 The road to Hana is one of Maui's top attractions and will probably be one of the most memorable activities you will experience on Maui.
The road to Hana is 52 miles of winding road that takes you from Kahului to Hana town in East Maui.
Most people start the road to Hana on the North shore of Maui in the town of Paia. Make sure you fuel up for gas and stock up on snacks, as this will be the last place for fuel until you reach the town of Hana.
Along the way, you'll see countless roadside waterfalls, have amazing seascape views and pass by some of the best and most exotic beaches that Maui has to offer.
Although the road is only 52 miles, this is an all-day event. It is recommended to stay a night or two in Hana to give yourself time to drive the road to Hana, explore all the fun, adventures around Hana town, and be able to enjoy the Kipahulu side of Haleakala National Park.
This brings us to the next thing to do in Maui.
2. Explore Haleakala National Park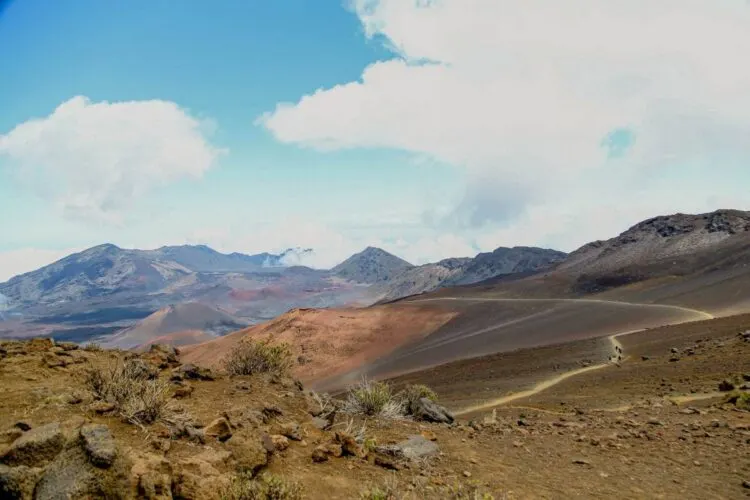 Haleakala is the volcano on Maui, and Haleakala National Park has 2 separate entrances, the Kipahulu District and the Summit.
The Kipahulu District can be found on the remote side of Maui, 10 miles past the town of Hana in East Maui. Inside this entrance are the infamous Oheo Pools and the Pipiwai Trail, which takes you through a dreamy bamboo forest and ends at the awe-inspiring Waimoku Falls, a 400-foot waterfall.
The Summit of Haleakala is above the clouds at 10,000 feet, and one of the best ways to experience this is for sunrise. You must make a reservation in advance as it fills up quickly.
Opt for staying in a Maui Airbnb near the crater, such as the Kula star dome, to get an early start. Otherwise, it will take a couple of hours to reach the summit if you come from South or West Maui.
It also gets freezing at the summit, so dress warmly to watch the sunrise above the clouds at 10,000 feet.
Another epic way to explore the summit of Haleakala is by hiking through this dormant volcano. The entire trail in and out is around 12 miles long and takes 5-7 hours.
This isn't a beginner's hike but worth the trek as you feel like you are hiking on the surface of Mars.
3. Snorkel with Sea Turtles & Tropical Fish at Molokini Crater
If you think Maui is beautiful from the shore, you should see her from below the water. Molokini Crater is a crescent-shaped volcanic crater that can be found just offshore in South Maui.
Molokini Crater is Hawaii's only island marine sanctuary, which means there is no fishing allowed. This guarantees hundreds of different types of marine life, coral reefs, and sea turtles.
The only way to get to Molokini is on a snorkeling tour with several different companies offering daily snorkel trips.
Early morning trips are best as the trade winds pick up by mid-afternoon. Lunch will also be provided. A fun activity the whole family can enjoy.
4. Sample Local Cuisine
Sampling and indulging in the local cuisine when exploring a new culture is one of the best parts of traveling.
And Hawaii is no exception. You can't leave the island without sampling some of these exotic dishes.
Ahi Poke – A traditional ahi poke consists of a mix of fresh yellowfin ahi tuna caught in the Islands, tossed and seasoned with sesame oil, soy sauce, yellow onion, green onion, ginger, and garlic.
Poi – One of the most iconic traditional Hawaiian staples. Poi is a thick paste-like substance made from taro root that is either steamed or baked and pounded. Poi is an acquired taste and usually served paired with salty items such as kalua pork or Lomi lomi
Laulau – Salt butterfish, pork, and chicken wrapped in layers of taro leaves and ti leaves, then steamed. This is a typical plate lunch served with steamed rice and mac salad.
Opakapaka -Opakapaka is a Hawaiian Pink Snapper that is native to the Hawaiian Islands.
Haupia – Haupiais Hawaiian for coconut. This is the best flavor to add to your shave ice.
Spam Musubi – Spam and rice wrapped in nori. A popular snack found everywhere.
5. Explore Exotic Beaches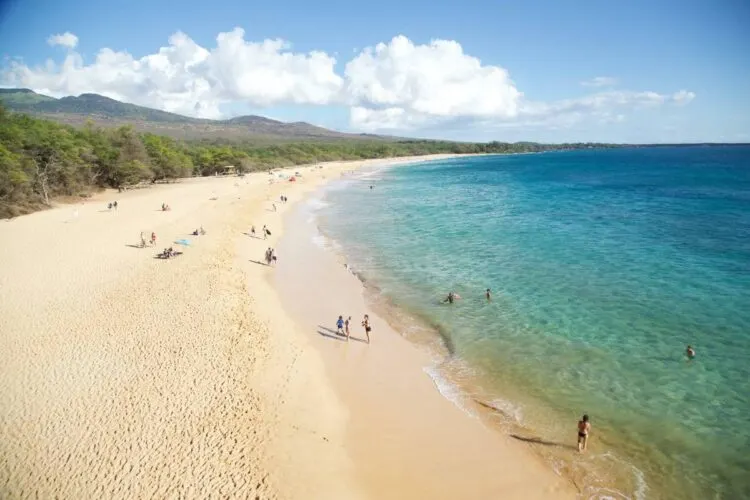 With over 120 miles of coastline, there is a perfect beach for everyone.
Best beaches for swimming – Airports, Mkenna and Wailea Beach & Polo Beach.
Best beaches for snorkeling – Kapalua Bay, Kam III, Napili Bay Honolua Bay, Black Rock at Ka'anapali Beach, and Maluaka Beach a.k.a. turtle town.
Best beaches for surfing – Ho'okipa, Honolua Bay, Koki beach, and Launiupoko.
Best beaches for sunbathing – Big Beach, Hamoa Beach, Secrets, and Baldwin Beach.
Most exotic beaches – the black sand beach at Wai'anapanapa State Park and Hana Bay.
6. Go on a Whale Watch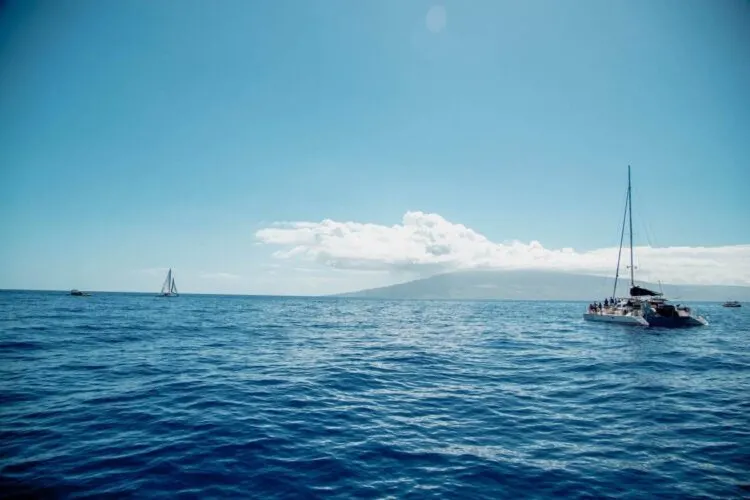 Every year the North Pacific Humpback whales make the journey from the cold, arctic temperatures of Alaska to the warm waters of Hawaii to give birth to their young.
Although this activity is seasonal, if you are traveling to Maui between November through May, be sure to go out on a whale watch…or four!
Several boat companies provide whale watching tours multiple times a day. Plus, snacks and drinks are provided on most tours.
Not only do you get a closer look at the whales, but the naturalists onboard are very knowledgeable, and you will learn a lot about these majestic creatures.
It's not every day that you get an opportunity to witness the magic and beauty of the largest mammal on the planet in their natural habitat.
7. Enjoy a Sunset Sail
One of the best things to do in Maui is watching the sunset, and there's no better way to enjoy this activity than on a sunset cruise.
Just like whale watches, several boat companies provide sunset tours.
Not only will you get an epic view of the sunset but also stunning views of the West Maui Mountains and the beautiful coastline. Cheers to the good life.
8. Swim under a Waterfall
Swimming under a waterfall could be the ultimate Hawaiian fantasy. There are several waterfalls on Maui that have a pool underneath them, perfect for swimming.
You can find most of these on Maui's North shore, specifically on the road to Hana.
A popular waterfall optimal for swimming is Twin Falls. This is a great activity for the whole family as it's a short 5-10 minute hike to get to the two flowing waterfalls. Get here early as this area tends to get crowded.
9. Learn to Surf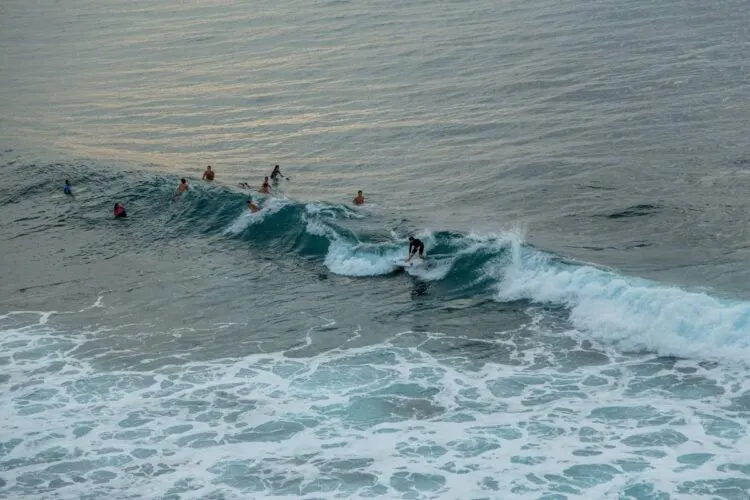 Hawaii is the Mecca of surfing, and although you won't be charging Jaws anytime soon, there are plenty of beginner spots around the island perfect for surf lessons.
Launiopoko, Breakwall, Ukemehame, and the Cove, just to name a few. Taking the time to do a lesson is well worth your time and money. You'll learn the basic skills, safety, and etiquette which is essential in Hawaiian waters.
10. Explore Maui's Pristine North Shore
If you want a slower pace, then head to Maui's North Shore. This is part of the island is less crowded, less developed, and much cooler than the popular spots of Lahaina (If you do travel to Lahaina we recommend you to check out these best restaurants in Lahaina) and Kihei.
Wonder around Paia town for some boutique shopping and tasty restaurants. Not only is this the unofficial gateway to the road to Hana, but it is here where you can watch world-class surfing and windsurfing.
Whether you're searching for relaxation or a tropical adventure, Maui has a little something for everyone. If you are thinking about booking your vacation to Maui, click here to find out the best Maui vacation rentals.
Best Places to visit in the USA
Best VPN for Travel: ExpressVPN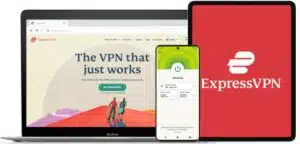 Heading abroad? Use ExpressVPN to access your social media accounts, unblock your favorite entertainment sites, and stay connected with friends and family. And get cheaper flights, of course.
Pros
✅ Next-gen, high-speed servers in 94 countries
✅ Works on iOS, Android, Windows, Mac, Linux, browsers, and more
✅ 256-bit AES encryption protects your data, even on hotel Wi-Fi
✅ Unblocks Netflix and other streaming sites
Cons
❎ No dedicated IPs
Get 3 extra months free of ExpressVPN when signing up for a 1-year plan. That's a 49% saving and a monthly cost of just $6.67! You also get a 30-day money-back guarantee.