Vacations which include hiking or trekking are ideal for adventurous travelers or travelers who love the outdoors.
Whilst many of us rush around to see as much as we can of a destination, hiking vacations really get you to slow down and take in your surroundings.
Not all hiking and trekking adventures need to be multiple days long; there are plenty of fantastic hikes around the world from 1 hour to a full day and various periods in between.
Treks are perfect for travelers in fantastic shape, but there are also great hikes for travelers who prefer to take it a bit slower.
We asked some travel bloggers to tell us about their favorite hikes and treks in the world.
We got such a great response from bloggers telling us about hikes from all over the world, including South America, Russia, Iceland, and India.
These hiking trips include spectacular landscapes, opportunities to see wildlife, and both single-day and multi-day hikes.
So if you need some inspiration for your next vacation, check out the best hikes in the world!
The Best Treks and Hikes in the World
1. Climbing Mount Elbrus without a guide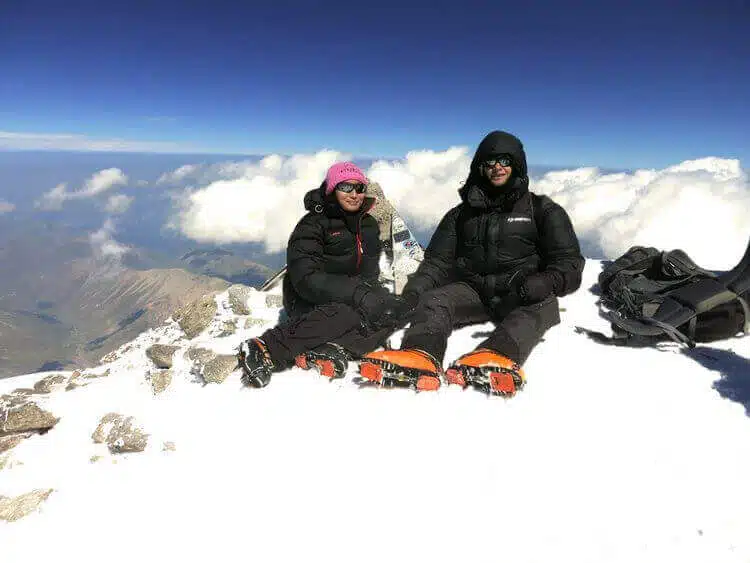 In 2017 we started a new page in our adventure traveling. We always liked outdoor activities and have done many hikes worldwide, but this year we attempted to climb Mount Elbrus in Russia, the highest European peak.
Our first try was successful. We reached the summit and did it on our own without any guides. Mt. Elbrus is 5640m high, which is not that impressive compared to Mount Everest in Nepal or Aconcagua in Argentina, but it was an important achievement for us.
Elbrus is famous for its unpredictable weather and extreme wind. Even in summer, the temperature can go down to -20C. But we were prepared to buy new sleeping bags, gloves, ski masks, fleeces, etc. The rest we rented at a gear shop in the nearby town.
Above 4000m up, there is permanent snow/ice so that you can't walk in normal leather hiking boots. You need special plastic boots and crampons. It was the first time we used crampons and ice axes and learned how to use them watching YouTube videos just a day before the climb.
We didn't have any climbing experience (except climbing Kilimanjaro mountain) and are not super athletes (though we like running and hiking); we had some hard time on the summit day and sometimes thought we wouldn't make it to the top.
The feeling when you do your last steps to reach the top and realize you made it is incredible! You stand there looking down, and there is nothing around higher. You're on the top of the highest peak in Europe.
It was so inspiring, and suddenly, we had so much energy that we went down to the shelter in two hours. The same way up took us 9!
It was the moment we realized that we want to climb more mountains and conquer higher peaks; it's very addictive. Now we're planning our next expedition for 2018, this time to Kyrgyzstan to climb Lenin (Ibn Sina) peak, 7134m.
Campbell and Alya from Stingy Nomads
2. Hiking In Ireland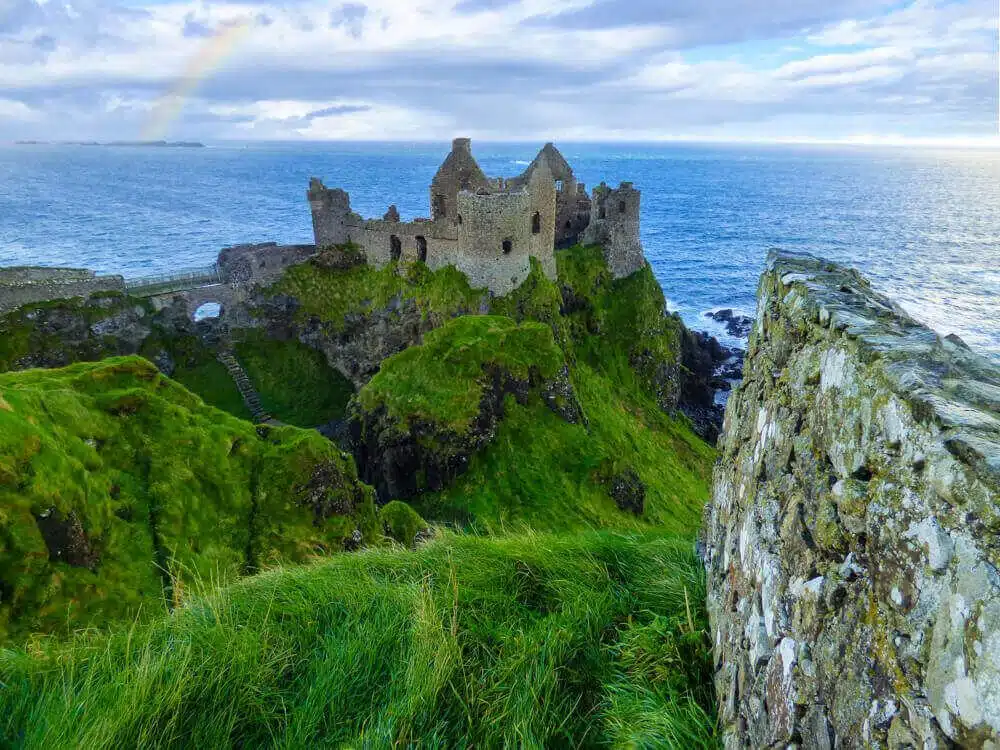 Hiking in Ireland is exactly how you imagine it. Rolling fields of beautiful green, ancient fences made of stone, cute sheep scattered everywhere, and savage cliff coastlines.
Between the many unique Irish hiking locations, you have small villages with historic pubs where you can rest your body over a pint of beer while hearing mythical stories and songs from joyful local Irishmen.
Whether you are touring the Wild Atlantic Way on the West coast of Ireland, the outskirts of Dublin, the remote wilderness of Donegal, or the unique rocky coast of Northern Ireland, you will find an array of marvelous and spectacular trekking options.
There is an adventure to be had in Ireland, and all you have to do is seek it out.
A few of my favorite hiking adventures in Ireland were Bog of Frogs Loop. This was a mythical hike through what locals would say a fairy forest and up to a rocky lookout over Howth Ireland, a great day trip from Dublin.
Another great trip is Hellfire Club on top of Mount Pelier Hill. This is one of the most haunted places in Ireland and has great panoramic views of the Dublin area.
Next would be Dunluce Castle and Cliffs in Northern Ireland.
Just wandering around this ruined area, you can almost feel the stories and history of this place. Your list should also include Glenveagh National Park. It is an exquisite wilderness in the heart of County Donegal, Ireland.
Here lies an oasis of trails, cycling, fishing, vast landscapes, and a picturesque castle. It is one of the most remote locations to venture in Ireland.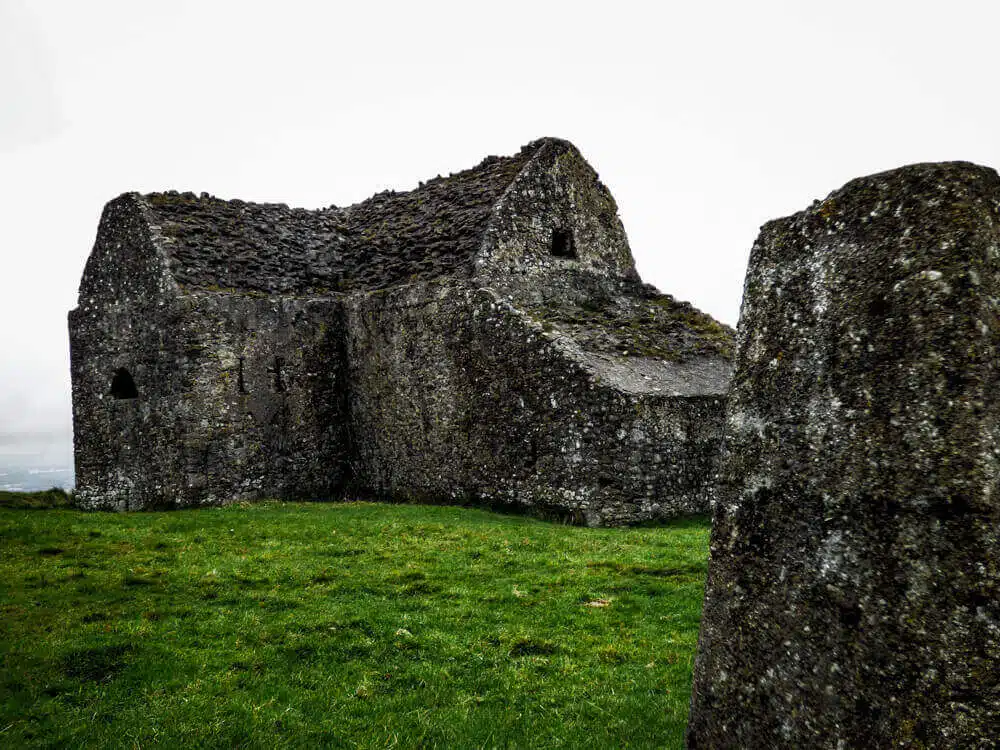 So if you are a fan of nature and adventure with a mixture of history and legend, do not overlook Ireland for your next destination.
There is an endless amount of places and Scenic Mountain Trails to explore and see. It will surprise even the most well-traveled how easily this land creeps into your heart and soul.
Nathan Sado from Fit Living Lifestyle
3. Komodo National Park, Indonesia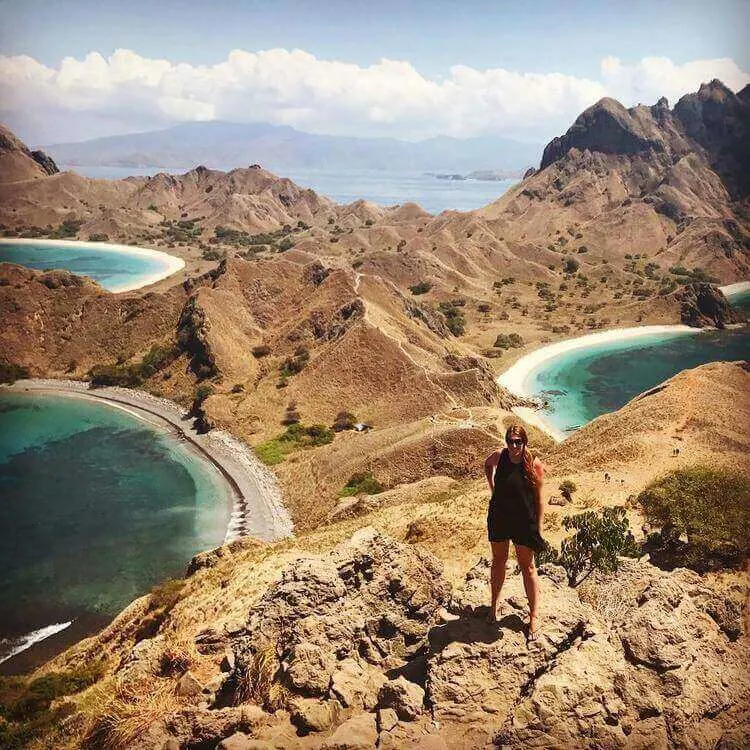 Komodo National Park is a fantastic place to go for an adventure-inspired trip, not just because you get the opportunity to go face to face with a Komodo Dragon, swim with Manta Rays, watch huge fruit bats take flight at sundown, and lounge on a pink beach. Still, there are also several incredible hiking opportunities in the region.
Two of the most strenuous hikes are of Padar Island and Gili Lawa Island. Padar is one of the most well-known hikes in Indonesia. The view from the top shows an incredible Jurassic Park-like landscape that has graced many an adventure travelers instagram account over the years!
It is only a short hike at around 30-45 minutes, but the heat, dusty and uneven loose ground and lack of shade on the trail make it quite challenging.
Gili Lawa is the lesser-known – but increasing in popularity – hike on a smaller island opposite the much larger Komodo Island. It is a tiny trail that is pretty steep with the same loose, uneven ground that's at Padar.
Getting to the summit will take approximately 1 hour – with an easier but longer trackback to the bottom for the descent. You'll definitely work up a sweat – but the view from the top is totally worth it!
There are also day and multi-day hikes available on Komodo and Rinca – two of the larger islands that are home to the Komodo Dragon populations, so whatever your ability and interests, Komodo National Park offers lots of opportunities to give your hiking boots a workout."
Vicki from Maketimetoseetheworld
4. The Lares Trek, Peru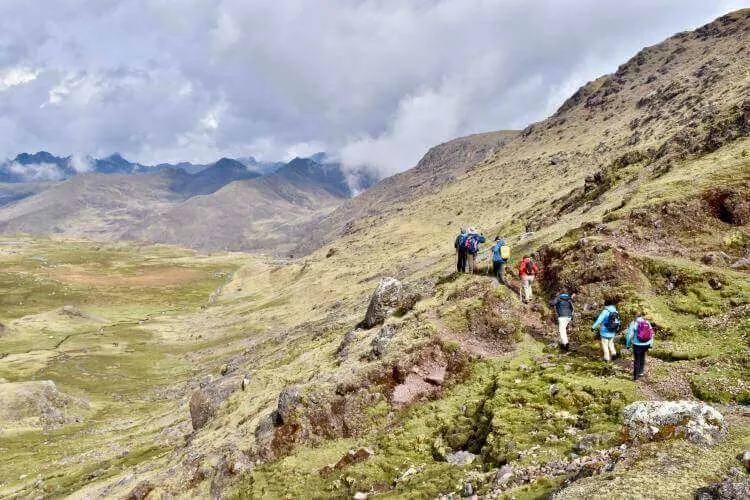 I've always dreamt of making the Inca Trail and felt crushed when I realized I was too late to get my permit, consoling myself by arranging to do the Lares trek instead. Little did I know at this point that it would become my biggest and best adventure of 2017.
Looking back, it was probably better than doing the Inca trek anyway – more authentic, peaceful, stunning scenery and not a soul within miles of us at our wild campsite. Add to that, it goes 600metres higher than the Inca Trail, so it is a greater challenge in some ways.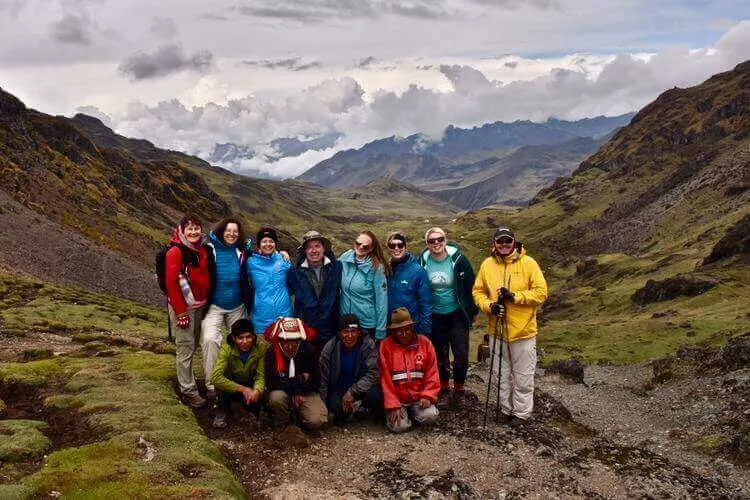 The trek winds its way through mountains and valleys dotted with alpacas, llamas, and the occasional farm. You can walk for hours without seeing a single person. Don't expect luxury camping – there isn't any.
It's bush camping only here, but there's no greater way to wake up than to open your tent door onto the stunning scenery of the Andes mountains. It can get pretty steep in places, and a few downhill stretches are a bit of a scramble. It all adds to the adventure!
While the trek doesn't lead directly to Macchu Pichu as the Inca trail does, most of Lare's trek tours will include visiting the impressive Inca ruins. The only difference is that you arrive refreshed after a good night's sleep in a hotel!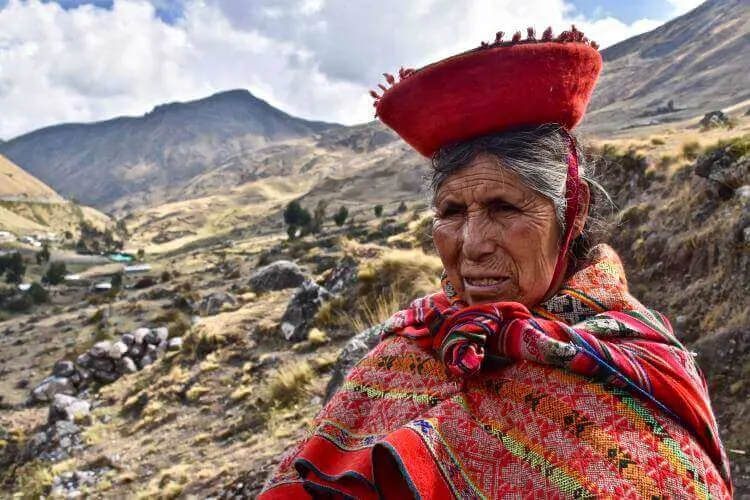 The Lares trek is 33 km long, which isn't that far compared to other multi-day treks, but it is still a significant physical challenge with a maximum altitude of 4800M.
I personally suffered from altitude sickness, which made it all the tougher and the sense of achievement all the sweeter. The last 100m of altitude were incredibly tough; I was swaying side to side as though I'd drunk more than a few too many beers, and I was plodding at snail speed, repeating the date over and over to keep myself mentally alert.
But that feeling when we reached the summit, looking down into the stunning Andes valleys, was just indescribable! We also beat our guide's record for time to reach the 2nd summit (only 4200m here, so the altitude symptoms were under control.)
Having completed the 3-day trek in just 2 days (we were forced to do so due to the national census taking place curtailing some activities), we felt incredibly proud of ourselves as we treated our achy muscles to a soak in; a natural thermal spa!
I would definitely recommend the Lares trek to anyone wanting a physical challenge whilst experiencing rural life in the beautiful Andes Mountains.
Leanne from The Globetrotter GP
5. Hiking in the UK
My greatest hiking adventure in 2017 was my epic hiking trip around the UK, where I live! One evening, I came up with the idea to visit and hike all 15 of the UK National Parks.
I've hiked all over the world and done some epic challenges, including Mount Kilimanjaro in 2012. But I felt like I had neglected to explore my country, and I wanted to show off all the beautiful day hikes in the UK to the rest of the world!
Starting my challenge in North York Moors National Park, I did three gorgeous day hikes, walking past the remains of the UK's industrial heritage.
From there, I headed north to Northumberland National Park, where I walked along Hadrian's Wall. The Romans built the famous wall, and in some places, there are large sections in tack.
Venturing further north and into Scotland, I visited the two National Parks, the Cairngorms, Loch Lomond, and the Trossachs. But I also took a little detour to climb the UK's highest mountain Ben Nevis.
As someone who loves hiking for some reason, I'd never ticked this hike off my list. A 3-hour hike to the summit battling with some naughty rain and plenty of clouds at the top, but it was all worth it!
After Scotland, I headed south to another big mountain, Scafell Pike in the Lake District, England's highest mountain! And this time, I had 360-degree views at the top over the falls of the Lake District, which was simply stunning.
Wales was the next stop visiting their three National Parks, including the beautiful Pembrokeshire Coast, where I did some wonderful hikes and saw plenty of birds and wildlife along the way.
Towards the south of the UK, the hills and walks are slightly easier, but this didn't mean I reduced the hiking miles. Dartmoor National Park has miles of roaming moors scattered with tors that you can climb up if you fancy an extra challenge.
In total, over a period of 7 weeks, I hiked on average 10 miles a day and clocked up over 300 miles. Only having rest days when I had a long drive to my next destination.
My map reading certainly improved over the weeks, but I still managed to go the wrong way a fair few times. But that was all part of the fun!
It was certainly my biggest adventure of 2017 but a very memorable and enjoyable experience. And I have the 5,000+ photos to prove it!
Becky from Becky The Traveller
6. The one time I cried whilst hiking Torres Del Paine
It seemed like a great idea at the time. That wonderful stage of travel planning is when you start to consider what things you actually want to do when you arrive in a new country.
It was a no-brainer that my partner James and I would hike somewhere in Patagonia on our epic three months South American adventure.
Read also: Best Places to visit in South America.
So why not tackle the infamous W Trek in Torres Del Paine National Park? This small decision over a bottle of wine one evening fastly turned into my greatest adventure in 2017.
The fun starts when you are trying to book campsites in Torres Del Paine. No longer can you just rock up to a campsite and pitch a tent—three different companies across three different booking sites.
Once you've completed the gauntlet race of booking campsites, you think surely things can't get any more difficult. How hard can a multi-day trek, which involves carrying all your own gear, actually be?
Until you are there. Mesmerized by the beauty of the mountains, glaciers, and lakes. Putting one step in front of the other. Again. And again. And again.
I soon forgot the pain in my feet, the weight of my backpack, and all of life's woes as we hiked from the central campsite to the free Italiano campsite. The longest stretch of the multiday hike.
After hiking for hours, I was sure that we weren't that far away. As we rounded another corner, I saw it – the signpost letting me know that we were still a 2.5hr hike away from our next campsite. And I cried. I sat down like a stranded turtle, and I cried.
The heat, the heaviness of my pack, and a burning in my feet all rushed back to haunt me. Surely not my finest moment of adventure travels. After a brief break, a chocolate moment, it was time to get back onto my hot little feet and hike away.
The next four days of hiking saw us exploring the infamous W trek in all its raw beauty. As well as no more tears. Our hiking was full of meeting new friends and seeing numerous animals along the way, such as deer, foxes, and ducks.
This hike is one of the most mesmerizing and amazing hikes in South America, and despite one terribly tough day, it certainly was my greatest adventure in 2017.
Jeanette from Traveling Honeybird
7.

Kheerganga, India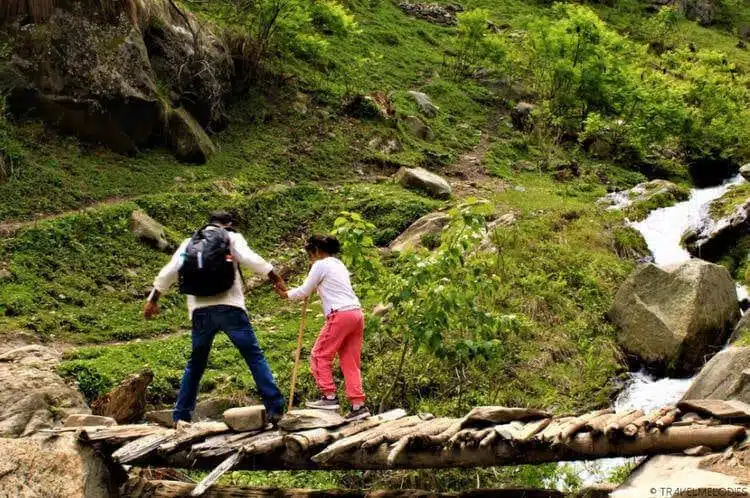 "Why can't we trek up to Kheerganga, mom?" Mini-me asked with an inquisitive look while hubby and I discussed places to explore in and around Kasol, a beautiful hill station in Himachal Pradesh.
Kheerganga (literally translates to 'milky white sacred water') is situated in Parvati river valley at an altitude of 3000m approx.
"Kheerganga?" I shrieked. My daughter gave a quizzical look at my raised pitch and eyebrows. "It's out of the question, sweetheart." I tried to satisfy her curiosity by reasoning.
"Papa and I have no trekking experience, and you are too young to take this treacherous trek. Also, we are unprepared to face the challenges." Unperturbed and driven, she argued,"
You once told me that life's all about taking risks and quoted Roland, "If at some point you don't ask yourself, 'What have I gotten myself into?' then you're not doing it right."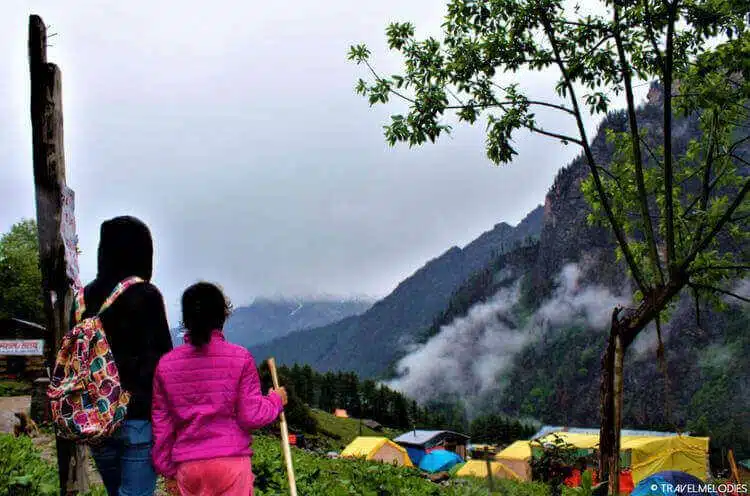 We resigned to our daughter's will with so many questions unanswered and no arrangements for the journey ahead. We started our trek to Kheerganga, which later turned into the most celebrated adventure of the year 2017.
To trek, the Himalayas was on my bucket list, and the plan was to go solo because I thought my daughter, is too young to trek. It was, of course, my perception.
Mini-me amazed me this time by not only showing enthusiasm for trekking but completing it without any fuss. I never knew that she holds so much potential.
We trekked up to Kheerganga and trekked down to Barshaini on the same day, so technically, we walked more than 25 km in a single day on muddy and narrow paths, precarious slopes, and steep hills :) We are proud parents!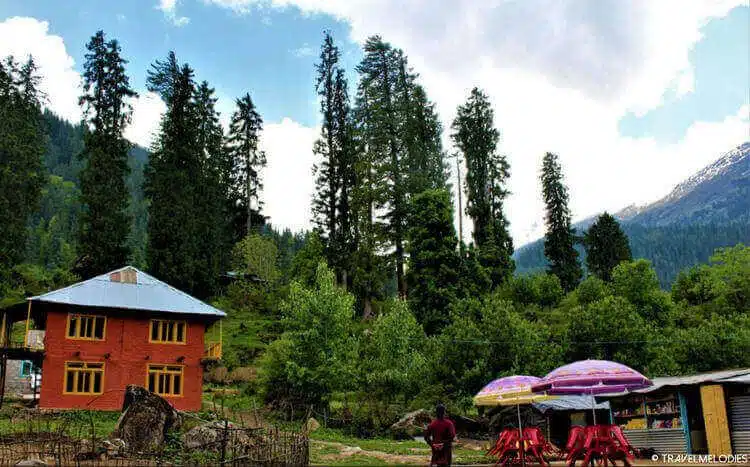 Trek starts at Barshaini, the last road head.
As we crossed feeble and shaky wooden bridges over gorgeous and roaring waterfalls and rivers, trekked downhill and sudden steep uphill through muddy tracks, made way through dangerous and deep pine forests, and looked down into the valley; we were reminded how small we are in the face of nature.
All the pain and exhaustion of the journey dissolved in one of its kind views as we reached Kheerganga. Colossal mountains, lush green meadows, waterfall as if pouring out of the sky, Shiva temple at the top of the hill, Natural hot water spring surrounded by snow-covered peaks; it was heavenly.
Never before in my life had I witnessed such a breathtakingly beautiful place!
Anjali from Travel Melodies
More Hiking Internet Resources:
Best VPN for Travel: ExpressVPN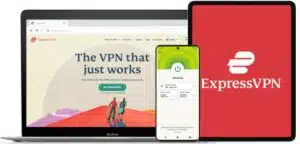 Heading abroad? Use ExpressVPN to access your social media accounts, unblock your favorite entertainment sites, and stay connected with friends and family. And get cheaper flights, of course.
Pros
✅ Next-gen, high-speed servers in 94 countries
✅ Works on iOS, Android, Windows, Mac, Linux, browsers, and more
✅ 256-bit AES encryption protects your data, even on hotel Wi-Fi
✅ Unblocks Netflix and other streaming sites
Cons
❎ No dedicated IPs
Get 3 extra months free of ExpressVPN when signing up for a 1-year plan. That's a 49% saving and a monthly cost of just $6.67! You also get a 30-day money-back guarantee.