If you are looking for an adventure in Ecuador, I highly recommend you to visit Baños. There is a reason why it is also called the adventure capital of Ecuador.
As you might know, I like to combine adventurous activities during the day with a luxury hotel that offers good food, spa treatments and a comfortable bed. Sangay Spa Hotel offers all that and way more!
Where to Stay in Baños: Sangay Spa Hotel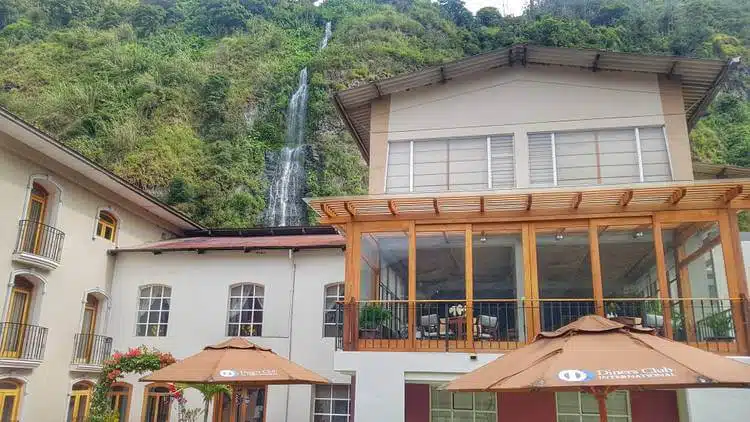 Sangay Spa Hotel Baños Location
Sangay Spa Hotel is located within Baños de Agua Santa, a small Ecuadorian city surrounded by green rainforest.
The city has won its reputation as a "Gateway to the Amazon" because of its location within the Amazon River Basin makes it a great home base for eco-tourists wanting to explore the jungle.
The hotel is 45 minutes to an hour from Ambato by vehicle.
Nearby attractions include:
Canyoning
Whitewater Rafting
River Kayaking
The Sangay Spa Hotel Rooms
The Sangay is one of the best hotels in Baños, Ecuador, and this quality shows in their various spacious rooms and suites.
1. Deluxe Suite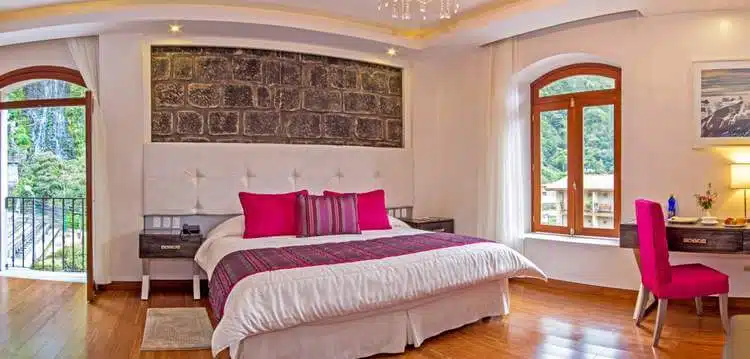 Their deluxe suite comes with a balcony that features incredible scenic views. If available, opt for a room facing the waterfall.
There's also a flat-screen TV if you want to spend a night in after an intense canyoning or kayaking session.
2. Luxury Double Room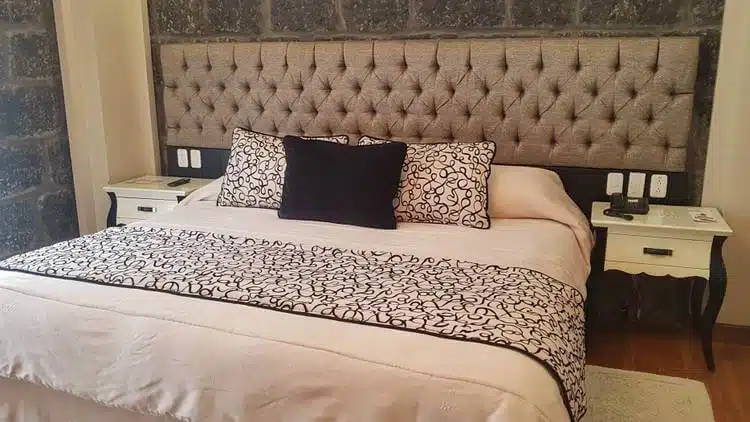 During my stay at the Sangay Spa Hotel, I enjoyed a luxury double room. Amenities included a TV and cable, wake up service, and a balcony with a phenomenal view.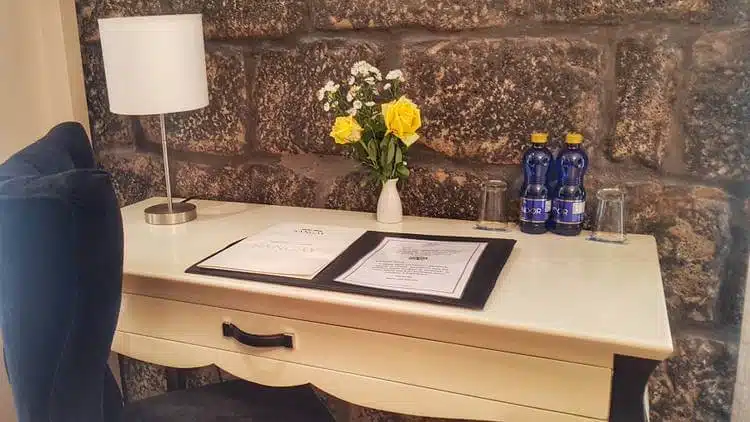 3. Bungalows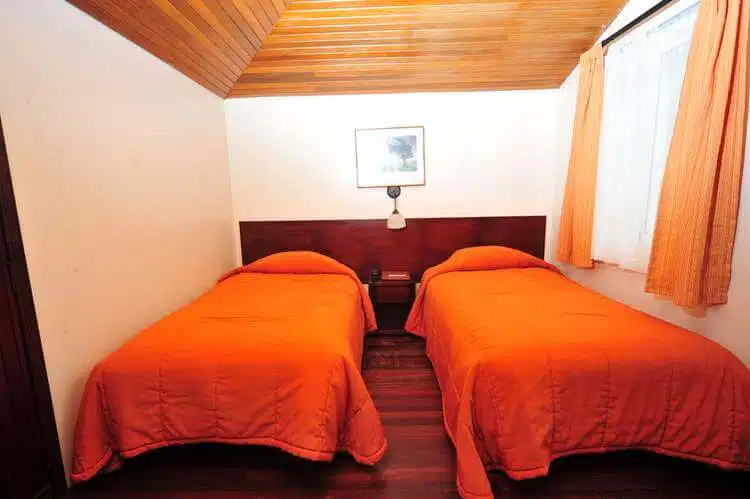 If you're traveling in a group or with a child, one of the Sangay Spa Hotel's Bungalow rooms might be a better fit for you.
These rooms can sleep up to three guests and come with a private bathroom (just like the other two room types above).
Sangay Spa Hotel Restaurants & Cafés
1. Bonkers Cafe
This quiet cafe is nestled within the hotel and serves an array of delicious food. Though the menu is ostensibly British, some comfort foods from other parts of the world have also made the cut, including burgers.
This is a great place to enjoy a cup of coffee on a laid back day during your stay at Sangay.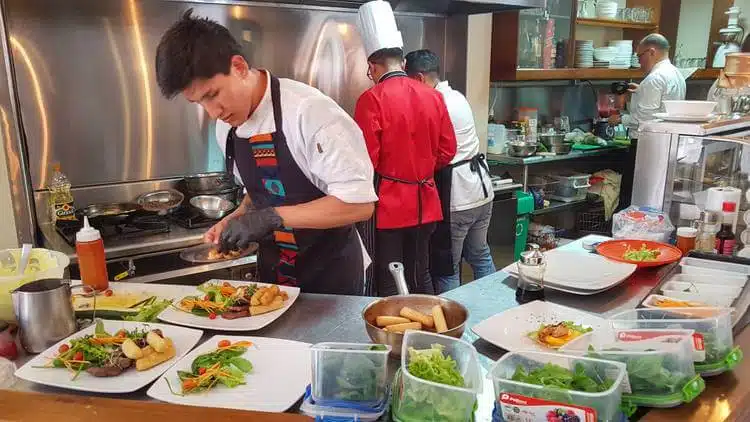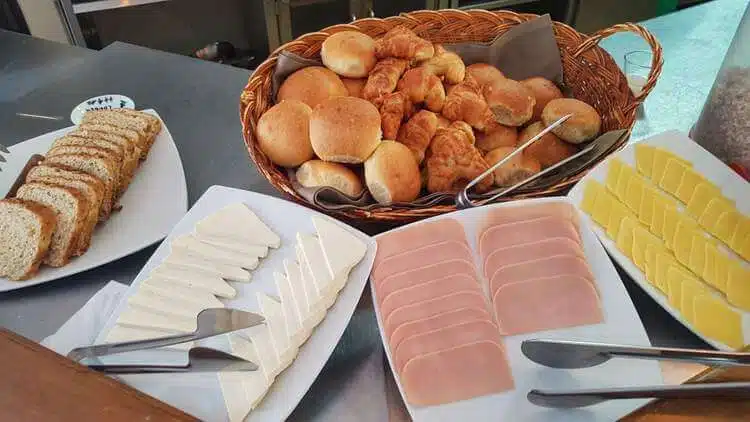 2. Rumi Wuasi Restaurant
The Rumi Wuasi Restaurant is another Sangay Hotel mainstay that both critics and guests enjoy.
Here, they serve up a delicious 6-course lunch menu on Fridays and Saturdays. The portion sizes were spot on. We were able to enjoy all the courses, including desert, without getting too full.
The entire lunch cost only 15 USD, and you don't even have to be a guest to attend!
When I heard about this lunch, I had to try it.
Here's a picture of their delicious potato bisque with cream.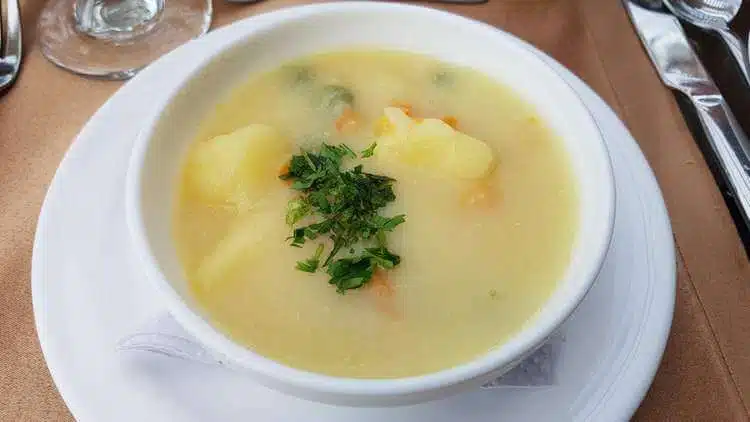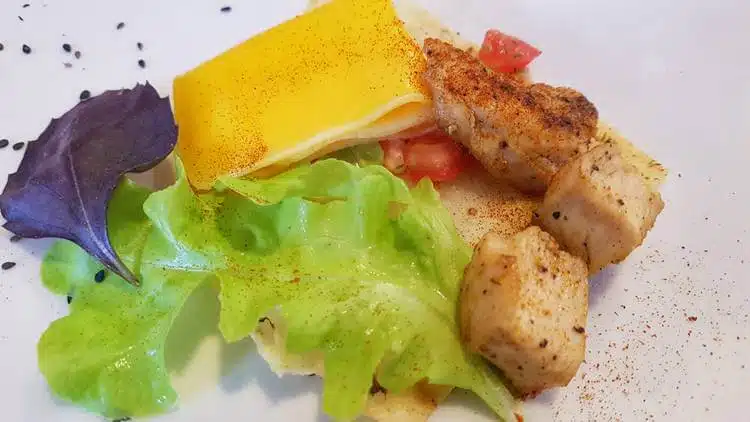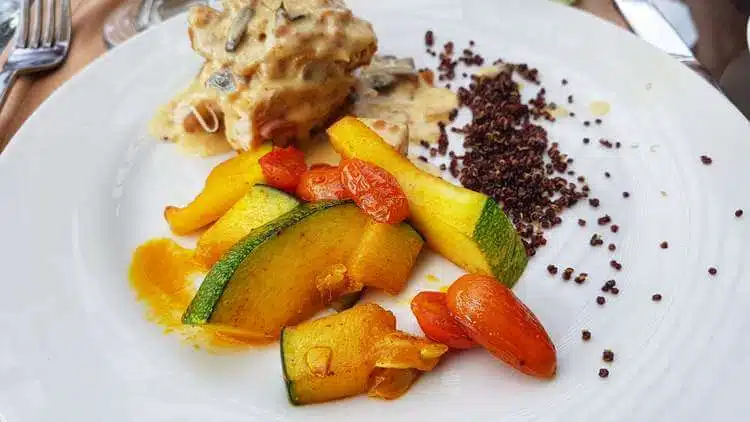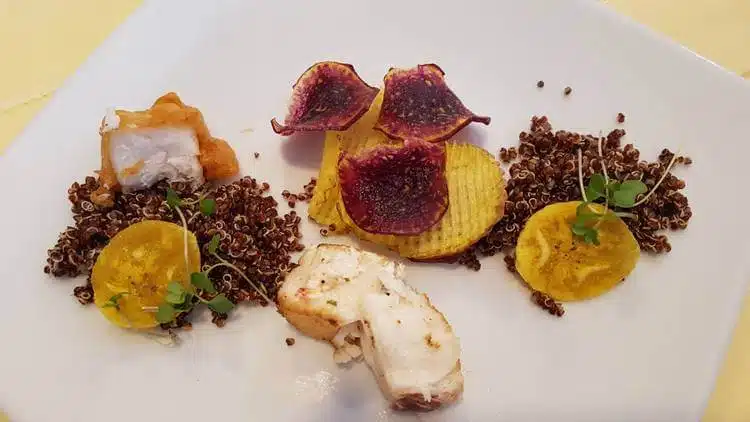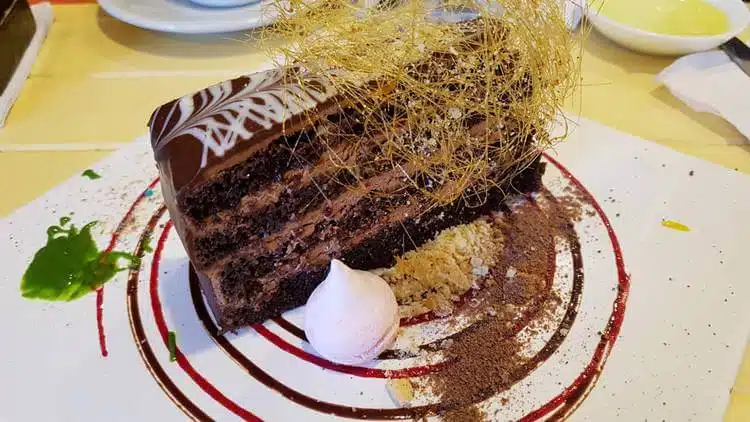 3. Chozón Bar & Grill
If you want to enjoy a cocktail or two before turning in for the night, check out the Chozón Bar & Grill. They serve some great BBQ and grilled seafood alongside a creative but affordable cocktail menu.
This place can get especially lively on the weekends when they often host musicians.
If you're looking for a glass of wine, Chozón has one of the best selections in town.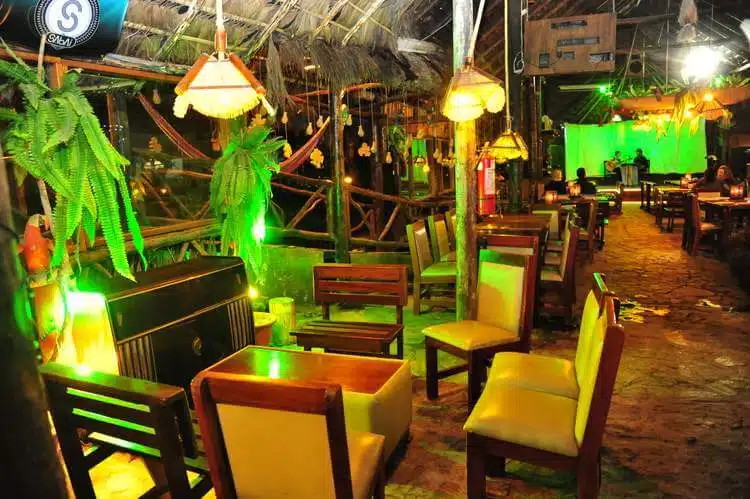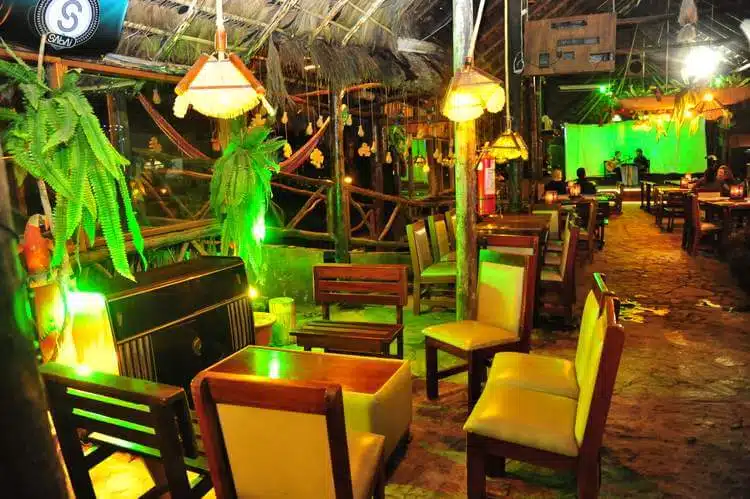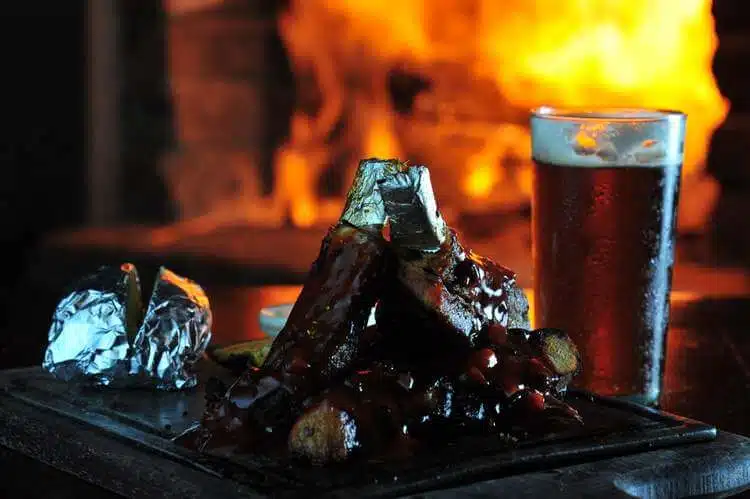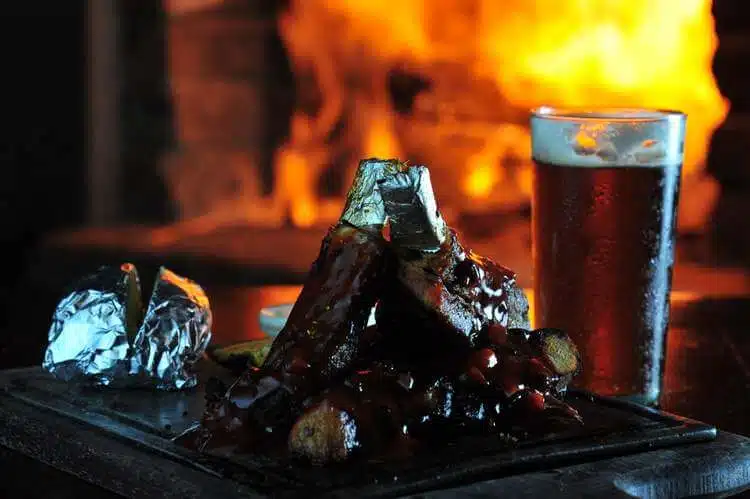 Or what about some cocktails at night?
Indra Ayurvedic Spa
If you're seeking a truly relaxing or transformative experience during your stay at Sangay, check out their in-house Indra Ayurvedic Spa.
The spa's staff offer massages in 36 distinct styles, all alongside a Turkish bath and sauna.
You can book a medicinal bath, a facial, hair treatment, a manicure/pedicure, and even a steam bath.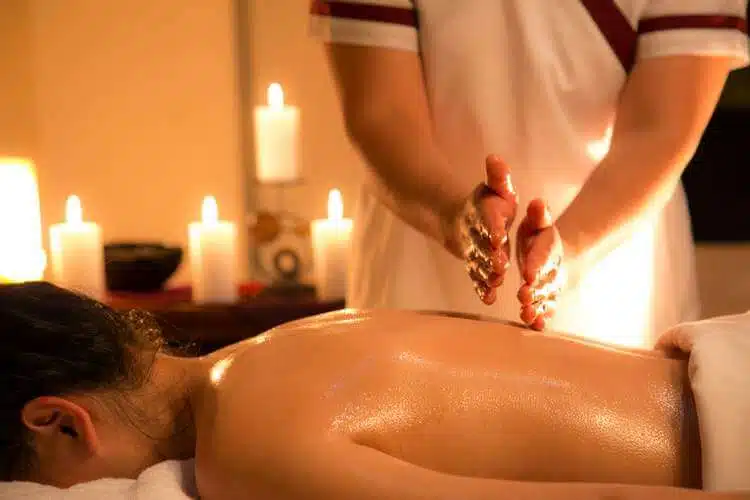 Outdoor Pool
Sangay's outdoor pool is a great place to pass the time. It's open to both adults and children.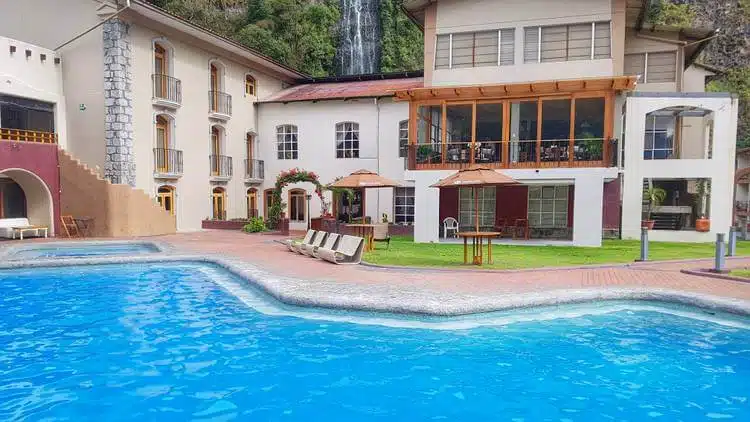 Kid's Club
Sangay Spa welcomes children, but the property's managers recognise that parents travelling with their kids may occasionally need to get away to enjoy some of the hotel's best accommodations (perhaps a couple of massage).
That's why they employ a dedicated staff member to play with and watch guest children every weekend. They call this service the Hotel's Kid's Club.
At the club, kids can play with puppets, puzzles, costumes and even create fun handicrafts.
It's a great service for parents who want to relax, enjoy a spa treatment or spend some time alone without their children.
Things to do near Sangay Spa Hotel
Sangay Spa Hotel is conveniently located near all the primary tourist attractions in Baños.
Read also: 2-Day-Itinerary Baños, Ecuador.
It's (literally) meters away from a stunning cliffside waterfall. And, you can get to almost anywhere in town from the hotel on foot, including the market at the centre of town and the thermal baths (which are right across the street).
What I loved about Sangay Spa Hotel Baños
There were a few things I thoroughly appreciated about my stay at Sanga Spa Hotel.
First, the staff were consistently friendly and attentive and went out of their way to make me and other guests feel welcome.
The hotel's central location also can't be understated. We could easily walk anywhere we wanted to within the quaint Andean mountain town.
And, when we wanted to venture out to the larger city Ambato, which had a bit more to offer, it was only about an hour away by car.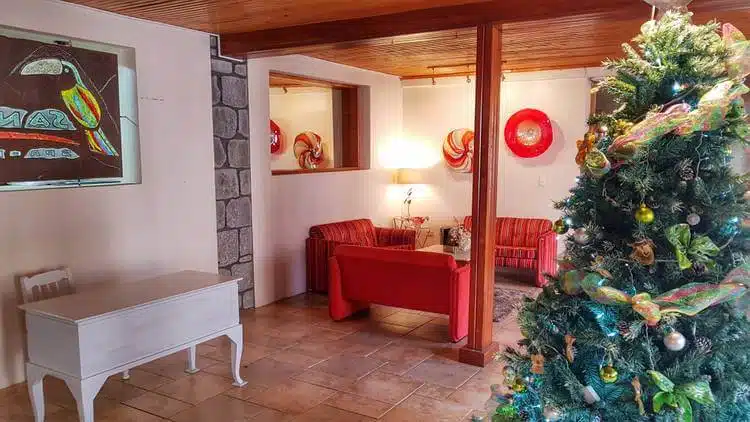 Here are a few more touches I appreciated:
The rooms are spacious and designed with real volcanic stone.
The food at all of Sangay Spa's on-property restaurants was delicious and well-presented.
The spa offers amazing massages, a private jacuzzi, hot tubs, two saunas and an outdoor pool with a view that looks out at a beautiful waterfall. I made great use of each of these features.
With all of the positive points above, it is clear to see why this is one of the best hotels to stay in Baños.
Book your room at Sangay Spa Hotel
To make your Baños Hotel booking and for more photos, information and prices, check Agoda or Booking.com
Disclaimer: I was a guest at Sangay Spa Hotel. My opinions, as always, are solely my own.
Best VPN for Travel: ExpressVPN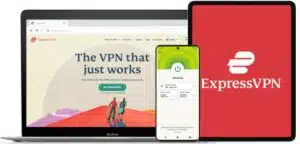 Heading abroad? Use ExpressVPN to access your social media accounts, unblock your favorite entertainment sites, and stay connected with friends and family. And get cheaper flights, of course.
Pros
✅ Next-gen, high-speed servers in 94 countries
✅ Works on iOS, Android, Windows, Mac, Linux, browsers, and more
✅ 256-bit AES encryption protects your data, even on hotel Wi-Fi
✅ Unblocks Netflix and other streaming sites
Cons
❎ No dedicated IPs
Get 3 extra months free of ExpressVPN when signing up for a 1-year plan. That's a 49% saving and a monthly cost of just $6.67! You also get a 30-day money-back guarantee.