If you have spent one day in San Francisco, you will most likely want to return. Here are some tips and itinerary ideas to explore San Francisco in a day.
Welcome to San Francisco, aka the 'City by the Bay'!
Located right in the middle of California, San Francisco is an incredibly diverse and welcoming 46 square mile city.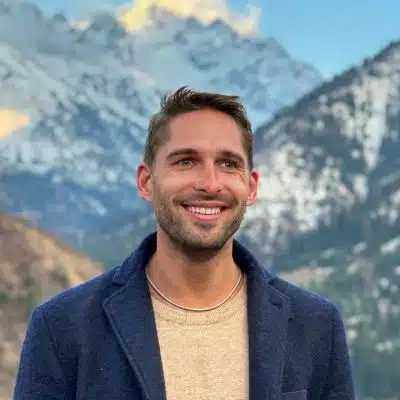 Like any big city, there are certainly some positives and negatives (mostly the high cost of living). Still, most people who come here end up returning time and time again because of San Francisco's unique quirks, natural beauty, and endless choices for things to do.
Regardless if you've visited the Bay Area before or this is your first time in the region, I've put together some helpful tips, suggestions, and itinerary options for you to consider for a short trip to San Francisco.
How to Get Around in San Francisco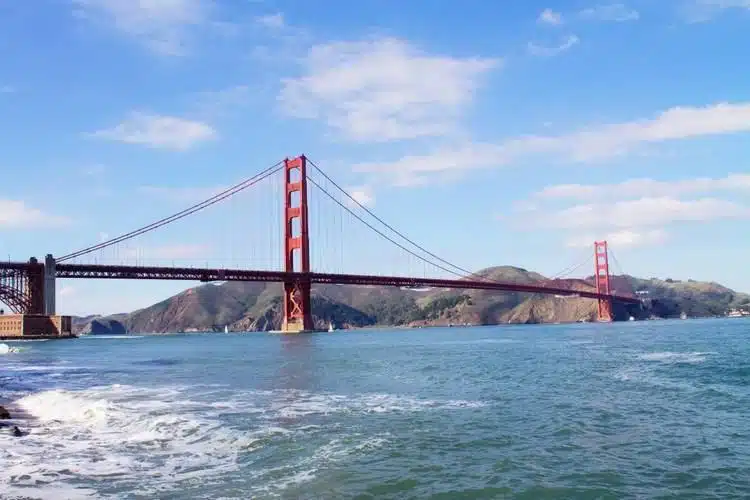 One of the most fun ways to get around San Francisco (and the best way to get in a free workout while you're on vacation) is to lace up your comfy sneakers and hit the pavement.
This is especially easy to do in San Francisco because the city is compact at roughly 7×7 miles. The only thing that doesn't make it easy to navigate by foot is the city's notorious hills.
But hey – your calves and your glutes will thank you later!
If you're not a big walker, public transport is everywhere in San Francisco and is considered the best compared to any other city in California.
The bus system (aka MUNI) will get you almost anywhere, likely with a transfer or two.
Public transit is cheap and not too tough to figure out, and if you find yourself lost at any point, you can ask the bus driver to help you out. They're usually pretty friendly here.
BART is the underground "subway" system in San Francisco. BART doesn't take you throughout the city but focuses mainly on the more downtown districts.
This is also the cheapest option if you're trying to make your way out of the city, South Bay, or East Bay bound to Oakland or Berkeley.
Also, similar to pretty much every other city in the US now, rideshare apps are a staple in San Francisco and come in handy if you're rushed for time or don't want to navigate public transport late at night.
Scoot is a scooter app that is a fun way to get around and navigate those tight San Francisco streets for the more adventurous folk.
You have to watch a few training videos before you're allowed to operate a scooter, but it's worth it. Let the wind whip through your hair as you jet around the city!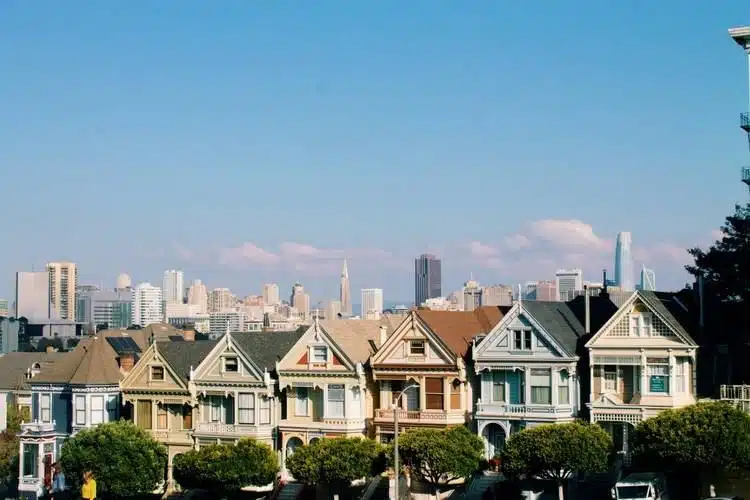 Weather/Climate and What to Pack
San Francisco is right on the coast of the Pacific Ocean, actually at the very tip of the peninsula.
This means that it gets a lot of the cooler ocean currents and a hefty helping of fog (affectionately name Karl the Fog, by locals) on most days of the year.
Within the city limits are roughly 15 microclimates that make preparing for a day out in the city thought-provoking, saying the least. You'll want to bring with you plenty of layers.
Most importantly, a windbreaker and/or puffy/down jacket. If you don't bring one (or both) of these items, you'll probably end up buying them once you arrive. They are essentially a Bay Area local's uniform.
Where to Stay in San Francisco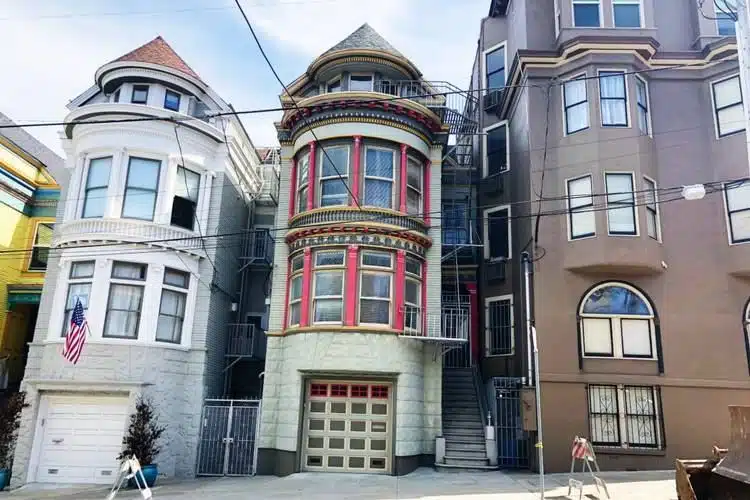 Accommodation options in San Francisco are almost as diverse as the city itself. San Francisco has all of the above and more, whether you're looking for a crash pad, luxury hotel, vacation "villa," or a funky boutique hotel.
If luxury travel is your preference, hotels in either the Financial District or the Nob Hill neighborhood will not disappoint.
These two neighborhoods are home to a few historic, high-end hotels that are an absolute dream to stay in, including The Intercontinental Mark Hopkins, The Fairmont, and the Westin St. Francis.
Alternatively, you can find more casual options all over the city. Even in and around the notoriously pricey Union Square district, some fun boutique hotels don't totally drain your wallet for the trade-off of being in a central location.
The Fisherman's Wharf area is another good spot for the more reasonably priced hotel stays.
For a truly unique San Francisco experience, look at staying at an Airbnb in the city.
The company calls San Francisco home, as do many tech startups, so it's no surprise that there are some really cool home-share places around the city.
You'll be able to find everything from classic Victorian townhouses to converted warehouses turned music venues/communal living spaces.
San Francisco in a day – 8 Ways to Spend an Afternoon in San Francisco
Get Your Guide helps you to find the best tours wherever you are heading to. It's normally the first website that I check when I plan a trip to a new place.
Tip: Save money and see more of San Francisco with this combined Hop-On Hop-Off and Alcatraz Island ticket.
1. Shop til you Drop in the Union Square and Theater District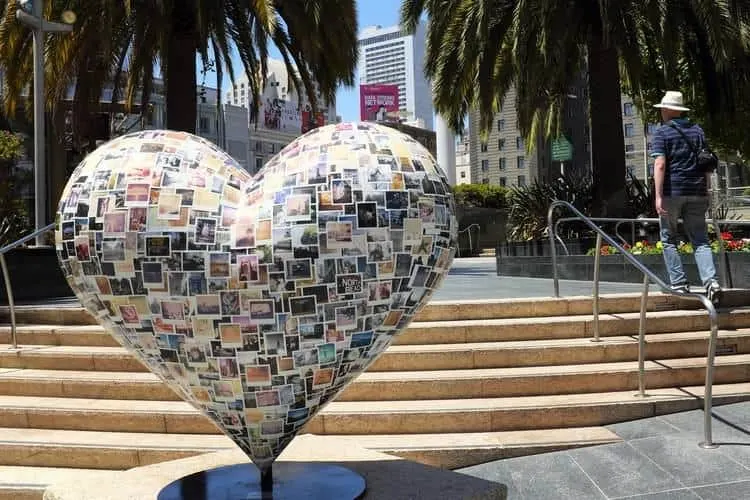 Union Square is one of the most active areas in San Francisco, so it's no surprise that it's also the shopping hub for locals and tourists.
Most of the shopping in the area is high-end department stores or pricey boutiques, surrounded by a few high-rise hotels and fun restaurants to supplement your day of spending.
While you're in the area, check if there are any plays or musicals you might be interested in seeing.
The Theater District and Union Square are nearly the same, and there's usually a performance happening at one of the many theaters in this neighborhood any given day/time of the year.
2. San Francisco in a day – Visit Fisherman's Wharf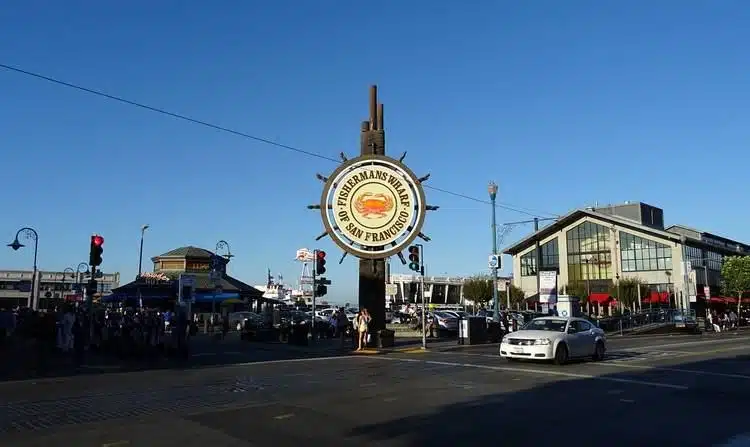 Head Bay-side to popular tourist district Fisherman's Wharf for amusement park fun, fresh seafood, and a taste of San Francisco's fishing history.
Locals may never admit that they enjoy it, but it is definitely a must-see if you're an out-of-towner.
There are games and rides mixed within the souvenir shops, restaurants, and bars. Pier 39, Ghirardelli Square, the lounging sea lions, and one of the best clam chowder bowls in the state can also be found as you make your way along the Wharf.
The coolest thing about it is that this city area is still used as a dock for local fishers, catching the seafood you see fresh on display at the nearby restaurants.
3. Haight-Ashbury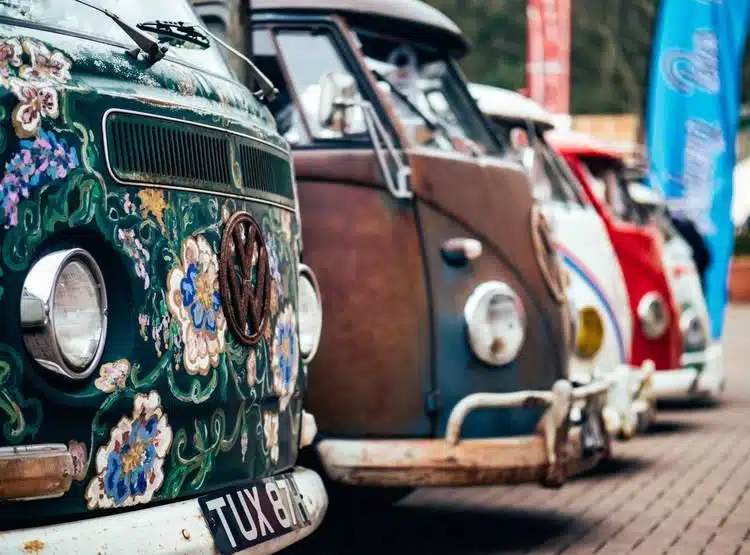 Travel back in time with a visit to the Haight-Ashbury neighborhood.
Haight-Ashbury is famously known as the birthplace and present-day hub of the hippy counter-culture movement that started in the 1960s.
Today, it hosts very similar vibes, and most restaurants and shops in the area playoff it.
Throughout the district, you can see glimpses of what it once was, with tributes to The Grateful Dead, Jefferson Airplane, and Janis Joplin around every corner.
Some of the best thrift stores in the world are in the Haight. Check out a few fan favorites like Buffalo Exchange, Wasteland, and Held Over.
4. Golden Gate Park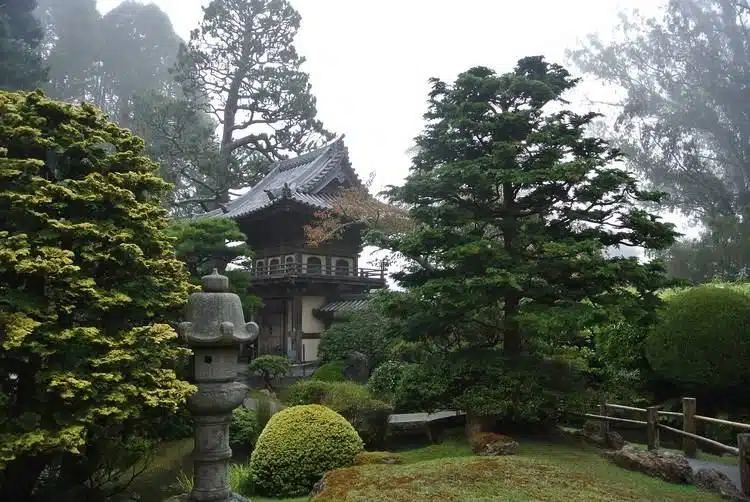 Seemingly endless possibilities await within Golden Gate Park. The park takes up about 1,000 acres of the city and has everything from museums, water activities, a Japanese Tea Garden, restaurants, and bison (yes, bison)!
It's a great place for a jog, picnic, day of exploration and education, especially on a nice day in the city. Golden Gate Park could truly occupy multiple days on a trip to San Francisco.
If you make your way here, be sure to stop in at the California Academy of Sciences – a natural history museum, planetarium, and aquarium all under one roof.
5. Chinatown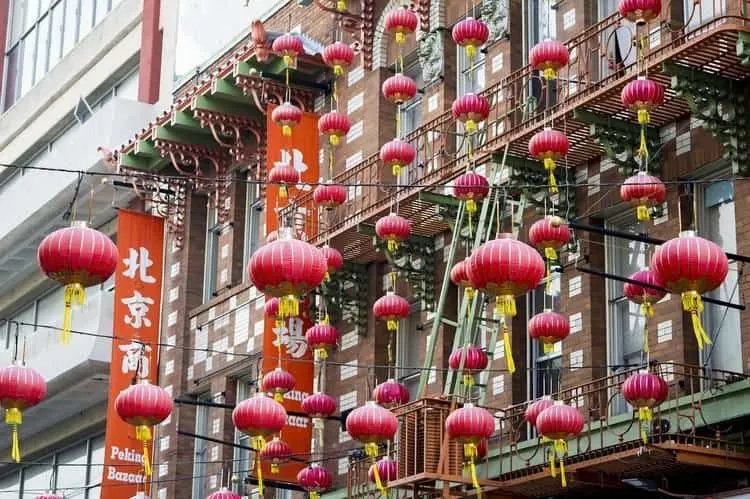 San Francisco is home to one of the world's largest Chinatowns, so you'd be doing yourself a disservice if you didn't check it out while you're in town.
The San Francisco Chinatown was established in 1848 and has played an integral part in Chinese immigrants' history, culture, and livelihood in the Bay Area.
You'll feel transported as you weave throughout the vibrant streets and alleyways that make up the district. Don't be alarmed if you see a few cadavered animal heads staring at you.
To top off your Chinatown experience, check out the Fortune Cookie Factory to learn about the cookie's history and get a sampling.
6. Ocean Beach and Lands End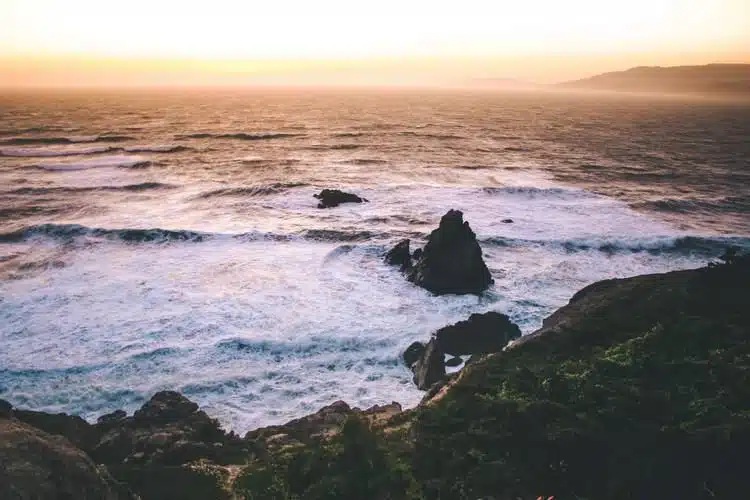 Grab a few more layers and head to the beach (this isn't SoCal, so you'll want to dress warmly)!
Ocean Beach stretches a good chunk of the Pacific side of San Francisco and is a popular surf and windsurfing spot. Along the same stretch of coast is San Francisco's famed Lands End.
Lands End is right at the mouth of the bay and has the most well-traveled and gorgeous network of hiking trails in the city.
Within the Lands End "park" are the ruins of the Sutro Baths and the Fort Miley Military Reservation. For a fancy bite to eat, make a reservation at the historic Cliff House restaurant.
7. Golden Gate Bridge
It wouldn't be a trip to San Francisco if you didn't see the Golden Gate Bridge IRL (in real life).
You can drive, bike, or walk across the mile-long bridge and take plenty of photos along the way. On the Marin side, stop in at the Visitor's Center for a bit more history and superb vistas of San Francisco and the bay.
8. Mission District and Dolores Park
The Mission District (colloquially shortened to "The Mission") is known for its strong influence on Mexican culture, adding even more life and diversity to San Francisco.
The Mission is an explosion of flavors, art, and music, and it would be a shame if you didn't make your way in even for just one burrito at one of the famous taquerias: La Taqueria, Taqueria Cancún, or Taqueria El Farolito.
One of The Mission's most popular landmarks is Dolores Park. A perfect place for a sunny day picnic while you enjoy the views of downtown San Francisco.
Bonus: people-watching here is prime.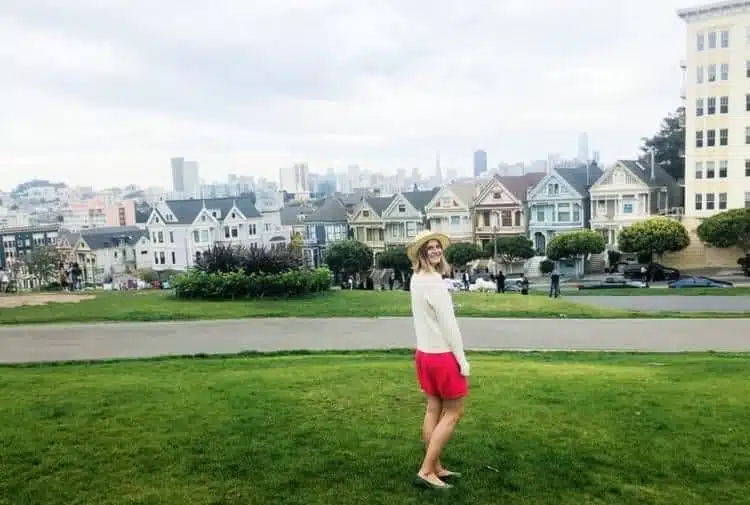 With all of these activity options, your trip to San Francisco will certainly not disappoint! Do a few or all of them – and then some.
You'll certainly find that no matter how many times you come back to the city, you will never actually be "done" exploring San Francisco.
Even speaking as someone who lives here, the city never ceases to amaze!
If you're still thirsty for more ideas about what to do while you're in San Francisco and California as a whole, don't forget to check out my post about the best California breweries to visit, including quite a few famous ones; right? Here in the Bay Area.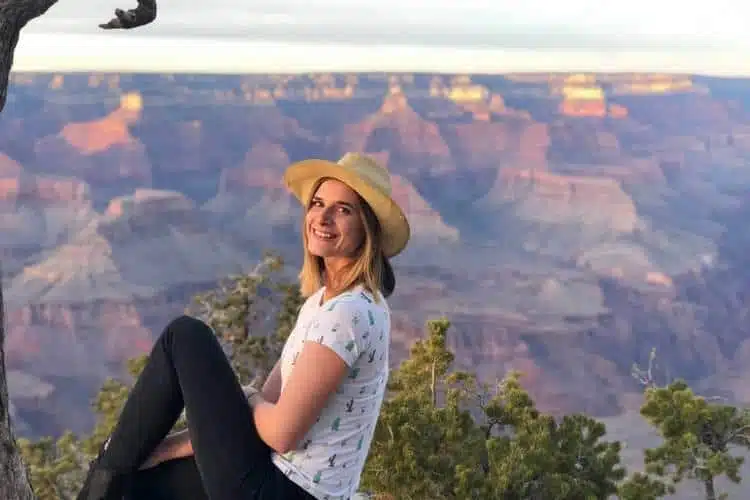 San Francisco has so much to offer, making it difficult to plan your trip. To help you out, I have put together a list of the BEST THINGS TO DO IN SAN FRANCISCO and provide you with ideas on HOW TO SPEND AN AFTERNOON IN SAN FRANCISCO.
Find here all you need to know about HOW TO GET TO SAN FRANCISCO.
Do you want to escape the city for a few days? How about a trip to Las Vegas? Read here WHAT TO DO IN LAS VEGAS and HOW TO GET TO LAS VEGAS FROM SAN FRANCISCO.
You will never run out of places to travel to in the US. Here is our list of the BEST PLACES TO VISIT IN USA.
About the Author
More info
Best VPN for Travel: ExpressVPN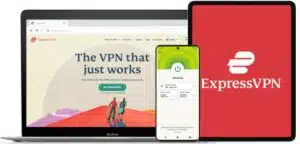 Heading abroad? Use ExpressVPN to access your social media accounts, unblock your favorite entertainment sites, and stay connected with friends and family. And get cheaper flights, of course.
Pros
✅ Next-gen, high-speed servers in 94 countries
✅ Works on iOS, Android, Windows, Mac, Linux, browsers, and more
✅ 256-bit AES encryption protects your data, even on hotel Wi-Fi
✅ Unblocks Netflix and other streaming sites
Cons
❎ No dedicated IPs
Get 3 extra months free of ExpressVPN when signing up for a 1-year plan. That's a 49% saving and a monthly cost of just $6.67! You also get a 30-day money-back guarantee.