You can get to Santa Teresa from San Jose, Costa Rica by air, by bus, by shuttle and even by boat! Learn more about the different modes of transportation that you can take.
Santa Teresa in Puntarenas, Costa Rica, is a small beach village which is a popular destination for surfers and beachgoers coming directly from the city of San Jose. Good thing there are several modes of transportation to choose from in order to reach this piece of paradise.
How far is Santa Teresa from San Jose?
The distance between San Jose, Costa Rica and Santa Teresa, Costa Rica is 170 miles or 275 kilometers.
Getting to Santa Teresa from San Jose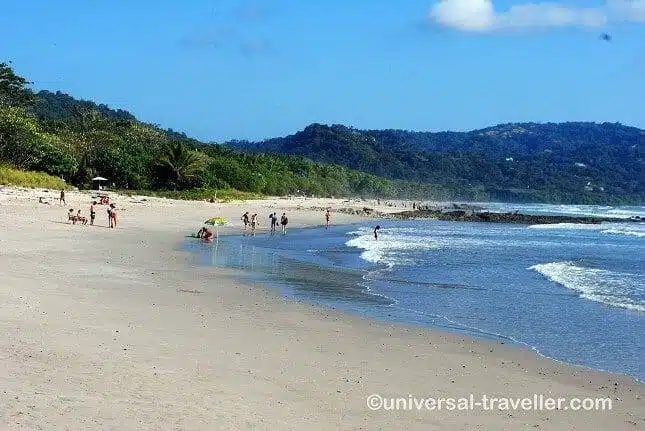 1. Bus from San Jose to Santa Teresa
You can take a bus to Santa Teresa from San Jose. As of the moment, two public buses travel to this route. They leave at Terminal 7-10 in San Jose. The whole trip takes 6 hours to finish and will cost you about 12 USD including ferry fees.
If you are coming from Juan Santamaria International Airport, you can cut the travel time and just ride a taxi to Villa Bonita Bridge in Alajuela. The buses coming from the terminal pass by this place as well.
Tip: On GuateGo you can check all available transportation options from San Jose to Santa Teresa. It is a reliable and easy to use platform where you can compare prices & schedules and make a booking online.
2. Shared Van Shuttle
Shared minibus shuttles offer a convenient way to reach Santa Teresa from San Jose for a rate of 50 USD which includes the ferry fees. Three trips are offered daily by bus company Tropical Tours Shuttles which depart at 05:30 AM, 07:15 AM and 01:30 PM.
You will reach Santa Teresa via shared shuttle in about five hours. This option, compared to the others, is a good one if you are not keen on driving your own vehicle to your destination and would just like to relax in the comfort of your seat.
The less number of passengers compared to buses also make your trip shorter, with less seats to fill and less stops to make. These conveniences come with a price, of course.
3. Private Transfer from San Jose to Santa Teresa
Private shuttles have rates that start from 240 USD including ferry fees. With this price, a maximum of fifteen passengers can board the shuttle van. Your total travel time for this option is five hours, depending on the frequency of stops you will take along the way.
Enjoy the convenience of a door-to-door transport service which will follow your preferred time of departure in San Jose. This eliminates the stress of having to meet the baggage and time requirements that usually come with public transport fleets.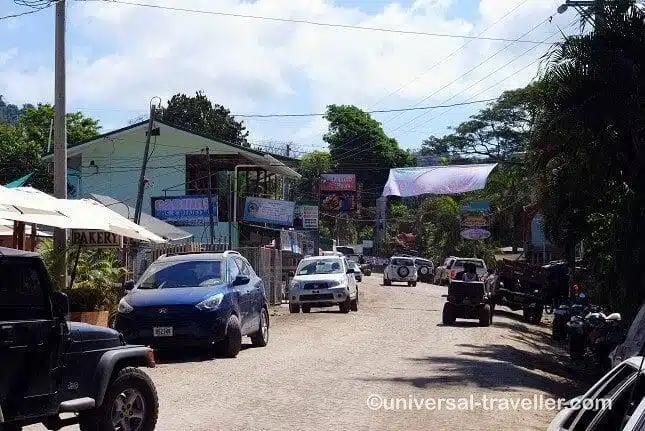 4. San Jose to Santa Teresa Flight
To get to Santa Teresa from San Jose via air, you can book a flight coming from Juan Santamaria International Airport to Tambor via Nature Air or Sansa Airlines.
In 35 minutes, you will reach Tambor where you have to drive or ride a vehicle going to Santa Teresa. From the strip, it will take you another 35 minutes.
The domestic flight from SJO to Tambor will cost you about 75 USD. This is the fastest way you can reach Santa Teresa if you are coming from San Jose.
5. Driving with Rental Car
Driving from San Jose to Santa Teresa, Costa Rica can be done in a matter of five hours. All you have to do is take Route 27 until you reach the ferry which will get you and your car to the other side. You shall continue to your left at Route 21 and you will arrive at Santa Teresa.
This whole trip can be done by renting a car if you don't have one. The cost to rent a car going to this destination starts at 33 USD per day which includes 200 free kilometers. There is no option to drop off the vehicle in a location near Santa Teresa, so you would have to drive the car back to San Jose.
6. Taxi Boat
Zuma tours offers an exciting way to travel from San Jose to Santa Teresa. From the airport, the tour company shall provide a private shuttle which will take you to Plaza Herradura.
From there, you shall board a boat north of Jaco along Herradura beach. This boat will take you cruising along the Gulf of Nicoya, enjoying the marine wildlife and pristine waters in the area.
The same boat will then drop you off at Santa Teresa where you shall travel to your final destination by land. To enjoy this boat option, there must be at least two of you booking for the same route. One slot costs 89 USD if you are coming from San Jose.
Are you keeping up with my Costa Rica Series
I have lived and worked in Costa Rica for one year. While working for a local tour company in the capital city San José I travelled to all the BEST PLACES TO VISIT IN COSTA RICA.
To help you plan your trip to Costa Rica I put together a guide about HOW TO GET AROUND IN COSTA RICA and BEST LUXURY HOTELS IN COSTA RICA.
Costa Rica is well known for its beautiful beaches and hot springs. Find here THE MOST BEAUTIFUL BEACHES IN COSTA RICA and the BEST HOT SPRINGS IN COSTA RICA.
Do you prefer organised tours and all-inclusive resorts? I've put together a list of BEST ALL-INCLUSIVE RESORTS IN COSTA RICA and COSTA RICA MULTI DAY TOUR PACKAGES.