Looking to explore Isla Cozumel? With a wide range of transportation options to help you get to, from, and around the island, you can discover what this paradise destination has to offer! And we are here to help you learn how to get to Cozumel from some of Mexico's most popular destinations!
The quiet island of Cozumel has grown to be one of the most well-known tropical destinations in Mexico's magnificent Caribbean region! A glistening tropical paradise, the island of Cozumel was once a bustling Mayan community with as many as 10,000 residents.
Today, Cozumel sits on top of the list with some of the most popular destinations for divers and snorkelers. It's an island full of white beaches, ancient Mayan ruins, and hundreds of colorful fish and other marine life thriving in its coral reef system!
Best VPN for Travel: ExpressVPN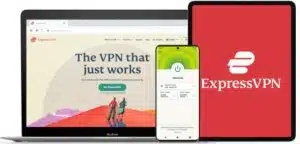 Heading abroad? Use ExpressVPN to access your social media accounts, unblock your favorite entertainment sites, and stay connected with friends and family. And get cheaper flights, of course.
Pros
✅ Next-gen, high-speed servers in 94 countries
✅ Works on iOS, Android, Windows, Mac, Linux, browsers, and more
✅ 256-bit AES encryption protects your data, even on hotel Wi-Fi
✅ Unblocks Netflix and other streaming sites
Cons
❎ No dedicated IPs
Get 3 extra months free of ExpressVPN when signing up for a 1-year plan. That's a 49% saving and a monthly cost of just $6.67! You also get a 30-day money-back guarantee.
The opportunities are endless, with countless dive sites, from shallow coral gardens to caverns and spectacular drop-offs.
Cozumel is an excellent destination for ambiance, fun, and relaxation. Make sure to visit Cozumel if you want to forget everyday life and enjoy one of the most beautiful destinations Mexico has to offer!
Even though Cozumel is just a short distance away from some of the most popular Mexican destinations, the long stretches of pristine beaches and turquoise blue waters make it feel like it's worlds away!
Here, you can discover everything you need to know about Mexican transportation.
So, check out our guide on how to get to Cozumel!
Cozumel is a tropical Mexican island located in the Caribbean Sea and a part of the state of Quintana Roo.
It is the largest island of the Yucatán Peninsula and sits directly across the water from Playa del Carmen!
How to get to Cozumel
Are you planning to travel to Cozumel from one of Mexico's most popular destinations? Our chart below outlines the route, distance, and approximate duration for each trip to Cozumel.
| Traveling to Tulum from | Directions | Time | Distance |
| --- | --- | --- | --- |
| Cancun | | 1-2 hours | 115 kilometers |
| Cancun Airport | | 3-4 hours | 100.8 kilometers |
| Playa del Carmen | | 30 minutes | 19 kilometers |
| Tulum | | ~2 hours | 64 kilometers |
| Merida | | ~ 6 hours | 293 kilometers |
| Holbox | | 6-10 hours | 129 kilometers |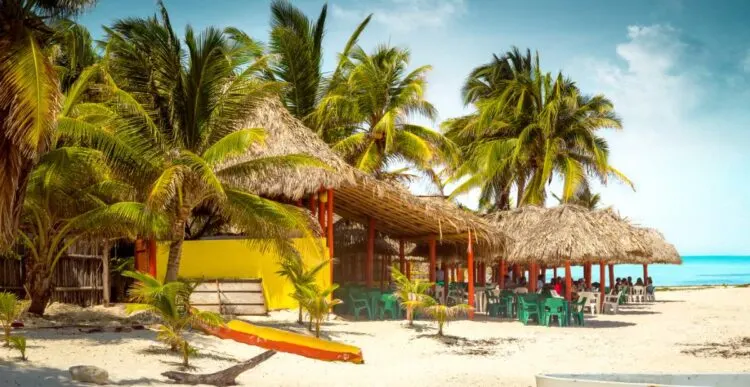 1. Ferry from Playa del Carmen to Cozumel
No matter where you're traveling from, you must first make a stop in Playa Del Carmen to reach Cozumel!
Cozumel is an island; thus, the only way to get there from Playa del Carmen is by boat. As a result, Playa serves as the primary ferry terminal for trips to Cozumel!
The Caribbean Sea separates Playa del Carmen and Cozumel, and even though it isn't a considerable distance, it's still enough for you to enjoy the boat trip, the sea, and the sun!
Cozumel is about 30 minutes from Playa Del Carmen, separated by a distance of 11.8 miles or 19 kilometers.
You may easily travel at any time of day, thanks to Playa Del Carmen's numerous ferry services to Cozumel! Two major ferry companies are operating this route:
Cozumel Ultramar ferries are the most convenient way to get to the island. Cozumel is typically reached by high-speed ferries operated by Ultramar in less than 30 minutes.
Ultramar is popular since it is quick and practical. Surprisingly, both businesses provide the same services on the ferry, including the same departure time and exact arrival time. So, you should opt for whichever is close to your departure.
Ferries from Playa del Carmen run continuously from 06:00 AM until 10:00 PM. A brand-new ferry will be waiting for you to board every two hours. The return trip from Cozumel to Playa Del Carmen itinerary begins at 07:00 AM and lasts till 09:00 PM.
So, now that you know all about the essential part of your Cozumel journey, let's continue exploring all possible ways to get to Playa Del Carmen!
Read our detailed guide about traveling from Playa del Carmen to Cozumel. You can find the Cozumel Ferry schedule here.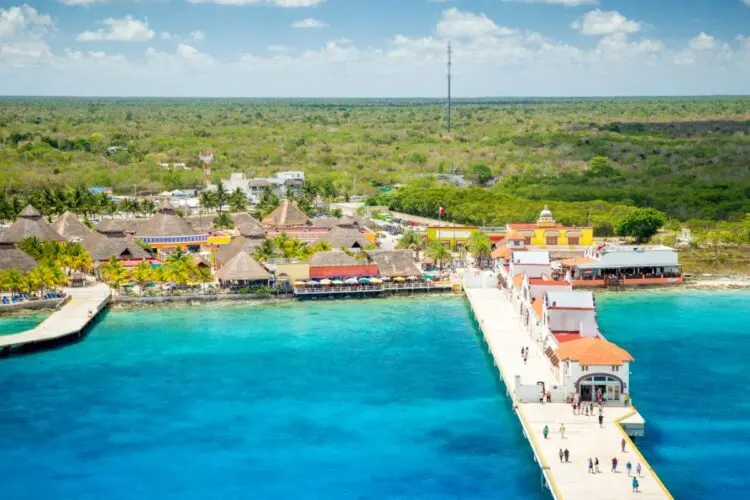 2. From Cancun to Cozumel
If you are in Cancun and you're wondering how to get to Cozumel, you should know that you must travel to Playa del Carmen first!
The distance from Cancun to Cozumel is about 115 kilometers, but what you really need is the distance to Playa Del Carmen, which is only 68.2 kilometers.
There are many ways to travel from Cancun to Playa Del Carmen to reach Cozumel. You can travel by ADO bus, shared shuttle, organized private transfer, or taxi!
Therefore, regardless of the route you pick to go to Playa, the trip should take no more than an hour. If you include the ferry ride, the whole trip should not exceed two hours.
Because Cancun and Playa Del Carmen are so well connected, and there are so many ways to travel between the two destinations, you should read our detailed guide if you want to learn about all the specifics!
Read our detailed guide about how to get from Cancun to Cozumel.
3. From Cancun Airport to Cozumel
Located on the Yucatan peninsula, Cancun Airport is the second-largest airport in Mexico.
A trip from Cancun airport to Cozumel includes a stop in Playa del Carmen, which is one hour south. And after you find your way to Playa Del Carmen from the airport, Cozumel is a ferry ride away!
Cancun Airport has an excellent connection with Playa del Carmen. Taking the ADO bus or a taxi takes about an hour on the well-developed highway, making it easy and fast to reach.
Afterward, you need to get on a passenger ferry to Cozumel. Alternatively, you can also reserve a shuttle-ferry combination in advance!
However, flying to Cozumel from Cancun Airport is also an option! As a result, flying will be your fastest option since it takes only 20 minutes to travel from Cancun to Cozumel!
A real treat awaits you. Aside from the quick and easy flight, you'll also be able to take in some spectacular views of the Caribbean Sea. The downside, however, is that this form of transportation is quite expensive!
Many options are available, so you should learn all the in-depth information on our site!
Read our detailed guide about how to get from Cancun Airport to Cozumel.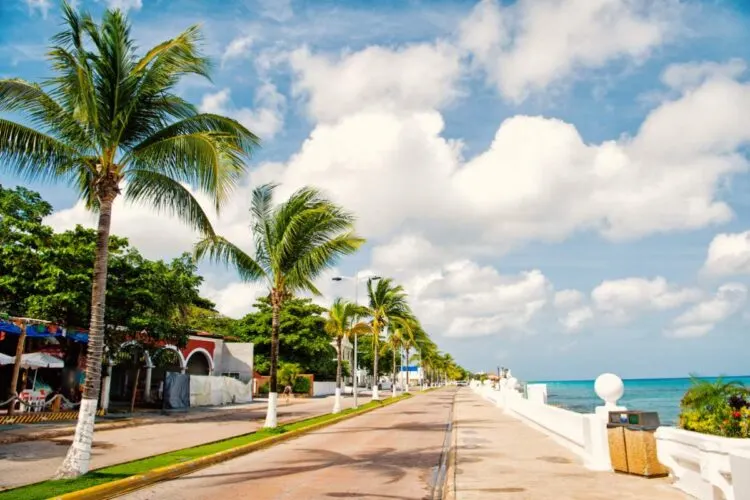 4. From Tulum to Cozumel
You must first reach Playa del Carmen if traveling from Tulum to Cozumel. Since the distance between Tulum and Playa Del Carmen is only 40 miles or 64 kilometers, getting there will be simple.
There are many options available, many of which have incredibly affordable rates. You can plan your private excursion, take a cab or Colectivo, or board a bus or shuttle!
However, to pay one price for the entire pre-planned journey, we recommend purchasing a combined ADO bus and ferry ticket from Tulum to Cozumel!
Our website has additional information about how to get from Tulum to Playa del Carmen.
Read our detailed guide about how to get from Tulum to Cozumel.
5. From Merida to Cozumel
Another popular route for Mexican vacationers is the one from Merida to Cozumel!
Merida is located further from Cozumel than the other nearby hot spots. It is separated by 293 kilometers from Playa Del Carmen, so it usually takes a bit longer to reach Cozumel.
However, with all the transportation options available, reaching Cozumel from Merida is easy!
You can either travel to Playa Del Carmen and catch a ferry like you usually would or get on a flight to Cozumel from the Merida Airport!
The travel time from Merida to Playa Del Carmen is around 5 hours if you decide to take the bus. This option costs around USD 35.
Alternatively, you can arrive via private shuttle, which is incredibly convenient when traveling in a group!
Once you reach Playa Del Carmen, board one of the ferries that operate frequently and make it easy to get to Cozumel in no time!
Read our detailed guide about how to get from Merida to Cozumel.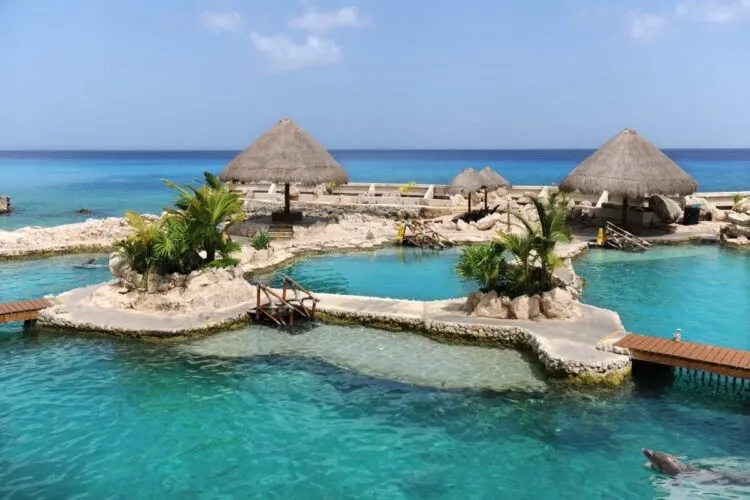 6. From Holbox to Cozumel
If you decide to do some Mexican island hopping, you'll probably want to visit Holbox and Cozumel!
And with all the transportation options available, you can easily make the journey from Holbox to Cozumel!
Since both destinations are islands, you will need to make multiple transfers along the way, which might take up to half a day to travel.
First, to leave Holbox, you must take a ferry to Chiquila, which takes about 30 minutes.
Then you'll then need to change to a shared van shuttle or an organized private transfer that will transport you to the port in Playa Del Carmen.
From here, it will take around 45 minutes to travel by ferry to Cozumel.
It might seem like a big hassle to organize all this separately. However, there is a solution! The most convenient way to get from Holbox to Cozumel is to purchase a single ticket that includes all modes of transportation!
Read our detailed guide about how to get from Holbox to Cozumel.

How to move around Cozumel
Whether you fly into Cozumel, take a cruise ship, or arrive by passenger ferry, you'll need a method for getting around the island.
It's crucial to plan your transportation in advance if you want to travel outside of San Miguel and see some of the island's most well-known beaches and tourist destinations!
Even though Cozumel does not have excellent public transportation or Uber services, you will have no trouble getting around.
Your time and budget will determine whether or not to choose a taxi, scooter, or rental car or explore your surrounding area on your own two feet!
1. Renting a Vehicle
Depending on how much traveling you plan on doing, renting a car can be the most practical option for moving around the island. Renting a car usually costs as little as USD 30 daily, making it a convenient and reasonable choice!
The island's roads are simple and secure, so you should have no problem navigating.
However, jeep rentals are a terrific way to go through Cozumel's wild eastern shore and discover off-the-beaten-path locales. So if you're feeling adventurous, get a jeep instead of a car.
And lastly, renting mopeds and scooters is another popular method of getting around the island. However, the streets of San Miguel can be challenging to navigate because of the constant stream of visitors and locals.
There are numerous locations in San Miguel where you can rent a moped or scooter. But only experienced drivers should rent mopeds for safety reasons.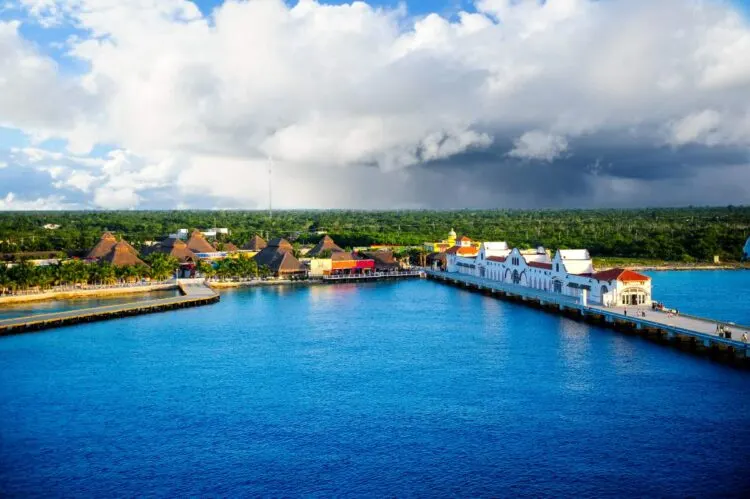 2. Taking a Taxi
Taking a taxi is another way to travel around Cozumel!
Despite no longer being able to pick up at the airport, taxis are still a convenient means to travel around the island. Your hotel can easily contact them, or you can flag them down while walking around the city.
Most taxi drivers are friendly and polite, and the prices are fair. Taxis are not metered, and you will pay a set rate per ride.
Make sure to have smaller change and coins on hand because drivers don't carry a lot of spare change. Taxis accept US money, and customers are encouraged to leave tips.
The typical cab rate in Cozumel is USD 8 within the city. Prices rise in accordance with the distance.
Taxi prices in Cozumel are also based on the number of passengers, so if you have a group of five or more, expect to spend a little bit more. But it usually won't cost more than USD 16.
3. Airport Shuttles
If you're flying into Cozumel, you'll have to take a shuttle to get to your hotel. This is due to the airport's recent ban on taxi pick-ups.
There are, however, both private and shared shuttles available. The kiosks are located outside the baggage claim, past the timeshare vendors.
Negotiating is not possible because prices are set and strictly regulated.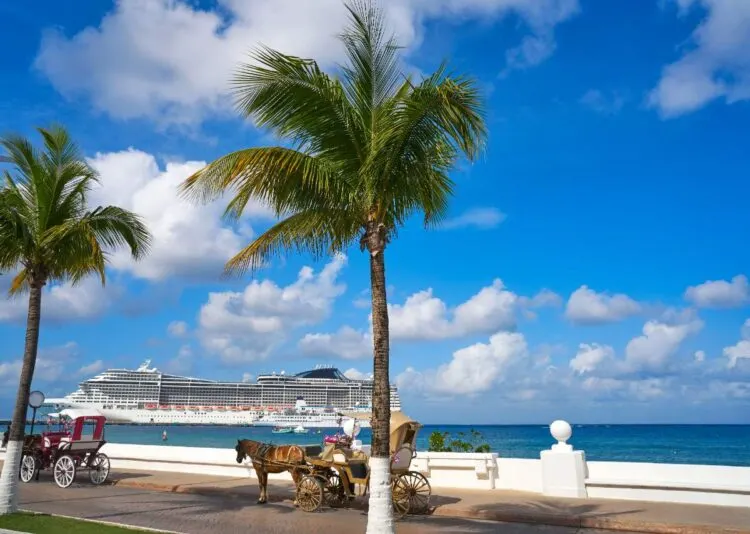 4. Exploring Cozumel on Foot
It's straightforward to navigate on foot if you only remain in one location in Cozumel!
Avenida Rafael Melgar, the major thoroughfare that runs north and south along the shore, is where you'll find most of the hotels, businesses, stores, and restaurants, making it pretty simple to navigate the historic center of San Miguel on foot.
With avenidas going north and south and calles running east and west, the streets in the center of San Miguel de Cozumel are laid out in an easy-to-navigate grid arrangement.
The malecón, a seaside promenade with benches and pedestrian space, stretches north to south between the water and Avenida Rafael Melgar.
At the Punta Langosta pier, where cruise ships and passenger ferries dock in Cozumel, passengers disembark close to Benito Juarez Park, the town's central square and a favorite gathering spot.
However, the distance from the International Pier or the Puerta Maya Pier to downtown San Miguel will be greater.
Best day tours in Cozumel, Mexico
Get Your Guide helps you find the best tours wherever you are heading to. It's usually the first website I check when I plan a trip to a new place.
The following widget shows some of the best tours in Cozumel, Mexico.
Frequently Asked Questions
Where do you fly into to go to Cozumel?
If you're taking a flight to reach Cozumel, your plane will land at Cozumel International Airport.
Is it cheaper to fly into Cancun or Cozumel?
Cancun is more expensive when we examine the actual travel costs between Cozumel and Cancun. Therefore, going to Cozumel would allow you to save money all around.
Is there an airport in Cozumel?
Yes, there is an airport on Isla Cozumel! All flights to Cozumel land at Cozumel International Airport.
Is there a ferry from Cancun to Cozumel?
No direct ferry service connects Cancun with Cozumel. Alternatively, you must get to Playa del Carmen via bus, coach, taxi, or rental vehicle and board the ferry there.
Can you drive from Cancun to Cozumel?
Since Cozumel is an island, getting there by car is not an option. You must drive to Playa del Carmen, park your vehicle there, and take a ferry to Cozumel.
How far is it to Cozumel from Playa del Carmen?
There are 19 kilometers between Cozumel and Playa del Carmen.
How far is the Cozumel airport from the ferry port?
It takes about 9 minutes to get from the Cozumel Airport to the ferry dock, located on the outskirts of San Miguel town.
Can you drive from Playa del Carmen to Cozumel?
If you intend to drive around the island, the only method to get from Playa del Carmen to Cozumel is via a vehicle ferry.
Is there a car ferry to Cozumel?
You may transport a vehicle to Cozumel via cargo ferry from Calica, a portion of Playa del Carmen. Ultramar and Transcaribe are the two cargo ferry companies that travel to Cozumel.