Wondering how to find the cheapest flights online? These tips will show you how to get cheap flight deals and get you flying faster and further for less.
Booking flight tickets can quickly become the most frustrating part of any trip.
With prices that fluctuate every time you refresh the page, it isn't easy to know for sure whether you've stumbled across how to get the best flight deals or whether an airline is planning to take you for a ride.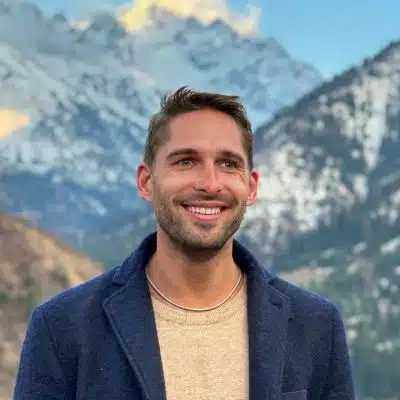 But those willing to spend a bit more time and energy learning how to get flight discounts can save big—very big.
You just need to know how, when, and where to look.
How to find the cheapest Flights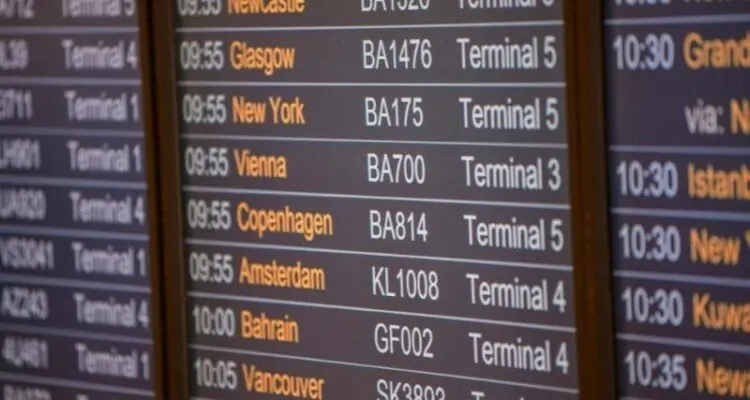 That's where we come in.
I've partnered with several of my travel blogger friends to help you figure out how to get the best flight deals with your travel budget.
That way you can spend more money on enjoying your destination rather than getting there.
We run through all the basics on how to get a cheap flight.
But on top of that, we've also thrown in several little-known resources and strategies that will have you booking cheap flight deals like a pro in no time.
From using a VPN to trick flight ticket algorithms to finding error fares and loopholes, the airlines don't want you to know—this article has everything you need to learn how to get the best flight deals today!
1. Use a VPN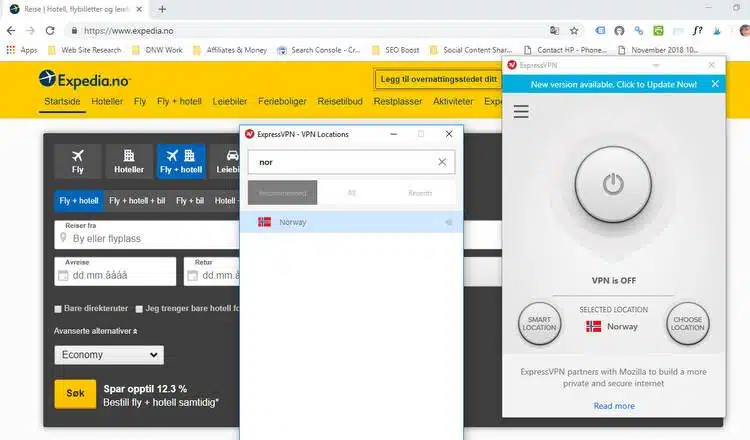 As well as all the benefits that a VPN offers, booking a cheaper flight might just be the one that's saved us the most money so far.
Read also: 8 Reasons Why You Should Use a VPN For Travel
Here's how it works.
If you're booking a flight through one of the consolidators, like Expedia, for instance, you tend to get the cheapest flight if you book through the country's website where it departs from.
So, if you want a cheap flight from Norway, then you'd need to visit expedia.no.
The challenge with websites is that they tend to force you to visit the website local to you (so if you're in the US, then you'll be directed to expedia.com).
If you use your VPN to spoof (or mask) your location to where you want to pretend to be, then you'll see the rates change for your flight.
The better VPNs will provide multiple servers in multiple countries, so you'll have lots of options.
Some free VPNs provide a smaller, more limited number of servers.
I've personally saved hundreds of dollars using this method of obtaining a cheap flight, most recently to save money on flights in Colombia. Still, I also saved nearly 700 euros on a last-minute emergency flight from Bulgaria to the UK a year back.
Aside from the money savings, you should fire up your VPN when booking anyways to ensure that your credit card and login data isn't whizzing around the internet unencrypted!
Recommended by Sarah Carter from ASocialNomad
Best VPN for Travel: ExpressVPN
Heading abroad? Use ExpressVPN to access your social media accounts, unblock your favorite entertainment sites, and stay connected with friends and family. Oh, and get cheaper flights, of course.
You can get 3 extra months free of ExpressVPN when signing up for a 1-year plan. That's a 49% saving and a monthly cost of just $6.67! You also get a 30-day money-back guarantee.

2. Skyscanner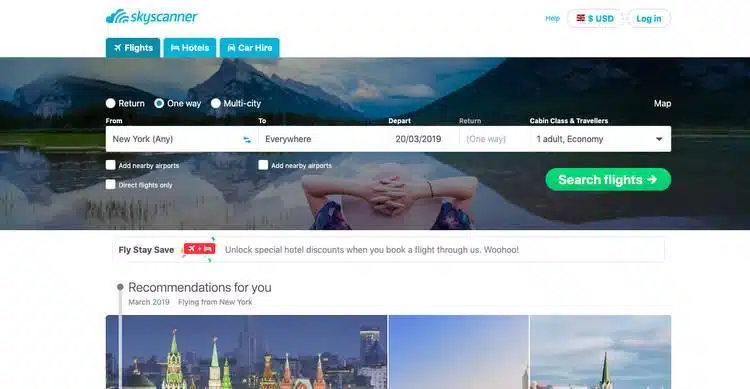 Skyscanner is a popular website that compares flights, hotels, and car rental options worldwide, helping you save more.
It's free to use and simple to compare airlines, prices, and travel dates, as well as set up price alerts for future travel.
Skyscanner is solely a search engine, so you need to book directly with the airline or travel agent offering the deal, but no extra fees are attached.
Skyscanner has a mobile app that is great for on-the-go comparisons, and there is a multi-stop option if you want to travel to more than one destination a trip.
However, Skyscanner's most unique and popular feature is the 'Everywhere' search option.
If you're in the mood for exploring destinations you may not have thought about before, or if you are looking for bargain-basement flights, then this is the tool for you.
The 'Everywhere' search option allows you to enter your chosen departure point, and in a flash, it will bring up countries from all over the world that you can travel to, sorted by the lowest price.
You can select particular dates or search by month to see when is the best value for money.
There is also the ability to filter by direct flights only and particular airports (not just a city).
This nifty tool is definitely the easiest way to compare multiple destinations simultaneously to find the cheapest deal.
It's also great for holiday inspiration and widening your radar. You might find a deal you can't say no to.
I managed to bag direct return flights from London to Cancun for just £300 in January and used them to make a 3 week circular trip around Mexico, Guatemala and Belize.
It turned out to be one of my favorite holidays, but it would never have happened if it wasn't for Skyscanner Everywhere.
Recommended by Roshni from The Wanderlust Within
3. Scour major discount sites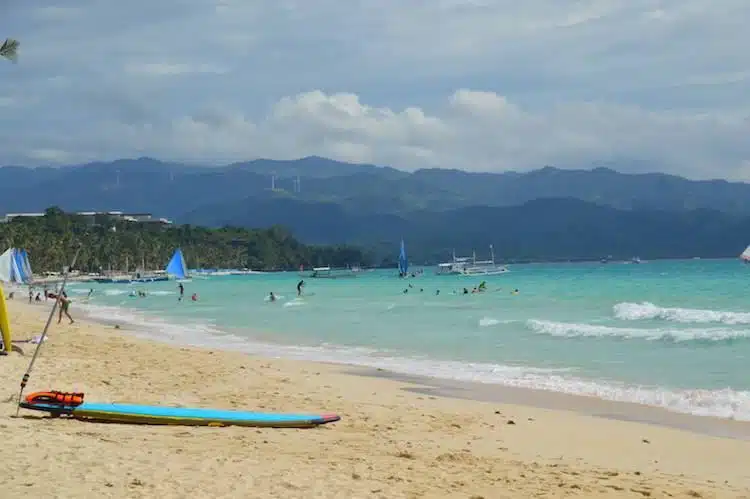 One of the best ways to find cheap flights is to scour major discount sites. Two that come to mind are Fly4Free and Secretflying.
On these sites, you choose the country you are flying from, and they will show you the latest discounted deals, and they sometimes have error fares.
The discounts can be for now or for the future. I took a trip to Manila from London for £272 on a quality carrier, which is unheard of.
It's usually around £600. Plus, it was for a trip 3 months away.
I was dying to head to Boracay Island in the Philippines, and this cheap ticket gave me no excuses.
You can also check flights leaving from other countries.
For instance, I know I can get a cheap flight to Germany, Spain, Italy from the UK…so I will also look at leaving from those destinations if the price is low.
But you need to check daily because the deals usually only last a day or so before the prices return to normal.
They also offer the occasional 'Error fare.' Error fares are when there's been a human error on the back-end pricing.
It's when they missed a tax of some sort on your ticket.
This is great if you can be flexible about where you want to go.
I use these for those, 'Oh, wouldn't this be great because it's so cheap' destinations. BUT, Error Fares can be a bit risky.
Most often, the airline will honor the flight if you have received a booking confirmation.
However, they may decide a short while later to cancel your ticket and refund your money if they've caught their error and don't want to honor your ticket.
You won't be out any money, but you will be out a great fare. Give them a try!
Recommended by Maureen from Life On The Mediterranean
4. Sign up for airline newsletters
We all like a good flight deal, and it is hard to know where the best place to get the greatest deals is for our favorite airlines.
While there are hazards to buying cheap flights, not all of us can afford the comforts of first-class.
Believe it or not, signing up for your favorite airline emails is a way you can get exclusive deals on those flights.
Error fares, giveaways, airport lounge passes, etc… are all offered through their email systems.
Each month they send 5-8 emails, with deals to 2-9 destinations.
KLM, based on my research, seems to offer the best destination deals through their email list.
Be sure you know which airlines have the least amount of hidden fees, baggage check, seat width, legroom, etc.. and then sign up for their emails.
Last January, I received an email from Delta on a fare sale for a roundtrip ticket to Amsterdam, Netherlands, for 0.
After getting all the museum tickets, food, and accommodation, I only spent $900 for my entire trip, including souvenirs.
I know we might all hate the plethora of emails we have to sift through, but if you really want to travel and have limited funds to do so…it might just be worth it for the slight inconvenience.
Recommended by Janiel from Culture Trekking
5. Find Error Fares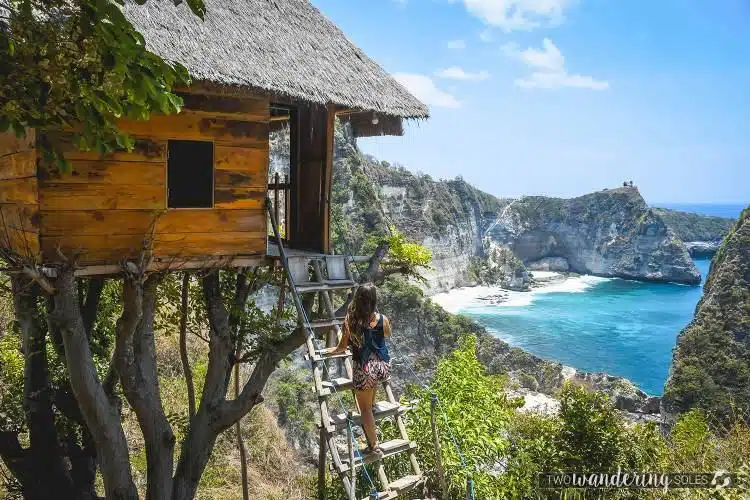 Airfare can be a big chunk of change, so scoring a great deal on a flight is essential if you want to travel on a budget.
The best hack for finding insanely cheap flights is to find what's called "mistake fares."
This is essentially when an airline lists a price on accident – for instance, a $965 nonstop flight from Chicago to Honolulu is typed with the decimal in the wrong place, and it becomes $96.50.
Don't expect all mistake fares to be this cheap, but they do exist.
You could spend hours and hours scouring the Internet hunting for deals each day, or you could do the smarter thing and sign up for a mistake fare newsletter.
There are many "flight hacking buffs" out there who have an algorithm to detect any fares that are significantly cheaper than normal.
After signing up for a newsletter (or a handful of them!), you'll start to receive daily emails with some insane deals on flights all over the world.
But before you start signing up for all the newsletters and getting totally carried away with the idea of mistake fares, there are a few caveats I should point out:
1) You must jump on the deal right away! The only way you're going to be able to take advantage of a mistake fare is by pulling the trigger and pressing the "purchase button."
Once the mistake is spotted, that crazy low price will disappear.
2) To take advantage of mistake fares, you've gotta be flexible.
You can't just cross your fingers and hope there will be a mistake fare to Sydney over the dates of spring break.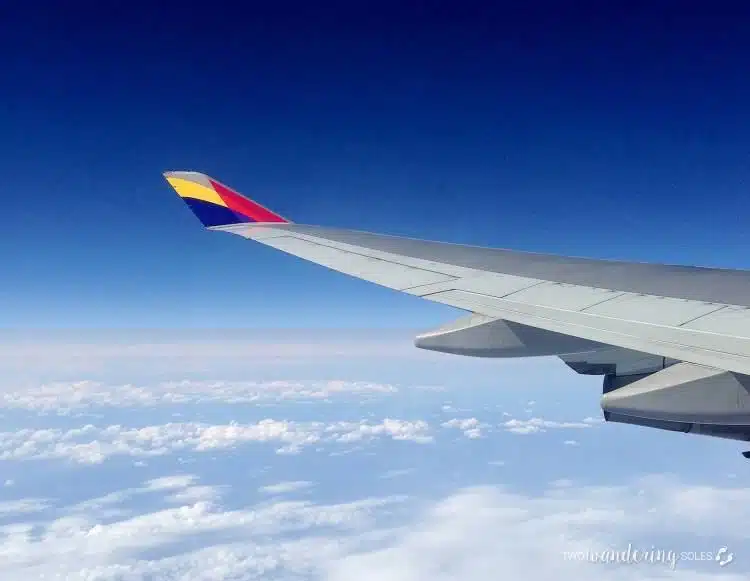 It's highly unlikely that you're going to find a mistake fare deal to the exact destination you want for the exact dates you'd like.
But if you have a somewhat flexible schedule and don't have a definite location in mind, you're going to find some amazing deals.
So what's the catch?
Well, sometimes airlines will not honor the mistake far price. Though, more often than not, they will accept it for people who got in on the deal.
In this case, that the airline does not honor the mistake fare you bought, you'll get a full refund, so there's really nothing to lose!
Some of our favorite mistake fare newsletters are Thrifty Traveler, Scott's Cheap Flights, Dollar Flight Club.
Recommended by Katie from Two Wandering Soles
6. Utilizing credit card points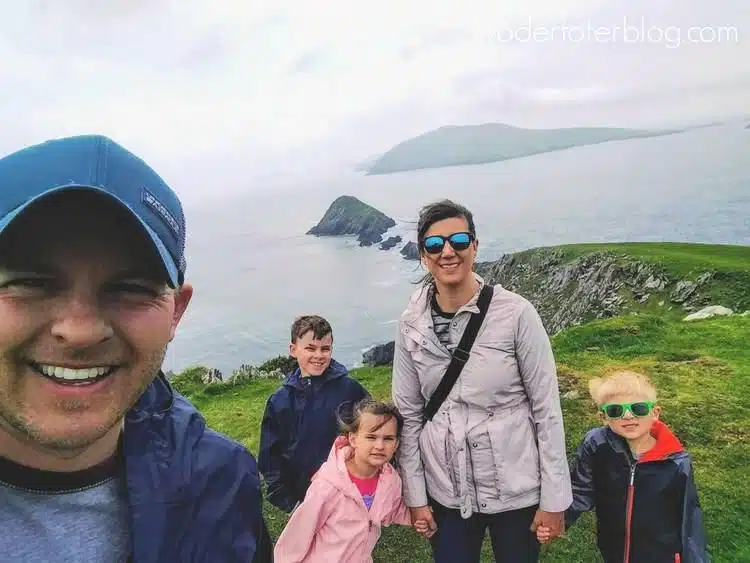 Utilizing credit card points has saved us so much money on travel!
We paid under in taxes to fly our family of five to New Orleans, Dallas, and Orlando.
My husband and I flew to the Canadian Rockies for next to nothing. Recently, using Chase Ultimate Reward points, we flew our family to Ireland for free!
The trick to using credit card points for travel is to be intentional about signing up for cards.
Make sure you have a basic understanding of the most valuable cards – I recommend reading 10xtravel.com's monthly recommendations- and then apply within those parameters.
The Chase Sapphire card has been the most valuable for us, as the sign-up includes a 50,000 point bonus which can be used towards travel credit or transferred to partners like United and Southwest.
Additionally, the Sapphire gives 2x points on all travel and dining.
Southwest Airlines has both business and personal cards. If you desire to travel throughout the United States, these cards can be valuable.
Apply for both within the same year and hit 110,000 points; you will earn the Companion Pass, which allows you to pick one person to fly for free on each flight as your companion.
This has enabled us to use points to only purchase 4 seats instead of 5, allowing our points to take us further.
We don't believe in using credit cards to amass debt, only to earn us more travel.
If credit cards are used strategically, they can earn you plenty of free flights, even enough for a family of five!
Recommended by Leah from Yoder Toter Blog
7. Look for airlines that offer Student/ Teacher/ Youth Fares
Finding cheap flights can always be a bit of a mission. I'll be honest with you; they rarely exist in peak times, no matter what tricks you try.
However, one thing I've found to work particularly well is heading to travel agencies that offer student/youth/teacher fares.
These companies have contracts with airlines to get cheaper fares for concessionaires, and the best part is that they are always target based meaning they'll sometimes bend the rules for you.
They need to hit their sales figures and have some room with issuing a fare that perhaps you're not technically eligible for but will save you a lot of money and help them hit their target to keep the contract running with that airline.
Companies that offer these sorts of deals include Student Universe, ST Fly, STA Travel, plus a lot more than I've not heard of, I'm sure.
STA travel even has a section on their website where you can search for student tickets to see if the route you want does save you a lot or not.
Route & date dependent, I've saved over USD 500 on certain tickets before just booking as a youth instead of the adult fare, or I've flown with a premium airline for the same price as a standard airline (China Southern vs. Emirates, for example).
Recommended by Millie from Millie Goes
8. Look for longer layovers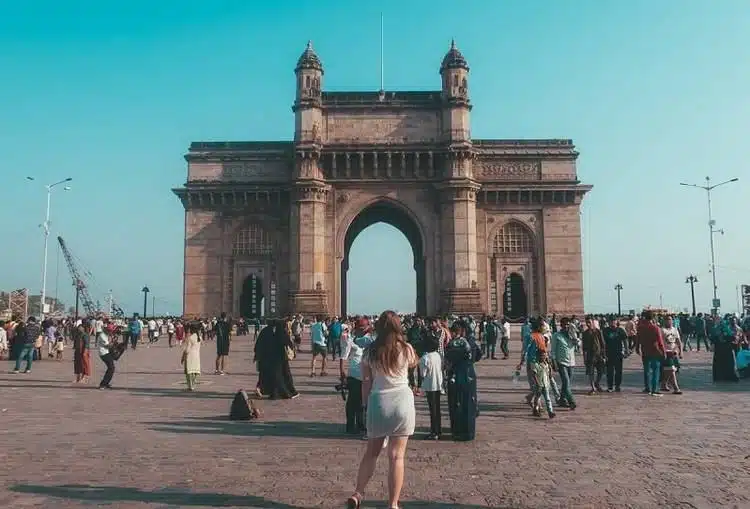 Over the years, we have discovered several great ways to help you save money when flying long haul.
But perhaps our best tip is to look for longer layovers than what search engines typically recommend.
Usually, layovers are only a few hours, which is good if you just want to get to wherever you're going.
However, if you go ahead and have stopovers for at least 24 hours or more, then this gives you a chance to leave the airport and discover another city.
This is what we did when flying to Sri Lanka in 2018 and managed to get an incredible deal! Best of all, it gave us the chance to have an overnight stop in Mumbai.
Just be sure to check the rules of the country you have the stopover in.
Some only allow you to leave for a maximum number of hours between flights, and for some, you might need to get a visa to leave.
To find the best layover deals, search individually for each leg of the flight, rather than relying on the search engine to give you all possible solutions.
Recommended by Bradley from Dream Big Travel Far
9. Consider searching for one-ways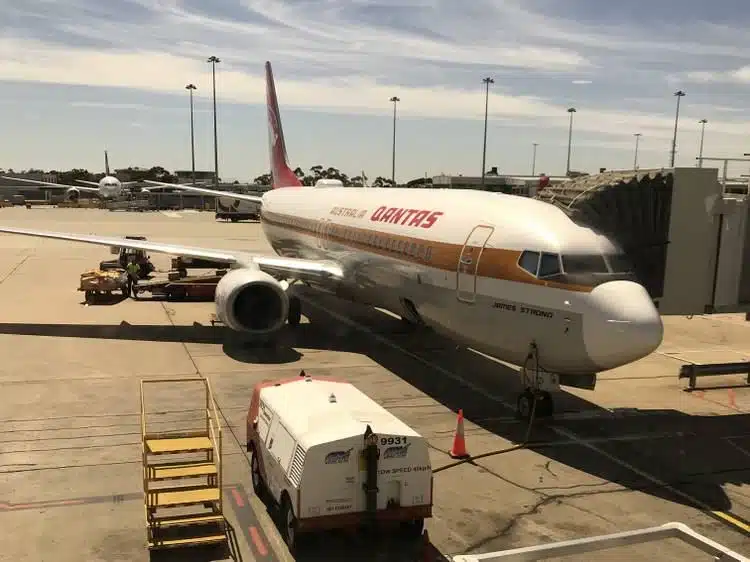 One of the ways I often save money on flight tickets is by looking not just for return tickets but also for one-way tickets.
This can work particularly well on budget carriers but can also work for full-service carriers too.
I have found some airlines have different prices for different countries of origin.
For example, in Air Asia, flying Kuala Lumpur to Australia can be cheaper as a one-way leg than what it costs when buying it as part of a return ticket from Australia.
It can also save you money because you can look at using completely different airlines for each leg if they each have different deals.
Another big bonus I have found from doing this with budget carriers is sometimes all the extras also vary in price.
Using the example above, things like food, seats, and luggage can be cheaper when I book it as a fare originating in Malaysia rather than Australia.
So I don't just save money on the tickets themselves, but also all of this, which can really add up.
Note that this is only if you purchase the extras beforehand, not once you are onboard.
This trick regularly saves me $50 per person when we fly to Asia, as well as the additional savings on the extras, so I recommend you give it a try next time you travel.
Recommended by Sharon from Dive Into Malaysia
10. Skiplagging
The art of Skiplagging has been around for a while but has, in recent years, gained more popularity.
Skiplagging is essentially a loophole found in the airline pricing system that can save you a ton of money.
Skiplagging utilizes stopover flights to help you find cheaper flights.
The catch is you never make it to the final destination on your ticket but instead leave after your first fight, your true intended destination.
So, if I was trying to get from New York to London and the flight costs £600, I could find a flight from New York to Paris via London for £400, essentially saving myself £200.
As with most things that are too good to be true, it comes with rules and some cautionary tales.
For it to work, you cannot have any checked luggage as with stopovers; your luggage is sent straight to the final destination on the ticket.
Secondly, you cannot use this trick on a return flight because your ticket becomes invalid once you miss your second flight.
A word of warning- do not abuse the system, if you use it too often with the same airline, you will get flagged, and as Lufthansa has just attempted, you could get sued.
The case doesn't seem to have any legal grounding, but it would cause you a hassle.
You also need to decide if the money you are saving on your ticket outweighs the guilt of causing airlines extra work by looking for you and the additional security checks or potential delays caused to other passengers.
Some companies actively help you find these kinds of flights, like Kiwi.com or Skiplagged.com.
If done right, it works well and could save you hundreds of pounds. It's just up to you if it is worth the risk.
Recommended by Mersini from citizenoftheworld
About the Author
More info
Best VPN for Travel: ExpressVPN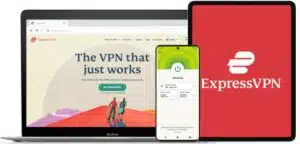 Heading abroad? Use ExpressVPN to access your social media accounts, unblock your favorite entertainment sites, and stay connected with friends and family. And get cheaper flights, of course.
Pros
✅ Next-gen, high-speed servers in 94 countries
✅ Works on iOS, Android, Windows, Mac, Linux, browsers, and more
✅ 256-bit AES encryption protects your data, even on hotel Wi-Fi
✅ Unblocks Netflix and other streaming sites
Cons
❎ No dedicated IPs
Get 3 extra months free of ExpressVPN when signing up for a 1-year plan. That's a 49% saving and a monthly cost of just $6.67! You also get a 30-day money-back guarantee.