How long is the Las Vegas strip from the south end to the north end, and how long does it take to walk along the strip?
The Las Vegas Strip is a Strip that stretches along Las Vegas Boulevard in the south of the city. It is known for its concentration of casinos and resorts and its nightlife, entertainment, and dining options.
The Strip is home to many iconic landmarks, including the Bellagio, Luxor, MGM Grand, Caesars Palace, and The Venetian.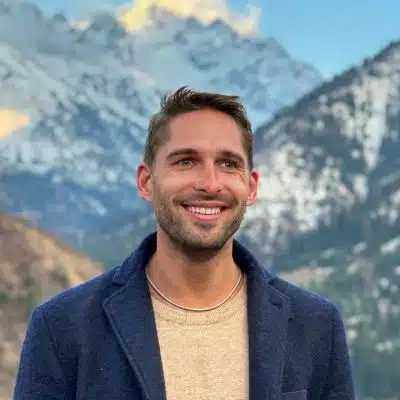 Many people come to visit the strip for its world-class shows, gambling opportunities, and a wide variety of restaurants.
It is also a popular destination for shopping with a variety of luxury stores as well as outlet malls.
There are many attractions on the Strip, such as zip lines and roller coasters, as well as the Bellagio chocolate fountain, museums, and galleries that visitors can explore during their stay in Las Vegas.
How Long is The Las Vegas Strip from end to end?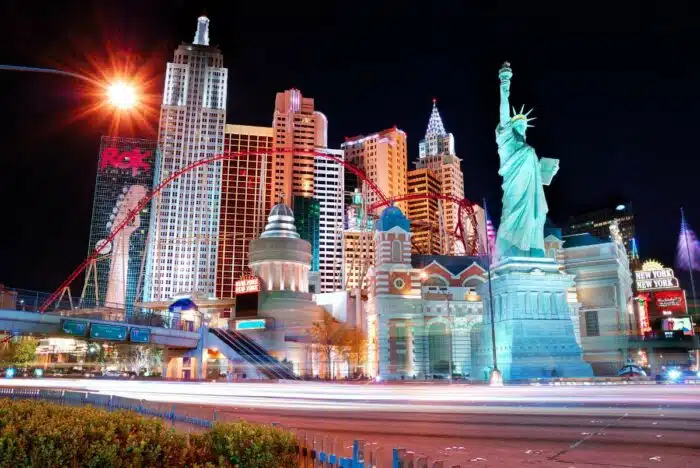 Measuring approximately 4.2 miles in length, the Vegas Strip is a mesmerizing sight to behold with its bright lights and vibrant atmosphere.
So, if you walked across the Strip at a pace of 0.3 miles per hour, it would take you almost 90 minutes.
The Strip is also home to several shopping centers, theaters, restaurants, bars, and nightclubs that attract tourists from all over the world.
With so much to explore along this remarkable strip of road, it's no wonder why the Vegas Strip has become one of the most popular tourist destinations in America.
Where is Las Vegas Strip Located?
The Las Vegas Strip is a stretch of South Las Vegas Boulevard in Clark County, Nevada. It is located immediately south of the city of Las Vegas, within the unincorporated towns of Paradise and Winchester.
The Strip is 6.8 km or 4.2 miles long and starts at Mandalay Bay Resort and Casino, located near McCarran International Airport. The Strip ends at the Stratosphere Tower on Sahara Avenue.
Along the way, visitors will be able to find some of the most famous attractions in Las Vegas, such as the Bellagio, Caesars Palace, and Circus Circus.
How Long Does it Take To Walk the Length of the Las Vegas Strip?
Since it is so popular, many people wonder how long it would take to walk the length of the strip. The answer depends on several factors such as walking speed, physical fitness, and other factors like stops for sightseeing or food.
As I mentioned earlier, a person could walk from one end to the other in 90 minutes if they're walking at a rate of 0.3 miles per hour, but it might take a person about 2-3 hours to walk the entire 4.2 miles of the Las Vegas Strip if they walked at a moderate pace without much stopping.
Walking is also a great way to explore the sights and sounds of Las Vegas while exercising!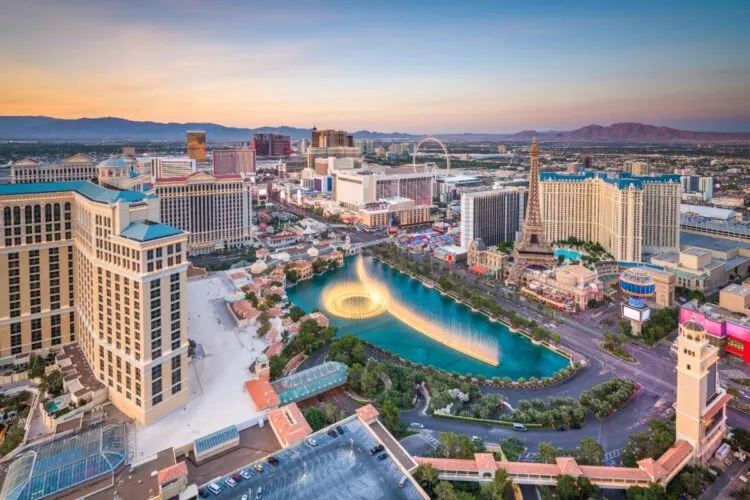 What To Know About The Las Vegas Strip and Attractions Along The Strip
Besides being known for its concentration of casinos and extravagant hotels, hosting some of the best nightlife and entertainment experiences in the world.
The Strip is also home to many iconic landmarks, such as the Bellagio Fountains and the Eiffel Tower at Paris Las Vegas, among many others.
Yes, Las Vegas Strip is known mainly for its hotels and casinos, keeping in mind that there are more than 20 major resorts along the boulevard.
Each hotel has its own unique attractions and offerings, including world-class restaurants, nightly entertainment shows, live music venues, shopping centers, spas, and much more.
There are also numerous attractions located off-Strip and away from the glitz and glamour of downtown Las Vegas that provide visitors with an array of activities to enjoy while on their trip.
Whether you're a first-time visitor or a seasoned traveler looking for something new to experience on your next trip to Sin City, there's something for everyone to enjoy along The Las Vegas Strip!
Frequently Asked Questions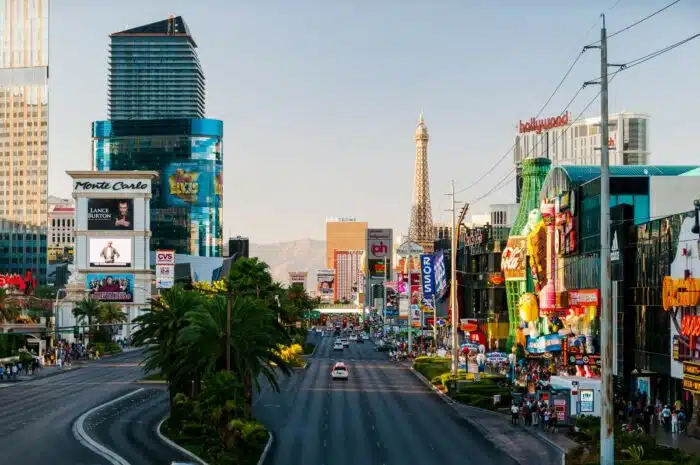 Is it Worth Walking the Las Vegas Strip for First Timers?
Walking the Las Vegas Strip for first-timers is definitely worth it! The experience can be truly mesmerizing, as the Strip is lined with towering casinos, bright lights, and unique attractions.
There are plenty of places to explore and take in all the sights and sounds Vegas offers.
From iconic landmarks like the Bellagio fountains and Caesar's Palace to smaller attractions like a wax museum or roller coaster, there is something for everyone.
Plus, you can always find street performers along the way providing entertainment.
Walking will also give you an up-close look at the beauty of this city so that you can get a real sense of what Las Vegas is about – and make sure to bring your camera!
How Far is Fremont Street from The Strip?
Fremont Street is located in the downtown area of Las Vegas, Nevada. It is about 4 miles away from the Las Vegas Strip, depending on where you start.
If starting at the Mandalay Bay Hotel, it takes about a 20-minute drive to get to Fremont Street.
The route takes you down the famous Las Vegas Boulevard and through the downtown area of Las Vegas.
Along the way, you will pass by many of the iconic casinos, restaurants, and bars that make up Las Vegas' vibrant nightlife scene. Once you reach Fremont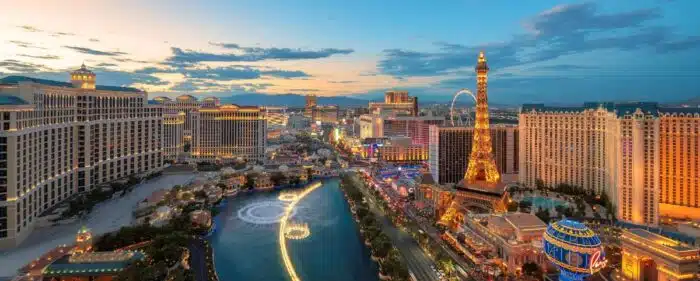 Can I Hire a Tour Guide to See the Las Vegas strip?
Yes, you can hire a tour guide to see the Las Vegas Strip. Tour guides are knowledgeable about the area and offer guided tours of the best attractions and sights on and near the strip.
They will provide information about local attractions, restaurants, hotels, and more. Most tour guides will also be able to provide transportation for your group if needed. Prices vary depending on the length of your tour.
Best VPN for Travel: ExpressVPN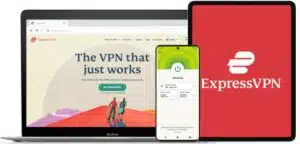 Heading abroad? Use ExpressVPN to access your social media accounts, unblock your favorite entertainment sites, and stay connected with friends and family. And get cheaper flights, of course.
Pros
✅ Next-gen, high-speed servers in 94 countries
✅ Works on iOS, Android, Windows, Mac, Linux, browsers, and more
✅ 256-bit AES encryption protects your data, even on hotel Wi-Fi
✅ Unblocks Netflix and other streaming sites
Cons
❎ No dedicated IPs
Get 3 extra months free of ExpressVPN when signing up for a 1-year plan. That's a 49% saving and a monthly cost of just $6.67! You also get a 30-day money-back guarantee.
Is The Las Vegas Strip The Same Thing As Las Vegas Boulevard?
The Las Vegas Strip and Las Vegas Boulevard are two separate streets in the city of Las Vegas, Nevada. The main difference between the two is that The Strip is in unincorporated Clark County, while Las Vegas Boulevard is within the city limits of Las Vegas.