Filipino Food: If you're ready to discover what to eat when visiting the Philippines, check out these popular Philippines Food dishes that you have to try.
Some international foodies have despised Balut after trying it.
But did you know that apart from this notorious Filipino food, there are other must-try local dishes in the Philippines?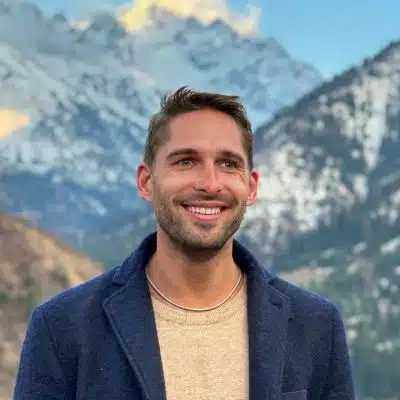 Well, perhaps let's start with adobo, sisig, lechon, sinigang, and many others, which will be highlighted in the following list.
This tropical island located in the Asian continent is rich in interesting gastronomy that Filipinos and foreign nationals really love.
So if you're ready to discover what to eat when visiting the Pearl of the Orient, feel free to check out these Filipino specialties that offer remarkable flavor in every grind.
Read at the end of the post about Alex's experience traveling around the Philippines being vegan and learning what a Boodle Fight is.
1. Filipino Food – Kinilaw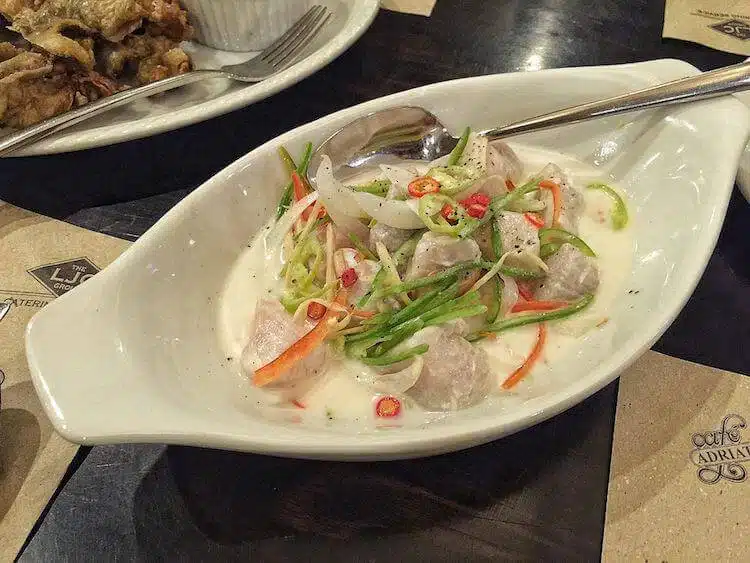 Kinilaw comes from the word "kilaw," meaning "eaten fresh." It is the Filipino version of the Latin American dish, ceviche.
Ceviche typically uses citrus as the cooking acid, while kinilaw uses vinegar, and more specifically tuba (a coconut vinegar), to cook the raw fish and retain its freshness.
Adding the Filipino nature of the dish, the recipe includes coconut milk, ginger, and chilis which are marinated together to infuse the flavors into the meat of the fish deeply.
Kinilaw is served as an appetizer or as pulutan, a snack or small plate eaten in a social environment over beers.
Written by Angela, Foodicles.
2. Sisig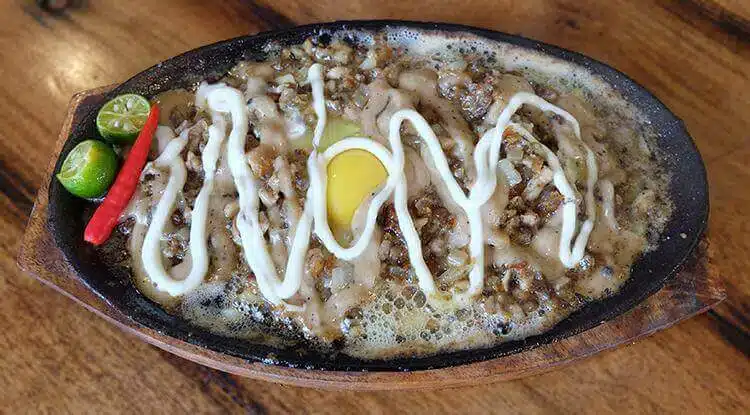 "Originating from the culinary capital of the Philippines: Pampanga, sisig, also called sizzling sisig, is a dish made up of chopped pig's head parts (e.g., face, snout, cheeks, and ear) and chicken liver.
It is usually served in a sizzling platter garnished with chopped onion, chili pepper, and slices of Philippine lime.
A popular bar chow in the Philippines, the sisig can also be eaten as a main dish.
For instance, the sisig variation in the photo, a product of the changing times, is best eaten with rice as the sizzling pork platter is topped with raw egg and drizzled with mayonnaise.
Restaurants opt to use mayonnaise rather than pig's brain as a binder to make it commercially palatable.
Those who opt for a healthier version of the sisig dish can eat those that were made out of either tuna, salmon, milkfish, or tofu."
Written by Mary Ann, Yogo & Cream
3. Popular Dishes of the Philippines – Lumpia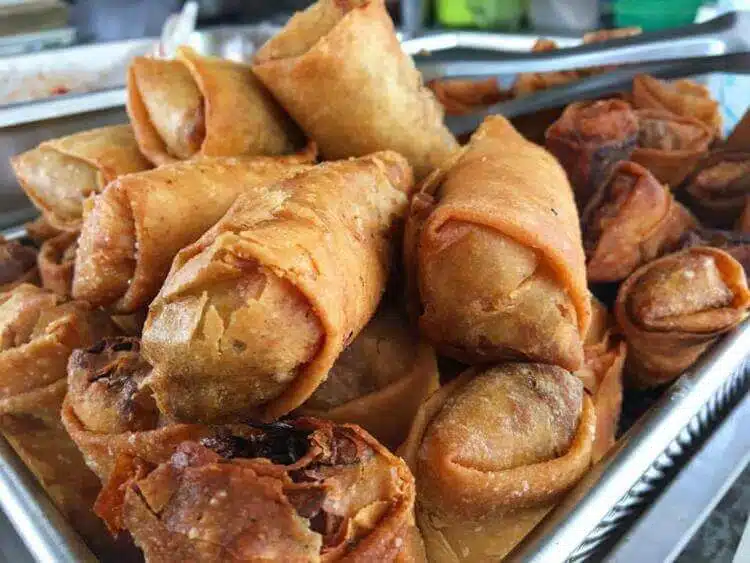 One of my favorite Filipino dishes is Lumpia. Lumpia is a spring roll that is found all over the Philippines. Although there is a fresh version, my favorite by far is the fried variety.
A paper-thin Lumpia wrapper holds a filling of chopped vegetables and minced meat, usually pork. Lumpia is usually served as a snack or appetizer, and I've found they go great with a cold beer.
This Filipino favorite is always a part of any gathering or celebration but can also be found in restaurants and street food vendors.
Make sure to try Lumpia during your visit to the Philippines! You won't regret it.
Written by Nathan, Foodie Flashpacker
4. Kwek-Kwek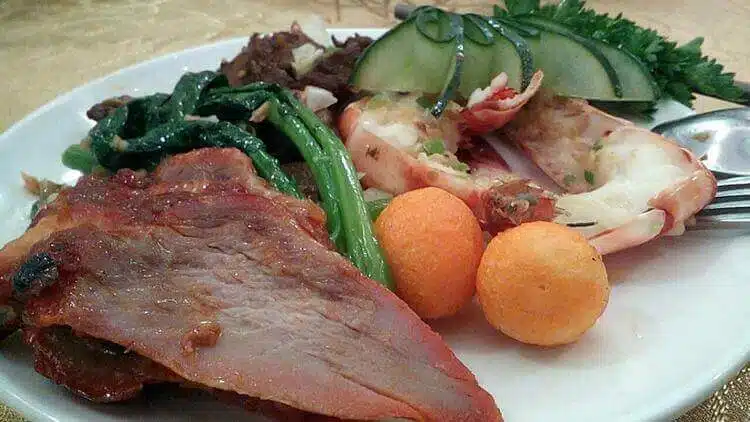 Kwek-kwek (small orange sphere in the photo) is widely known street food in the Philippines.
Its umami comes from the quail egg's depths that lie inside the batter and the specially made sauce.
They are cooked by boiling the eggs and coating them with flavored batter after removing the shells. The "kwek-kwek" will then be fried until the color becomes bright orange.
Most Filipinos must have tried to taste the sweetness with a punch of spiciness of the kwek-kwek after dipping it in a specially made vinegar or gravy.
The food will surely send an electric bright flavor throughout your body from the tip of your tongue as you munch in one of these mini eggs.
To fully enjoy the Filipino Food, one must eat these kwek-kweks in a barbeque stick together with its cousins, the fish balls, and kikiam. Also, eat it while it's hot!
Written by Joe, Best of world travel
5. Grilled Chicken Inasal
In the Philippines, there's grilled chicken, and then there's grilled chicken inasal.
Inasal is a grilled chicken dish from the Western Visayas that's become hugely popular throughout the Philippines.
It's made by marinating chicken pieces in a mixture of vinegar, calamansi (calamondin), lemongrass, garlic, ginger, annatto, and salt and pepper for at least 12 hours (the longer, the better!).
The marinated chicken is then skewered on sticks and grilled over hot coals while being basted with a blend of melted margarine and annatto oil. Glistening and charred in parts, it's served with steamed rice and a soy-vinegar chili dipping sauce.
If you like, you can even sprinkle a bit of chicken oil on your rice, which is basically rendered chicken fat mixed with annatto and garlic.
Absolutely delicious and perfect with ice-cold bottles of San Miguel!
Written by JB Macatulad, Will Fly For Food.
6. Chicken Binakol from Leyte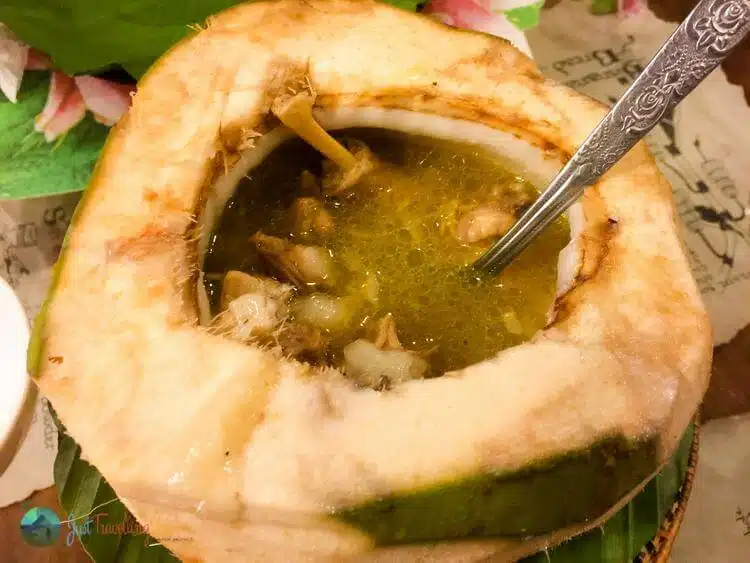 Chicken binakol is a soup-based dish that is more popular in the province of Leyte.
The dish is similar to chicken tinola, another popular soup-based chicken; the difference is that coconut water and coconut meat are added. The work "bakol" means coconut shells.
The traditional way of cooking this sweet thin soup is in a bamboo pipe to seal in flavor. But bamboo pipes are difficult to source nowadays, so that a clay pot will do.
Chicken binakol is almost always served in an open half of a coconut husk with its young coconut meat still inside.
Preparing this dish with native chicken is highly recommended. The meat of a native chicken is tougher than the supermarket chicken and may take longer to simmer.
By this process, it brings out also the delicious flavor of the chicken.
Written by Carla Abanes, Just Traveling Solo
7. Isaw (Chiken/Pork Intestine)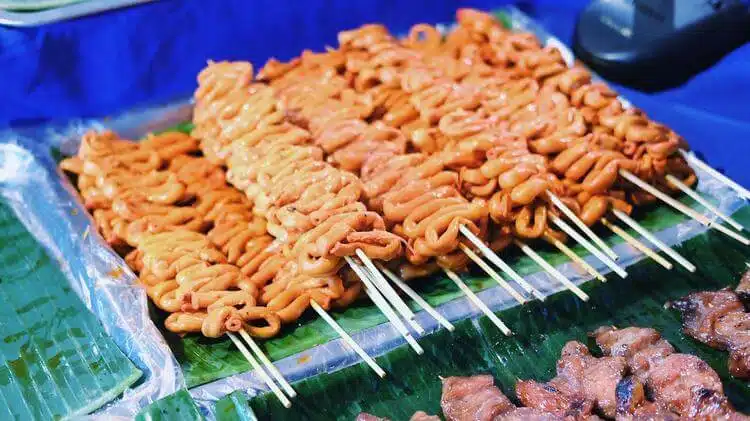 Recognized as one of the most famous street Filipino foods, Isaw is not your usual snack food for the day!
I know it may surprise you, but Isaw is actually made out of Chicken/ Pork intestine- grilled or fried! W O A W.
But for me, it is WOAW in a good way.
It may seem gross, but once you experience this food, your perspective will drastically change! Yep, Isaw's my favorite! I crave it every time.
And I swear, it's delicious! It's perfectly combined with different flavors of dip- sukang pinakurat (vinegar with onions, peppers, soy sauce, and chili) as the most popular.
You can find Many vendors selling isaw everywhere on the side of the streets, and you know what, it will just cost you 5 pesos (0.102 USD)!
Written by Colleen, Colleen's Happy Socks.
8. Empanadas from Ilocos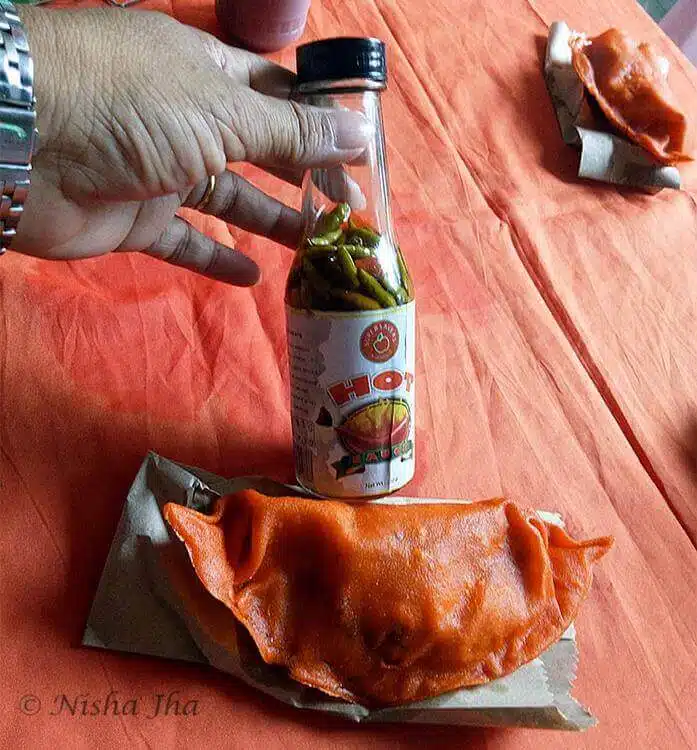 There are several delicacies in the Philippines to die for, and while visiting Ilocos Norte, I came across a popular delicacy called 'Ilocos Empanada,' which became my favorite Filipino Food.
This deep-fried snack reminded me of our own 'Samosa.' Originally, this orange-colored snack did not belong to Ilocose but was introduced here by Spanish colonizers.
The name Empanada comes from the verb empanar, meaning to wrap or coat in bread.
The orange version of Empanada is called BATAC or LAOAG EMPANADA and is more popularly known and referred to as the "Ilocos Empanada."
It is sold in all of Ilocos Norte and some parts of Ilocos Sur* as well. The other version is VIGAN EMPANADA belongs to Ilocos Sur and is not so colorful.
The main ingredients are rice flour and papaya for the crust. Generally, the filling is of egg and mongo sprouts, egg and grated green papaya. I had my Empanada with Ilocos vinegar; it tasted yummy.
Written by Nisha, lemonicks
9. Kare-Kare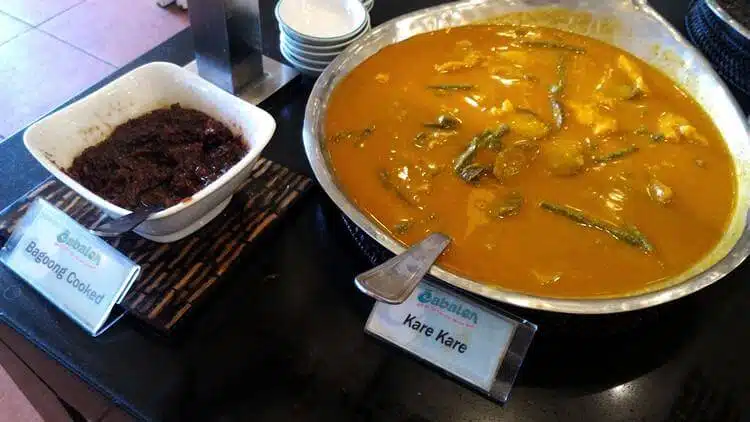 Kare-kare is a stew with thick savory peanut butter sauce. If you love peanut butter, you'll love this dish too!
Traditionally, the meat used is oxtail, tripe, or beef stew meat.
You can also mix all three. The common vegetables used are banana heart, string beans, pechay (bokchoy), and eggplant. This dish is quite difficult to cook, that's why it is usually served during special occasions.
Kare-kare is a little bland when eaten by itself. That's why it is always paired with bagoong alamang (shrimp paste) on the side, which enhances the dish's flavor with its salty and spicy taste.
Bagoong is not meant to be eaten alone, so just get a tiny amount.
Written by Mark, Staycation Philippines.
10. Popular Dishes of the Philippines – Okoy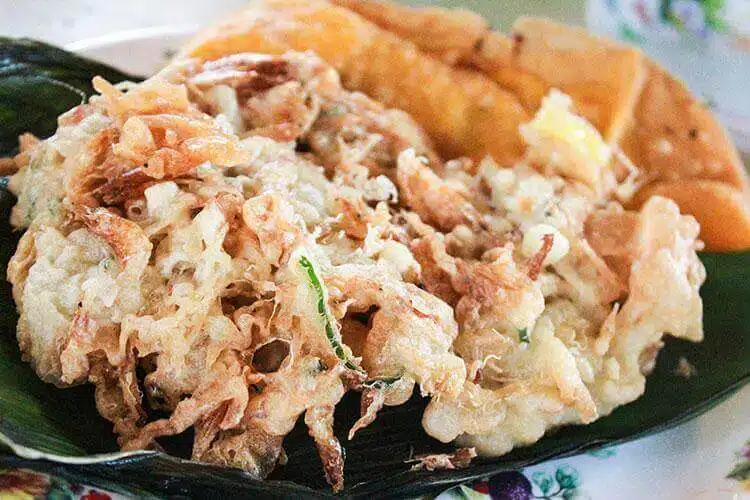 Okoy, or ukoy, in other dialects, is a fried dish that Filipinos often eat as a snack.
It's made with teeny tiny shrimps, bean sprouts, and sweet potatoes and bound together with egg and cornstarch.
Fried to a beautiful golden brown, this tasty snack is crunchy, savory, and very filling. Traditionally dipped in vinegar with red chilies, it adds a bit of acidity that totally completes the dish.
Okoy originated from the North Luzon part of the Philippines. Of course, other places make okoy, but the ones in Vigan are the absolute best.
Read also: 13 Amazing Tourist Spots in Luzon, Philippines.
I willingly and happily travel 12 whole hours by bus from Manila to Vigan* to get a taste of the original savory shrimpy snack.
Written by Julia, juliaantoinette.com
11. Tuslob Buwa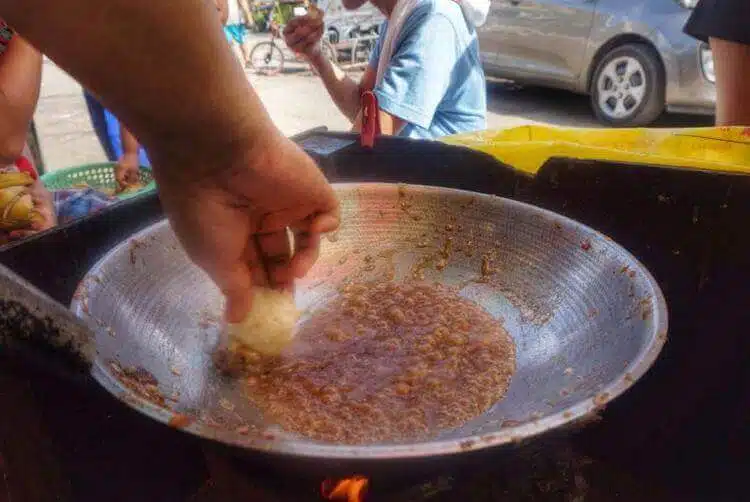 If you like trying strange food, the Philippines are a great destination.
While in Cebu, I went on a street food tour where we tried all kinds of weird delicacies: balut, intestines, liver… But the strangest one was puso (hanging rice) with tuslob buwa, which is bubbling sauteed pig's brain.
It sounds pretty gross, but the dish is actually delicious once you try it and don't think about it! Tuslob Buwa is Cebu's specialty, and tourists from Manila are eager to try it.
This is a trendy snack among children: for 3 pesos (approximately $0,2), you get a packet of puso, and dipping into the brain is free.
Written by Stefania, Every Steph
12. Filipino Food – Tocino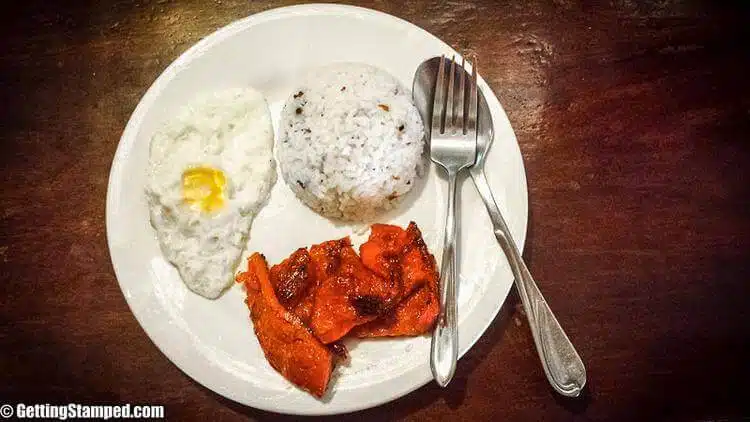 Tocino, which means bacon in Spanish, is a popular breakfast item in the Philippines. Tocino is pork belly cut into thin strips similar to that of bacon, then seasoned with anise wine, water, sugar, sale, and annatto.
The meat marinates for at least 4 hours to soak in all the flavor. Seasons may vary in the region, but we never had a bad Toncino in the Philippines. This tasty dish is typically boiled or fried and then served with a side of garlic rice.
When traveling to the Philippines, make sure to make a must-eat Filipino Food bucket list, as there are some tasty treats in the Philippines. There are Filipino several dishes you'll be craving once you leave the Philippines.
One of my favorite things to do in El Nido was eating Tocino for breakfast! I looked forward to waking up every morning to a place of Tocino. Don't forget to bring your appetite to the Philippines.
Written by Hannah, GettingStamped
13. Pinapaitan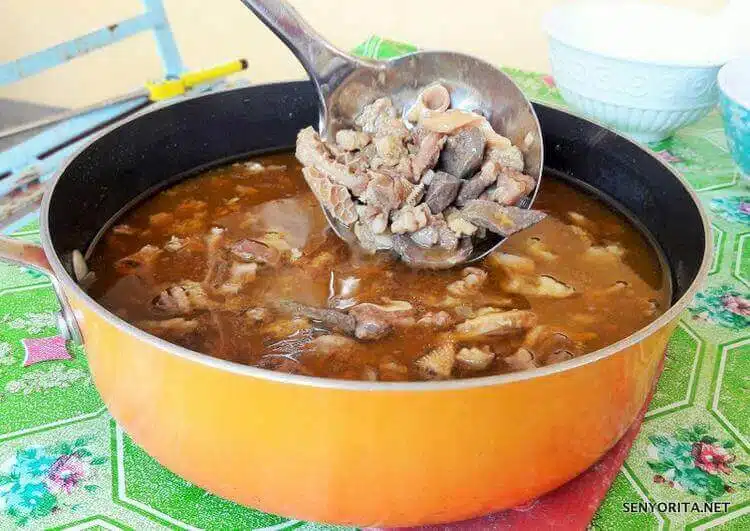 Want to taste something quirky or unusual? Let me introduce you to Pinapaitan or Papaitan Filipino Food!
Coming from the word 'pait,' which means 'bitter' in Tagalog, Pinapaitan is a popular dish from Northern Luzon and is widely popular in Ilocos Region.
The original ingredients of Papaitan include goat and ox innards with the goat bile as the secret to make the soup bitter.
As an alternative, ilocanos usually use beef since goat meat/innards are not readily available in other parts of the Philippines or abroad.
Other key ingredients include ginger, garlic onion, siling labuyo, ground pepper, and patis (or fish sauce) to make this dish more special. Papaitan plus rice is best eaten during the cold season or when you're trying to cure a hangover.
A lot of Filipinos expressed that this is one of the unique Filipino dishes.
Written by Micaela, Senyorita.net
14. Palabok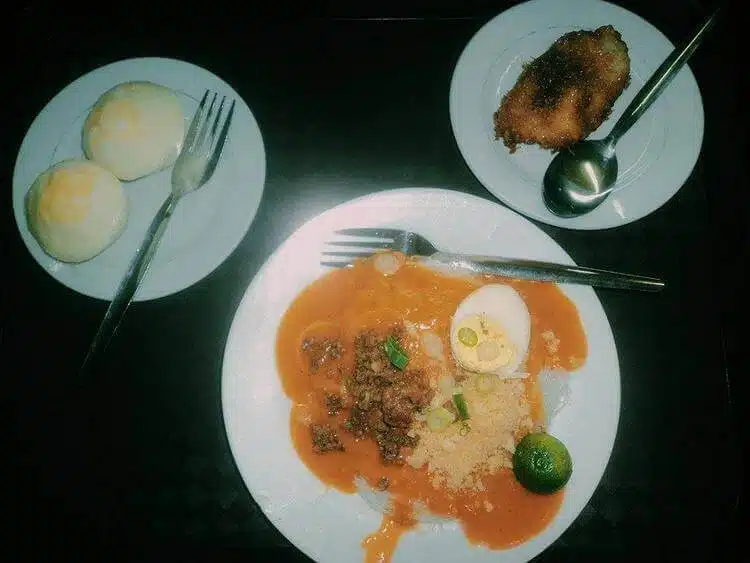 Filipino gastronomy is very diverse, and you will find different choices like stews and soups cooked as everyday dishes in homes or even in small eateries and canteens in the streets.
For us, when you travel the Philippines, you must give Palabok a try. You can have palabok any time of the day – breakfast, lunch, or dinner.
Palabok is a noodle dish that is a Chinese influence on Philipine cooking.
It is cooked with pork, shrimps, with orange sauce and served with boiled egg and calamansi (typical small lemon in the Philippines).
How much does one plate of plabok cost?
You can find it starting from $1 to $3, all of them very tasty from street Filipino Food level to the restaurant level. Highly recommended!
Written by Ruben, Gamin Traveler
15. Filipino Food – Pork Adobo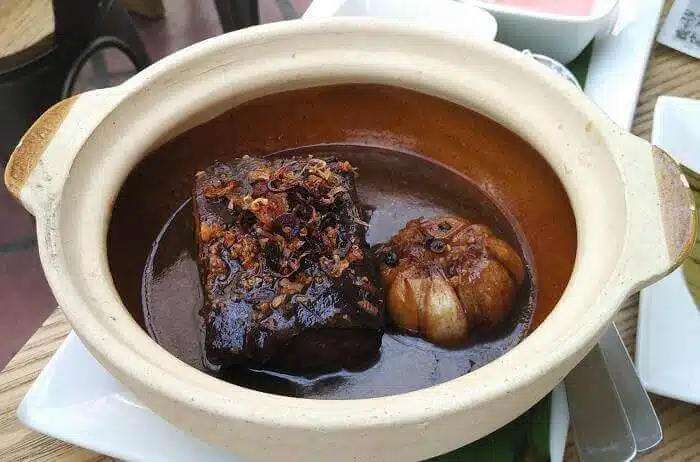 Pork Adobo – perhaps it's the most famous Filipino Food, but you will either love it or hate it, depending on where you eat it.
We tried it at many places but ended up hating it because it was too oily and chewy.
However, during our last days in the Philippines, we were lucky enough to experience this famous Filipino delicacy in Manila's* Tambayan Gastrobar.
Pork Adobo is their specialty, and on the menu, it is named "Slow Cooked Braised Soy Vinegar Pork Belly Pot."
The meat was slow cooked in a pot with a bit of soy sauce and a lot of garlic, because of which it was extremely juicy and tender.
The gentle flavor of garlic and soy sauce was in every layer of meat. The meal was so good that we ended up going back to the same restaurant to eat the same thing the next day.
Written by Sonal, Drifter Planet
16. Longganisa, the National Sausage of the Philippines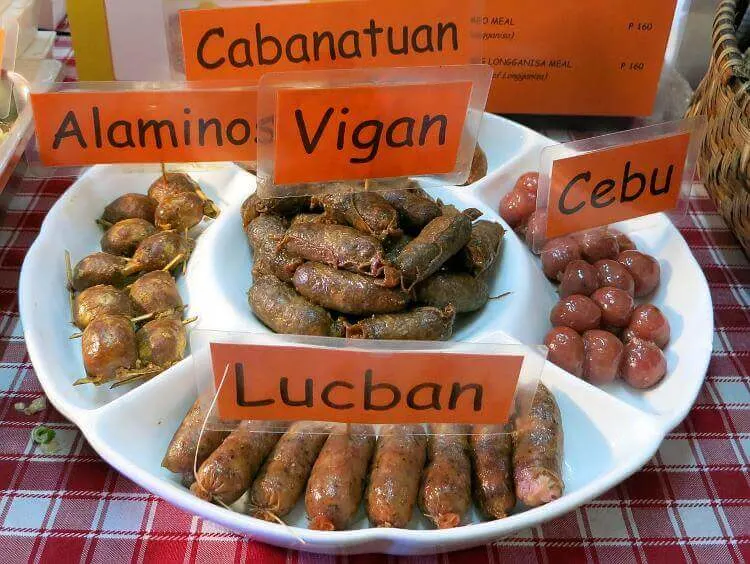 One local specialty that you will see all over the Philippines is sausages called Longganisa. Made of pork, these sausages are popular at breakfast but are also eaten throughout the day.
There are many different kinds of longganisa sausages, depending on the town or province.
The two main kinds are sweet longganisa (longganisa hamonado) and salty/garlicky/ sour ones (longganisa de recado).
On our quest to discover the authentic sausages of the Philippines, we tried longganisa in different parts of the country. In Cebu, we were intrigued by their unique round shape and red coloring.
The sausages from this province have a sweeter taste, and we were not big fans. In Vigan, in the northern province of Illocos Sur, we discovered the Vigan longganisa.
These small, plump sausages are packed with delicious spicy and garlicky flavors.
If your travels take you to the Philippines, don't forget to try the national sausage. Whatever your preference, you will find a sausage to fit your tastes!
Written by Rosemary and Claire, authenticfoodquest
17.

Poqui Poqui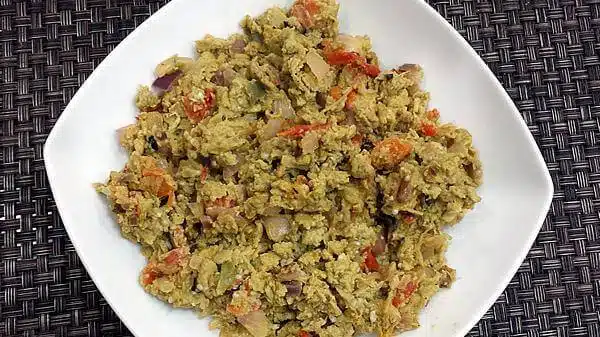 After four days of rice and raw vegetables, my eyes lit up when a whole plate of Poqui Poqui was put down in front of me at a restaurant in Laoag City*.
All of the locals chuckled to themselves when our server told us what it was. It turns out poqui is a slang term for female genitalia in the Philippines. Not the prettiest of dishes, but it tasted delicious.
Chargrilled aubergine, garlic, and tomatoes sautéed with eggs. It's really simple, but that smokiness goes perfectly with the creamy eggs making it incredibly moreish.
To say that I struggled to find tasty vegetarian dishes while I was in the Ilocos Norte would be quite an understatement.
Poqui Poqui is a traditional Ilocano Filipino Food dish that doesn't seem to be that well known outside the Ilocos region, which is shameful. I could have eaten it every day!
Written by Michelle, veryhungryexplorer.com
18. Popular Dishes of the Philippines – Laing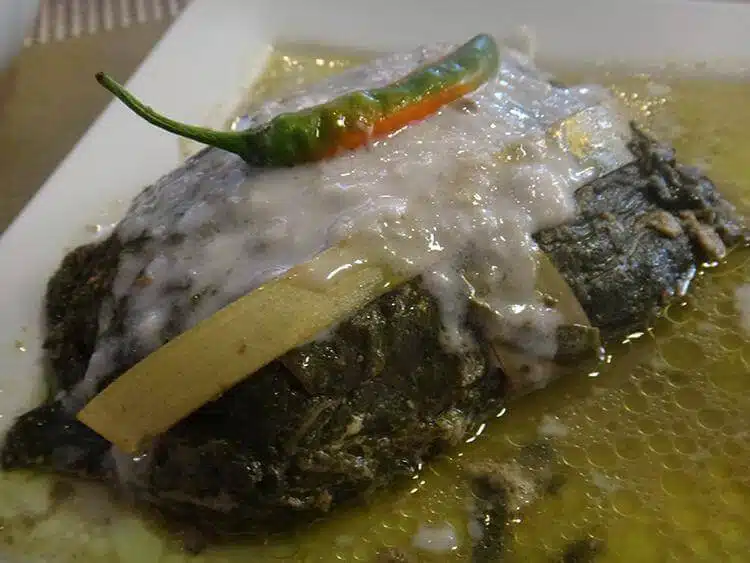 Laing is a favorite Filipino Food originating from the Bicol region. It is mainly made of dried taro, locally known as "gabi."
Fresh taro leaves are being dried under the sun for hours before they are actually used for cooking. The drying of the leaves would remove the taro's itchy texture when eaten.
Aside from taro leaves, coconut milk is the other key ingredient comprising Laing. Bicol dishes are usually made spicy, so while spoiling you with that rich and creamy goodness, Laing also leaves that fiery sensation in your mouth.
Some would add pork, shrimp or dried fish to give the dish additional flavor. Nowadays, Laing is widely served even outside Bicol.
Written by Arrianne, travelhabeat.com
19. Sinabawang Tahong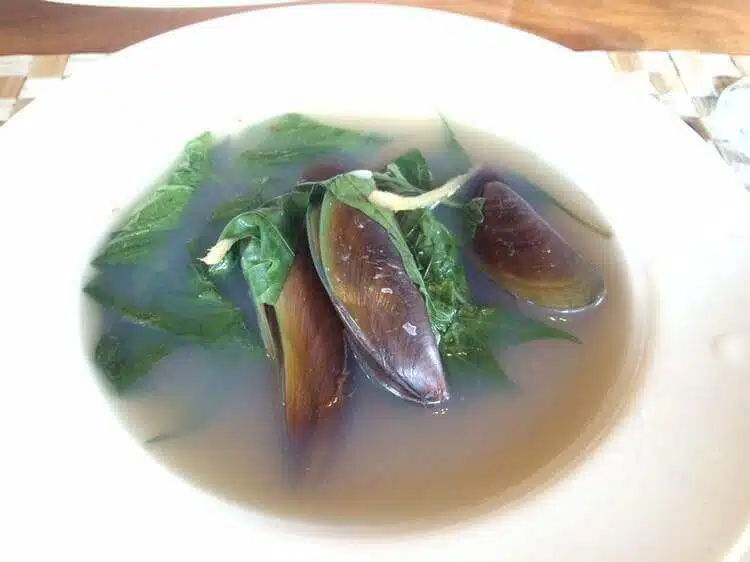 This shellfish soup dish was my absolute favorite Filipino Food during my span in Bicol Philippines.
'Tahong' is mussels in Filipino, and this dish is a clear broth with a tamarind flavor and leaves a lingering sour yet delicious seafood after taste.
Its also known as a hangover dish, as it is both appetizing and a good cure for any migraines.
Written by Lydia, Lydiascapes Travel
20. Lechon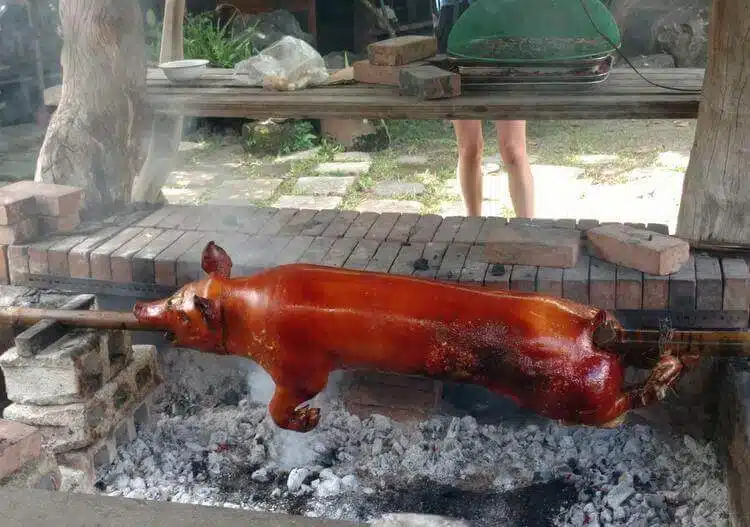 Crispy skin, thin layers of fat, and juicy, succulent meat – an explosion of flavors in your mouth. This is Lechon. If you ask a Filipino abroad which traditional dish they miss the most, 9 out of 10 will name Lechon.
But what is Lechon?
Lechon is a whole pig roasted on an open spitfire for hours until the skin gets crispy and the meat juicy and flavorful.
It is a must-try Filipino Food when you visit the Philippines, especially the Island of Cebu* famous for this specialty.
Written by Maria, Maria Abroad
21. Tinola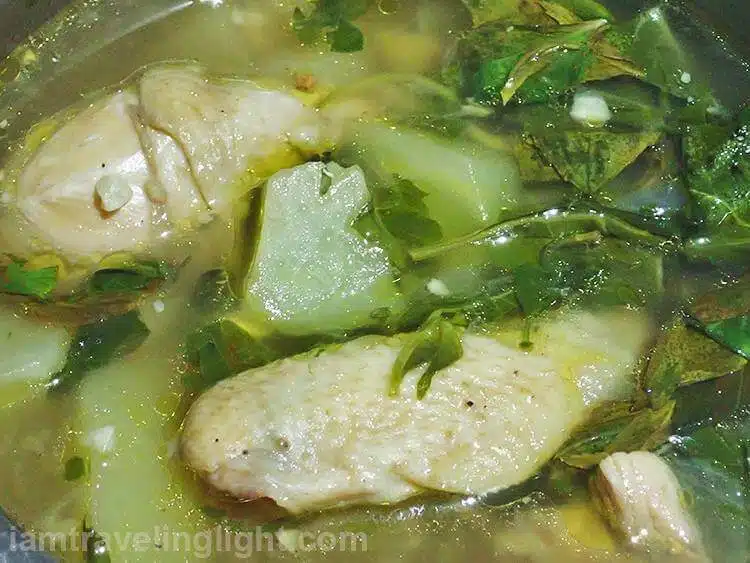 A classic dish often eaten in Filipino homes, tinola tastes ginger, garlic, onion, and chicken (including its oils, which form golden pools!), all coming together in soupy, savory deliciousness.
The chicken usually comes with slices of sayote (chayote) or green papaya, and the soup is further seasoned with either sili (chili) leaves or malunggay (moringa).
Tinola is a staple dish any time of the year, which you can easily find at roadside eateries or casual dining restaurants. Still, it is especially great comfort food during rainy days.
In the coastal areas of Visayas and Mindanao, another popular version is the fish tinola, given the regions' abundance of seafood. The fish's freshness is the dish's highlight, and spices like ginger and lemongrass accent and further bring out the freshness.
Tinola is arguably the best way to fully appreciate the taste of freshly caught fish in these areas. The plainest-looking tinola can be the most delicious, which I can attest to from experience!
Written by Claire, Traveling Light
22. Chili Ice Cream (also known as Sili Ice Cream)
If there's one thing I learned about the food in the Philippines, it's that the locals like it sweet. There's sugar in nearly everything. Then I went to Bicol, and learned that the region's specialty is chilies.
Naturally, someone decided to mix the two – and came up with chili ice cream. Eat a spoonful of it, and you'll feel the ice on your tongue. Within seconds, the heat starts to build, though. This ice cream has a nice kick to it!
1st Colonial Grill in Legazpi is famous for this stuff, which is best ordered as a combo and some of their other unique flavors, such as Tinutong ice cream, made with burnt rice.
Its nice earthy flavor compliments the spiciness of the chili ice cream perfectly!
Written by Edwina, Traveling German.
23. Mango Float Desert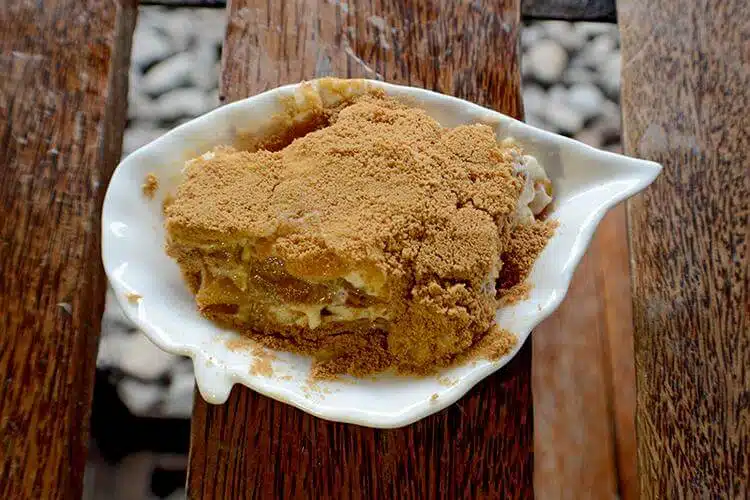 Mango Float is a dessert not to be missed while experiencing the Philippines. Part fruit, part cream, and plenty of sweet flavors make this dessert high on a sweet tooth's list.
Designed from being the perfect combination of Filipino's love of sweet desserts and deliciously ripe mangoes, you can find this all year round.
The combination of tastes and textures between the whipped cream, mango, condensed milk, and graham crackers is incredible!
The best way to enjoy Mango Float is straight out of the fridge on a hot day, where the mango is chilled, and the cream is fresh.
Written by Jules, Don't Forget To Move.
24. Halo-Halo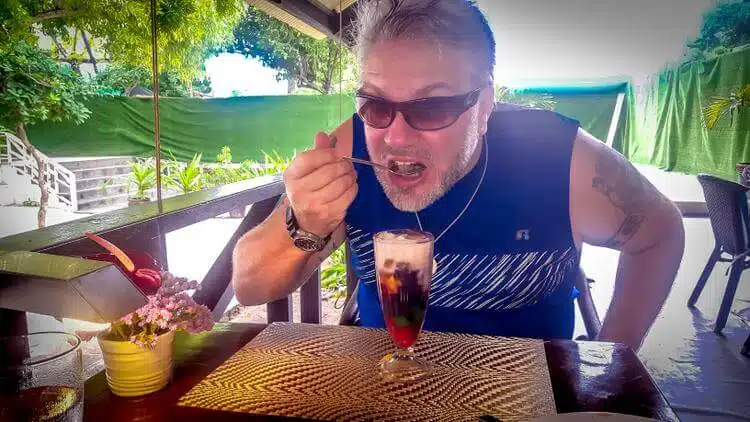 Described as "oddly beautiful" by Anthony Bourdain on Parts Unknown, Halo-halo (officially known as Haluhalo, the Tagalog word for "mixed together") is arguably the most colorful dessert in a country that loves sweetness and extravagance.
The ingredients vary depending on where you eat it. But it's usually a mish-mash of sweet kidney beans, sweet plantains, sugar palm fruit, jackfruit, tapioca, purple yam, coconut, and any other sweet, fruity delight you can imagine.
You mix the ingredients yourself, then top it with shaved ice, ice cream, evaporated milk… you get the picture. It's a weird, wonderful concoction vivid with all the colors of the rainbow.
It's perfect for sharing with friends, lest you wind up in a diabetic coma from all the sugar!
Written by Bret Love, Green Global Travel.
25. Boodle Fight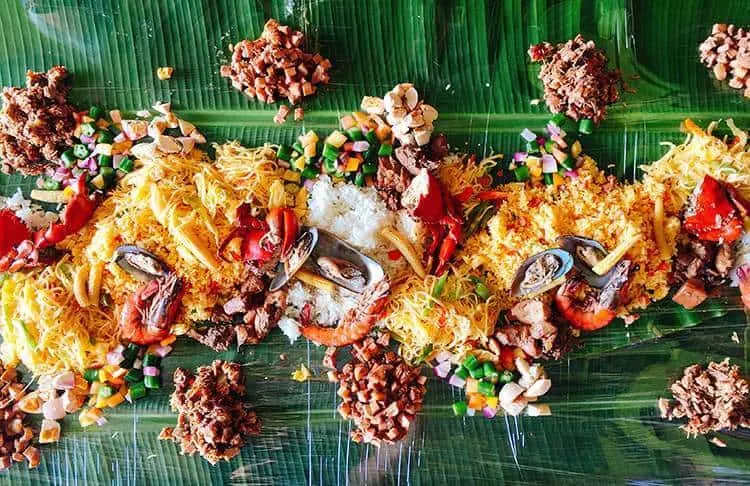 A Boodle Fight is a typical Filipino feast served during festivals and gatherings. It's a communal meal everyone shares regardless of rank or social class.
Long tables are set up and lined with banana leaves. Jugs of water are placed around for washing your hands, which is important since no utensils are used during this feast. You simply grab with your hands and shovel it all in!
The word "fight" comes from when this type of feast was served to hungry military soldiers. If you're a slow eater, well, good luck to you!
There aren't really any rules as to which Filipino dishes are served. It's a bit of anything goes. Here you see steamed and fiesta rice, noodles, squid, pork adobo, veggies, and seafood like prawns, crab, and mussels.
Written by Jennifer, Luxe Adventure Traveler
Traveling around the Philippines as a vegan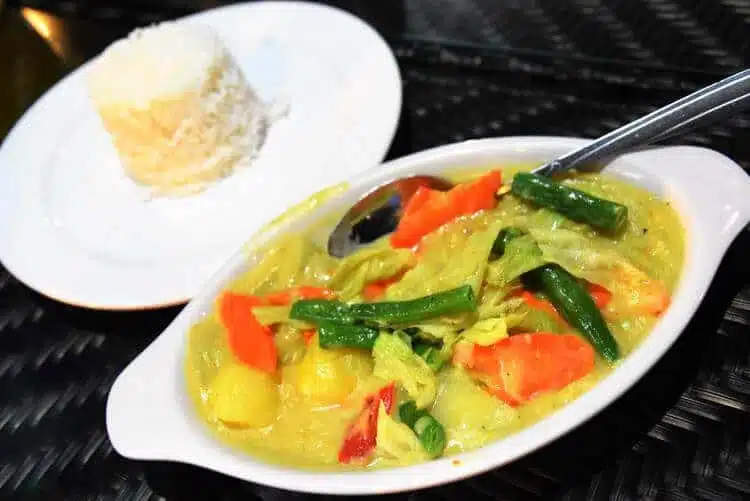 Being vegan when traveling around the Philippines can be a challenge. There are loads of tropical fruit and buko juice (young coconut water) on most islands which is fine for breakfast and lunch.
But when it comes to veggie dinner, I found it hard to explain that I don't eat any animal products.
Even in some top restaurants, they would ask me if seafood or eggs were fine or just decorated my other vegan meals with eggs and cheese on top even after having told them no dairy.
Usually, they would not see any difference between vegetarian and vegan at all, but, on the other hand, in most countries, being vegan is a problem.
However, I have to say that I loved glass noodles with veggies, mung and okra soup, vegetable curry, ensalada filipina. Getting vegan meals in Philippines is not easy, but doable.
Written by Alex, Crazy Sexy Fun Traveler
Best VPN for Travel: ExpressVPN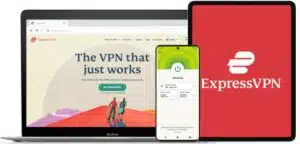 Heading abroad? Use ExpressVPN to access your social media accounts, unblock your favorite entertainment sites, and stay connected with friends and family. And get cheaper flights, of course.
Pros
✅ Next-gen, high-speed servers in 94 countries
✅ Works on iOS, Android, Windows, Mac, Linux, browsers, and more
✅ 256-bit AES encryption protects your data, even on hotel Wi-Fi
✅ Unblocks Netflix and other streaming sites
Cons
❎ No dedicated IPs
Get 3 extra months free of ExpressVPN when signing up for a 1-year plan. That's a 49% saving and a monthly cost of just $6.67! You also get a 30-day money-back guarantee.